Best Creative Wedding Ideas from Real COVID-19 Weddings in 2020

Real Wedding Ideas from Covid Weddings Around the World
Wedding planning in 2020 and into 2021 — it goes without saying that it's probably a little different than what you would have expected if you'd been daydreaming about your big day in years prior. Different, though, definitely doesn't have to be a bad thing; there are plenty of 2020 wedding ideas and 2021 wedding ideas we love! We interact with brides every day who are hunting for COVID wedding ideas to make their big day feel unique and special. Knowing the ins and outs of wedding trends comes with the territory for our team, and we've helped countless brides during their time with us last year by giving them wedding ideas and chatting through with them all the positives and beauty that still comes out of having a wedding in the current climate we're in. From collecting fabulous tips and tricks for COVID wedding hacks, to gathering the best wedding ceremony ideas and wedding reception ideas, we want to share with you some of our behind the scenes knowledge on the breathtaking COVID weddings we have seen. Brides still deserve to feel gorgeous and have their own version of the most perfect day.
So many of our stunning brides have found ways to go ahead with their weddings during this time. We feel that now more than ever, weddings are important: positive, happy reasons to celebrate (safely, of course) and giving the people you care for most a reason to smile and find joy. For you and your fiancée, letting your love be the light in such a dark time is a beautiful thing.
Olivia & Flynn (Photographed by Alex Clayden Photography) are a perfect example!
Featured alongside Alana and Josh (below) earlier this year in another one of our blogs, Olivia & Flynn are an incredible example of two lovebirds who moved with the tide instead of going against it. All of our brides were faced with unprecedented times this year, and it makes perfect sense that there are countless solutions that fit different people. For Olivia, though, she knew she wanted to marry Flynn regardless of the times we are in. After their original venue closed down and restrictions were put in place, this bride and her fiancée made a quick decision only a few days before their original wedding date to go ahead and celebrate their love regardless. The day was certainly different to what they had planned. It was just the two of them, giving off the ultimate relaxed and intimate feeling. Family and friends that were close by were able to drive by and see them, though, which made the day special for their original guests as well. To Olivia, she knows every bride is different and will do what feels best for herself, but she truly wanted to celebrate her love and marriage on her planned date and the other details fell into place surrounding that decision.
Before we share some more of the spectacular small weddings we've seen (and wedding ceremony ideas and wedding reception ideas we've picked up along the way), keep in mind you'll be able to make your intimate day so incredibly special and use your reduced guest list as an opportunity to make your wedding shine where you want it to. As we delve into in our Small Wedding Ideas article, having a smaller guest count means you'll have more budget to spread around elsewhere and invest in the things that are most important to you and your fiancée. So many of our brides decide to splurge on their photographer, gown and food because of this, and others save up for a later-date killer honeymoon or even planning for another happy milestone like buying their first home. That being said, many of our brides have wanted to take a negative and turn it completely around to make their day unique beyond what they would have imagined with a more "typical" wedding. Looking at your big day with a fresh new perspective and incorporating some (now tested and true) coronavirus wedding ideas, allows you to think outside the box and do something really different to make your wedding memorable to the point where no one will be thinking of the crazy times we're in at the moment. There are plenty of fun ideas to make your wedding unique and a day your guests will never forget.
COVID Wedding Ceremony Ideas
COVID Wedding Reception Ideas
Consider Your Seating Arrangements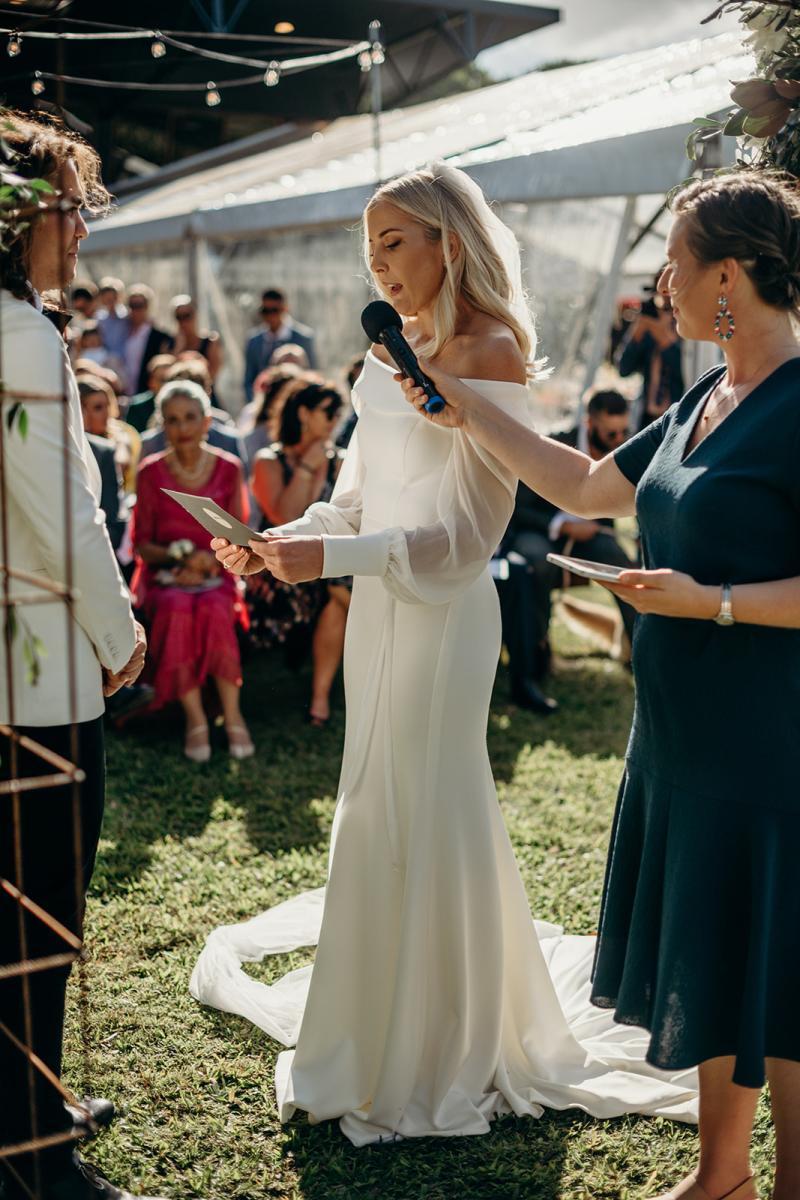 Your Bridal Party:

Wedding parties are a big consideration for our brides at the moment. Some originally had planned for their absolute nearest and dearest to stand with them during their ceremony, and now their nearest and dearest will make up a good portion of their wedding. Instead of having 5 of your best friends be beside you, find other ways to incorporate the beauty of being in wedding parties without that part. After all, it's really the getting ready together that's the most fun part anyway. You can still have your girls get their hair and makeup done alongside you, and do special photos for just those who were going to be in your wedding party. Some of our brides are even doing a special night for their girls right before their wedding at an Airbnb to make sure you all get in that beautiful bonding time together before the big day. If they've already bought their dresses, even better, they'll look coordinated in photos and it will be a nod to your original plans. If they haven't, we love the idea of having your bride-tribe coordinate but still have their own unique looks whether through colour or gown style; sort of like a best-kept-secret among you and your girls.
Write Unique Vows:

If your guest list has suddenly been cut down from 250 to 25, you might feel more comfortable with certain things, one being personalised vows. While many couples do this regardless of their wedding size, some find it difficult to express such deep (and amazingly mushy) things in front of a large crowd. If you're planning an elopement or just cutting down in size in general due to COVID, don't miss the opportunity to tell your SO how you feel. Especially after such a crazy few months, telling your partner how much they mean to you and what your marriage means to you is a beautifully significant addition to your changed wedding. It helps to ground you both as well, bringing you back to what your wedding really means and its importance, after a potentially stressful decision of having to change your original plans.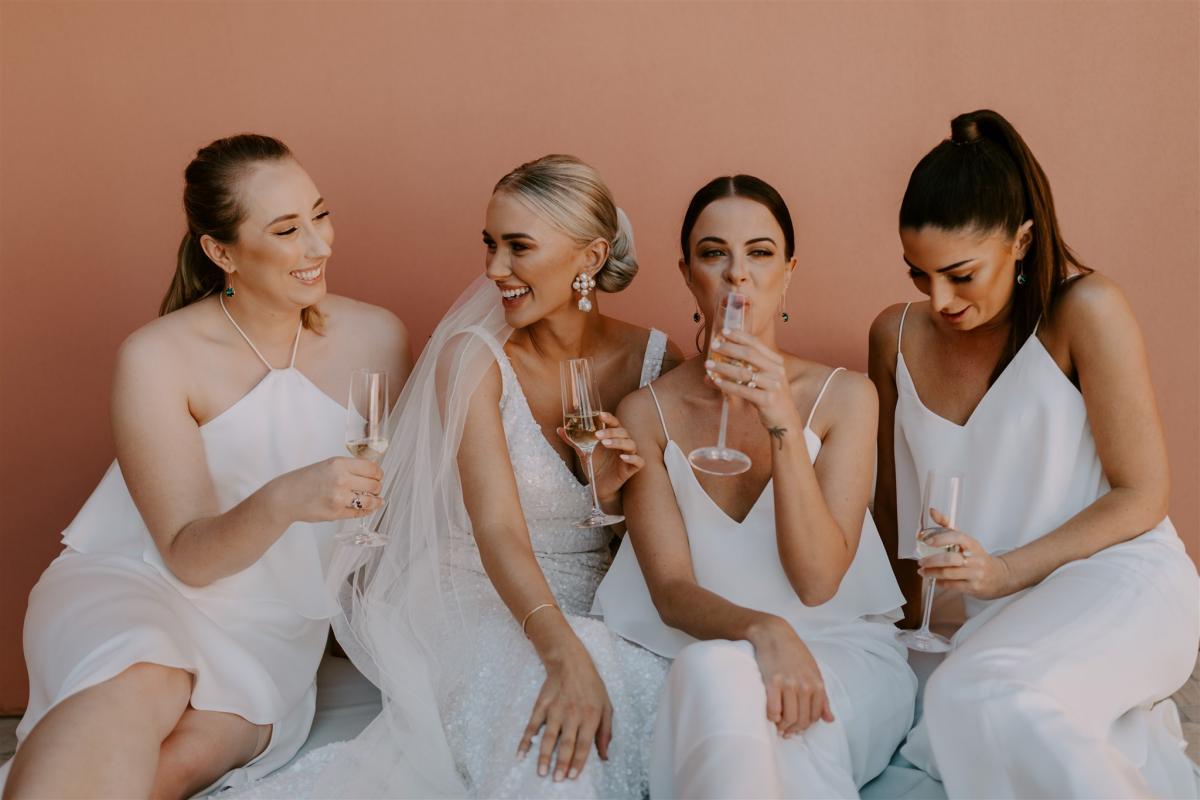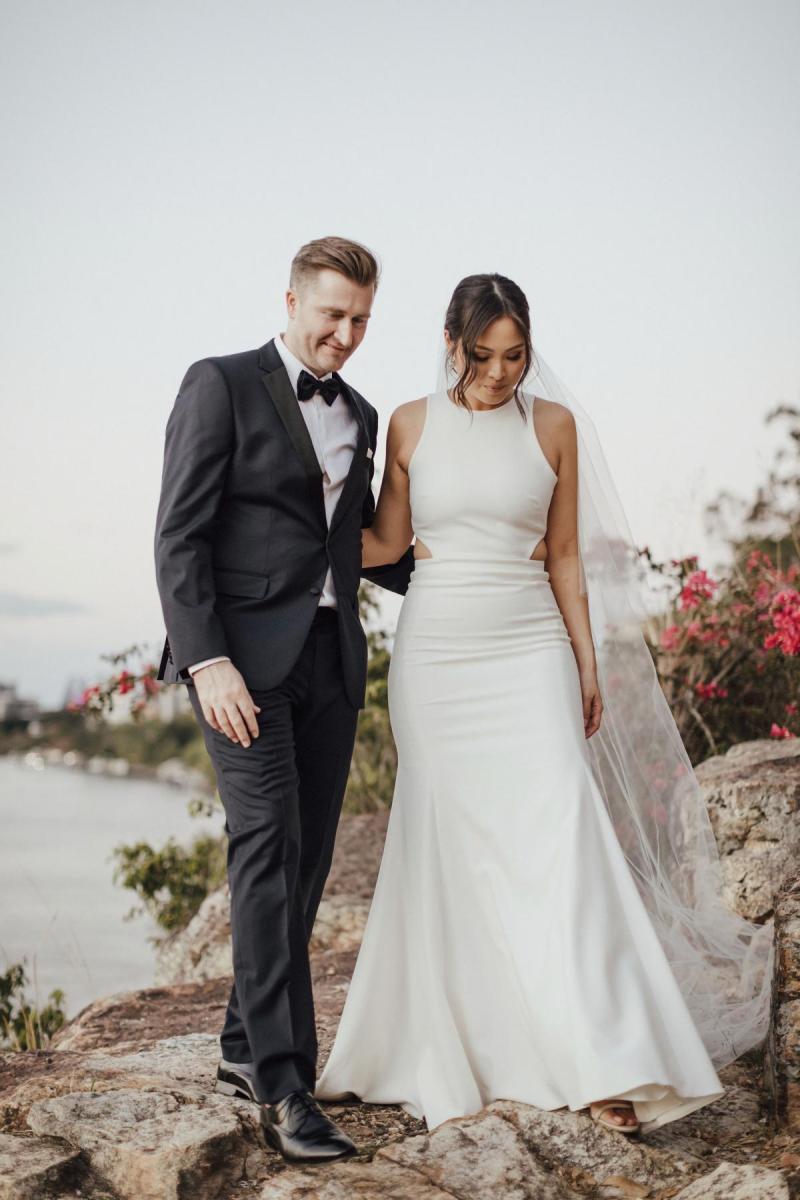 Melissa & Peter (Photographed by Lover of Mine) had a stunning elopement with custom vows, these two couldn't wait to be married!
Melissa and Peter's wedding did a complete 180. The gorgeous couple had originally planned for a winter wedding for 90 people, most of whom were traveling in from out of town. When COVID hit they knew if they wanted to continue forward with their original plan they would have to wait, and waiting to be married just wasn't an option! Melissa and Peter decided on an elopement (planned by the Elopement Collective) with two of their closest friends there to be witnesses and they pushed their date forward. The two decided that quick thinking and switching things up was the right move for them to be able to be married ASAP, rather than waiting to have their initially planned big day. Their elopement made things super easy as they no longer had the stress of planning a big wedding or having to make or DIY anything for their day, and their budget became much smaller as well — definitely an added bonus!
When these two were first planning their wedding, they'd opted to recite traditional wedding vows instead of writing their own as they did not feel it was right for them in front of so many guests. Having a smaller guest count, however, at their newly imagined wedding, allowed them to go forward with custom vows they'd written (with the encouragement of their celebrant). Melissa is now so incredibly happy they decided to change this aspect of her wedding, and will always have her personal vows to look back on.
After their elopement, the two dined out in their wedding attire (Melissa looked beyond beautiful in the Bridget gown with a brooch pinned to it which belonged to Peter's great grandmother — representing her 'something old'.)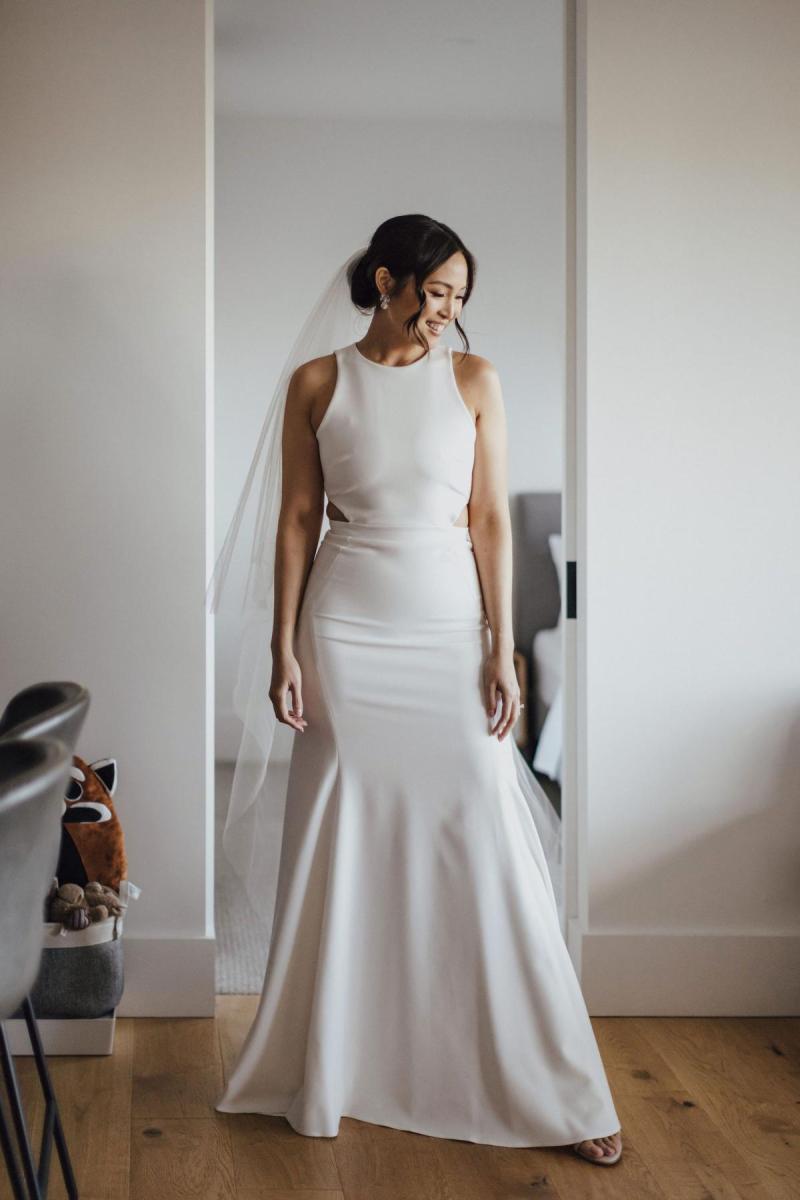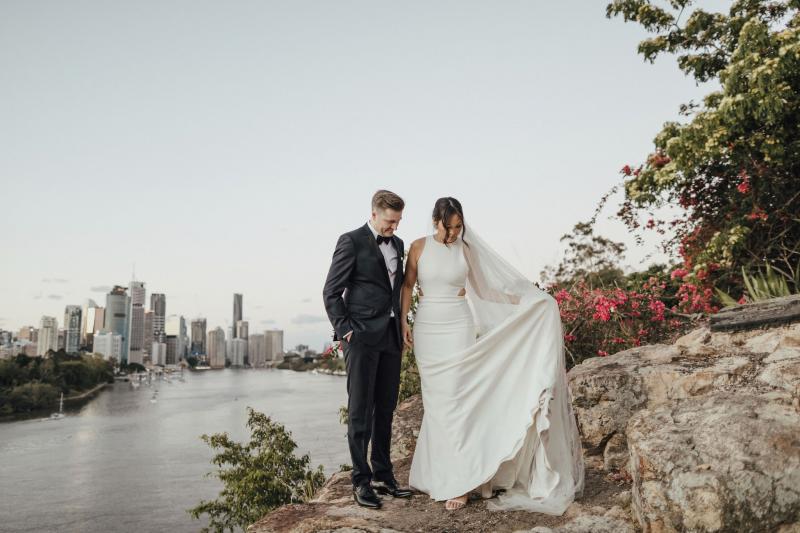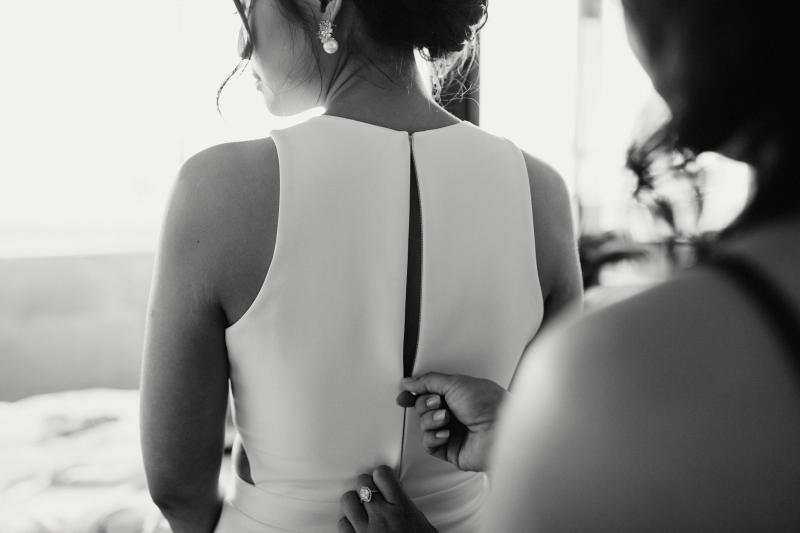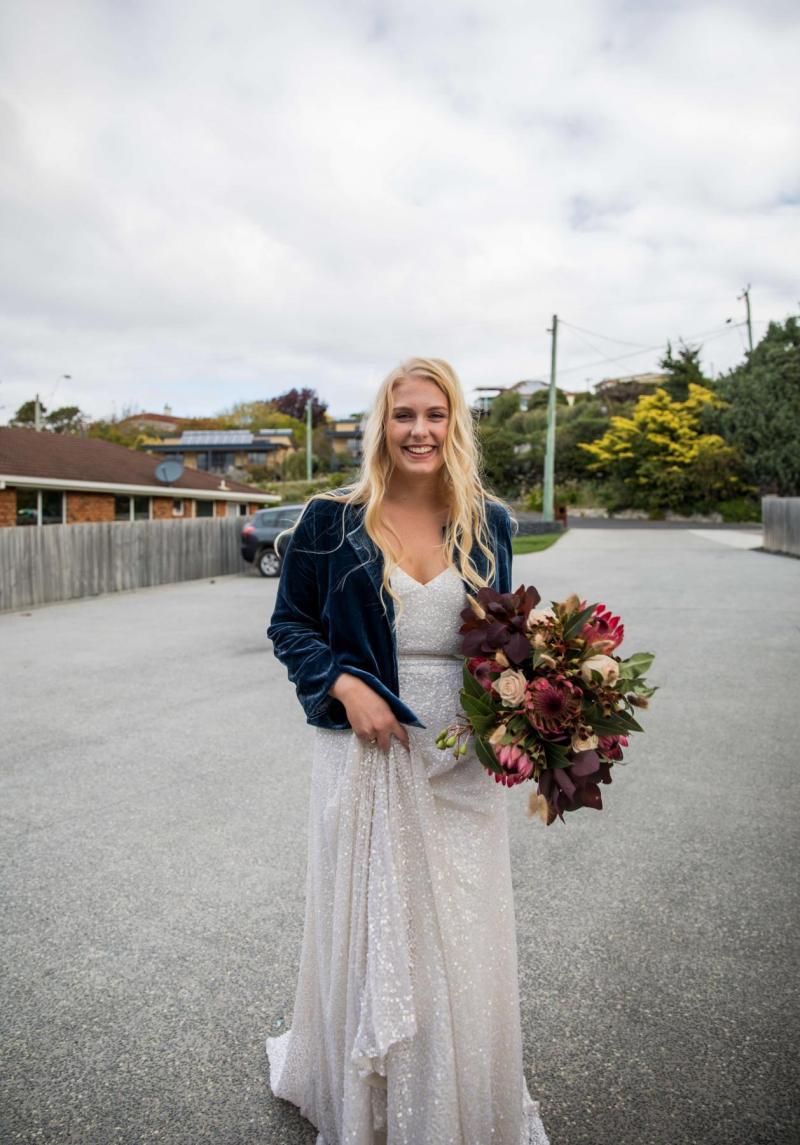 Switch Up How You Host:

With a tight-knit group at your intimate wedding and your potentially outdoor ceremony, you can also give a new spin on a classic big day by doing something alternative and incorporate some unique wedding ideas for your wedding format. Plenty of our brides are having a sequel wedding: keeping their original date for an intimate wedding ceremony now, and then having their originally planned big day (or just their reception) at a later date. (How many people get to wear their gown twice?) Some brides are also taking advantage of all the tech at our fingertips and live streaming their ceremony for all their family and friends to see.
Alana & Josh (Photographed by Isaac de Bruyn) had an incredible wedding that they hosted on Zoom for anyone who could not be there.
Alana and Josh made some big changes to their initially planned day as well. After feeling lots of decision fatigue during lockdown with whether to postpone and rearrange their whole day, this couple decided to go ahead with their wedding too. With a bit of luck (as Josh's brother is a photographer and his mum is a pastor) Alana was able to have a memorable, unique and beautiful wedding day during the time of COVID. With their guest count considerably lowered, the couple had the rest of their planned guests join by Zoom. Alana acknowledged how hard it is to have people close to you not be there in person, but one of the ways she circumvented that and was able to enjoy her day was by making the decision to celebrate all over again at a later date. We love this idea for celebrating later! Make the decision to do it, but don't bog yourself down with all the little details, 2020 has been tricky enough without having to plan all over again. It's a fabulous idea to have a small version of your wedding when you can, make the decision to have your originally planned day later on and save the details for when you have a clearer head space. It's a beautiful thing that Alana and Josh were able to weather the COVID storm by having a day of happiness and celebrating, even though it was different than what they'd initially planned.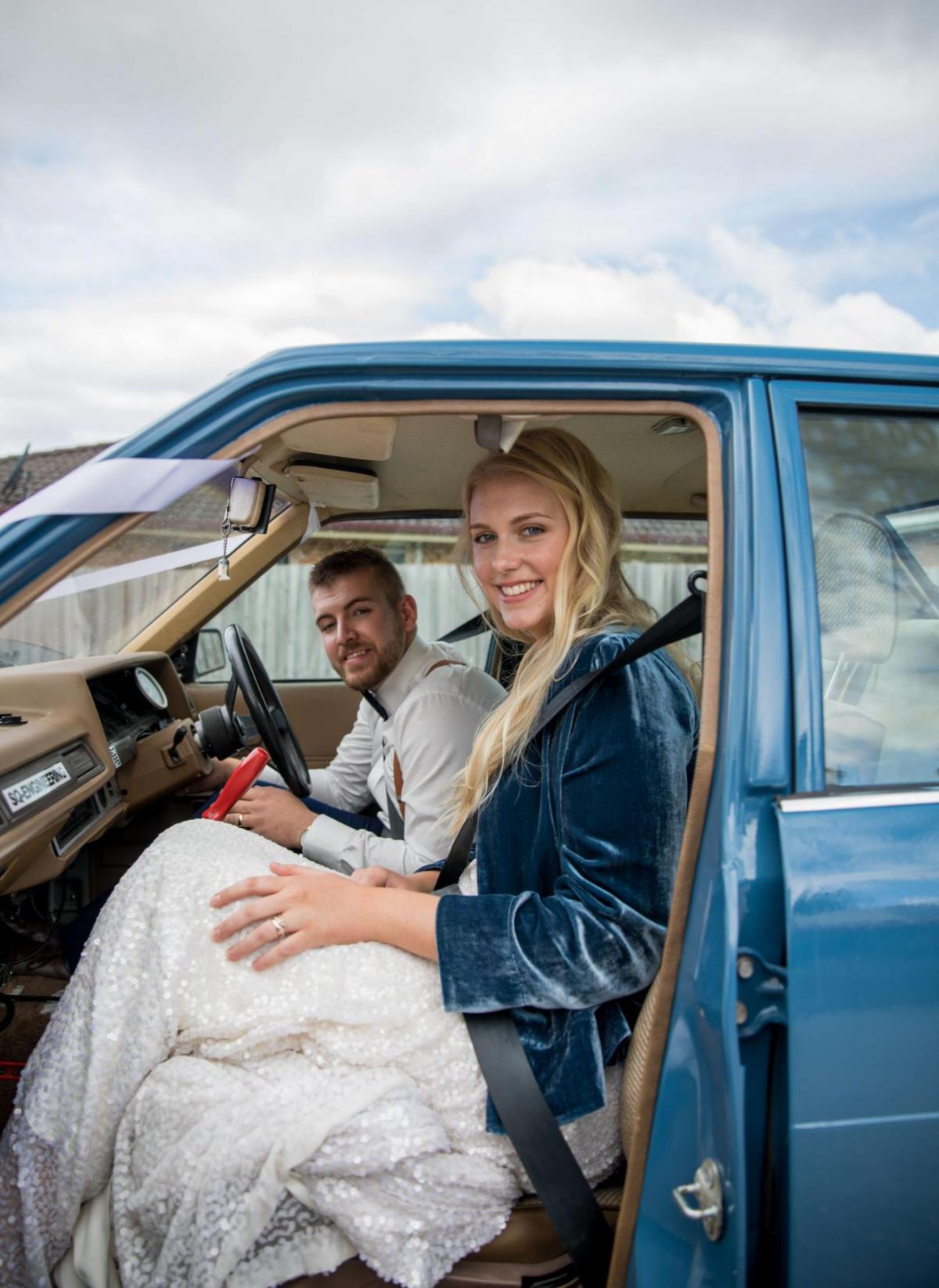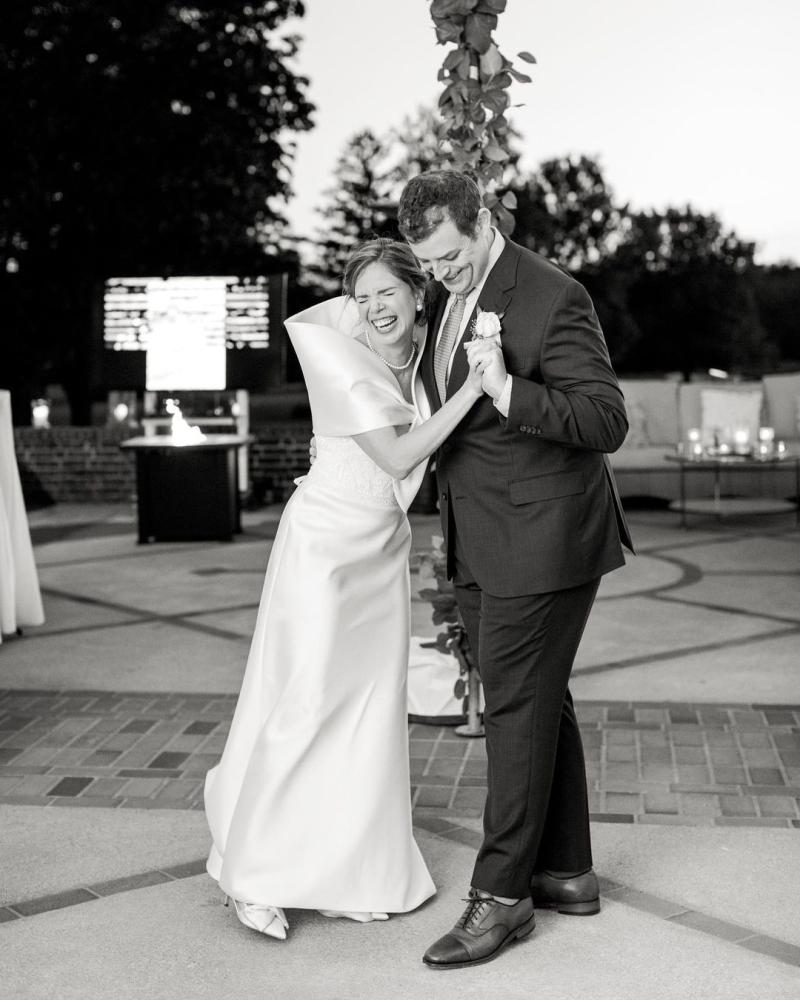 Create Welcome Packages:

One fun (and totally doable now with a smaller guest list) option is to create welcome packages for your guests, these can be your favours or be in addition to something separate. Welcome packages can include anything from comfy slippers to a personal bottle of champagne or a small gift specific to that person. This kicks off your big day making people feel at ease and comfortable right from the start and helps to set the tone of your wedding. In the time of COVID you can also include things like sanitiser or a mask if needed!
Hailey & Evan (Photographed by Tanya Salazar Photography) are a great example of a couple who had masks at their ceremony to help their guests feel more at ease.
Hailey had a breathtaking wedding in October in New York. Hosted at the Westchester Country Club, this wedding was stunning and intimate, and the bride and groom made sure to make their guests feel safe and at ease the whole time. Hailey knew she wanted to marry Evan on their original wedding date. Come what may, nothing was stopping these two lovebirds. With some slight alterations, such as their guests wearing masks during the ceremony, Hailey and Evan were able to gracefully and lightheartedly face the challenges of having a wedding in 2020. They even shared their first kiss with masks on for some levity! We love that nothing could stop this gorgeous couple from celebrating, and Hailey was one of our NYC brides that had a custom-made mask out of her wedding gown fabric. (Might we add she looked incredible in her BESPOKE, custom Demi bodice and Karly skirt with custom straps and 2 toppers she could remove throughout her night.) With her small adjustments, she was able to still have her day go off as planned and her guests felt comfortable which was so important to her.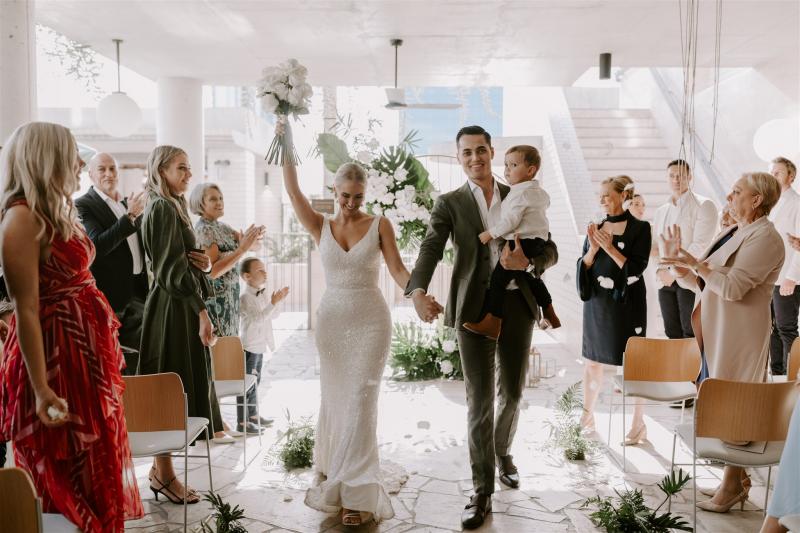 Think About Seating:

Ceremony seating in the time of COVID can become something beautiful. If social distancing is a priority for where you are in the world turn it into a positive, creating a semi circle around your aisle and alter, or having all of your guests' seats in a one-row single file creating your aisle for you looks absolutely stunning in photos!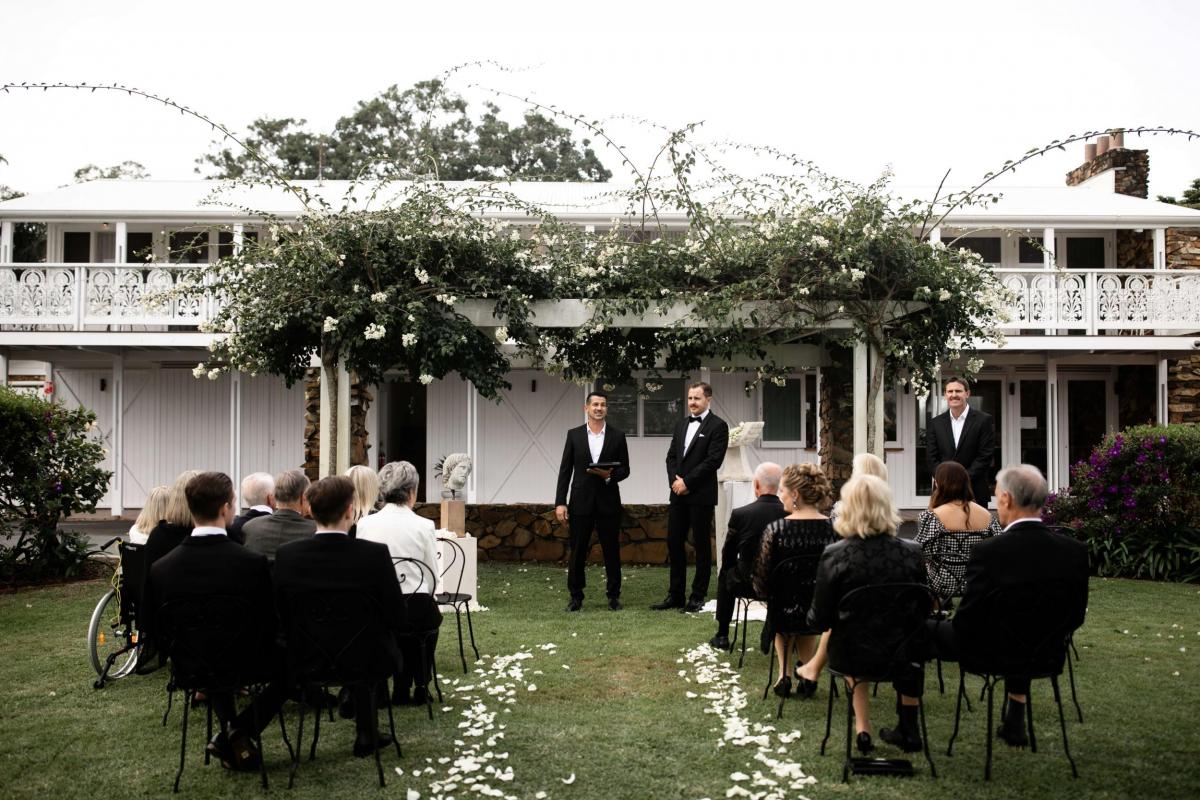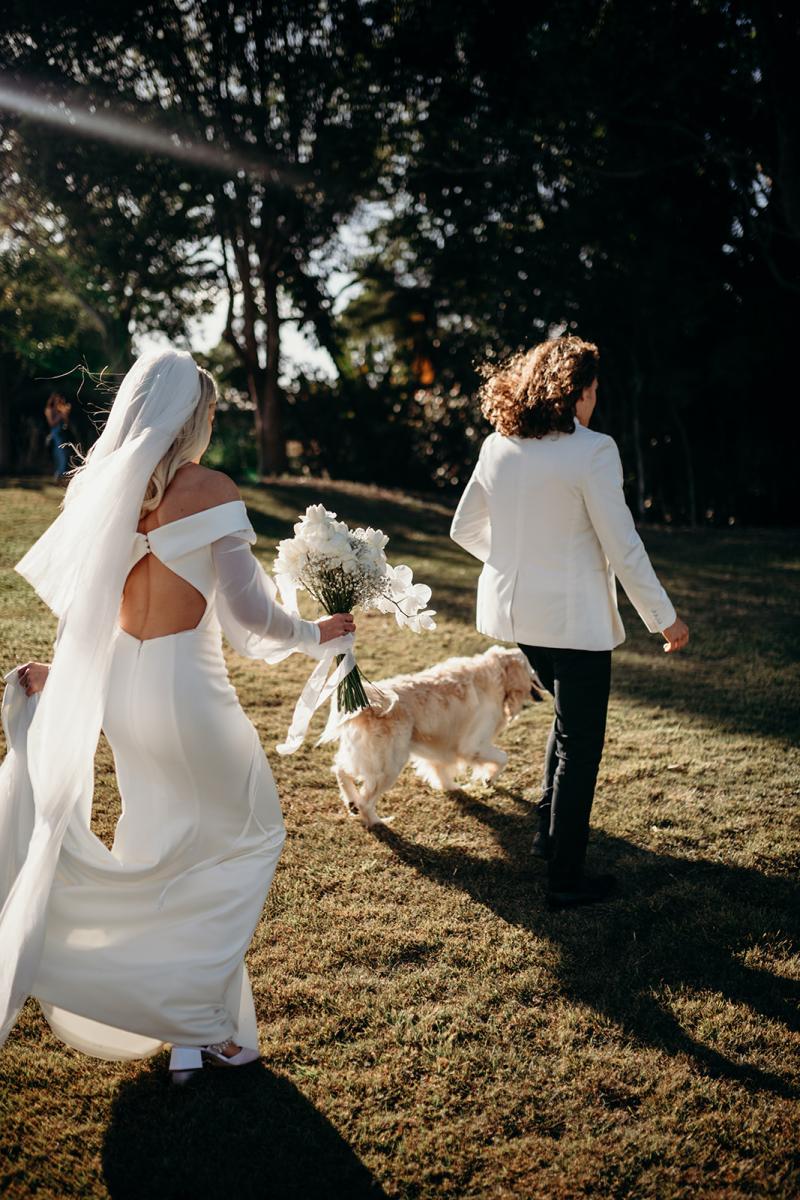 Hannah & Rich (Photography by Luminosity Film Studios) had a COVIDSafe reception of dreams, despite things changing from their original plans.
Hannah & Rich had already postponed their wedding 6 months out from their original date due to COVID when the rules changed yet again and interstate travel became limited in Australia. After having already rearranged their entire wedding once before, this stunning couple decided to forge ahead and stick to their new date, despite how heartbroken they were that so many of their guests could no longer attend. Their day-of coordinator (who was an amazing person to have on their day to help alleviate stress) took care of ensuring their wedding would run smooth, keep all of their party safe, and allow the couple to still have an incredible day even given the times they were in. By including their guests who could no longer attend through Zoom, and having their celebrant address them directly during their ceremony, everyone managed to feel included on such a joyous day. Hannah also incorporated some fun DIY's into her day with her bridesmaids and family helping to make all the floral arrangements!
Hannah & Rich had an outdoor reception with tons of space for guest to feel comfortable and be as distanced as they pleased, and by a stroke of pure luck the morning of their wedding was the first date that dancing restrictions were eased in their area and their guests were able to dance the night away while still following guidelines and feeling safe. A highlight to make their unexpected dancing even more perfect? Hannah's father and brother arranged a firework display during the reception for the most incredibly special moment. We can't get over how this couple's day turned out, everything was picture-perfect down to the last detail and they found ways to navigate to make their day turn out better than they'd ever anticipated. We can't recommend enough that you do something extra special (like Hannah & Rich's firework surprise) to take the attention off of the things you can't do and put focus on making the absolute most out fo your big day, we surely know our COVID brides deserve just that little hint of something extra special!
After having such a fabulous day, the lovely couple decided they were content and so happy with their turn out that their original plan of having a second wedding at a later date was no longer needed; their wedding was beautiful just as it was.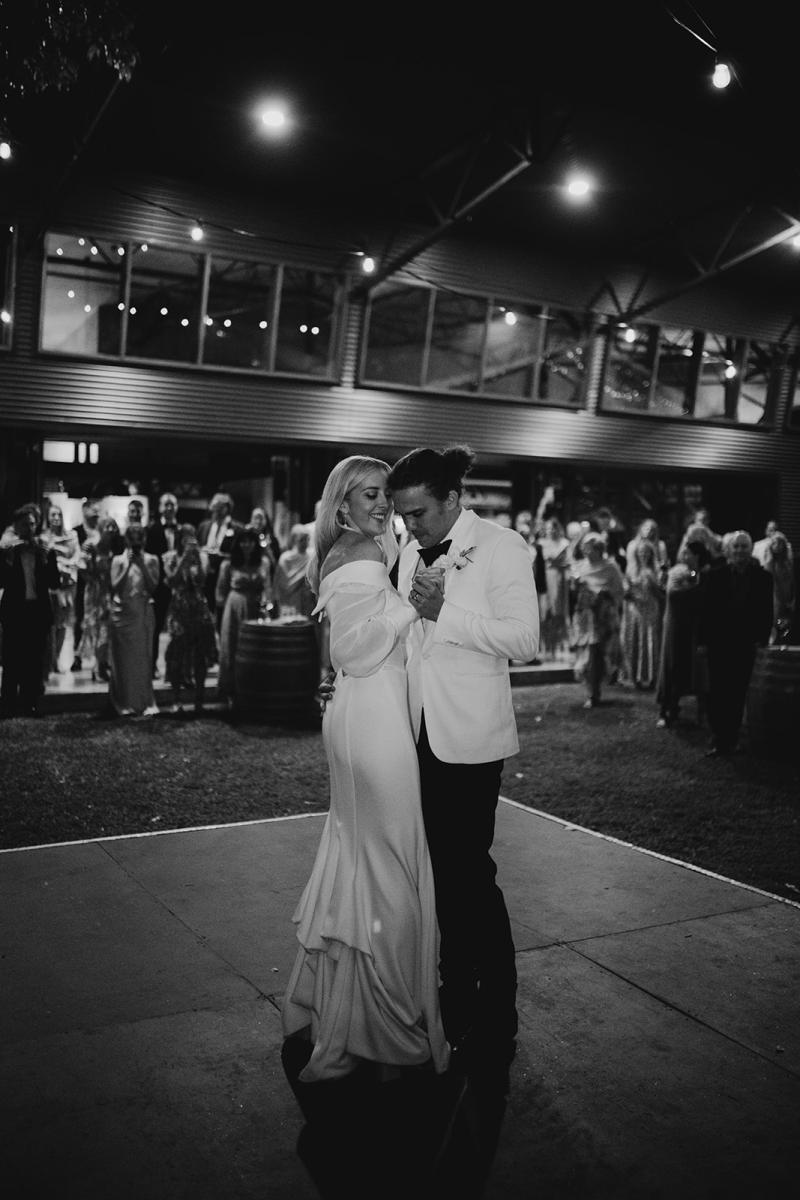 Instead Of The Bouquet Toss:

If you're foregoing the traditional bouquet toss due to a smaller guest count and you're looking for alternate wedding ideas, why not set up a bouquet making station? It's a fabulous way to take something classic and spin it into something modern and unforgettable, which takes away the negativity from something you "can't" do and turns it into something new and fun.
If You're Foregoing Dancing:

Part of some of our brides' 2020 wedding ideas included alternatives to dancing. If you're ditching the standard dance floor at your micro-wedding, take advantage of the fact that you might be outdoors: play games! Once the champagne bottles are popped and you're wedding-adrenaline has kicked in, there will be nothing better than giant Jenga or Corn Hole with your friends and family. We promise, they'll all be beyond excited for a special event in the current times and everyone will have even more fun than they would have normally.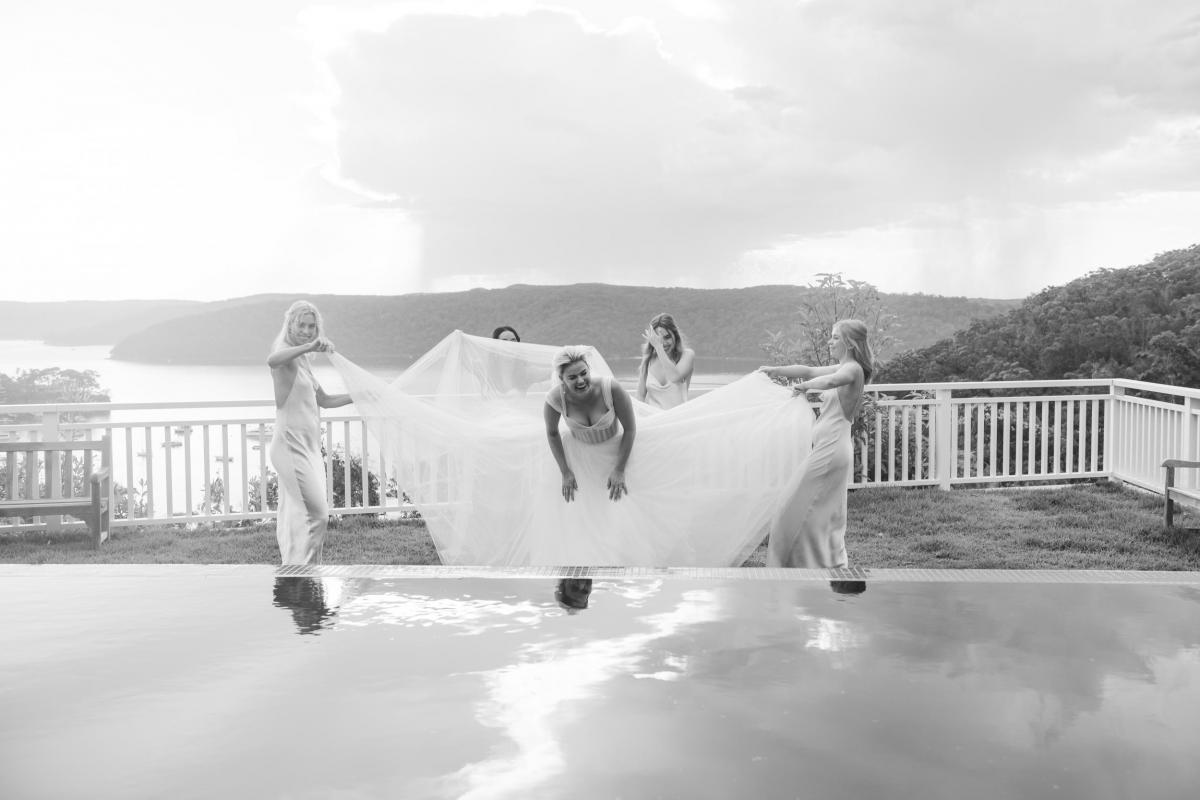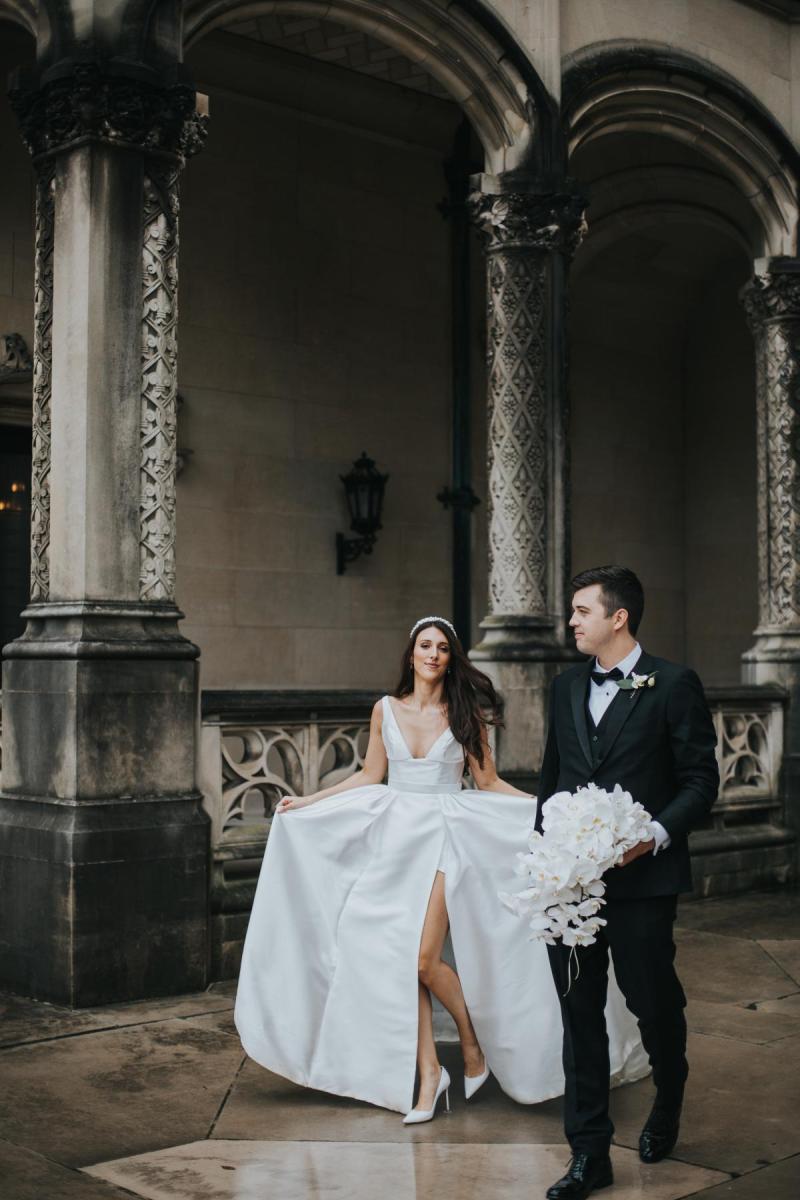 Consider Your Seating Arrangements:

Seating is something else to consider when looking for small wedding ideas during your wedding planning, both for your potentially outdoor ceremony and your reception. Distanced seating for a small crowd can look airy and beautiful and, in your photos, will allow you to see all of your guests when you look back on your wedding. This will also visually fill up the space and help your ceremony appear open. At your reception, a long family style table with gorgeous florals is a beautiful option in lieu of your standard few-person-to-a-round-table traditional seating. A U-shape table is also fabulous if you're looking to space out a bit more and want guests to be able to interact with each other.
Maria & Andrew (Photographed by Hartman Outdoor Photography & Michelle Elyse Photography) perfectly implemented so many of these great COVID reception recommendations, giving careful though to their dinner seating.
Maria's jaw-droppingly gorgeous small wedding of 50 was held outdoors at the Biltmore Estate with parts of her wedding held under a tented area. This left lots of openness for social distancing and ventilation. Masks were worn by guests and vendors, seats were distanced and tables that would typically seat 10 sat 7 people to make sure everyone was kept safely away from one another without feeling completely separated. Precautions were also taken to make sure this couple's guests did not have to get up and move around during the dinner courses, so that once their masks were off they could remain distanced and seated. We can't get enough of Maria's stunning wedding; it just serves to prove that you can still capture that bridal magic even with COVID precautions in place. One of our favorite things was that Andrew (being oh-so tech-savvy) created a software to text guests their table numbers on the morning of their big day in lieu of seating cards to avoid guests and staff having to touch their card. We of course love that Maria's beautiful Taryn Camille gown had pockets for all those lipstick touch-ups from wearing her mask.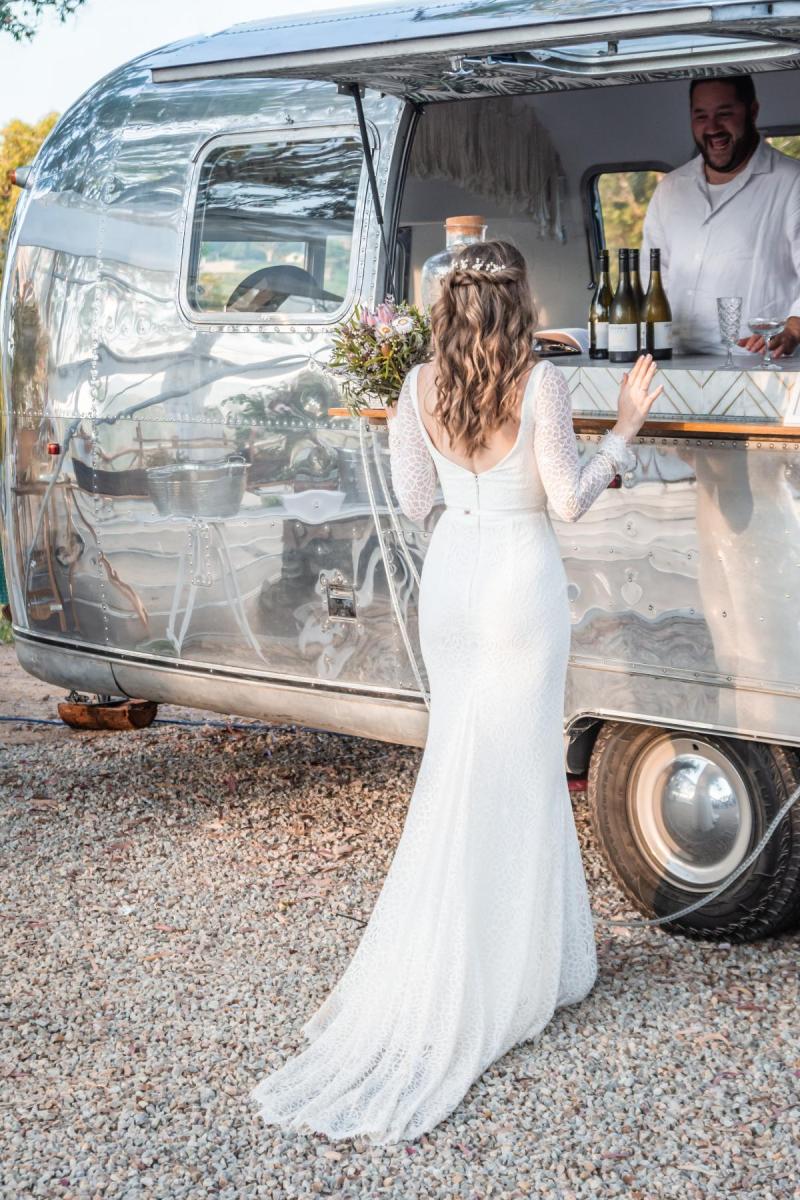 DIY What You Can:

If you're stuck on what to do for favours as you search for wedding ideas during your wedding planning, think DIY and custom. Cute care packages complete with bespoke masks and sanitiser are always a great fail-safe, but you can really get creative with your ideas as it's a whole lot easier to make 15 customised and special gifts than 150. This also works beautifully for table numbers and settings; putting in your own personal and artistic spin will truly make your wedding feel like you.
Opt For A Food Truck:

If you're going for a causal or laid back feel for you intimate wedding, your guests will absolutely love a food truck option. This doesn't only give you fun, fresh options for your menu but also helps during the time of COVID with avoiding guests siting too close together at a formal sit-down meal. If you're hosting a backyard or outdoor wedding you can create fun spaces for your guests to sit and picnic on the grass with their pizza, tacos or anything else you can imagine.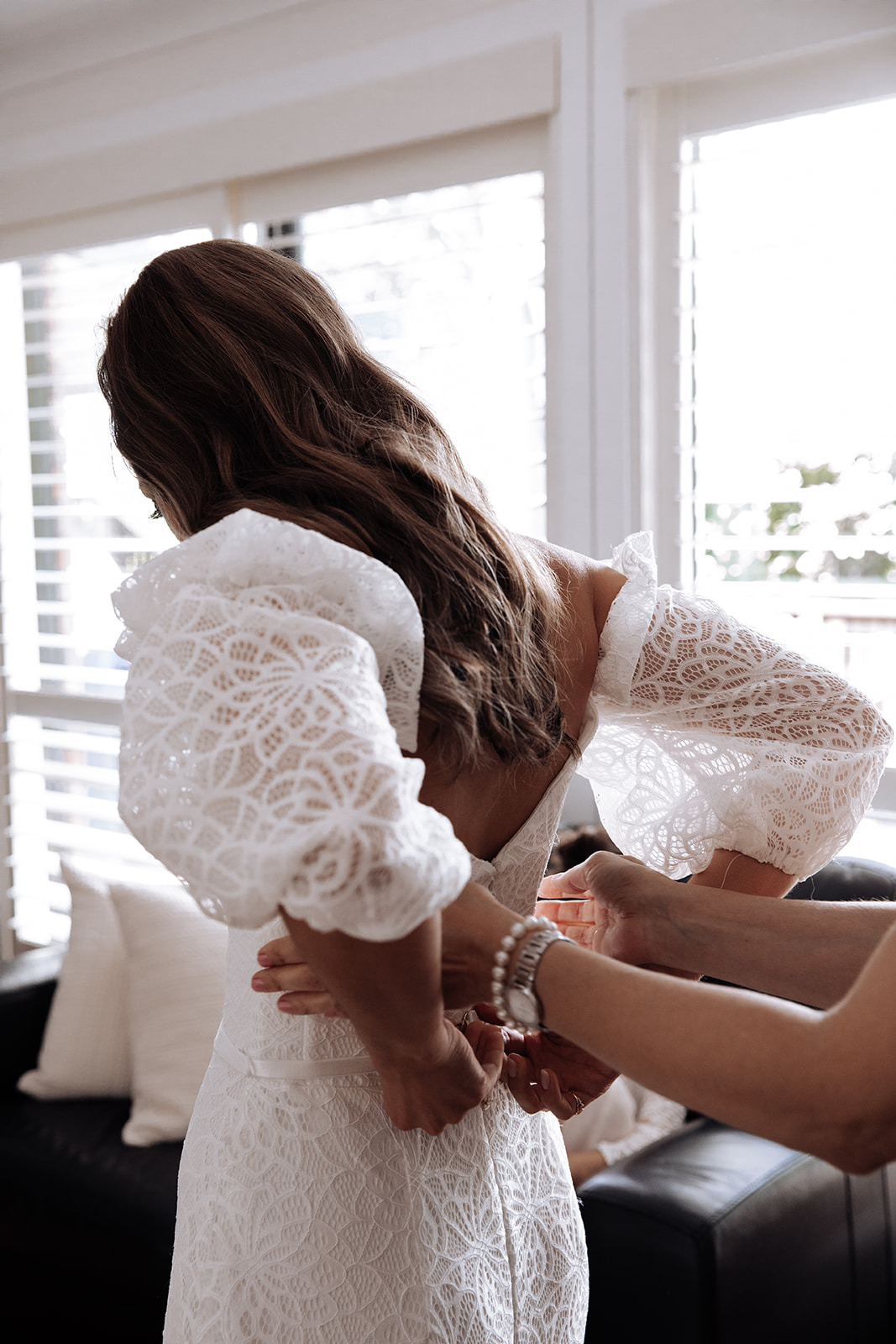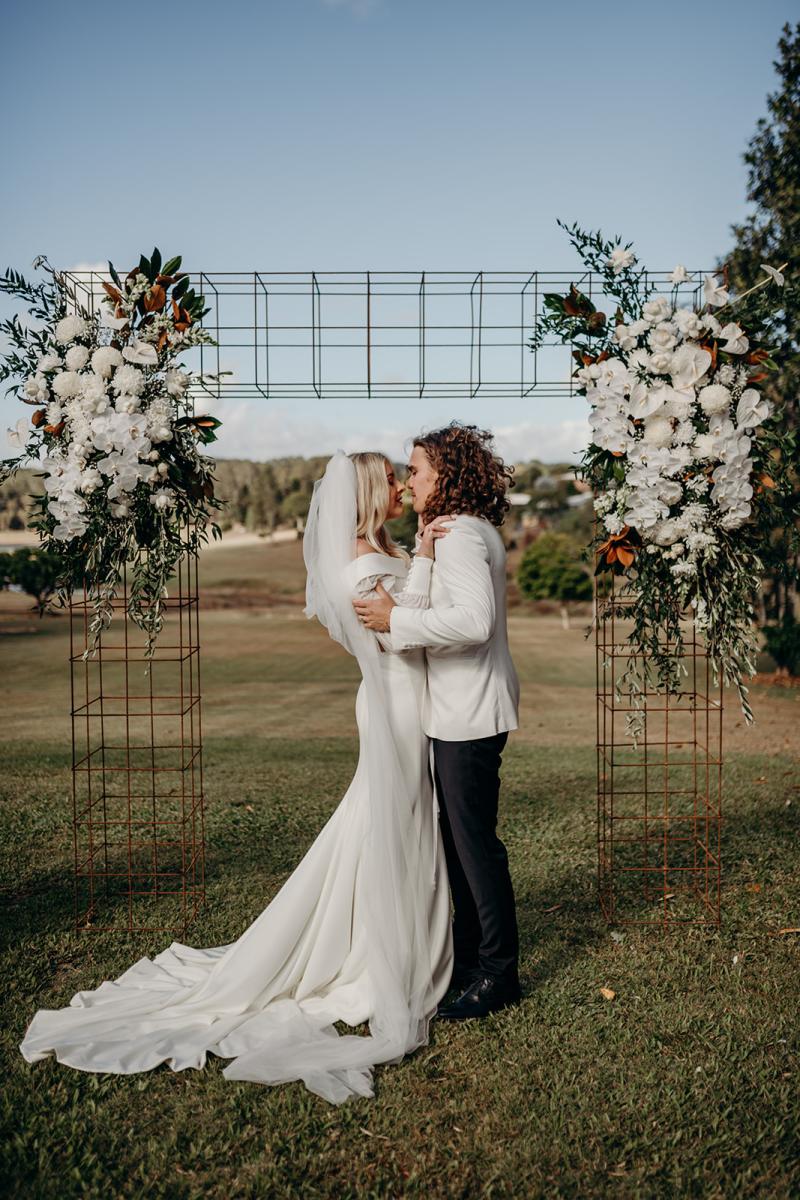 Now that you've got all the wedding inspo and ideas, you're ready to start the fun bit – the dress hunt! Book an appointment with us today to see your favourite KWH styles in person.
If you're in the midst of wedding planning during this time and are opting for a smaller, more intimate option, check out our recent blogs here and here to help you through the process and give you some great tips!