Caring For Your Gown On Your Wedding Day
Your wedding day is finally here! Congratulations! We know how much hard work has gone in to planning and prepping for this so sit back, relax and enjoy this magical day with your friends and family.
In this piece, we talk you through how to care for your gown before, during and after your wedding. This is especially helpful to pass onto whoever is helping you get ready on your wedding day as there are pointers about preparing your gown and how to fasten the back of your gown.
Handmade and hand finished in our Sydney workroom, we have skilled pattern makers, drapers, cutters, sewers & fitters that work on your gown every step of the way. Here is a message personally from Karen & the team who worked so hard to create your stunning wedding outfit.
Before The Wedding Day
Once you have had your last wedding dress appointment in-store and collected your beautiful KAREN WILLIS HOLMES gown, there are a few tips we have to ensure your gown stays perfect from our store to your home, until your big day.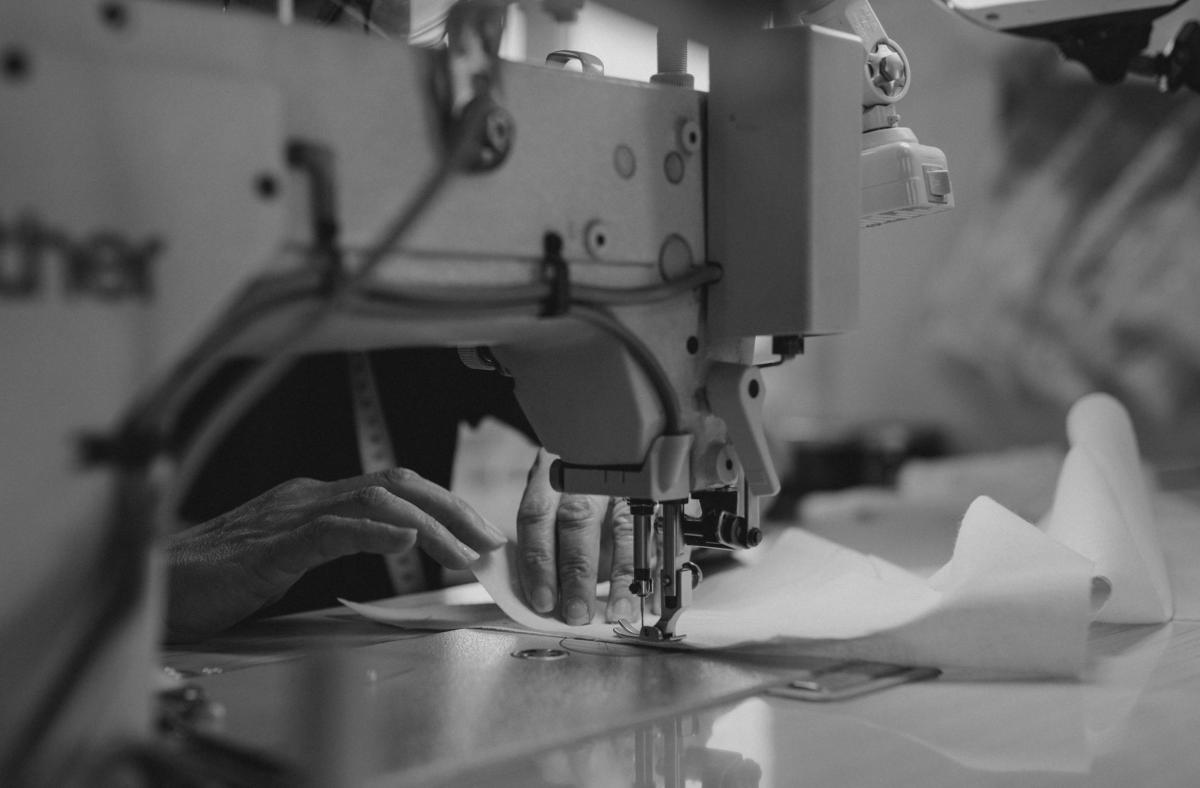 Transporting Your Gown
When carrying the gown, hold the hanger with one hand and drape the end of the bag over your other arm. Make sure the bag is facing up, nice and flat and is not twisted around or dragging on the ground. If you are driving home, hang the hanger onto one of your back-seat hooks and lay the rest of your gown flat along the back seat. If you have more than one passenger and they are sitting in the back with your gown, lay it flat across their laps.
Once you have arrived home, hang your gown up immediately. On the back of a door is usually best as it is high enough. Put it somewhere not a lot of people will walk past, so there is no risk of it getting caught on someone or something. It is important to select a storage area that is cool, dark, dry and free from moisture and insects. If you have a long train, it is better to open your gown bag and pull your train out (Leave the gown bag on the hanger however to cover the rest of your gown.) Most small creases will drop out while hanging.
We DO NOT recommend you iron or steam your gown at all. However, if you have any stubborn creases, we recommended a light iron with a white pillowcase in between (do not use any other colour) – do not put the iron directly on the fabric.
Putting On Your Gown
On the day, when putting on your gown, make sure whoever is buttoning/lacing you up, has very clean hands. If they are wearing nail polish, make sure they have not just applied it that morning! Once you are in the gown, you are ready to walk down the aisle looking gorgeous towards your lovely partner.
If you need a refresher on how to do up the back fastening of your gown, watch these videos.
For KWH BESPOKE gowns
There are 3 sets of ribbons – one set is located on the center back seam where zipper is. Second and third set are located on the side back seam. Ribbons are stitched to the lining underneath gown, facing bride's legs.
Using two people, lift up bride's skirt and tie center back ribbons first making sure both ends meet. Tie in a double bow to secure. Then proceed to tie up the remaining two sets, making sure both ends meet again with a double bow.
Lower skirt, and arrange the folds of the skirt nicely.
For KWH LUXE Gowns
Sequin layer and lining have two ribbons. Sequin layer ribbons need to be tied together and lining ribbons need to be tied together in a double bow.
Bride to hold up sequin layer whilst you tie the lining first then while she is still holding up the sequin layer you will tie the two ribbons on the sequin layer in a double bow.
If you requested a wrist tie this will be located on the center back seam at the very end of your train.
After The Wedding Day
So, you have just married the love of your life and taken off your gown. Put it back in the hanger and gown bag and hang it up. The plastic gown bag is great for short term storage and travel, however, is not good for the gown to be stored in long term. As soon as you have a chance after your wedding and honeymoon, take it to a professional wedding gown dry cleaner, to have it packed for long term storage. Alternatively, the gown can be stored hanging in a fabric bag. Again, it is important to select a storage area that is cool, dark, dry and free from heat, moisture and insects. We have a recommended Dry Cleaner close to where our boutiques are located if you would like their details please ask.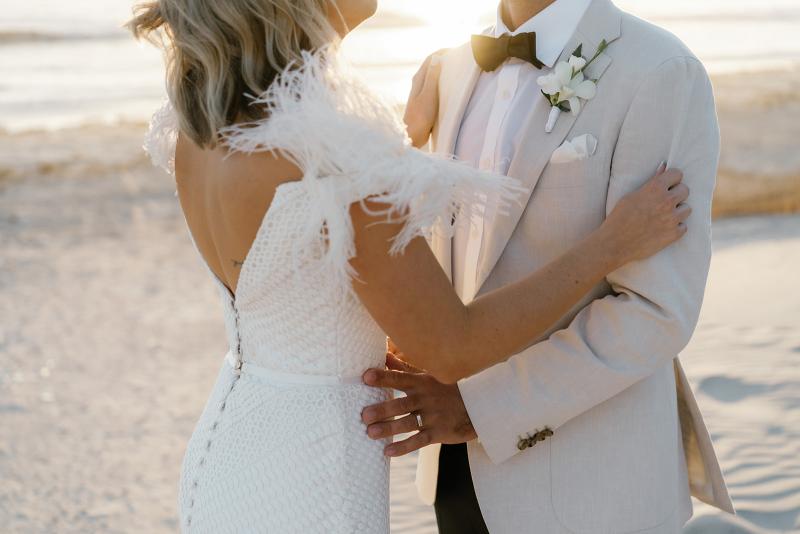 Review Your Experience
We would love for you to share your experience at KAREN WILLIS HOLMES with future brides who are searching for their dream gown. The best compliment you can give us if you haven't already is to complete a review on Google or Facebook.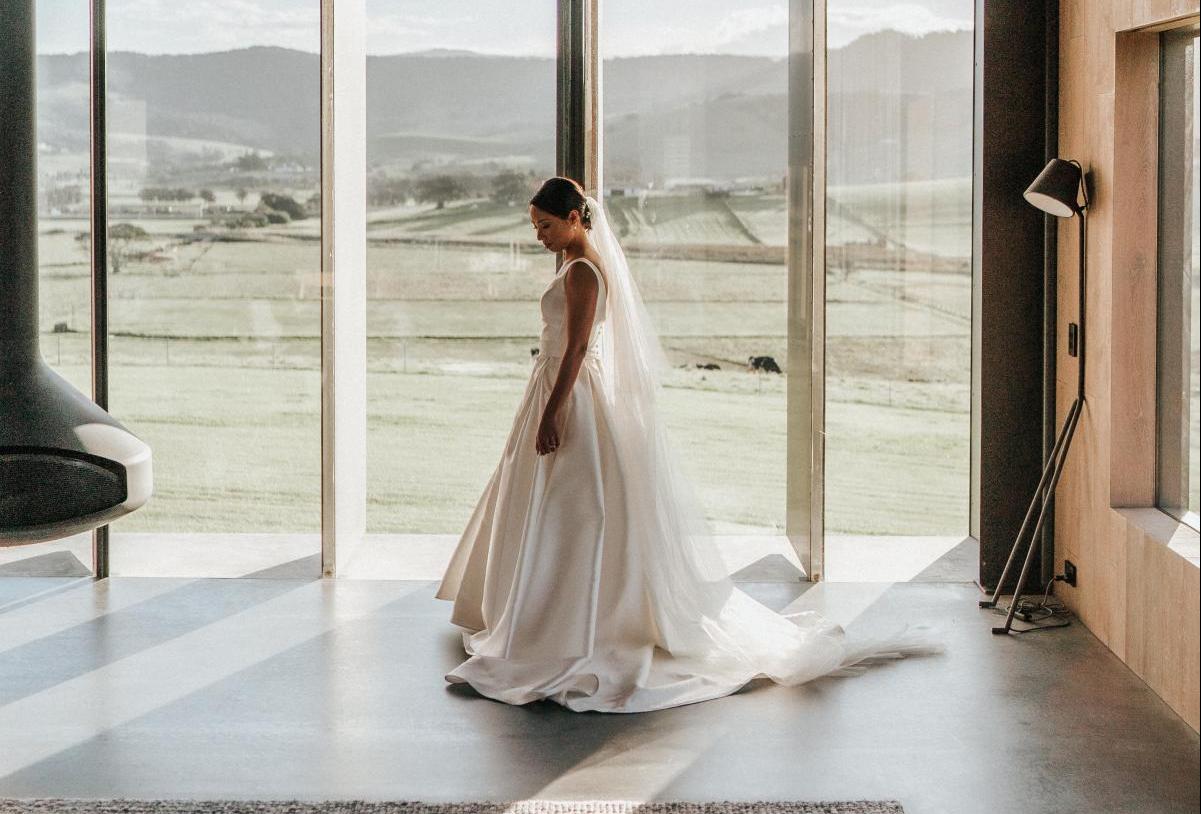 Your Wedding Photos
After all your dreaming and planning you are married, congratulations! Once you receive your images back, we would love to hear and see how your special day unfolded. You can send them through to us at info@karenwillisholmes.com or tag us on our Instagram @kwhbridal.
**We love sharing images of our Brides on social media, if you would like us to do so please provide credits of your key wedding vendors, most importantly your photographers. We do receive many beautiful images so please keep in mind it is not possible to share every bride's day on social media, and we do also accept that not every bride wants their images on social media so please do let us know if you would like us to keep your images to ourselves. We can't wait to share your images internally with the team that helped to create your special gown. We prefer gallery links with download pins from your photographer or images via Dropbox. If this is not possible, please attach a few of your favourite images from your day that show off you and your gown.