28 Ideas to Plan a Rustic Themed Wedding
You're engaged!
And (cue the daunting music) planning your big day. We know for a lot of our brides, planning comes with a dash of stress and a pinch of pulling-your-hair-out-over-some-detail-or-other. Or maybe you're lucky; you're loving life and loving your planning. Either way, whether planning has you feeling frazzled or flying high, one of the first things you'll do is choose the style, theme, tone or feel of your big day. So many of the stunning brides we've met through
beautiful vibes whilst balancing carefully planned details. Rustic outdoor weddings are incredibly popular among our brides, and brides in general, because it's a theme that never goes out of style, something that's universally stunning and manages to perfectly combine a casual feel with a breathtaking wedding which so many contemporary brides are after. (Of course, rustic weddings don't necessarily have to be outdoors, though many of them are.) We've put together an ultimate guide of rustic wedding ideas, bringing you tips and tricks, elements from weddings we've seen that we've loved and all the best from our team on what details combine for the perfect rustic wedding.
So, what exactly makes a wedding 'rustic'?
A rustic wedding theme stems from the word rustic itself, which means simple in nature or pertaining to the countryside. Think weddings from long ago that were held in a much simpler manner than the weddings of today, where the marriage was the emphasis (less-so the wedding itself). Picture a gorgeous mountainside or rolling green hills out in the country, anywhere out in nature, really. This is where the tone and feel of rustic weddings began. Rustic weddings always have an emphasis on nature, as well as other universal elements. Rustic outdoor weddings can be held in a barn, on a farm, homestead or ranch, on a mountainside or a gorgeous backyard or in a forest. That's not to say you can't bring your rustic wedding ideas to life elsewhere, though. We've seen plenty of our brides take a blank-slate indoor venue and fill it with rustic décor (all the fairy lights, exposed brick and greenery please), shabby-chic, eclectic touches and lots of farm-style influences, and have the most gorgeous rustic-themed big day. As we always say, don't hold back from making your big day your big day. Your wedding should display exactly who you are as a couple and the design and style you both gravitate towards most for your personalities. If that means rustic but with a twist, we're all for it. If you're about to jump into planning a rustic wedding, we recommend spending a lot of your time on Pinterest or other inspo-sites to give you all those incredible ideas. You'll start to see repeat patterns and themes coming up as you collect images you love and that will help to guide you to your perfect big day. Keep reading for our personal take on a rustic-bride-guide and helpful rustic wedding ideas to get you started.
*Choosing Your Perfect Rustic Wedding Venue*
*Your Look on Your Rustic Big Day*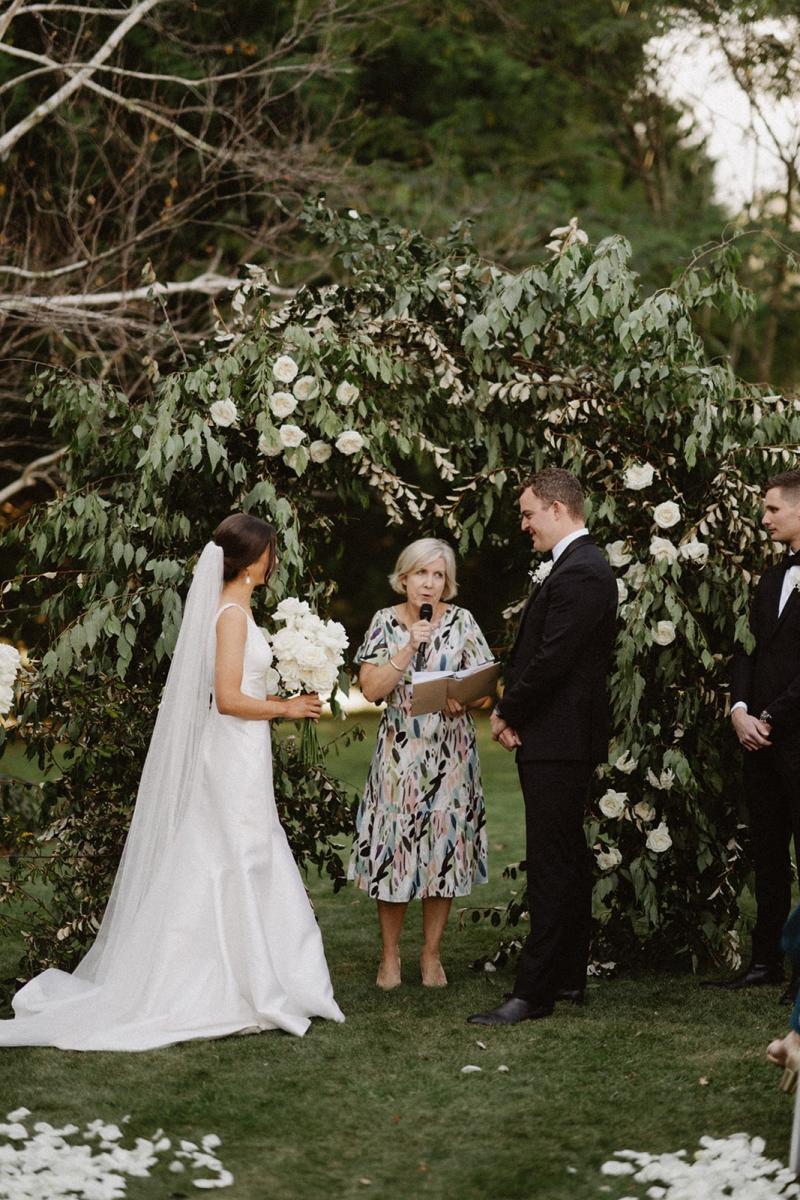 *Choosing Your Perfect Rustic Wedding Venue*
(One of the first things you'll do for your wedding, alongside picking the date, is choosing your venue, you'll have to decide which style is right for you and your spouse-to-be.)
Rustic Outdoor Weddings
While sifting through countless inspiration pics for rustic wedding ideas have you noticed anything that most have in common? Rustic wedding venues are typically inclusive of outdoor elements. You might want to consider a yard wedding (bonus points if someone you know has a gorgeous yard you can utilise) under a beautiful boho-inspired tent. Perhaps you want to go ethereal and have your big day hosted in a forest or capture the feeling of shabby-chic with a vintage farm wedding. Whatever way feels most like you, we love a rustic outdoor wedding as it truly encompasses the spirit of this theme: an emphasis on nature and a relaxed, totally un-stuffy feel.
Rustic Barn Weddings
Perhaps one of the most classic venues to match this theme; consider having a rustic barn wedding. So many barns rented out for weddings have an incredibly gorgeous feel and are a far cry from what one envisions when we think of the word 'barn'. With room for lots of customised décor, florals and exposed vintage wood, a barn wedding might be the perfect fit for you.
Rustic Country Weddings
Whether on a hillside, mountainside, or just out in open country, a rustic country wedding always makes for a breathtaking scene. Seeing countryside weddings set out in the open with just some lights or florals above your farm-style reception table or your wood-themed ceremony is just beautiful.
Indoor Rustic Weddings
As we said, maybe having your wedding totally outdoors isn't what you're after. Perhaps location and weather don't permit it for you, or perhaps you're looking for a combo of indoor-outdoor. If any of this sounds like you, when you're hunting for rustic wedding venues, we recommend looking for something that has little to no décor already installed (unless it's already pretty natural/rustic feeling, of course) and then bringing in your own rustic wedding décor for the big day so you can make your theme shine through.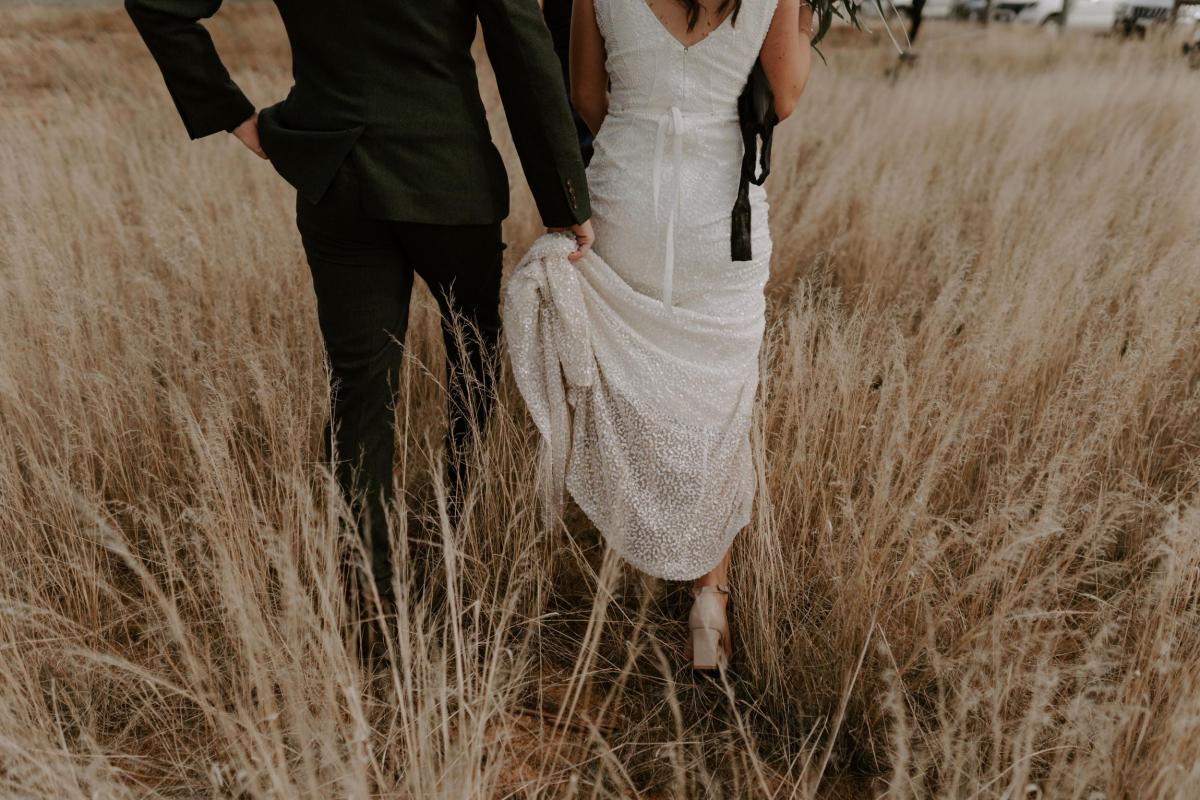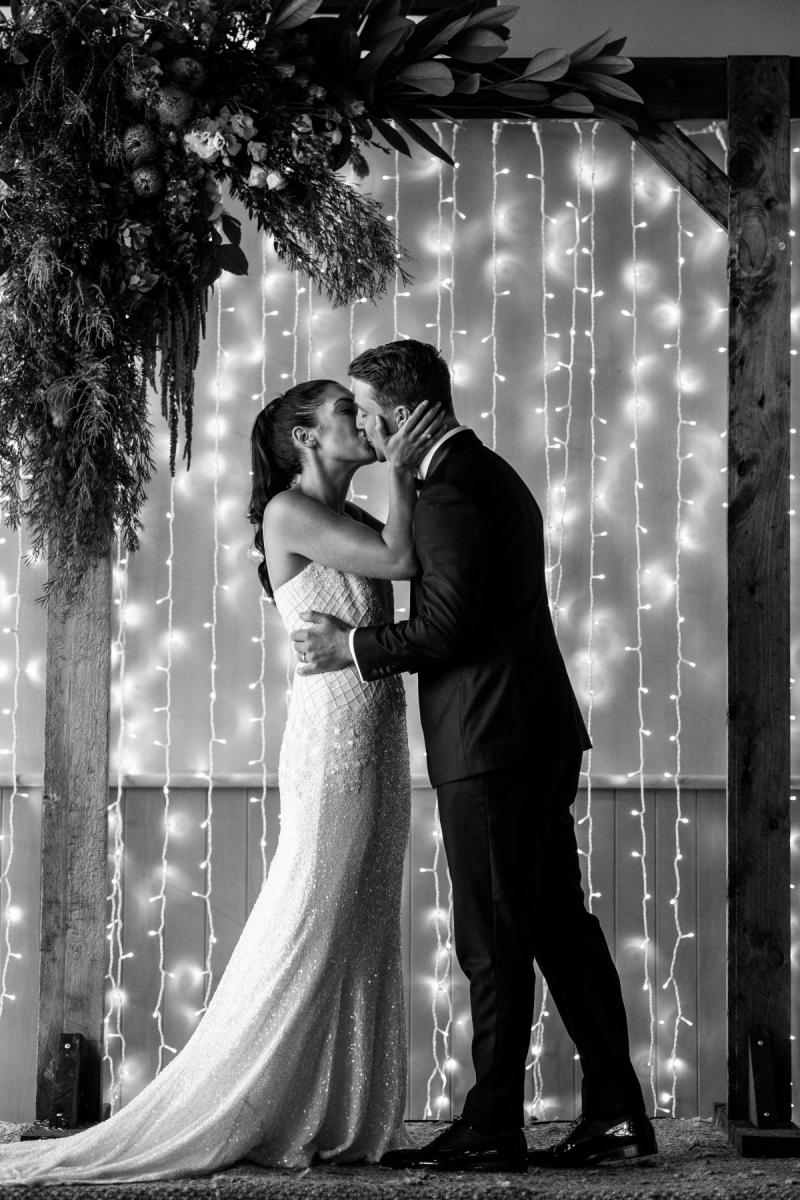 *Rustic Wedding Décor*
(Whether you've opted for indoor, outdoor, or some combo of the two, you'll next want to focus on how to decorate your space or setting. When going for a rustic wedding theme, this is the fun bit for sure!)
A Rustic Wedding Arch for the Ceremony
Setting the scene for your guests right when they first arrive is key. One of the first things your guests will see is where you and your fiancée will stand at the head of your ceremony aisle. We can't say enough how stunning a rustic wedding arch can be. For their rustic wedding décor, some brides opt for a lush floral archway made of mostly greenery, others we've loved have done a dried floral and branch arch. For a heightened boho/rustic feel we definitely recommend something asymmetrical and perfectly imperfect.
Rustic Seating
Seating for both your ceremony and reception can go hand in hand. For your stunning rustic country wedding we recommend minimalism and exposed wood. The whole point of a rustic theme is to ditch the gaudy/overdone feeling of some traditional weddings and bring things back to their natural basics. If your guests will be seated outdoors, half of this feeling is already encompassed. Heightening it with nature-inspired seating makes your décor meld right into the surroundings.
Rustic Table Décor
Just because we're ditching the gaudy doesn't mean you can't get creative. For your reception tables we love colour. Rustic wedding décor is made up of a lot of neutrals, that's why for your table decorations we say go for pops of colour incorporated in alongside wooden slabs and mason jars. Think mismatched vases, muted but layered tones of colour over exposed wooden tables. Your rustic wedding will be anything but boring once you include those diverse, maybe even eccentric, tastes that make you who you are.
Other Decorative Elements to be Sure to Include
Other elements we love: calligraphic paper goods including your handmade rustic wedding invitations and wooden or chalkboard signage. Natural feeling string to tie around menus or favours. Earthy tones amongst copper elements spread throughout your venue (on tables, walls or hung up above) and all the lanterns and string lights — more on that in a sec.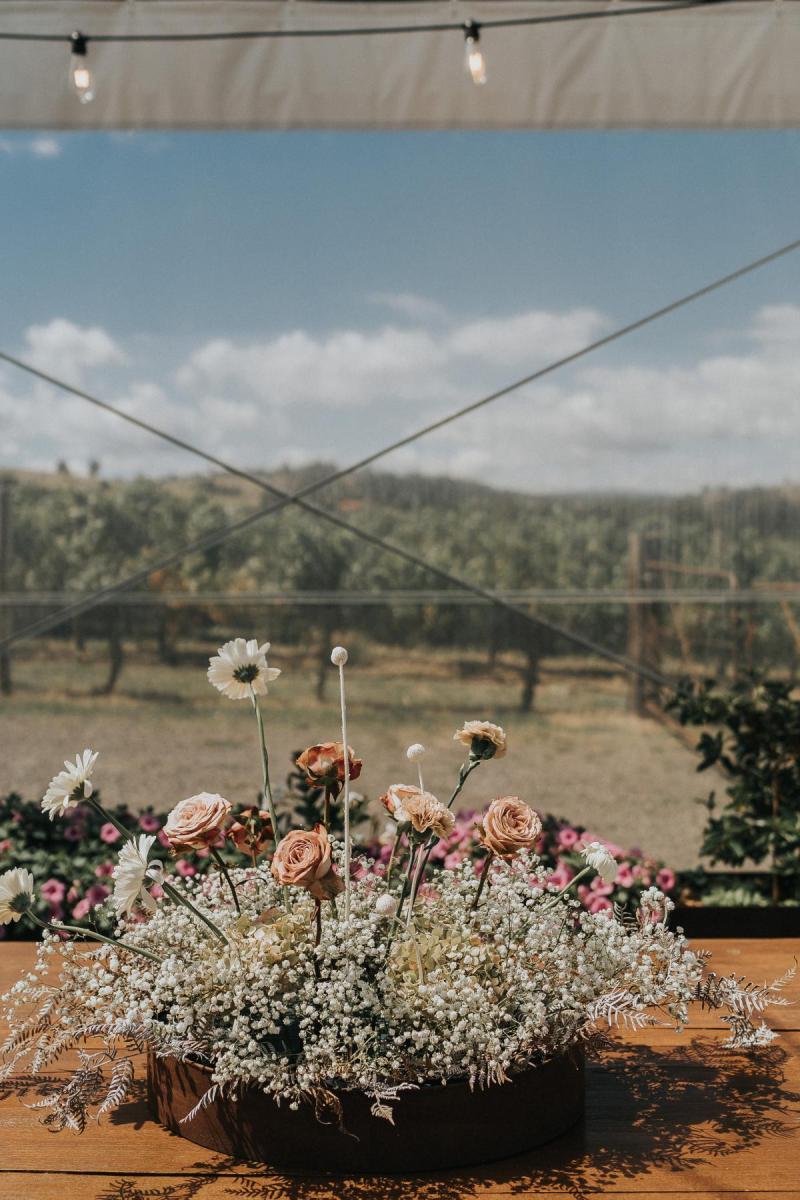 *Rustic Lighting*
(Perhaps one of the most essential elements to setting the mood for your rustic wedding theme!)
Cozy Vibes
To set the tone of your rustic big day you'll really want to focus on lighting. Take away all imaginings of harsh spotlighting that you might find in a ballroom or other venue and think cozy, dim, comfortable. If your wedding is outdoors than during the daytime you'll have natural light. In the evening, however you'll want things to feel relaxed and comfortable. We love a good bonfire for a rustic reception!
Candles
Bonfire not your thing? Gather as many differently sized, and maybe differently coloured, candles as you can. Indoors on ledges/fireplaces/shelves or outdoors on mismatched wooden tables, candles truly set the rustic mood.
String Lights
Have we said this enough? Fairy lights, string lights, globe lights galore. Nothing says rustic like these beauties intertwined with florals, or just exposed on their own. We've seen brides go simple with single strands dotted here and there, and others go ahead and drape away — even so far as creating a canopy for their reception out of string lights! Nothing quite sets the tone like the soft yellow light they give off.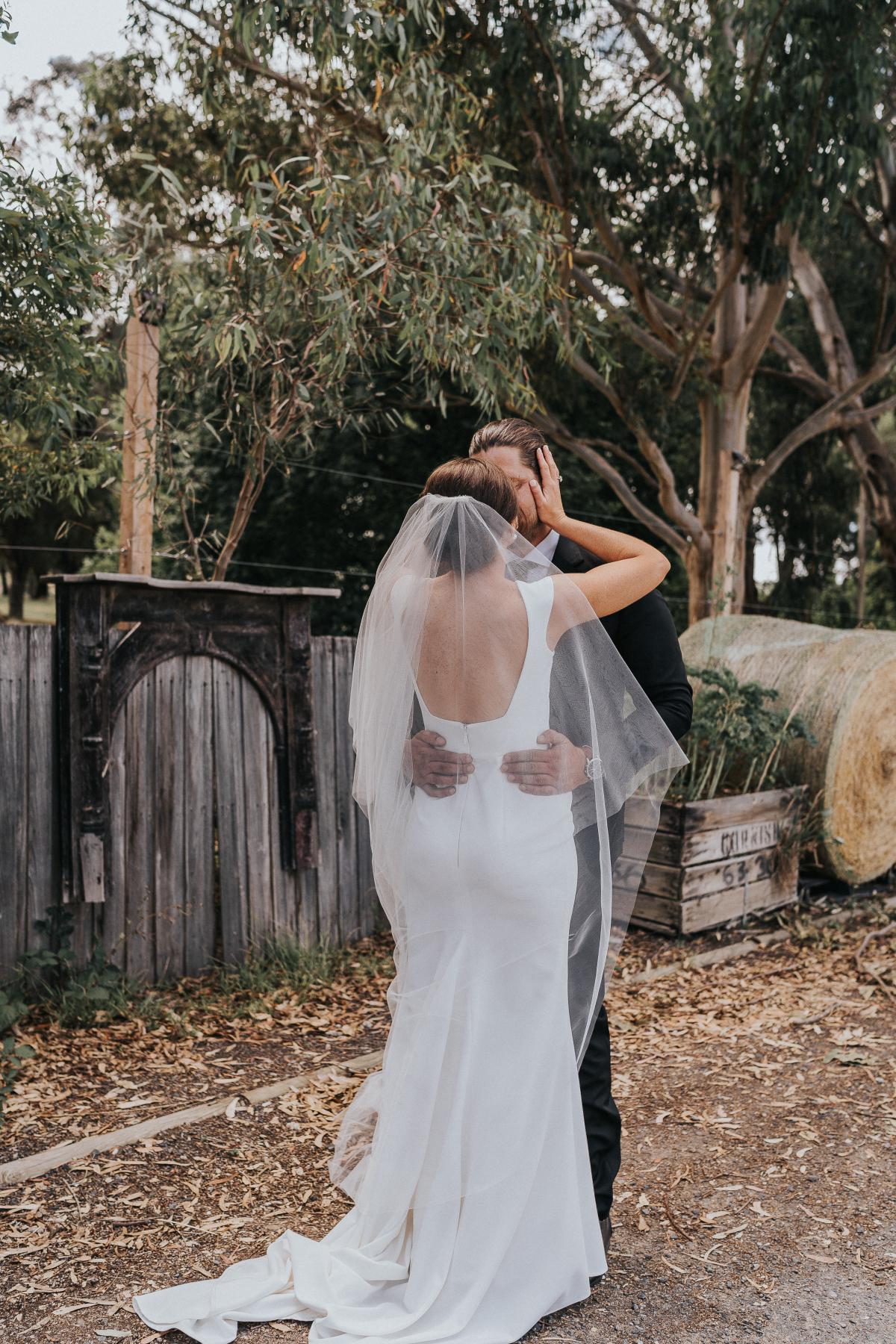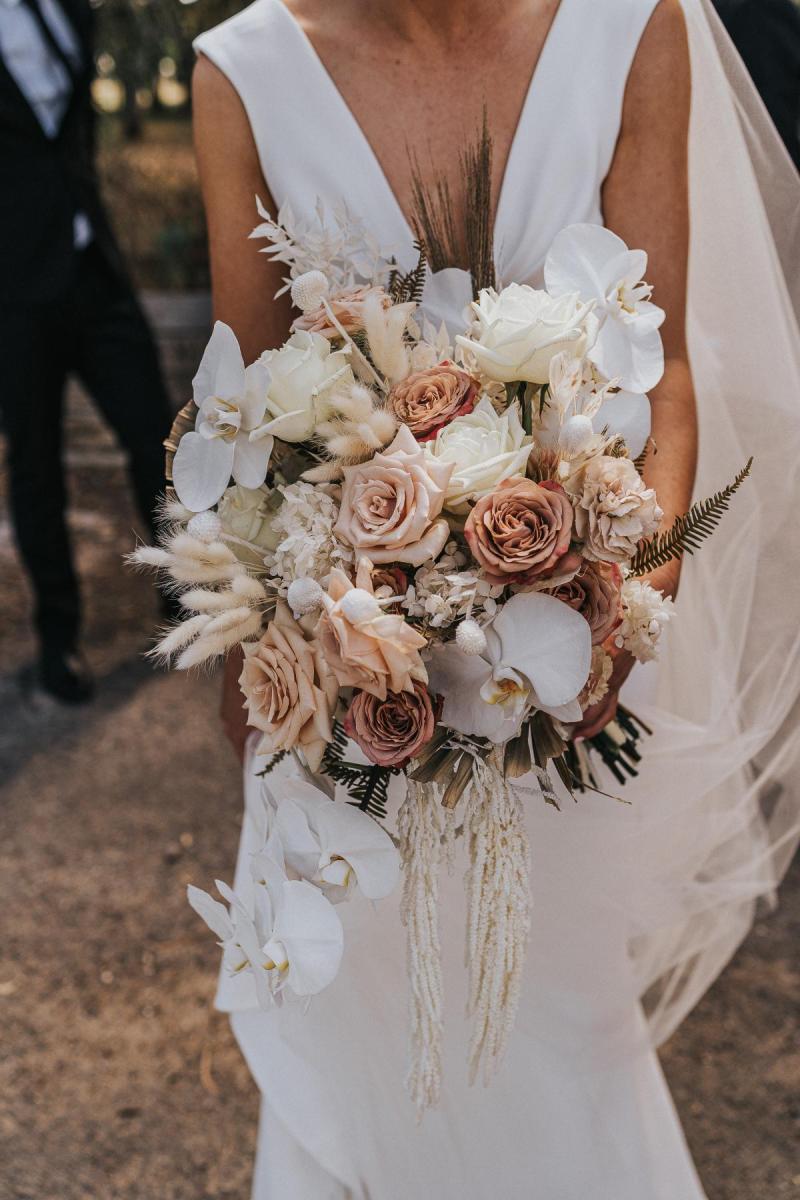 *Your Look on Your Rustic Big Day*
(You've got your venue, the décor is decided and you've set the tone with proper lighting. Basically, your wedding is oh-so rustic for your guests to enjoy. Now… What about yourself?)
Dress Code
You'll want to think about dress code in the beginning, possibly right after choosing your venue. Dress code is one of those key factors that set the tone, and it can influence your gown choice too! Do you imagine your guests in casual-wear? Semi-formal? Will your fiancée be in a tux or something more relaxed? What do you see yourself in? All important questions to consider in the beginning to help shape the rest of your big day. Our best recommendation? This is something where we truly tell our brides to run with whatever feels right. We've seen completely casual rustic weddings and formal ones just the same, and they both look amazing. Do what feels most comfortable and natural to you.
Your Gown
(We might know a thing or two about this area specifically.) Our rustic brides tend to gravitate towards boho (LINK) and lace (LINK) styles, but many of our rustic babes love a simple (LINK) or crepe (LINK) gown as well. Most often, rustic weddings have a relaxed vibe and our brides like to match that tone with bohemian floral elements on their dress or just an overall chill tone. That being said, we've seen a few brides rock an A-line (LINK) beauty as their rustic wedding dress, and you know what? It totally works. Wearing your gown and having it fit a tone or theme is all about styling. As we always say; pairing your dress with neutral block heels and loose waves gives a totally different feel to the exact same gown paired with a chignon and gold stilettos. Go into looking at rustic wedding dresses with an open mind, most often you'll find you can make anything feel the way you want it to.
Your Hair
We love, love rustic hairstyles to match our rustic wedding dresses. Think loose waves, low buns with free-flowing strands and half-up half-down classics. Think floral elements like baby's breath intertwined with braids, or a gorgeous, colourful flower crown. When paired with a lace gown? Ugh! We can't get enough.
Accessories
Keep it simple, keep it neutral. (Or maybe just a slight, tiny pop of colour or a really cool earring?) For your jewellery and shoes we recommend not going gaudy or overboard. We personally love rose gold or yellow gold combined with natural tones for earrings, especially statement earrings with leafy or bohemian elements, or maybe a touch of vintage flair. For shoes we again would opt for neutrals, or soft materials like leather or velvet rather than a bedazzled number.
Your Bouquet
We might be jumping ahead into the next section, but your bouquet is a huge part of your wedding day look. On rustic wedding bouquets we love a bouquet train — the longer the better! Lots of neutral, perhaps raw-cut, fabric streamers billowing out from your bouquet just screams rustic. We also recommend using similar florals to your gorgeous rustic wedding arch, IE: if you're going for dried flowers, mostly greens and whites, or floral alternatives, we love a complimentary bouquet.
*Rustic florals*
(Florals for a rustic wedding, this definitely deserves its own section. Rustic weddings have a huge emphasis on natural elements and nature in general, so including lots of flowers is usually a must. Going hand in hand with your bouquet and arch, you'll want to decide how to decorate the rest of your venue with florals.)
For Your Ceremony
You'll want to especially focus on your seating here. Remember how we said to keep your seating simple and free of excessive elements? Well, this is why. Wooden and rustic-feeling seating is gorgeous, but it truly comes to life when flowers are added. Think about matching these florals to your rustic wedding bouquet and rustic wedding arch, think neutrals, dried elements, greens, with small pops and hints of colour dabbled in.
For Your Reception
This is where the floral decorating gets fun! Imagine your beautiful barn wedding, all of those stunning string lights strewn everywhere setting the mood… What types of flowers to you envision alongside them? We love lots of floral elements at a rustic wedding; a draping floral canopy, or willowy hanging green vines everywhere — every corner of your venue can be a picture-perfect opportunity when combining lush, deep greens with candles and soft lighting.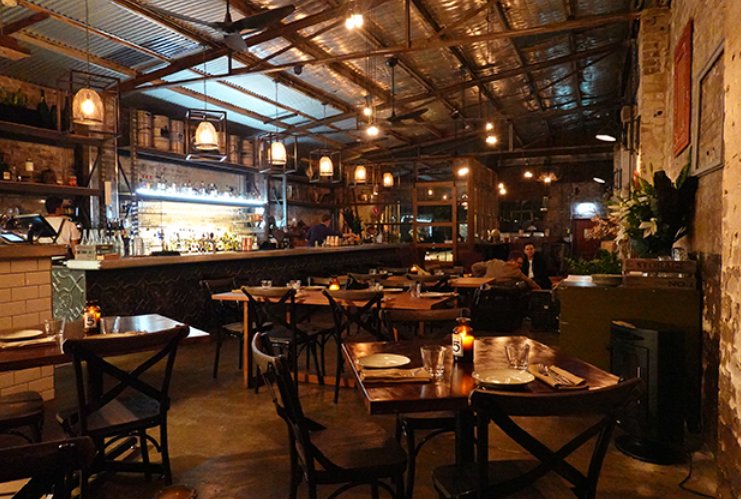 *Rustic-Feeling Food Options*
(How exactly does food fit into a rustic theme? With alternatives, non-traditional elements, and lots of handmade/homemade feel put in.)
Your Meal
One of the things we absolutely adore about most rustic weddings is that right onto of all those stunning rustic wedding table decorations sits delicious, thoughtful food. Whether going for a farm to table option, organic selections, or a spread with a homemade feel, (can we all say 'charcuterie board' together, please?) your delectable hors d'oeuvres and main meal should have a wonderfully imperfect feel to them. This is where that casual, relaxed feeling really comes into play aside from the décor. Your meal can be served family style, at a single long farm table, perhaps you have guests serve themselves. Anything that feels un-stuffy and again brings in those natural elements, is the way to go.
Your Cake (Or Cake Alternative)
If you're going for a rustic wedding cake, we can't recommend a naked cake enough, adding in greenery or wooden elements is always a 'yes' from us too! Maybe a rustic wedding cake isn't your style, though? Encompass that country wedding feel with pies instead, or a doughnut wall hung on a wooden board. (Modern rustic brides are the best, who doesn't want a wedding doughnut, am I right?)
Your Favours
Speaking of food, the perfect way to incorporate a rustic feel is with your favours. Of course, you can DIY these and make anything you wish, (natural soaps or candles are always a great idea!) but we love the idea of continuing your rustic-feeling food here. Consider a mason jar filled with all the best things for tea like raw honey and loose leaves, or some of your favourite organic coffee, or homemade baked goods too.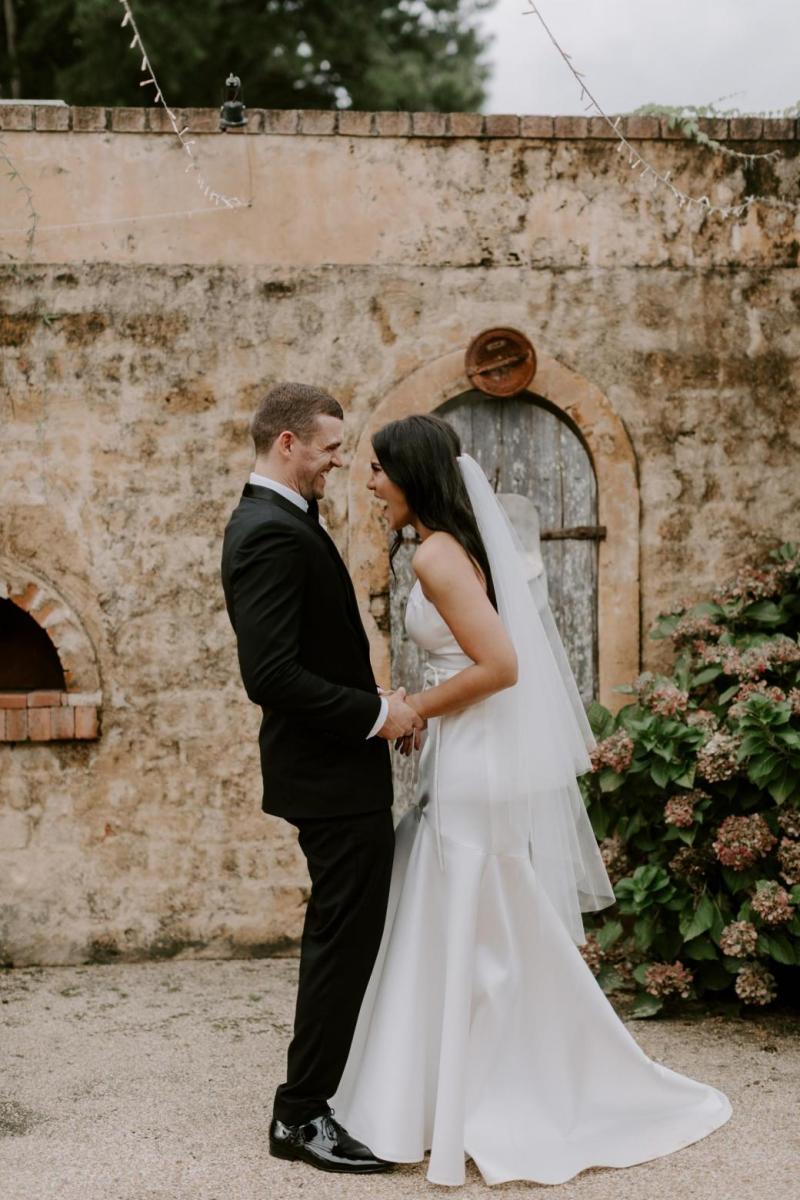 *DIY What you Can*
(Alongside your favours, DIY and rustic go hand in hand.)
Stationary
From your rustic wedding invitations, to save the dates and menus, you can try your hand at DIY-ing all of these paper elements for the big day. Calligraphy done in copper tones on neutral paper gives off all the rustic feels, as does anything handmade.
Signage
Hand in hand with your rustic wedding invitations, you can also DIY your seating chart or ceremony signage. White calligraphy or script on wooden or chalk backdrops make for stunning rustic elements at your wedding.
Other Décor Elements
Consider DIY-ing the topper for your rustic wedding cake, or any of the elements that will be included in your rustic wedding table decorations. Get creative with dried florals, mason jars, candles and other natural elements.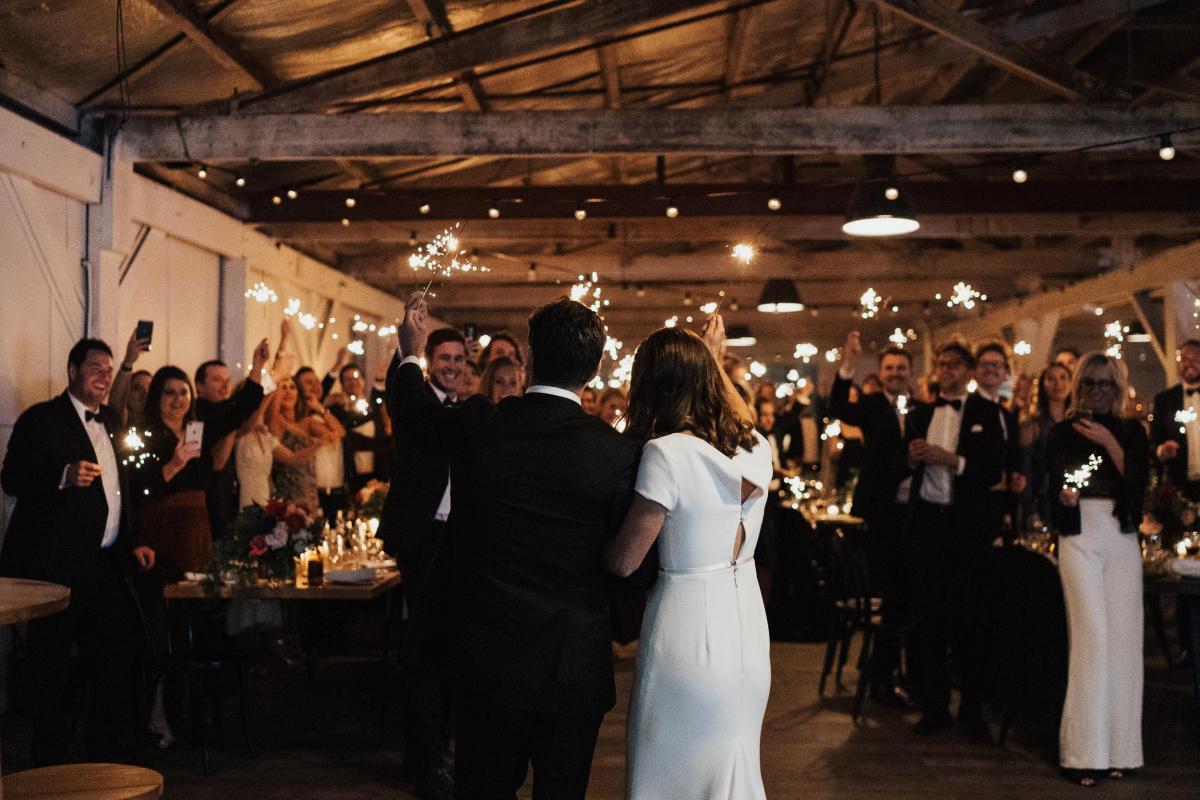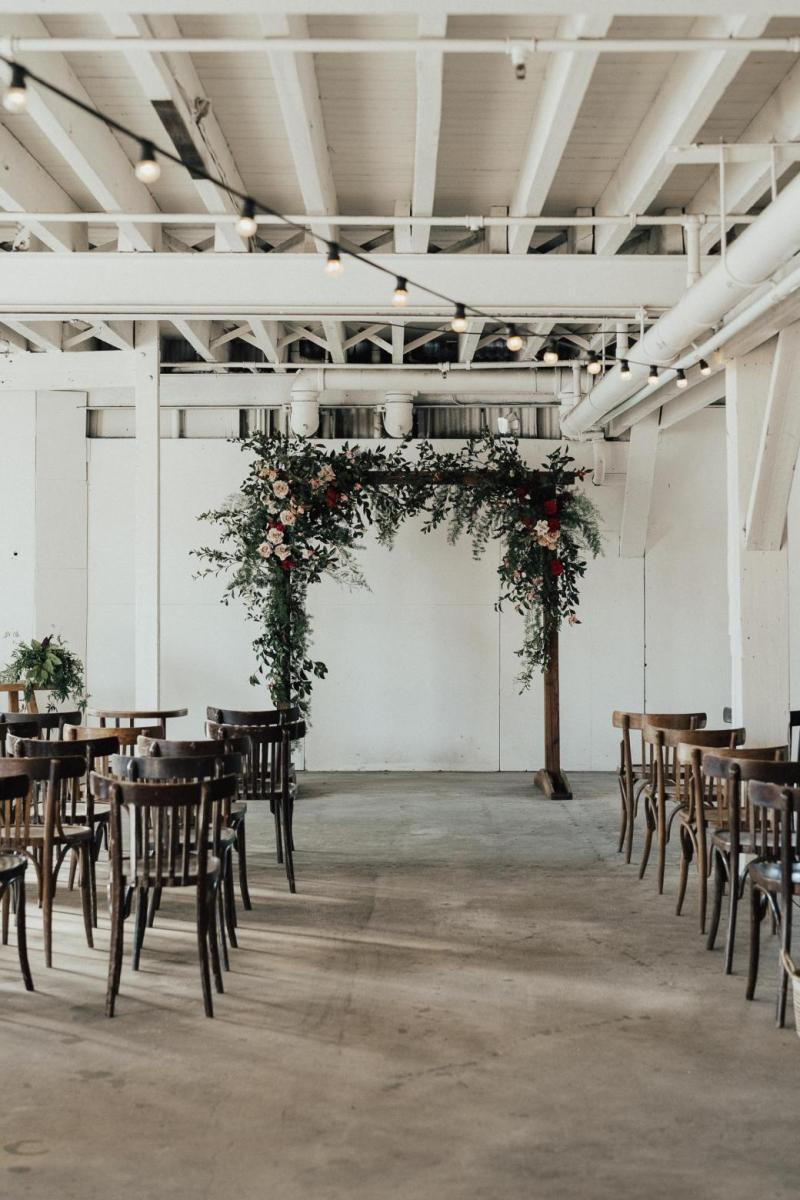 *Bonus Tips we Love to Help Achieve a Rustic Look & Feel*
(Just some other tips and tricks we've picked up along the way looking at countless beautiful rustic weddings.)
Going Eco Friendly
Many rustic weddings have elements of organic inspo as well as eco-friendly components. One of the best and simplest ways we've seen this implemented is by foregoing a confetti toss at the end of your big day and throwing leaves or petals instead.
Lawn Games
Doing a half outdoor rustic barn wedding? Or perhaps all of your big day is held in greenery? Having lawn games like giant Jenga or Corn Hole is a guaranteed way to get your guests off their feet and participating.
A Polaroid Guest Book
Shabby-chic and oh-so unique, we love this throwback twist to disposable cameras at tables. So that guests can see their gorgeous photos right away, consider having polaroids at your reception for guests to hang on a clothespin wall or to put in a guest book.
Live Music
How could we not mention a live band? Rustic weddings are all about authenticity, and live music is a wonderful way to differentiate your big day from more traditional weddings that might host a DJ. From folky music to the classics, go with a band that feels right for your unique wedding.