Australia's Best Beach Wedding Venues
All of the excitement of your engagement, and now you're finally settling in to begin planning your wedding! If you, like so many other brides, have decided that a beach wedding feels right for you, your fiancée and your big day, then we couldn't be more excited to share our favourite beach wedding venues across Australia and some helpful beach wedding ideas.
As an Australian company, with so many coastal options at our brides' fingertips, it's no wonder why so many KWH brides decide that a sandy, barefoot wedding is the feeling they're after. Coastal weddings easily create a stunning big day, especially when you have so many options showcasing the beauty of Australian beaches. Beach weddings feel timeless yet modern, casual yet elegant, and are a recipe for an amazing time for you and your guests — how could they not be when surrounded by breathtaking views? Whether you're local, or if you're planning a destination wedding, we know you'll find a location you'll love on our list. Every bride is unique, as are each of these venues. When you think beach wedding you probably jump right to 'a wedding on the beach' but have you considered your big day being on a boat? At a restaurant overlooking the beach? Having your day be half-indoor and half-outdoor? No two weddings (including ones with beach views) are created equal, beach weddings come in all forms and styles, with different tones and vibes. Ready to find your dream location? Let's launch into our favourites of Australia's best beach wedding venues…
Beach Wedding Venues in Sydney, NSW
Beach Wedding Venues in Melbourne, VIC
Beach Weddings Venues on the Gold Coast
Beach Weddings Venues in Brisbane
Beach Weddings Venues on the Sunshine Coast
Destination Wedding: Southern Great Barrier Reef
Destination Wedding: The Whitsundays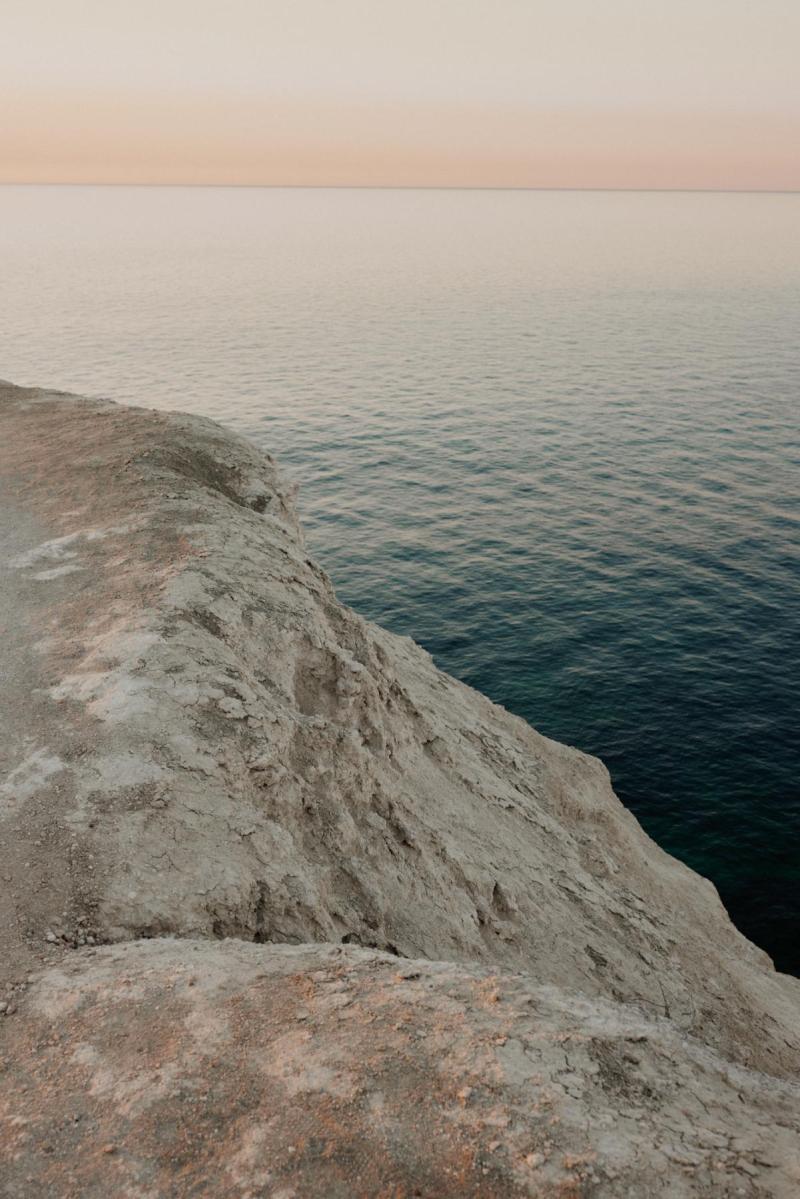 Beach Wedding Venues in Sydney, NSW
Beach House Avalon is a NSW beach wedding venue and a blank slate ready for you to put your own unique bridal spin on. So, whether you're a classic, timeless bride or a modern bride with an edgy twist, if you're lusting for a way to create your own version of a beach wedding, this might be the venue for you. With floor to ceiling glass doors that open up to their balcony and the most incredible views, what more could you ask for? Beach House Avalon allows up to 180 guests and has amazing rates for winter weddings and Friday weddings as well.
After a beach wedding that has elegant written all over it? Then this Sydney beach wedding venue will not be one to miss. Featuring gorgeous panoramic views and accommodations that make your wedding a cinch (like hotel, bars, restaurants galore) this location is nothing short of magnificent. Watson's Bay Boutique Hotel manages to balance that secluded tucked away feeling while still being in the midst of all that the city has to offer. Perfect for brides searching for a Sydney beach wedding that makes them feel transported to another place.
Jonah's Restaurant & Boutique Hotel 
There's no shortage of picture-perfect spots at this NSW beach wedding venue. For our brides that are envisioning a Sydney beach wedding that's not necessarily on the beach, Jonah's might be the perfect fit. Have your ceremony and reception held overlooking the beach on the most stunning clifftop. This will set the scene but give your beach wedding a slightly unique feel that encompasses the best of both worlds.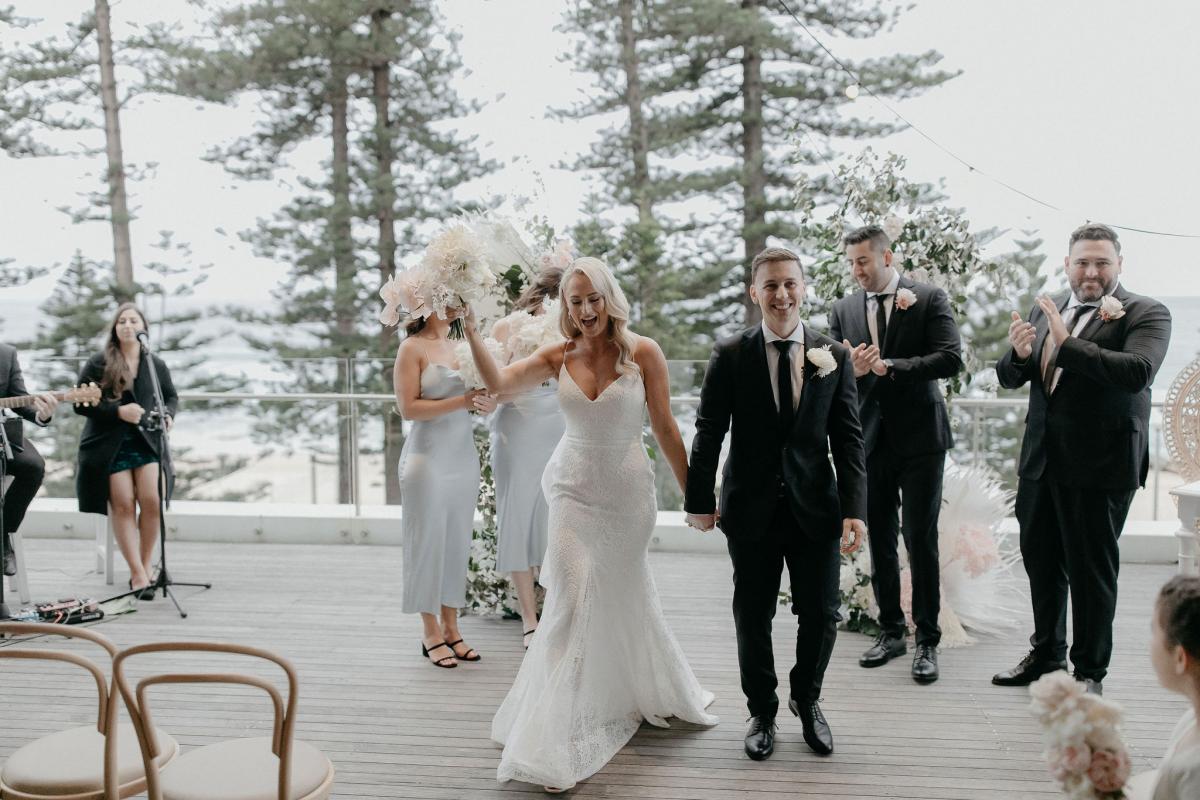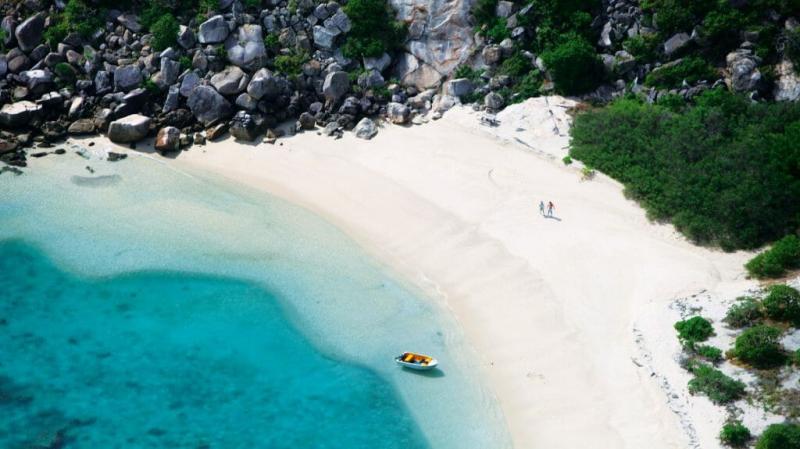 Beach Wedding Venues in Melbourne, VIC
We love that the Seaview Room at the Brighton Savoy can be decorated to contemporary taste or classic taste. This Melbourne beach wedding venue overlooks the most gorgeous views of Brighton beach and get ready for the most stunning sunset of your life. If you're looking for an elegant feel for your beach wedding and don't necessarily want it to be outdoors, this is not to be missed. This Melbourne beach wedding venue caters from 80-150 guests and has an outdoor deck with lush greenery for your ceremony.
All Smiles Sorrento Ocean Beach 
We can't get enough of the beach weddings held at this funky waterfront venue. With floor to ceiling windows, this Melbourne beach wedding venue is unforgettable and right in the heart of the city with Portsea and Sorrento nearby. For brides hunting down the best Victoria beach wedding venues with character and pizzazz, we definitely recommend All Smiles. With an open deck that lets you view Sorrento beach and hear the sounds of the surf, the atmosphere of your Melbourne beach wedding will be your guests' favourite part of the big day.
There are endless reasons to love this Melbourne beach wedding venue, but we think their words describe this space best: Relaxed, contemporary, unique. If your Victoria beach wedding venue of dreams includes options galore for different weather, but all that have breathtaking scenic views, we can't recommend The Baths enough. With panoramic views of Port Phillip Bay and the city skyline alike, this Victoria beach wedding venue can host from 10 people to 200 people and gives multiple locations for you to host your ceremony. If your beach wedding vision just overlooks the beach but keeps your feet sand-free, their stunning deck option is a must see.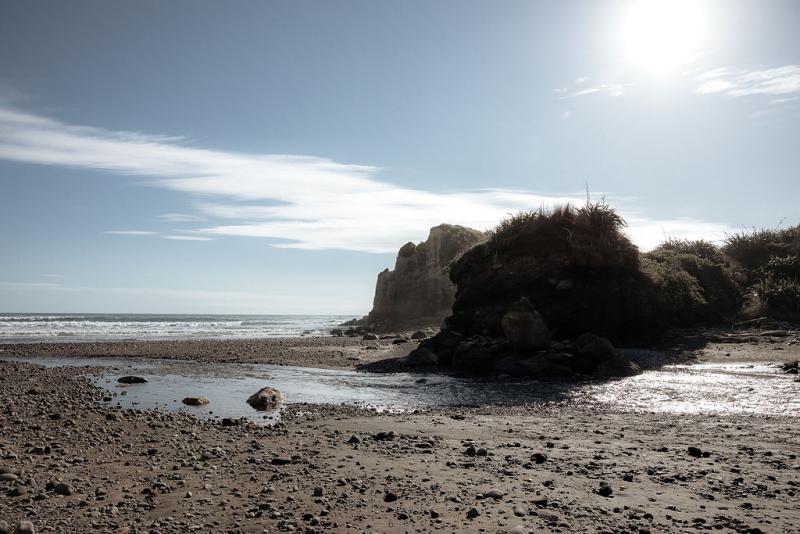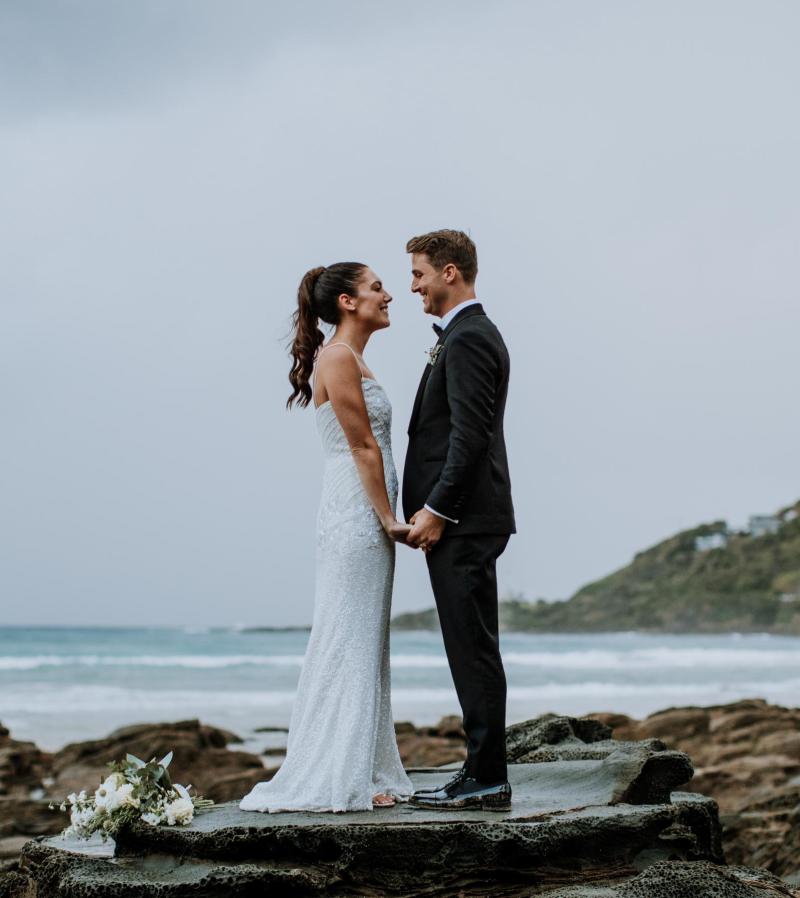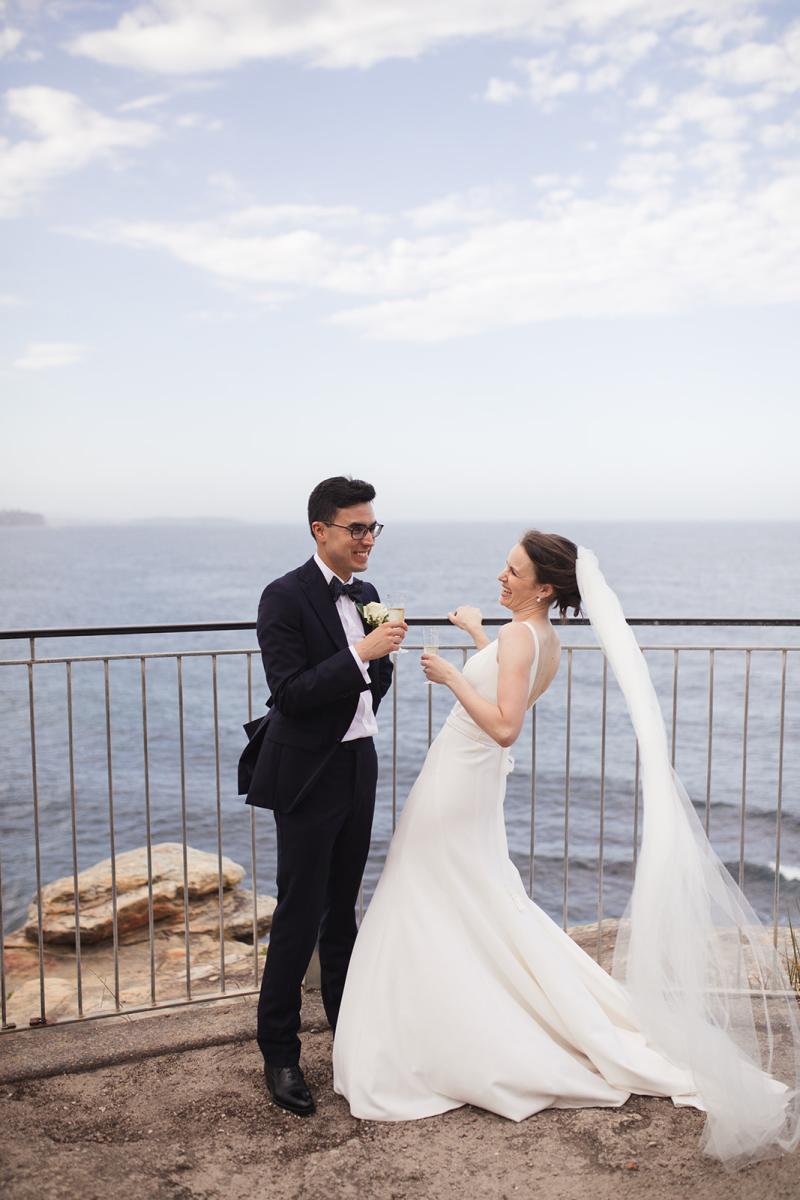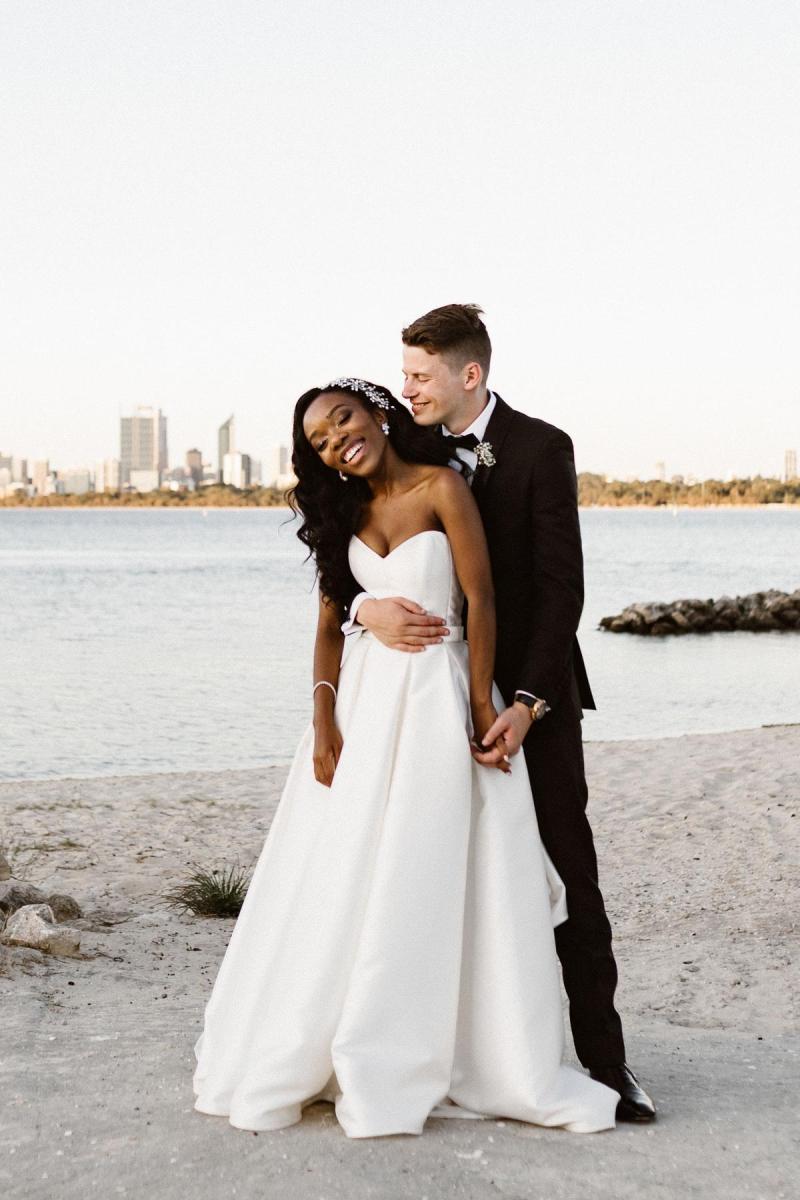 Beach Wedding Venues in Perth
Bright dazzling sophistication mixed with a comfortable relaxed vibe, the Bathers Beach House is such an incredible choice for your Perth beach wedding. With options to host your ceremony in their luxurious venue or out on the beach, no matter how you decide to celebrate your big day you'll be sure to have the time of your life with breathtaking sunsets and the most amazing waterfront views.
Rendezvous Hotel Perth Scarborough 
Top Australian chefs plus incredible views of the Indian Ocean? Yes, please. For our timeless brides that are looking for a Perth beach wedding, we can't get over the intricate beauty of Rendezvous hotel. Simple architecture meets contemporary glass elements and featuring locations to host your ceremony that will leave your guests in awe. We love the balance of classic and modern for this beautiful indoor and outdoor space.
Bib & Tucker is the place for you if your dream Perth beach wedding is food centric. Boasting traditional methods of cooking the most delicious food we know your wedding guests will love, B&T has an all-around modern and relaxed vibe. Set among sand dunes and showcasing views of the Indian ocean, this stunning Perth beach wedding venue seats 125, or 150 for a cocktail style event. Grazing tables and all of those breathtaking beach vibes, what more can a bride ask for?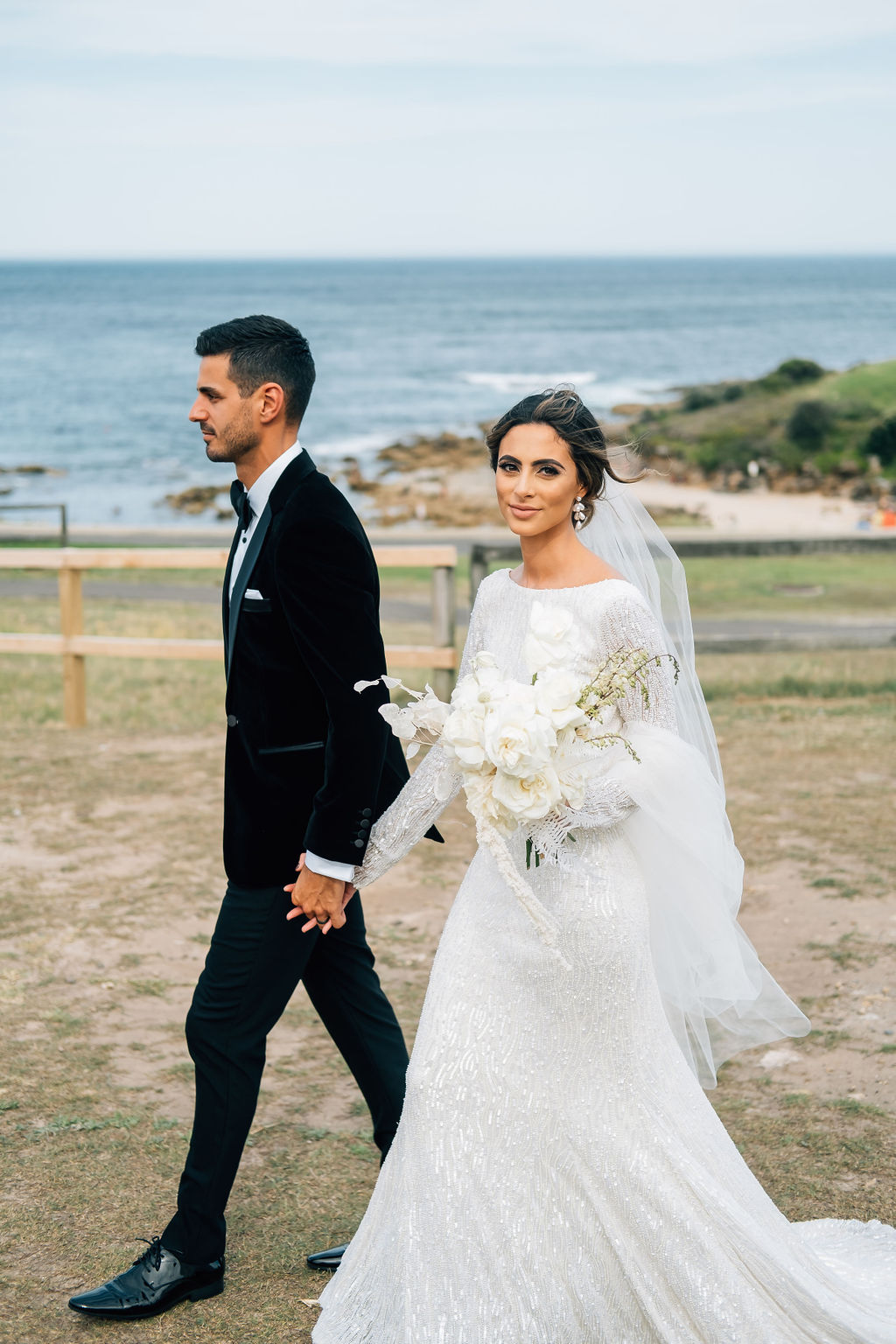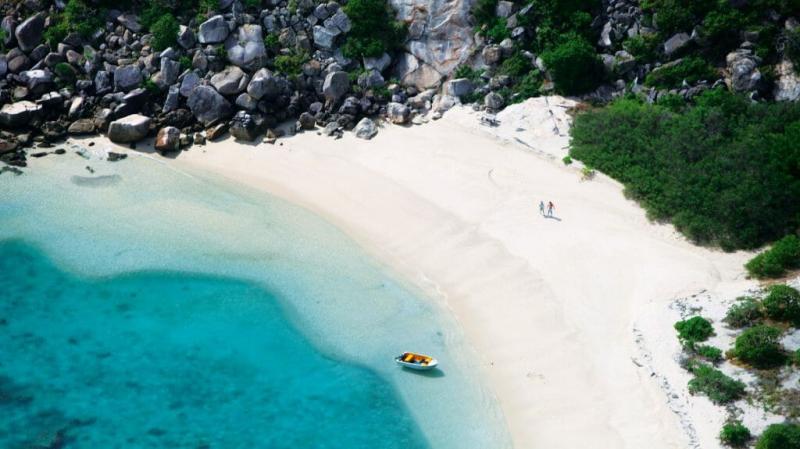 Beach Weddings Venues on the Gold Coast
You're searching for a beach wedding venue, right? So, doesn't uninterrupted views of the Pacific Ocean sound like the perfect addition to your big day? Bilinga Beach weddings are such an amazing option for our Gold Coast beach wedding venue hunters out there. Their function room gives you a private and personal feel to your day, and if you're after all the views without having to host your wedding on the beach, they offer a gorgeous private deck you can use for your ceremony which can operate in all weather.
Another Gold Coast beach wedding venue for our classic babes out there. Set among tropical gardens and a stone's throw away from Gold Coast beaches, this is a dream come true for your wedding photos. Greenery, beaches, balconies and a grand staircase will give your pics a diverse range of vibes and tones while always looking sophisticated and gorgeous. Hosting your wedding at a hotel means planning is a cinch with your food and accommodations already covered.
InterContinental Sanctuary Cove Resort 
Marina views and Gold Coast views alike, everywhere you look at this Gold Coast beach wedding venue is breathtakingly gorgeous. No matter which direction you decide to go in this uniquely styled venue for your Gold Coast beach wedding (be it an intimate cocktail party or formal banquet) we know you'll simply adore the décor, cuisine and attention to detail from this team. All it takes is one look at their incredible ceremony space complete with arching glass walls framing beach views, and it's easy to see why so many brides jump at the chance to host their weddings here.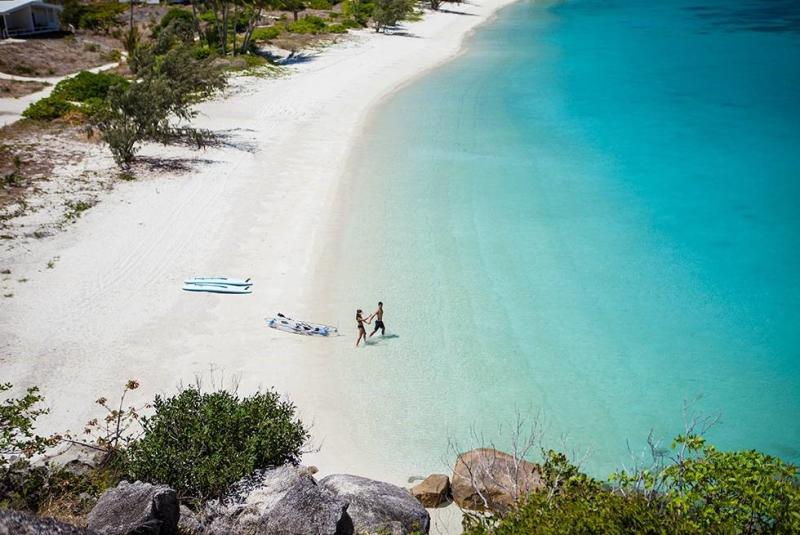 Beach Weddings Venues in Brisbane
Elegant, classic and yet totally customisable, Avenue Sixty-Four is a vision for those searching through countless beach wedding venues. Lush greenery meets water views galore and you can have your wedding as timeless or as contemporary as you like. Keep that nature theme going with a stunning wooden archway or juxtapose sophisticated ceremony seating in the green grass, whether your wedding is big or small, boho or luxurious you can make this beach wedding space completely your own.
With panoramic views of the Coral Sea and surrounded by Stradbroke's gorgeous beaches and alcoves, this eclectic beach wedding venue is a boho brides' dream. Hotel weddings make things super simple, too, with accommodations and coordinators that can bring your vision together. Whether you're after a wild and green backdrop or having your feet in the sand for your ceremony, they can bring your bridal dreams to life. Plus, the water views and incredible sunset backdrops don't hurt either.
A gorgeous deck for your ceremony, plus elevated views overlooking Scarborough Harbour and the Glass Mountains through floor to ceiling glass windows. What more could a beach bride ask for? For an incredible added bonus for your waterfront wedding, Waters Edge do a complete styling package as well, complete with center pieces, florals, menus, lighting, photography and beyond. If you're a one stop shop kind of gal and are looking for stress free planning, we can't recommend this gorgeous Brisbane venue enough.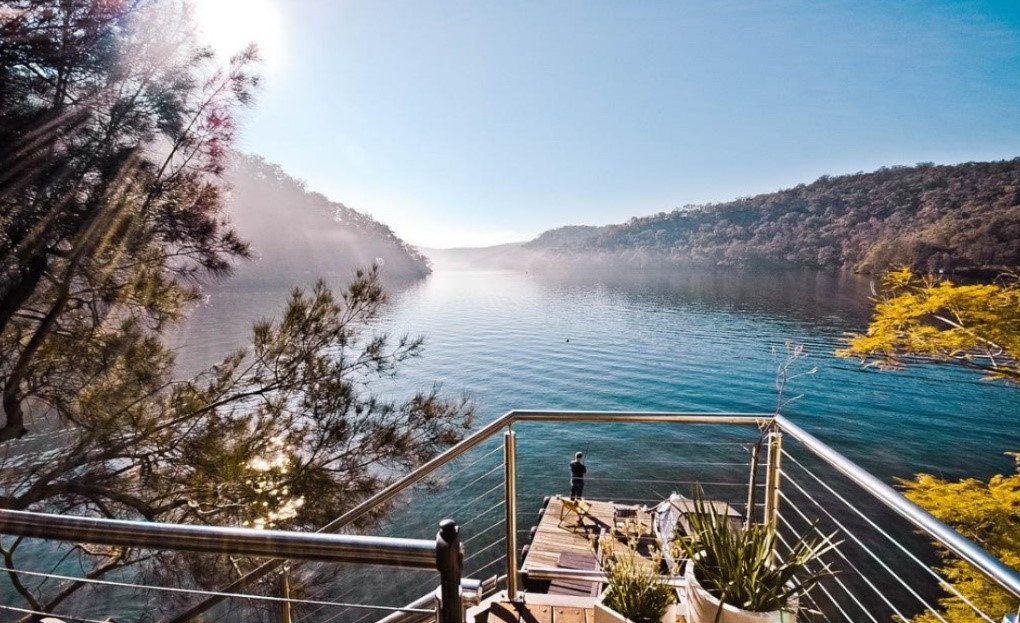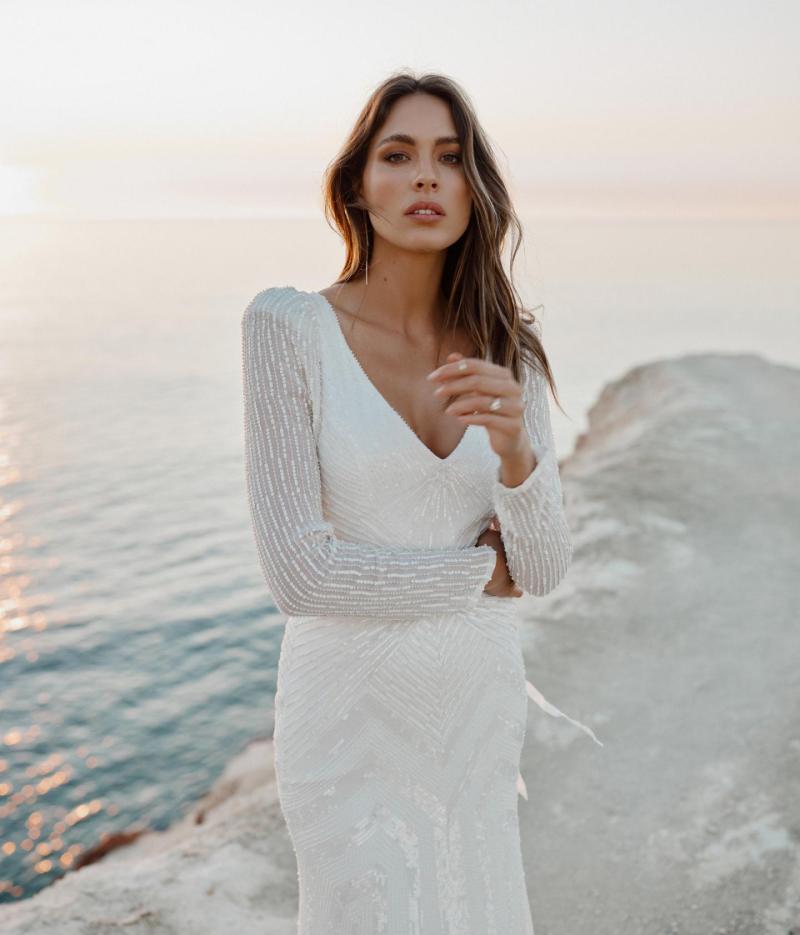 Beach Weddings Venues on the Sunshine Coast
Choice is absolutely key for our Sunshine Coast brides searching for a unique beach wedding venue. You'll never have to worry that your wedding will feel like anyone else's with a combination of multiple ceremony locations, reception locations and deck spaces that all have their own distinct personality. Outdoors? Indoors? Shabby-chic and bohemian? Rustic? Classic and elegant? Sandstone Point has you totally covered. We love the focus on fairy lights, vintage signage and rustic wine cellar, as all too often beach weddings can start to take on a tone that's hard to break away from. This venue allows you to combine your beach vision with your own personal taste easily.
Noosa Boathouse is gorgeously located on the Noosa River. This is a photographer's absolute dream with a fairy-light lined boardwalk and three levels to this stunning floating boathouse. With three different spaces to host your wedding, all with waterfront views of course, this venue makes travelling from ceremony to reception a cinch for your guests with their own private jetty. Now all that's left to decide: are you a river room gal, a sunset bar bride, or is the eastern deck perfect for you?
Noosa Waterfront Restaurant & Bar 
The Noosa Waterfront venue is one of those amazing blank slate spaces that you can completely transform through florals and décor to suit your style. This private waterfront venue is tucked away in seclusion right near the Noosa River. For an added incredible feature for your wedding, you can access this space by boat or gondola if you want something a bit more unique than a car journey. Featuring a gorgeous rolling lawn for your ceremony space, we know you and your guests will fall in love with the atmosphere (and the food) here.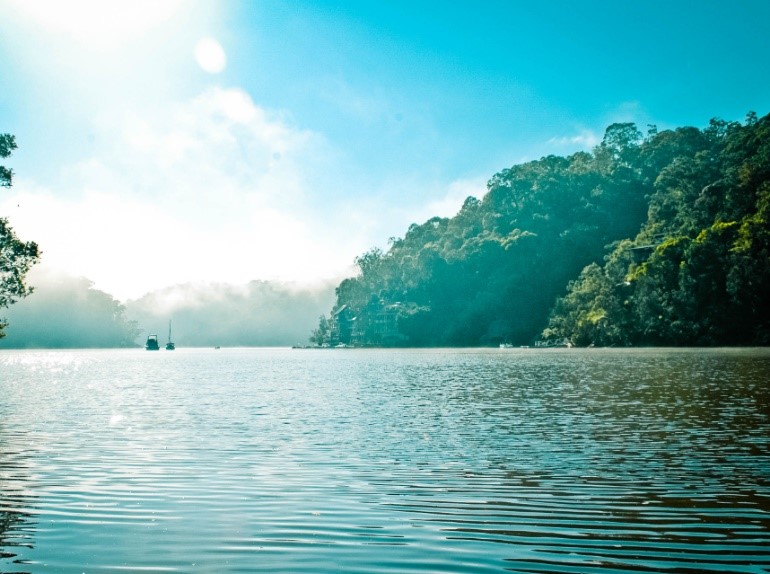 Destination Wedding: Southern Great Barrier Reef
There are a million reasons to choose Lady Elliot Island to host your incredible waterfront wedding. For starters? The views of the crystal-clear water of the Pacific Ocean and The Great Barrier Reef, of course. This Island also has restricted visitor numbers which means that your wedding will feel intimate and secluded when held on this untouched Island. Ever dreamed of having an underwater ceremony? Or just, you know, your typical breathtakingly gorgeous sunset beach wedding? No matter how you decide to host in this exquisite location your wedding will be absolutely stunning.
One look at this Island and you're at a loss for words. It's no wonder why more brides don't come across this location to host their wedding when hunting for beach wedding ideas, as it's one of Australia's best-kept secrets. Pumpkin Island is seated among the Southern Great Barrier Reef's Keppel Group of islands and right off the coast of Yeppoon. If you're looking for isolation and to feel like you've been transported to another world, we can't say enough that this is a must see. Add on top of that, the scenery, eco-friendly accommodations and all the incredible wildlife, Pumpkin Island is a no brainer for your beach wedding.
How could we not mention Heron Island as an Island option for your Southern Great Barrier Reef wedding? Located on a true coral cay right in the heart of the Great barrier Reef this location has all the best components for a faithful beach bride; stunning white sand, crystal-clear waters, and the most amazing wildlife as an added bonus to your big day.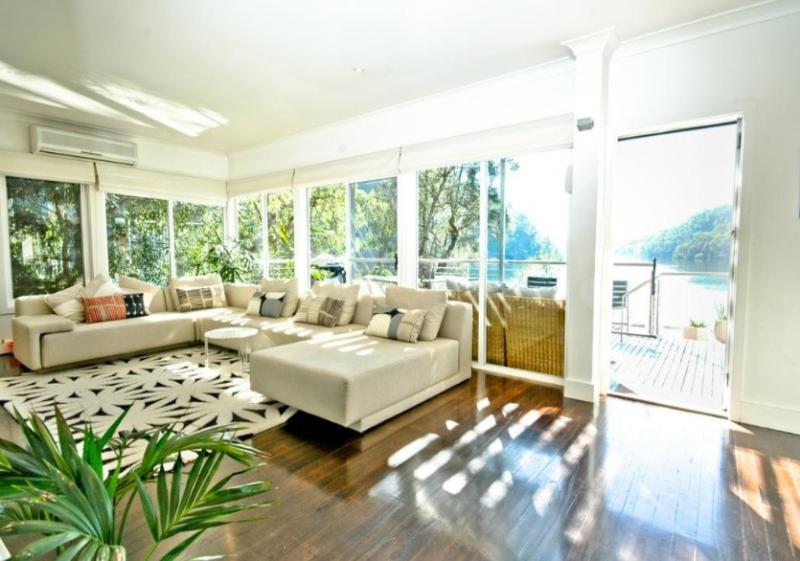 Destination Wedding: The Whitsundays
You're sifting through countless beach wedding ideas, don't overlook the fact that not all beachside wedding venues are created equal. Set right on the water with the most amazing view of the Coral Sea, Villa Botanica boasts lush gardens as far as the eye can see. Simply perfect for the bride who wants the duality of greenery and nature all wrapped up in moody elegance for her stunning wedding day. This venue also has Balinese inspired backdrops and a hand carved ceremony pavilion.
If seclusion is the key word for your big day than look no further than Elysian Retreat, the most secluded Island retreat in the Whitsundays. This eco-friendly, solar powered location is perfect for the eco-conscious bride. Become immersed in nature in this private cove among a rocky beach and rainforests. We know you and your guests will love exploring the uninhabited parts of the Island and the magic of the Great Barrier Reef as well.
Right in the heart of the Whitsundays, this beach wedding option has hosted some jaw-droppingly gorgeous ceremonies and receptions. We love all of their space options and of course the ever-amazing ocean Island views. Perfect for our brides that want to capture that true classic beauty of a timeless beach wedding with crystal-clear waters and elegant sophistication to make your day feel incredibly special. For our eloping brides, take a look at their elopement packages for the most incredible photos and the best memories for you, your soon to be spouse and a select few of your nearest and dearest.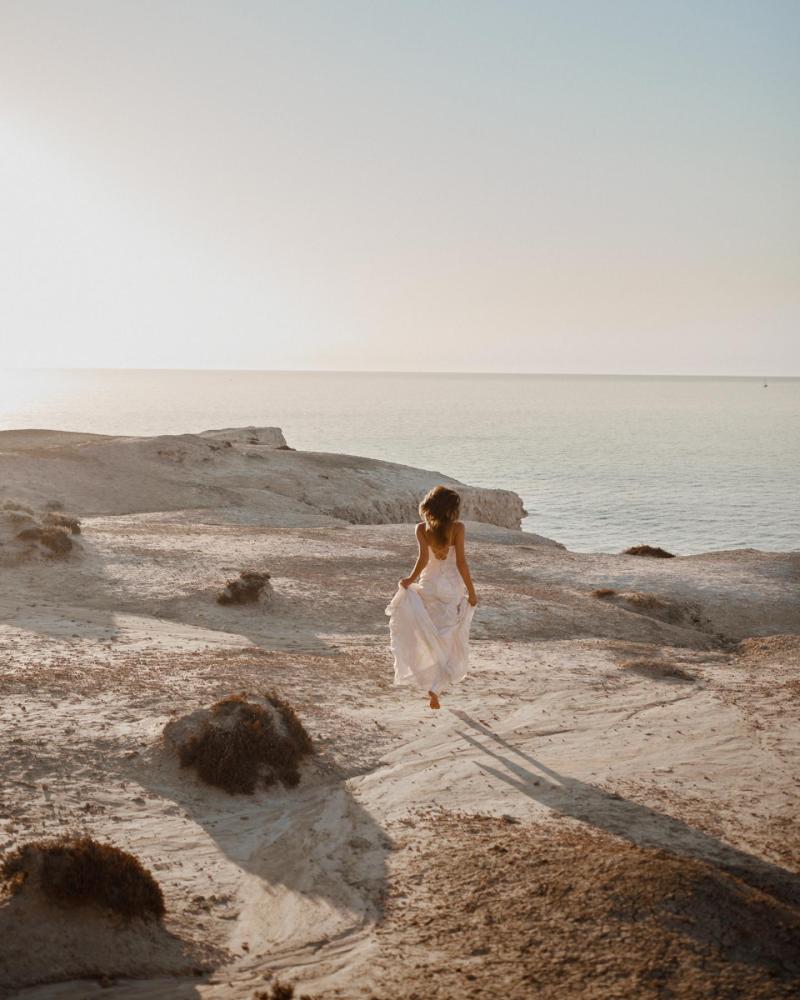 Destination Wedding: Cairns & Great Barrier Reef
Alamanda Palm Cove by Lancemore
Beach views, eclectic lighting, roofed ceremony spaces that are still open with surrounding sand and ocean, Almanda Palm Cove is a truly beautiful place to host your destination wedding or sunset beach wedding. This venue has style and character, gorgeous architecture and a mixture of lush greenery and beach beauty. With all of that tropical wedding magic and multiple ceremony and reception spots to pick, it'll be easy to make your wedding feel truly you.
If your beach wedding ideas include intimacy and the most stunning private views, Thala Beach Nature Reserve is definitely a venue to check out. This space is ideal for our brides planning elopements or small weddings of 60 or less and has multiple options for your ceremony and reception settings. Their main lodge opens up to the tropics and everywhere you go on this stunning reserve is beyond perfect for our nature loving brides to be.
Castaways Resort & Spa Mission Beach 
Last on our list but of course by no means least is Castaways Resort. While you're sifting through countless beach wedding ideas, make room to check out this beyond incredible venue. Uninterrupted views of the Coral Sea are the backdrop to your wedding and seated right in the heart of Mission Beach, Castaways, this location has tropical gardens, simply amazing architecture and all the beachfront views. Their private venues can be indoor or outdoor and they of course have you covered with amazing food and accommodations.