Sarah & Brian's Glorious Church Wedding

Chiaroscuro is an Italian artistic term used to describe the dramatic effect of contrasting areas of light and dark in artwork, particularly paintings. It comes from the combination of the Italian words for "light" and "dark." (Vocabulary.com). Sarah radiates light as she wore her ivory Kitty Joni gown to her catholic church wedding, where a darker, moody palette contrasted with her bridal glow perfectly, creating a painterly aesthetic.
Although the reception was held at an Art Gallery, she is truly the masterpiece in her a-line organza wedding dress that featured a large twill bow symbolising the "obi" found on traditional Japanese kimonos making this BESPOKE gown uniquely hers.
On the proposal
After years of study to earn her PhD, Sarah's graduation day had finally arrived. But, much to her surprise, Brian had already organised a celebratory brunch with family and friends the following day.
That morning the sun wasn't shining, bringing subtle rains and clouds that brought out Sarah's grumpy side, but Brian had convinced her that they should take their guest for a stroll on the Hermitage Foreshore in Sydney's eastern suburbs to start the day before engorging themselves on delectable bites later in the afternoon. The pair started their walk when Sarah realised everyone was late. Although initially slightly irritated, her annoyance soon turned to total elation as Brian proposed on the wharf with the sun shining on the Sydney Harbour in the background.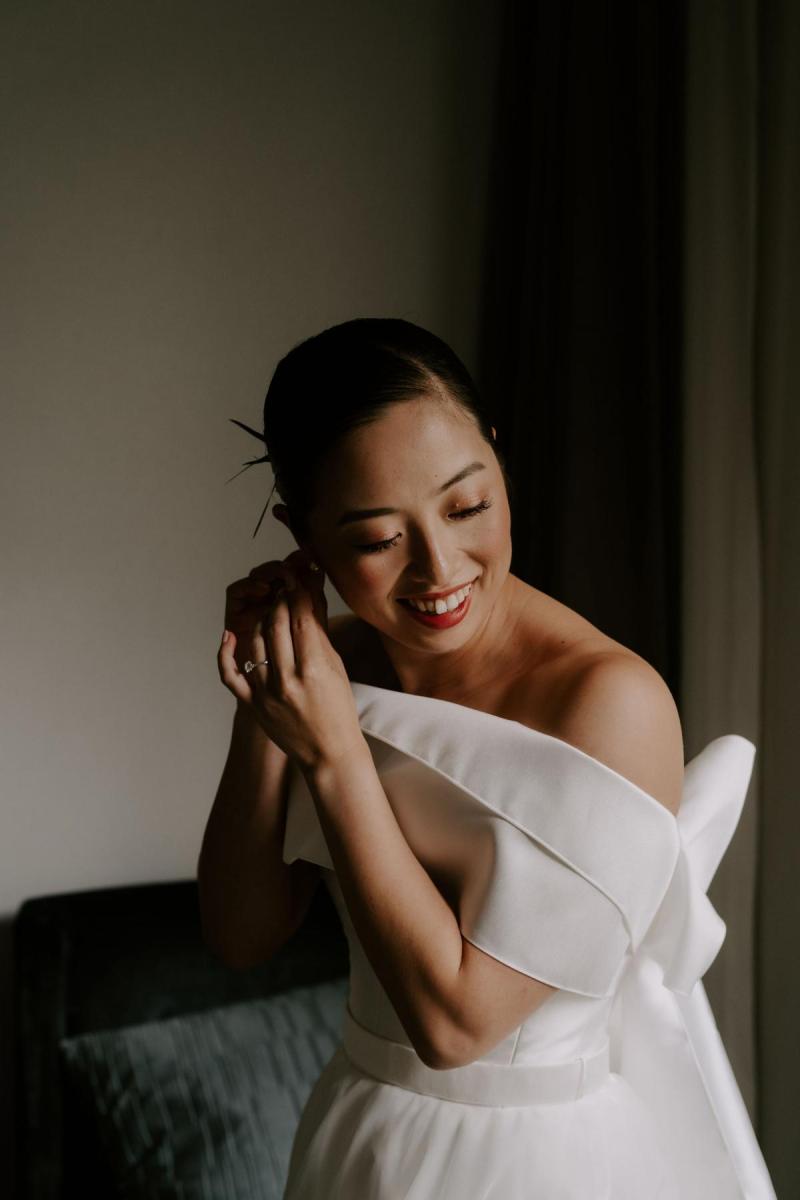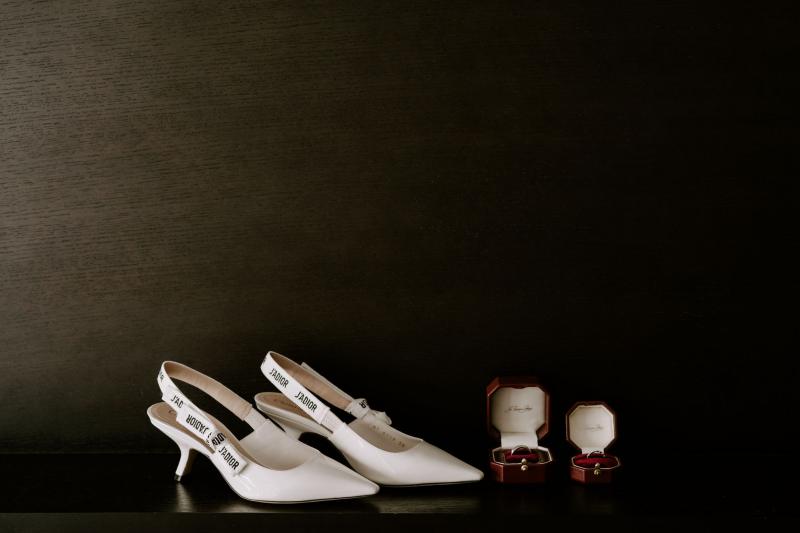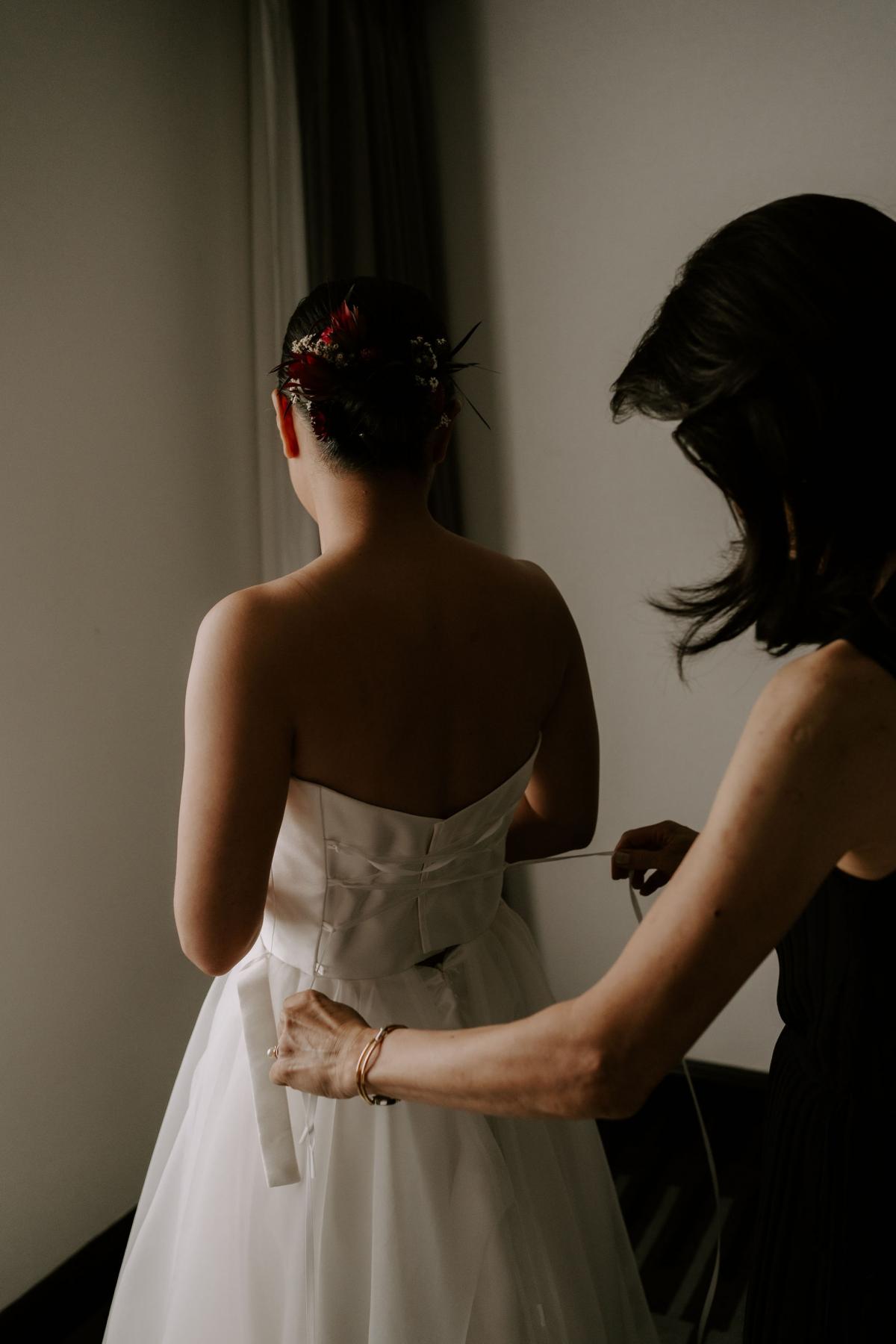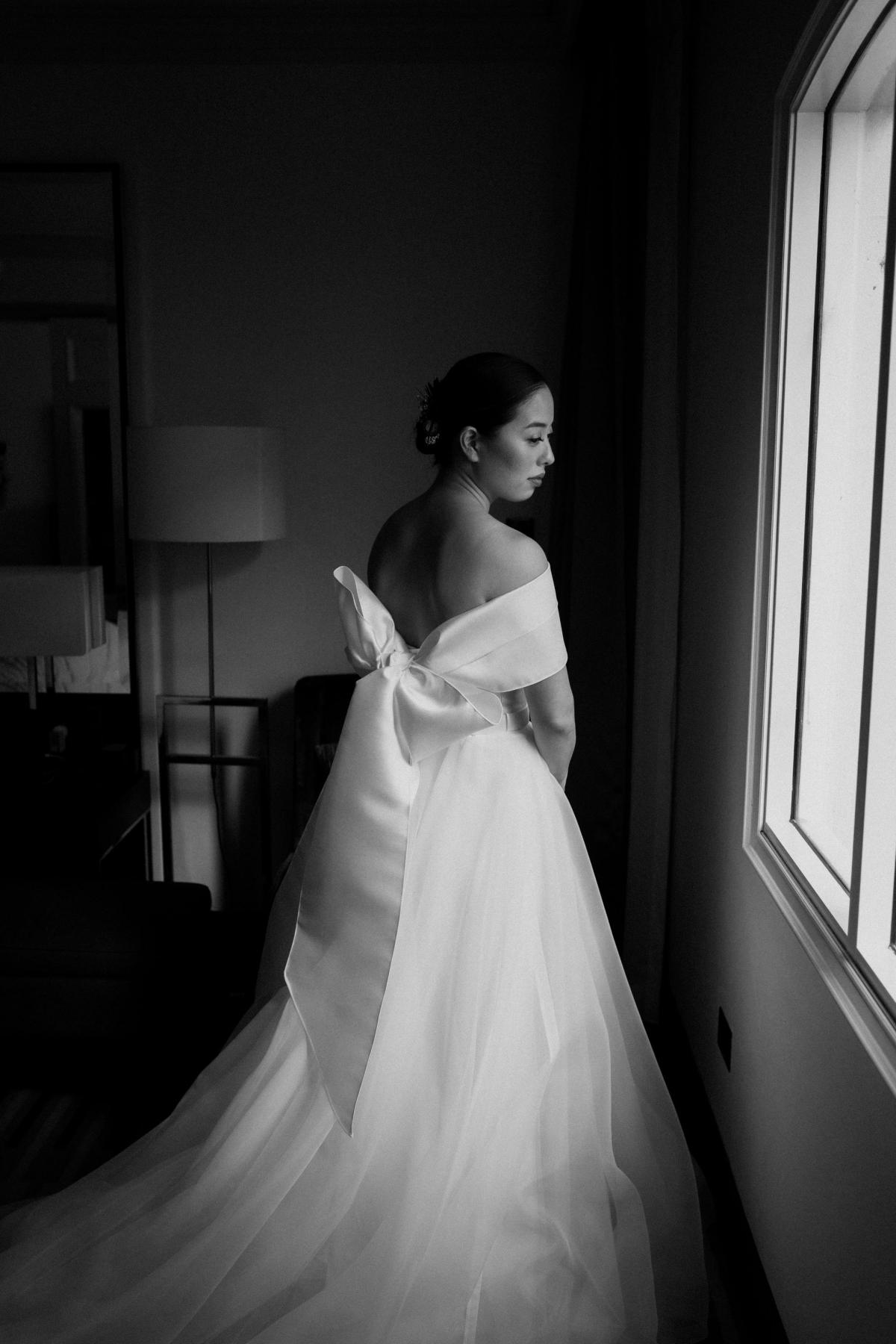 On the venue
As an artist starts with a blank canvas, Sarah started her wedding planning with the most foundational element; the venue.
For their traditional catholic ceremony, it was an easy choice. Our Lady of the Sacred Heart Catholic Church in Randwick was where Brian had been baptised and would later be married since Sarah wanted to honour his family's faith. The intricate architectural details and warm hues created a stunning backdrop for the couple to make a covenant with one another.  
They chose an equally enthralling and picturesque reception venue at the Art Gallery of NSW to complement their vow ceremony. Being epicureans, the newlywed couple knew they wanted to eat at the Chiswick at the Gallery.  
"We're quite renowned for being foodies amongst our friends (but I'll give full credit to Brian – he's the true foodie. I'm just there because I just love food). Although Chiswick at the Gallery closed (now called Crafted by Matt Moran), it didn't deter us away from having our Reception there. It was a stunning location, with large windows overlooking the docks of Wooloomooloo (an area very nostalgic for us). 

It didn't matter whether it was sunny, cloudy, pouring, thunder, lightning, day or night – the restaurant in the Gallery is just a beautiful place to dine. On top of that, we were allowed to roam around the first-floor galleries to take our photos, which we took full advantage of!"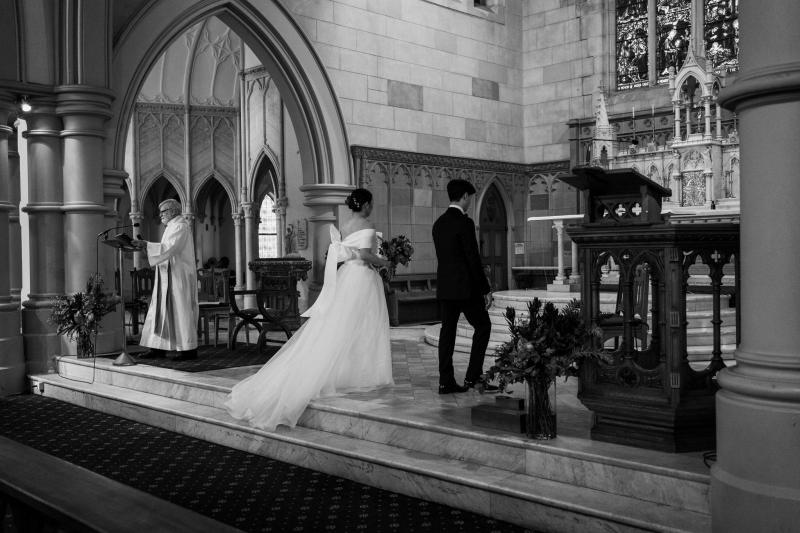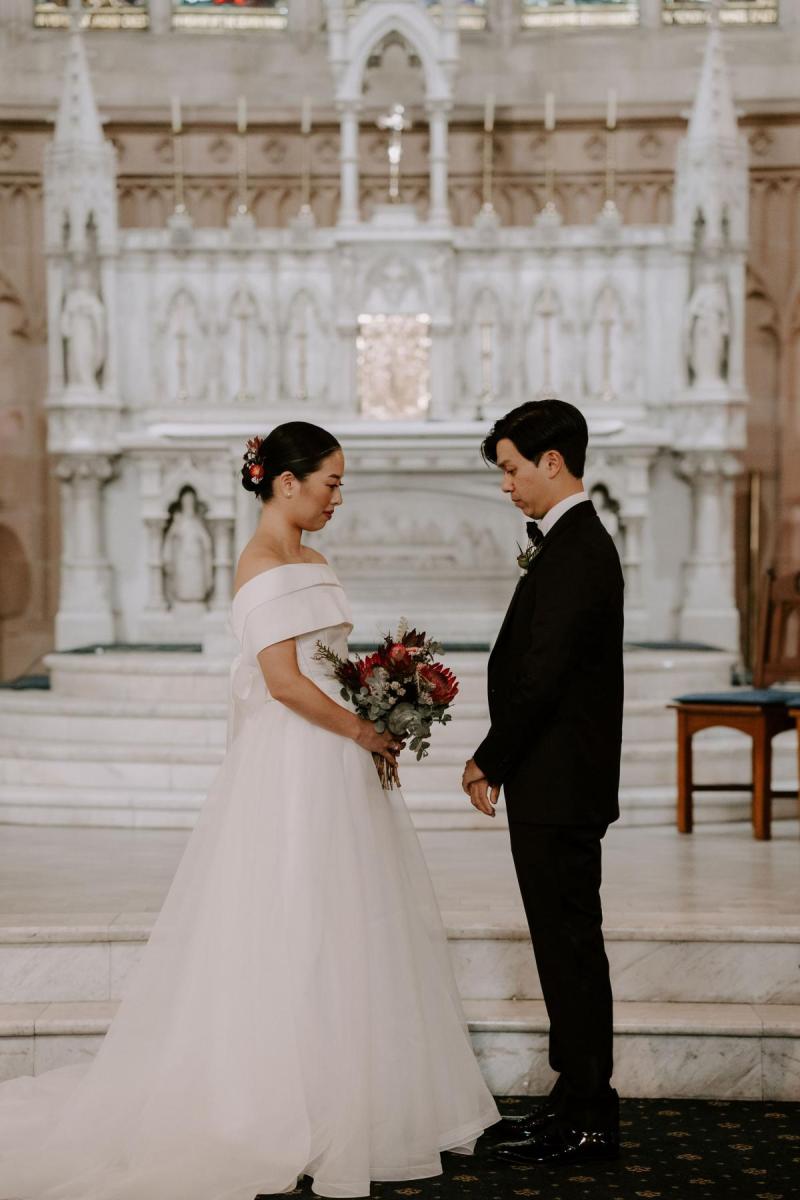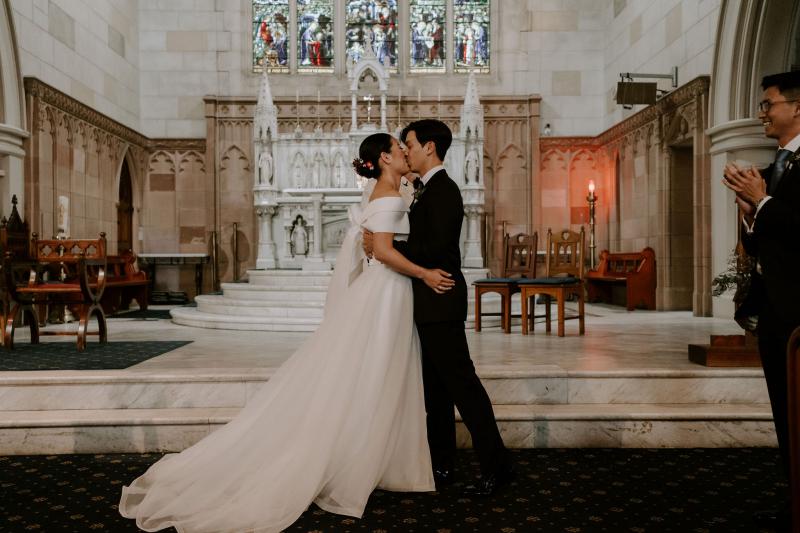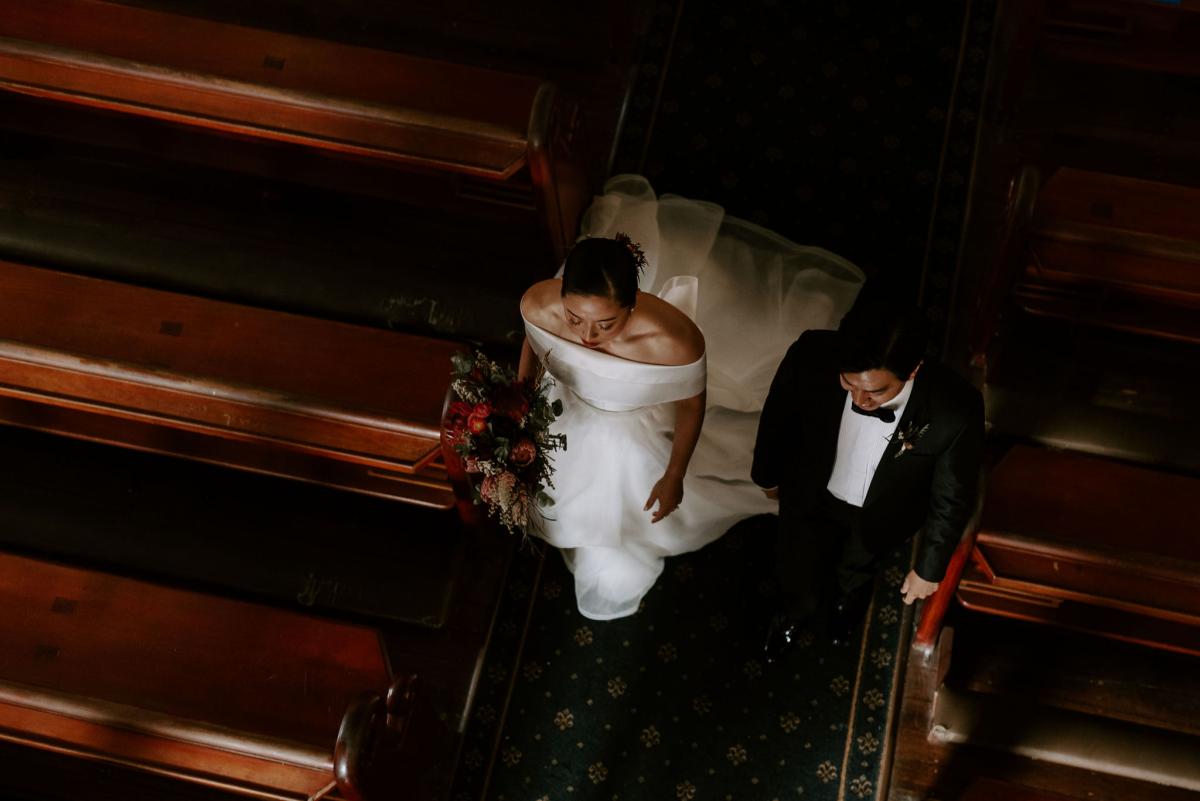 All the styling details
To curate the most stunning moment of their lives, Sarah and Brian leaned into the art museum's grandiose aesthetic by pairing back their décor and allowing the gallery walls to speak for themselves. She wanted to keep everything local and Australian made to capture a moment in time and place.  Since the building was so dynamic and complex, Sarah only added touches of native florals by Petal and Fern and neutral linens.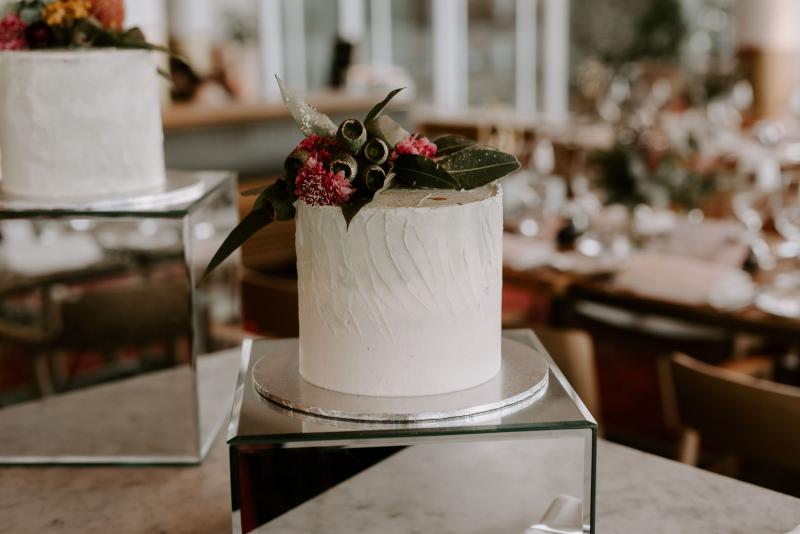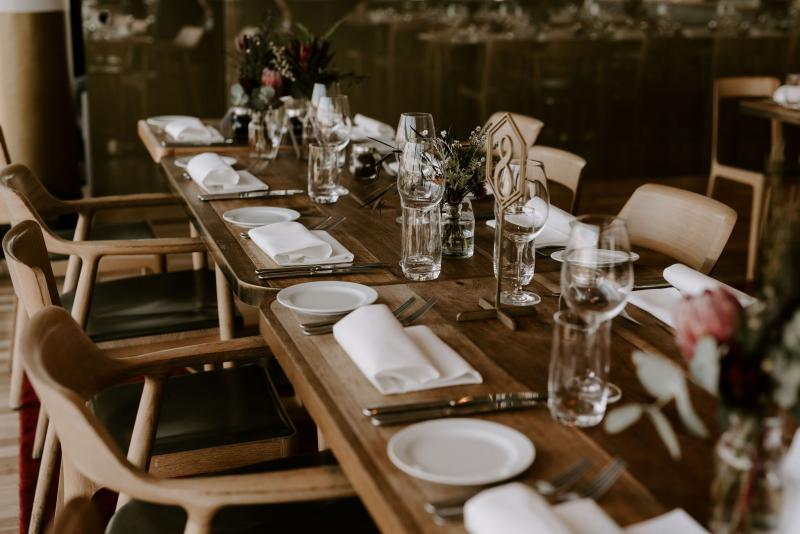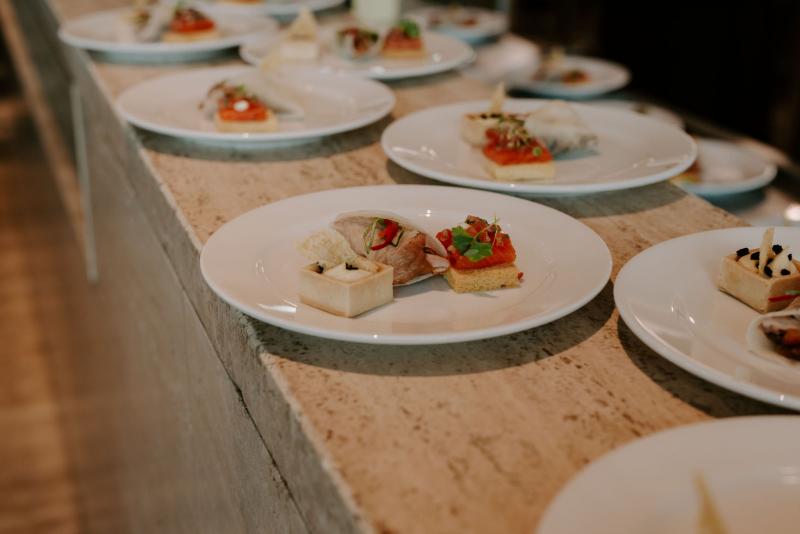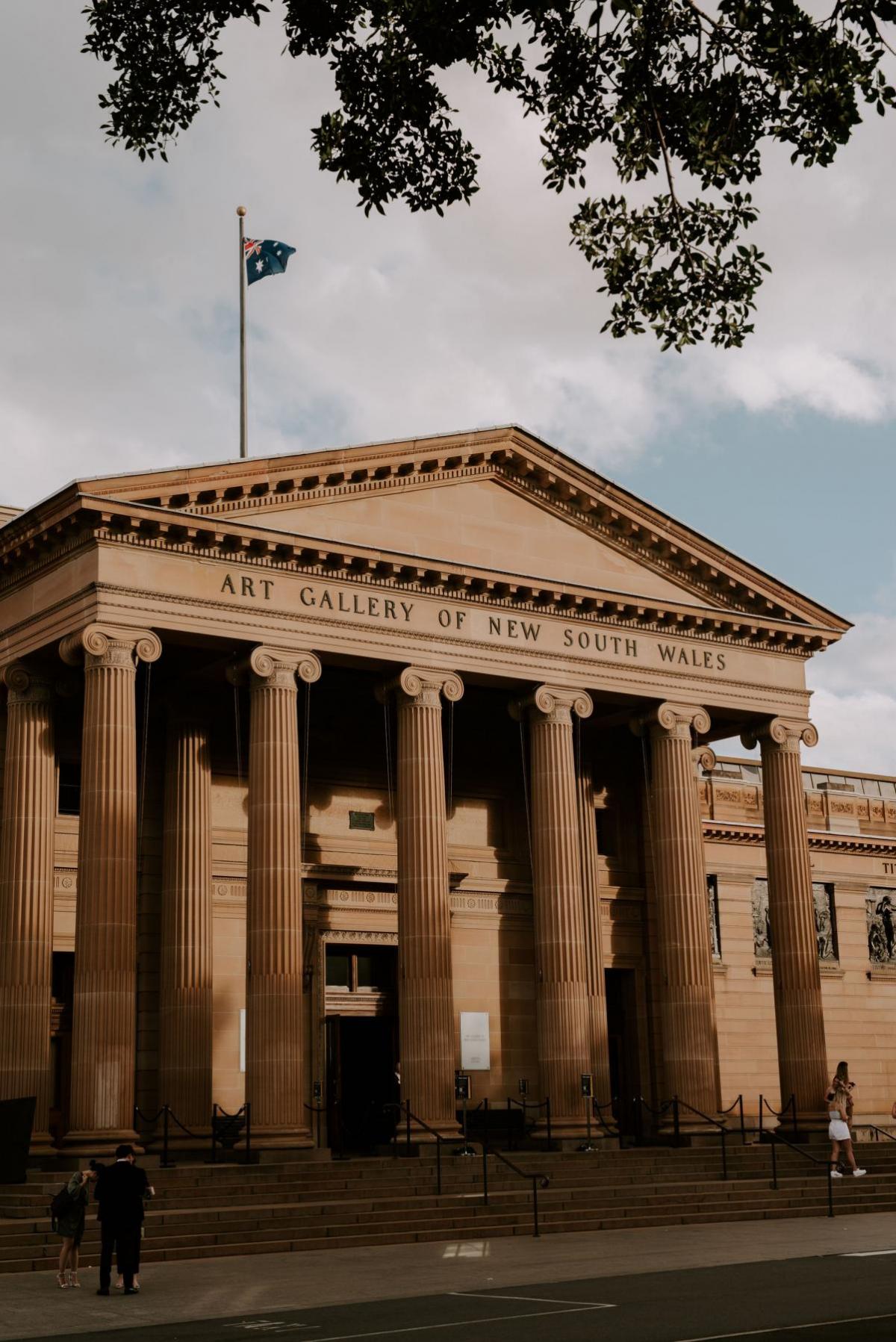 Highlight of the day
"The whole day was wonderful, and I know that's a huge cliché, but it was honestly such a beautiful day. The weather was perfect, and everyone was just happy and super relaxed. The highlight of the day was just after the ceremony, and Brian and I could finally hug and talk to each other. We kept it pretty traditional and didn't talk to or see each other until I walked down the aisle. So being able to see him and just talk was definitely the best part of the day for me."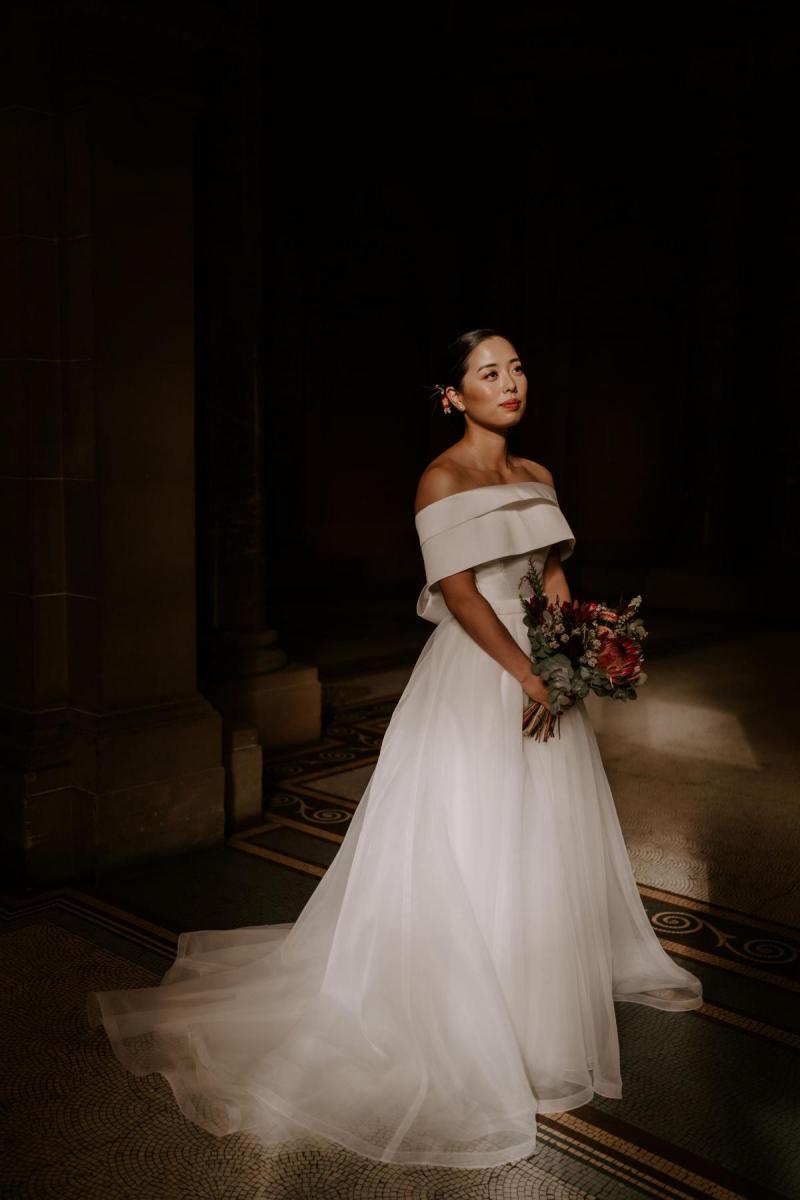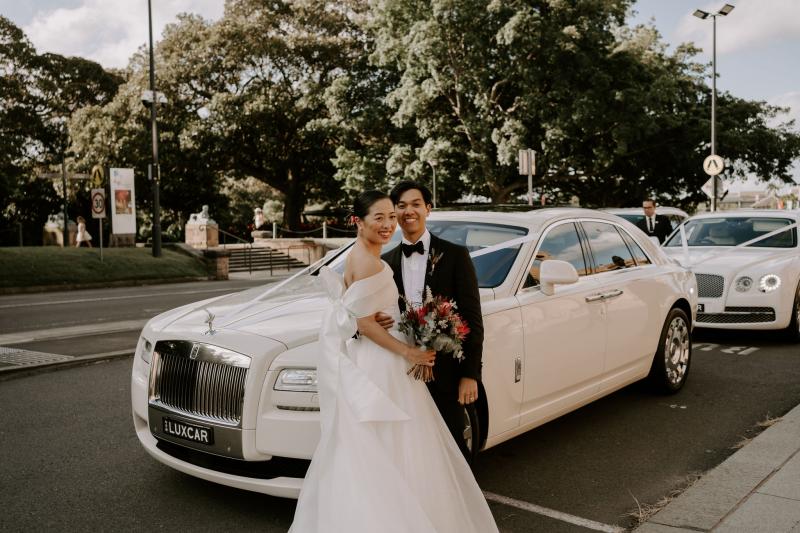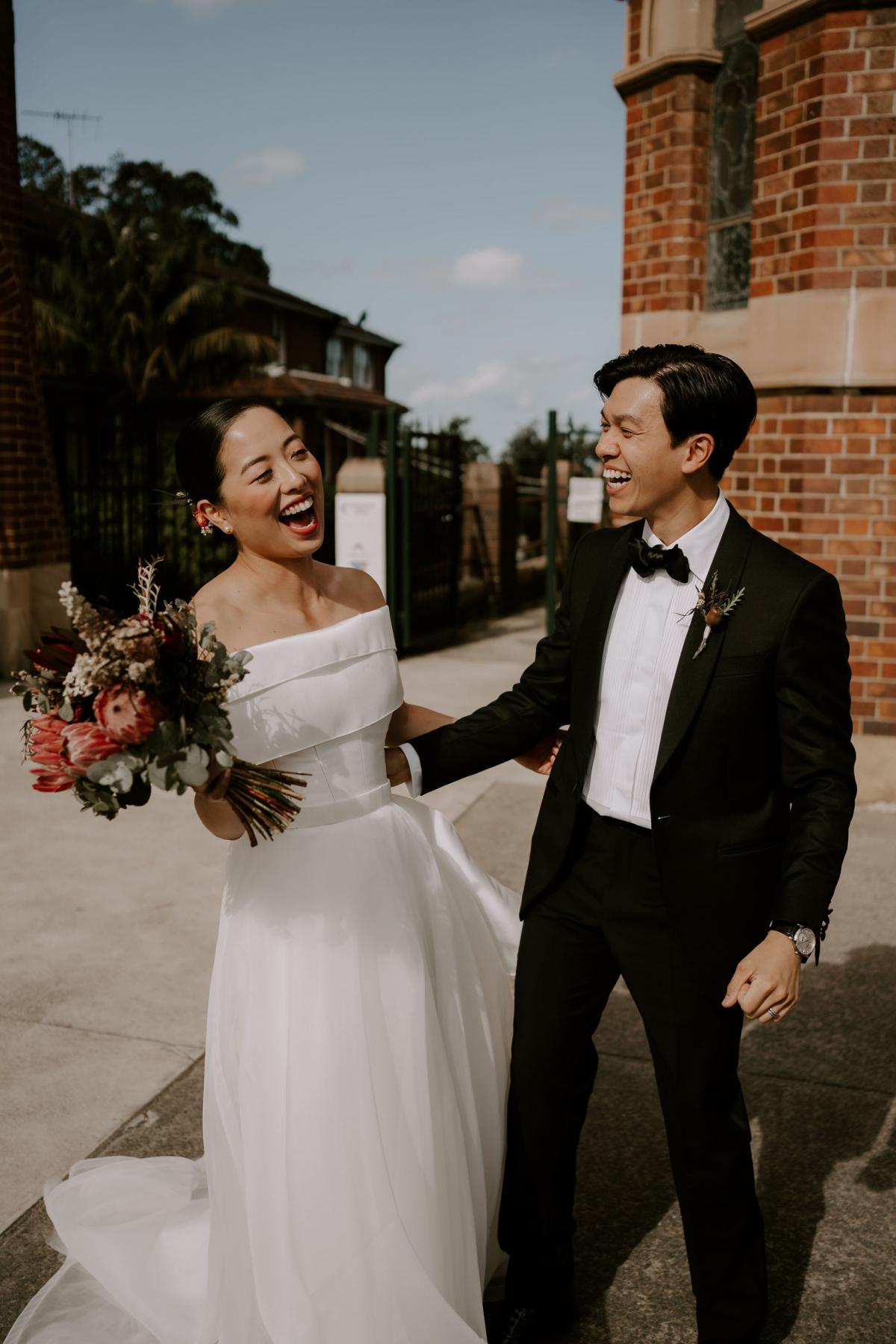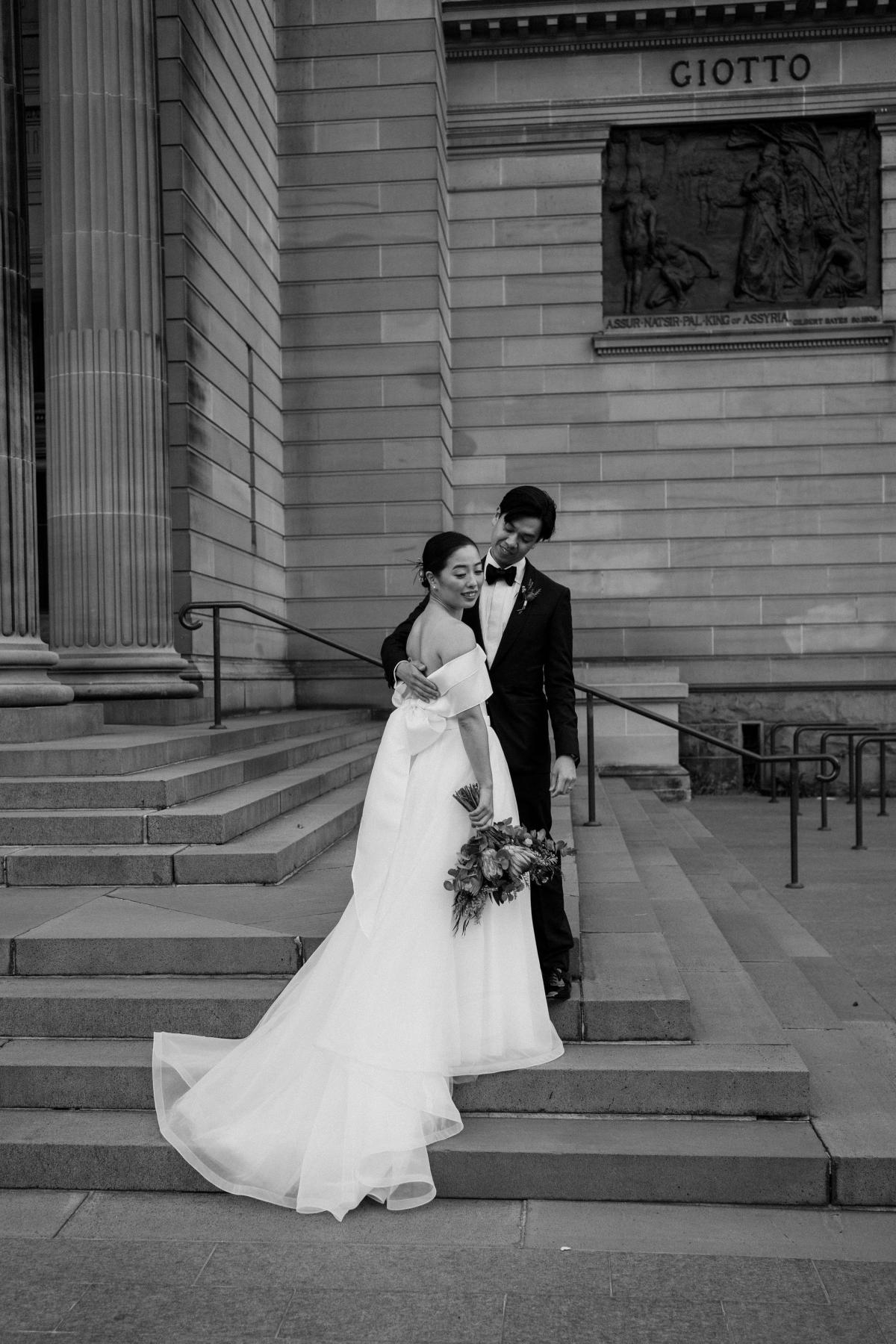 The Dress
Keeping up with her Australian made theme, Sarah decided to check out KAREN WILLIS HOLMES in Alexandria after a friend had recommended our affordable bespoke gowns made in Sydney.
"I think it's easy to say that my favourite part of my gown was the giant bow at the back, which was inspired by the "obi" on a Kimono and celebrated my Japanese heritage.

 I remember going into the store in Alexandria months after I chose the Kitty/Joni pair desperate to find a way I could make my gown more unique. One of the lovely ladies in store had an idea to put a giant bow using the twill and as soon as she did it, I just knew that was it. "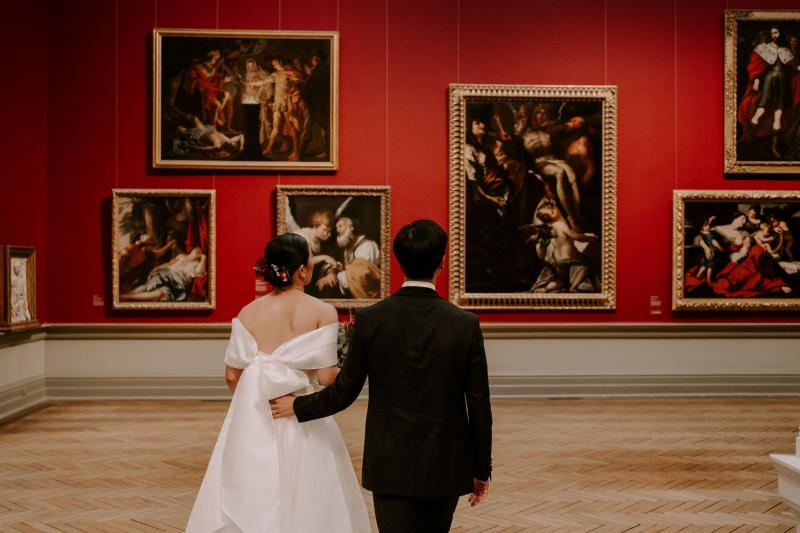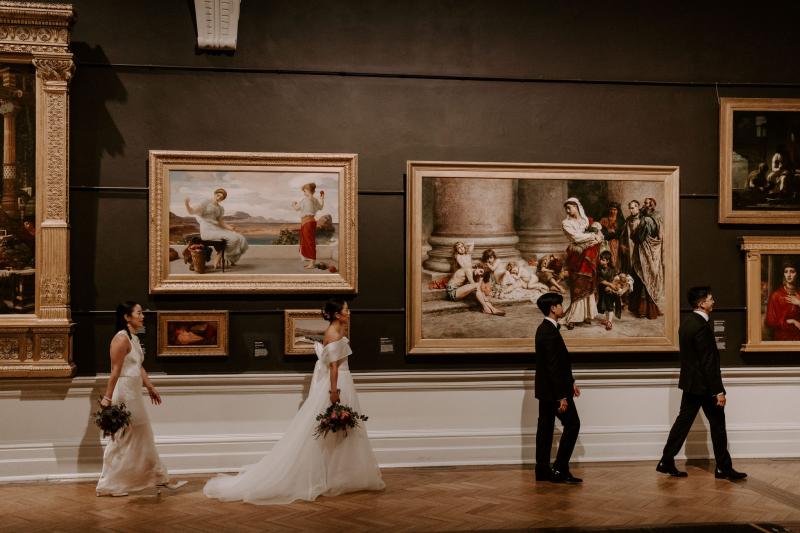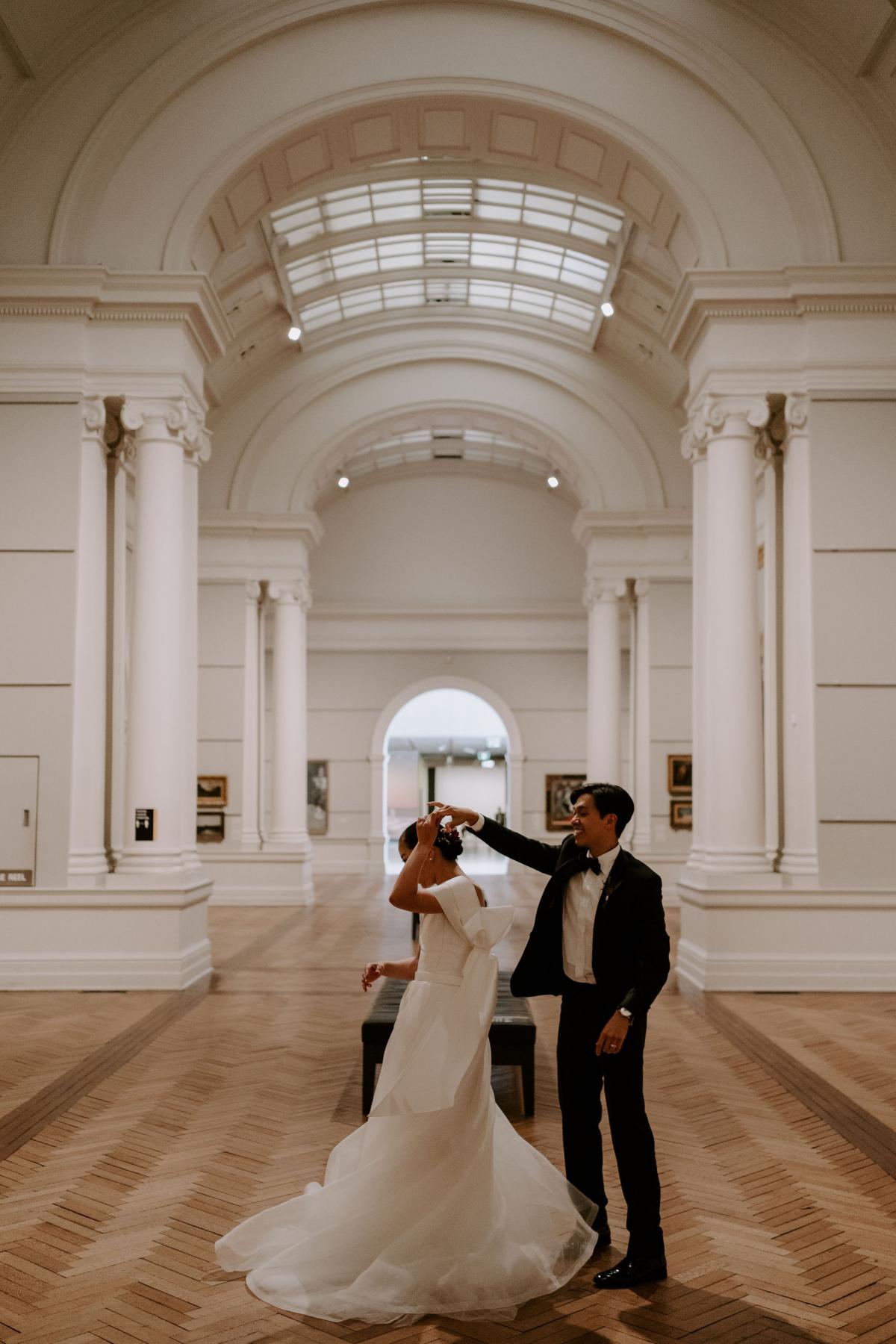 Accessorising
Although Sarah was religious about using local artisan goods for her big day, she broke her rule when selecting shoes. Who wouldn't when it happens to be Dior?
To keep it simple, Sarah donned a pair of earrings gifted to her by her mother and decorated her hair with floral garnish.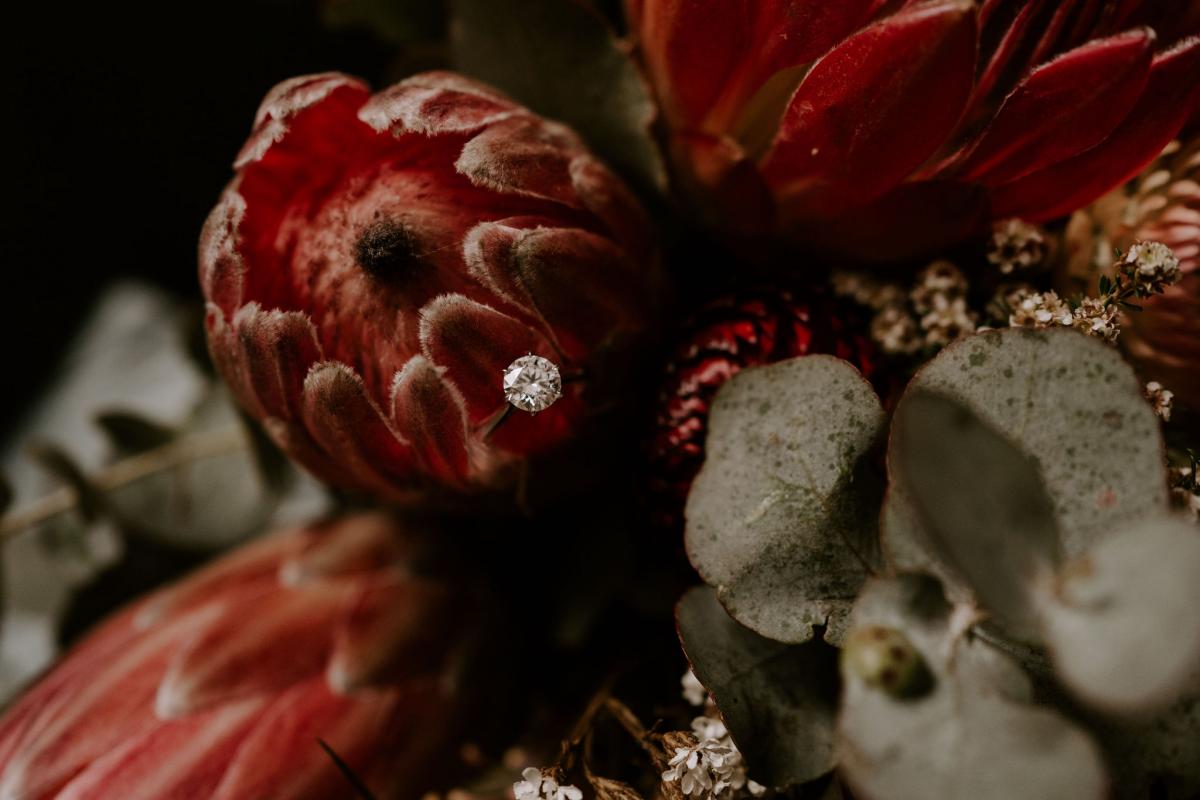 Advice
Like working on a piece of art, one must create multiple drafts to find the right balance and style.
"Honestly, my advice would be to try as much as you can but stick to your guns and wait for the "yes, this is it" moment because it'll come. Try, test and discuss with the person in the store about your vision. And if you don't have a vision (like me), just try as much as the store will allow you to. Your vision will come – just be patient."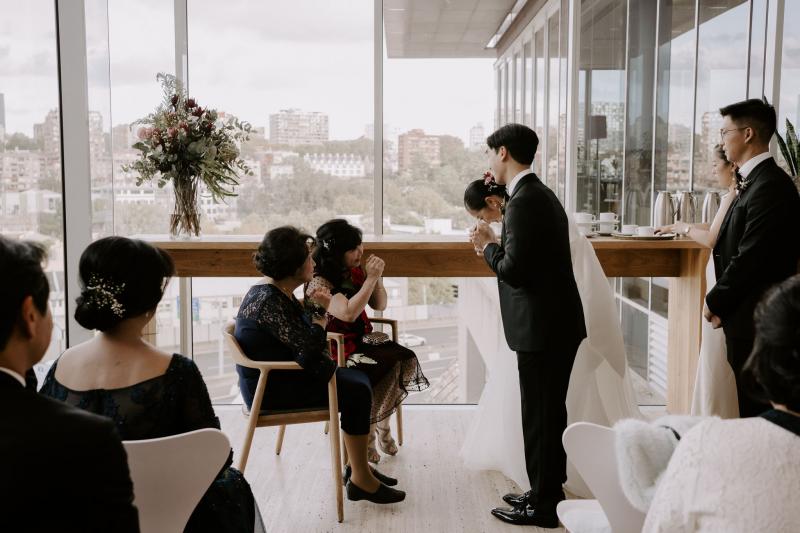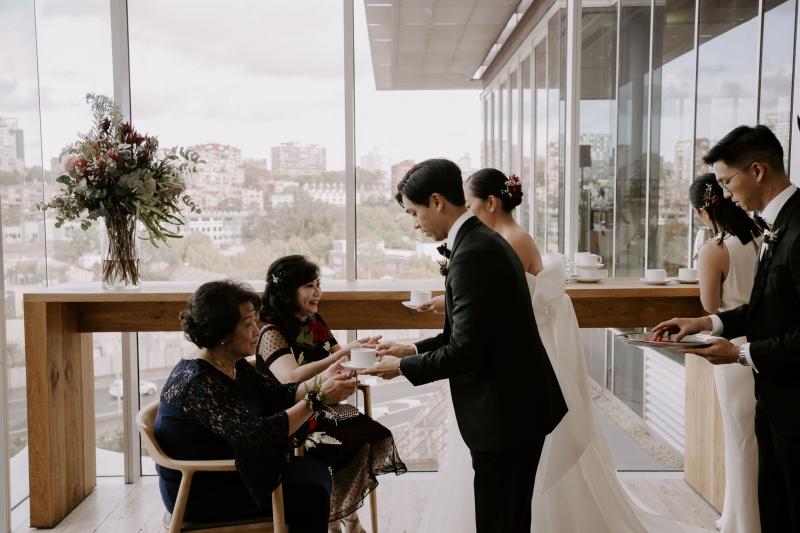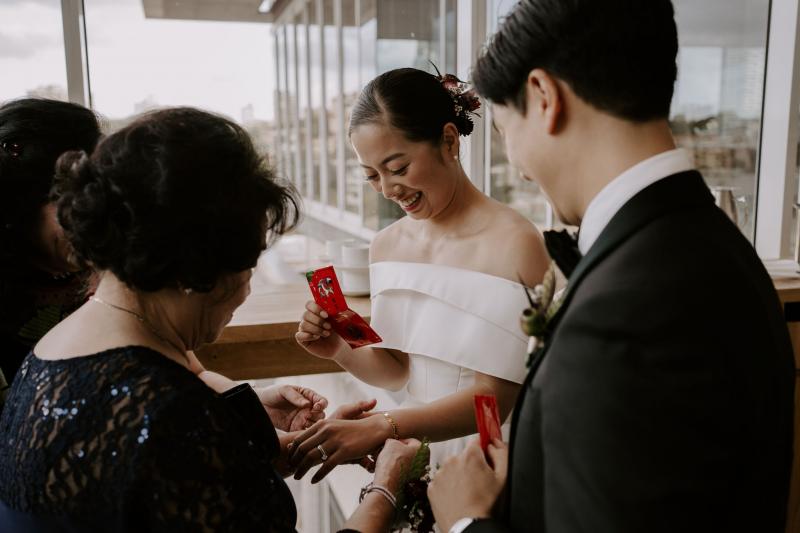 What does love mean to you?
"Love means to grow together, walk side by side on this adventure called life, and ask each other what they want to eat until the end of time."