Best Princess & Ball Gown Wedding Dresses for 2022
What is a Princess Wedding Dress?
Princess and ball gown wedding dresses are the most classic styles of all time, and now they are taking over in a whole new way! So, you've either been lusting over a princess or ball gown style since you can remember – maybe you love the look but not sure it's quite your thing, or it's your mums dream for you to wear a princess wedding dress on your big day. Let's face it, when do you ever wear a princess dress or ball gown, and how do you really know it's for you?  
Princess wedding dresses have come a long way over the years, but what is it that really defines a princess wedding dress? Is it the shape, style, fabric, or a combination of these? Princess wedding dresses are most widely known for their dramatic silhouette with a full voluminous aline- or ball gown skirt. They are the epitome of romance and femininity. A structured bodice emphasises and draws in the waistline, making it appear smaller compared to the oversized skirt. Usually made with multiple layers, the skirt fabric can be structured or soft and floaty, depending on the design. If it still isn't enough, a hoop will add extra volume to the skirt and that va-va-voom! 
We have collated all the best bits about the trendiest princess and ball gown wedding dresses this year. Read on to find out the reasons why we are obsessed with princess and ball gown wedding dresses, along with our top dress picks featuring our stunning KWH brides.  

Why Choose a Princess or Ballgown Wedding Dress for Your Wedding Day
Who doesn't want to be super comfortable with no worries on their wedding day – just sipping champagne with no care in the world? This is one of the reasons princess and ball gown wedding dresses are a popular go-to. They allow you to move freely and unrestricted, oh yes, and another great perk is you won't need to worry about little things like, what underwear will I wear? Not to mention they are so fun to twirl in!  
Princess and ball gown wedding dresses are considered one of the most flattering wedding dress styles, which we all want. Especially on pear-shaped brides, it will eventuate how small you are on top, also. On taller brides, they look fantastic! If you are unsure what shape will suit your body, we recommend starting with a princess or ball gown wedding dress and see how you go; you might be surprised! Stylist tip – be open-minded and don't rule it out before you try it. This wedding dress style is universally flattering for almost any bride, but if you want to know more about your body shape and a style that would suit you, check out our silhouette guide.
If you are after a timeless gown, you will be swooning over princess and ball gown wedding dresses for the years to come, combining both traditional and modern design elements. We have departed from the standard lace ball gown wedding dress and elevated the look using luxurious twill satin material for a simple classic bridal style.  
Another reason we absolutely love princess or ball gown wedding dresses is because they are so different from what you ever usually get the chance to wear. I mean there is just something so special about a dramatic full skirt and when best to wear one – then your wedding day! There is nothing more fitting than a princess or ball gown wedding dress if you are after a true fairytale wedding.  
Are you dying to now try one of our BESPOKE pieces that will make you want to dance, book an appointment now with our talented stylist who will help find the perfect princess wedding dress made just for you.
Famous people in princess or ball gown wedding dress 
Who can think of anyone with a more iconic wedding dress than Princess Diana? It was one of the most iconic wedding dresses of all time. The 80s fairytale wedding was deemed "the wedding of the century". Her dress may not be something we would all choose today but it was a true princess dress in all aspects. Designed by David and Elizabeth Emanual it was made with ivory silk taffeta, antique lace, hand-embellished with sequins and 10,000 pearls with a train over 7.5 meters long – now that's a train! Some other celebrities we know who chose to wear a princess or ball gown wedding dress on their big day include; Anne Hathaway (2012) wore a custom-made Valentino bridal gown. Miranda Kerr (2016) wore an Haute Couture Dior gown inspired by Grace Kelly. Serena Williams (2017) wore a Sarah Burton for Alexander McQueen gown for her fairytale wedding. A princess or ball gown wedding dress could just be 'the one' for you too! 
Now, what to wear with your ballgown wedding dress?  
Like Cinderella, now it's time to find your perfect fit for your wedding day shoes. Some things to consider when choosing your wedding day shoes are to firstly find your dress, research your options, stick to your style, consider your venue and don't forget about comfort! If you're wondering what shoes to wear with a princess or ball gown wedding dress, you're in luck you have endless options. To be honest, your shoes won't be very noticeable with a big skirt that falls to the ground – your dress will be the star of the show! Don't get me wrong we all still want beautiful wedding shoes, but you can get away with a lower more comfortable shoe and your feet will thank you for it. Go with a heel style and height you can manage, test them out and if you can't stand in them for at least an hour, they are not for you! We absolutely love Chaos and Harmony's Bridal Collection with a variety of modern styles and cute colours made with comfort in mind and adore that they can be worn again, their shoes will look perfect with a ballgown wedding dress. 
Audrey
Audrey is the fun and edgy princess dress of your dreams – With unique soft polka dot tulle, beautiful structured sheer bustier and detachable Edwardian sleeves.  What a statement; she has it all! Audrey is available in both blush or ivory, along with many options to make her your own. This ball gown wedding dress is the epitome of feminity.
As seen on our beautiful bride, Jess has chosen Audrey with the off the shoulder sleeves for a sweet, elegant look. Just dreamy!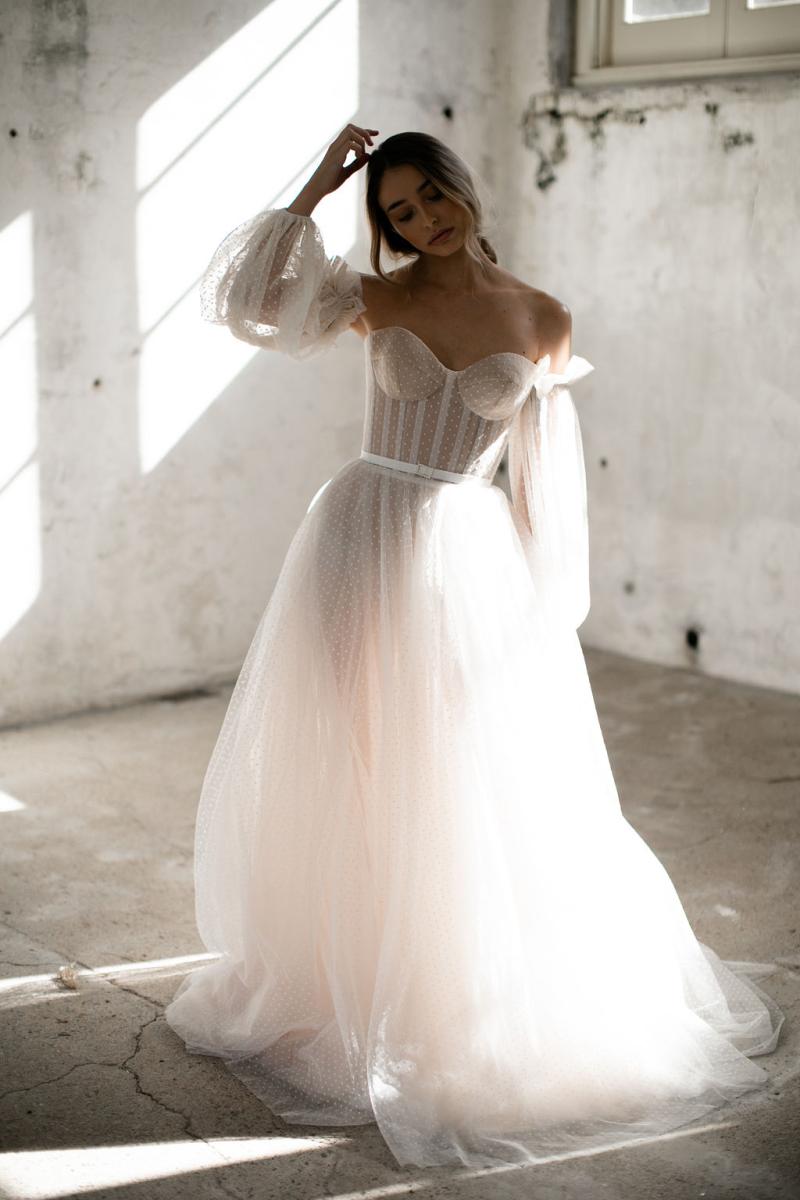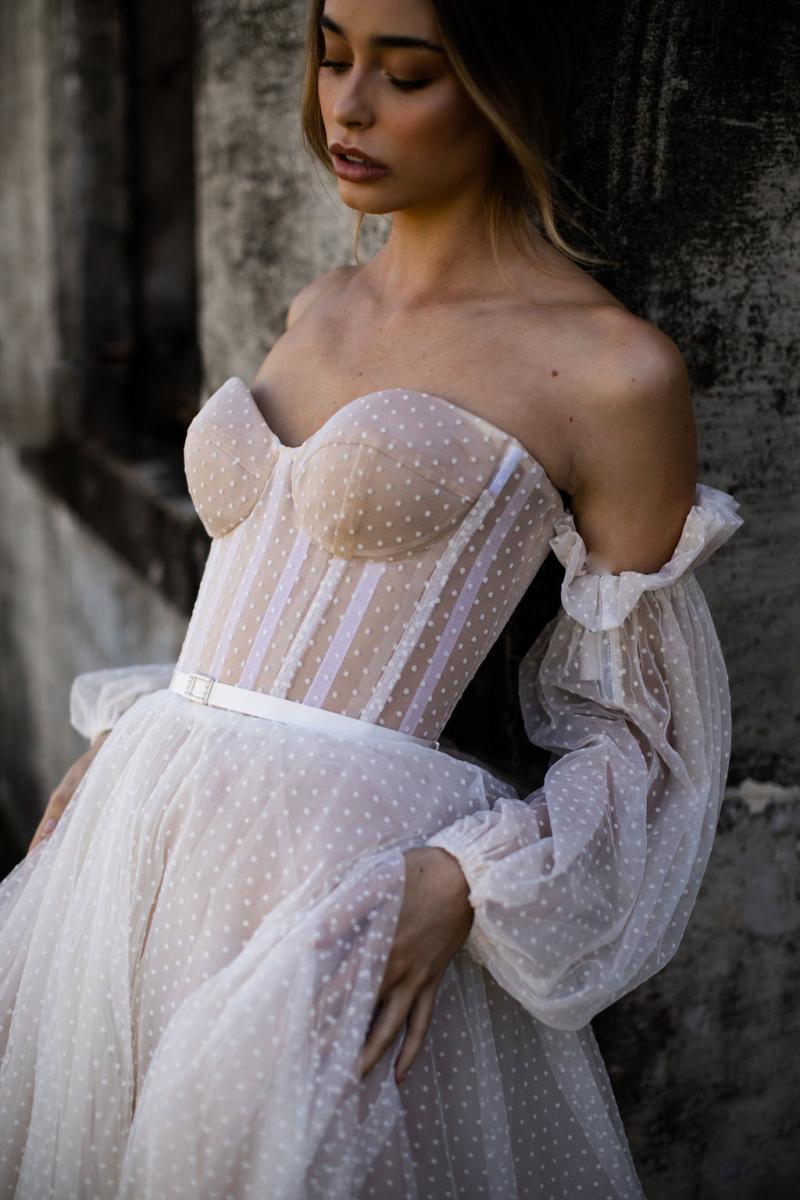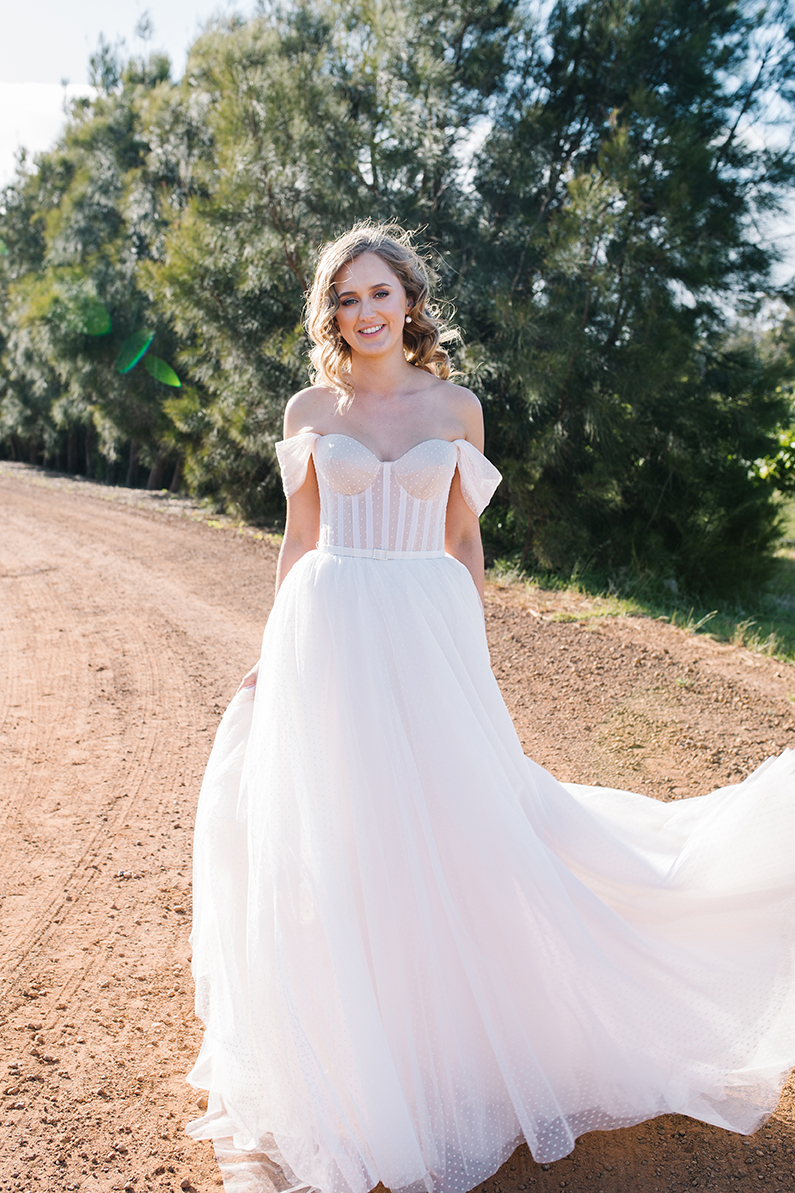 Aisha
Aisha is a modern and minimal take on a traditional princess wedding dress. Made with honeycomb mesh, it is very striking. The nature of the mesh material allows a subtle amount of light to pass through, showing off the fitted skirt underneath, giving a peek at the womanly figure beneath the aline overskirt. The layers add the perfect amount of drama for the classic bridal twirl! Her U-shaped neckline brings the dress into the modern age while still feeling elegant. 
Look at our glowing bride Talia; isn't she just rocking Aisha! She chose to add a custom sexy split, and we love her statement headpiece.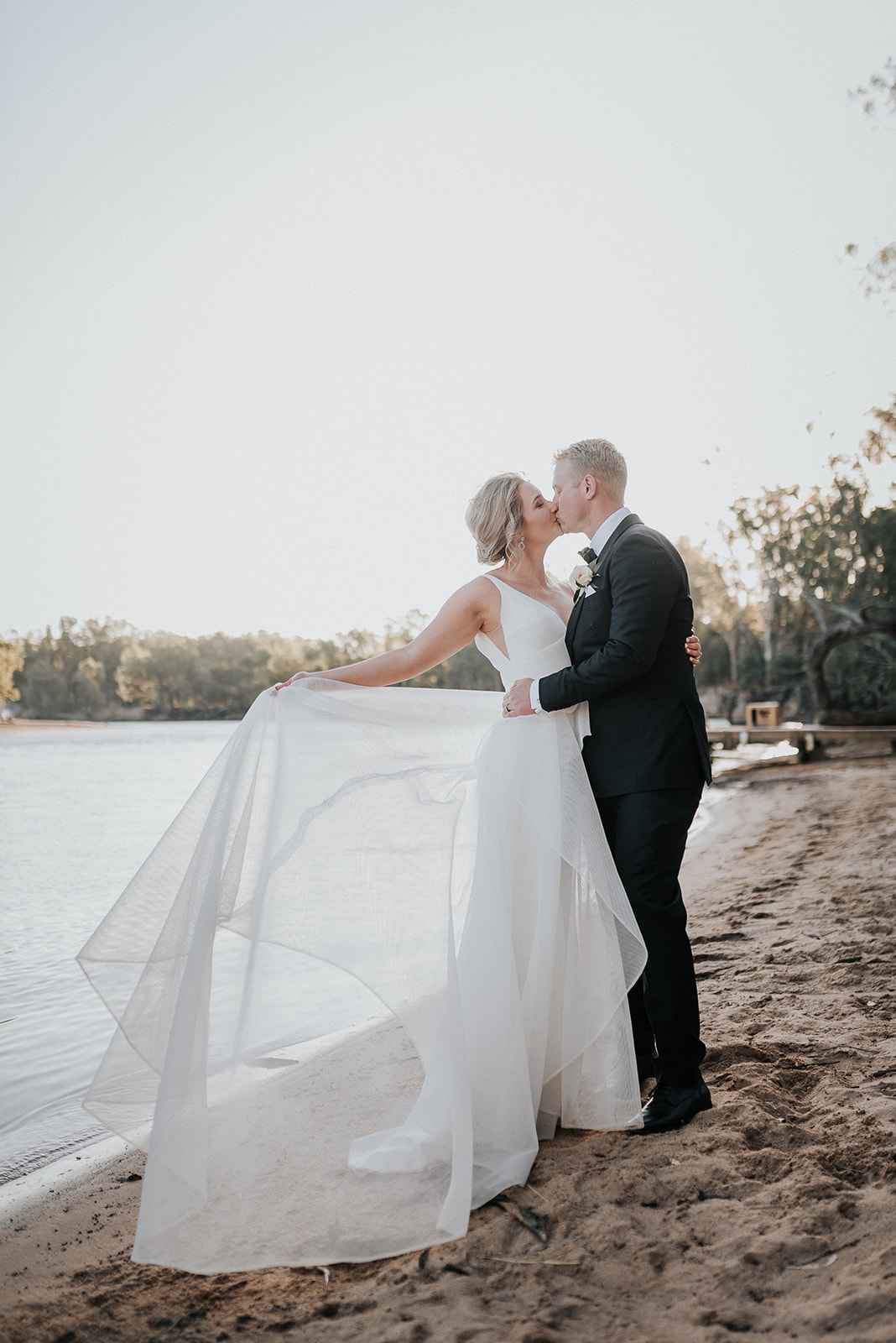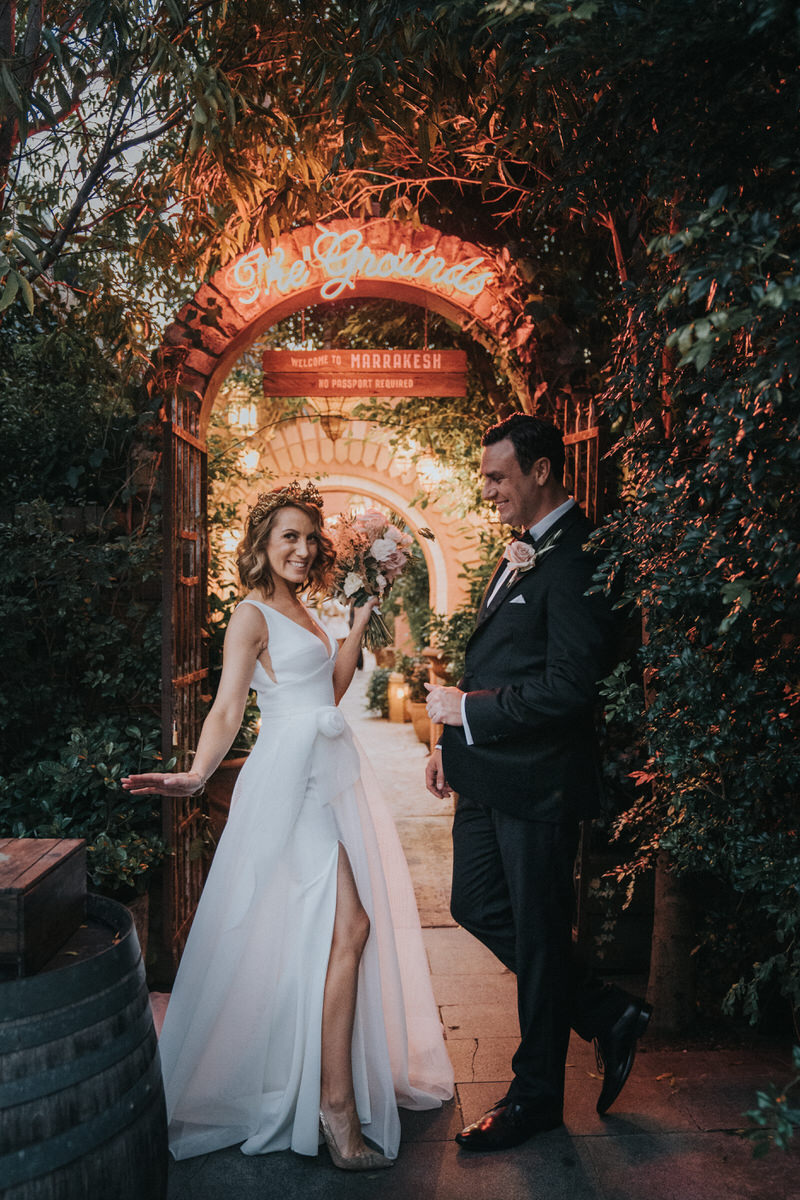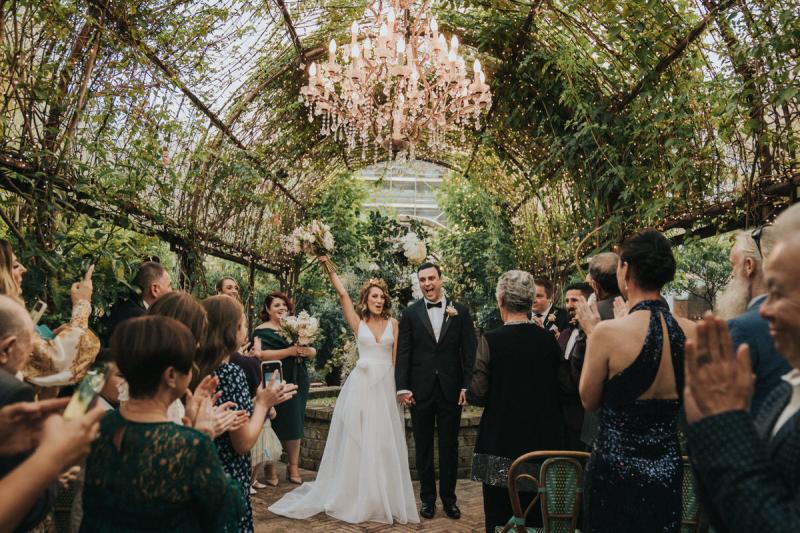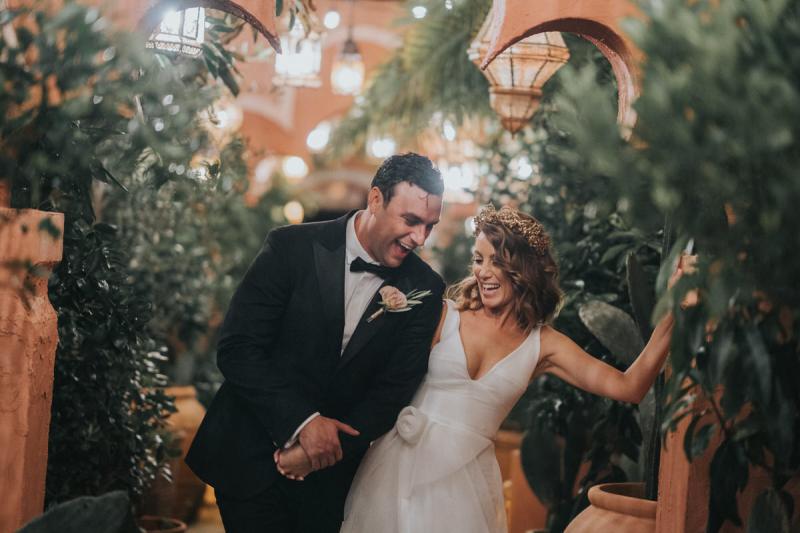 Scarlett
Scarlett is like no other princess wedding dress. She is the perfect blend of sexy and romantic! An intricate handwoven ribbon corset bodice with sheer spot tulle detailing defines such an individual look, completed with a soft full circle tulle skirt. If you want more volume you can wear the Scarlett layered tulle train on top for extra drama! 
We just adore our stunning bride Gaby in Scarlett looking like a modern-day princess!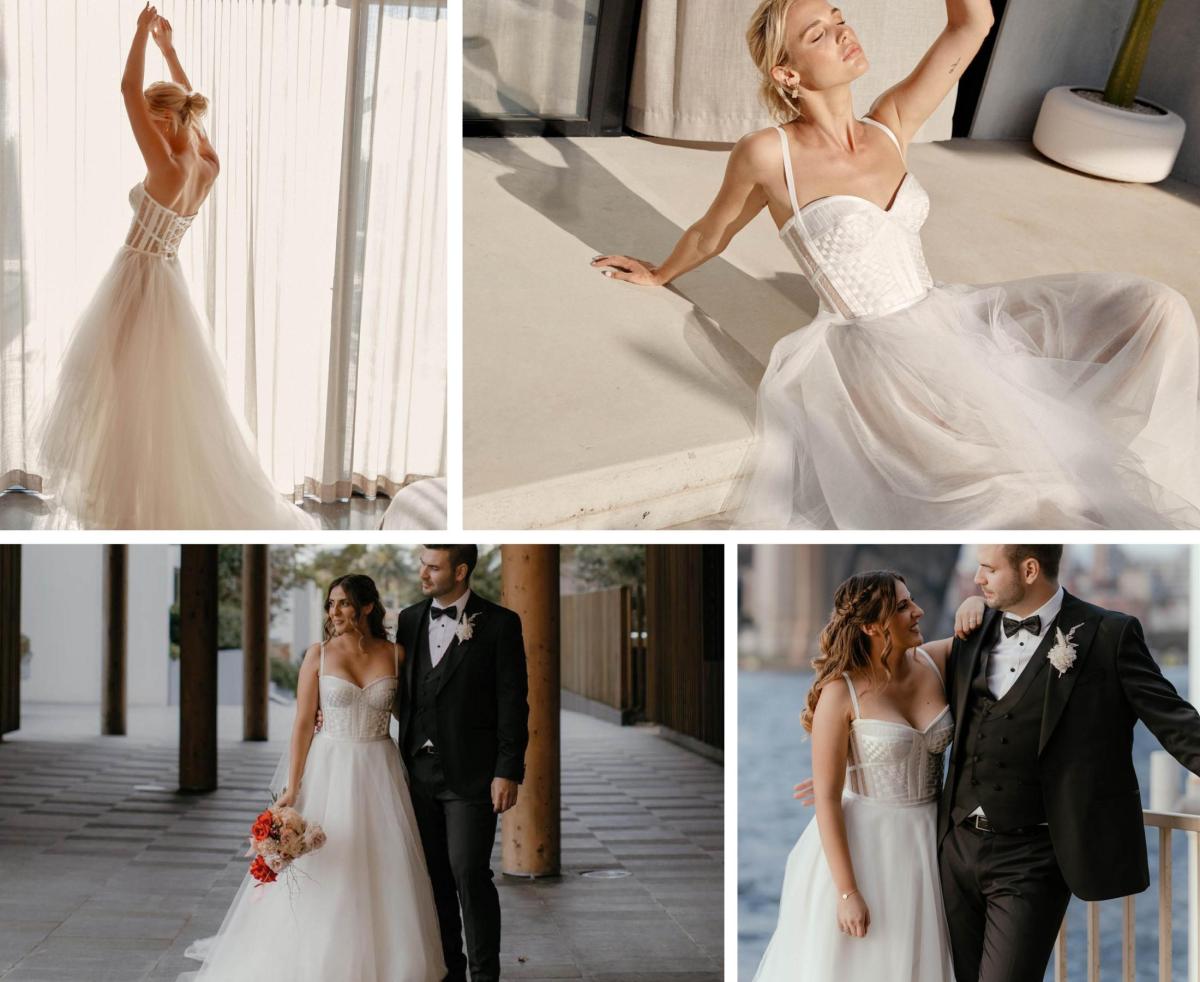 Taryn Marina
Taryn Marina is a one of a kind gem in our crown of jewels. She is a fun, flirty gal who is ready to party the night away with her boisterous aline skirt made for ballroom dancing. The modern U-neck of the Taryn bodice brings the sex appeal by showing off the bride's décolletage while the straps provide structure and support so you're comfortable dancing all night long. This modern aline wedding dress brings a special flair with her tiered raw-edge tulle skirt to bring an edgy attitude.
Get a load of the stunning bride, Sarah, as she flaunts her stuff on her outdoor wedding day.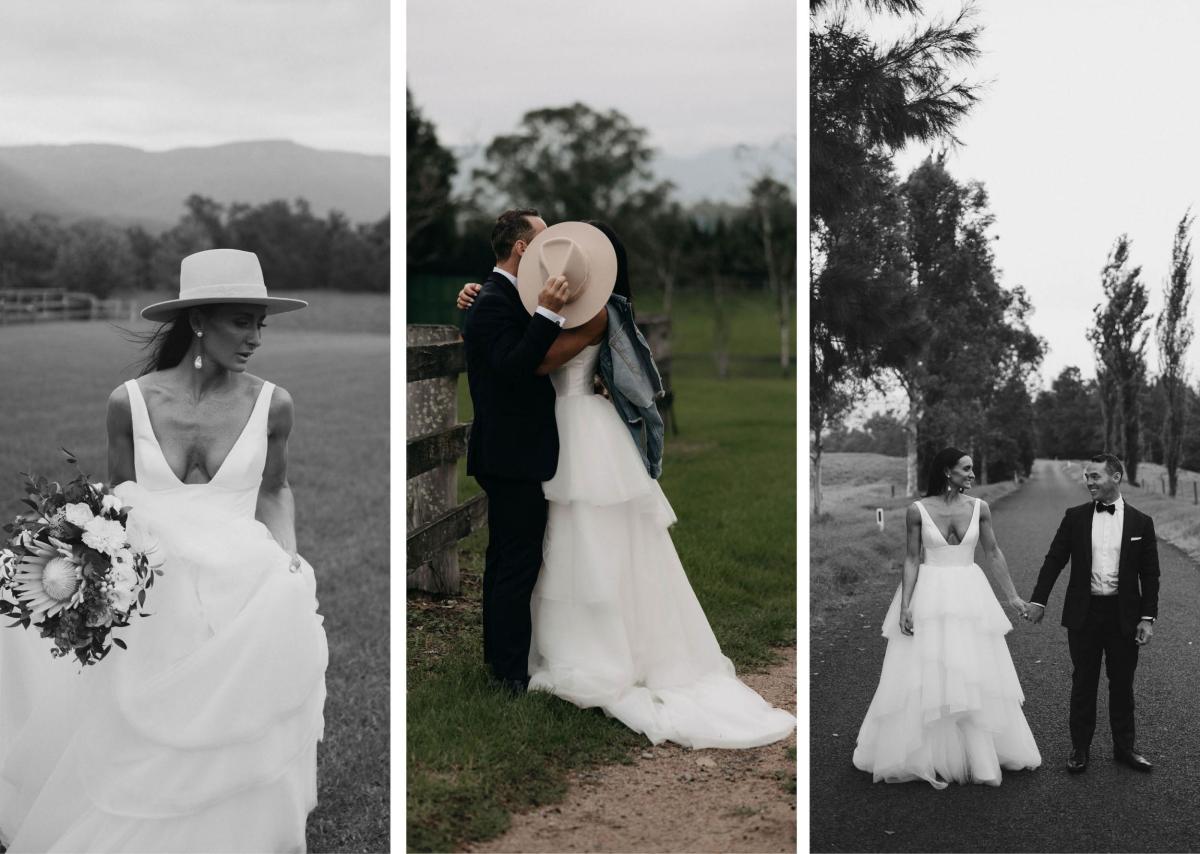 Jaqueline Elizabeth with Puff Sleeves
*sigh* Isn't she just a dream? Jacqueline Elizabeth is a wedding dress made for a contemporary queen, not just a princess. Her straight-cut corseted bodice is firm yet flattering, giving the bride full coverage, while the box pleat adds an extraordinary detail to the simple top. Since Jacqueline is a strapless wedding dress bodice, add the Puff sleeve to become even more regal. The Elizabeth skirt has taken the Camille skirt up a notch by removing the ruching to make it simpler, while the high leg split steals the show. You'll be sitting on your bridal throne in no time with this unique wedding dress.
She's even appeared on the red carpet for the Dally M as Taryn Carson strutted her stuff in front of the paparazzi.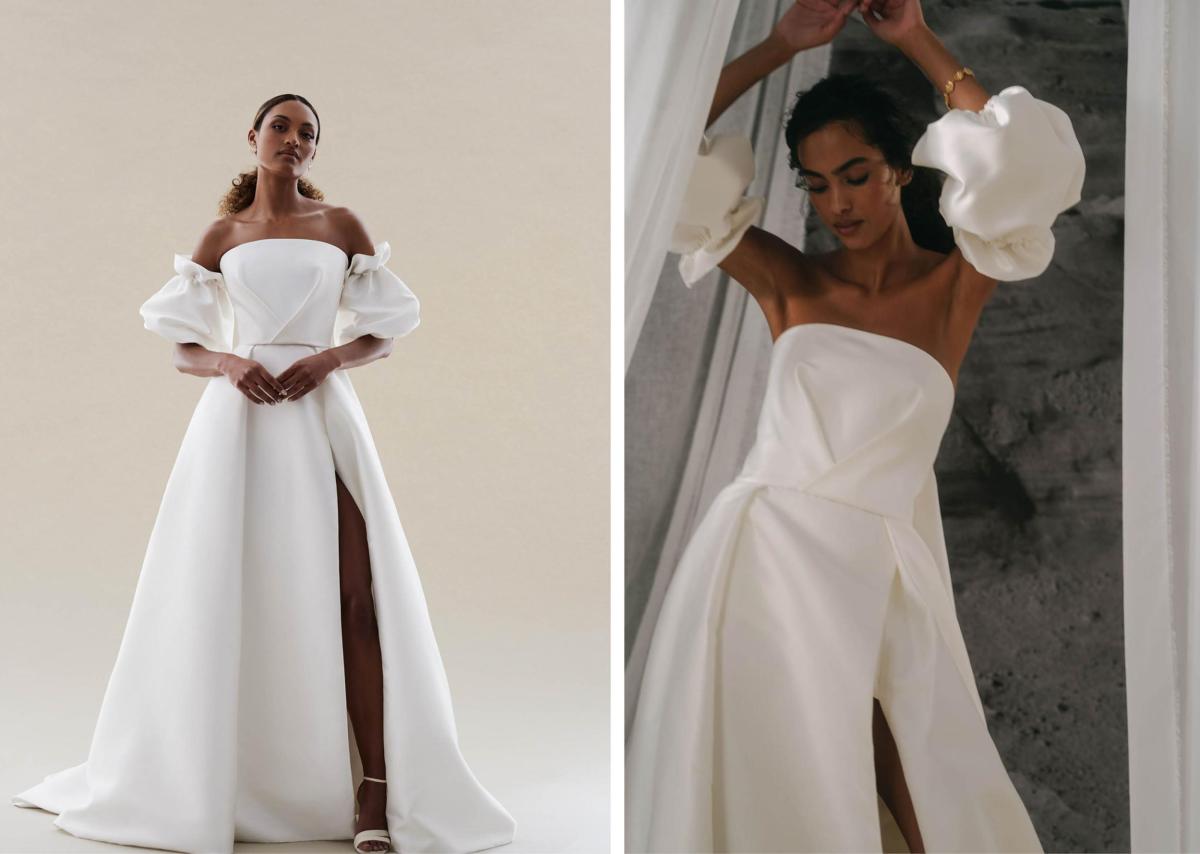 Erin & Lea
At last, we get to our wild child, the Erin & Lea gown! This WILD HEARTS gown is an alternative wedding dress fit for the free-spirited princess with her two-piece style. That's right, TWO piece wedding dress! For the daring bride, the Erin bodice is a soft, comfortable but contemporary bodice with her crepe material and cropped length showing off a bit of the waist. Her pearl-studded voluminous tulle skirt reigns in the boho look and adds a bit of class. Together this pair is an unstoppable princess wedding gown for a good-natured bride!
If you desire to make a bold statement, wear the Lea skirt without the lining as Jana did to her tropical elopement in the lush rainforest of Hawaii.