Ultimate Guide to Wedding Dress Styles & Silhouettes for Your Shape
Guide to Wedding Dress Silhouette Shapes
"What's the best wedding dress style for my body type?" So many brides ask themselves this when beginning the hunt for their perfect gown. Wedding dress shopping is perhaps one of the most fun, exciting parts of planning your wedding. It's one of the only things you will (maybe) keep a secret from your fiancée and it's something special just for you; not for your guests or bridal party, etc.
Your gown will be with you in all of your photos and each time you look back at your wedding, you'll remember that feeling of magic you got when stepping into your dream dress on your big day. You might be wondering how to navigate all of the different wedding dress styles and which wedding dress will work for your body type. There is a flood of information to sift through and countless types of wedding dresses, so it can quickly feel overwhelming. If you're finding yourself waking up at 3 AM, worrying about wedding dress shapes and which wedding dress silhouettes would be perfect for your style wedding and body type, don't worry! We get it.
There are tons of different wedding dresses and styles and all-around different types of wedding dresses to sort through: we're here to help.
Dress Shapes
Ball Gown Wedding Dresses
A-line Wedding Dresses
Mermaid/Fishtail Wedding Dresses
Fit and Flare Wedding Dresses
Column/Sheath Wedding Dresses
Navigating Your Way Through Different Necklines
Sweetheart/Strapless Wedding Dresses
Halter Neck Wedding Dresses
V-Neck Wedding Dresses
Don't Forget The Sleeves!
Long Sleeve Wedding Dresses
Off The Shoulder Wedding Dresses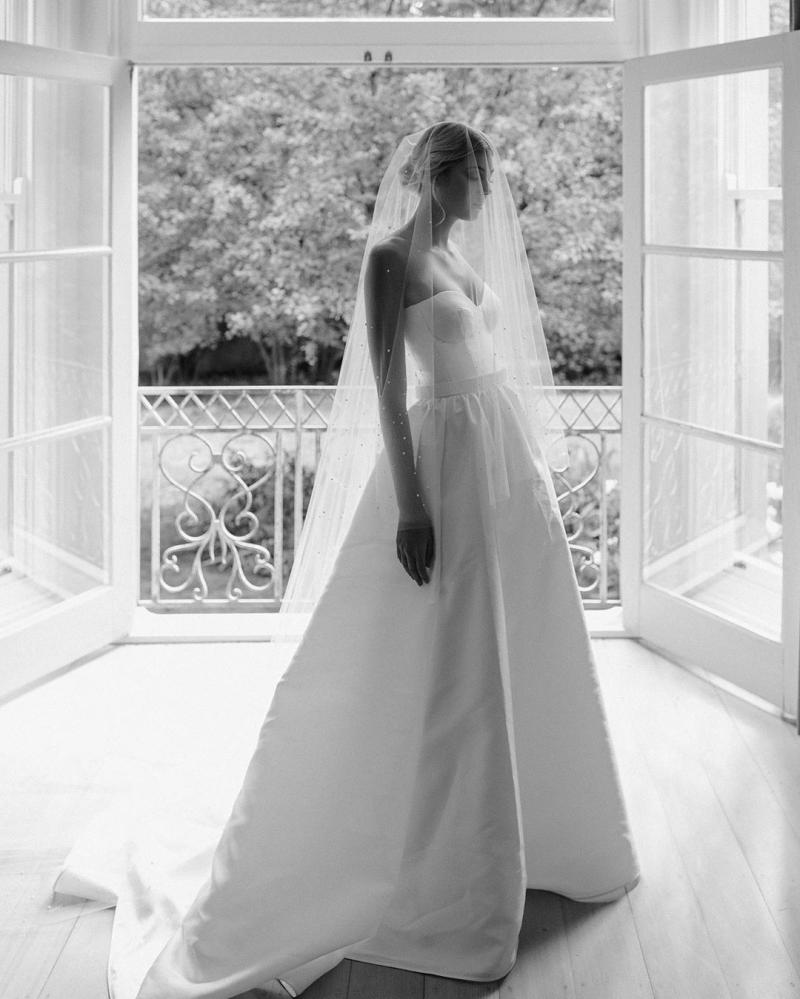 Ball Gown Wedding Dresses
Popularised in the 50s; what could be more classic?
Vintage vibes with modern details? Yes, please. If your vision for your dream dress has 'princess' written all over it, then a ball gown might be perfect for you. A ball gown wedding dress consists of a form-fitting, usually sculpted or structured bodice, with a very large skirt. Normally, the skirt of a ball gown will have layers of tulle underneath or require a hoop skirt to be worn for added volume.
Ball gowns will accentuate your waistline and make it look tiny by contrasting the small, fitted look of the bodice with the larger skirt. This style is best suited for brides looking to cinch their waist and not have to worry about their hips/lower tummy area, so if you're looking for the best wedding dress style for a pear shape this is a great option, as it will emphasise how small you are up top. Hips and lower stomach are areas so many women would rather have coverage for their wedding photos so, if that's what makes you most comfortable, then this is a gorgeous, flattering silhouette to choose for your day!
Ball gowns work beautifully for tall brides as well, as your elongated figure will be able to handle a lot of volume without shortening you. The contrast from bodice to skirt will have a flattering result on a taller figure, too.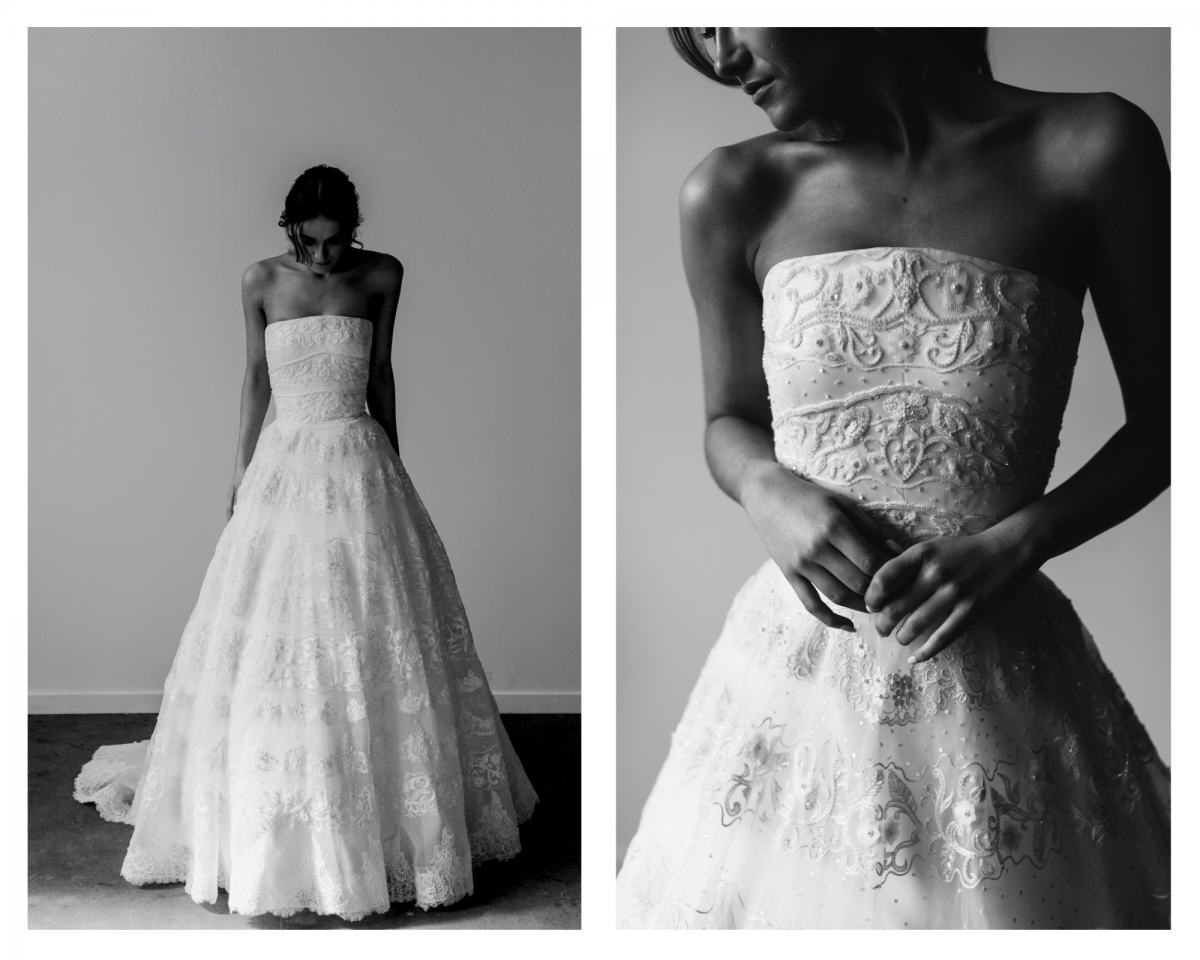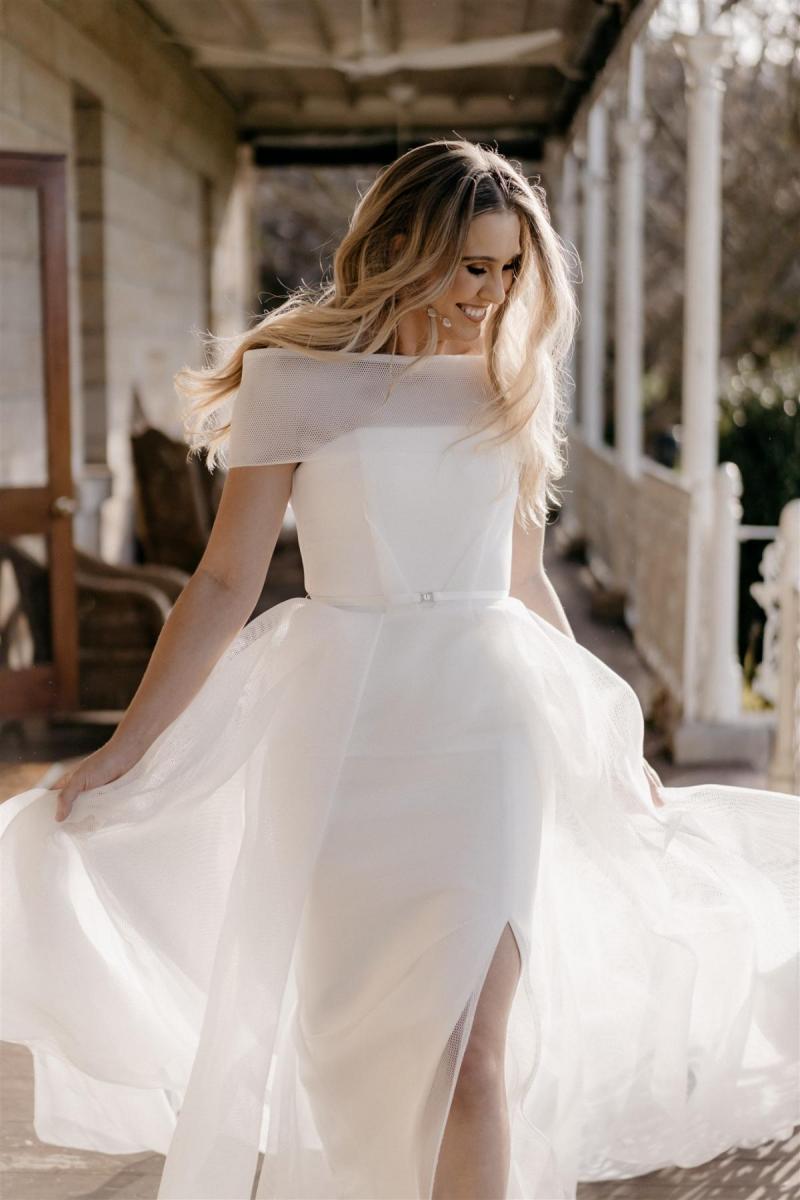 A-line Wedding Dresses
For the bride who loves the ball gown effect, but wants something a bit more subtle; an A-line gown could be your perfect dress. Called as such for the skirt looking like a capital 'A,' this style is softer, more romantic and a bit more modern than a ball gown.
As far as wedding dress shapes go, this one is pretty much universally flattering. This style is, again, perfect if you'd like coverage for your lower half, and works perfectly as a wedding dress style for bigger busted brides, as the volume of the skirt will balance out your upper body. If you're on the hunt for wedding dress styles for petite curvy figures, A-line shapes work beautifully for small, hourglass silhouettes too.
It's an easier style to wear for a shorter bride than a ball gown in terms of comfort and mobility and still gives you that soft, beautiful coverage if that's what you desire. Having a light touch of volume on the bottom of your gown also makes A-line dresses a stunning choice for apple shaped brides, as it will balance out your silhouette.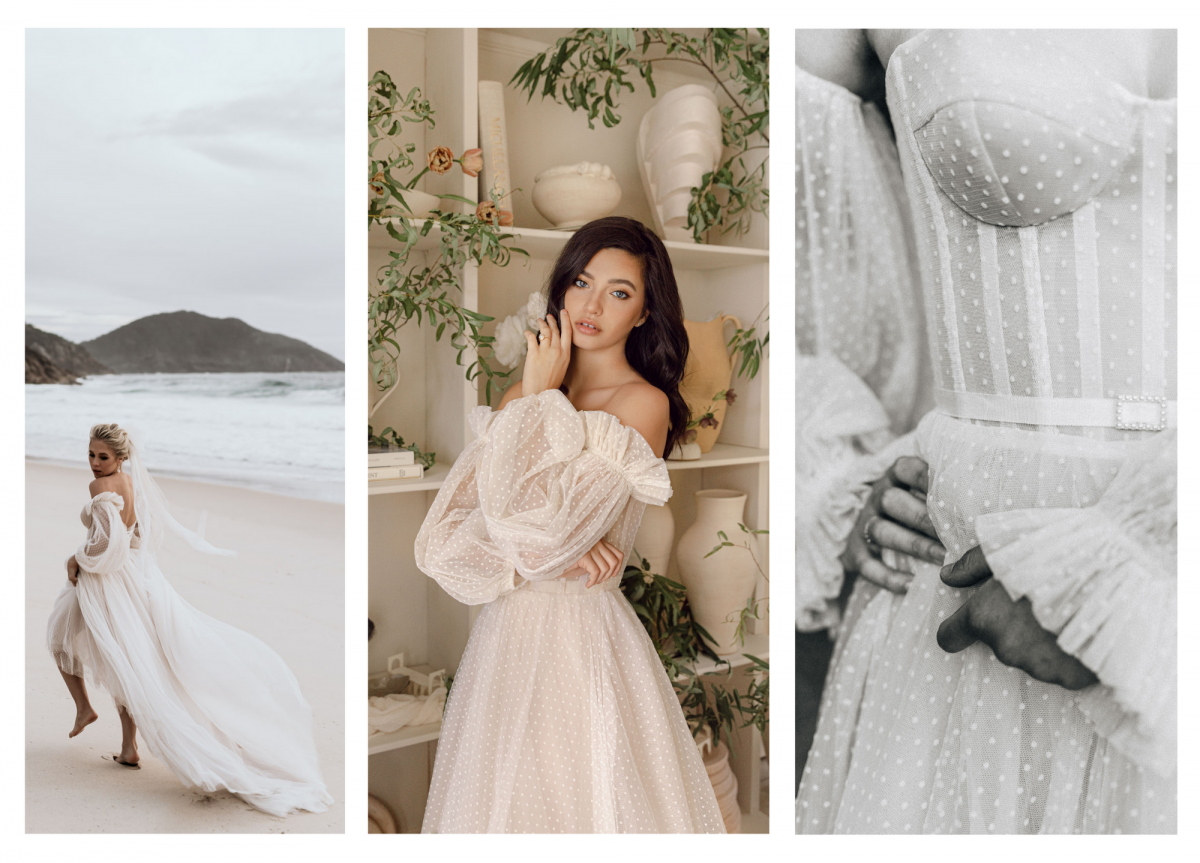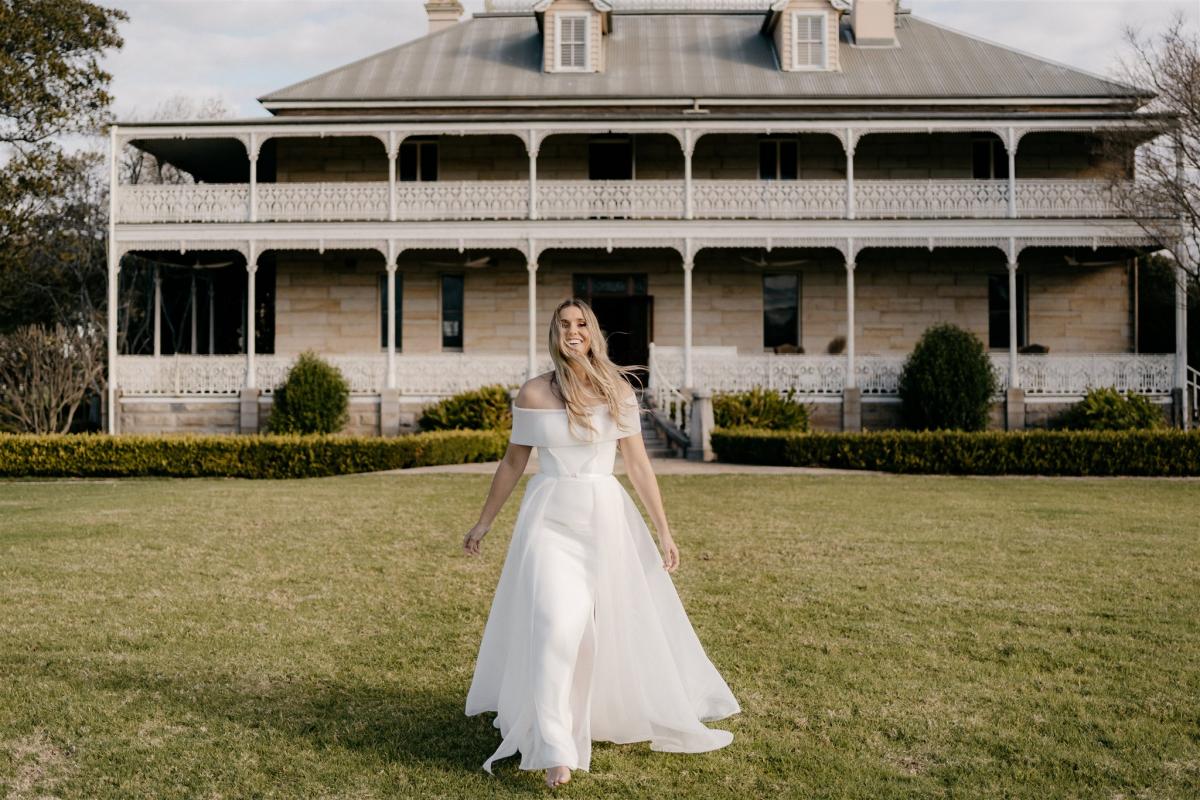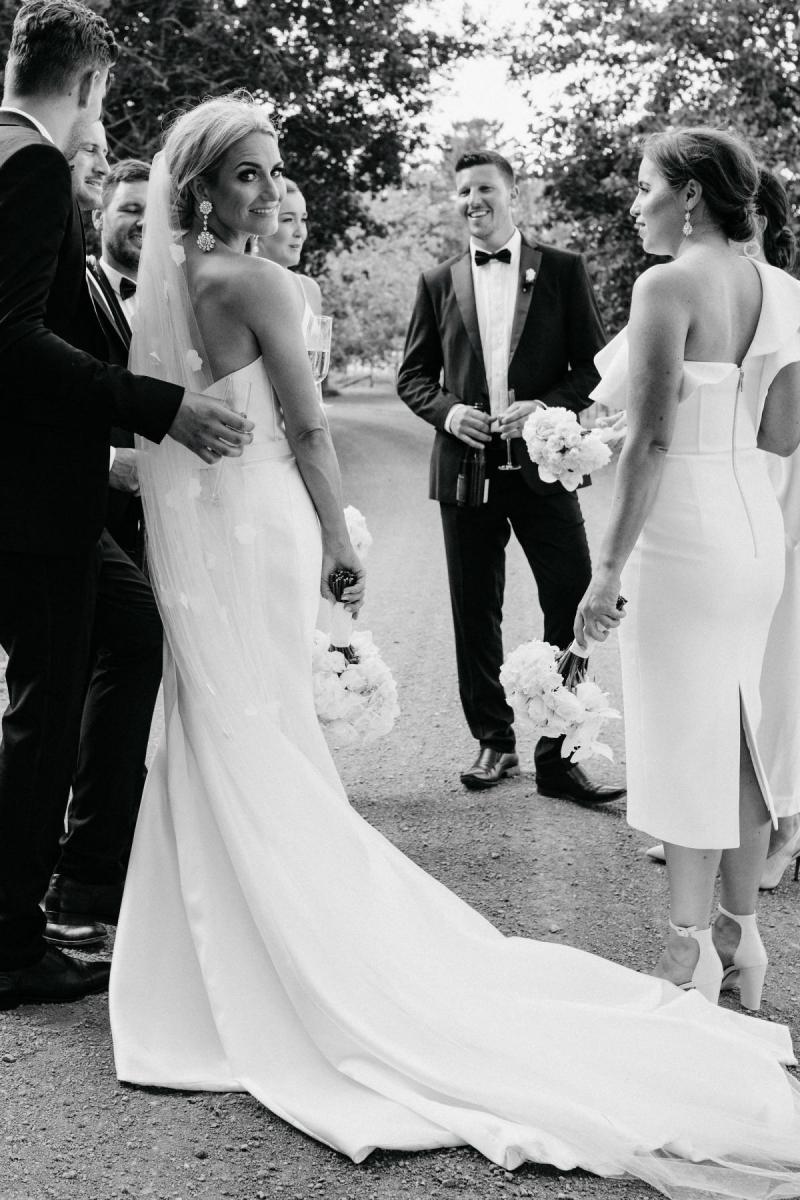 Mermaid/Fishtail Wedding Dresses
If the wedding dress shapes for your dream gown have volume, but not for quite the whole skirt, then a mermaid or fishtail gown would work perfectly for you. Out of all the wedding dress styles that work for hourglass figures, mermaid is one of the best. As a mermaid gown will hug all of your curves from bust to waist to hips, and then flare out dramatically half-way down the skirt, it continues the hourglass effect your shape already has and emphasises it even more.
Having volume around your lower body will also help to balance out stunning, curvy hips and give a killer end result. While hunting for wedding dress styles for body shapes of all kinds, bear in mind what you want to highlight on your figure and what you'd rather not have to think about on your big day. If you love your curves and want to show them off, a more clingy gown that hugs your silhouette, like a Mermaid, would be perfect for you.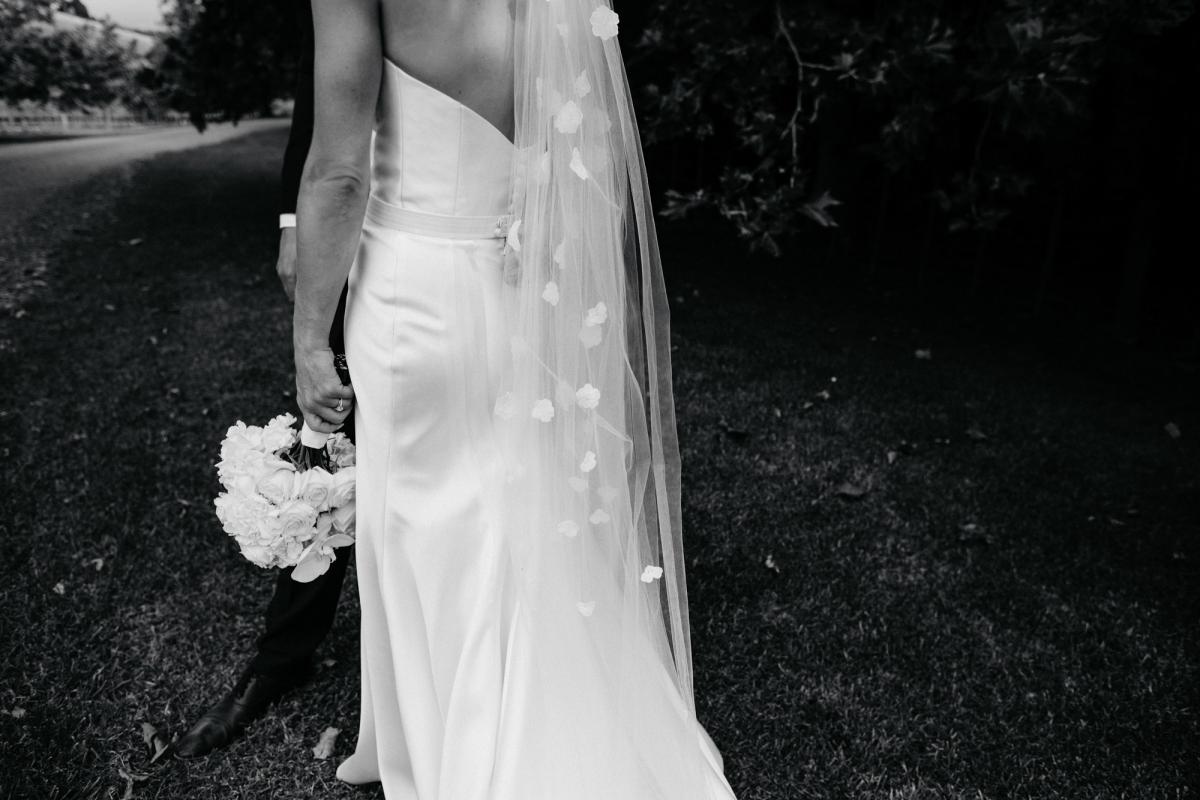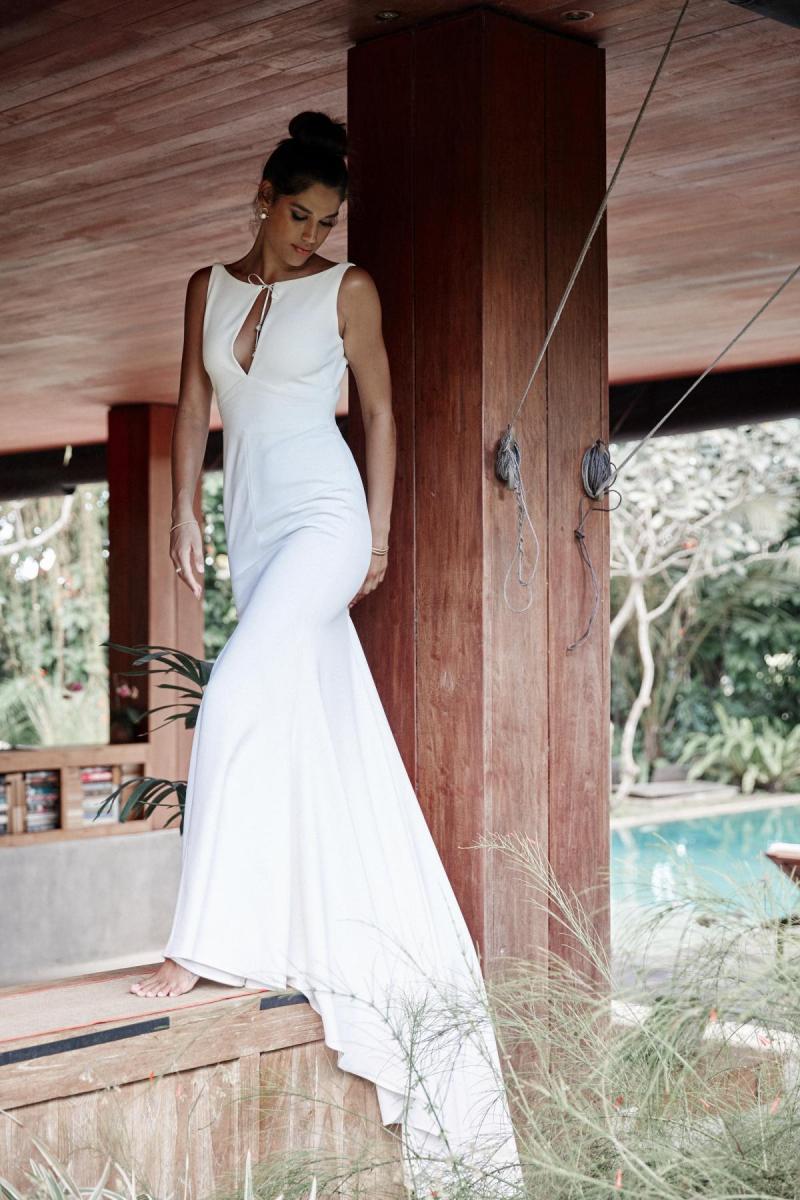 Fit and Flare Wedding Dresses
While searching for wedding dress styles for different body types, keep in mind the tone and vibe of your wedding as well. Having your dress be a mix of both flattering for your shape while also in-keeping with the theme of your big day is the perfect harmony for your dream gown.
If your wedding feels modern yet timeless, nothing complements this quite like a fit and flare gown. Of all the types of wedding dresses, fit and flare wedding dress styles work for so many figures: pear shape, hourglass, curvy or athletic builds. A fit and flare gown can create that perfect silhouette that so many brides desire; hugging your body in all the right places and creating the perfect curves, while also accentuating your smaller areas. 
Fit and flare gowns are fitted from bust to waist to hips and then flare out at the bottom, much like a mermaid. Different from mermaid and fishtail, however, is the fact that these gowns have less volume and severity in their lower half that flares out. Because of this, they give off a softer, more romantic, more contemporary feeling but still look timeless and gorgeous.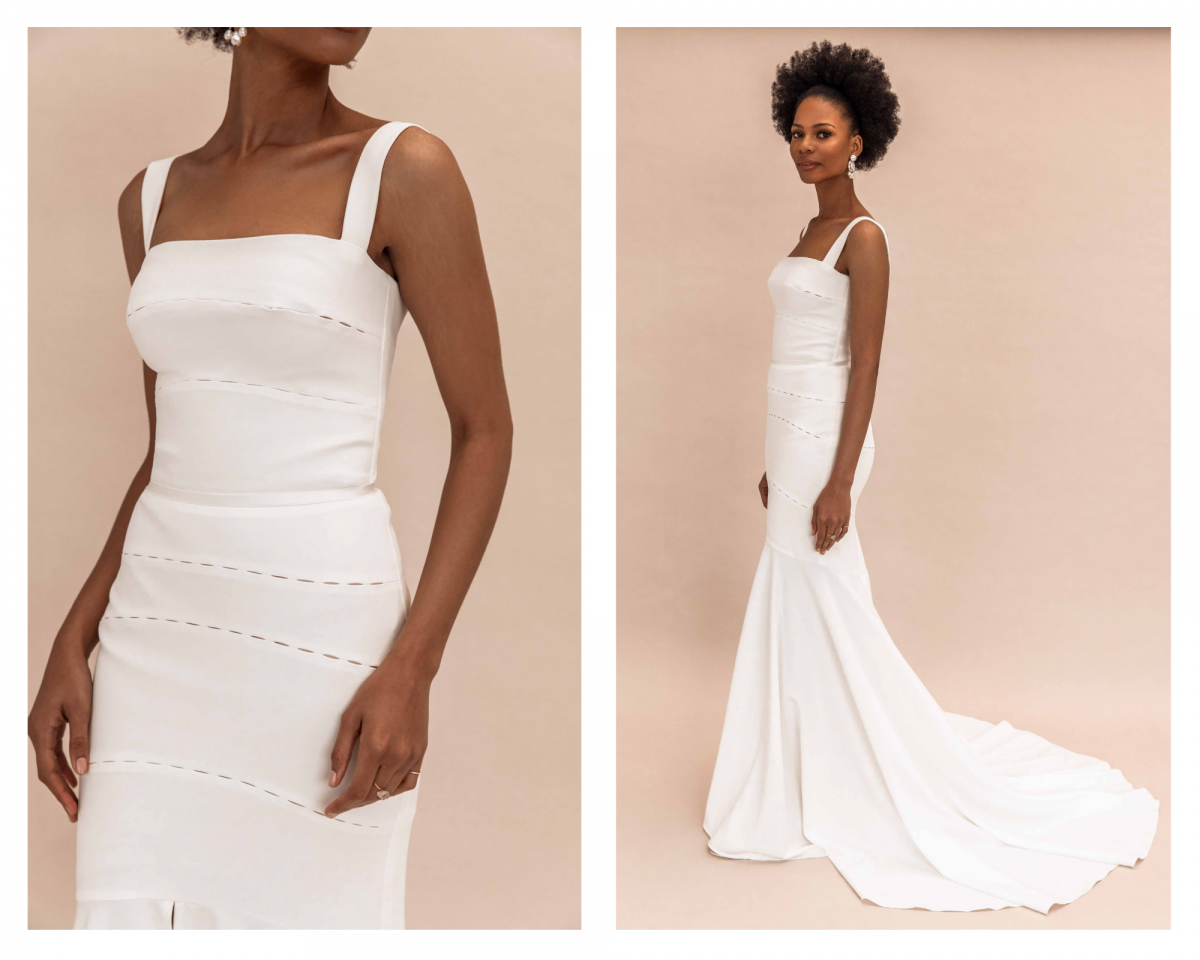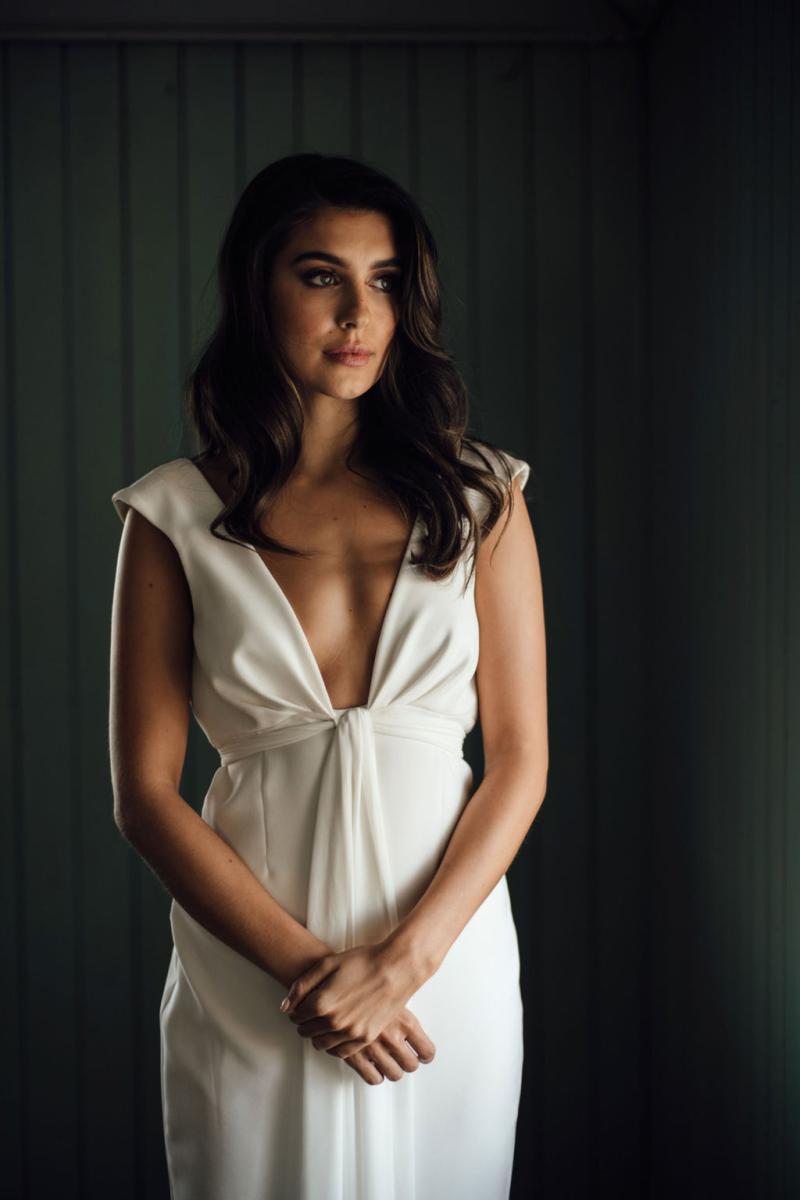 Column/Sheath Wedding Dresses
When thinking about how to choose a wedding dress style, ask yourself what you want to emphasise. What parts of your body do you want to highlight? Show off?
If you're looking to emphasise height, a column or sheath gown is the best wedding dress style for body types that are elongated and, contrastingly, on the shorted side too! A column gown is one of the most beautiful wedding dress styles for short brides, as the straight lines of these dresses will help to elongate you and give you the illusion of being taller. At the same time, it's one of the best wedding dress styles for tall brides too, if you want to showcase your height.
Sheath gowns are straight up and down, and continuous, so there's no break for the eye in the flowing, streamlined material. This will create height where there is none and display it beautifully where there is.
Reminiscent of 1920s flapper dresses, but made contemporary in simple, slip fashion, these dresses are effortless and stunning.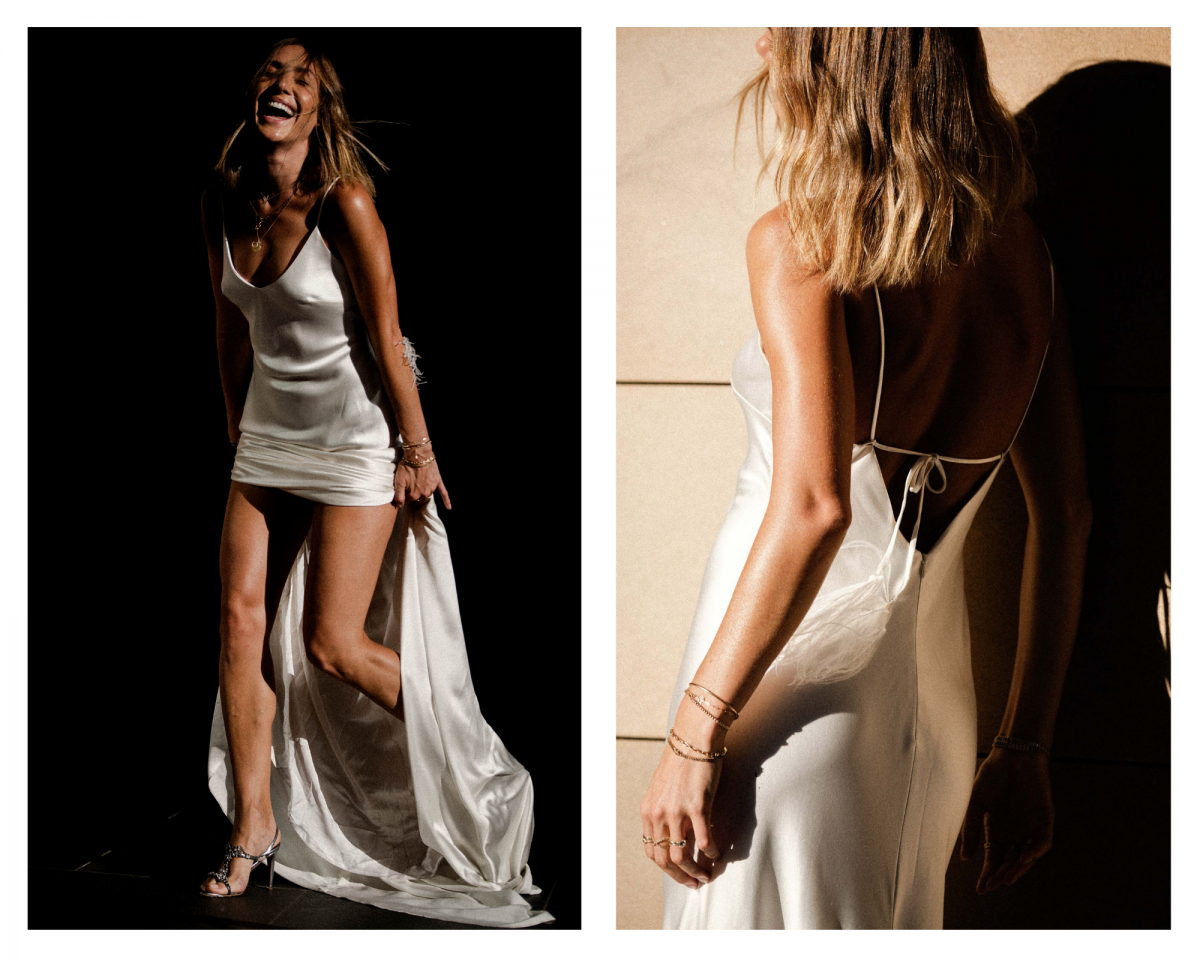 Navigating Your Way Through Different Necklines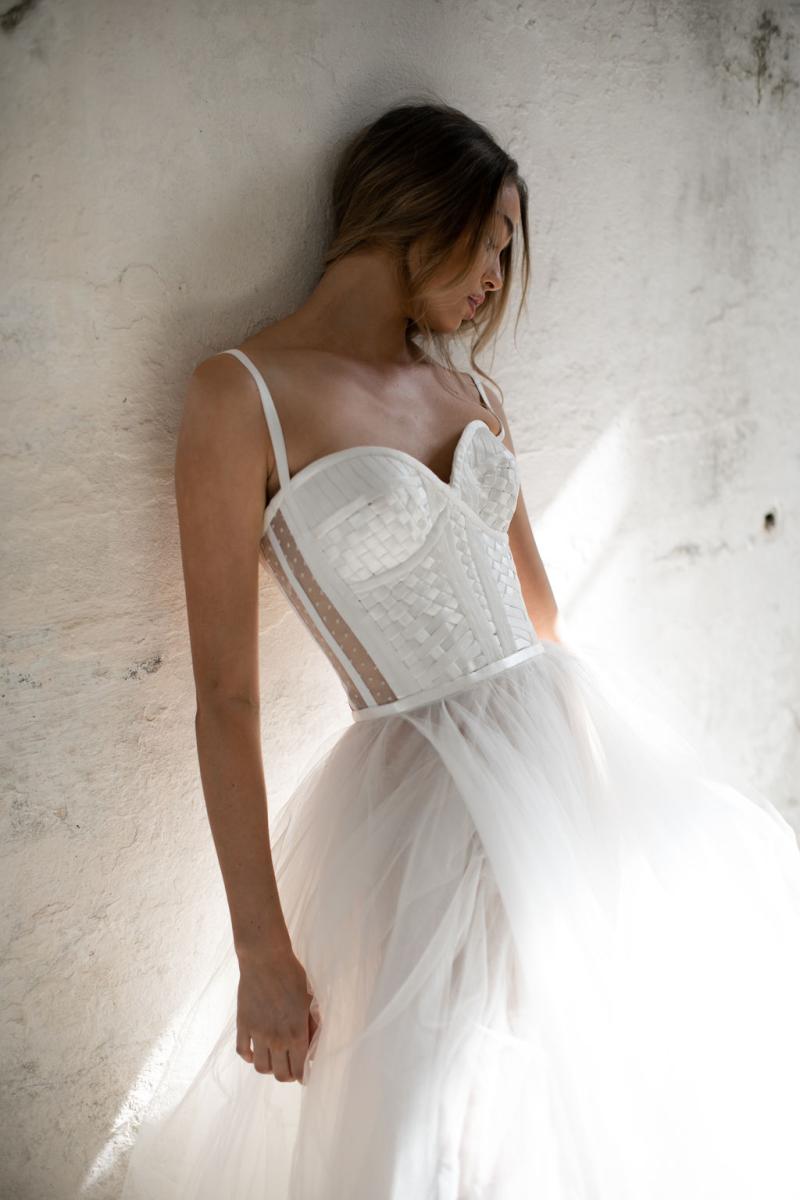 Sweetheart/Strapless Wedding Dresses
For brides that want to emphasise their décolletage and bust line, a sweetheart neckline is a stunning choice. This neckline dips down slightly at the bust-line, giving off a heart-like shape effect for the bodice. 
For larger-busted brides, most strapless gowns will have built-in support or structure to help the gown stay up without straps; that added boning and support can help you feel comfortable and held in place without having to commit to a strap if it's not your desired look.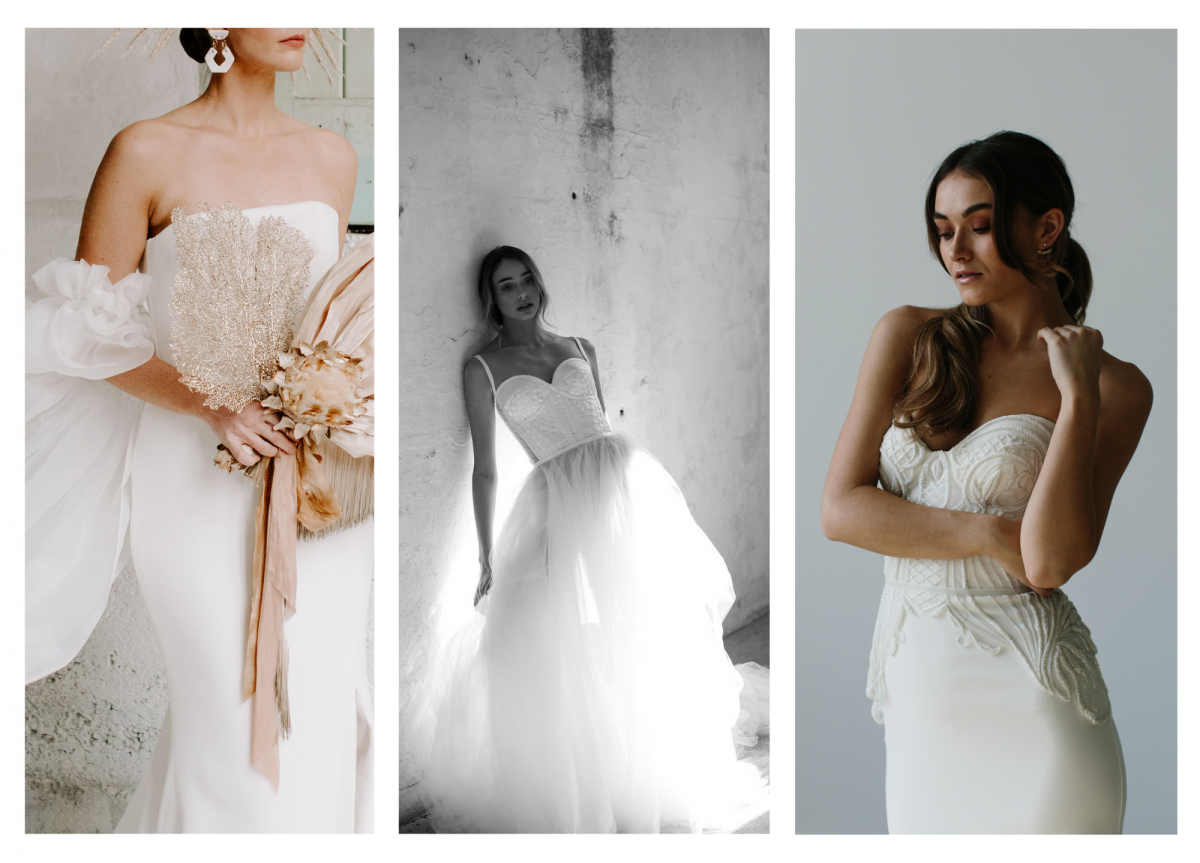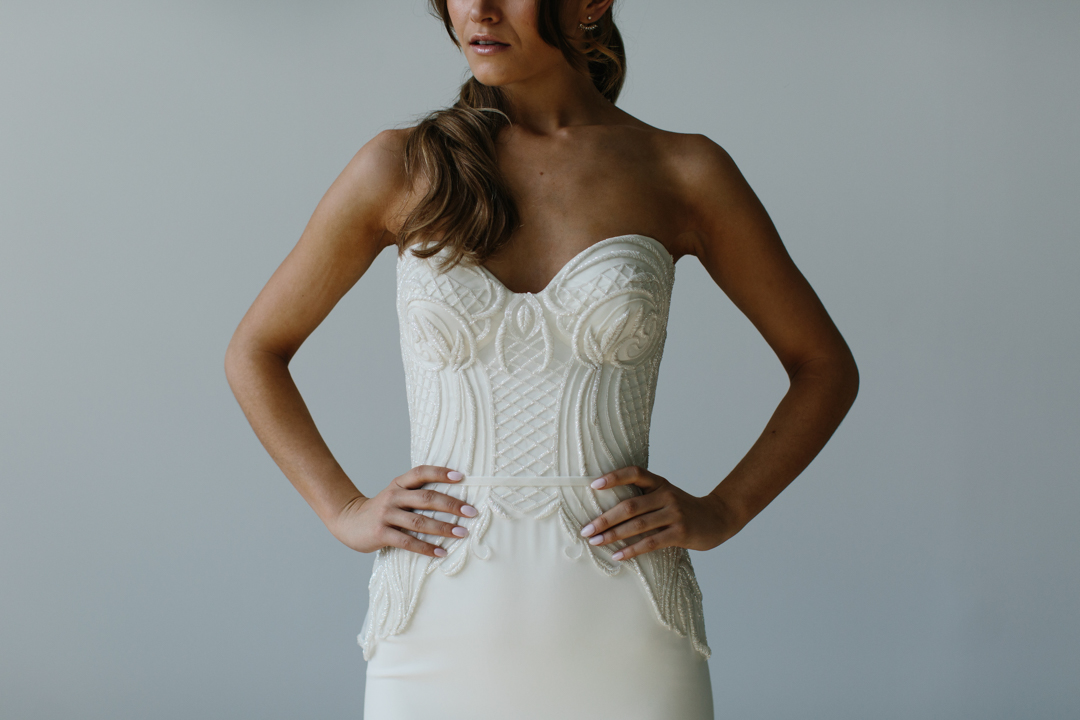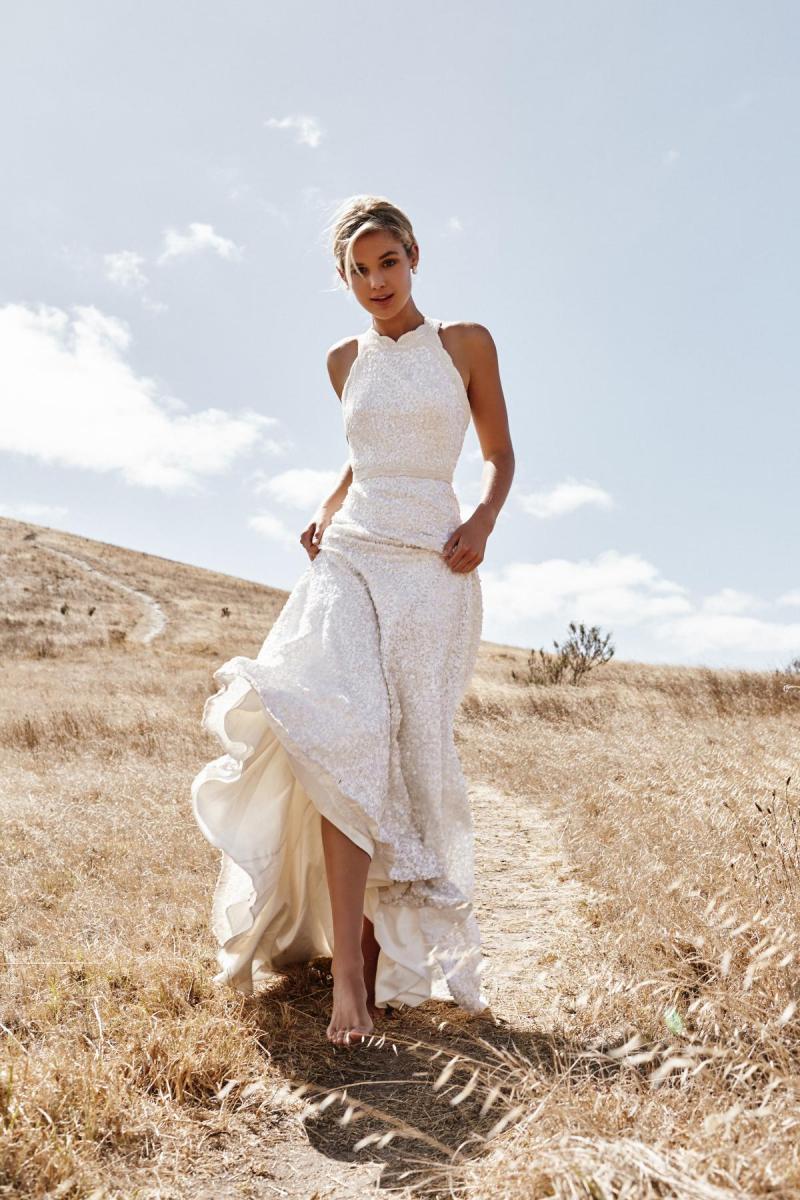 Halter Neck Wedding Dresses
If you have an athletic build and your looking for a wedding dress style that shows off toned arms and shoulders, halter necklines are a breathtaking way to do that. Most of the time, this style gives coverage in the bust area, which looks gorgeous on smaller-chested brides, and has a high neckline that elongates the body. 
Toned arms and shoulders look stunning in a halter gown, and the angular cut of a neckline like this emphasises the beauty of your powerful silhouette. Sometimes, halters will have a low or open back, so if that's one of your best features that you want to accentuate this would be a gorgeous style for you.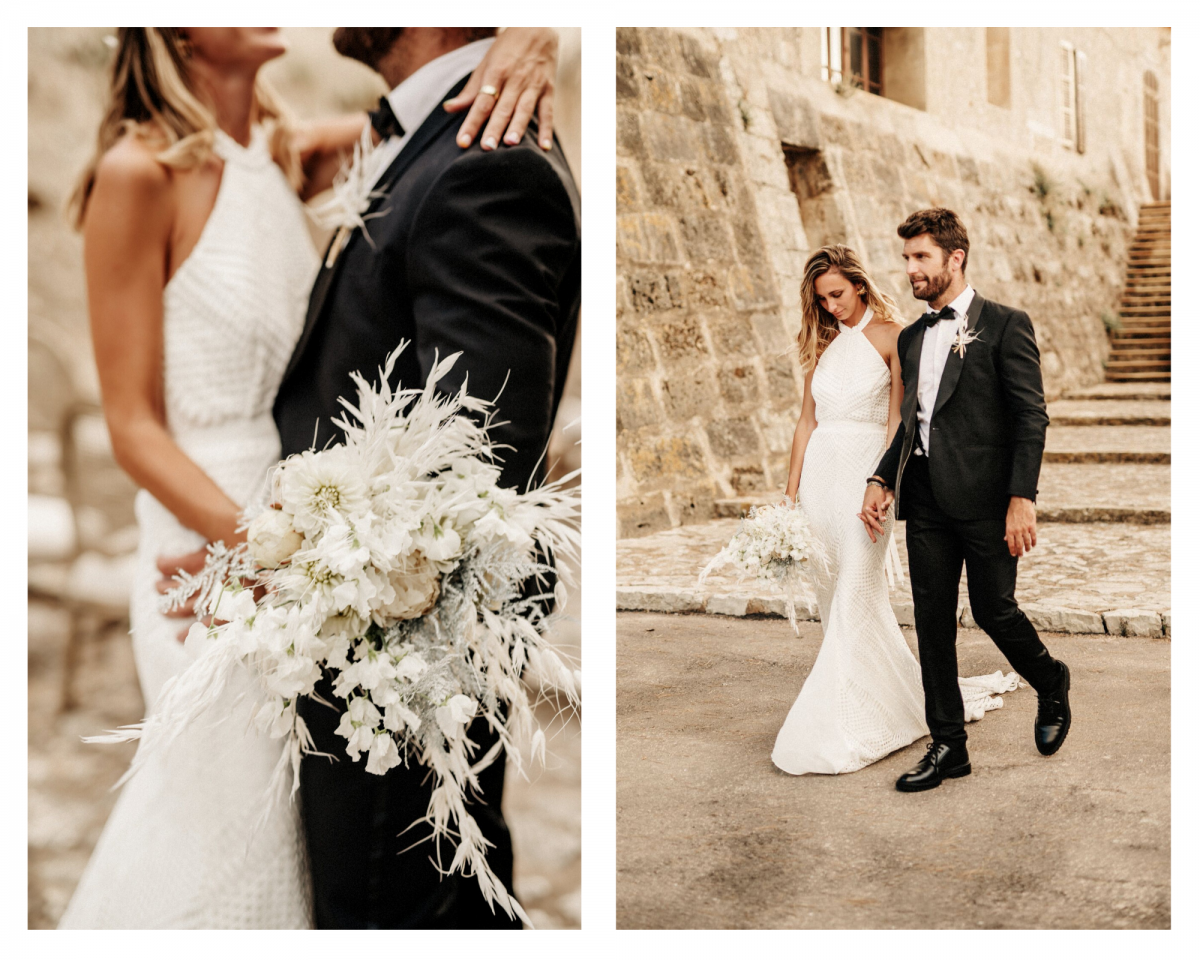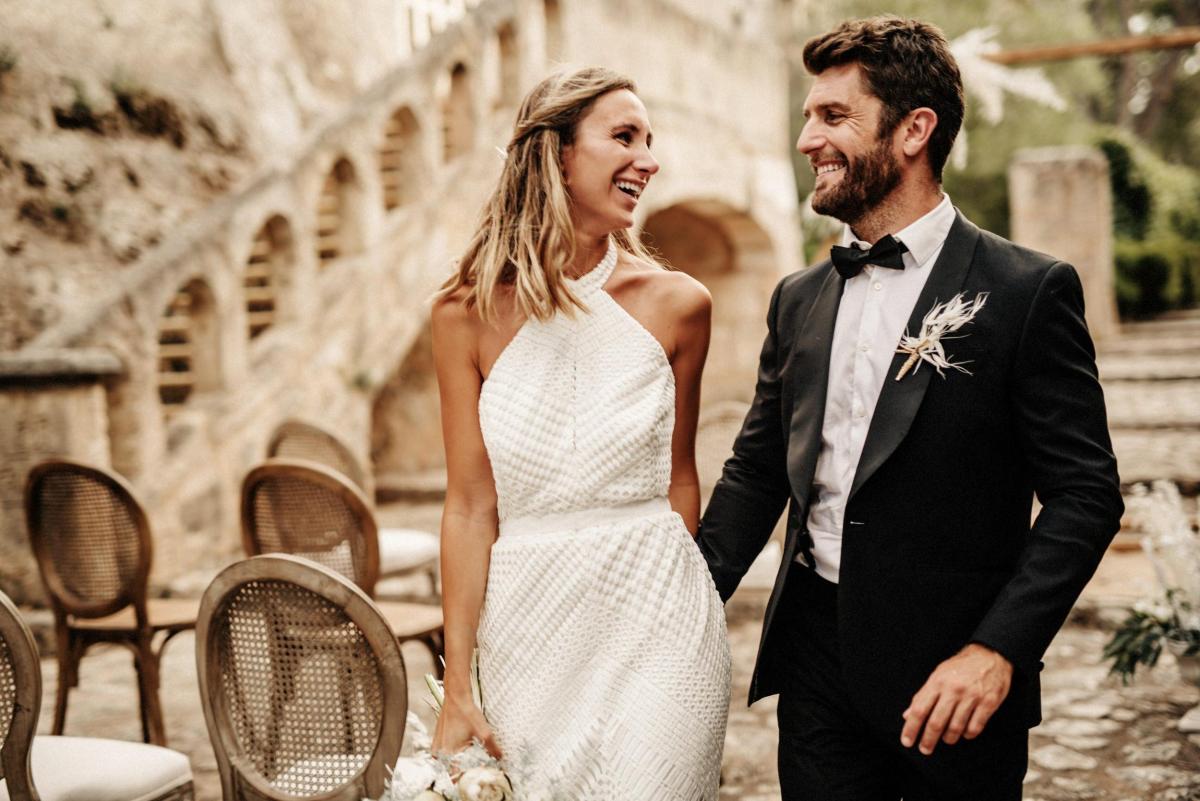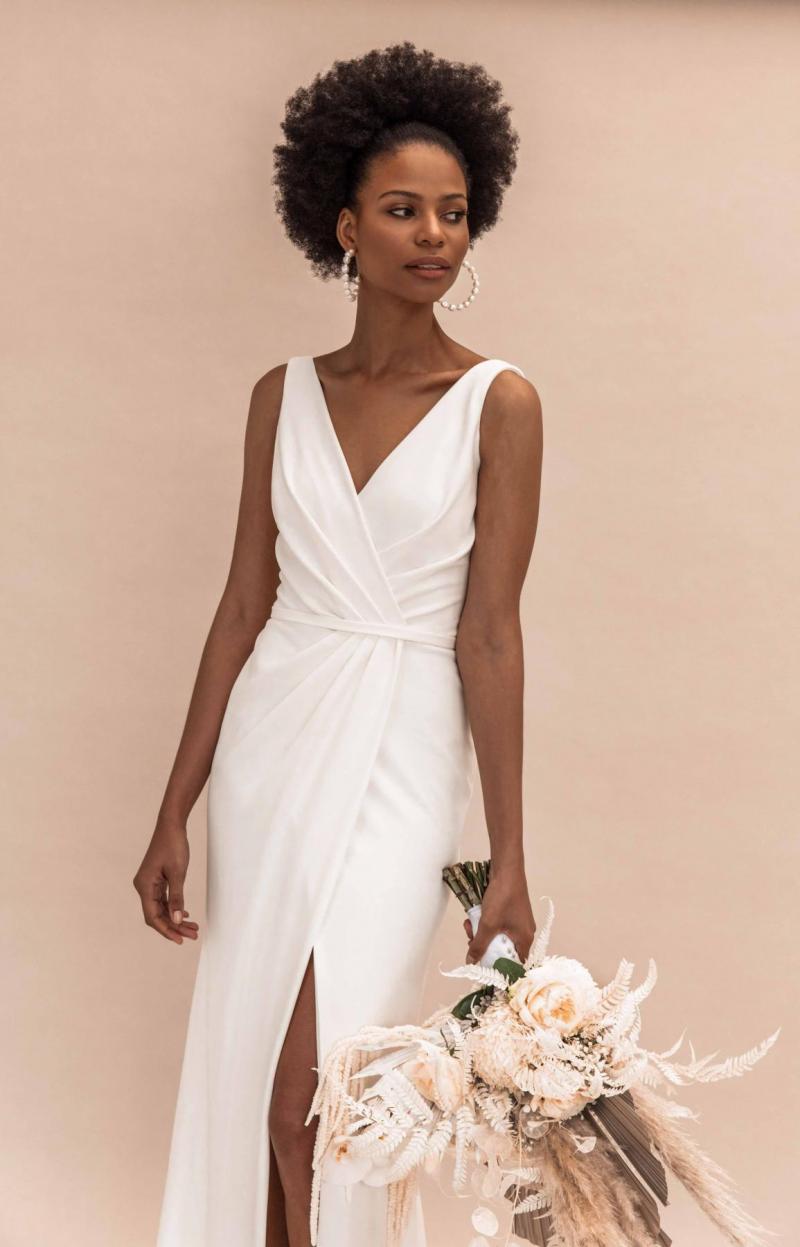 V-Neck Wedding Dresses
From the deepest, plunging V, to a more modest, traditional V-neckline, this style is perfect for brides looking to elongate their shape. 
V-neck gowns make the eye travel vertically, add the illusion of height and frame your face and shoulders in a lovely way. V-neck gowns are perfect for shorter brides on the hunt to give off the illusion of being taller. Pair your dress with a nude heel for added effect!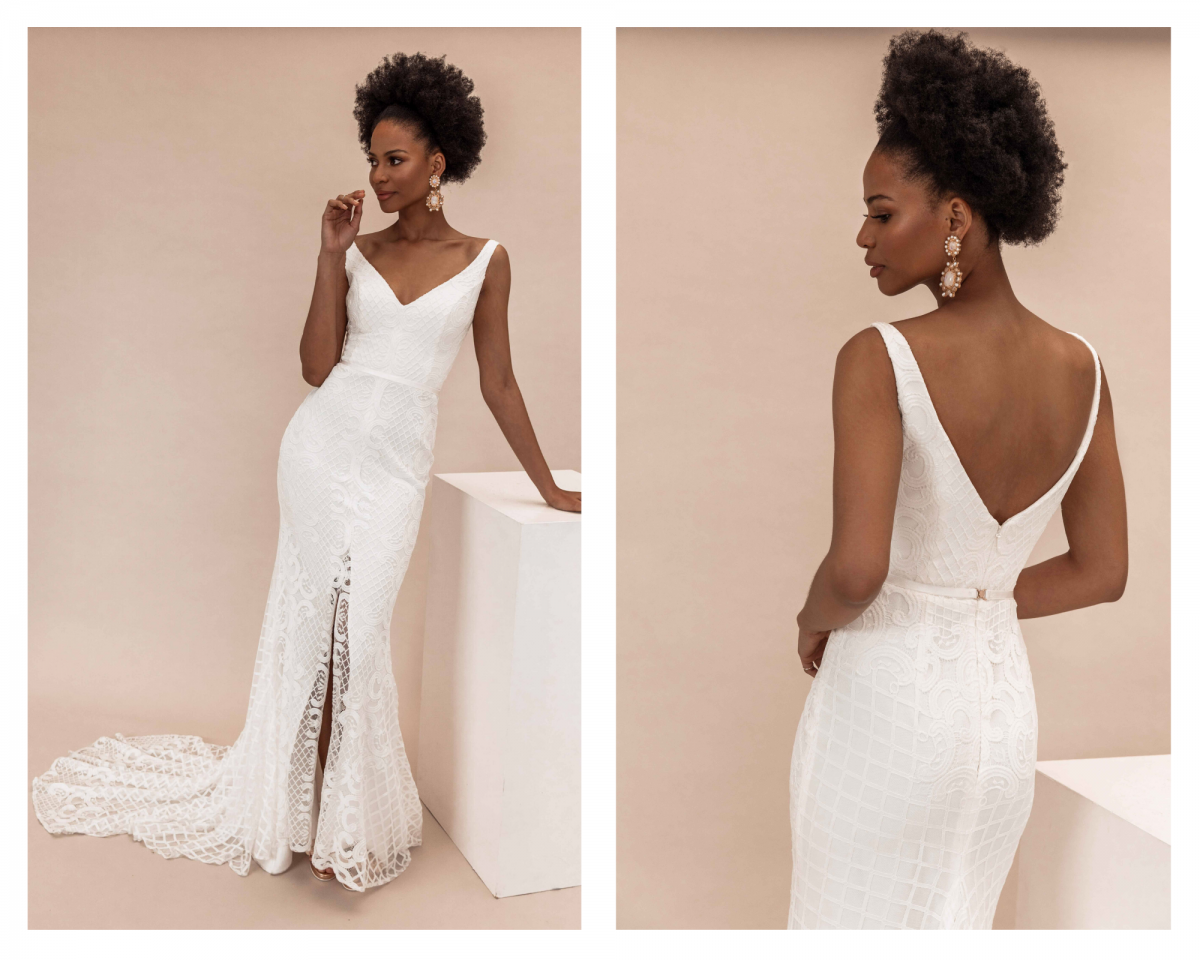 Don't Forget The Sleeves!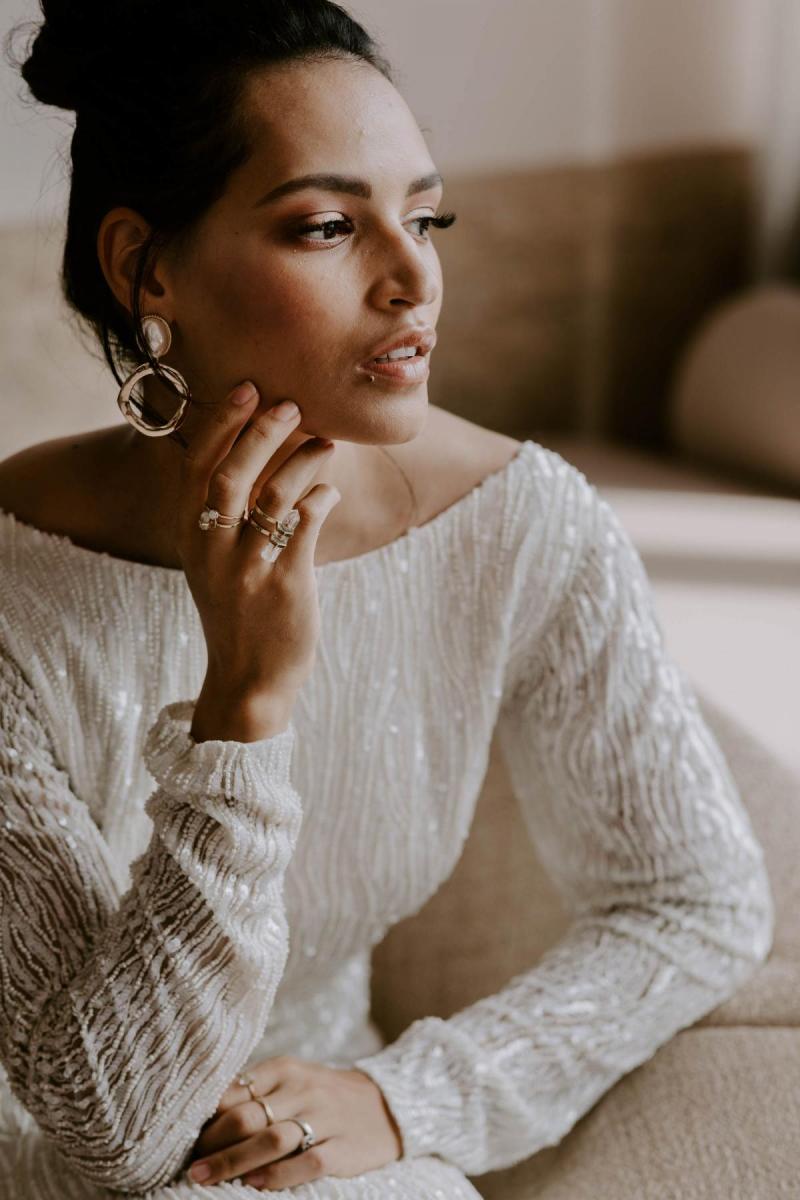 Long Sleeve Wedding Dresses
For brides that want to elongate their arms, adding a continuous flow of fabric from your wedding dress is the perfect way to do this. This is why long sleeve wedding gowns are a great option for so many brides. When the fabric of your gown extends through to your arms, it creates a fluid visual and gives a gorgeous continuity that can make arms look toned and give coverage if that's what you desire.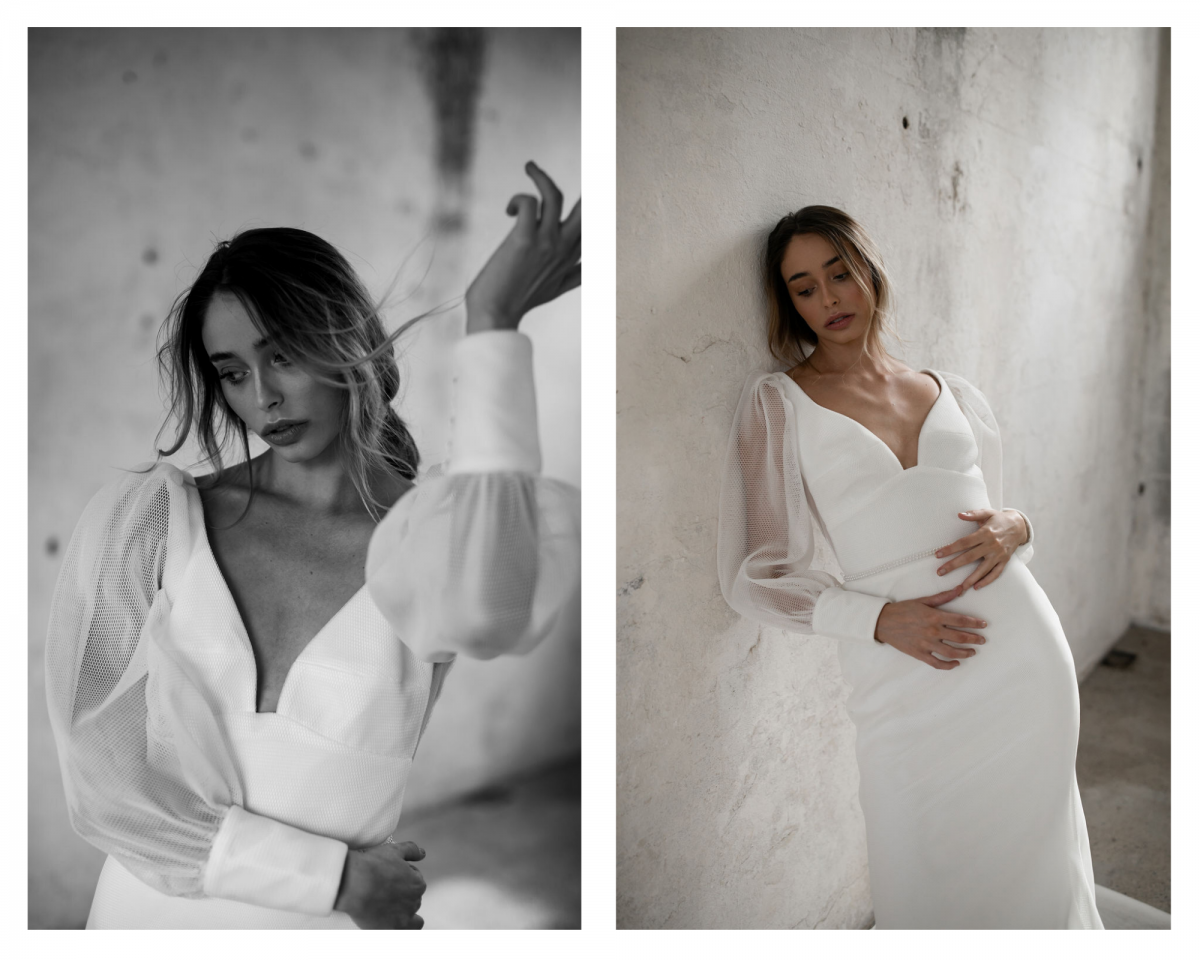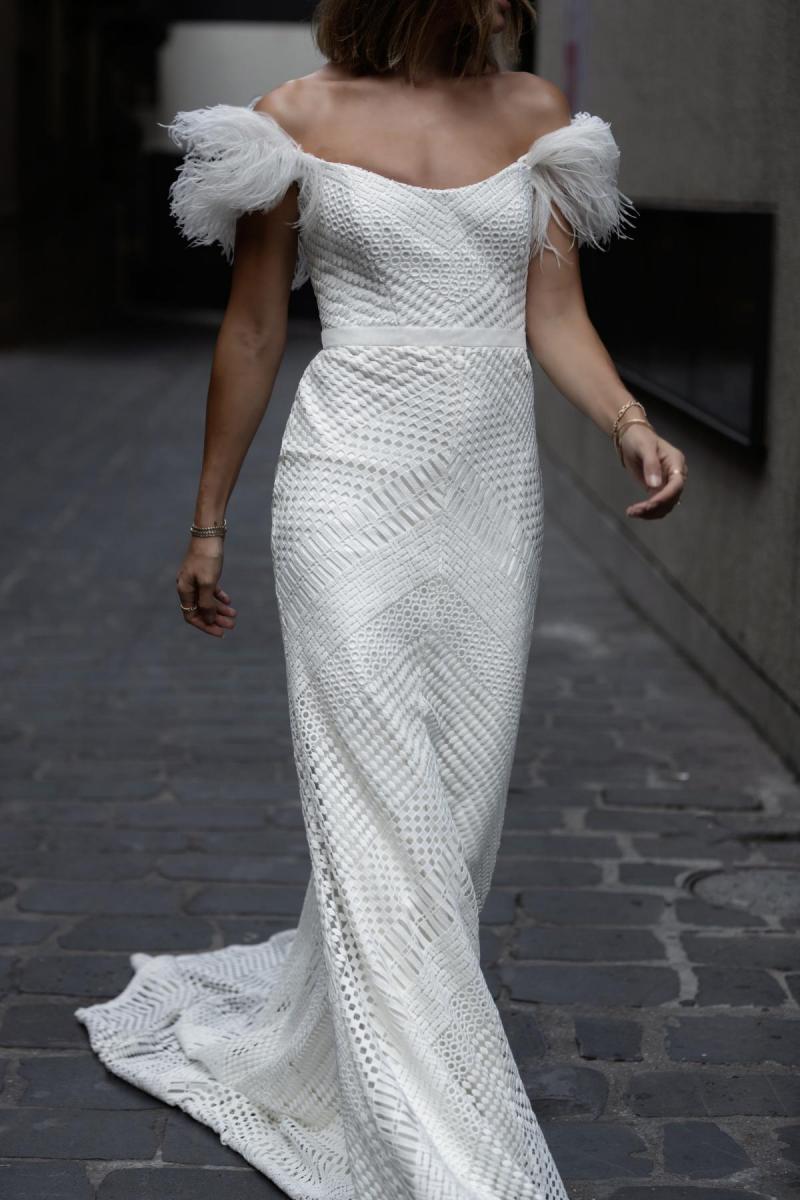 Off The Shoulder Wedding Dresses
Off the shoulder gowns are incredibly flattering for the upper arms and shoulders. If you're searching for a wedding dress that gives you coverage for your arms, an off the shoulder flutter sleeve can give you coverage without having to commit to a long sleeve if you're having a summer wedding. At the same time, a tighter off the shoulder look gives a sexy bare-shouldered effect and shows off your arms rather than hides them. 
Depending on what you want to emphasise, or where you want coverage (or don't!) this can be a great option that looks stunning in photos. This neckline grew in popularity in the 50s, so if you're looking for timelessness and something that feels unique but is always in style, off the shoulder gowns perfectly suit this vision.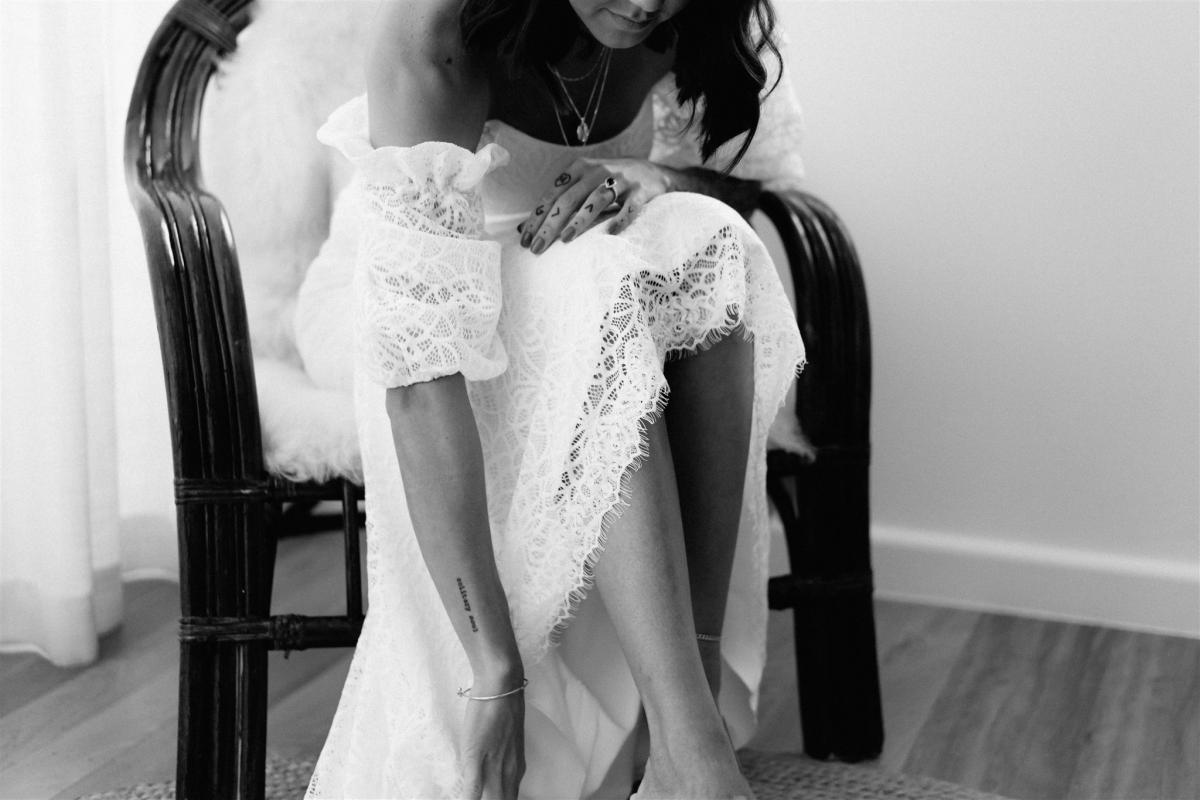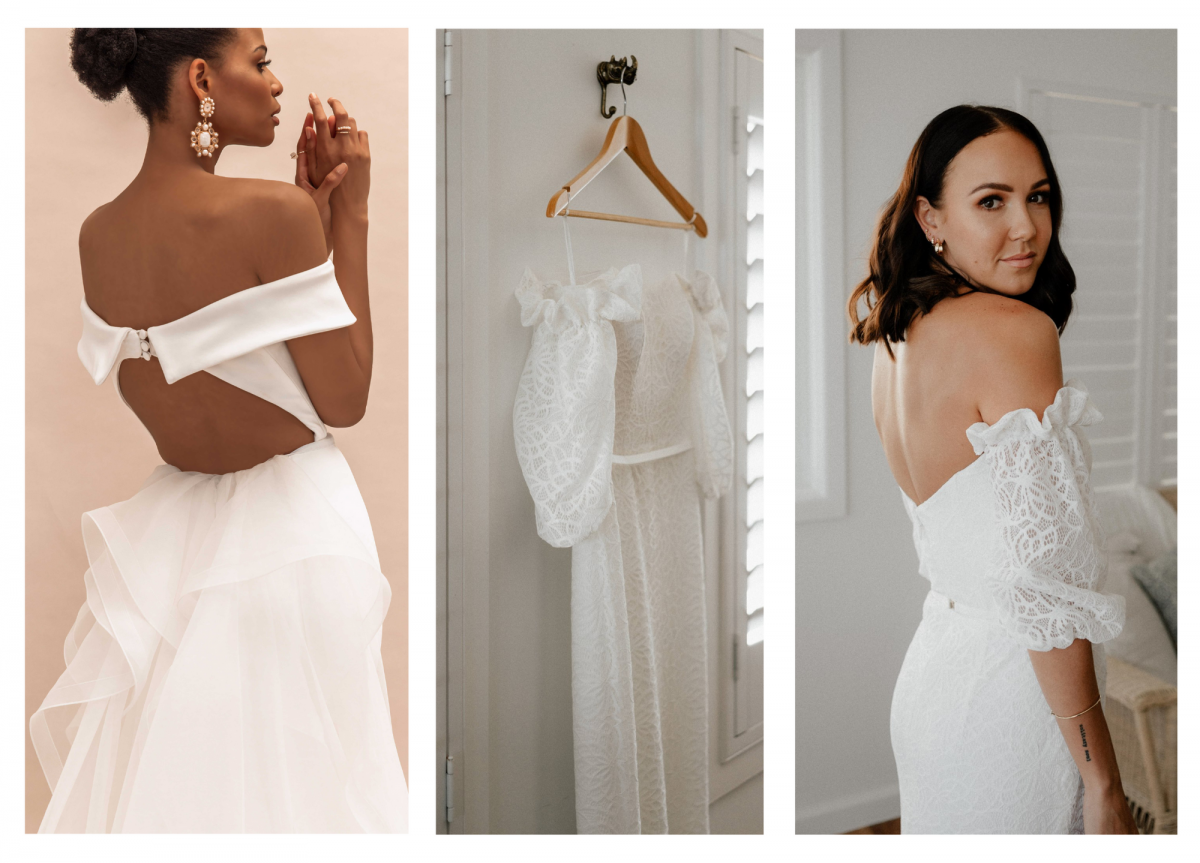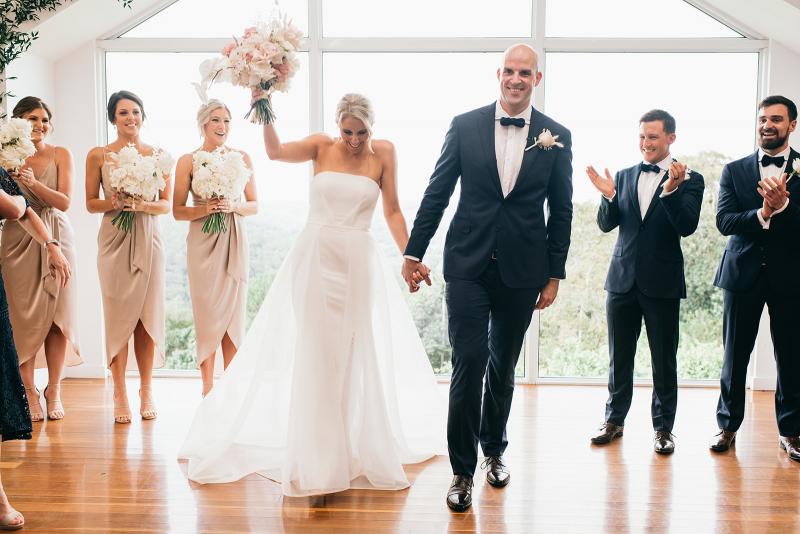 If you're still wondering how to know what type of wedding dress suits you, one of our best recommendations is: when you start your search and go try on gowns, be open-minded! There are generalities you can research that work for most people, but everybody and every shape is truly different and unique.
Once you find the wedding dress shapes and silhouettes that work best for you by trying them on, you can really start your search for your perfect, dream gown. If you're ready to begin your search, make an appointment with us today. Excited for that next step? Don't forget to take a peek at our tips and tricks to make gown shopping the best experience possible.