Jana & Garrett's Lush Tropical Elopement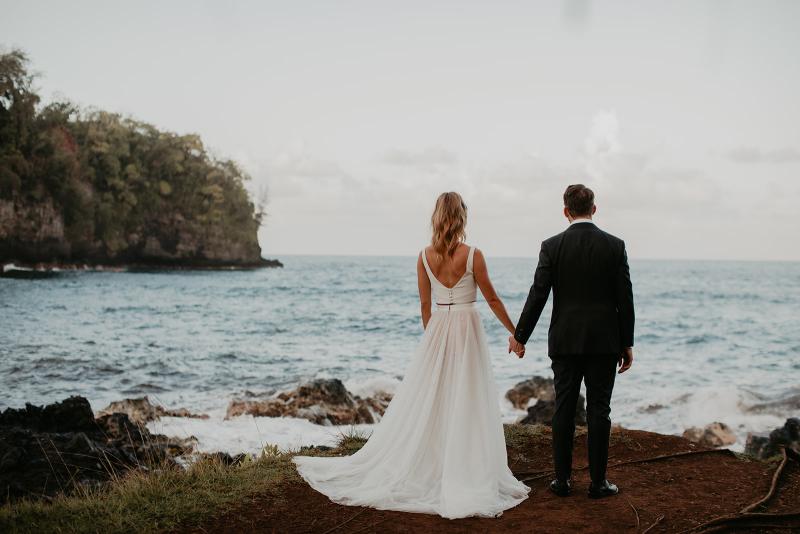 Wherever you are right now, close your eyes. Listen to the waves gently kissing the shoreline. Smell the humid air with notes of hibiscus. Feel the sand form around your feet as your weight presses down on the earth below. Imagine your adoring partner standing next to you as you both let the world melt away, and your love encompasses all of your thoughts and desires. Okay, wait…maybe don't close your eyes because then you won't be able to read all about Jana and Garrett's bespoke elopement on the beaches of Hilo, Hawaii, where they did just that.
True to form, COVID had reared its ugly head and squashed existing dreams of having a wedding of 70 in Kona, but Jana didn't let that deter her from creating the wedding she dreamt of. Although it may have looked slightly different than their initial plans, Jana and Garrett, both being designers, made their intimate elopement into one that will go down in Pinterest history as she wore her unique two-piece Erin & Lea wedding dress from our WILD HEARTS collection to her tropical ceremony for two.
On the proposal
Almost like a modern TV drama, Jana and Garrett seemed destined for each other after both had moved all the way from Northern and Southern California to LA to pursue college degrees. Their paths would cross as they caught each other's gaze at the ever-so-humble retail counters of the mall where the two had started summer jobs. Some casual flirtation led to the pair exchanging numbers and planning a sunny beach date under the palms. The day did not simply end once the sun went down due to their undeniable chemistry. Jana and Garrett got swept away in emotion as they realised their common interests and goals in life brought them closer together. The night ended with dinner and drinks, but it was only the start of their journey.
Seven years later, they continued to find connections through their love for design, travel and photography. One of their frequent date spots was the Getty Museum which featured manicured gardens and epic views of the LA valley as the property sat perched high atop a hill. The scenery was unparalleled. On a sleepy Sunday, Garrett devised a plan to lure Jana to the arts centre for a day of photography play with his new camera. Of course, she wasn't going to object to being his muse for the evening. He carefully placed the camera on a ledge, squaring up the frame to capture what was to come and set the timer. He ran back to join Jana in the distance, where all of a sudden, he was down on one knee.
"I think I said 'Is this for real?!' before quickly saying 'Yes!' It was perfect because he got photos of each moment without actually hiring a photographer."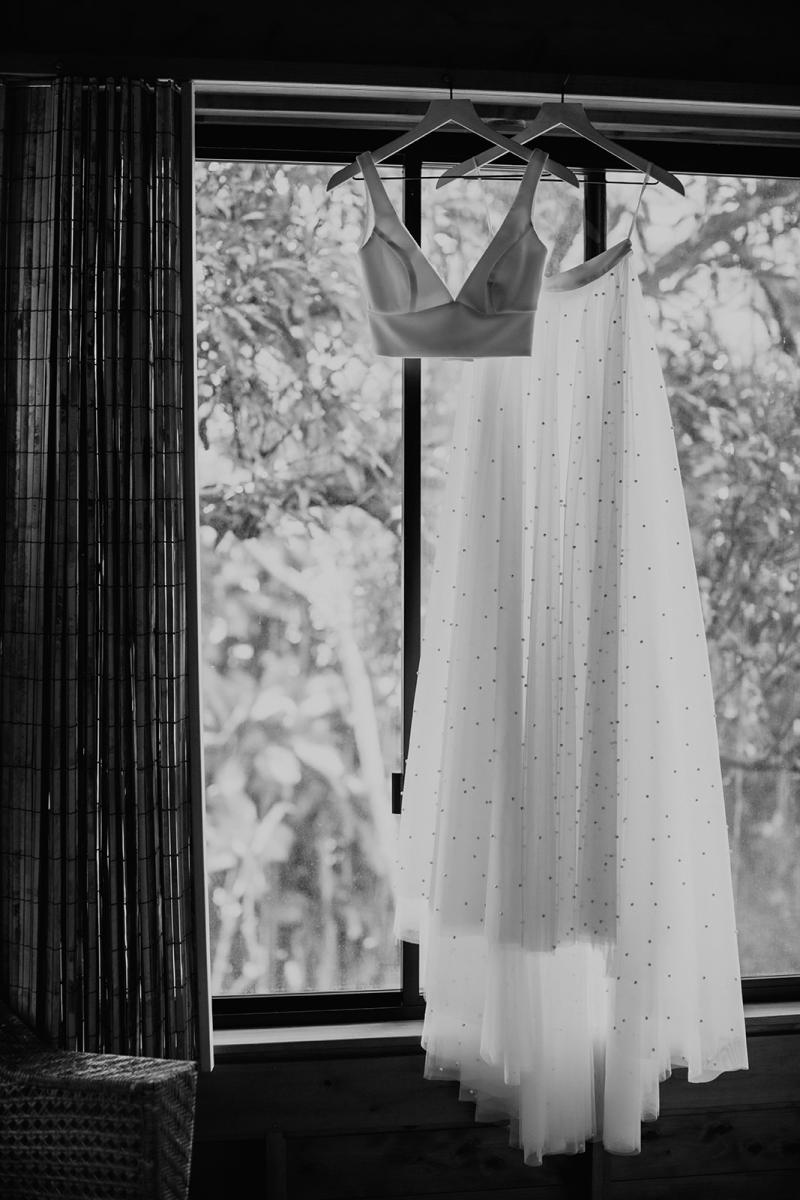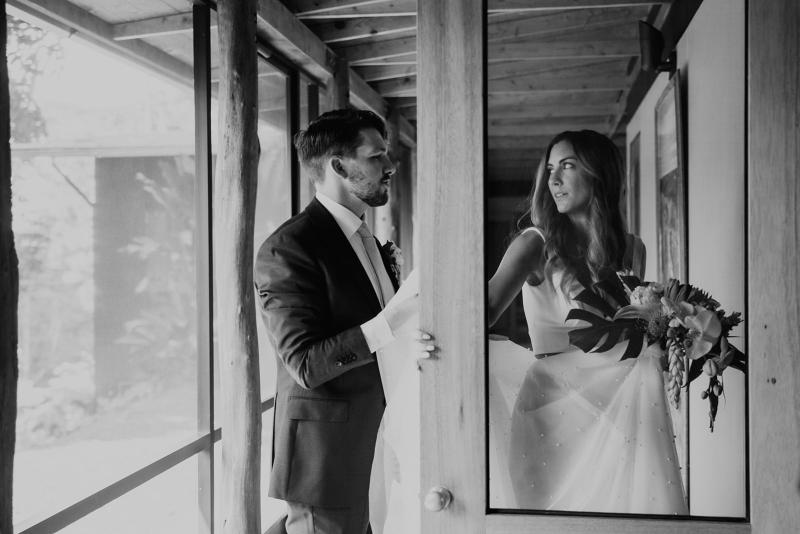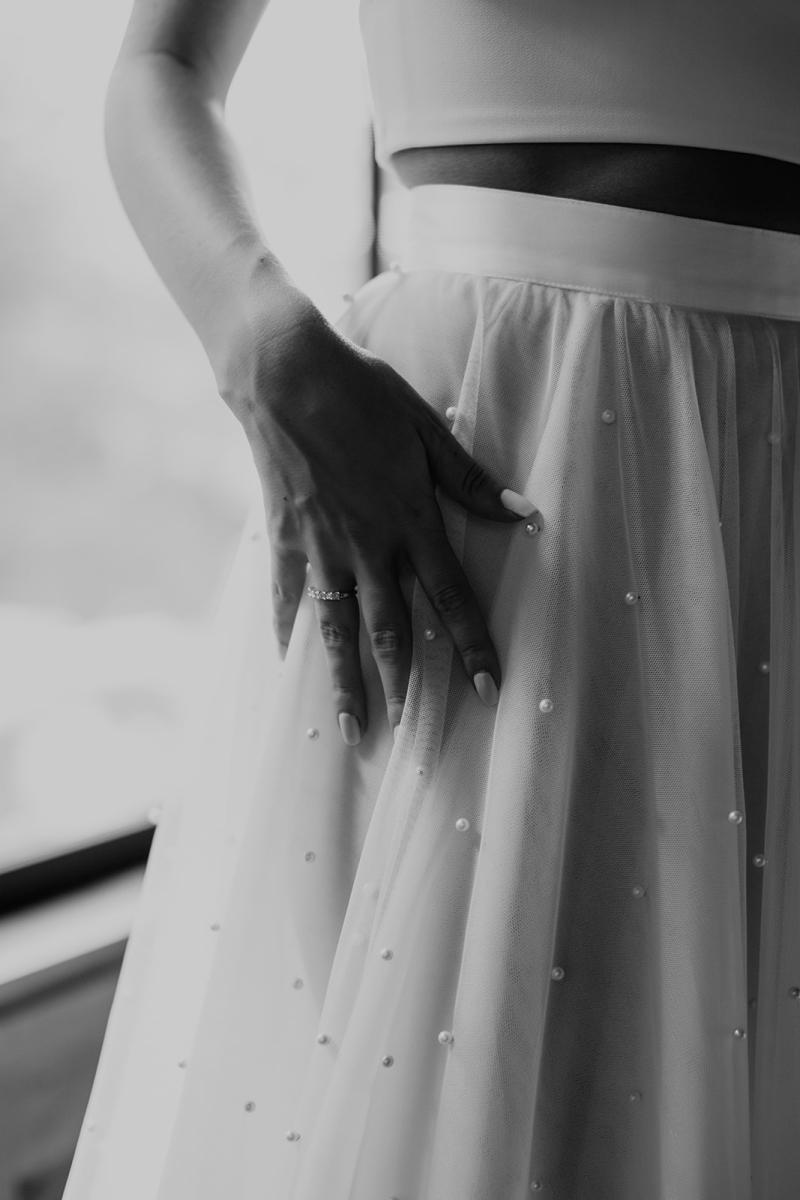 On the venue
Disheartened by repeatedly postponing their wedding celebration in Kona, the couple decided to cancel the wedding altogether. As most can imagine, it was heartbreaking and difficult to find a new path to take, but Jana and Garrett didn't let the pandemic set them back. Instead, they decided to elope. With the support of their families, they moved ahead with the plans to create a day they would never forget.
"We took our time with everything. And you can splurge on all the fine details and really make it your own. Yes, it was a little difficult to not have our families there."
Tucked away in the lush rainforest of Hilo, a modern cabin that blended in with the surrounding rainforest with its open walls and natural materials, beckoned Jana and Garrett to stay. The Falls at Reed's Island was the perfect place for a relaxing getaway for lovers. Unfortunately, it was fully booked until 2022, but she continued to track the property. Her persistence paid off. A week in May opened up, and she immediately booked it!
The two arrived a week early to soak up all the Hawaiian island had to offer; snorkelling off the coast, hiking the volcano, swimming with manta rays, and tanning on the soft white beaches. Doesn't that sound dreamy?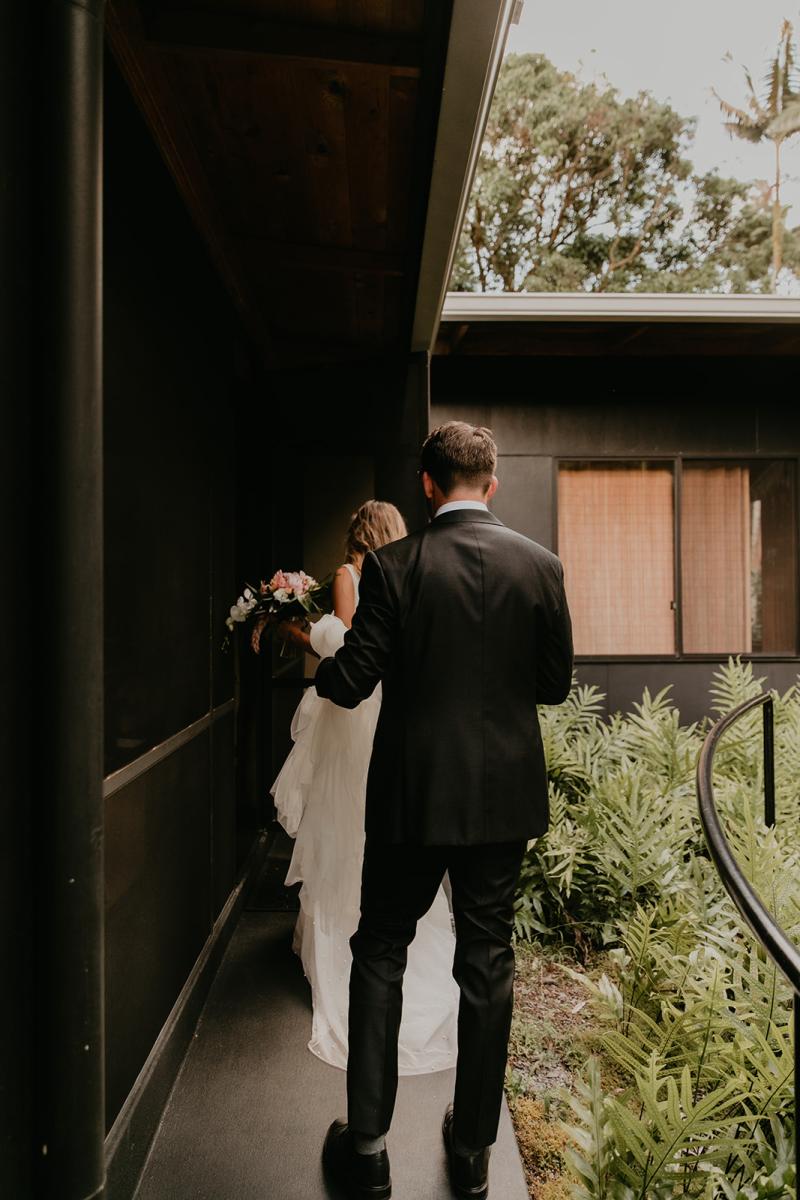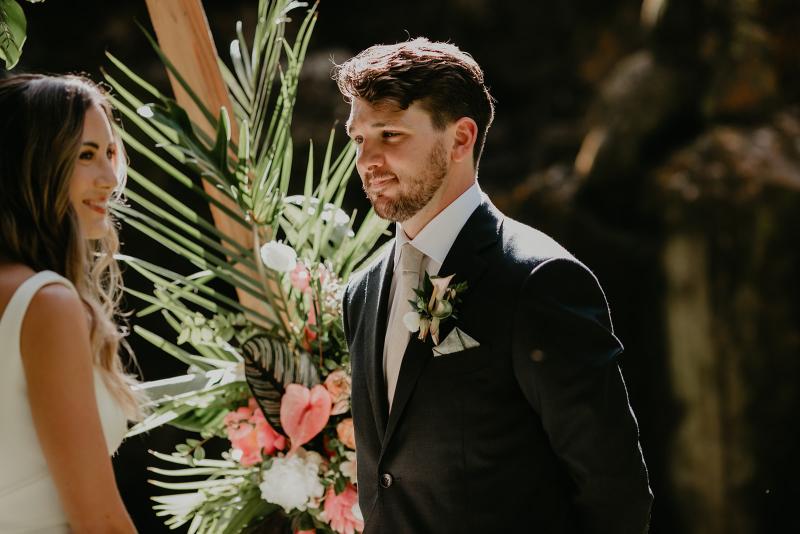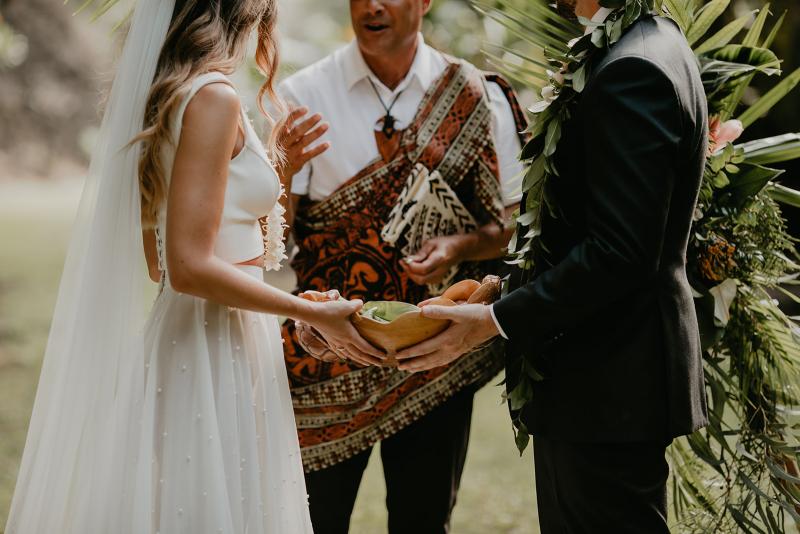 All the styling details
Remember, the two love birds are designers, so of course, their elopement was perfectly curated with no detail spared. To embody the aesthetic of "romantic, timeless, and tropical," Jana worked with Grace Flowers Hawaii and her wedding planner, Jots of Thoughts, to bring her vision to life.
Since they weren't spending a tremendous amount of money on dinner for 70, they were able to focus their efforts on the design elements of their choice. She had the florist combine tropical native florals with ranunculus and peonies to adorn their triangular alter and later repurpose for their candle-lit dinner. Jana wanted the colours to contrast her minimalist gown by being bold and harmonious. They also came up with the extremely clever idea of supplying their own dinnerware so that they could use it for anniversaries to come. All graphic designs were homemade with love.
Together, they composed an incredible, intimate ceremony and dinner that could not have been more picture-perfect. We will let the photos speak for themselves.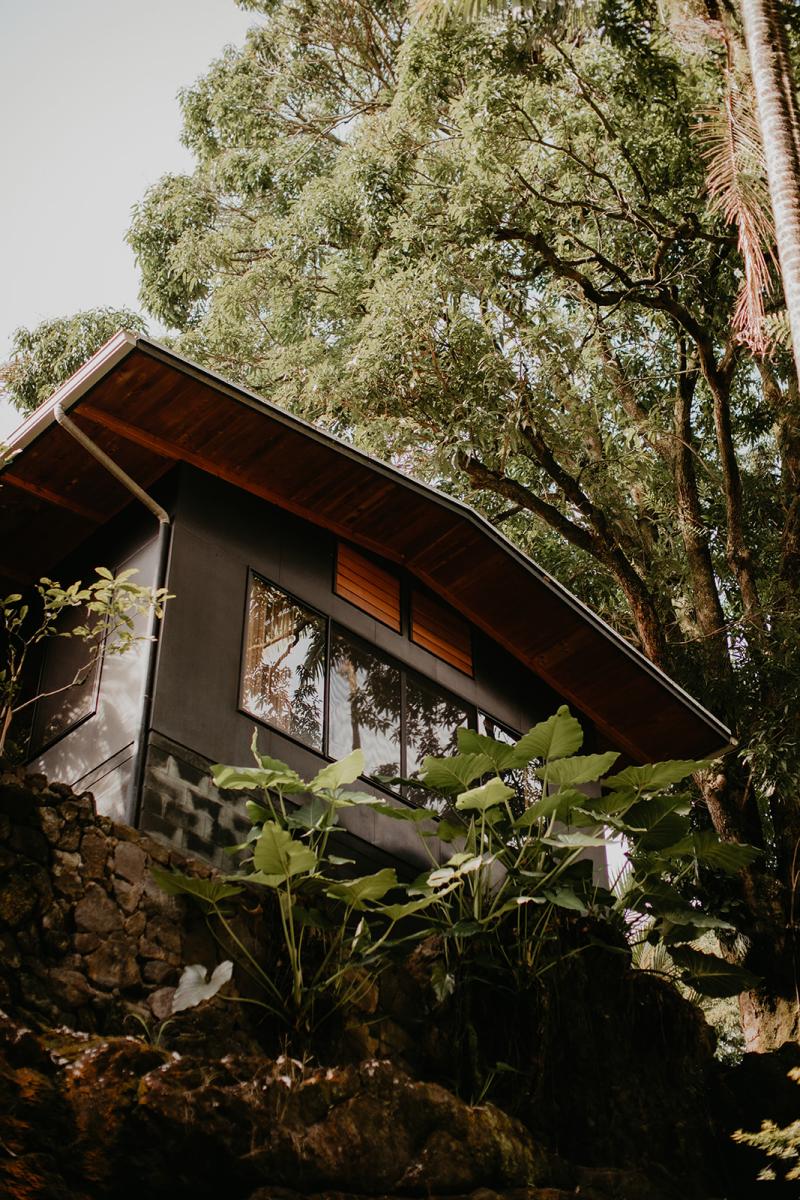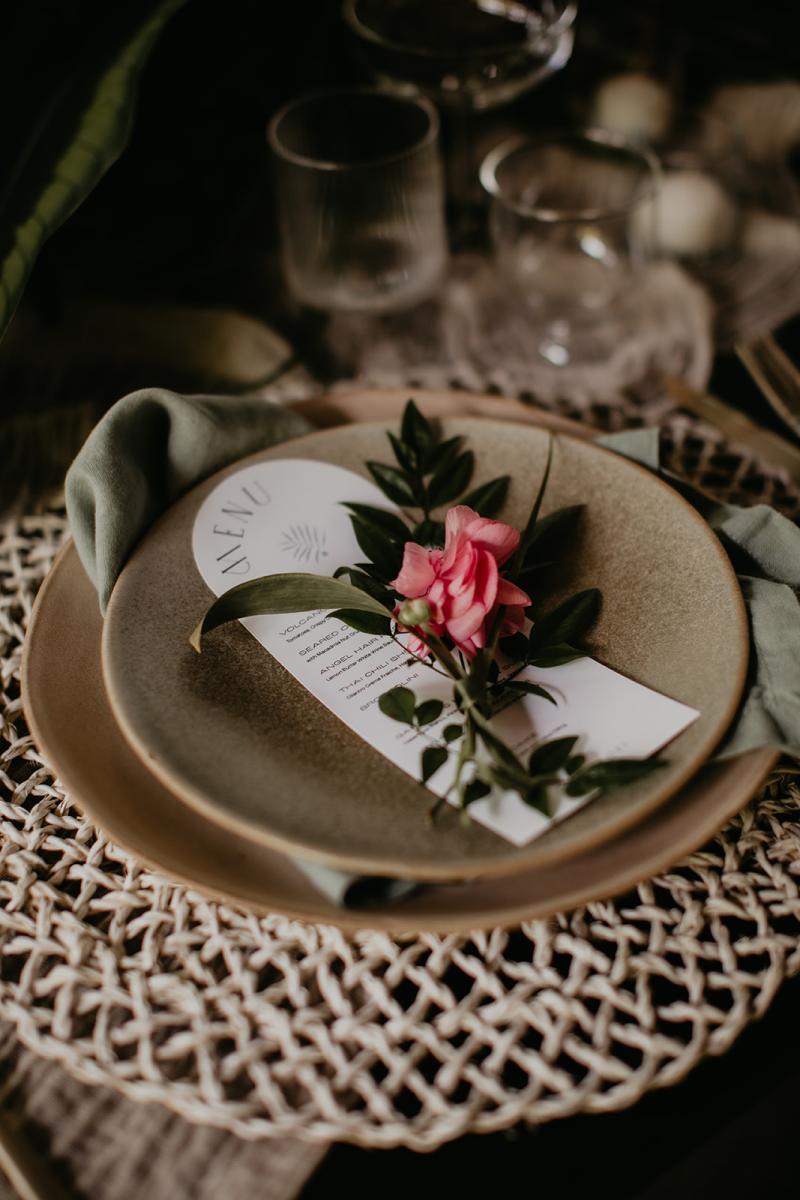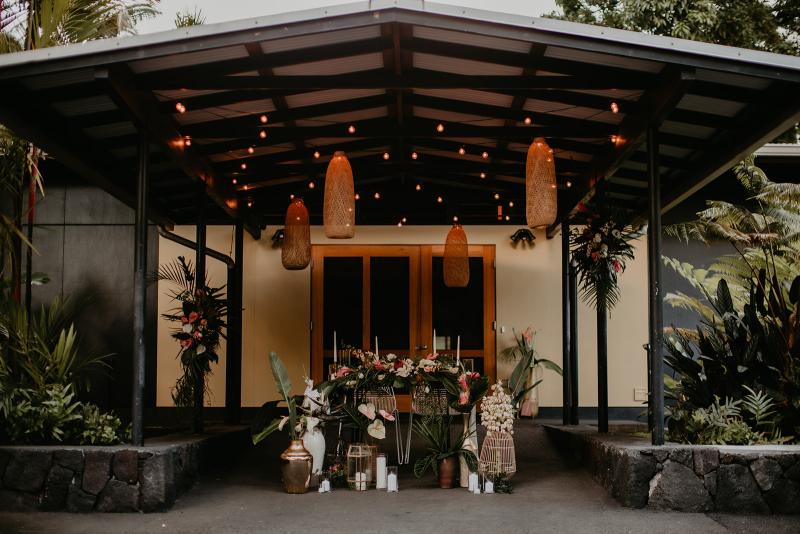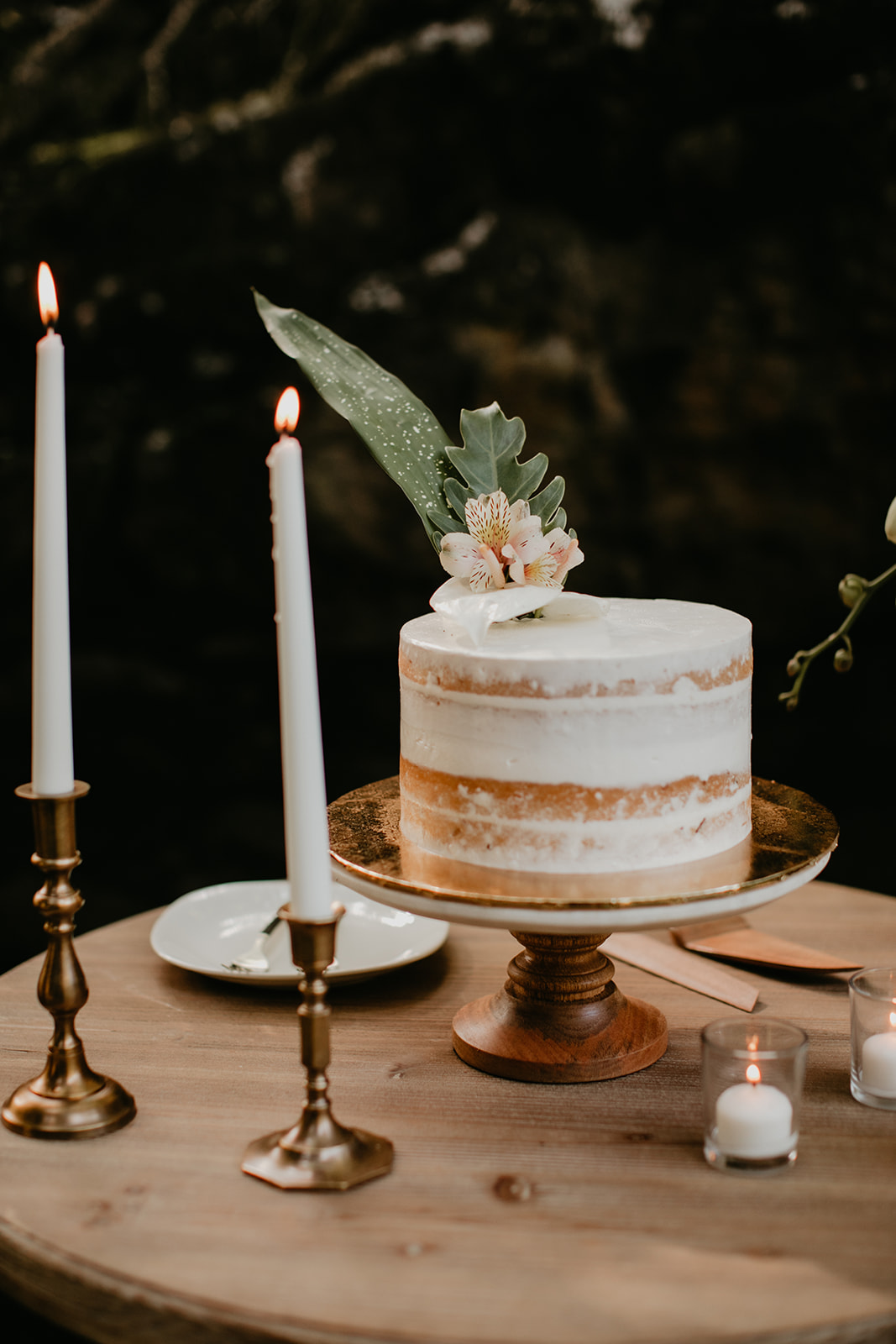 Highlight of the day
"I chose to do my own hair and makeup, but my husband learned how to curl hair and how to pin up the back so that he could help me. That was definitely one of my favourite moments. After our first look, he pinned up my hair so that I could put my veil in and curled a couple of pieces that had fallen out. That moment showed how much he truly loves me and is willing to do anything to help me. It meant so much to me. Another top moment was when we said our vows to one another. We were both emotional, and it made it all seem so real."
I think we can collectively agree that sweet moment has us swooning. Can you imagine a more romantic gesture?
The day only got better when they decided to go on an adventure together down to the ocean to take heavenly photos by the sea. As they traversed back to civilization, the sun was setting, so their photographer hopped out of the car to take images of the newlyweds in front of the Jeep headlights for added drama.  
"It was so much fun adventuring in our fancy attire, and the photos from this part of the day are probably our favourite."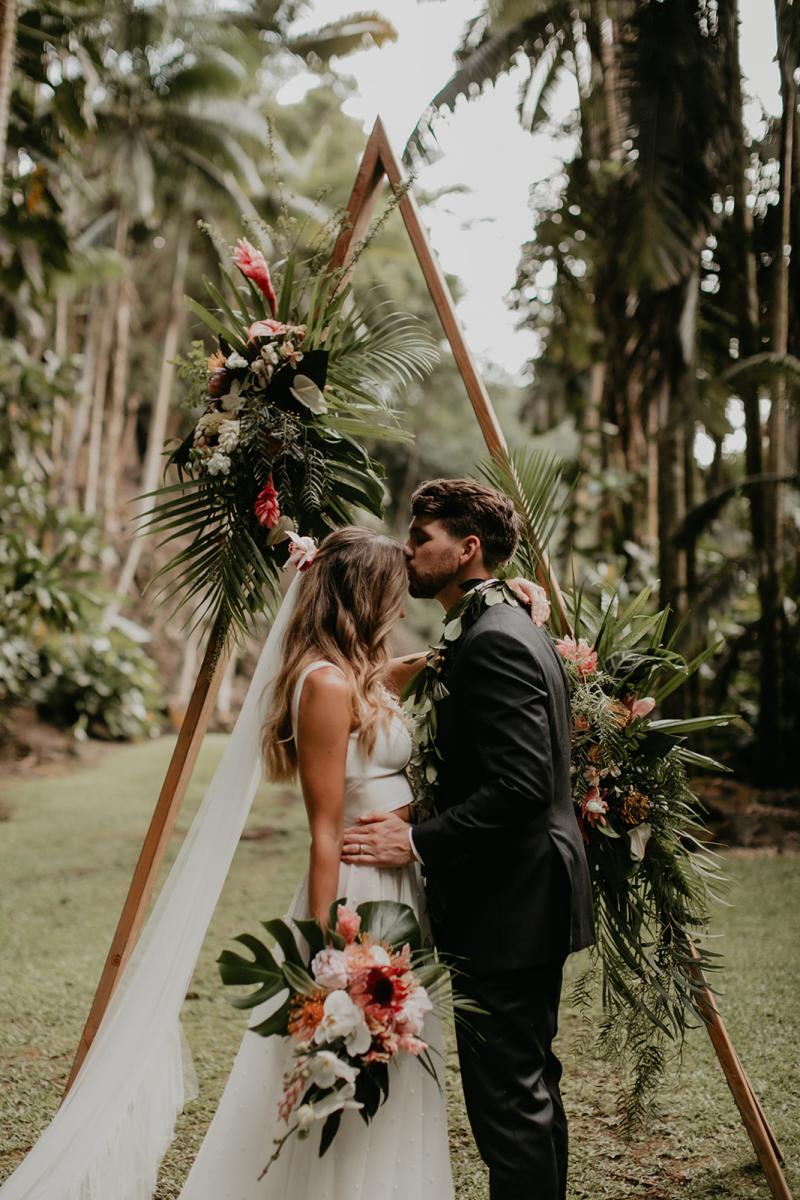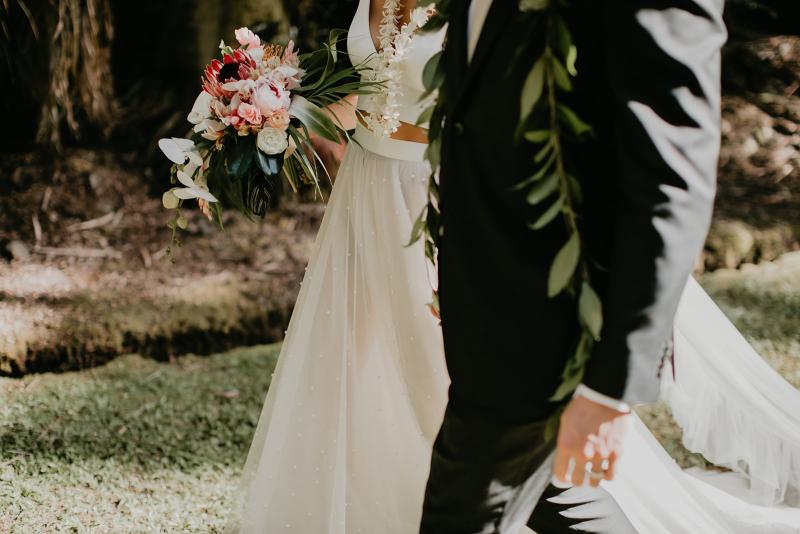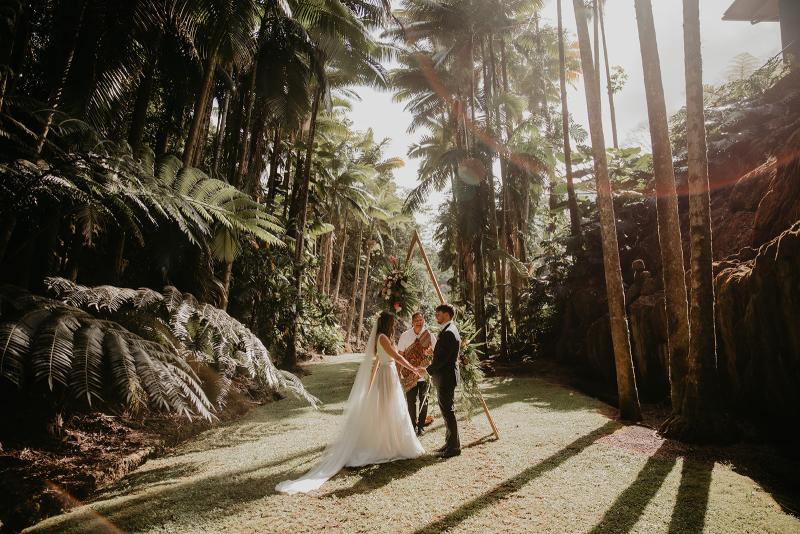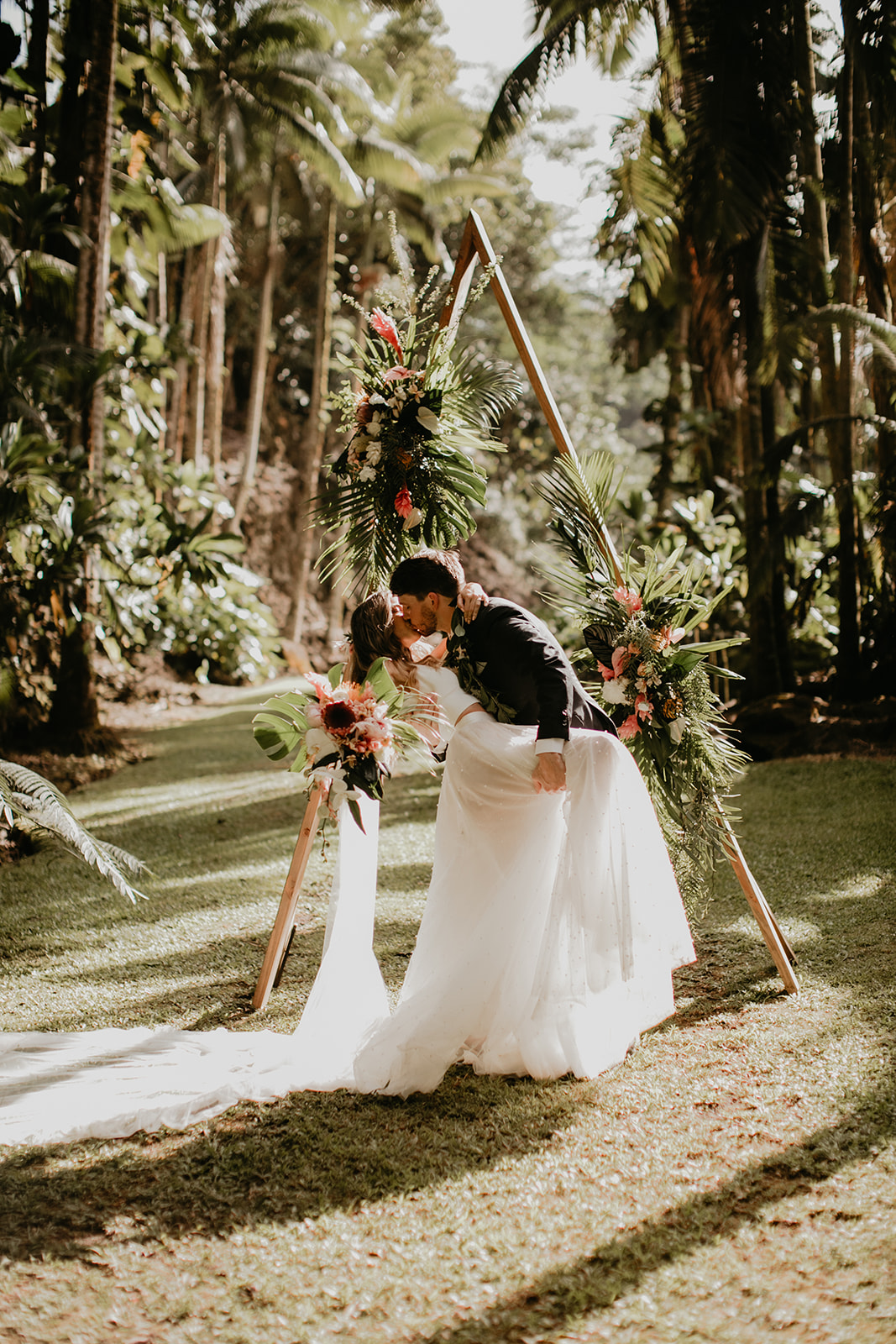 The Dress
Knowing what she was looking for, Jana found that the Australian designers seem to create wedding dresses that are effortless and more exotic. She found KWH truly knew how to showcase a woman's natural beauty while still being comfortable. Jana fell in love with the WILD HEARTS collection for its modern boho style that could complement their ceremony's tropical scenery.
"The Erin & Lea stood out to me the most. The shape, neckline and fabric all are very classic, yet the fact that it's a two piece makes it trendy and fun, or as I like to say, classic with a twist. I discovered that a local bridal shop had it (En Blanc), so I booked an appointment. I honestly had no expectations that day, this was the fourth bridal shop I visited so I arrived with my hair still damp and no makeup on. But when I finally tried on the dress, it was love at first sight. I truly felt like myself in that dress, almost like it had been custom made for me. I hadn't felt that way in any other dress, and that's how I knew it was the one.
I especially loved the pearl skirt. My birthstone is pearls and I have always loved the ocean, so the pearl skirt was perfect for me. I also loved the tulle and that it was sheer. It made for some amazing photos, especially at night with the car lights on it. But mostly I loved how the dress made me feel. I've never felt so confident and beautiful. (And my husband loved it too)."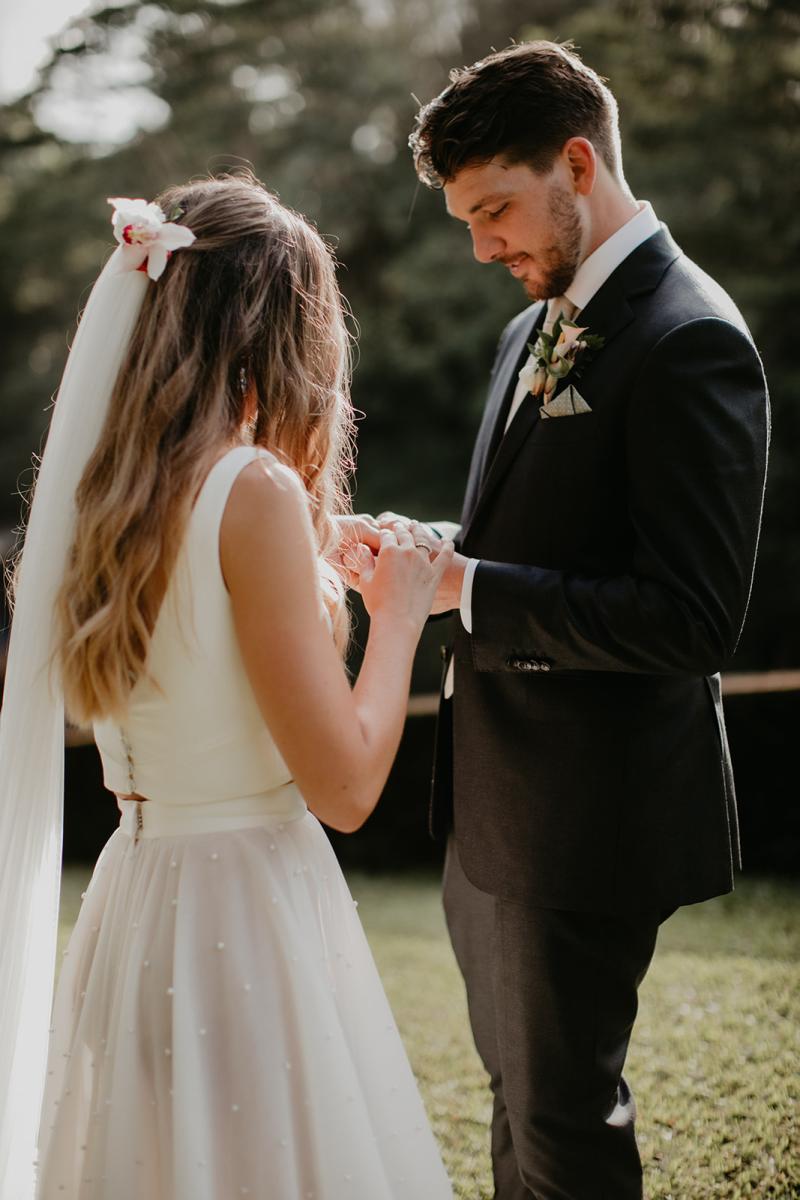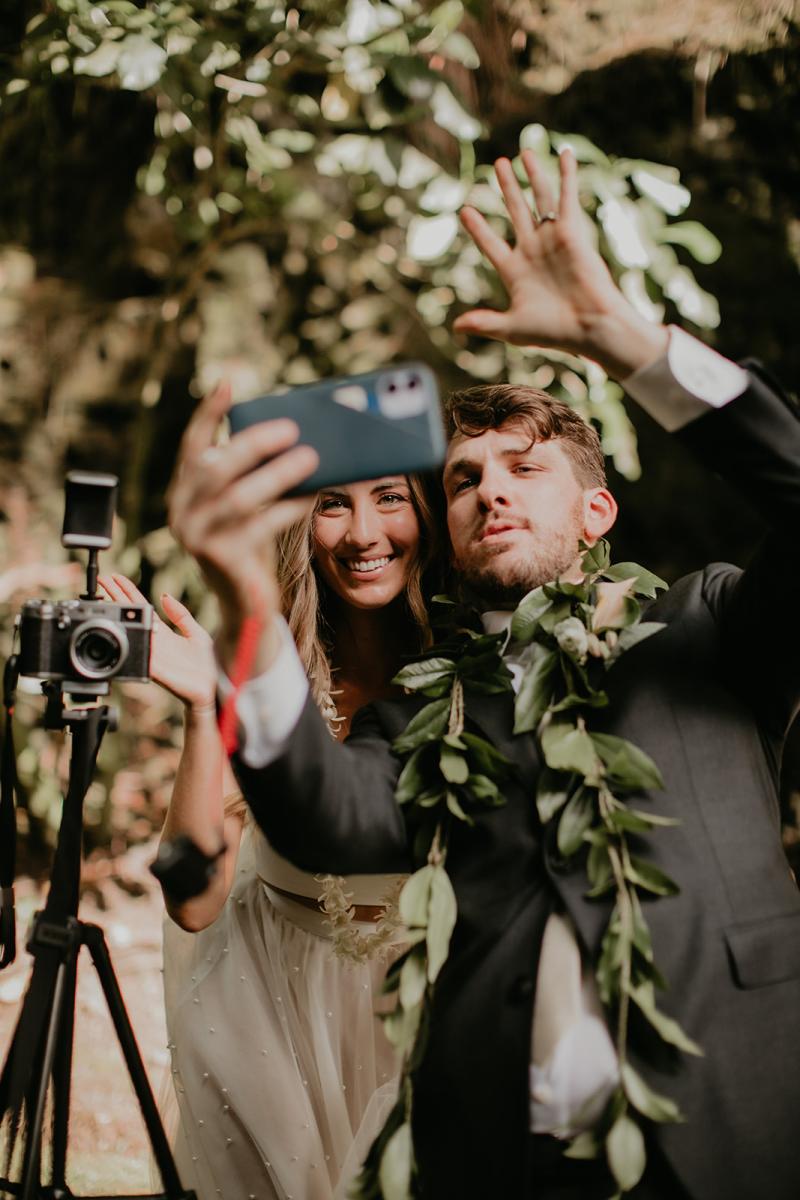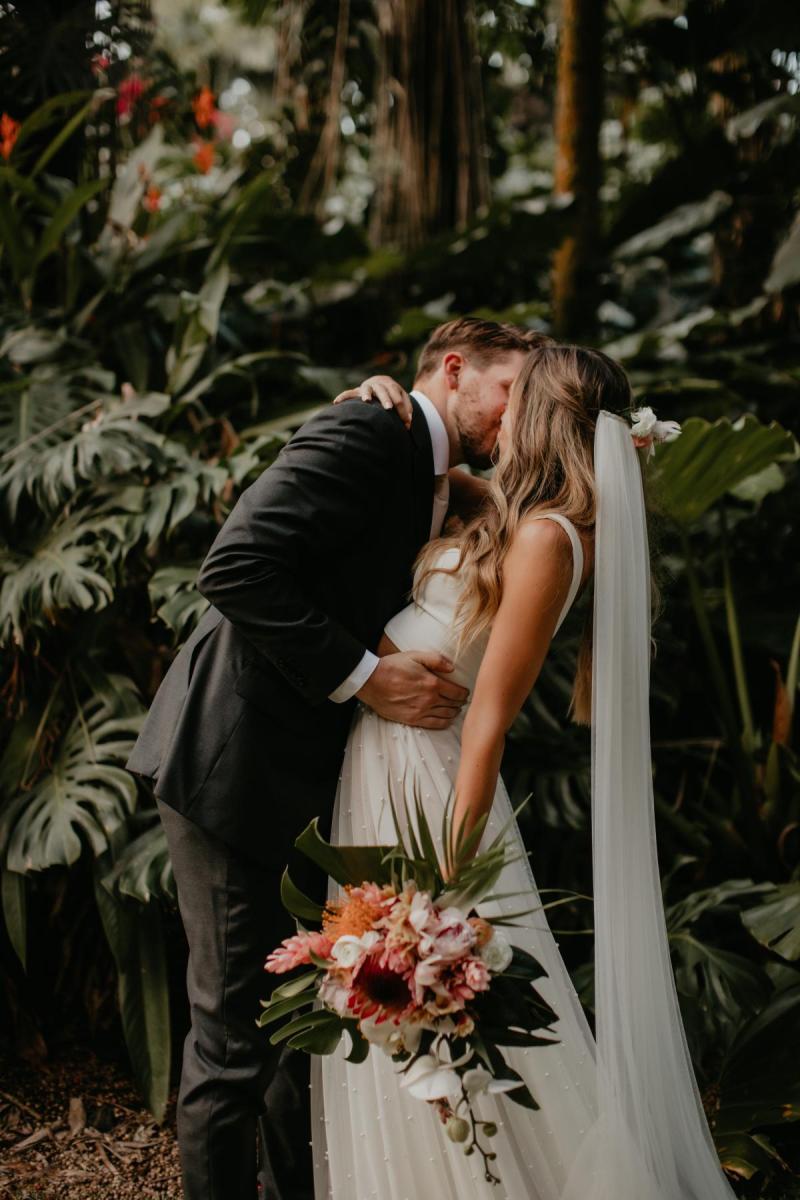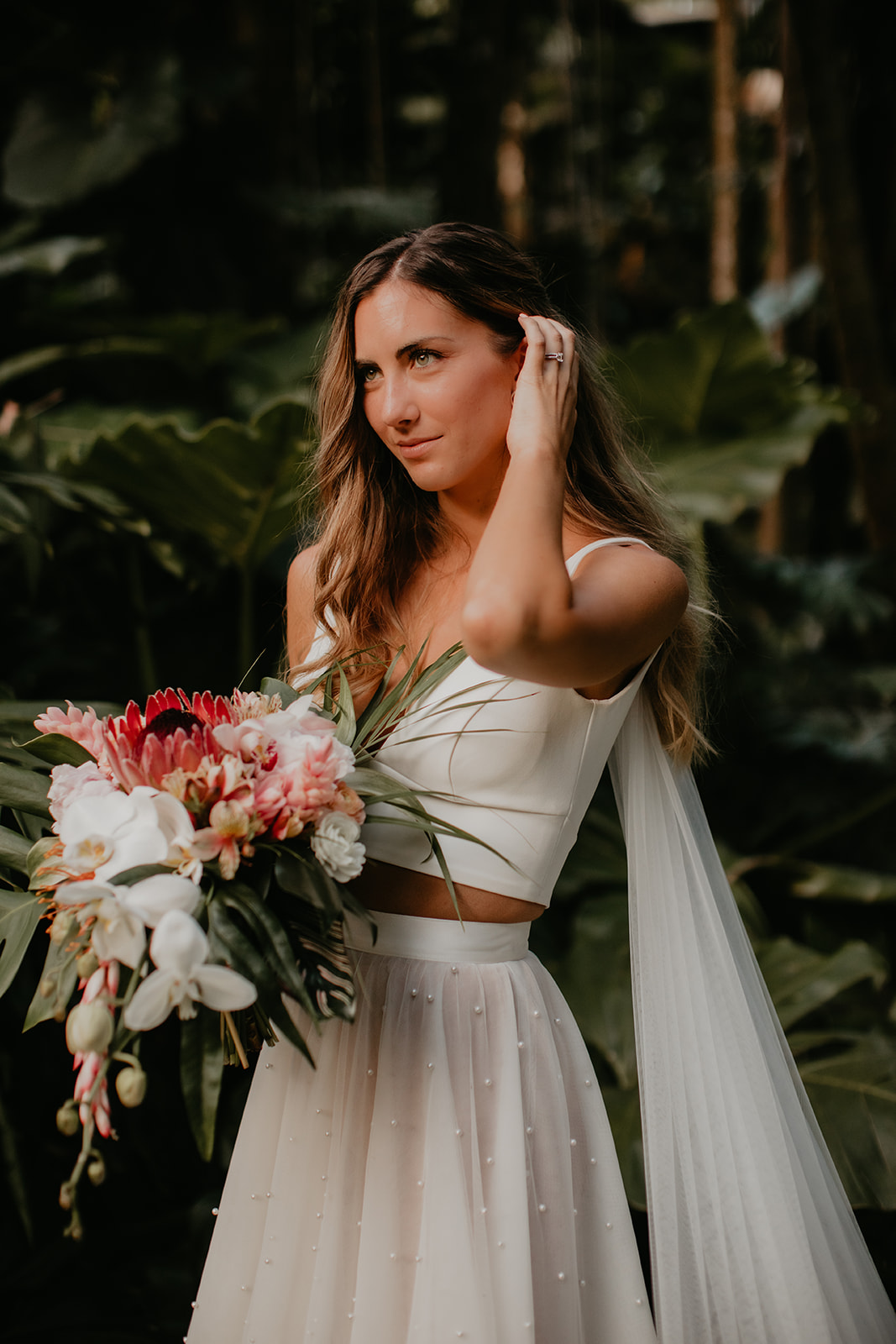 Accessorising
Pulling inspiration from elements on her Lea skirt, she wore earrings from Faris Jewelry which she modified by adding pearls to make them even more unique.
A delicate veil from Untamed Petals was placed over her head as tradition goes, but its design was anything but traditional with a modern ruffled edge.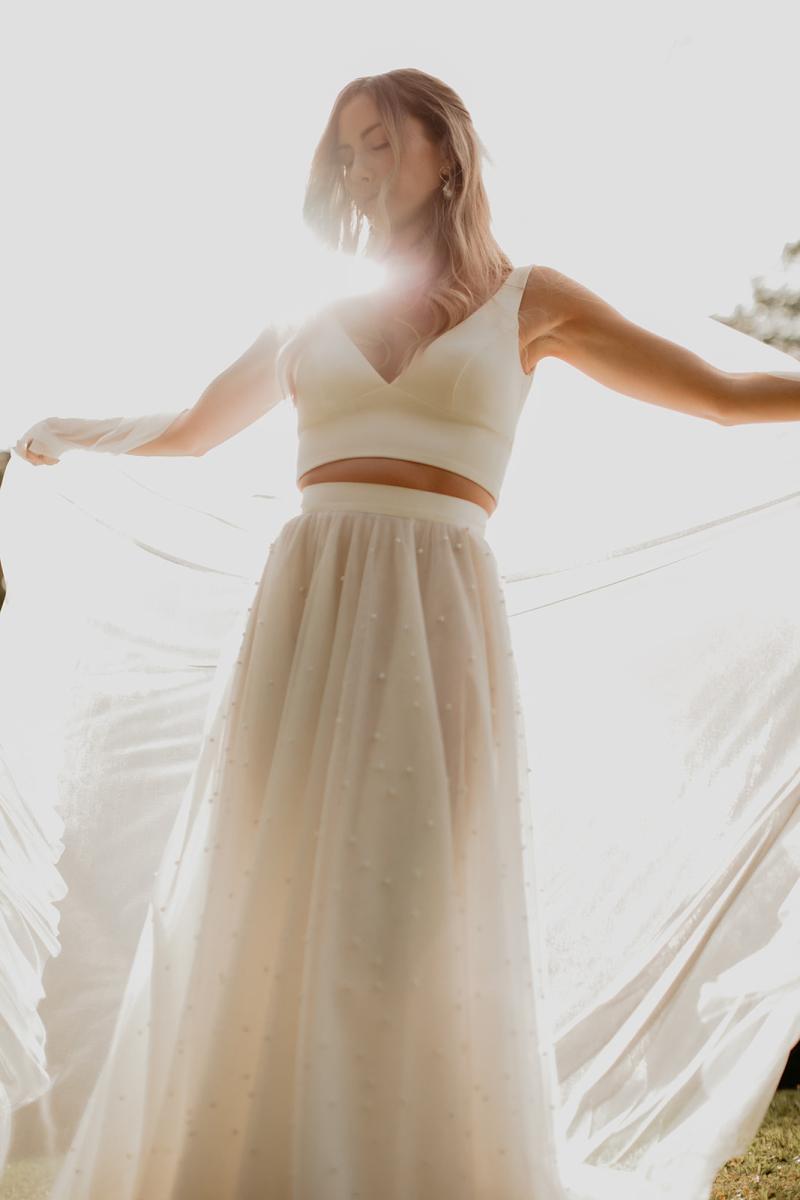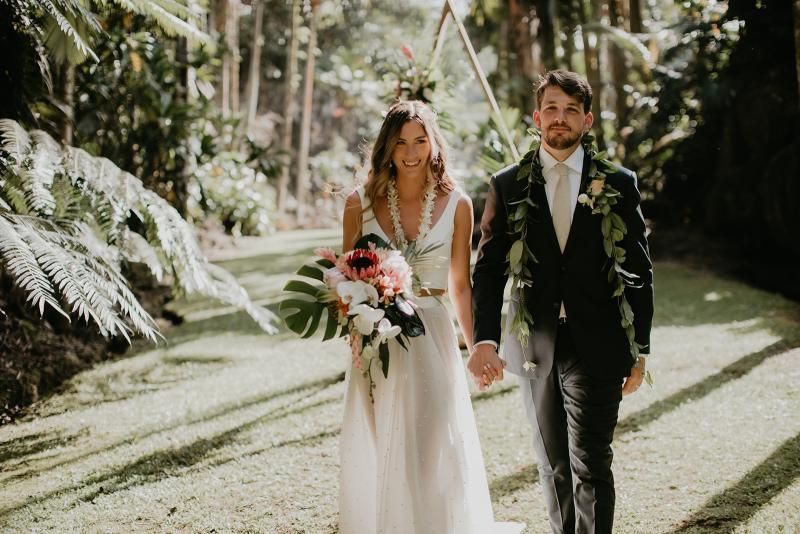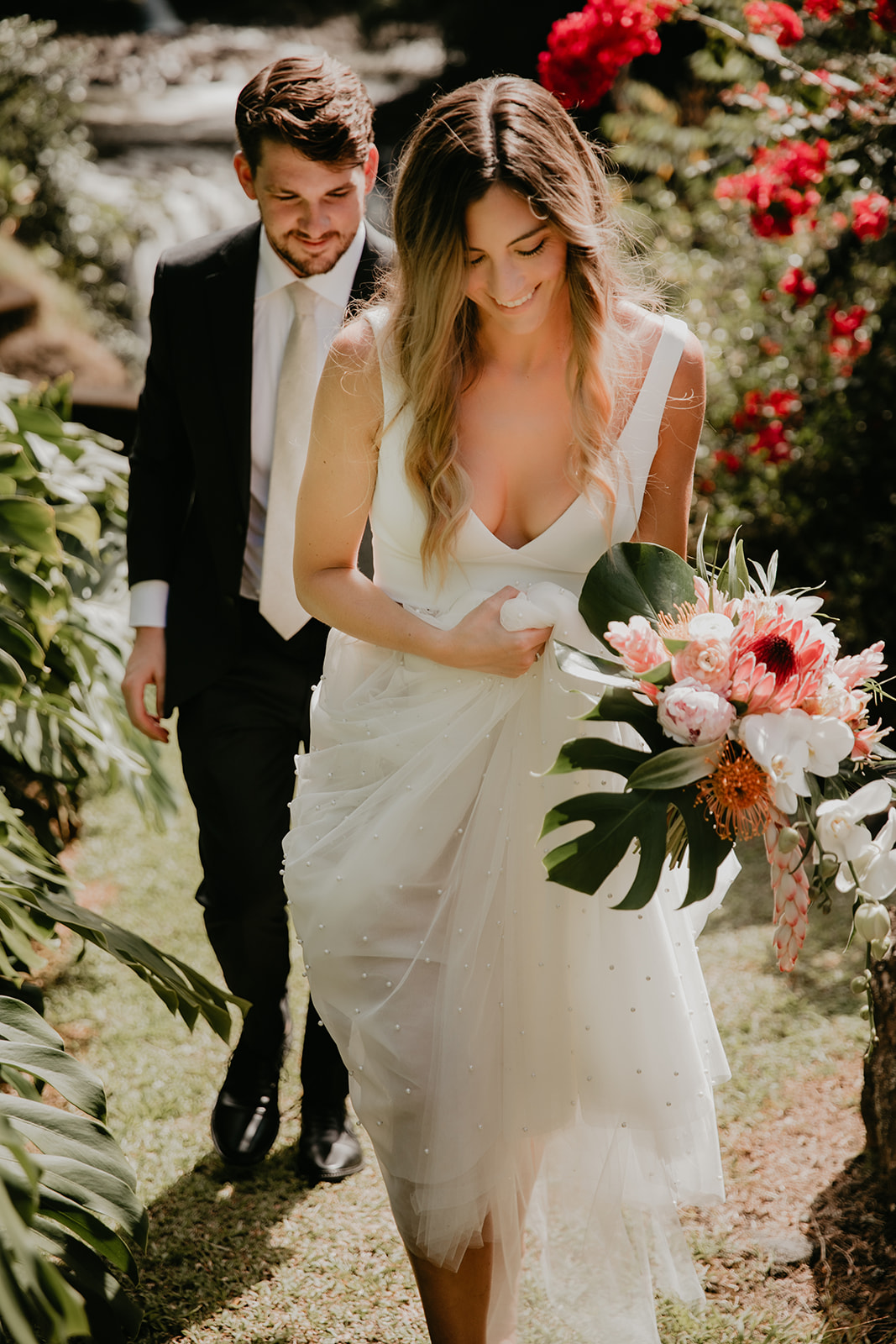 Advice
"Don't bring a lot of people with you. Too many opinions are confusing. You could potentially say no to your dream dress just because someone else doesn't like it, which isn't fair. You should choose the dress that YOU love, not what somebody else loves. Also don't be afraid to get something unconventional!"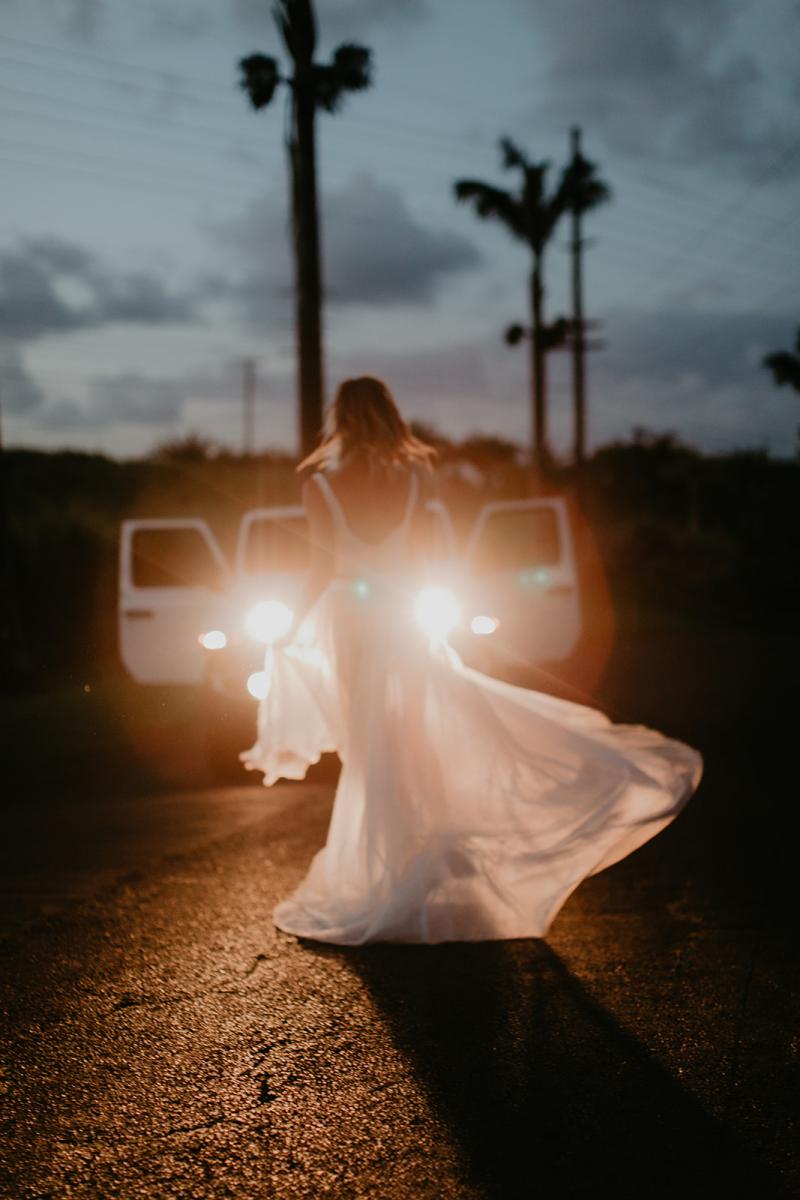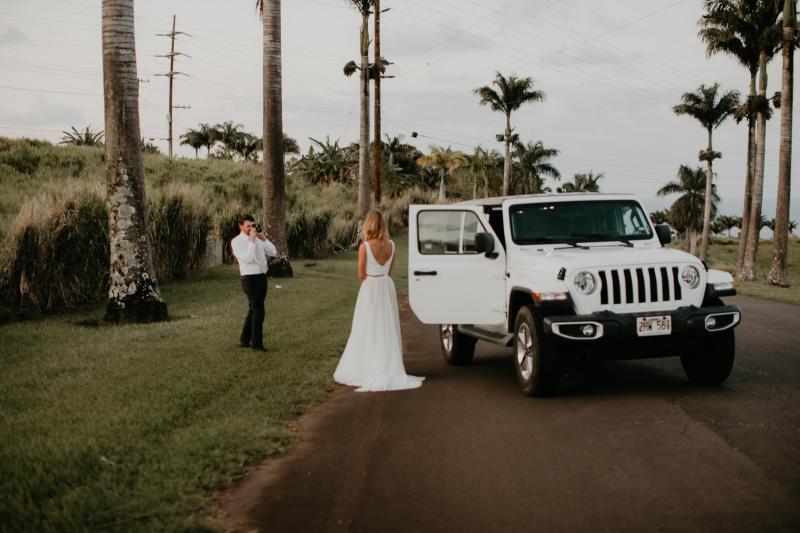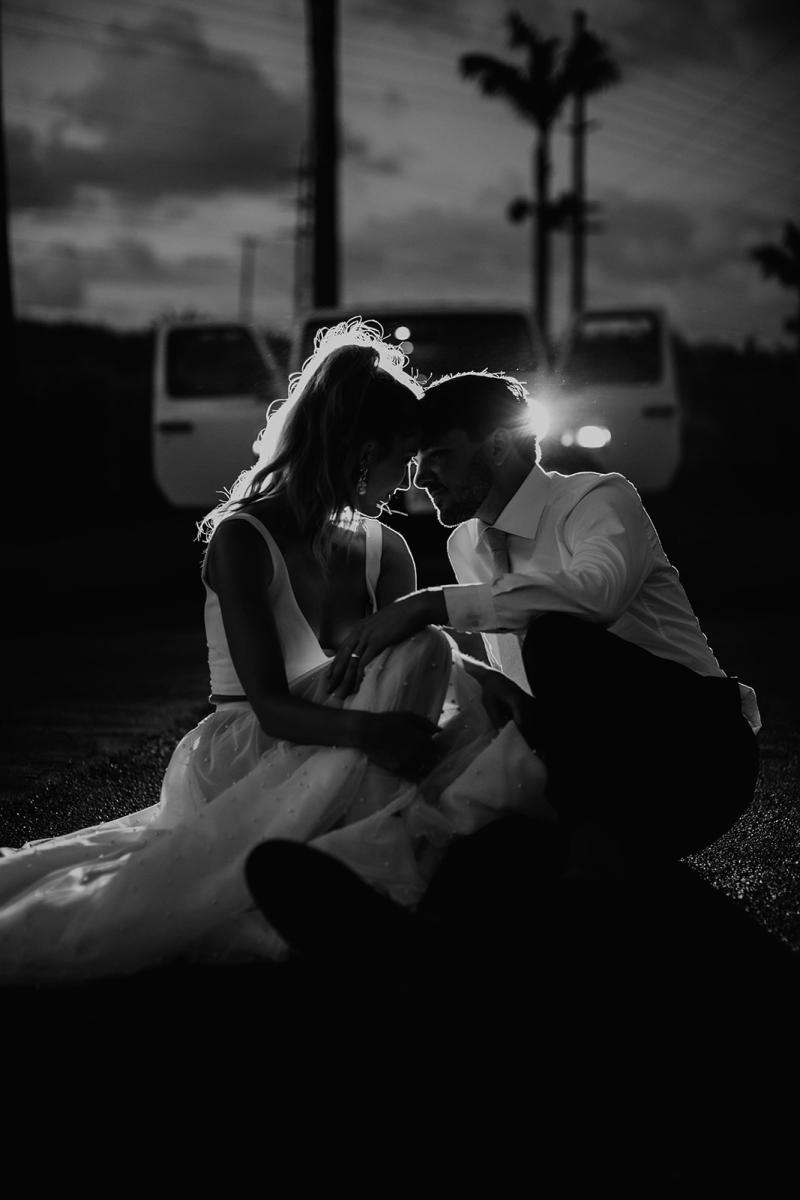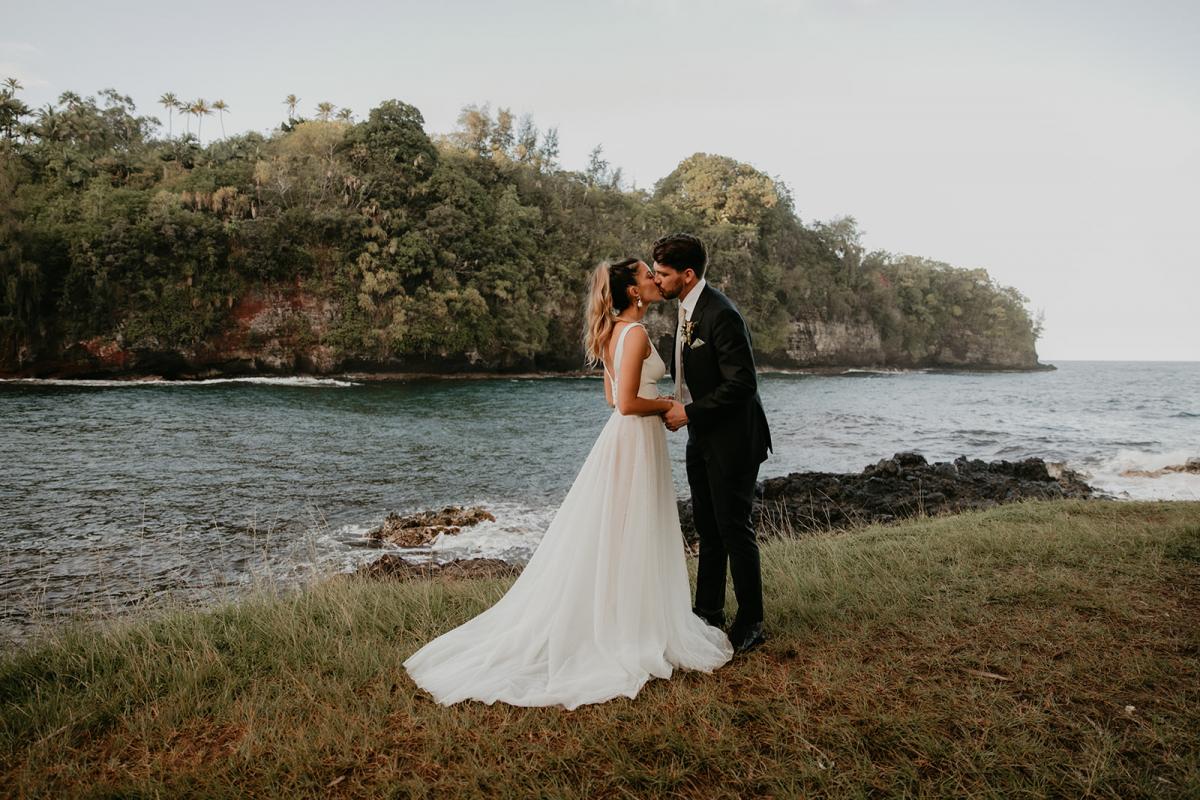 What does love mean to you?
"Love is having a true partner in life. You are best friends and also lovers. You support one another through all the good times and bad. You spend quality time with one another but also give each other the freedom to be independent. You dream about getting old together and talk about your future home and kids together. You share your hopes and dreams with each other. You accept their flaws and love each other no matter what. True love is unconditional."