Nicole & Chris' Manly Beach Nuptials

If you could describe your dream man, would he be wearing a Hawaiian shirt and pink tutu with boots? No? Well, Nicole and Chris happened to meet at a funky colourful Secret Garden Festive, where he was dressed up as Ace Venture. Rightfully so, Nicole couldn't stop staring at his…blue eyes. Maybe it was his dreamy gaze or maybe their forced first kiss at an ever so subtle kissing booth (that may have been slightly rigged by their mutual friend, Sarah) that had Nicole swept off her feet? Either way, she was smitten with his undeniable goofy charm and uncanny ability to resemble Jim Carrey.
In complete contrast to their first encounter, their wedding exuded an air of sophistication at the Beachside Dojo Manly. Nicole chose the Justine gown from the WILD HEARTS collection to compliment the beach vibes while pairing it with the Odette train to add a dramatic second look.
On the proposal
As the hours ticked by, Chris became more and more impatient with a squirmy puppy and ring waiting at home. Meanwhile, Nicole, oblivious to Chris' big plan, was continuing to throw some drinks back with her ladies at a friend's bridal shower. She tried to persuade him to join with absolutely no luck. He, too, tried to persuade her to come home but also failed. At that point, out of frustration and Nicole's desire to continue partying, he finally gave in and sent her a photo of the new puppy sitting at home.
"I jumped straight into a cab – I could not have gotten home any faster if I had tried! I raced in the door and started to ugly cry over the little puppy in my arms. Chris asked me to read the puppy's little collar; I read one side her with her name 'Lulu', then the other side read 'Will you marry me?'. The next thing I knew, Chris was on his knee in front of me and safe to say that, I cried a whole lot more as I said YES..."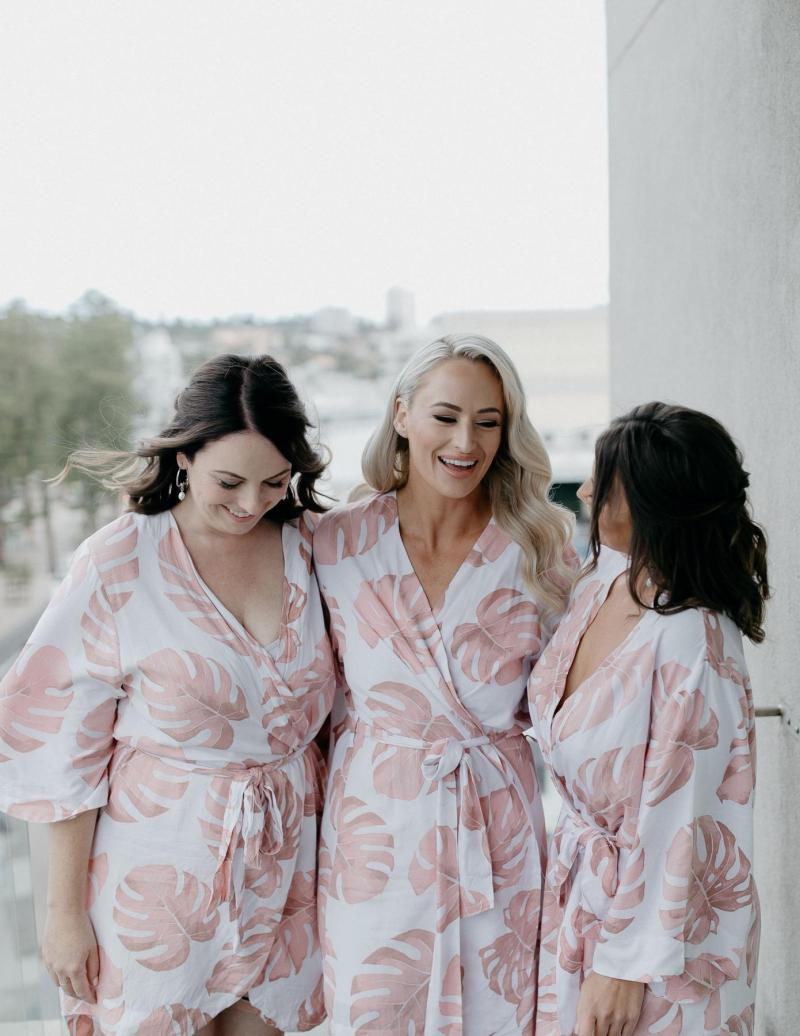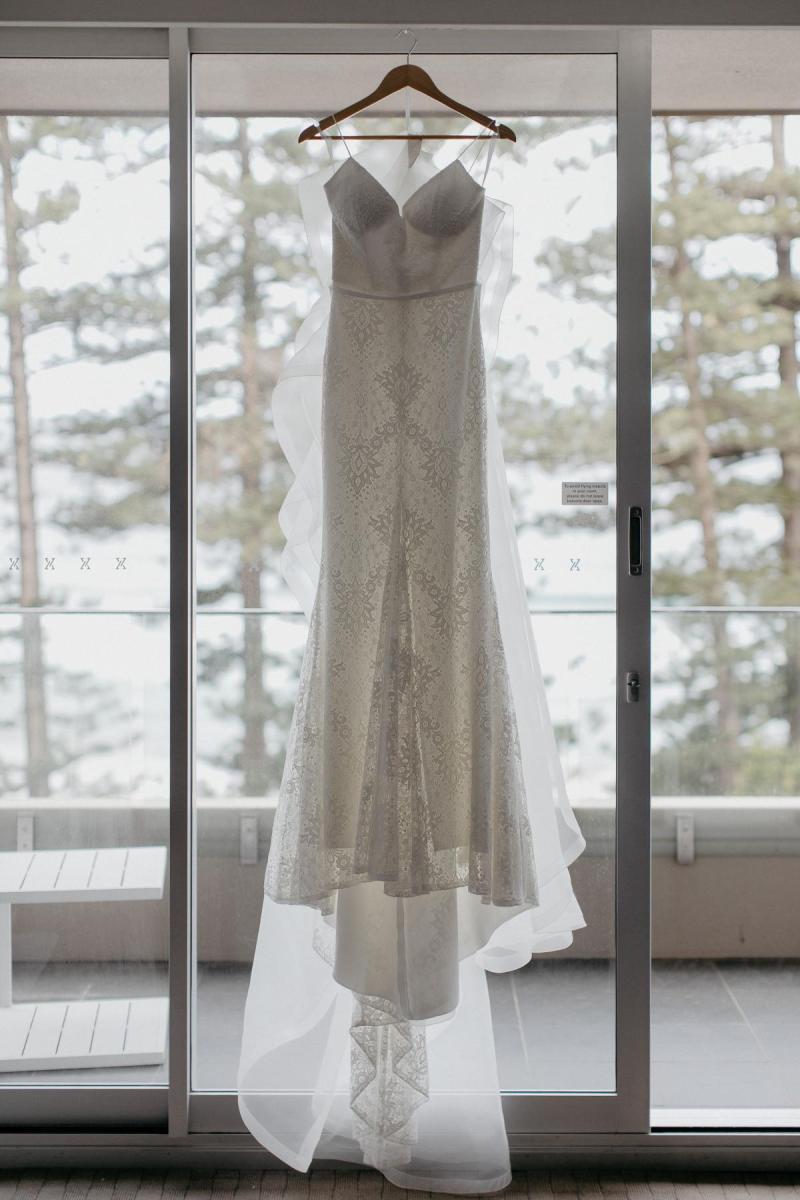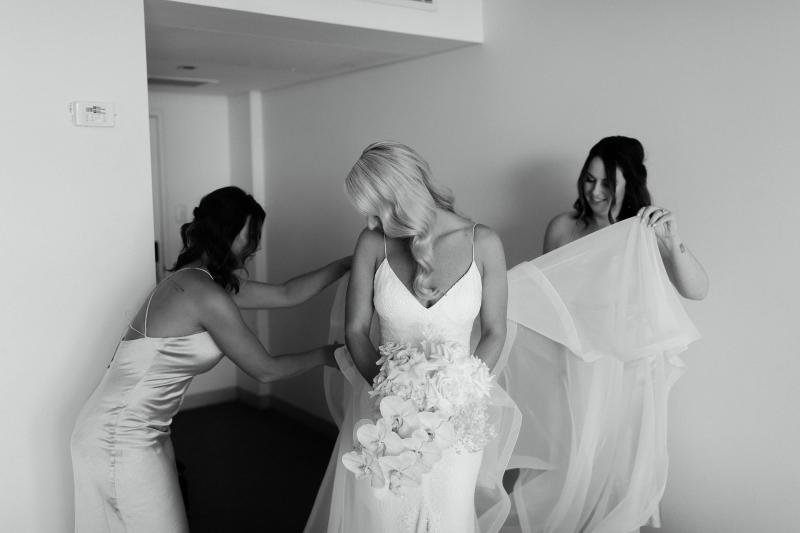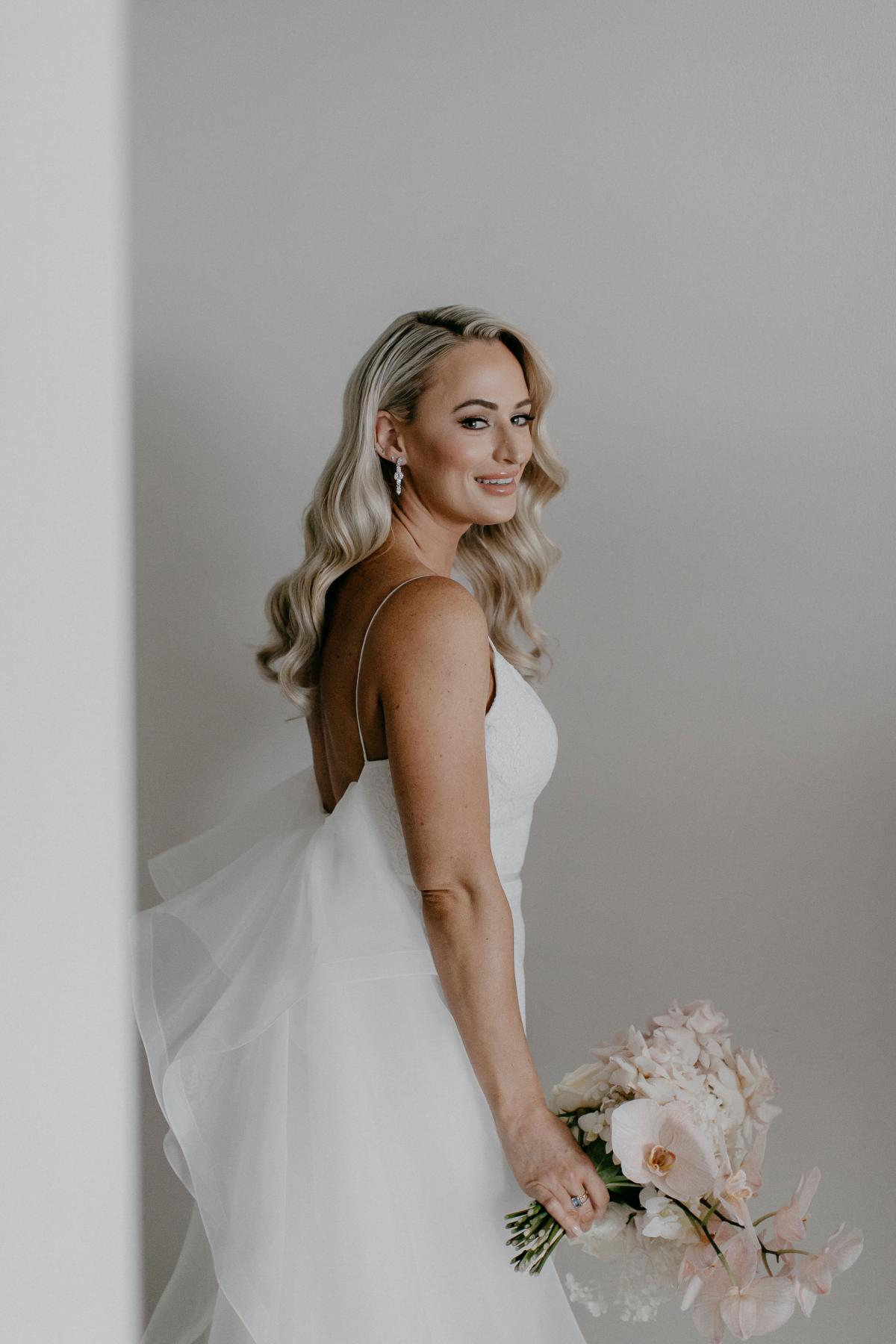 On the venue
The couple chose the lavish Beachside Dojo that captured their hearts the moment they walked inside. Although the interior design was magnificent, the best part was that the venue doubled as the ceremony area and reception to keep the day simple for both the newlyweds and their guests.
"Planning the wedding during COVID-19 was a challenge and I was trying to not be a bridezilla throughout the whole experience, but the team at Beachside Dojo were fantastic at making us feel at ease and constantly updated us with the everchanging rules and restrictions. In the end, it truly was the best day of our lives and I would not change a thing!"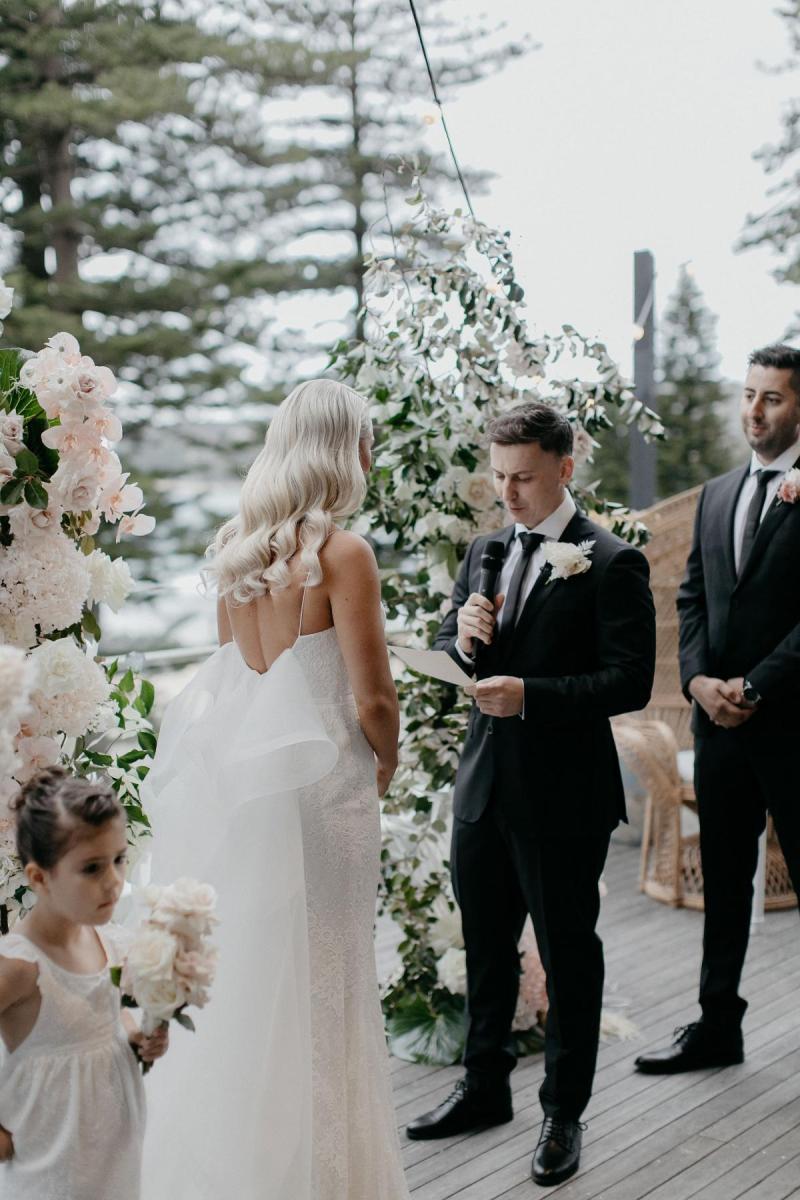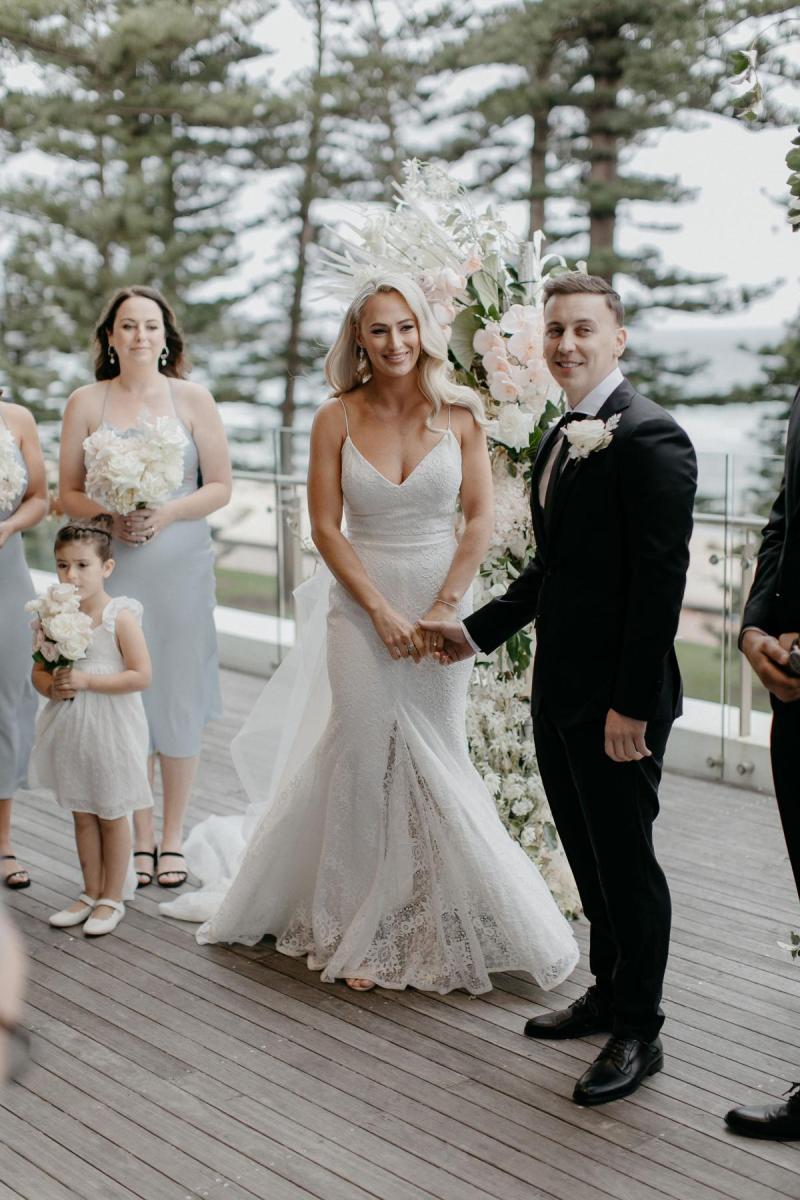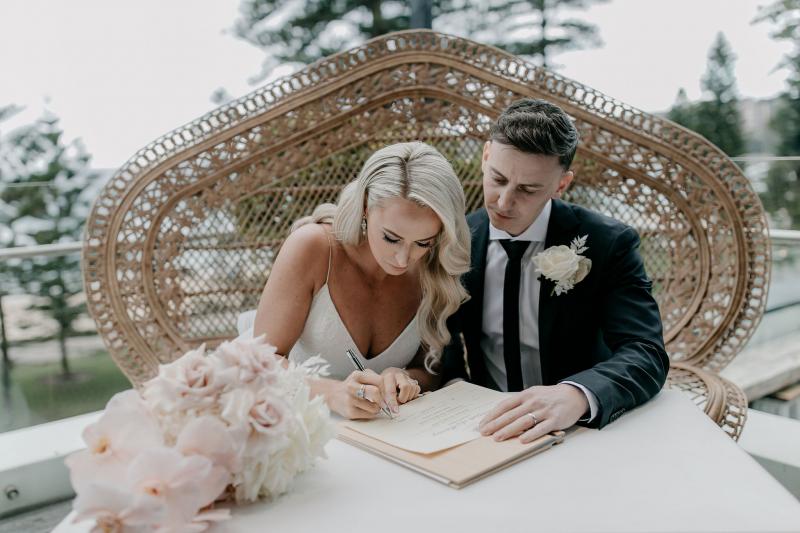 All the styling details
"The room was light and bright with a Hampton's style feel. I knew that I wanted to keep the styling light and romantic with lots of blush pink, nude tones and crisp white florals and Beachside Dojo provided beautiful fairy lights throughout the venue, which finished the room off perfectly. "
The pale washed-out hues and fresh whites created the most glamourous seaside wedding.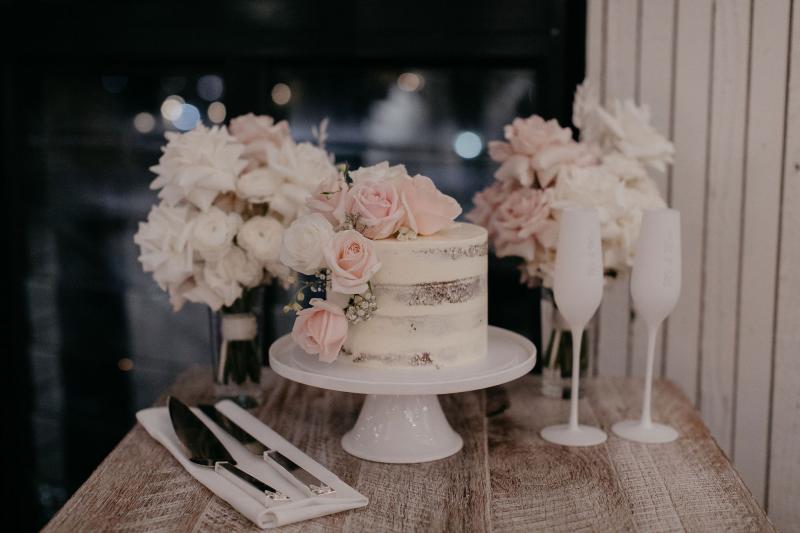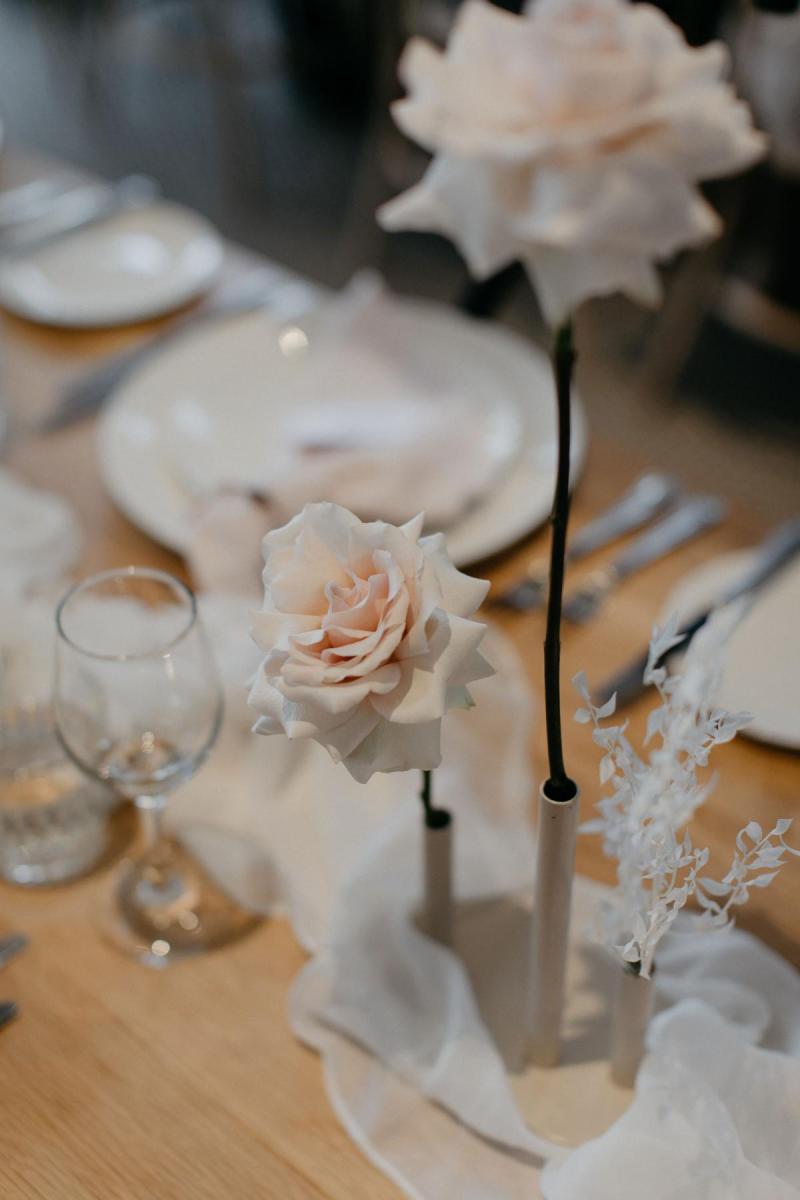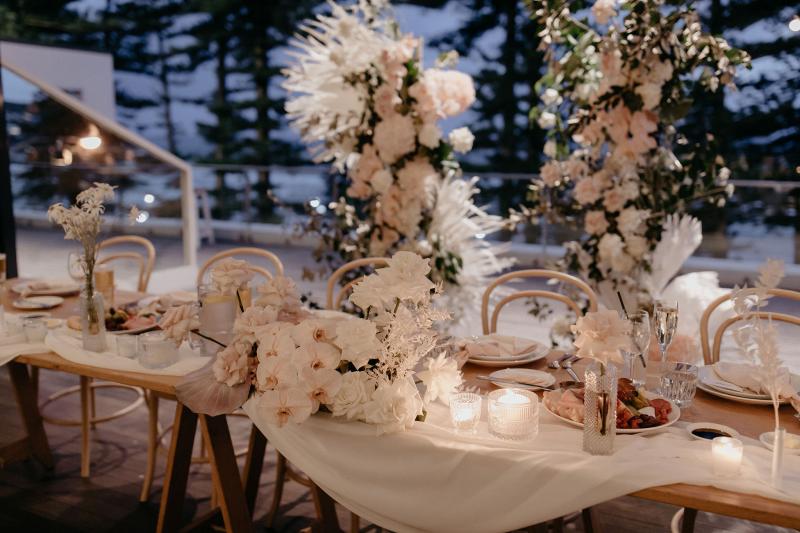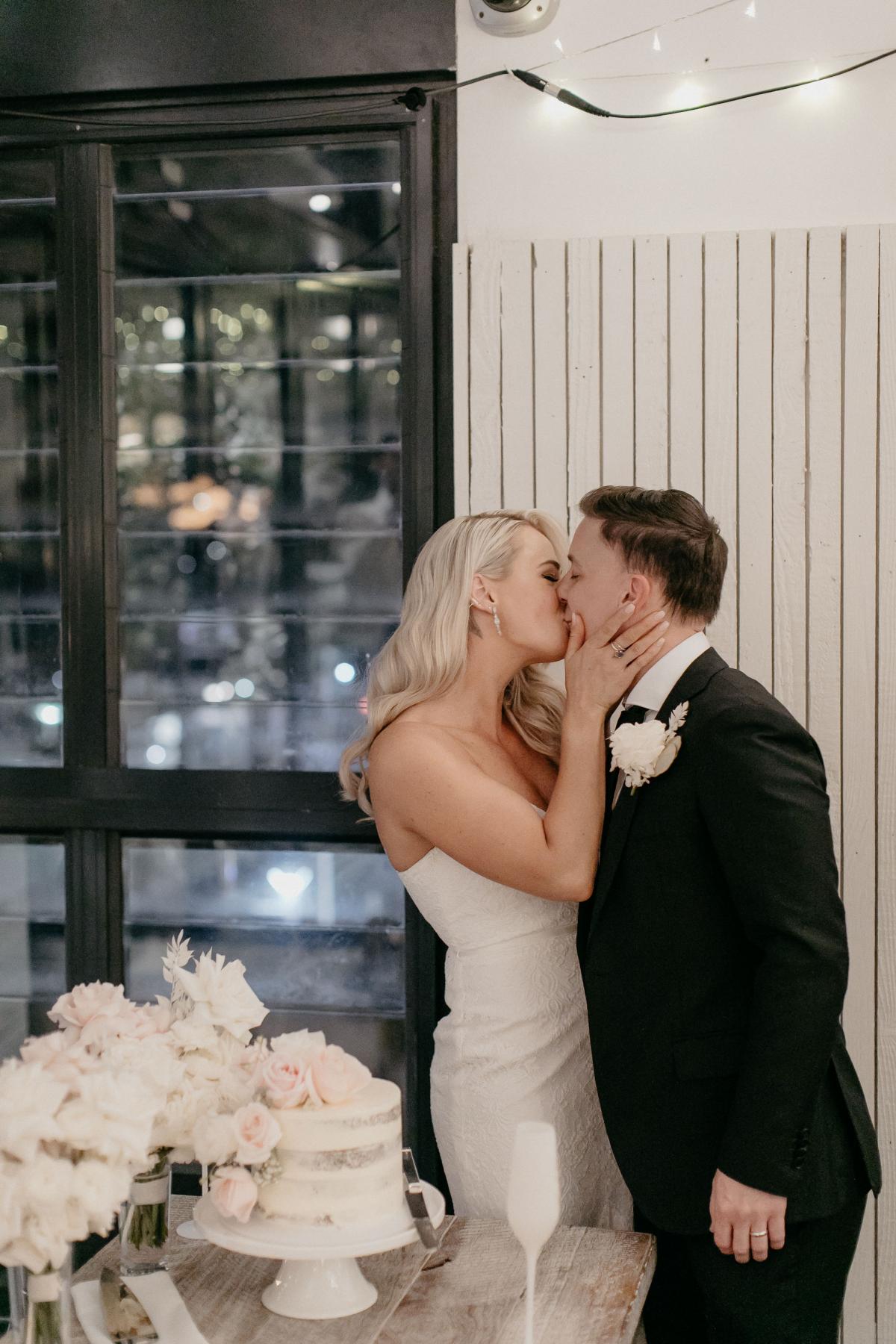 Highlight of the day
"Besides marrying my best friend, of course, was seeing all of our family and friends together in the one room after months of stress and worry about COVID-19 and its restrictions.
We were so worried about how the day would be with the constantly changing rules, but it was perfect and we wouldn't have had it any other way! "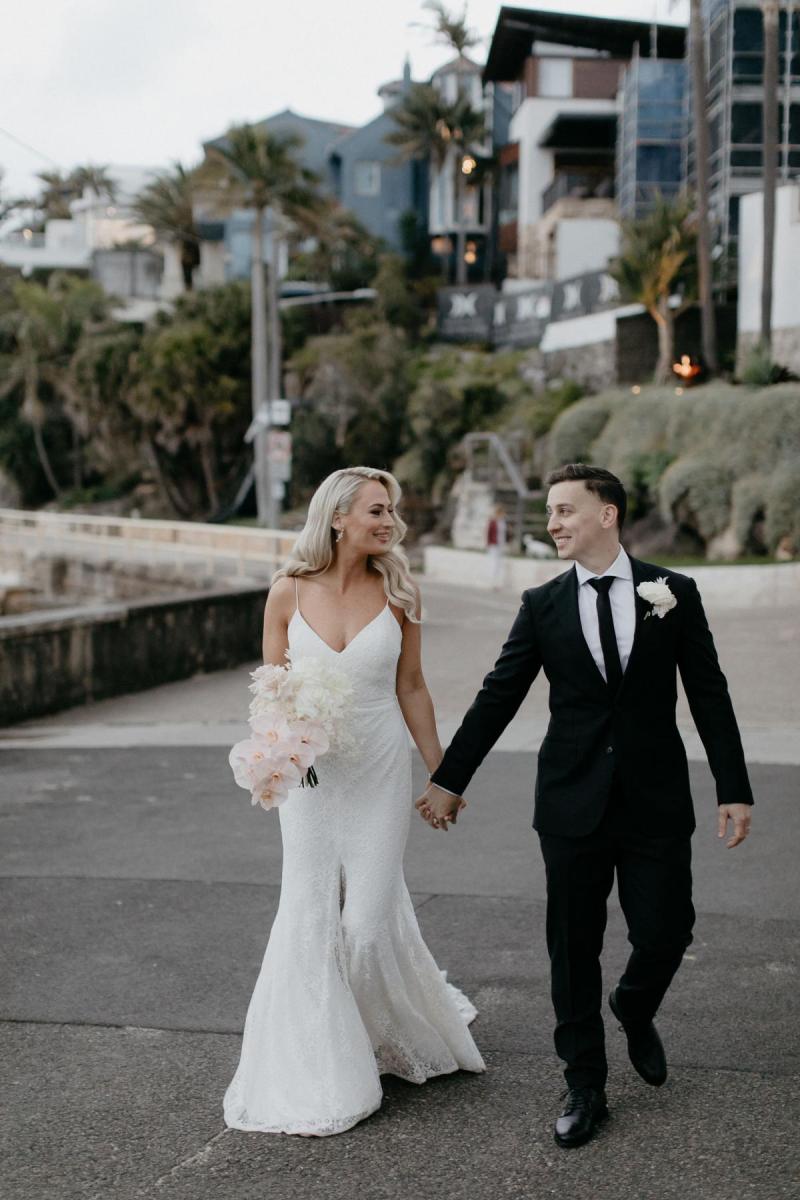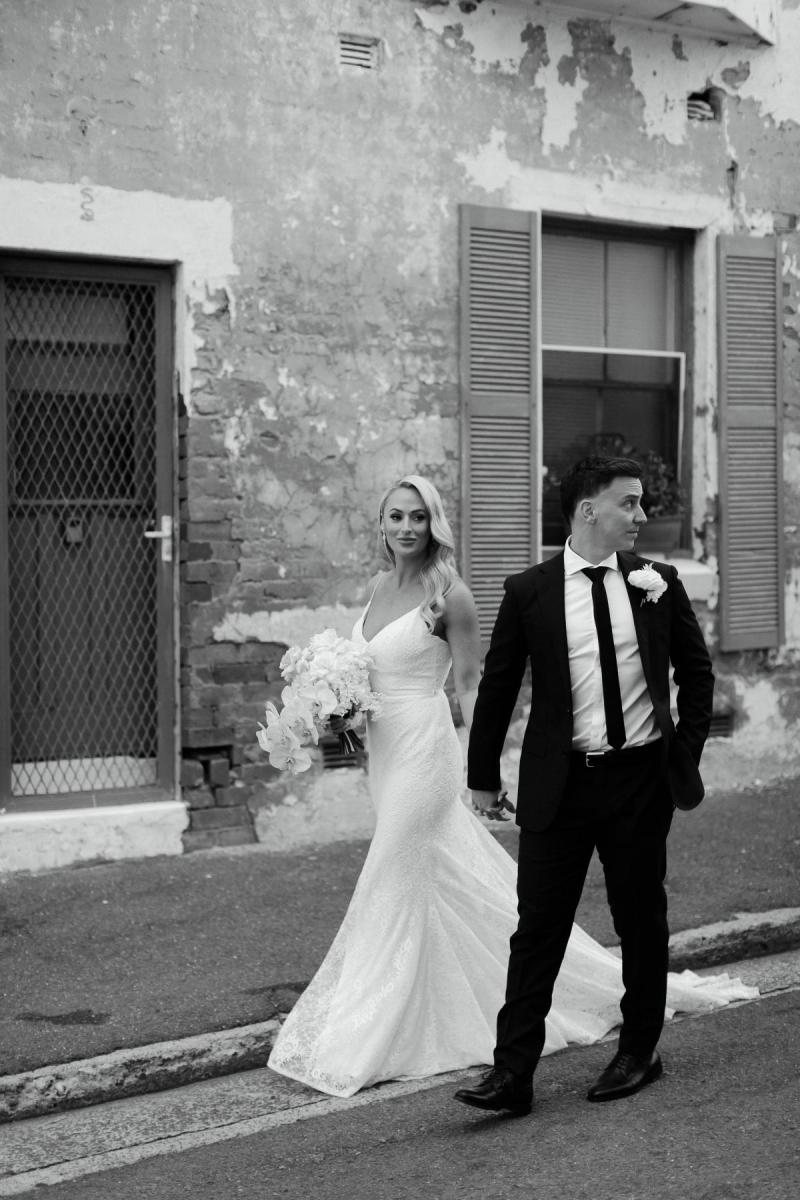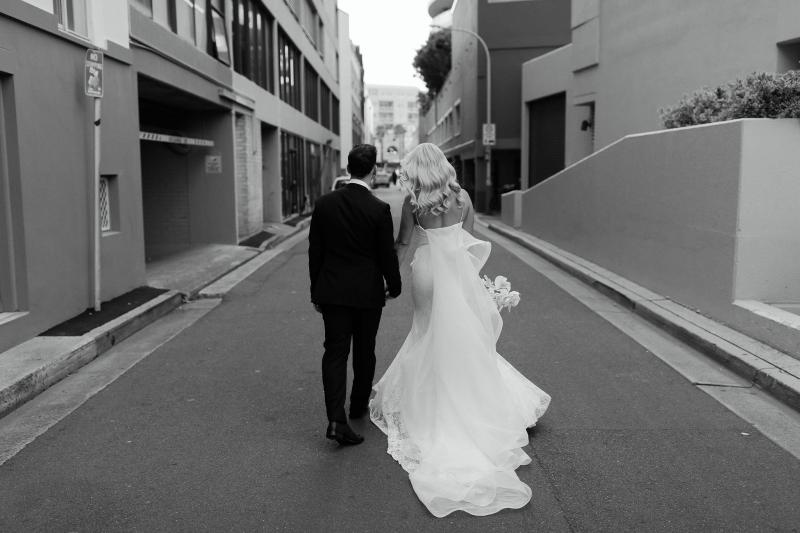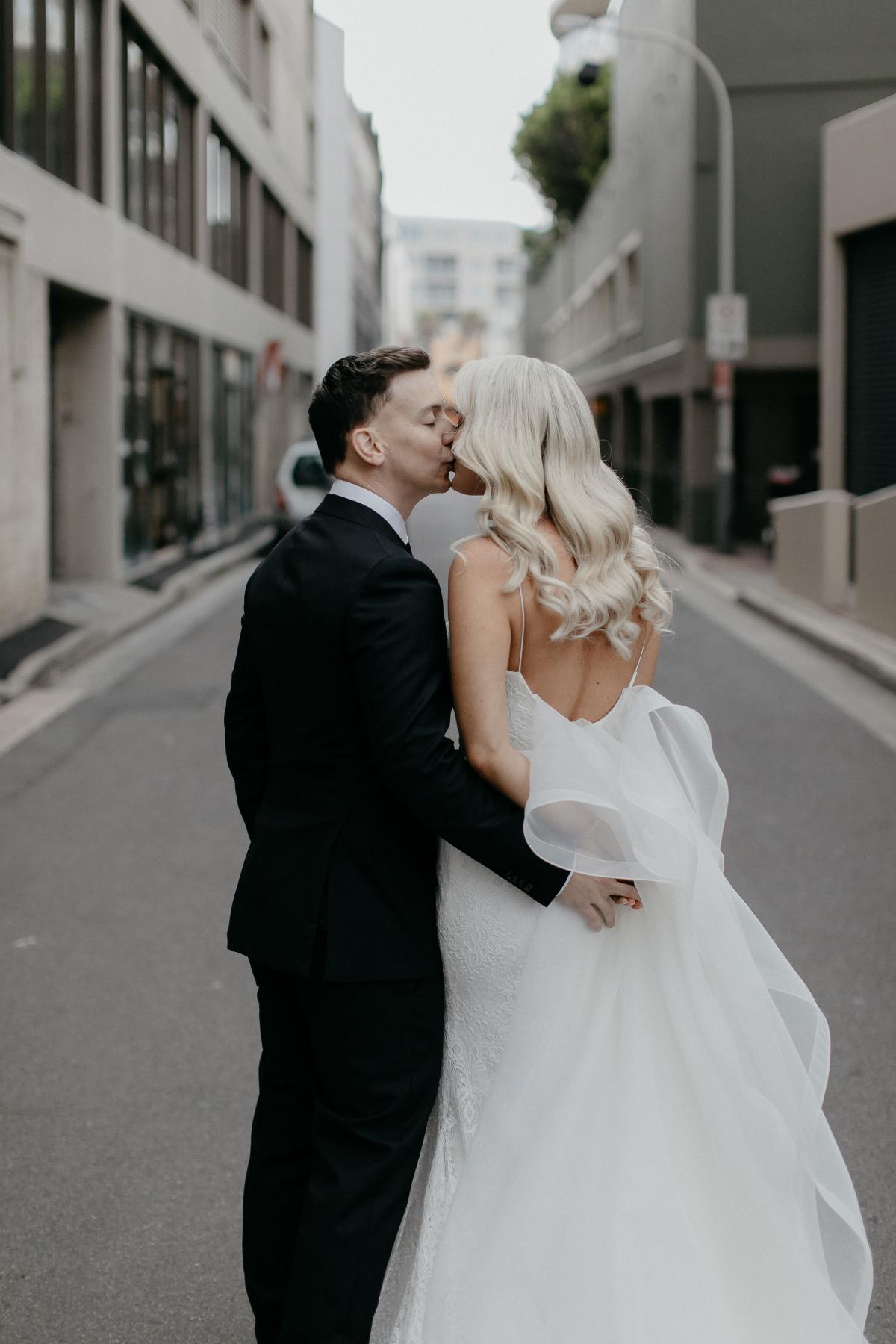 The Dress
"When choosing my wedding dress, I was torn between choosing something which is more my style and the idea that because it is that one special day thinking that I had to find a dress that was completely different to what I would typically choose. When I walked into KWH and saw the Justine gown, I knew that it was the one for me. The lace was beautiful, it hugged my body in all the right places and I never once felt uncomfortable."
However, the stylist had something up her sleeve to top off her bridal style…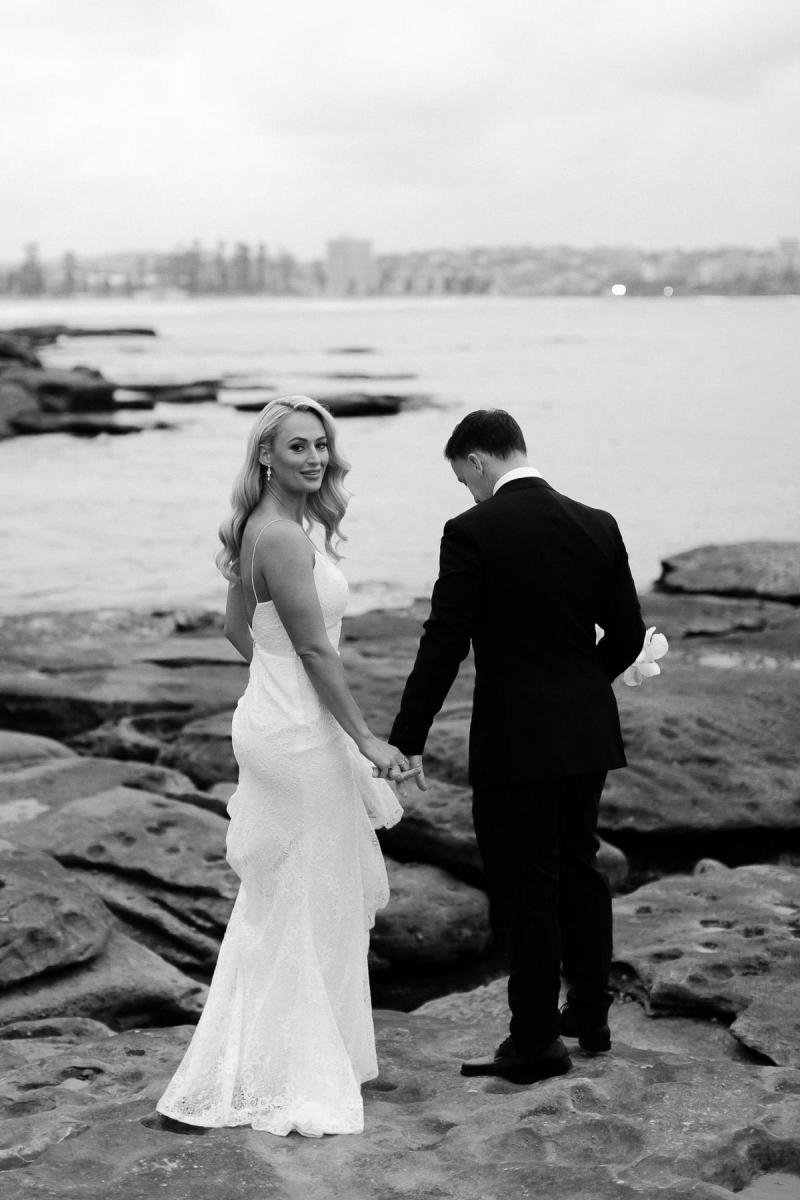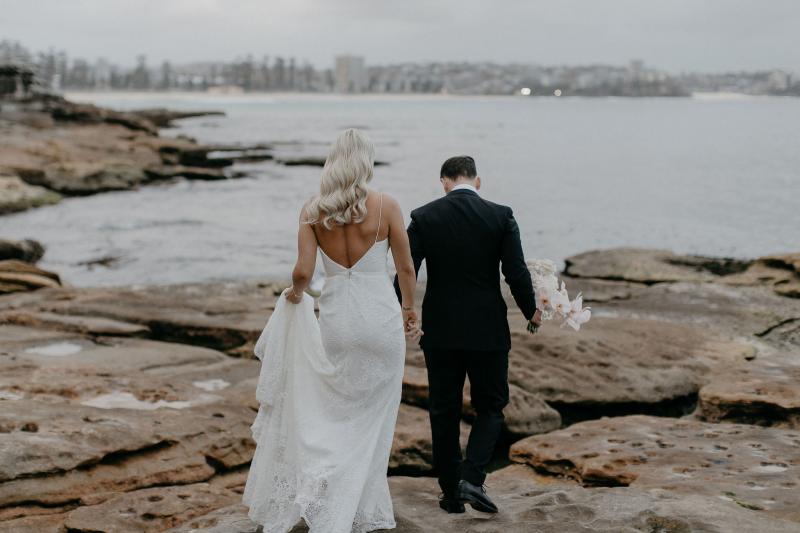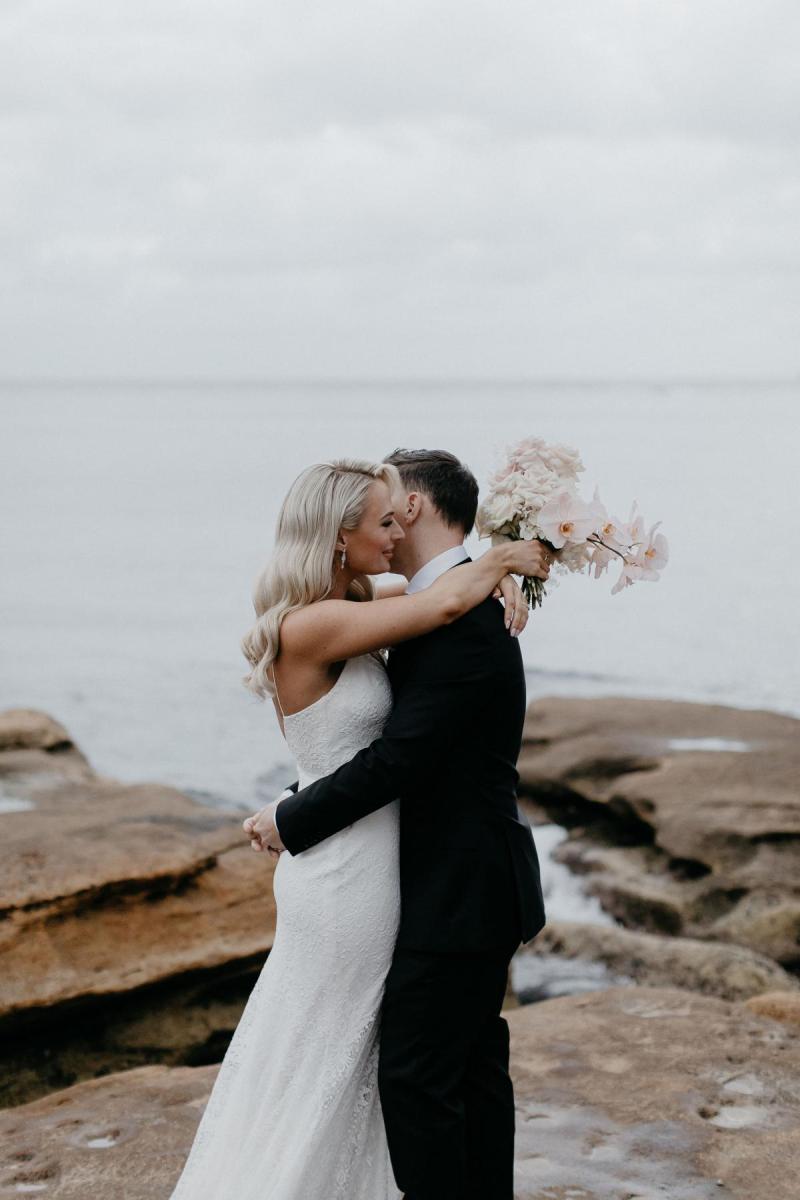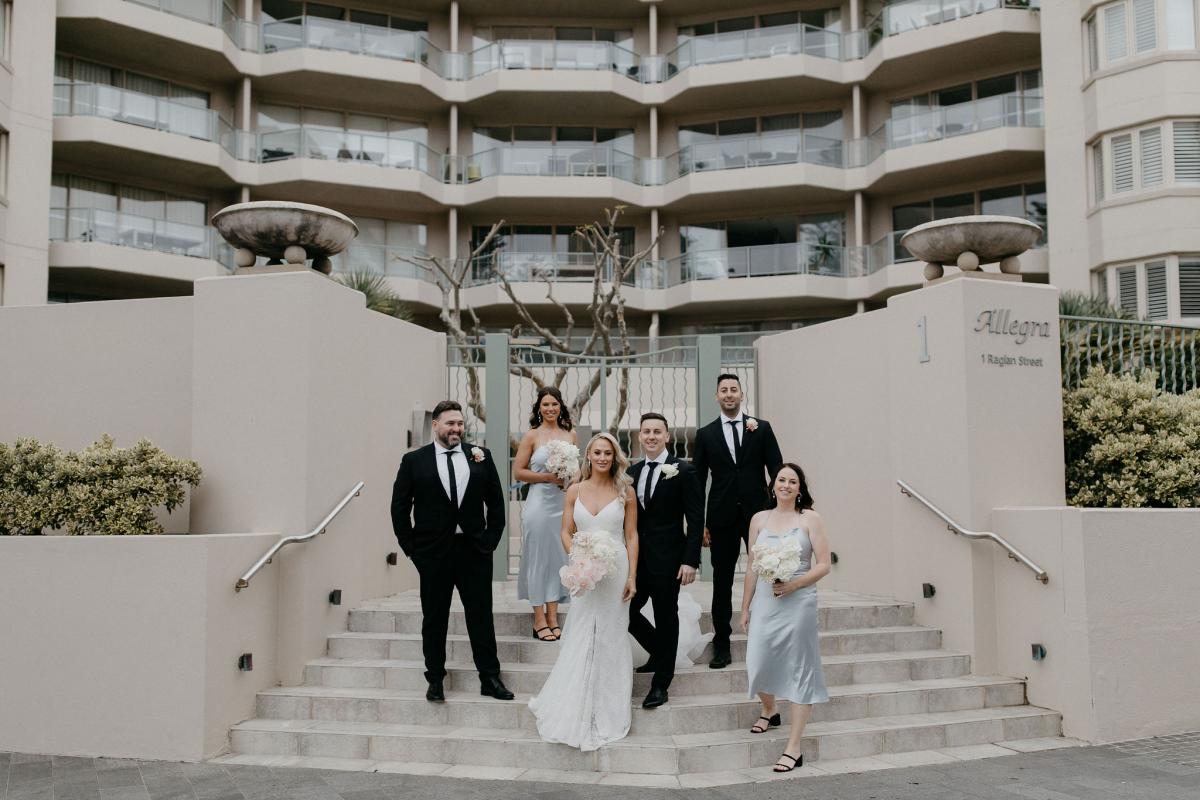 Accessorising
…a flowy organza train!
 "Jazz was extremely helpful, and I really thought the dress was perfect until I was handed the Odette train to wear with it instead of a veil and it gave me the option of two dress styles in one – Safe to say that I was even more in love!"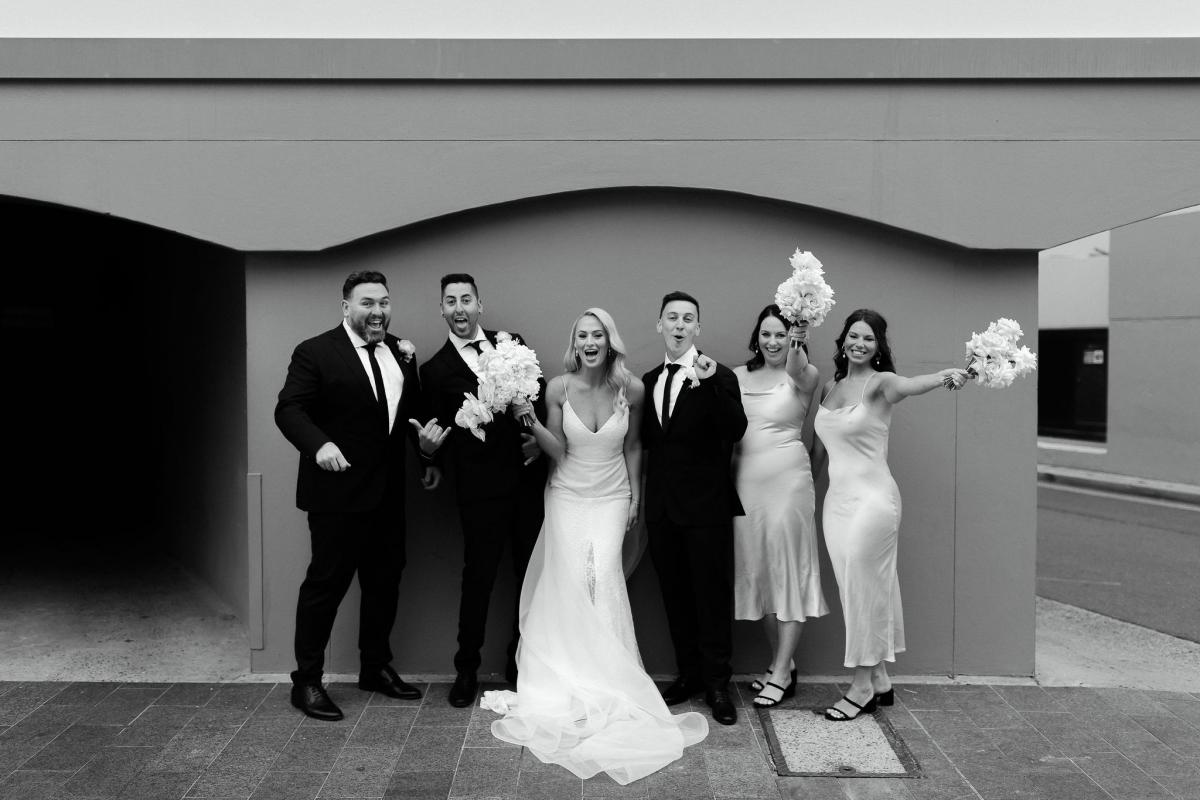 Advice
Nicole perfectly says what we should all take to heart when choosing a wedding dress or anything we wear.
"My advice to any bride searching for their wedding gown would be to just go with your heart and to choose a gown that reflects your style rather than something someone else thinks that you should wear."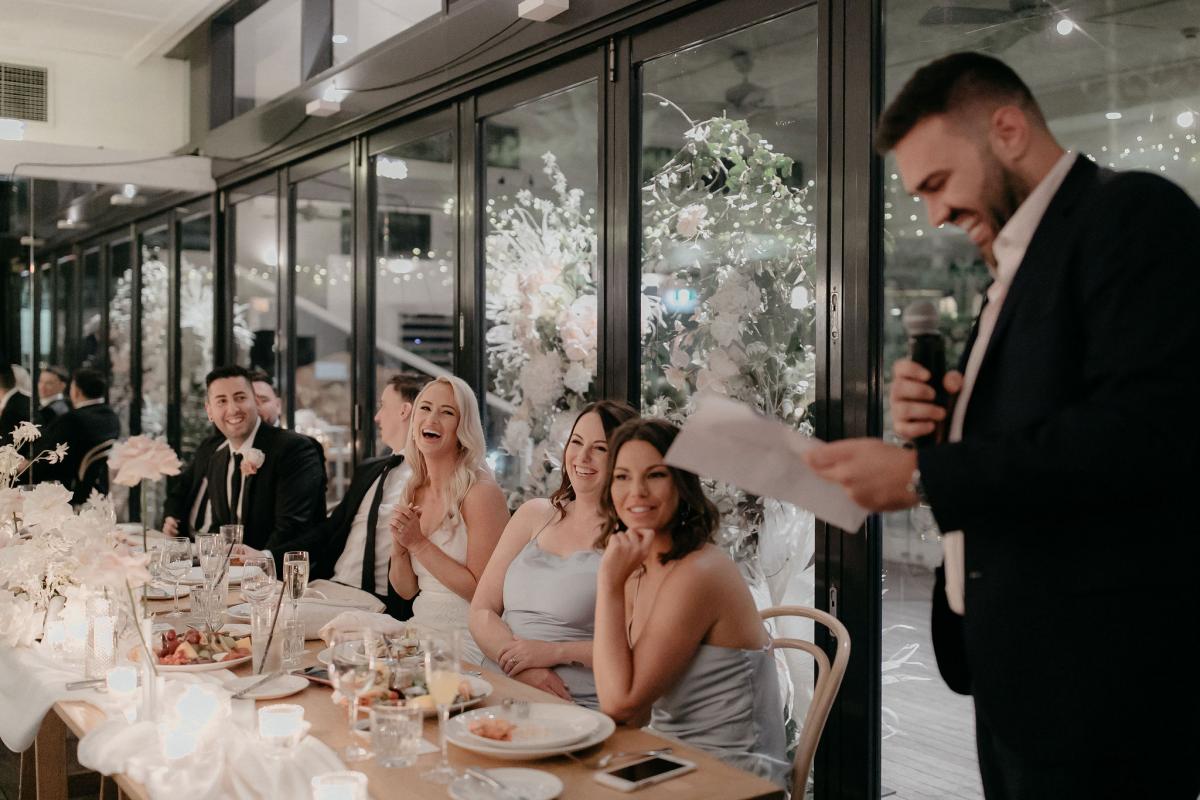 What does love mean to you?
"Love to me means that it is always unconditional. It means being deeply committed, supportive, and a team throughout all the highs and lows that may come your way. "