Shenea & Lain's Urban Industrial Wedding

After six years into their relationship and two beautiful sons later, Shenea and Lain wed in a chic industrial ceremony. The couple had met the old fashion way with actual in-person contact before starting their romance. Lain had flown in from Sydney to Adelaide for a cricket trip when he snagged the biggest catch of his life after bumping into Shenea. For an entire year after that fateful day, the two were emotionally inseparable but unfortunately separated by thousands of kilometres in two distant cities until Lain finally made the big move to Adelaide to be with his love. 
On November 7th, 2020, the two tied the knot in front of all their family and friends after a rollercoaster of possible setbacks due to ever-changing restrictions. The day was perfect. Shenea stunned guests in her classy Taryn Camille gown from the BESPOKE collection by KAREN WILLIS HOLMES.
On the proposal
After anxiously waiting for several years, the big day had arrived. Lain had organised dinner reservations at a beautiful winery in McLaren Vale where he proposed to Shenea, but the night didn't end there. To celebrate the newly engaged couple, their family gathered at a nearby chocolatier cafe to indulge in some dessert to top off the evening.
Does it get much sweeter than chocolate and a ring?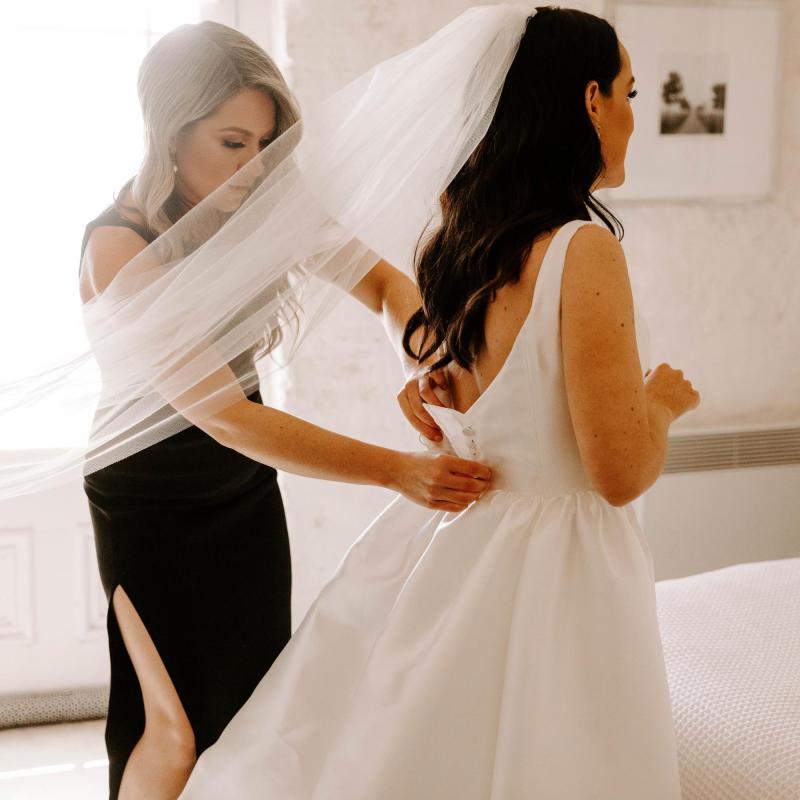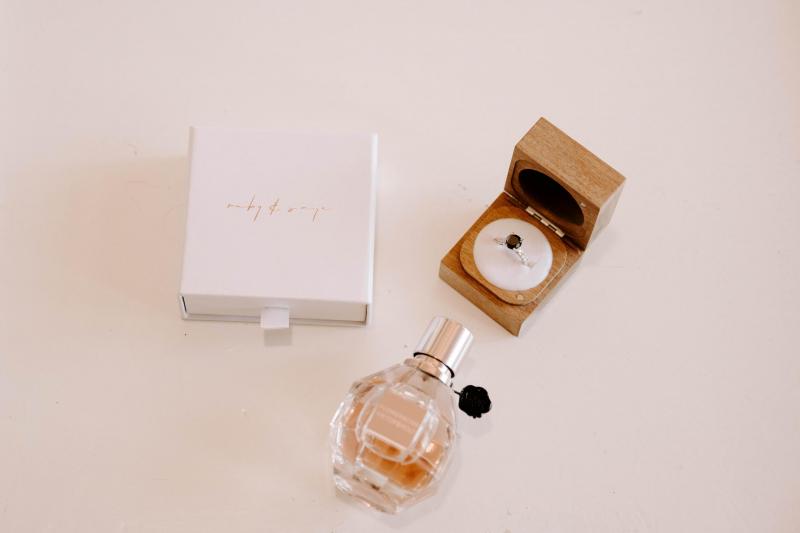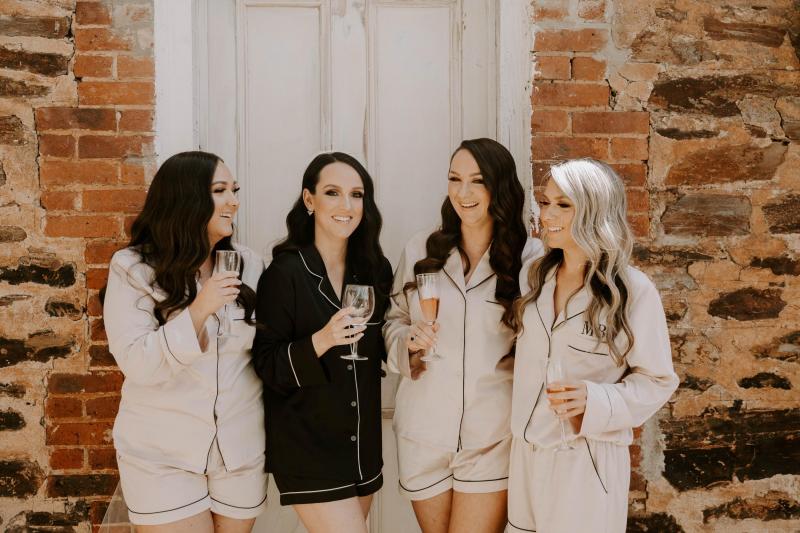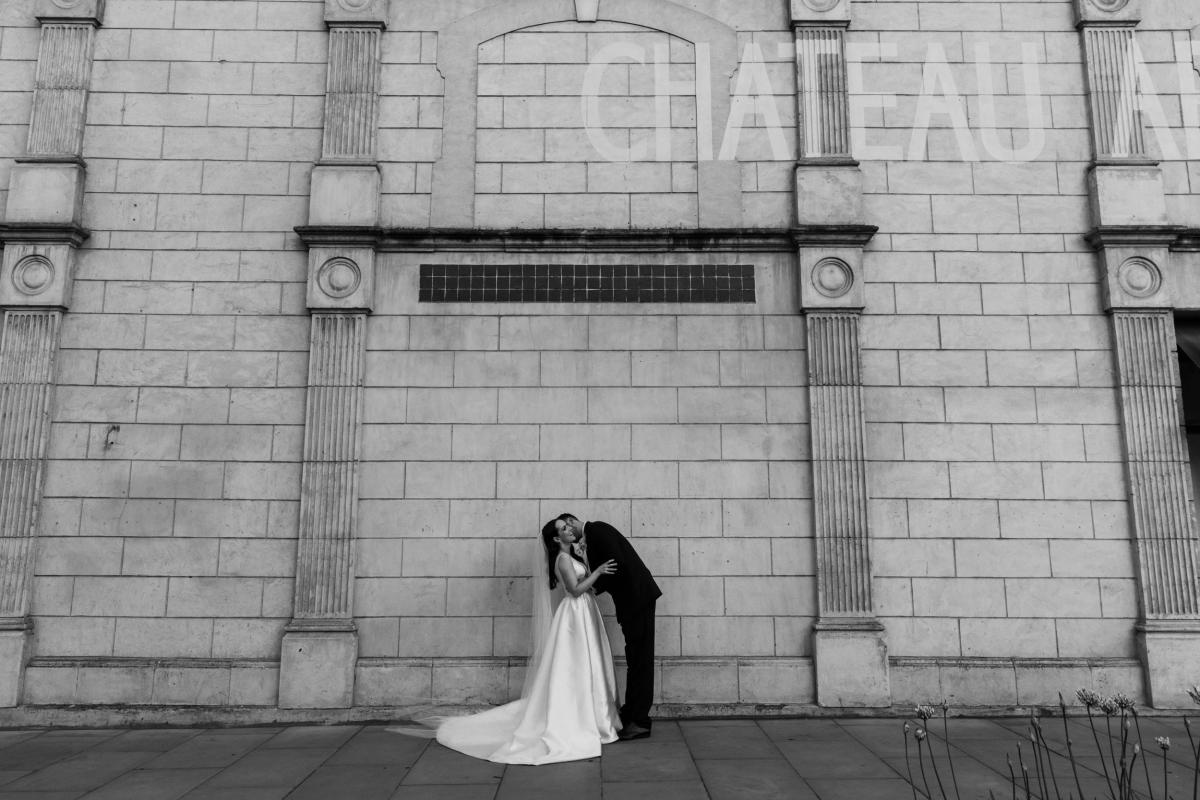 On the venue
To tie the knot, Shenea knew she wanted the venue to be a reflection of their personalities. Chateau Apollo, a 90-year-old warehouse situated in Adelaide's CBD, perfectly encapsulated their "laid back vibe" with white exposed brick, cement party floors, and industrial beams that allowed the couple to decorate the space in a way that made it feel unique to them.  
"It was the first venue we looked at and booked right then and there."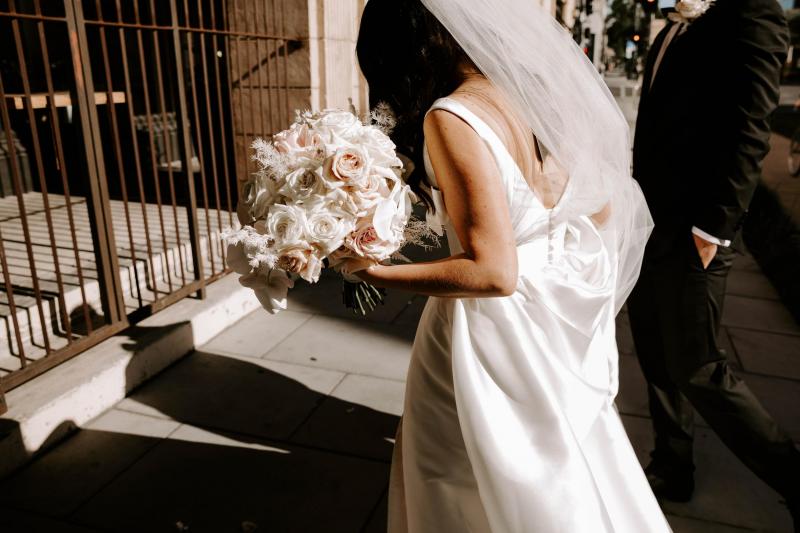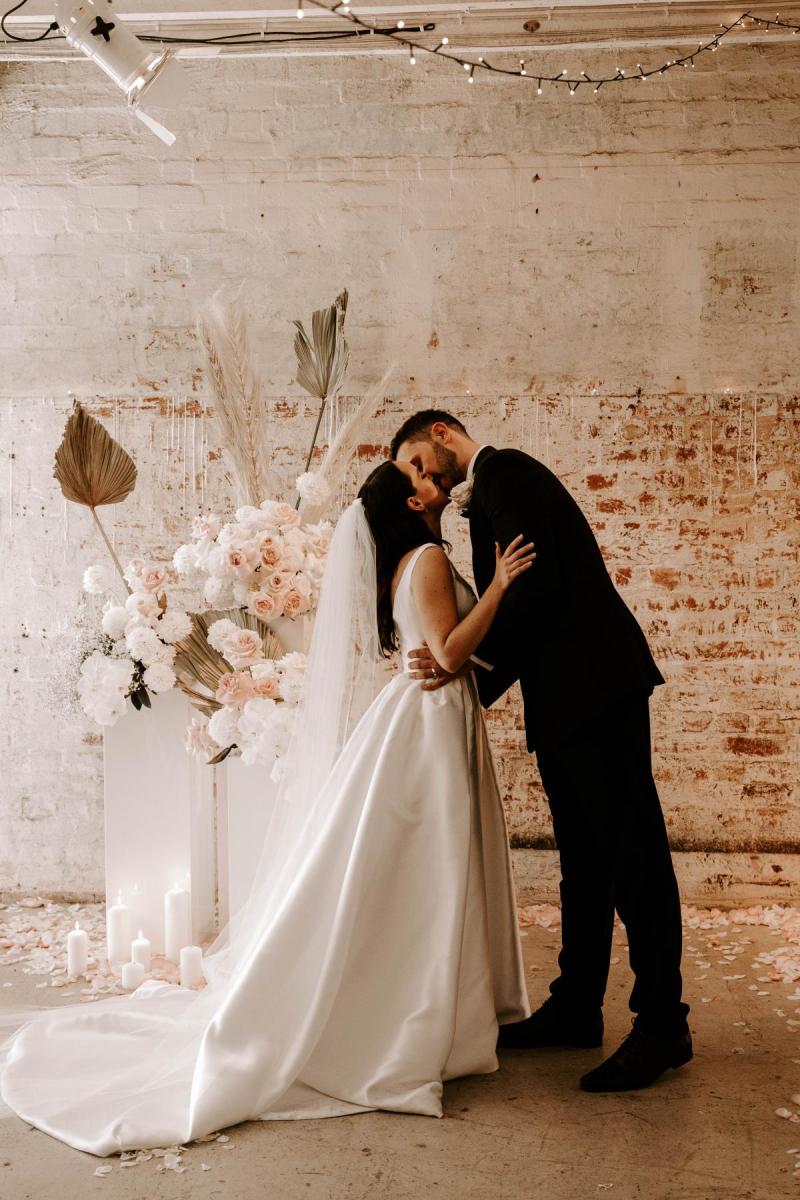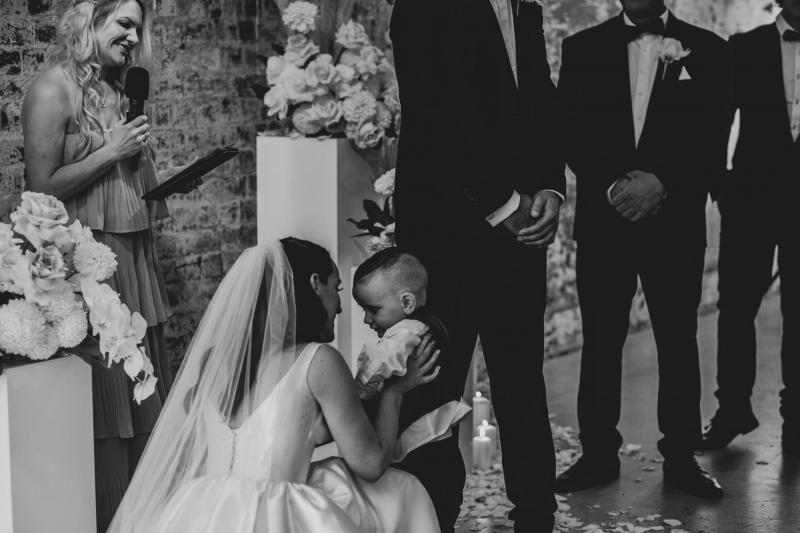 All the styling details
Sam Burnell Floral Design added soft coral and pink floral arrangements atop white pillars to form an altar and complement the raw brick wall to liven up the blank space. Similar flowers were added to their wedding cake by The Bake Space.
Minimalism was the key to achieving this stunning wedding look with an added touch of warmth by adding pops of colour.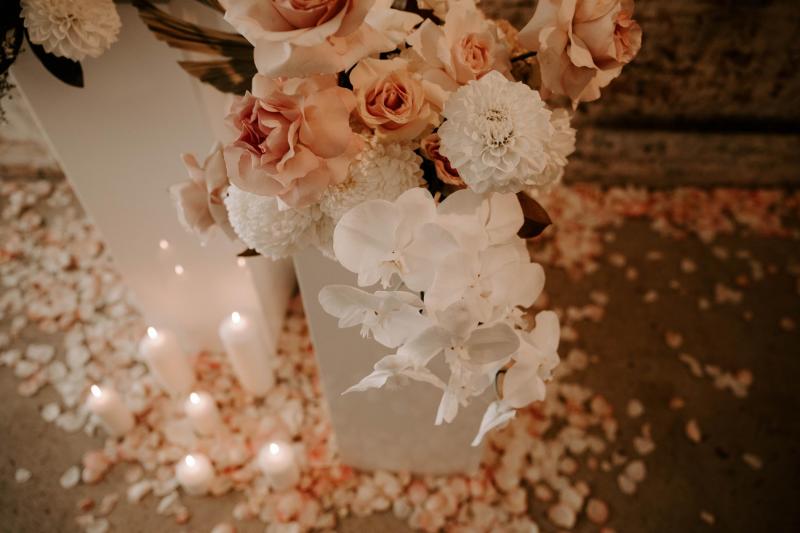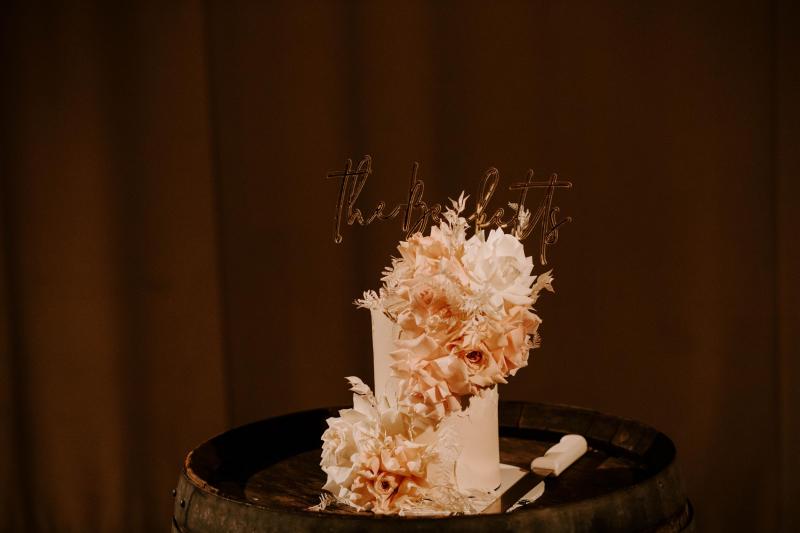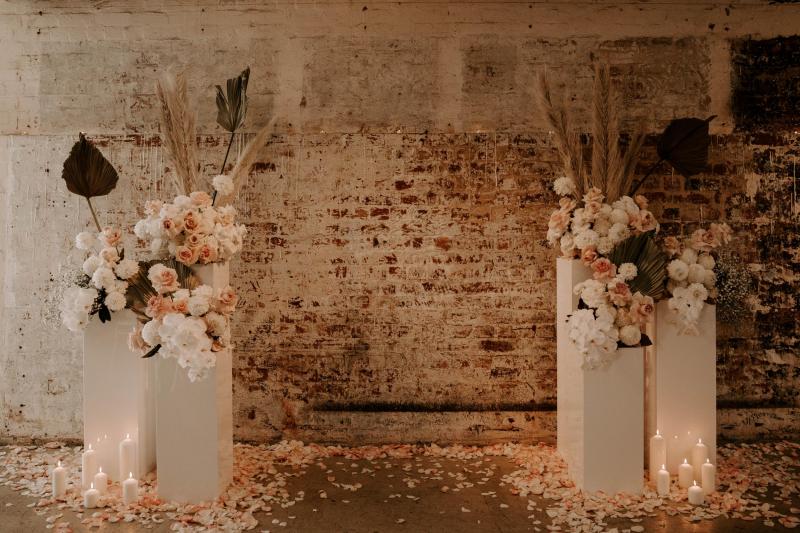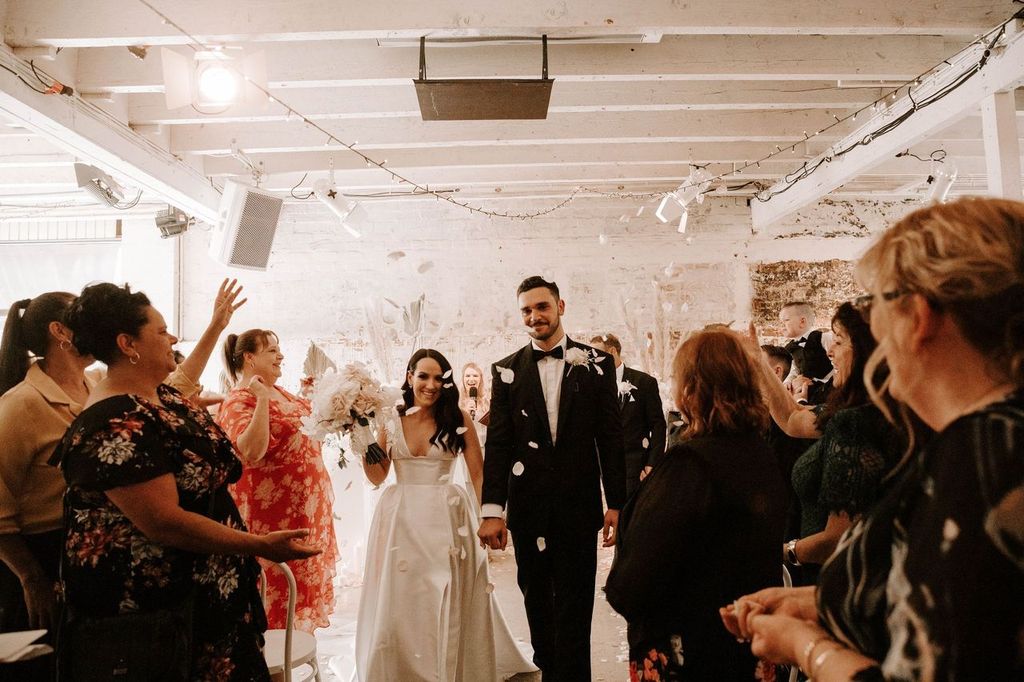 Highlight of the day
As luck would have it, their nuptials went off without a hitch. 
"Only two weeks before our wedding day, we had borders reopened which meant Lain's family could travel from Sydney to attend. We [also] had all restrictions of dancing and drinking sitting down lifted. We had numbers increased so all our guests could come and thankfully [we] didn't have to postpone. Only two weeks later, Adelaide went back into another lockdown and let's just say we felt so incredibly lucky our day fell in between those."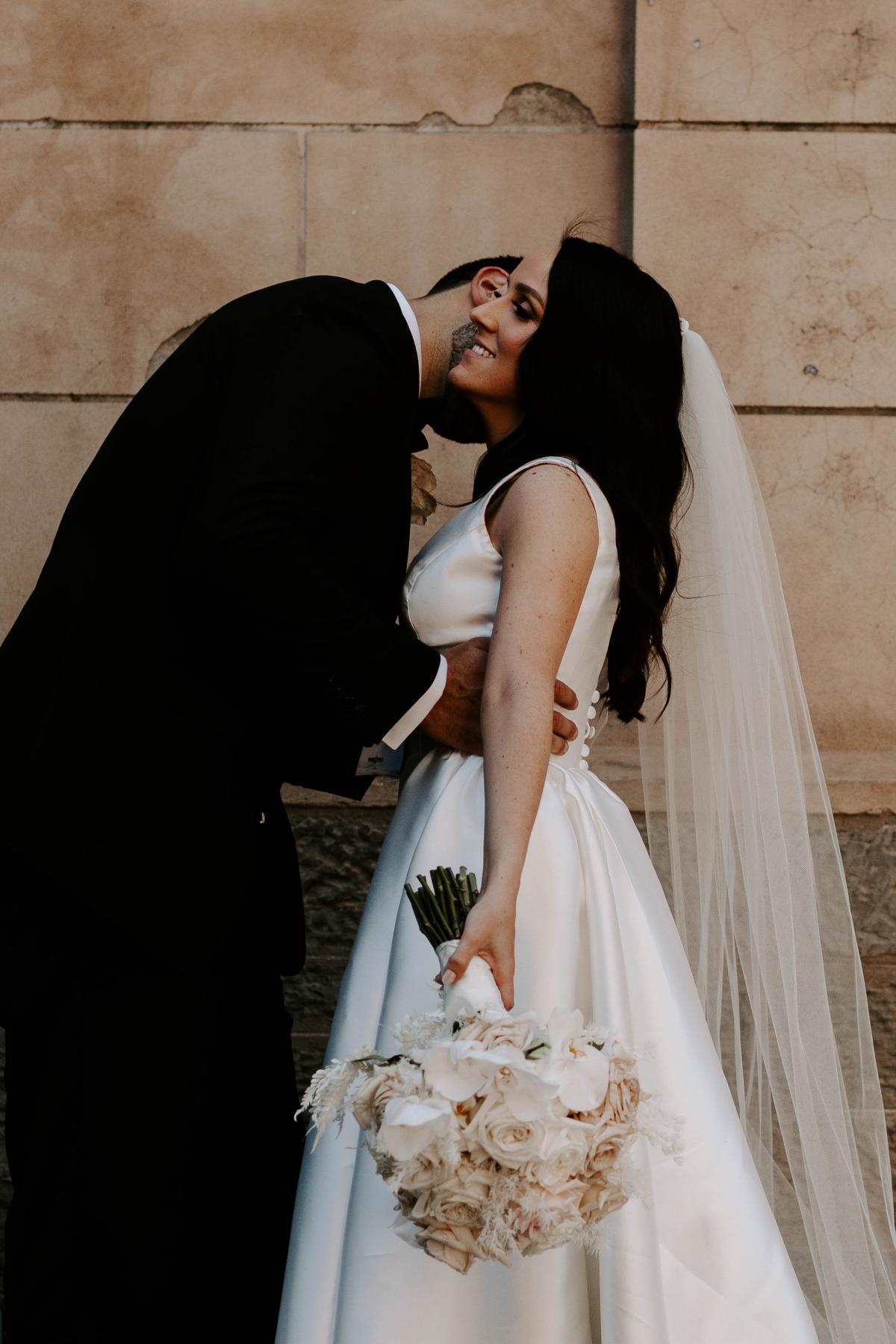 The Dress
Shenea stunned in the effortlessly chic twill Taryn Camille gown from the BESPOKE collection, which features a super fitted U-shaped bodice with ribbing and full a-line skirt. 
Shenea had seen the dress on Instagram but thought that surely it wouldn't suit her. She had been to a few other salons before arriving at the Adelaide Bridal Collective to see a few more white dresses. 
"Before we left, my sister made me try [Taryn Camille] on…and it was just the dress for me! I loved the split in the dress and the tight waist giving it that dramatic but classic look that won't date."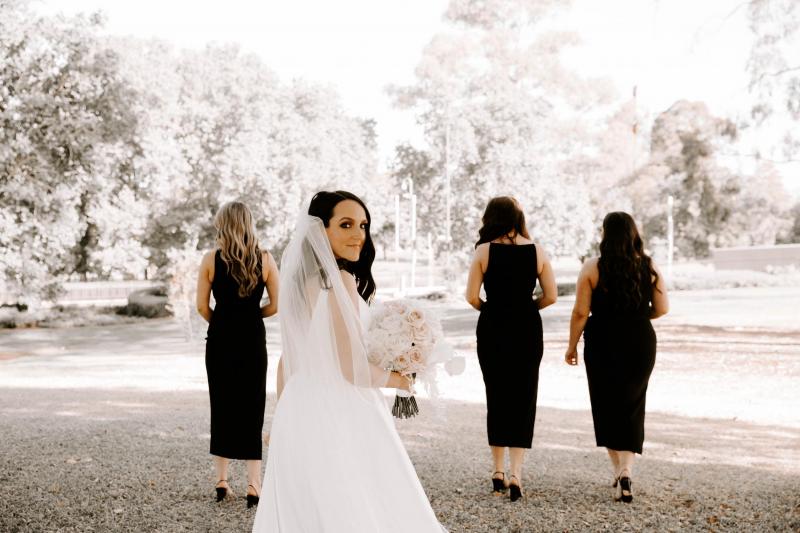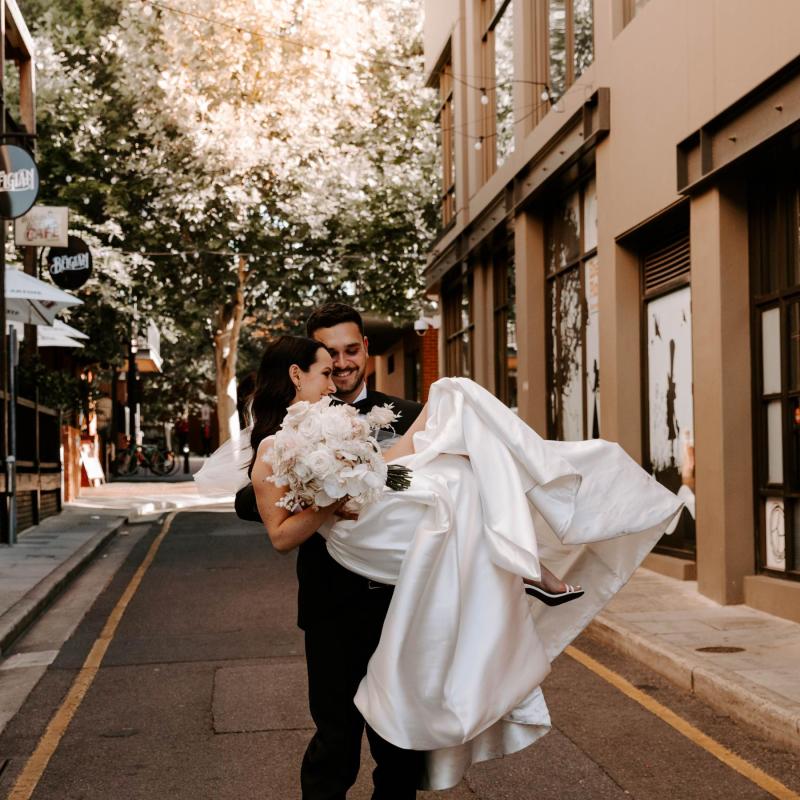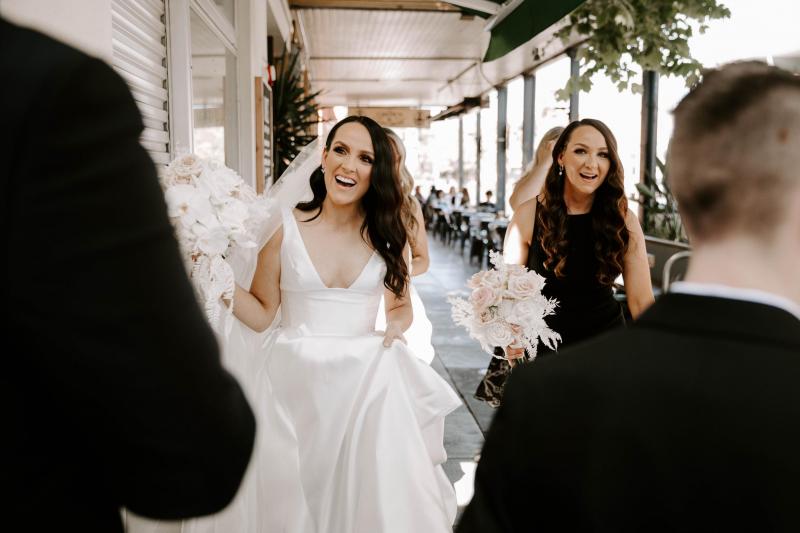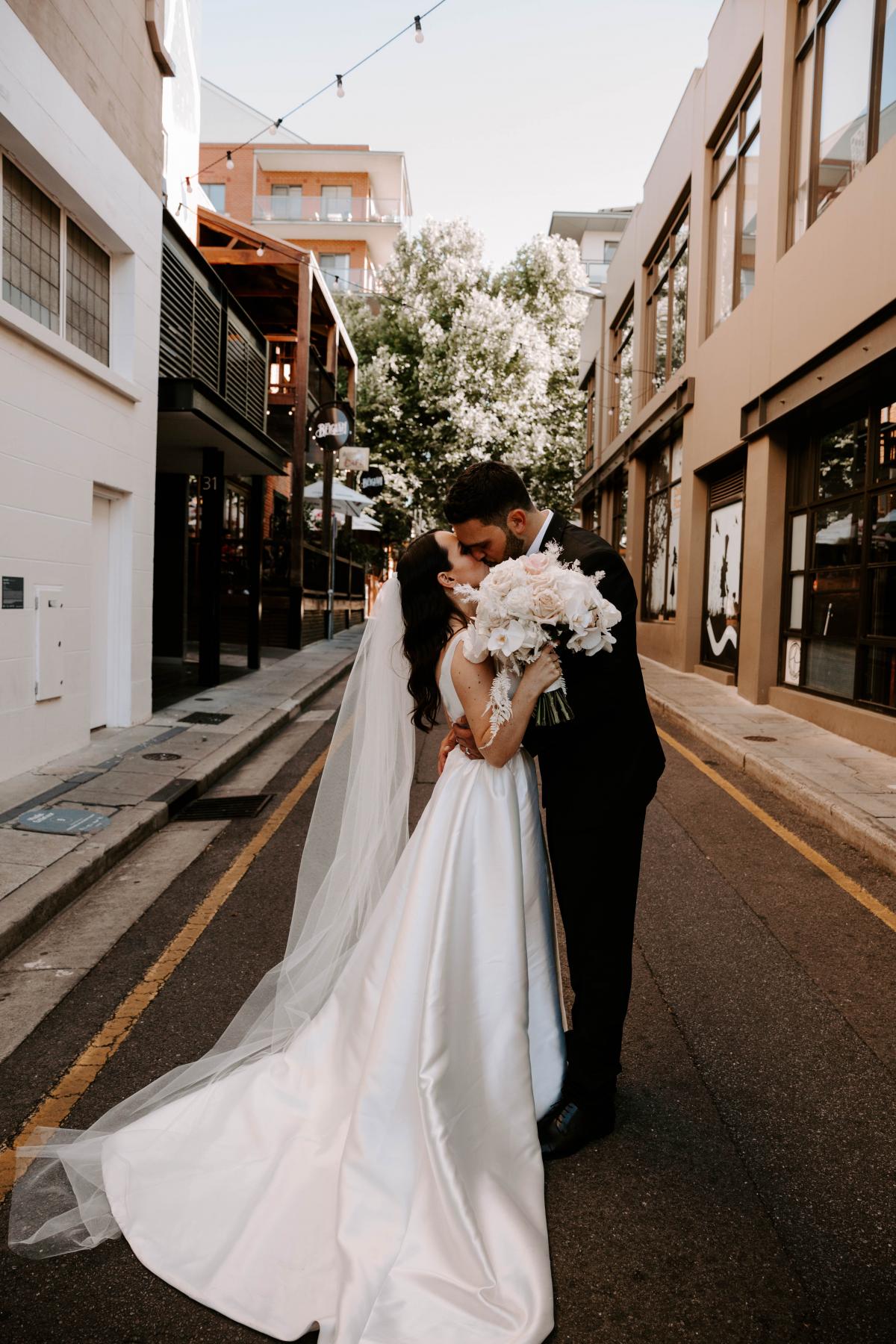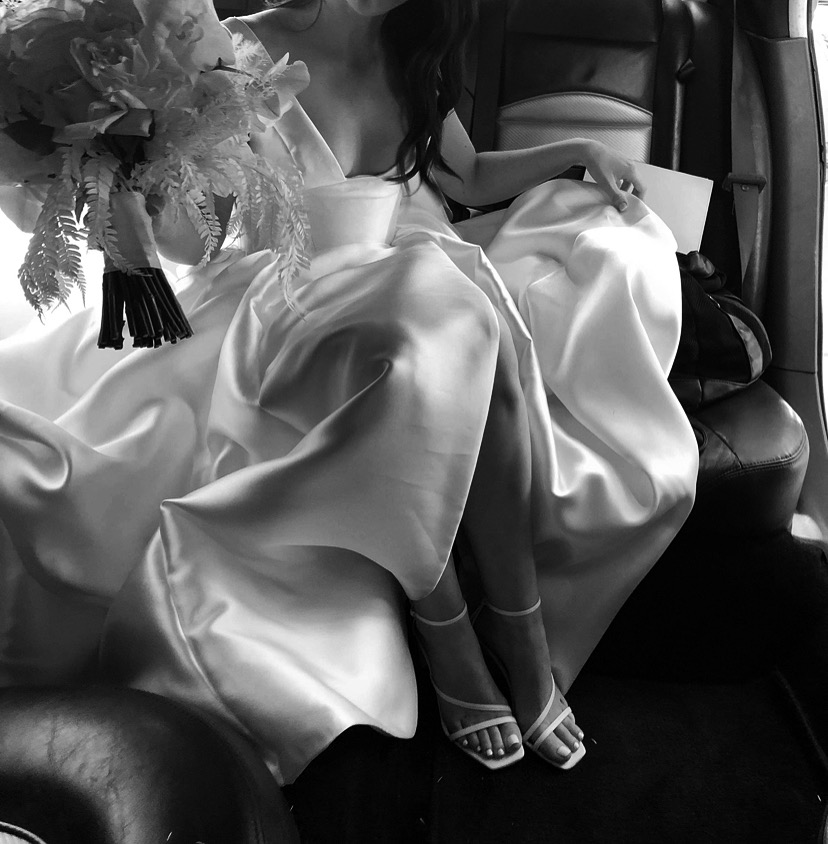 Advice
"Do not rule out a style; it might be the one for you!"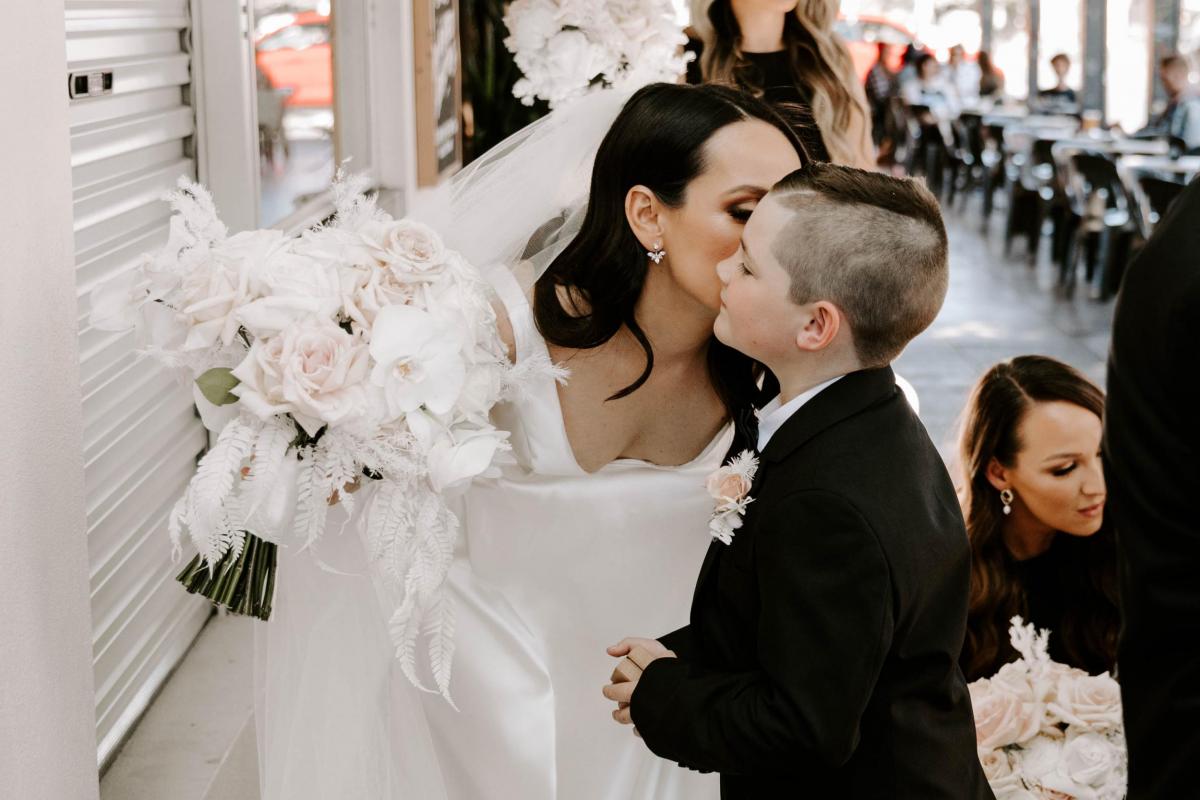 What does love mean to you?
"Love to me is having a best friend to go through life with. Someone to have fun with, someone who supports and respects you, who shows you unconditional love and I'm so lucky to have found that in my husband."
Doesn't that have a nice ring to it!