Maddi & Kurtley's Elegant Sydney Wedding as Featured in Vogue

Maddi and Kurtley met at the breathtaking Bondi Icebergs in 2013, at a 'Waterpolo by the Sea' event. Maddi remembers locking eyes with Kurtley and falling in love with his infectious smile.
Bondi Icebergs quickly became their go-to place over the span of their 6-year relationship!
Maddi wore the non-traditional Daisy gown, a fun and ever so unique wedding dress for a true romantic, from the WILD HEARTS Collection.
This gorgeous couple was recently featured in the print issue of Vogue Bride.
On the proposal
It was a beautiful surprise to Maddi when Kurtley decided to propose at their go-to spot, Bondi Icebergs, as it was full of nostalgia and sentiment… however, Kurtley didn't stop there!
"He was actually so romantic he proposed 3 times! Family is everything to us, so the first proposal was at the Beale Family Christmas lunch in 2019. He then replicated the proposal on Christmas Day in Perth with my family. I was not expecting the third proposal so it was a big surprise when Kurtley got on his knee after a beautiful lunch at Icebergs and proposed with the ring! This made the engagement official. He couldn't have made me happier!"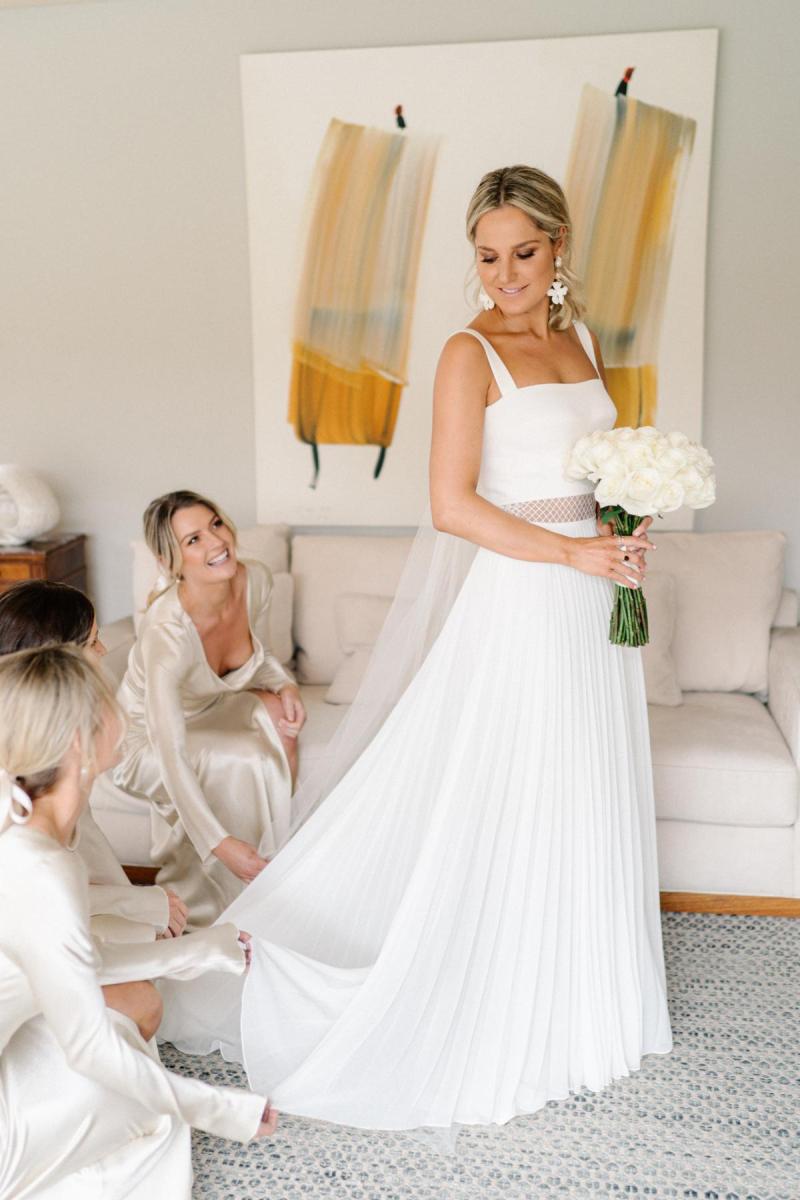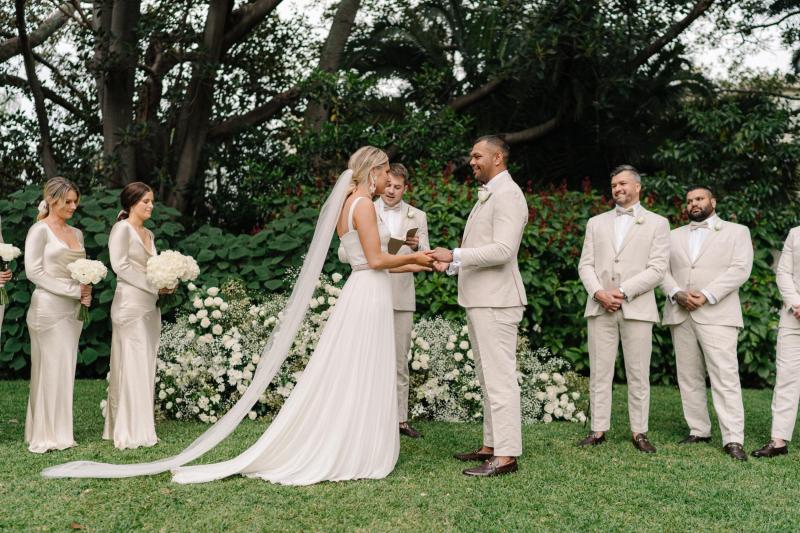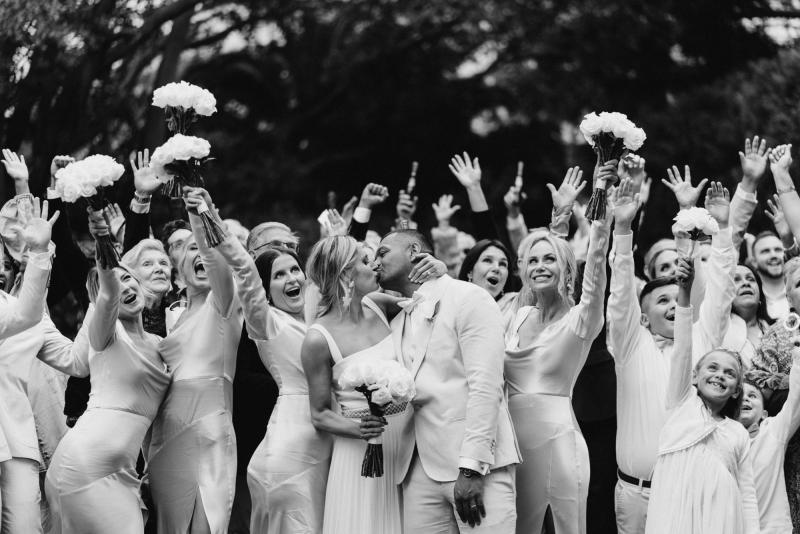 On the venue
The couple wed at the incredible Swifts House, in Darling Point, which is a grand, gothic house with phenomenal gardens and surroundings.
As Maddi and Kurtley had always wanted an Indigenous Ceremony set in an outdoor garden wedding, Swifts House was just right.
"Kurtley and I felt like Royalty getting our photos taken in the beautiful gardens and the traditional regal inside of the mansion. It was magic."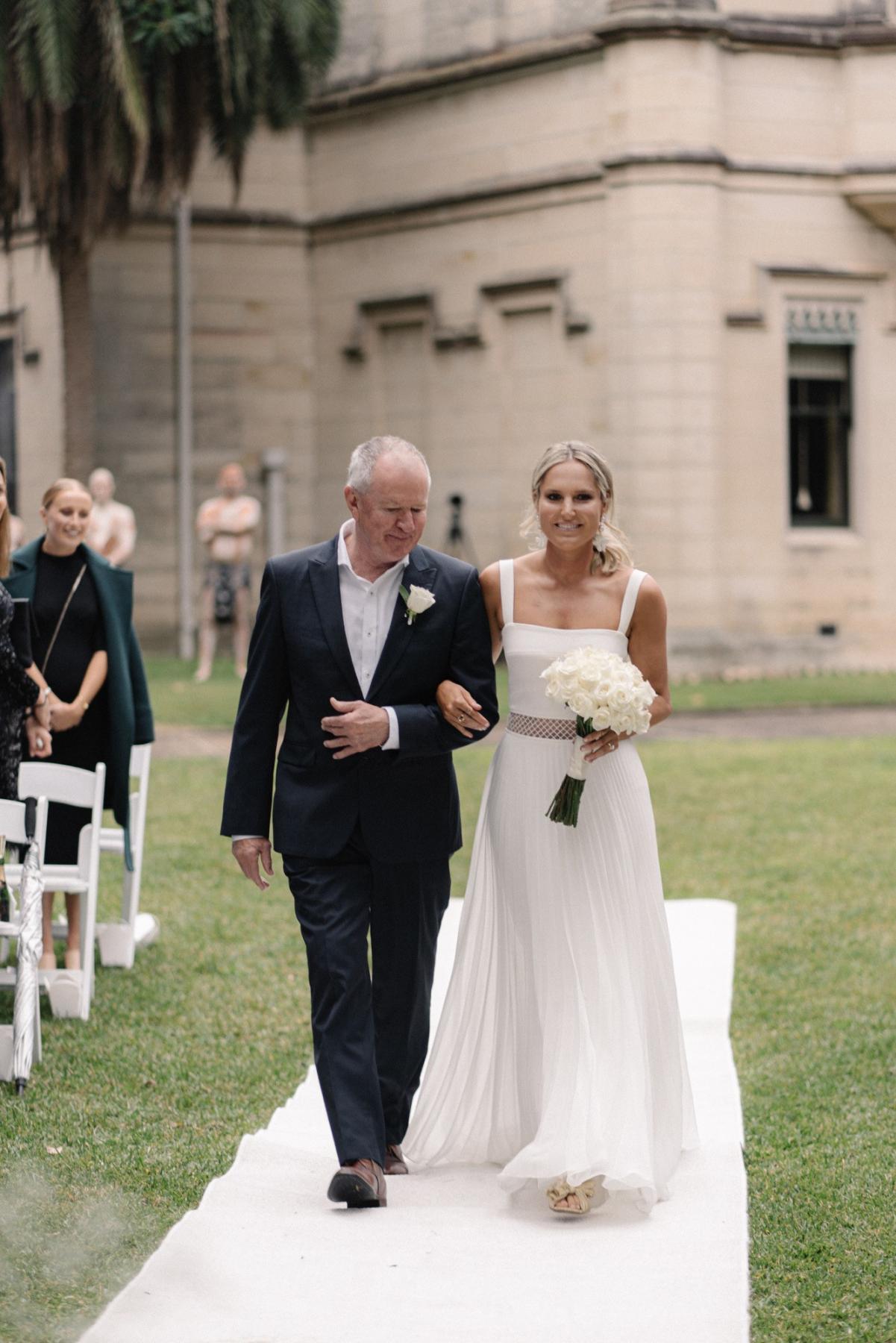 All the styling details
Maddi and Kurtley agreed upon a minimalistic glam theme, sticking mainly to shades of Winter whites and sand. They incorporated a touch of gold to highlight the bridal party, florals, cars, invitations, venue exterior, and of course, the Moet and Chandon gold goblets.
The overall style of the wedding was quite simple, but the smaller details were what made it amazing, such as the ceremony being beautifully set in front of a wall of white flowers.
"Another prominent element was the Indigenous theme with Kurtley being a proud Aboriginal man. We had an Indigenous smoking ceremony, dancers, didgeridoo and Welcome to Country, with the indigenous flag flying atop Swifts House. The overall style was quite simple, but the smaller details were amazing."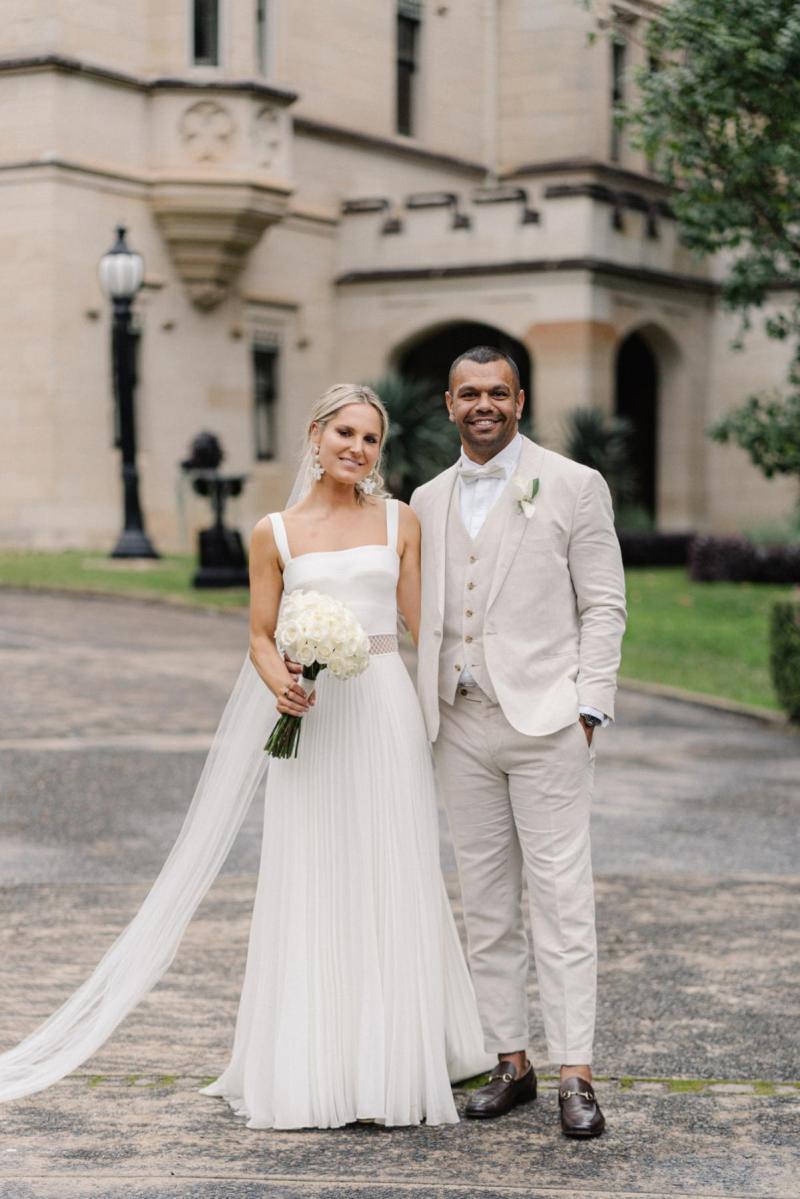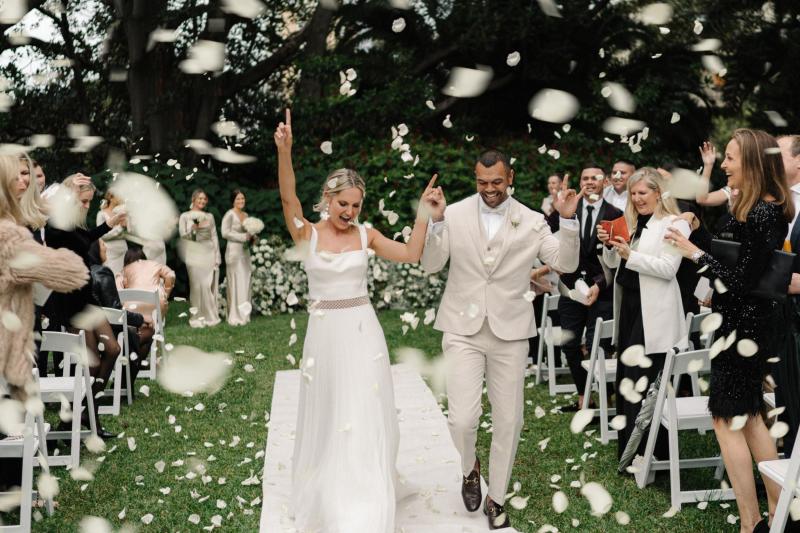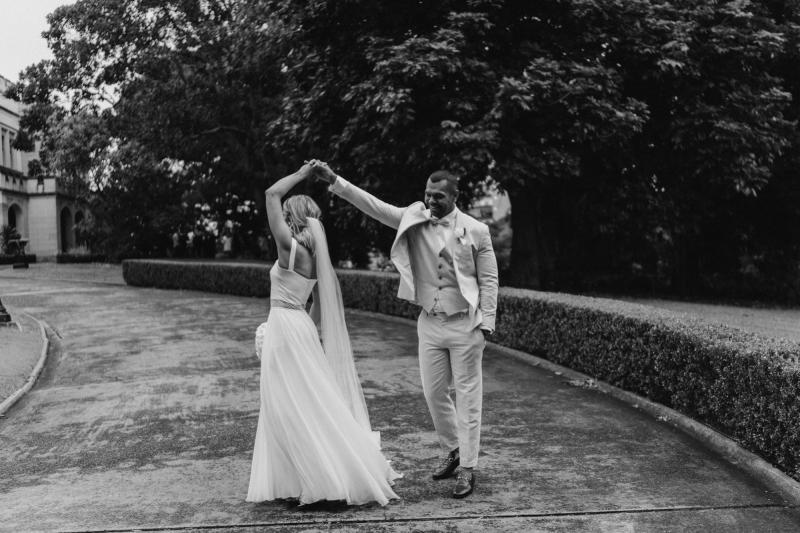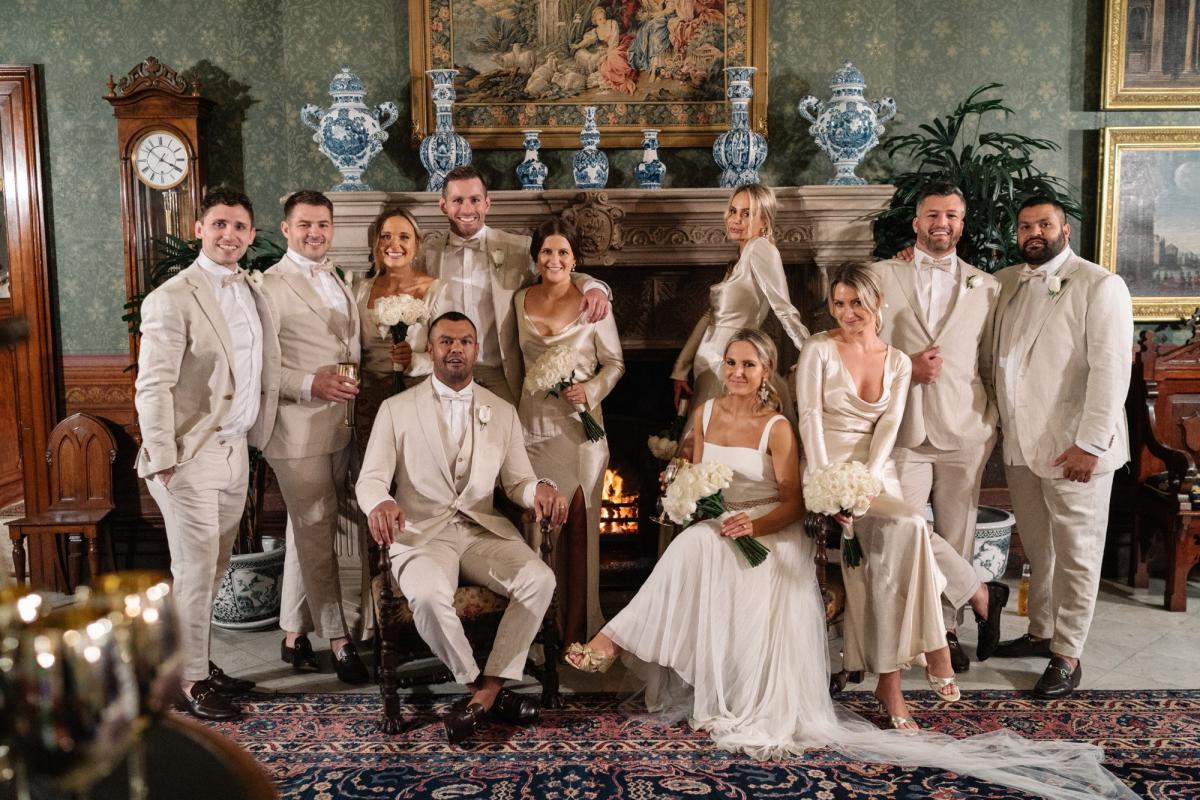 The Dress
Maddi came across KAREN WILLIS HOLMES on Instagram and loved our "modern bridal vibe".
After a visit to our Sydney boutique, Maddi fell in love with our Daisy gown, from the WILD HEARTS collection.
The waist of this gown has a feature sheer lattice panel and the skirt – a romantic, full sunray pleat, is perfect for movement on your wedding day.
'Daisy' was the first gown I saw and tried on. I loved it! And it was so me – modern, free-spirited, non-conventional, minimal, but so chic! I also found out that I would be the first real bride to wear Daisy which I loved.

The Daisy dress also has a relaxed and luxe vibe… I changed into white/gold sneakers and a headband for the wedding dinner. No need for a dress change when you've got the Daisy!"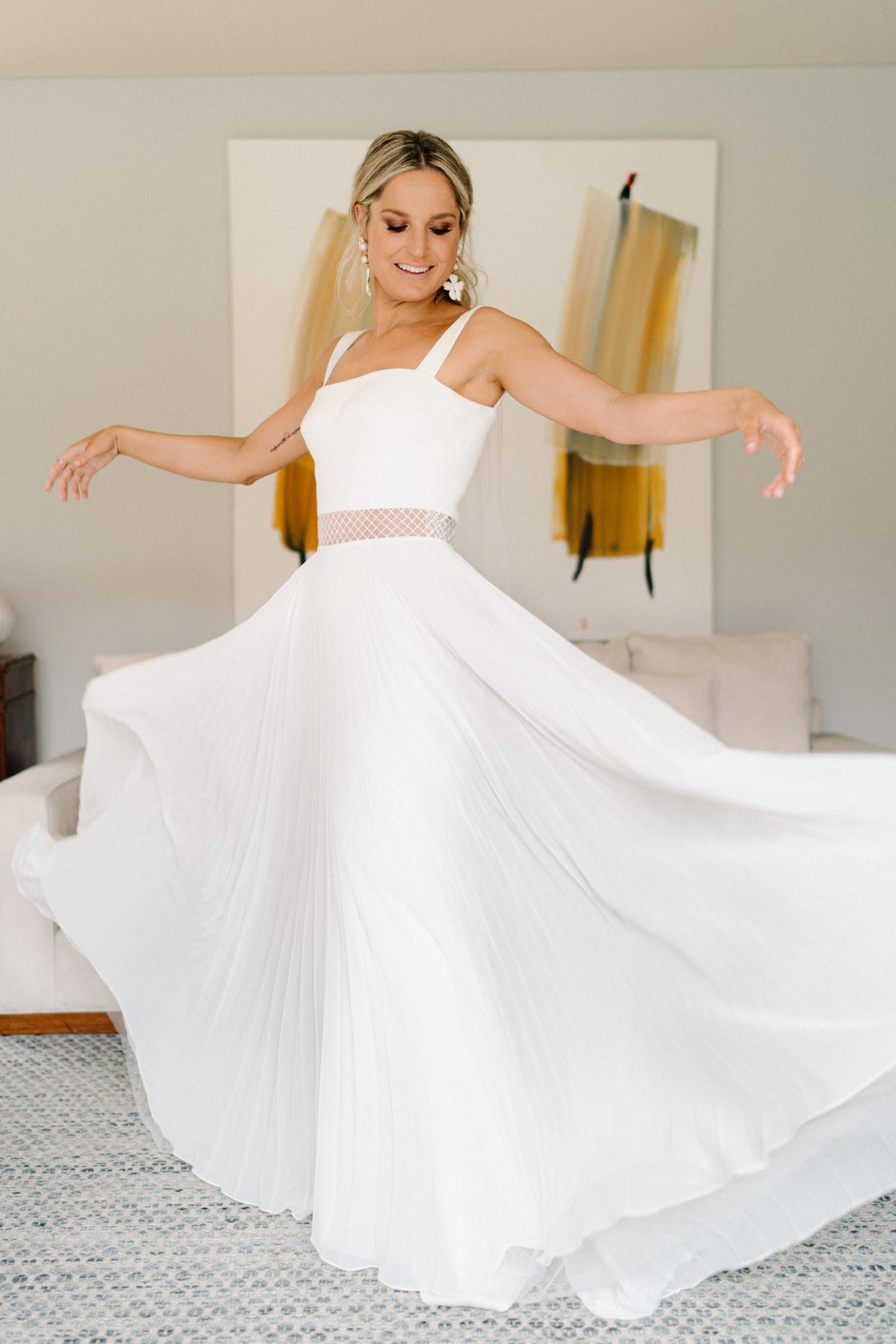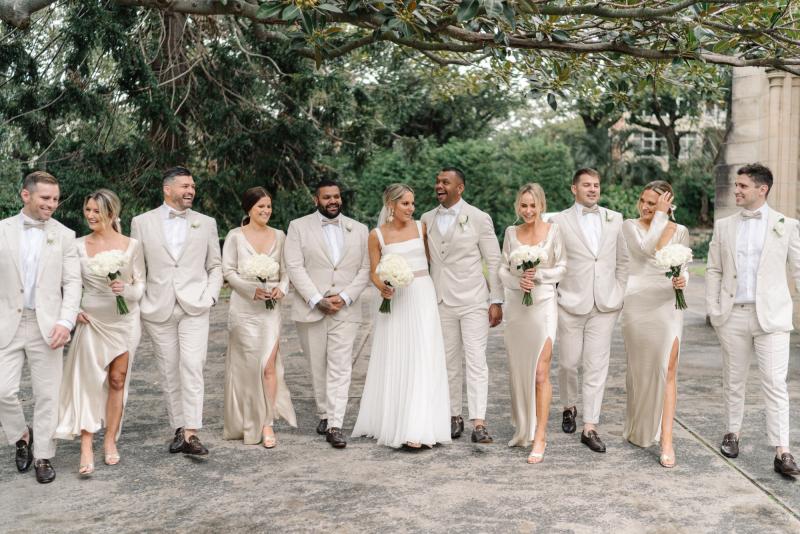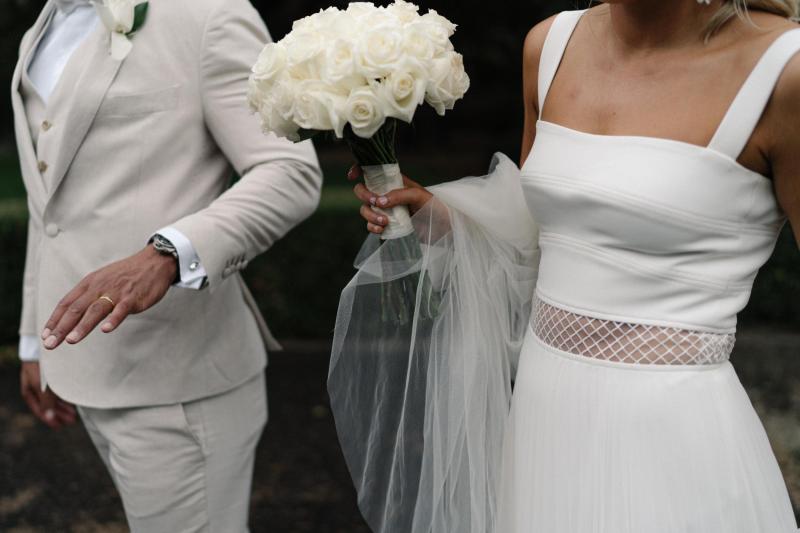 Accessorising
"I wanted the Daisy dress to be the statement, and complimented her with a few pieces for the ceremony, including white bold earrings, chic gold heels, and a KWH long veil to have an element of tradition."
The veil Maddi chose to wear was our Camila Veil, a long time favourite amongst KWH brides.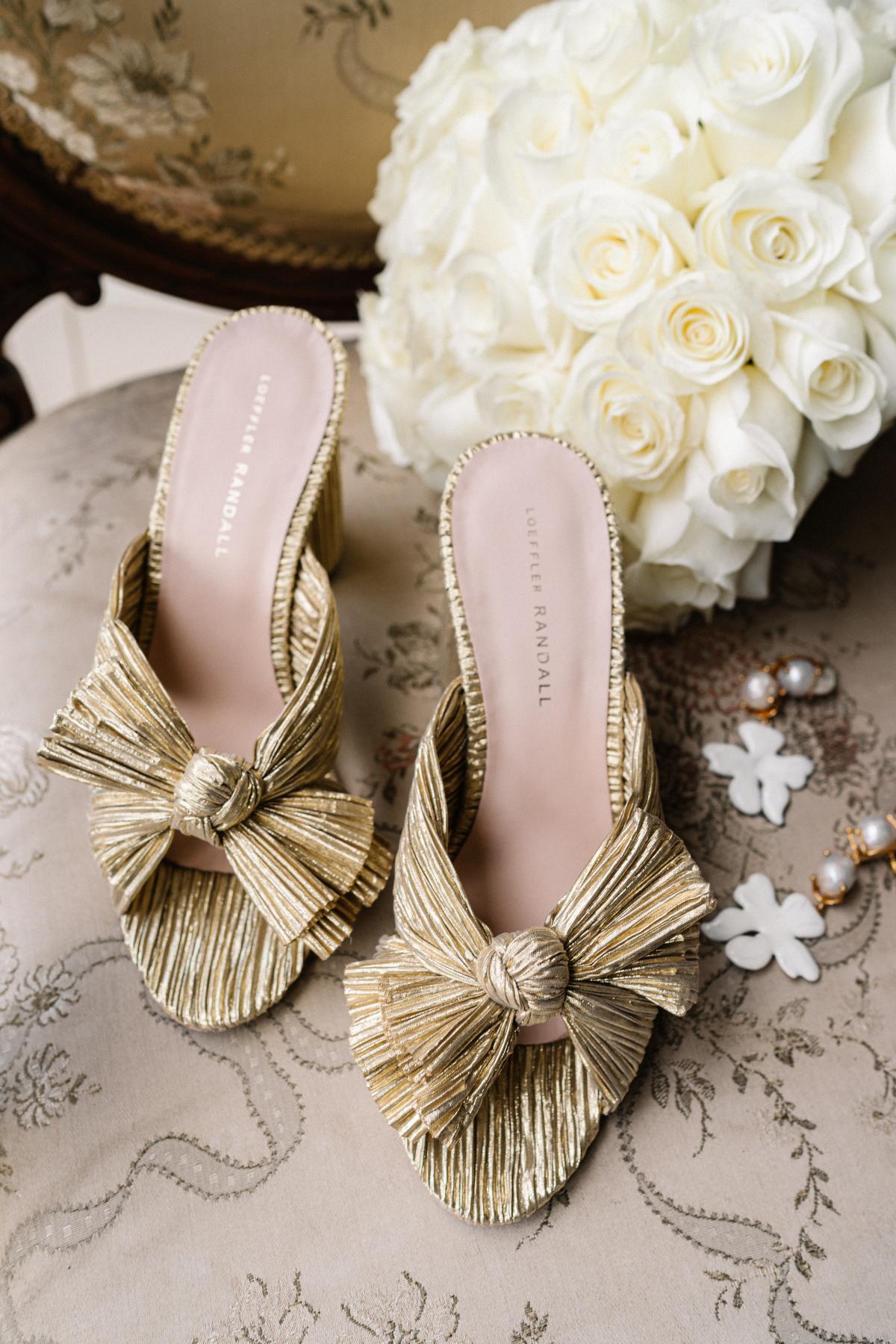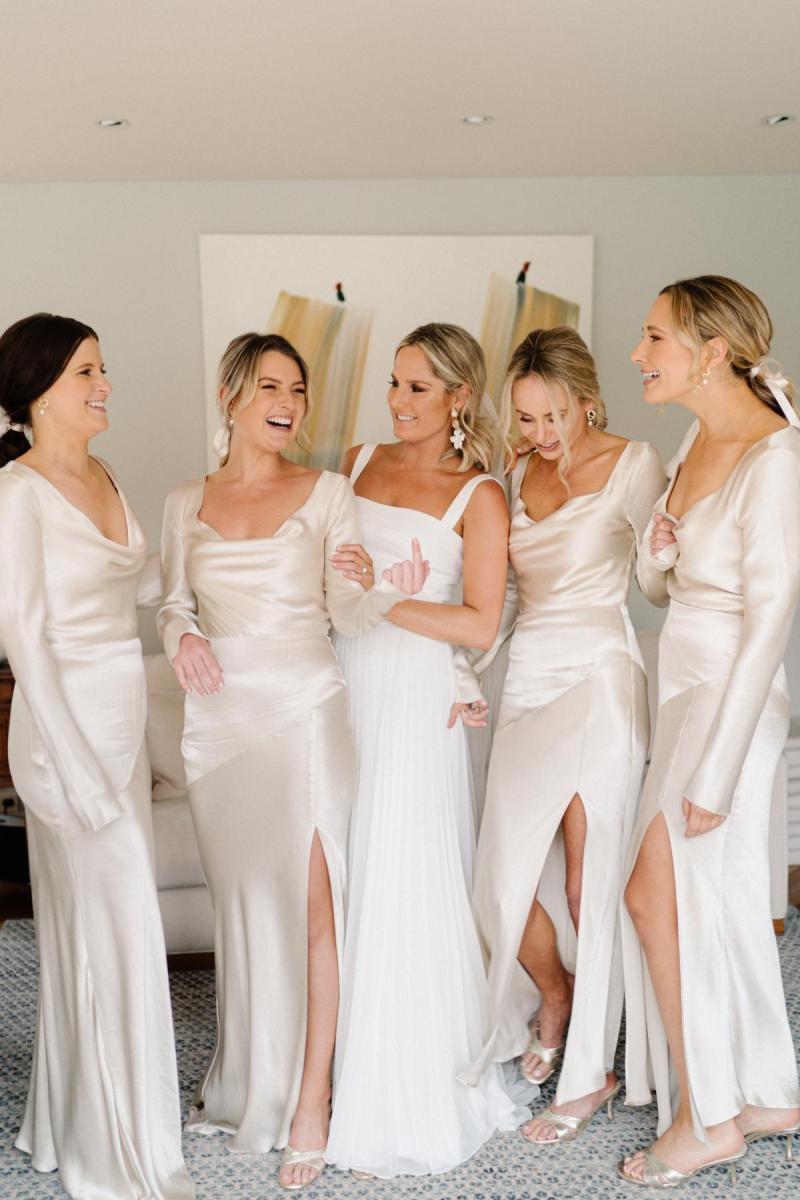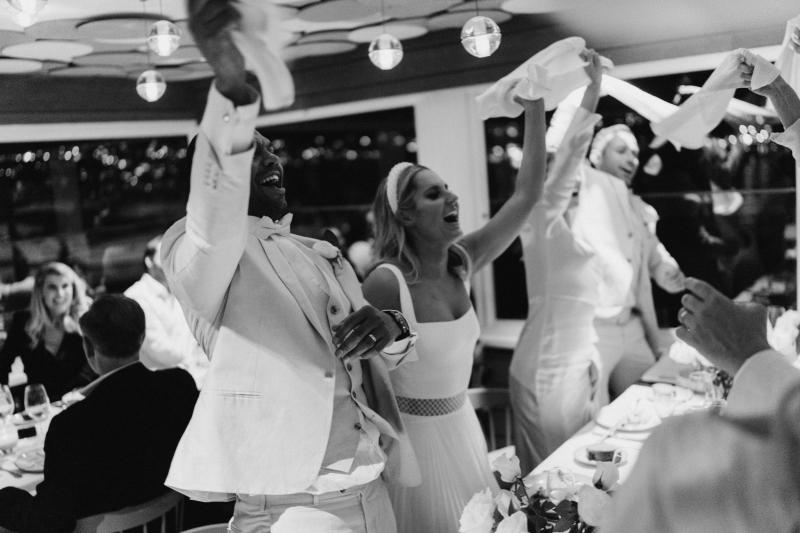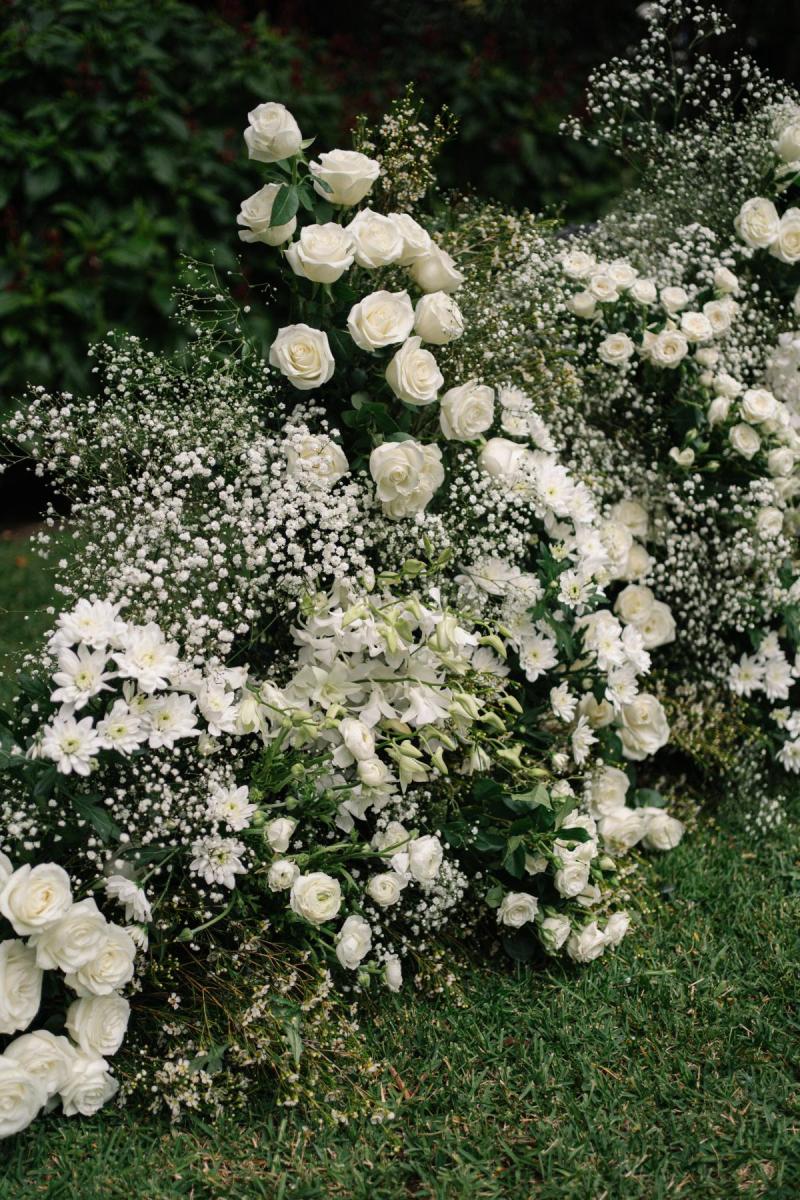 Gown hunting tips
Maddi's advice on searching for wedding gowns…
"It is important to have a general idea of the style you like. I did some research online and on Instagram to get a feel for what I like.

When trying the dresses I'd definitely say go with your gut and not be too influenced by others' opinions or fashion trends.

Go with something that reflects you as a person, and don't try and be too different."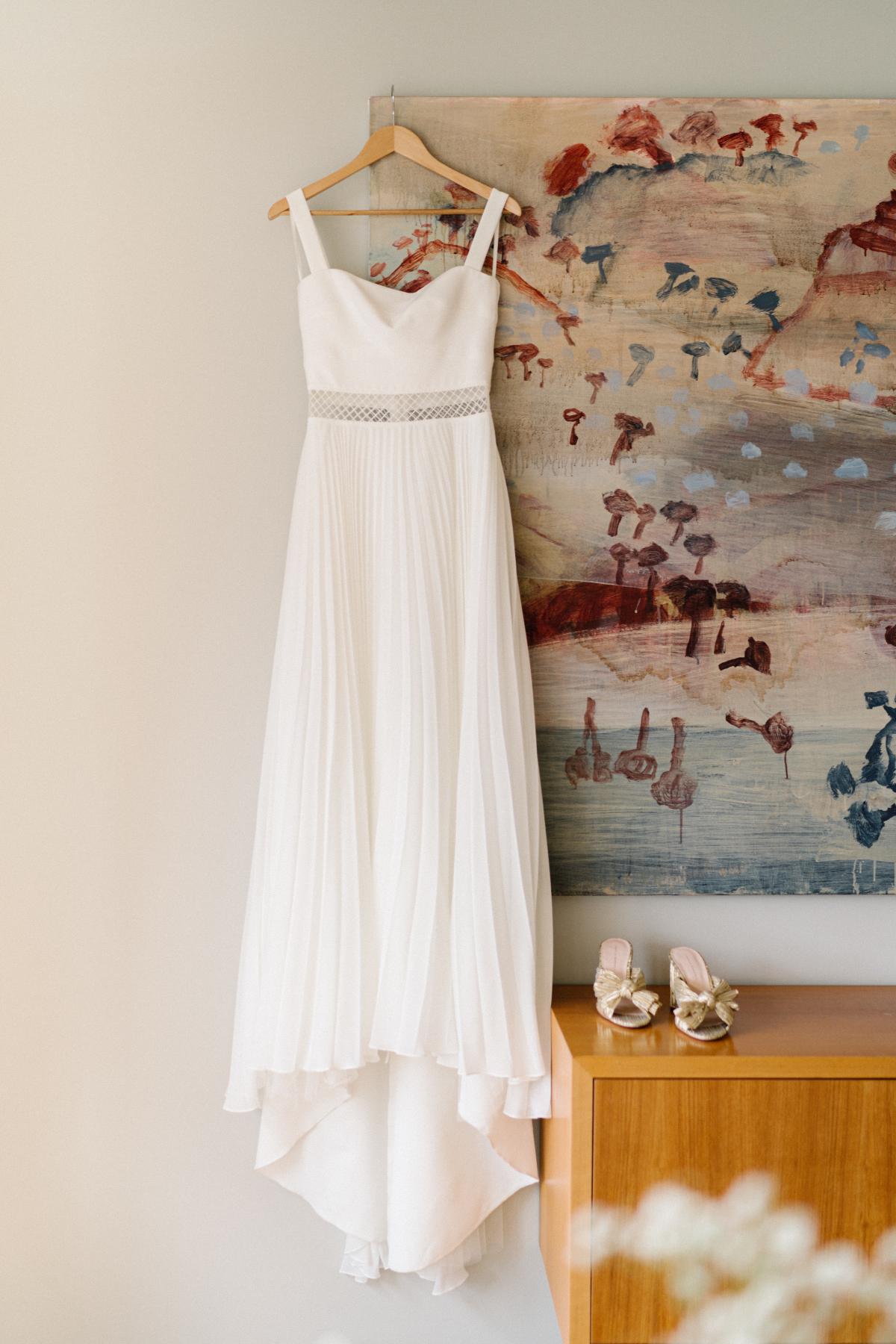 What does love mean to you?
"To me, love is showing unconditional care and support for someone. Love is the best feeling – you feel confident, secure, and radiant."