Josey & Brad's Fantastical Brisbane Wedding

June 12th, 2021, a day of sheer excitement, the blending of two souls, where life that day slowed down while also exploding with colour and joy as Josey and Brad wed. Their wedding was unlike any before it with punchy, peachy hues and 7o's inspired architecture that became a feast for the eyes.
Not only was their venue a place to behold, Josey herself became iconic in her Taryn Camille gown from our BESPOKE collection paired with unique accessories, making her bridal style a masterpiece.
On the proposal
Ah Paris (reads in a french accent)! The city of romance where love birds make their adoration known to the world in front of the dazzling lights of the Effiel tower.
After connecting through mutual friends at Alfred and Constance, Josey and Brad found where their hearts belonged, with each other. Only 18 short months later they rendezvoused in the city of love at a beautifully quaint Airbnb for a week filled with lifelong memories. To make a special moment even more significant, Brad proposed to Josey with a friendship band that was truly priceless and incredibly personal. After his mother's passing, Brad stored away this singular, beautiful ring for years to come until he knew the time was right. With Josey, he knew his heart was home, so there in little ol' Paris, the two became engaged.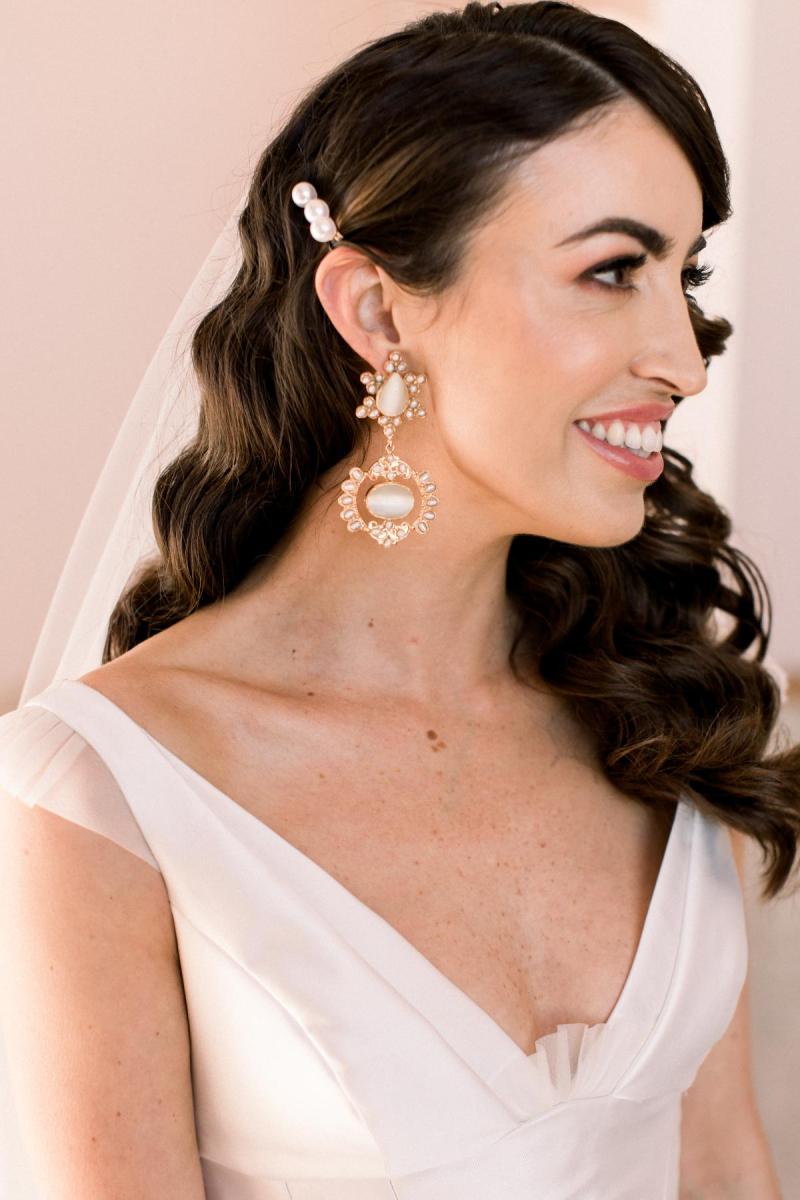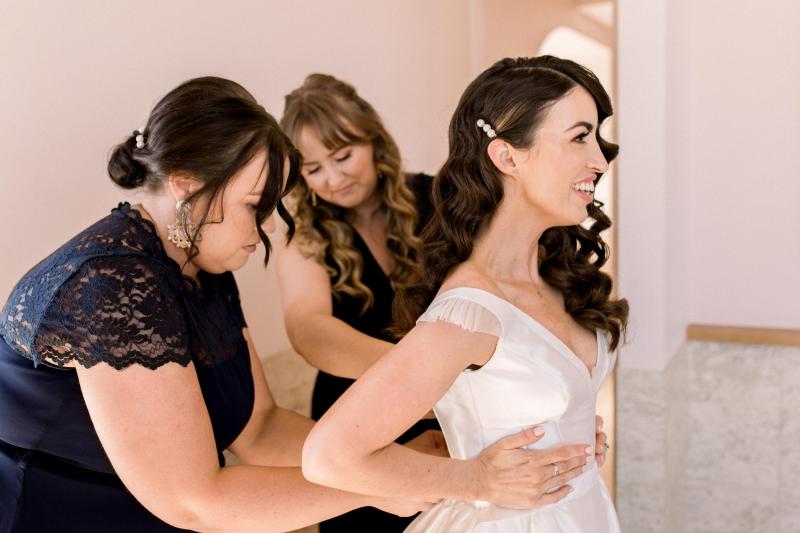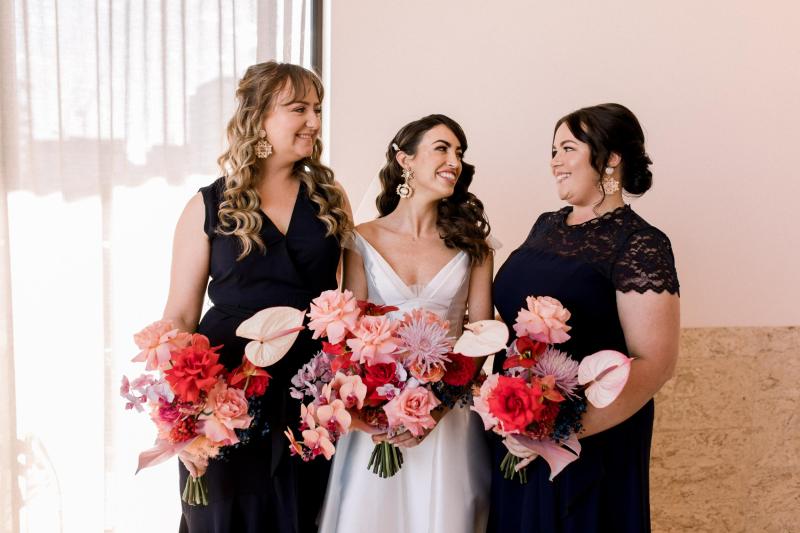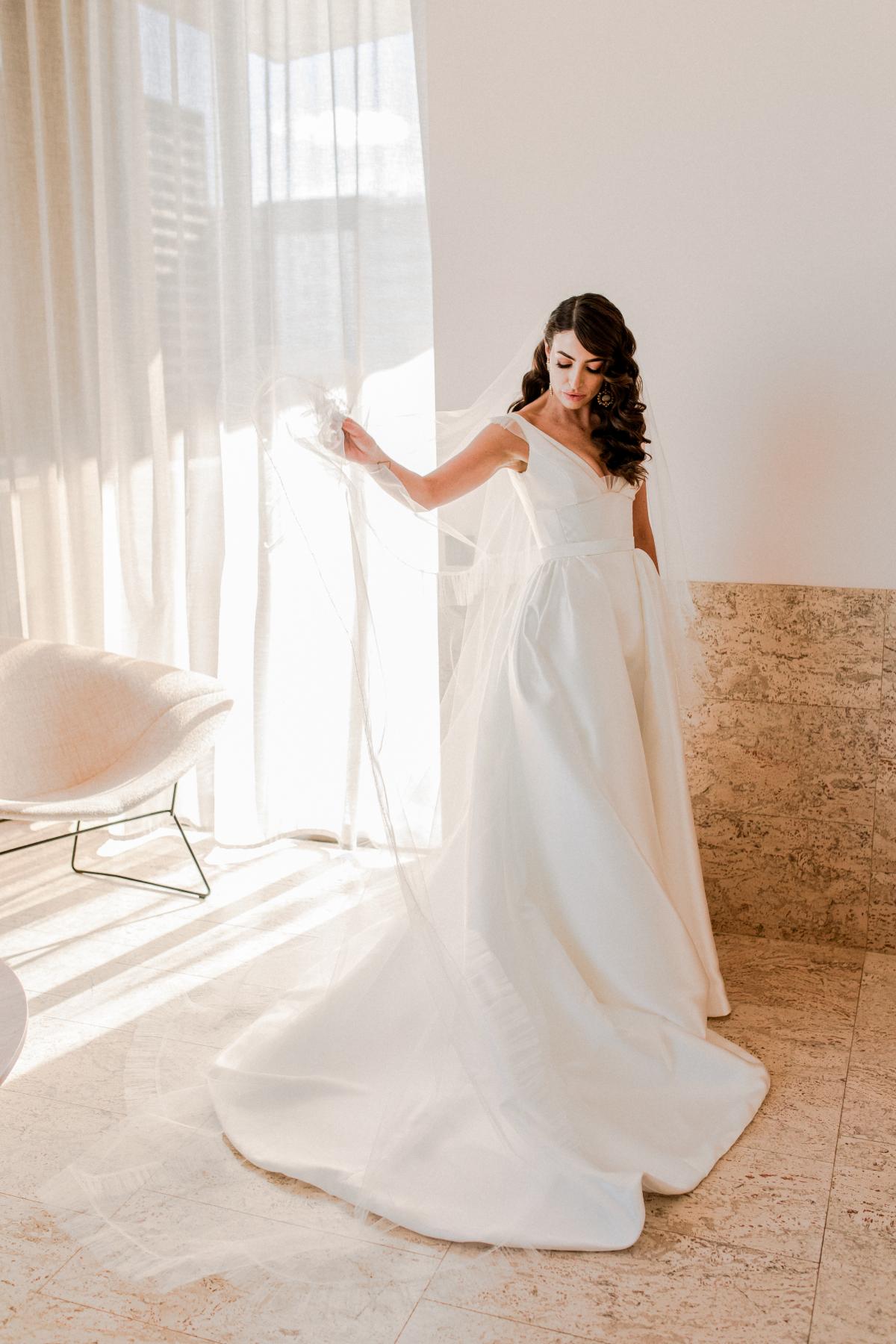 On the venue
Although love can often be moody, Josey knew she wanted her wedding to be "bright and light!" Venue after venue seemed to disappoint with their warehouse vibes and low lit ambience until they toured The Calile Hotel. Set apart from the rest, The Calile Hotel offers wedding couples something extraordinary; multiple event spaces, perfectly designed suites with exclusive rooftop access, and a one-of-a-kind atmosphere created from peachy monochromatic palettes and unique geometry. It truly is a world of its own in Brisbane.
Josey just knew it would be the ideal place to marry the love of her life in the most exuberant, colourful way.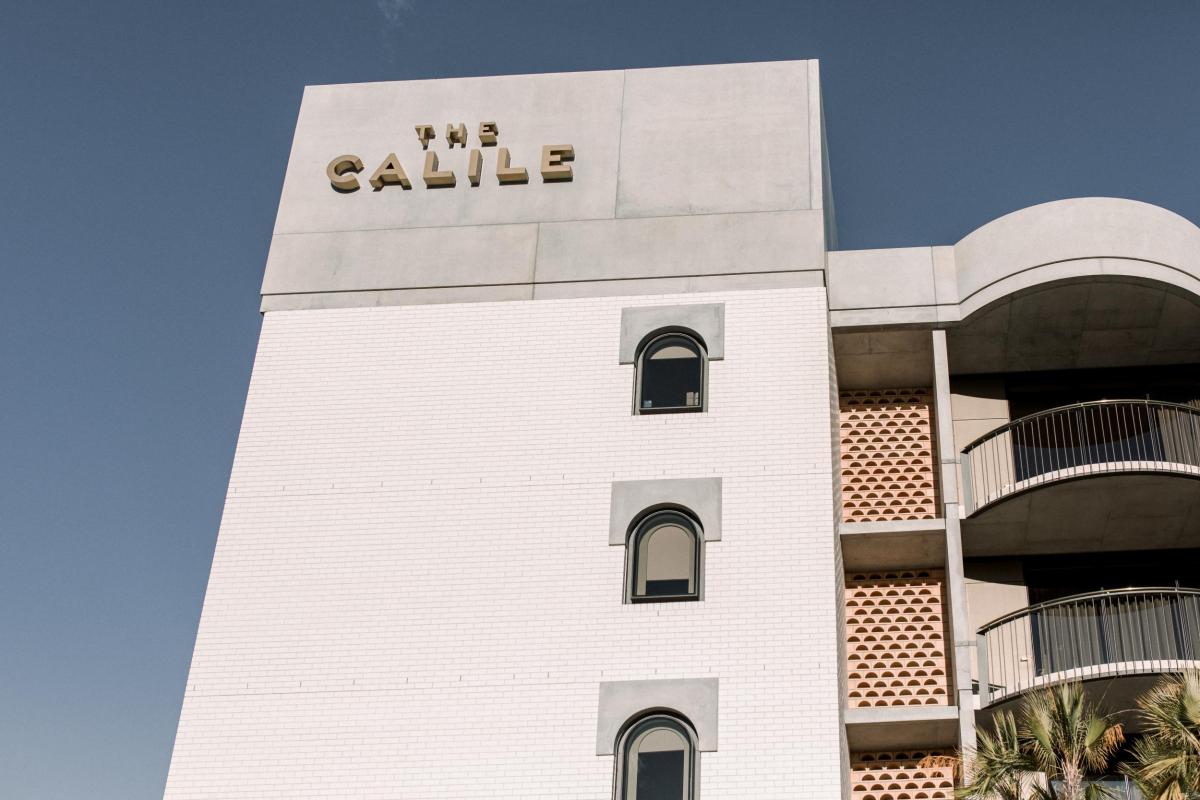 All the styling details
Like a true wedding designer, Josey went to town creating mood boards for her wedding by drawing on inspiration from many aspects of her life. This couldn't be an ordinary wedding; it had to be unique and flavourful.
Her first bit of influence came from a memory of their early days of dating. Brad had bold red, and blue rugs draped across his floors with vibrant decor strewn throughout his house. At the same time, Kate Dawes Flower Design Instagram caught Josey's attention for her playful explosion of colour in her wedding bouquets by contrasting bright and dark hues just like Josey's engagement ring, which features deep sapphire and gold. Over time, she threw all these ideas onto a Pinterest board, where her wedding style began to take shape.
To contrast the natural warm hues of The Casile, Kate Dawes Flower Design let her creativity run wild by creating bold floral arrangements, including vibrant reds, dark maroons, and pops of blue. The reception tables took on their own life with minimalist bud vases and delicate table signage. 
"The result was an assault of colour on your eyes. You're welcome."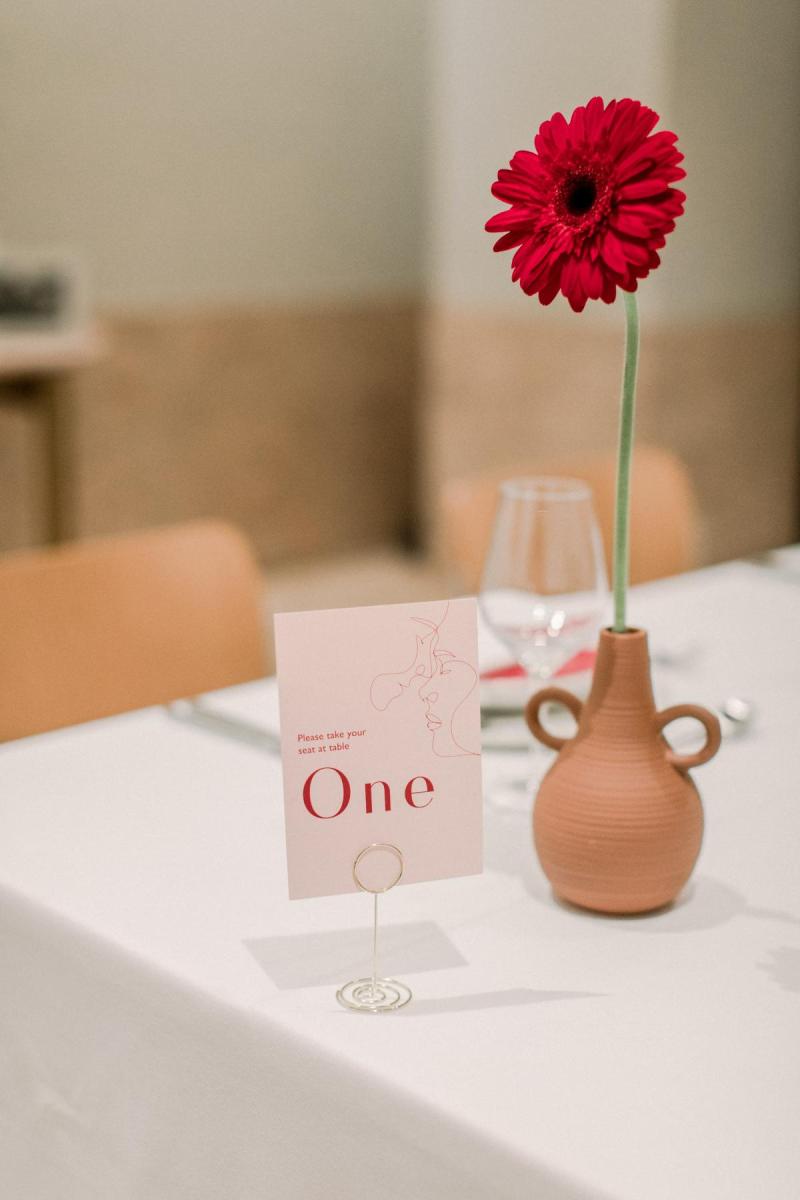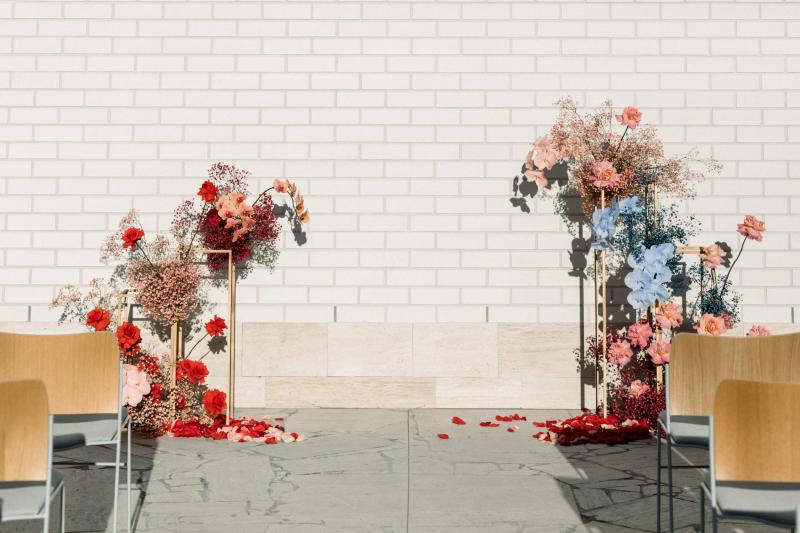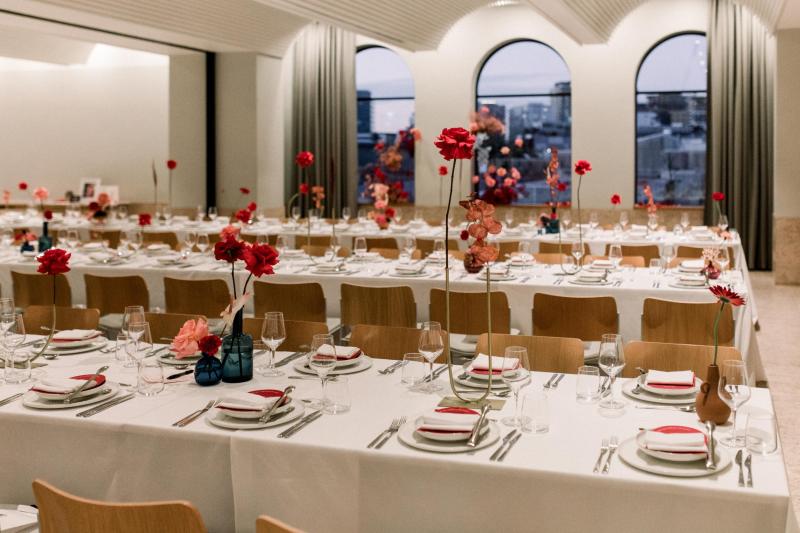 The Dress
To match the fantastical flair of her wedding, Josey knew she wanted something sophisticated and fun, but it wasn't at all what she was originally thinking.
"I thought that I wanted a figure hugging, long-sleeved crepe gown, so I came into KWH to try Aubrey and some of the Luxe options. When we were picking out gowns to try on, my bridesmaids encouraged me to try something random and different "just for fun". That's when I met Taryn Camille gown!"
However, some extra personality had to be added. Josey personalized her BESPOKE A-line wedding dress by attaching organza cap sleeves and a modesty panel. Altogether, the gown became her ideal modern wedding dress.
"I loved the full skirt, and the shoulder straps on the gown. I also loved the huge split in the skirt. As soon as I put the gown on, I couldn't stop smiling. I wanted to dance and party in it! It was so completely different to my original idea, but I knew it was the one."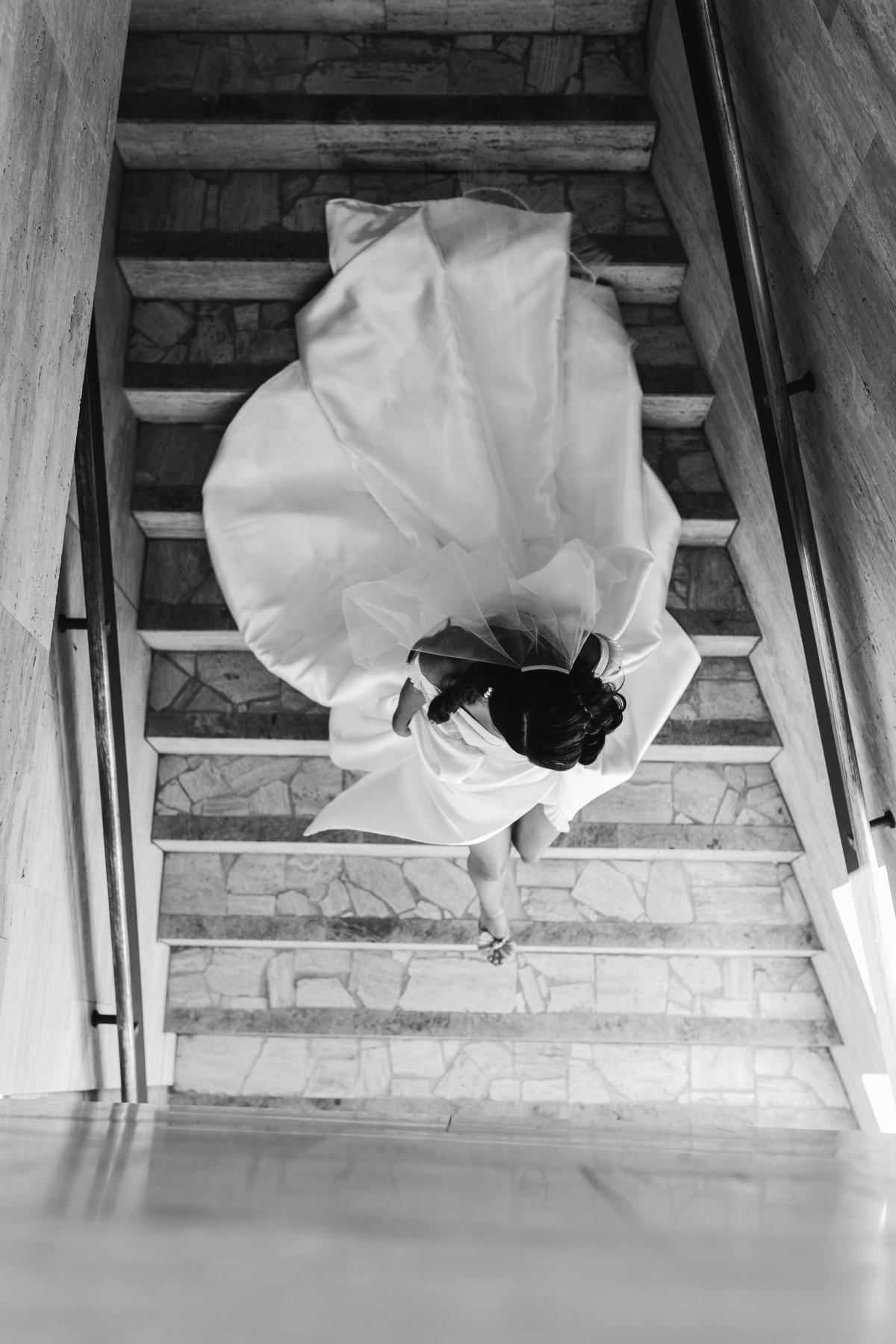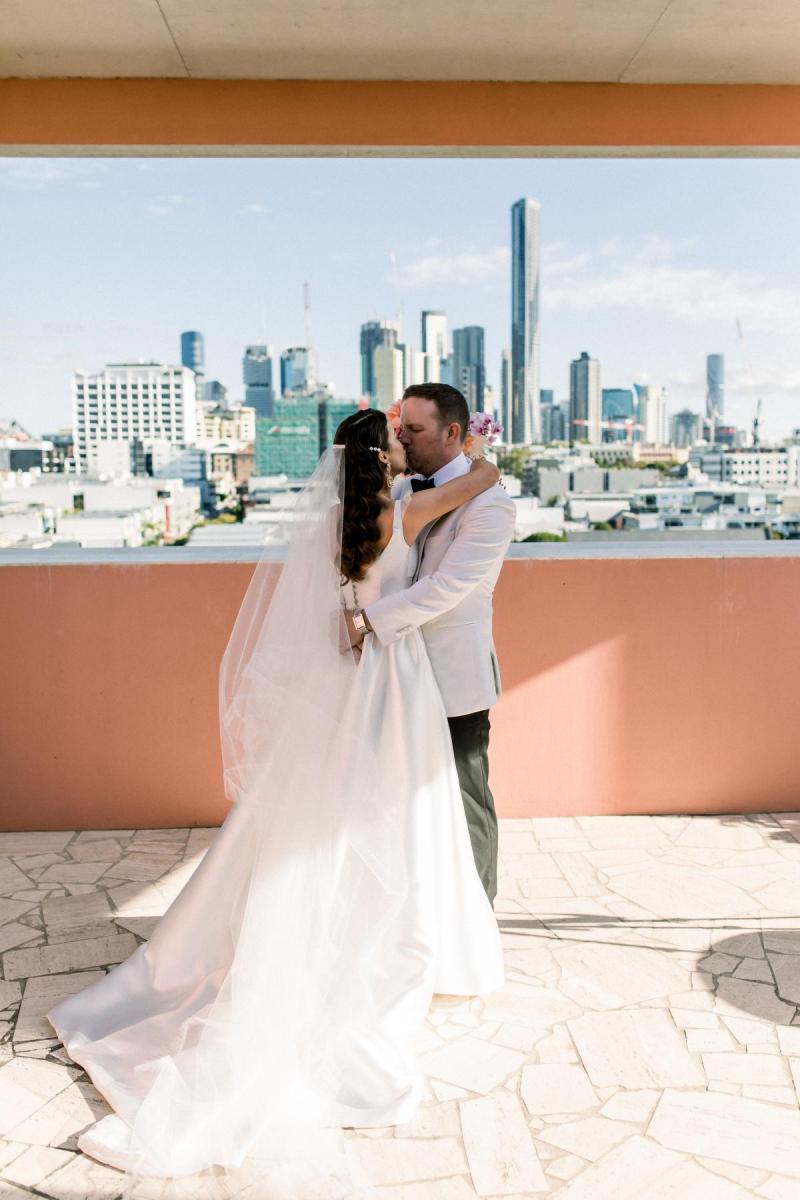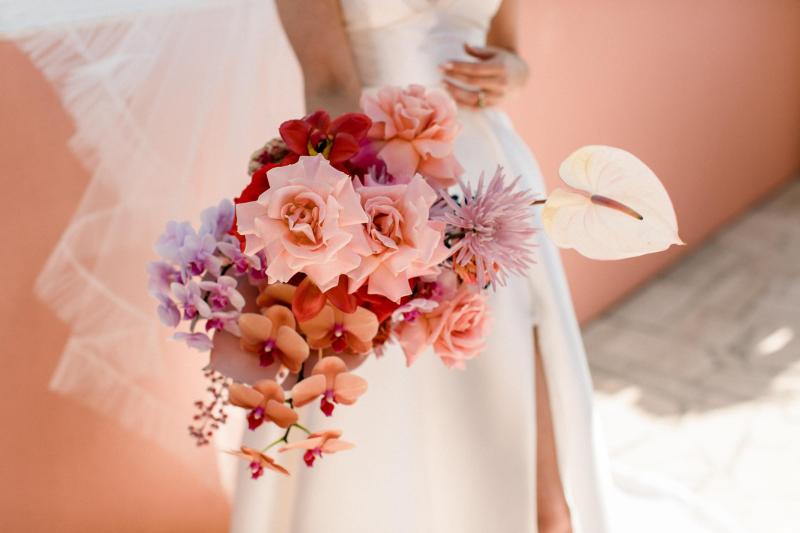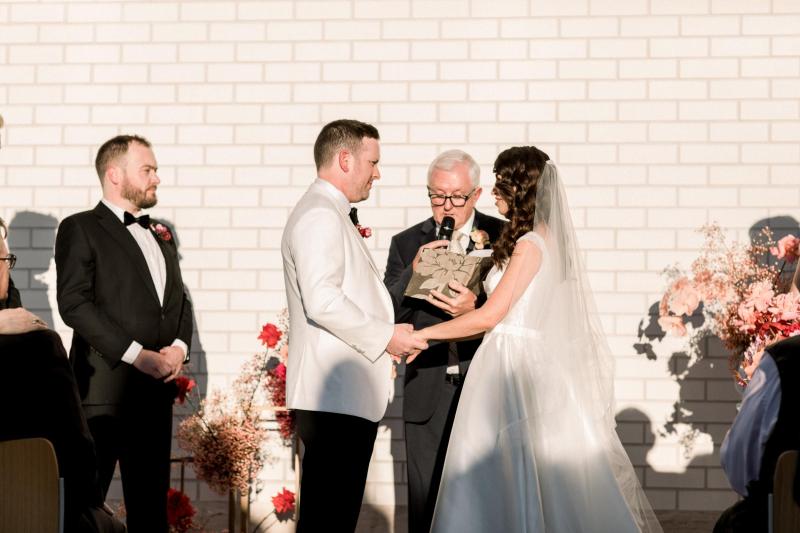 Gown hunting tips
"Try something different… "just for fun"… because you never know!"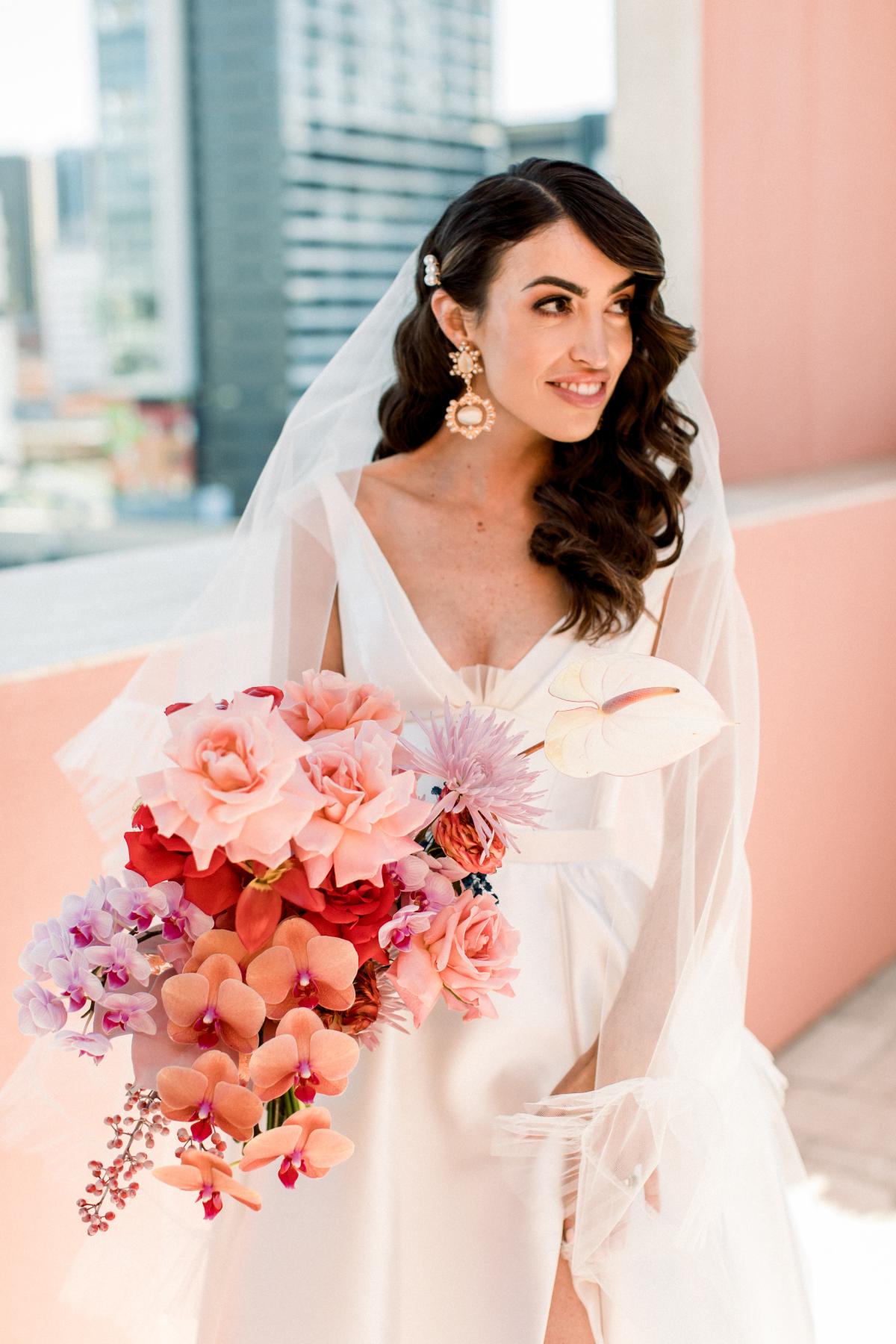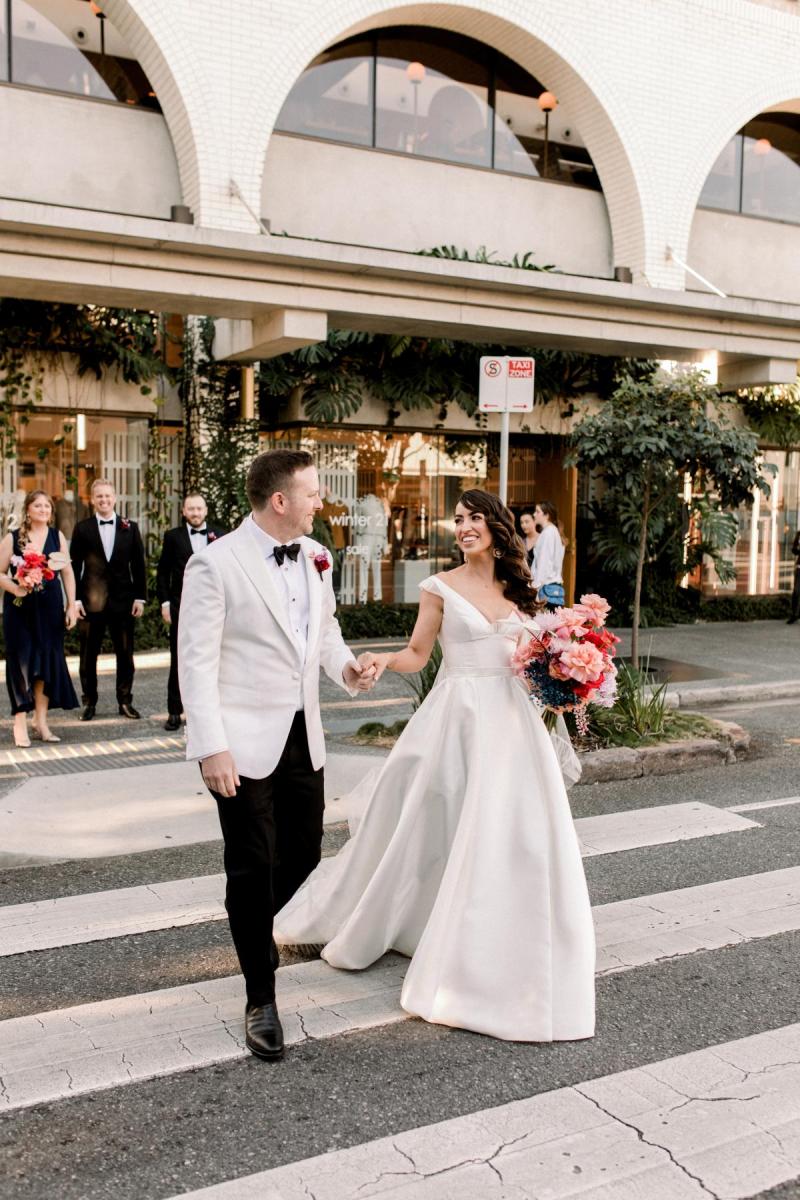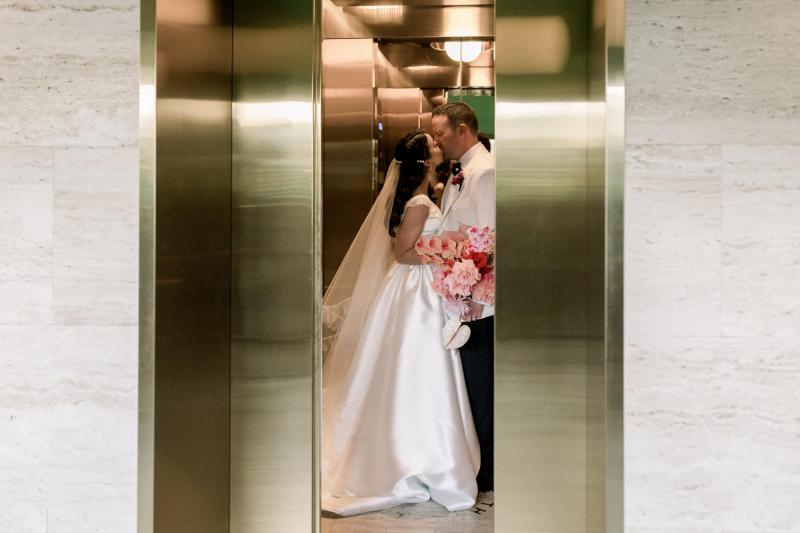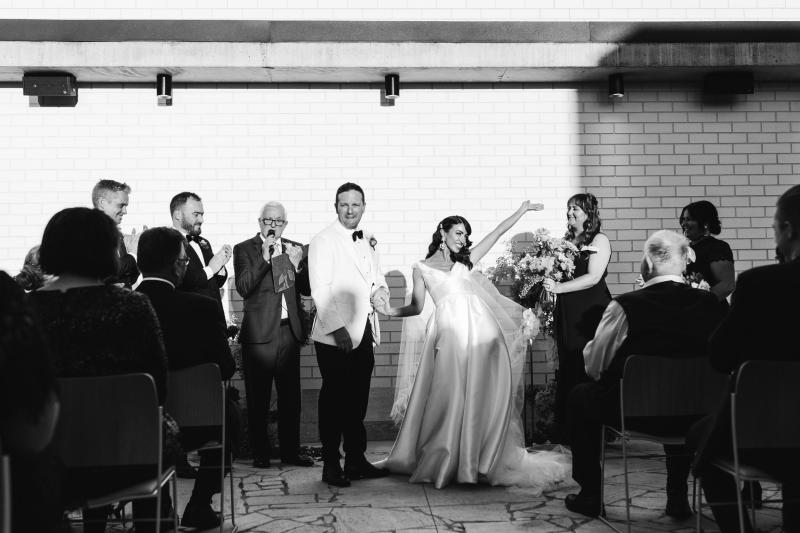 What does love mean to you?
"Love means feeling at home with your partner, wherever you are, whatever situation you are in. Coming "home" to your loved one is like retreating to your oasis after a long day fighting battles."