Kate & Sammy's Relaxed Yet Luxe Wedding

From the fun Festoon lighting to the phenomenal styling, we're loving everything about this wedding. And so did the beautiful couple, Kate & Sammy.
Our gorgeous bride Kate is wearing our Timeless Perry Gown from our LUXE Collection. Perry is an iconic KAREN WILLIS HOLMES shape, featuring an exquisite sequin pattern that emphasises an hourglass shape by gathering in at the waistline, creating an ultra-flattering silhouette. This gown has a gorgeous  V-Neckline, long sleeves, and the art deco beading we all can't get enough of, excluding the bride of course!
Photography | nicolalemmonphotos
On the proposal
It was a day full of surprises for Kate. It was a 'Normal' afternoon, that Kate herself planned, for her and Sammy to attend a dinner which was located at their friend's house. As it so happens their friend is a wedding photographer and had asked them if they can do a "couple shoot" beforehand.
"She'd said it before so I didn't suspect anything, plus Sammy was not keen at all and was only doing it to help her out"
Kate and their friend had organized all aspects including the location and timing, so of course, Kate didn't suspect anything!
"He literally had nothing to do with it.. or so I thought"
"We got to our favorite beach and she was late so Sammy tried to get me to walk down to the water. Finally, he got me to go for a walk, which was important because it turns out our friend was hiding in the bushes while he got down on one knee and she captured the moment"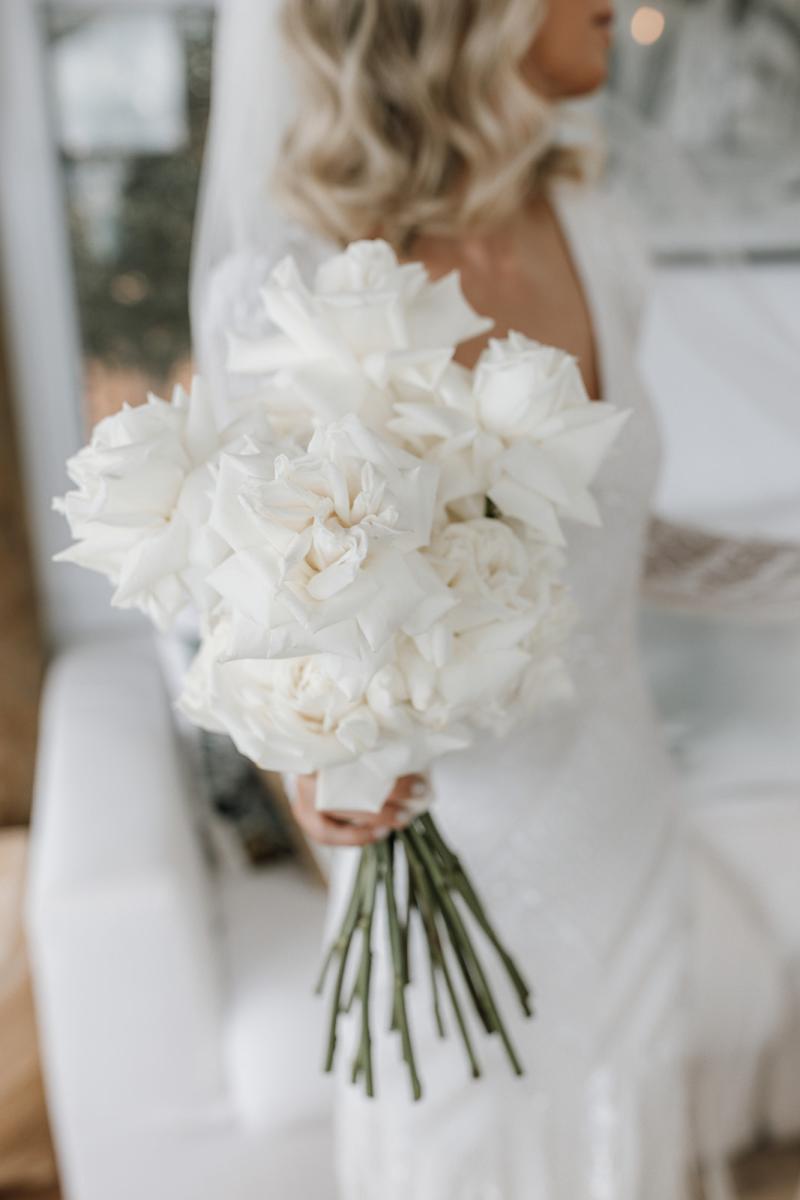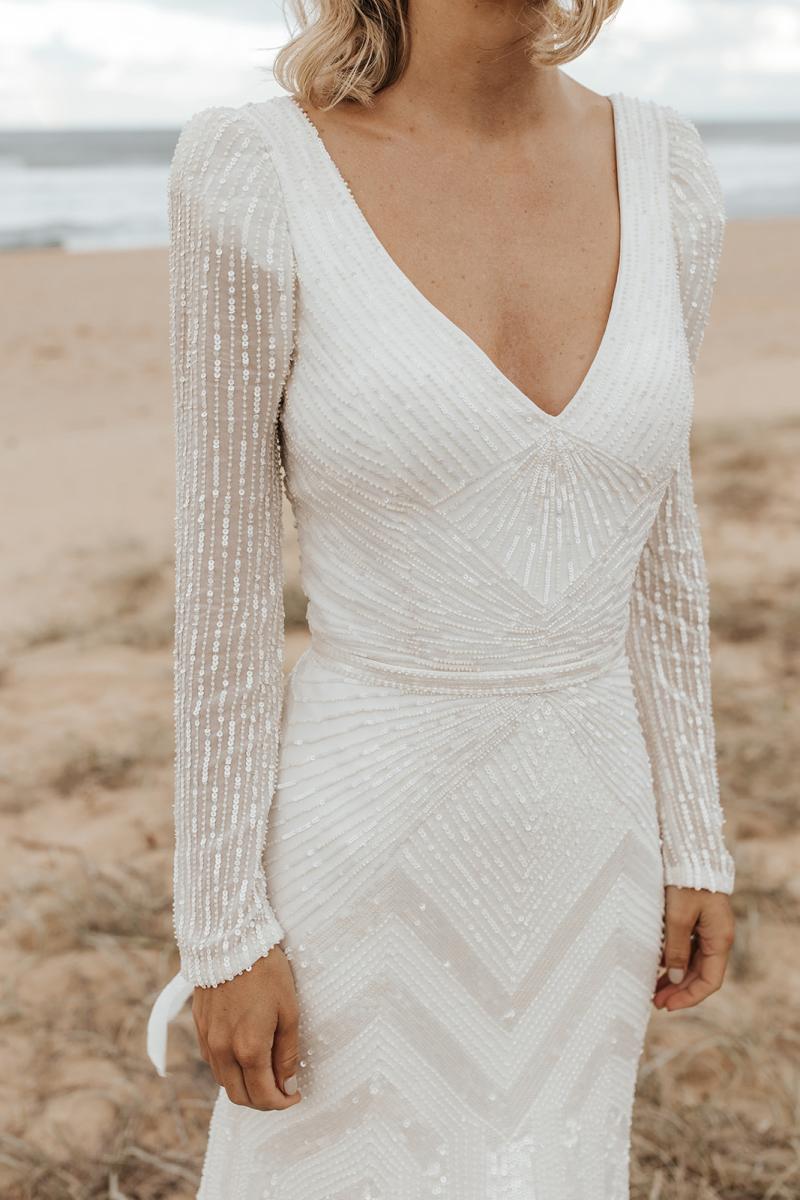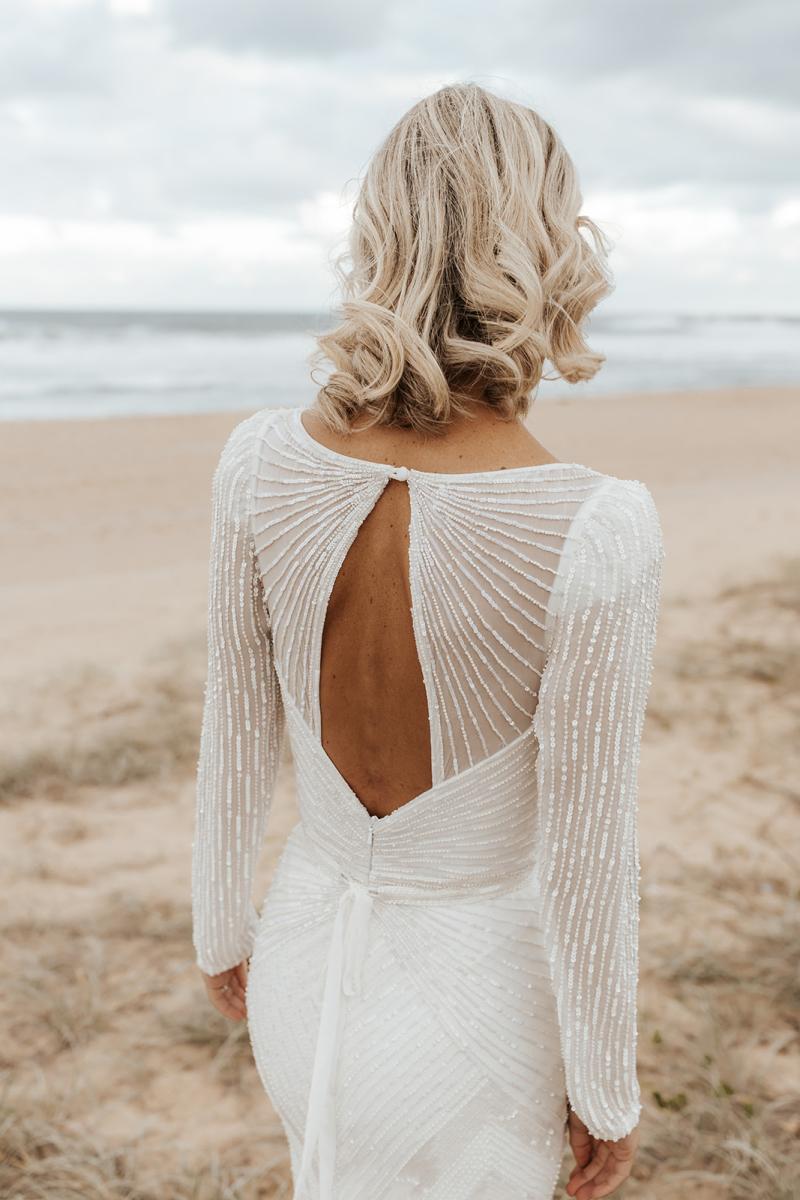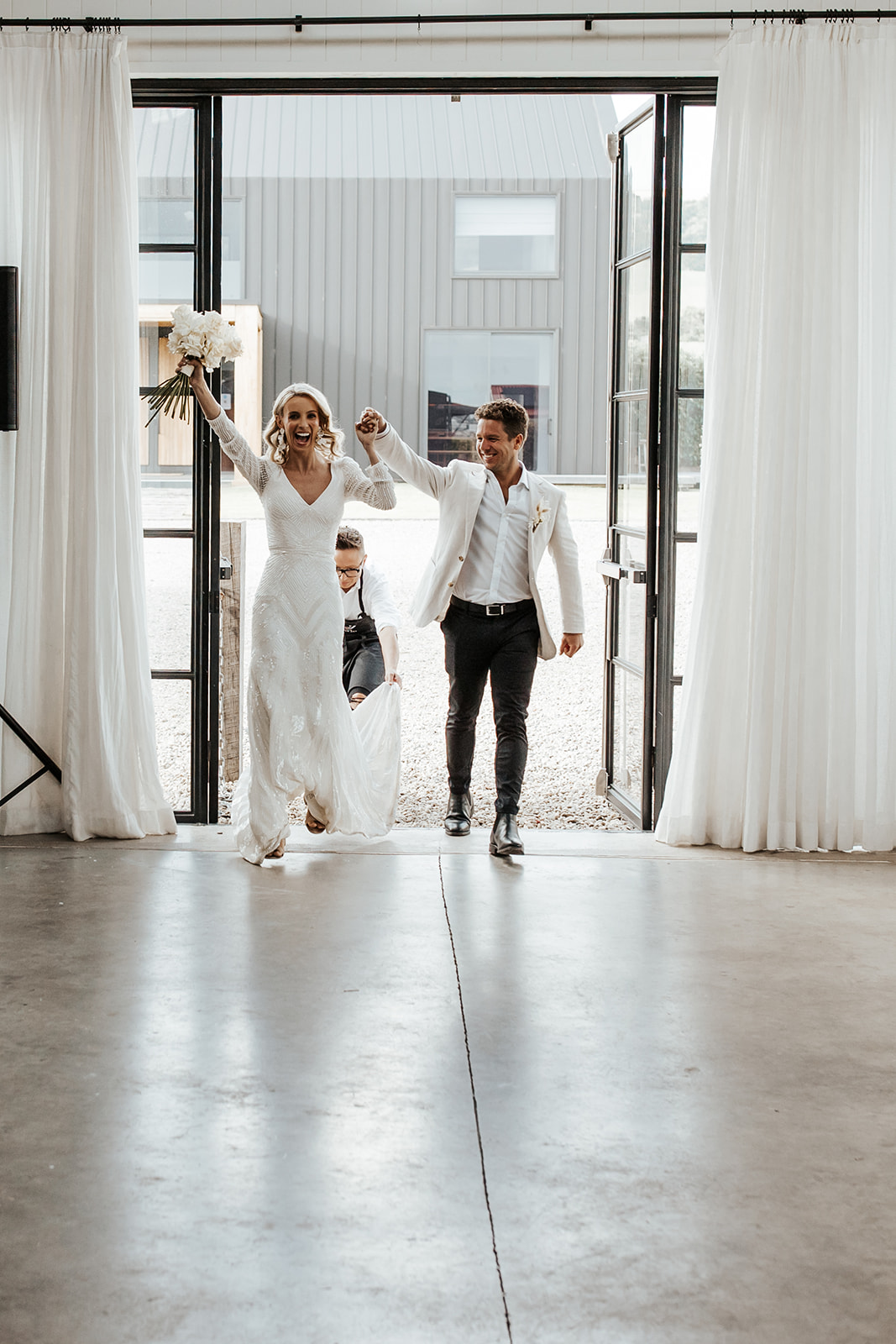 On the venue
When it came to choosing their wedding reception, Kate and Sammy had the obstacle of choosing a venue due to Sammy orginally being from Queensland, including half of the wedding guests.
While visiting venues in both New South Wales and Queensland, the couple knew The Seacliff House in Gerringong was the one, once they set eyes on the endless views the venue provides.
"the view is unbeatable and we love the area. Plus the back up option of the barn gave us some reassurance if there was rain"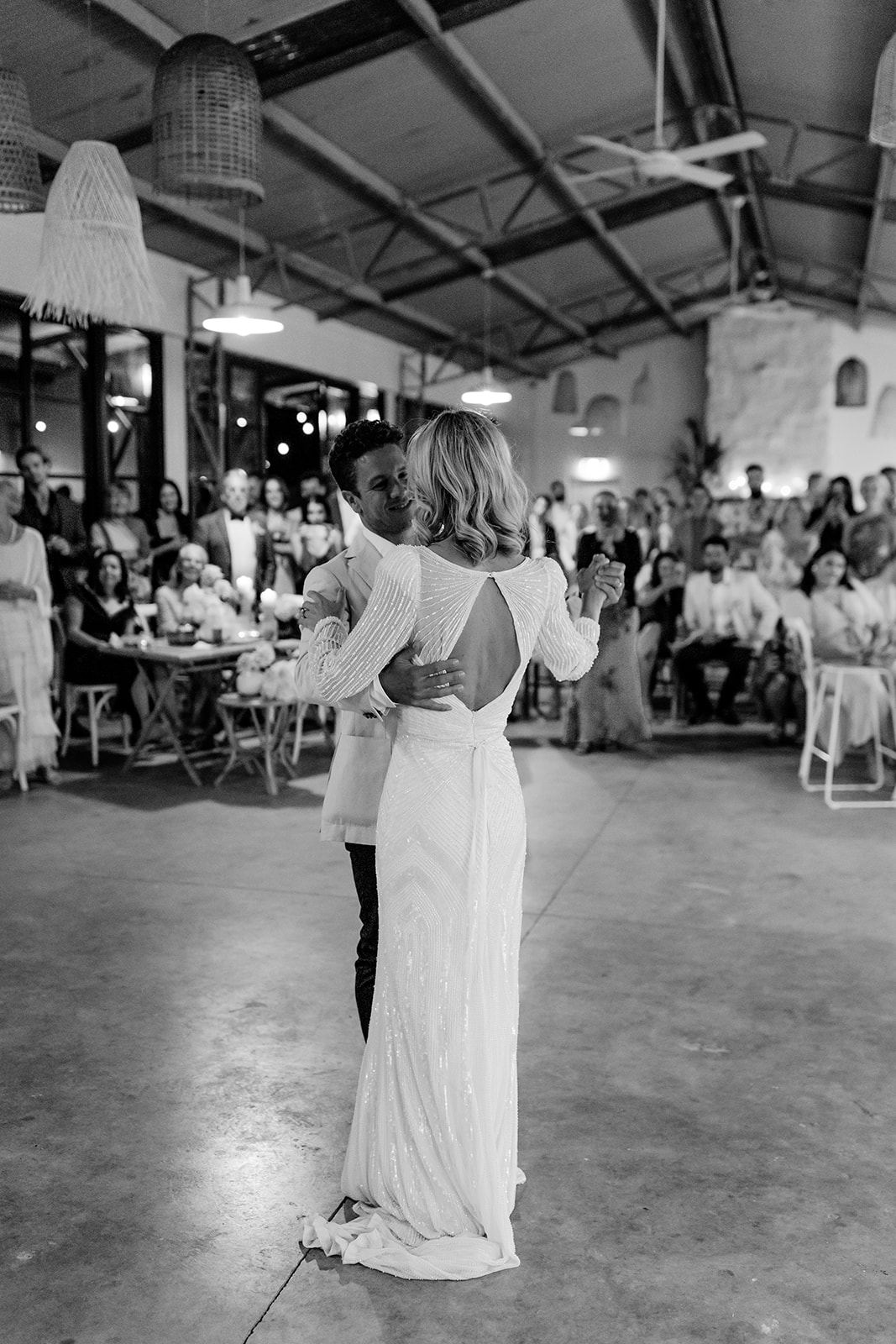 All the styling details
Although love can often be seen in multiple ways, Kate new exactly what she wanted to show-case to her friends & family. "Relaxed, cocktail style with food trucks, festoon lights and lots of dancing"
"We both love the colour palette of gold, timbers and pinks (yes, even the groom) as that's what we have in our home, so that's the styling look we were going for"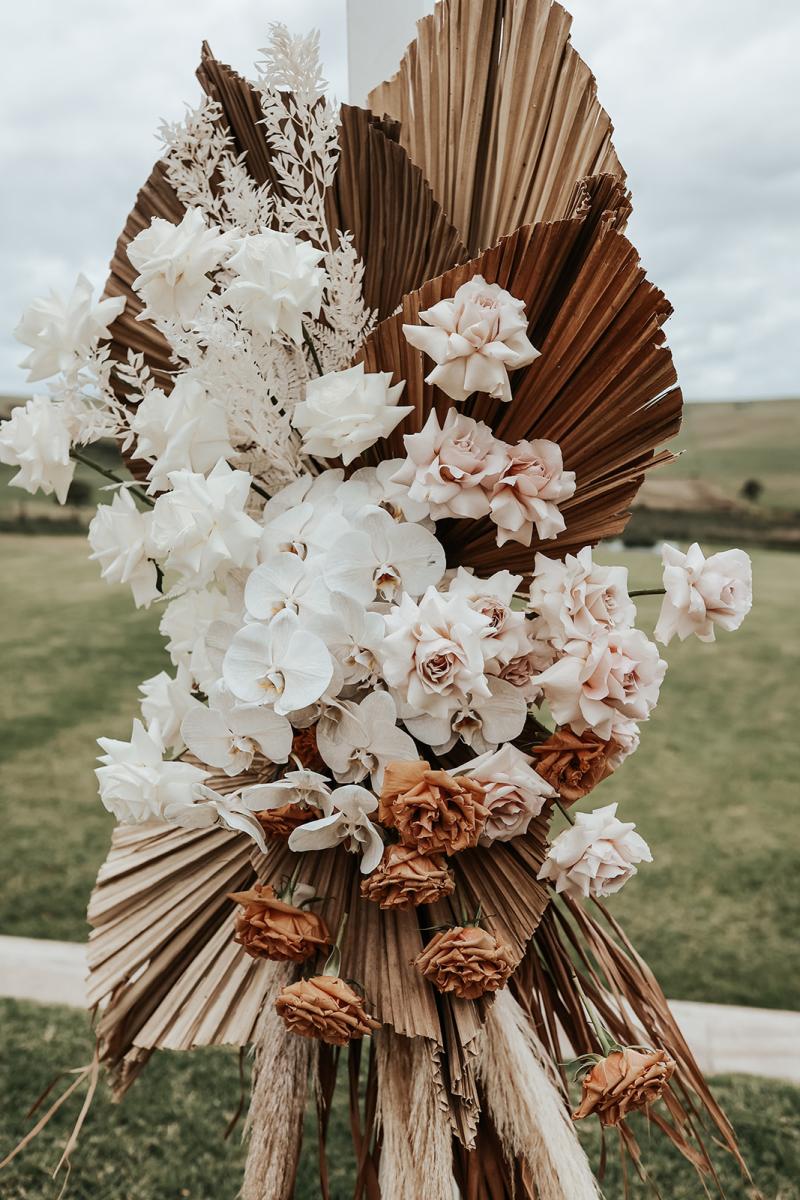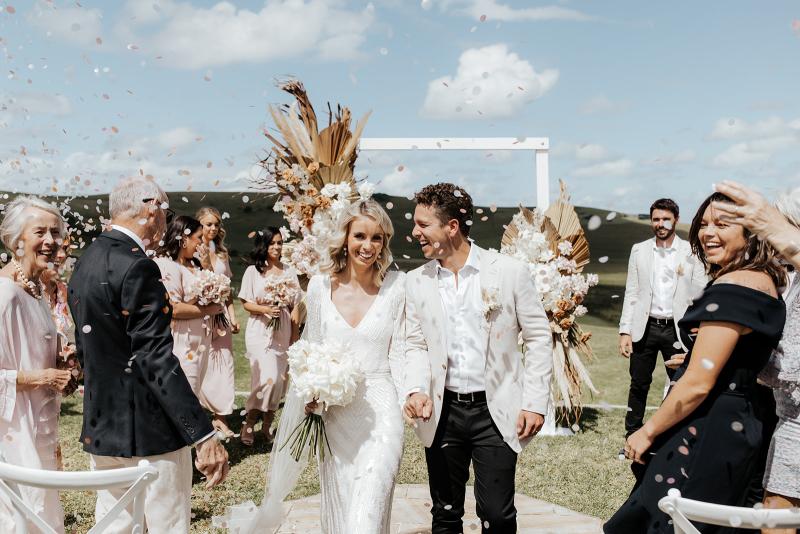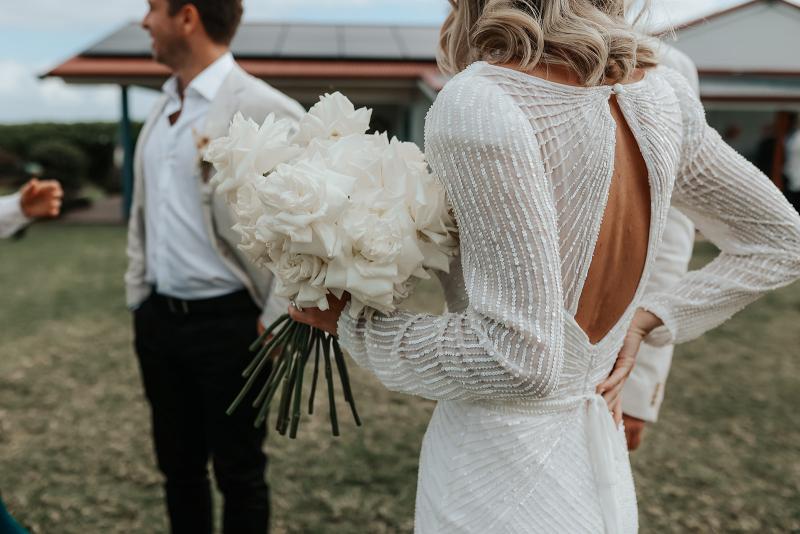 The Dress
To match the timeless flair of the wedding, Kate knew she wanted something classic yet fun, but Kate soon realised she had the hard decision to choose between our Cassie & Perry gown.
"Originally I was leaning towards Cassie, but then Perry was released just in time. For me, it just took all the amazing features of Cassie to another level with the changes"

"I love the V neck, the sleeves, the tie at the waist and the shoulder pads. Oh and the cut out at the back and all the beading and patterns. So basically… I love everything about my gown.  I am usually indecisive, but as soon as I put it on… I knew. As did my parents who were with me and the KWH team"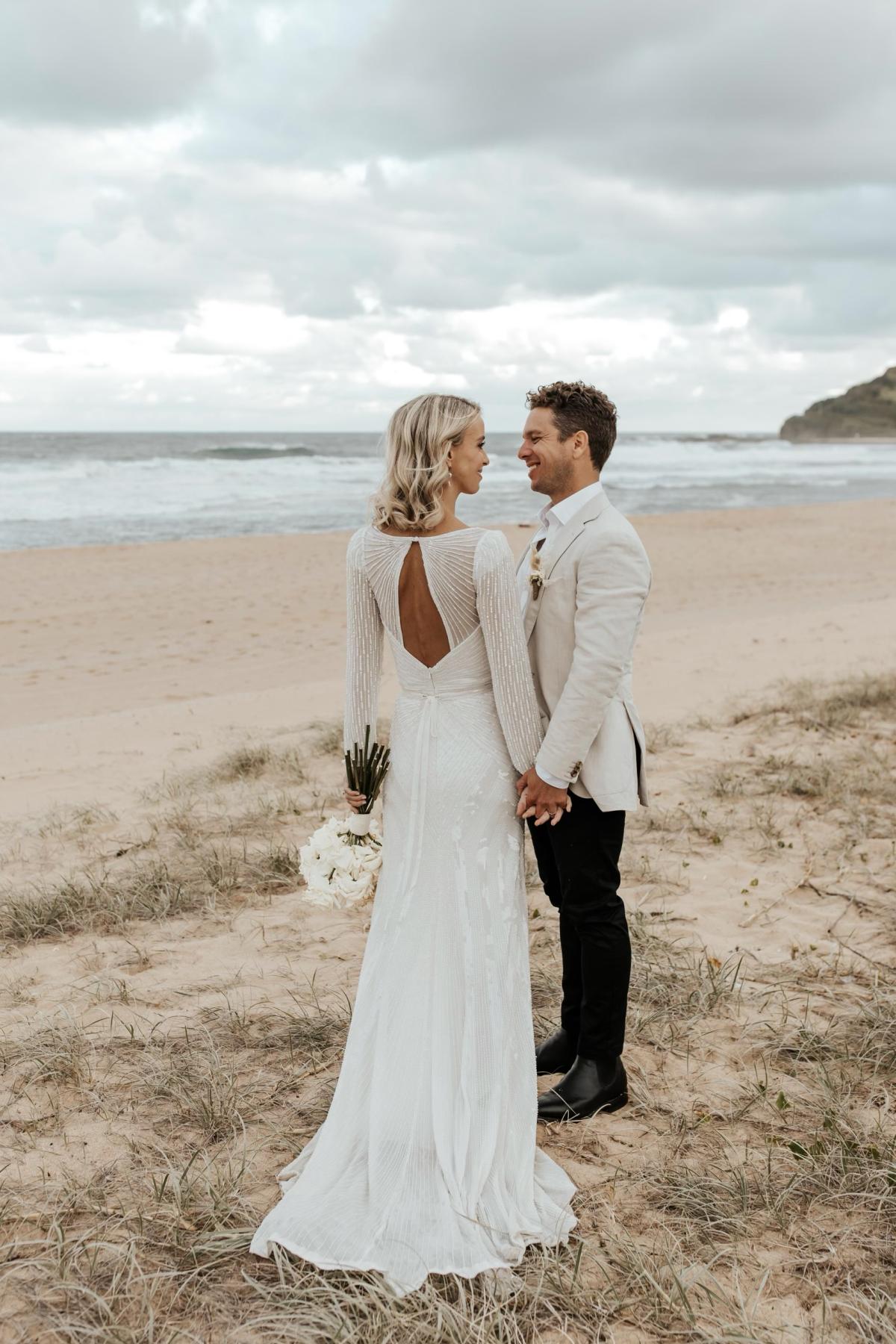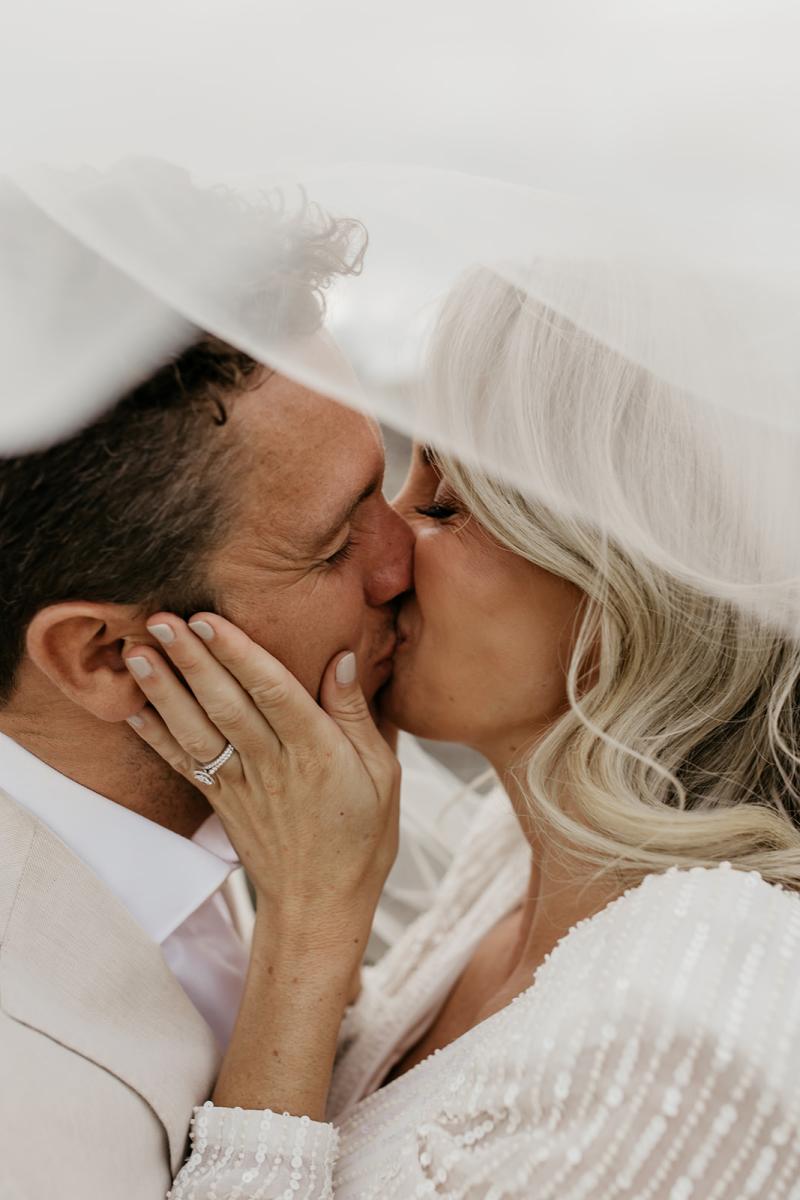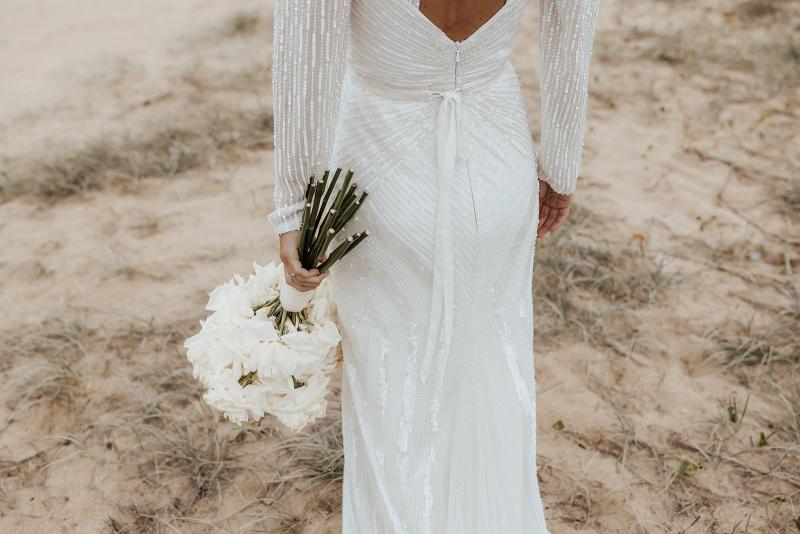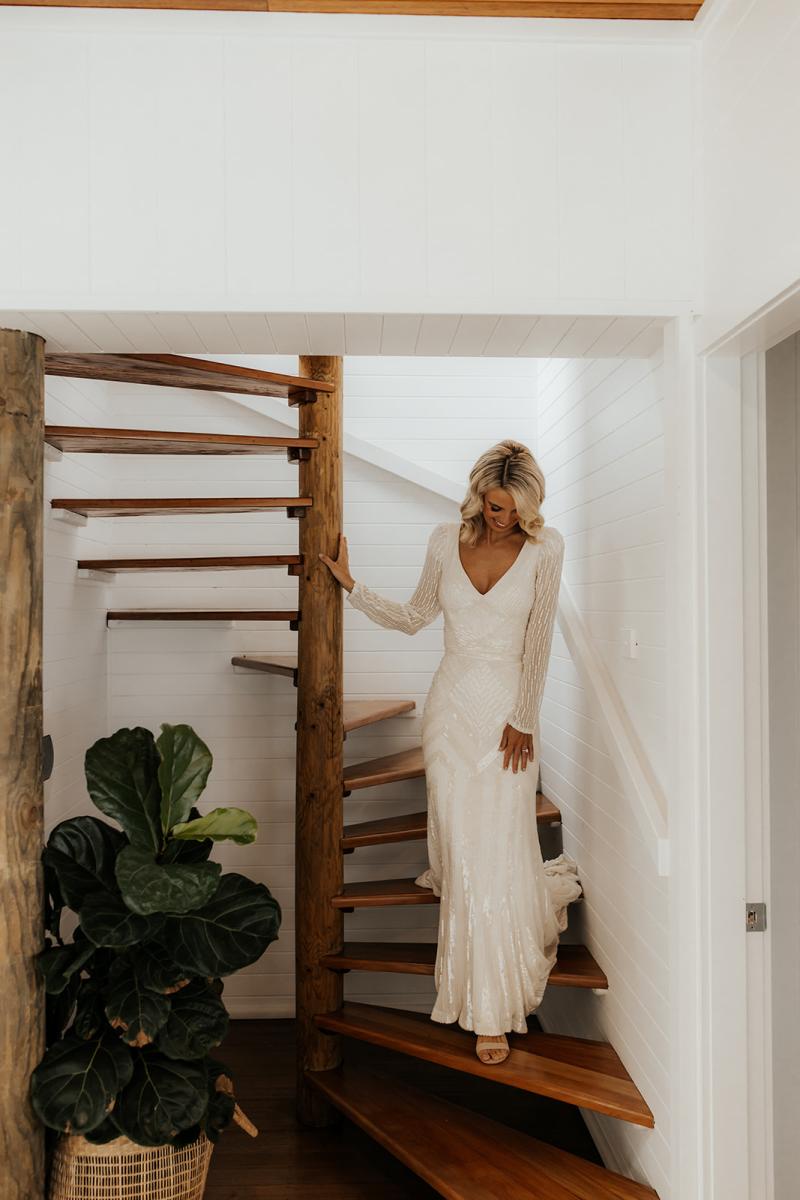 Gown hunting tips
"Start early so you don't feel rushed to choose quickly. And try on all kinds of styles, even if you think it won't suit you. My friend told me once it's unlike any other dress you've worn before, so the one you end up with might surprise you"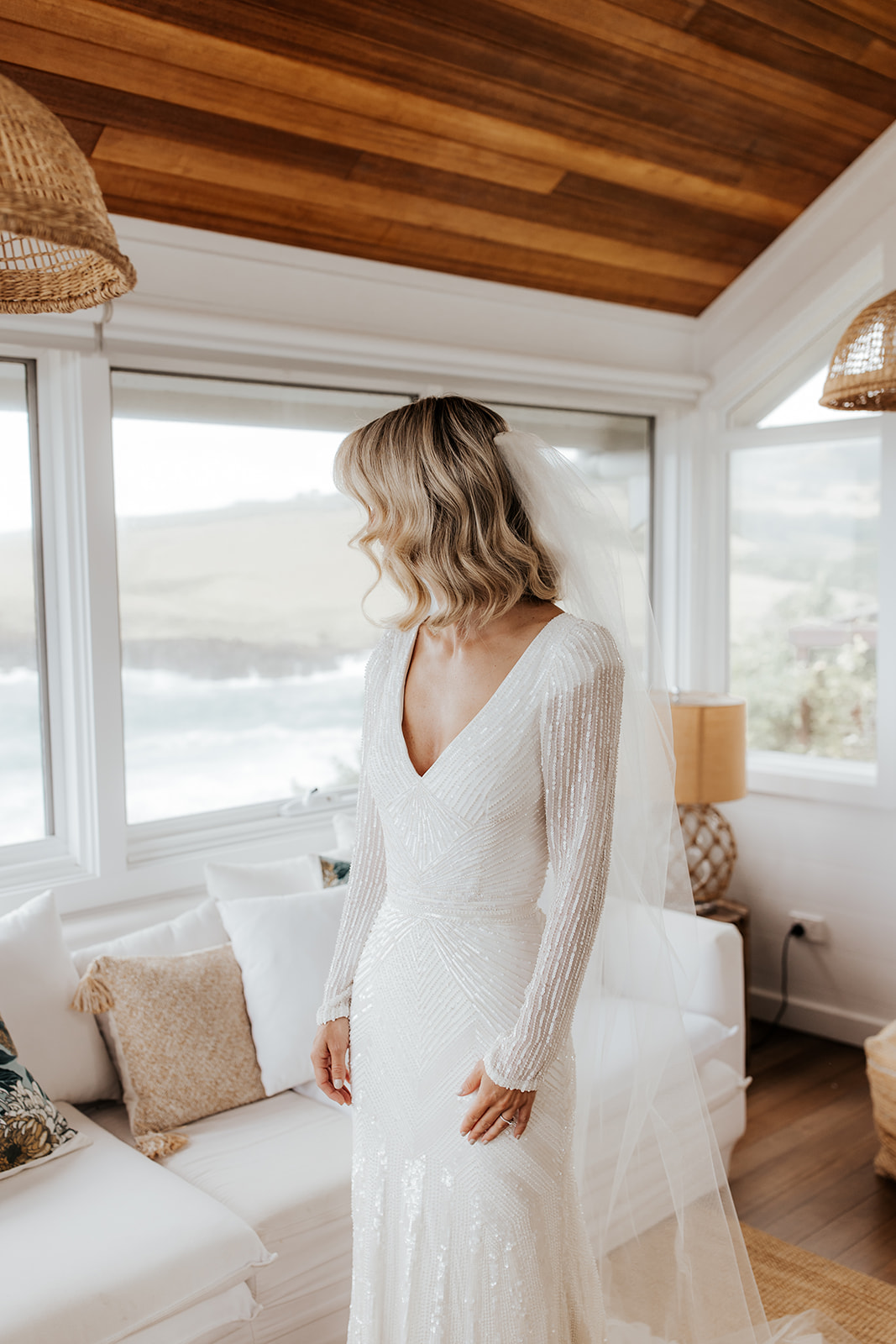 Accessorising
Kate completed her bridal style by adding our gorgeous Camila veil.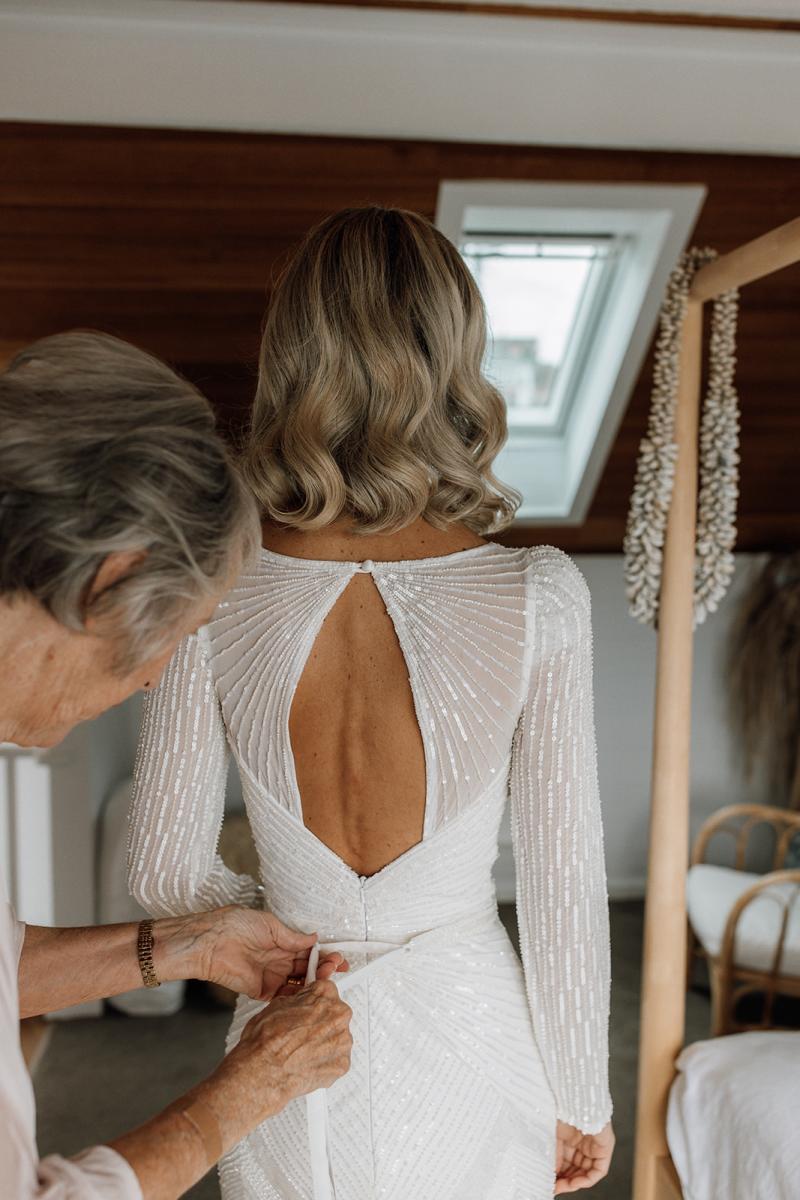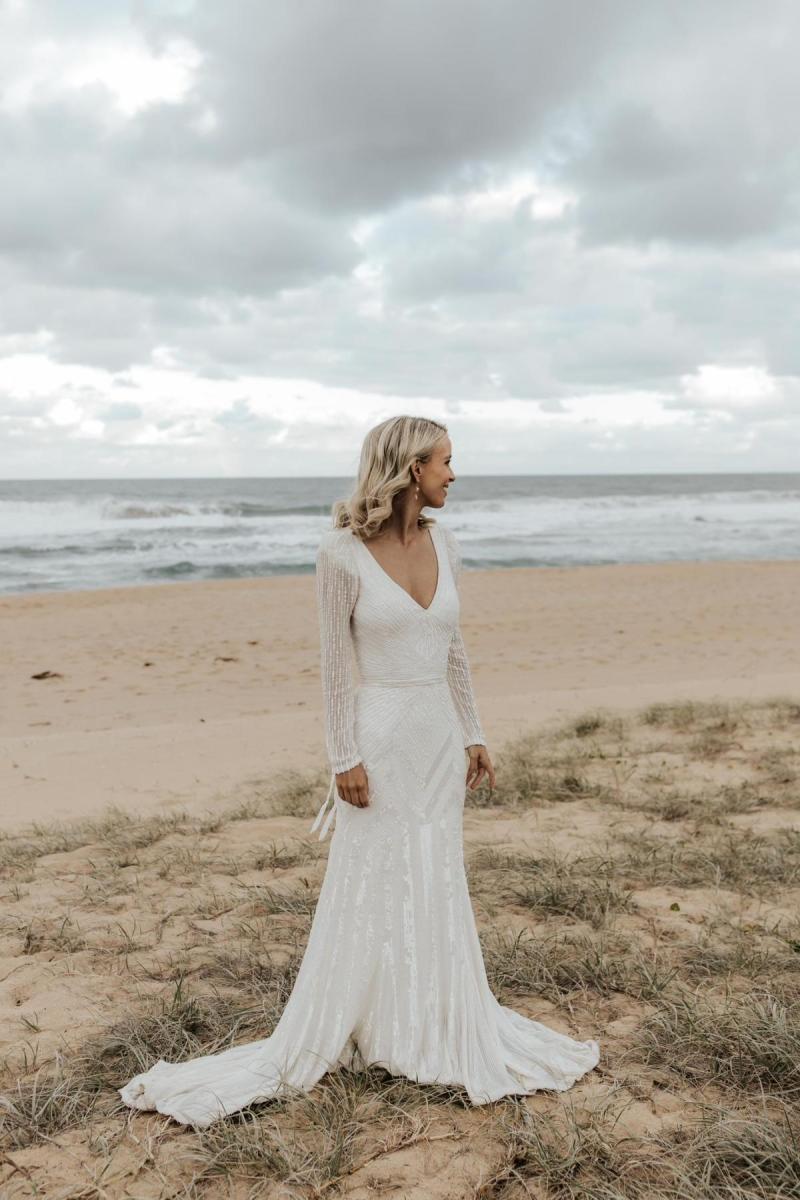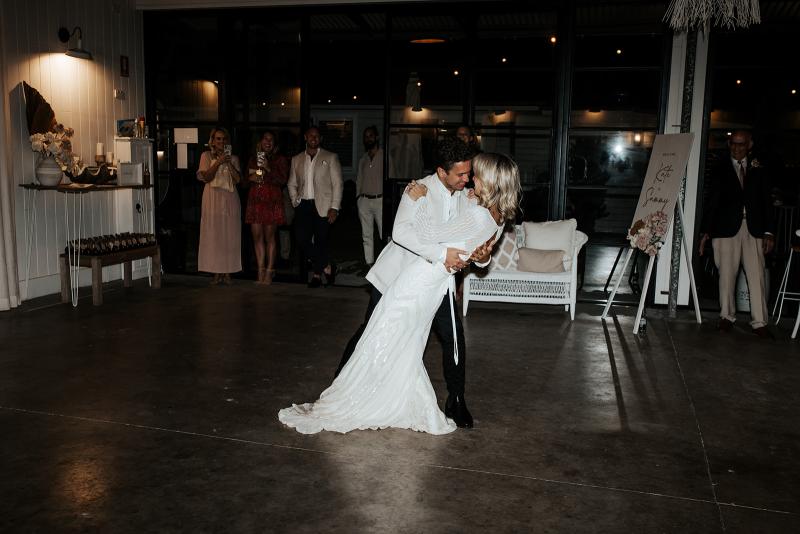 What does love mean to you?
"A trust like no other
Laughing with each other, and at each other
Being led out of comfort zones and into new adventures
Compromises like sharing dessert when you don't want to"