Demi & James' Minimalist City Elopement

Demi knew she wanted to defy the conventional when her sudden change of plans called for a bold look for her alternative wedding. After years of dating and many months of planning, it was finally time for her to tie the knot, but things weren't exactly as she had foreseen. After a major adjustment to their new reality due to…cough cough…we all know what, Demi moved forward with getting hitched. However, unlike previous plans, this was a wedding like no other.
In this simple yet alluring city elopement, Demi and James made their love official with only their closest relatives in attendance. To escape the confines of being average, she slipped on the fearless Charlie Jacket & Danielle Pants bridal suit from our ELOPE collection to make a statement with her flared pants and tailored sophistication.
On the proposal
An empty building, tools scattered around, exposed walls, and dirty floors; sounds romantic, no? As Demi and James stood in the old house, they were surrounded by familiar sights and smells that reminded them of a time not too long ago where they shared intimate memories as a new couple. He had brought her back to the space that was once where they met at a special New Year's Eve party. It was where they had moved in together after three short weeks of dating, where they got to know one another, where they started to build a life together. It was now a shell of what it once was. Demi was slightly confused as to why he would bring her back to this building that was clearly under construction by the current owner, but Jame's had a plan.
In the midst of the rubble, with the Sydney Opera House looming in the background, he got down on one knee and asked the age-old question, "Will you marry me?" Out of complete shock and she shouted, "Finally!" He took that as a resounding yes. The two brimming with excitement made their way over to their favourite local restaurant, Cafe Piato, where Demi's best friend was hosting a birthday party…or so she thought. Little did she know, it actually was her surprise engagement celebration with all of her closest family and friends. She was elated. However, the perfect night needed the perfect outfit and Jame's knew exactly what she wanted. He laid out three styled looks for her to choose from to perfect the evening. What more could a girl want?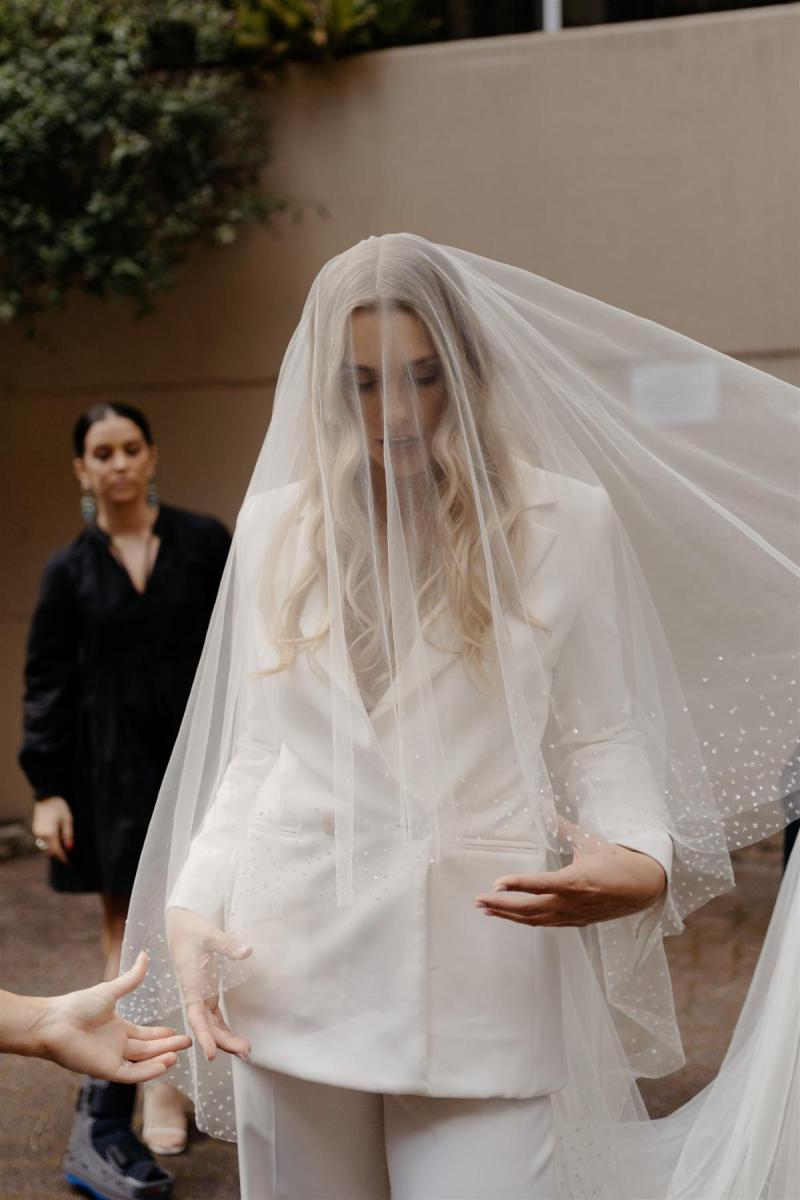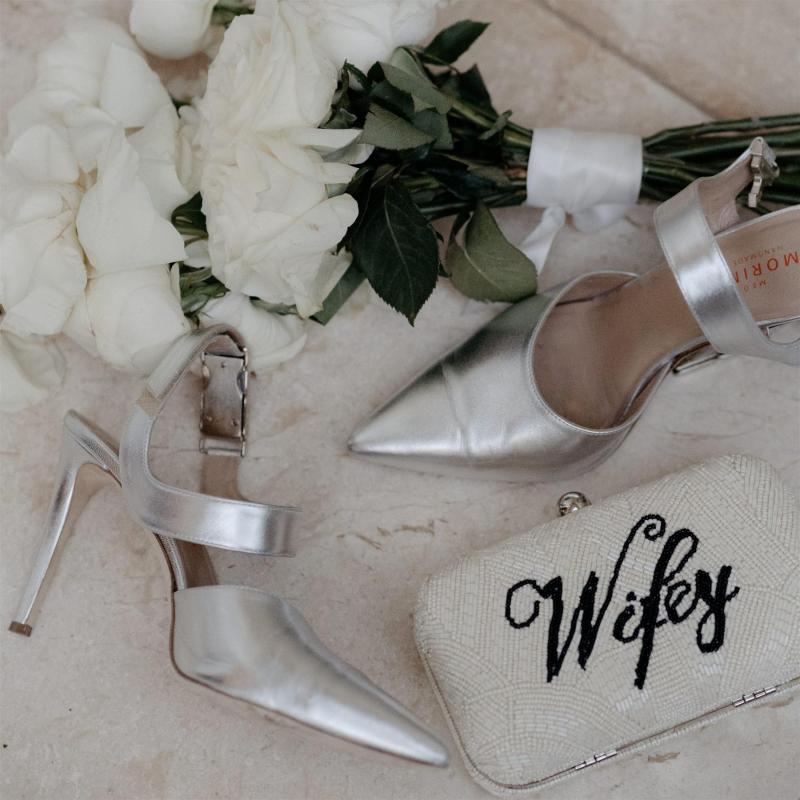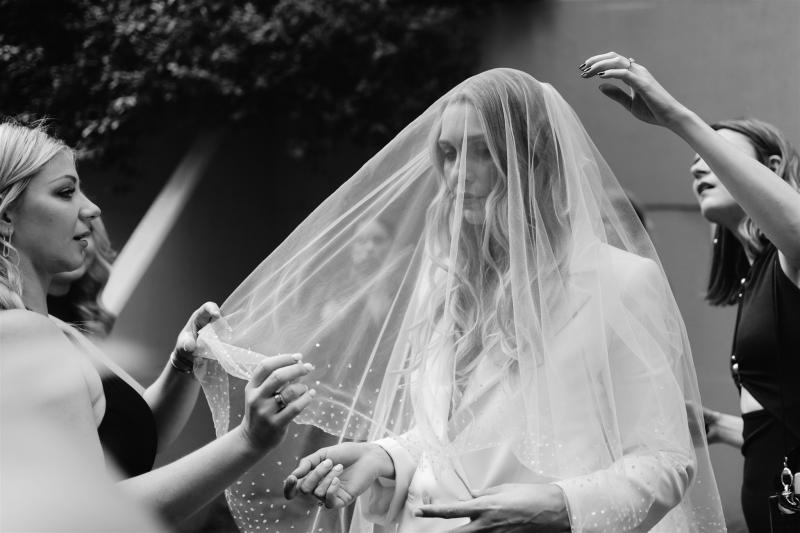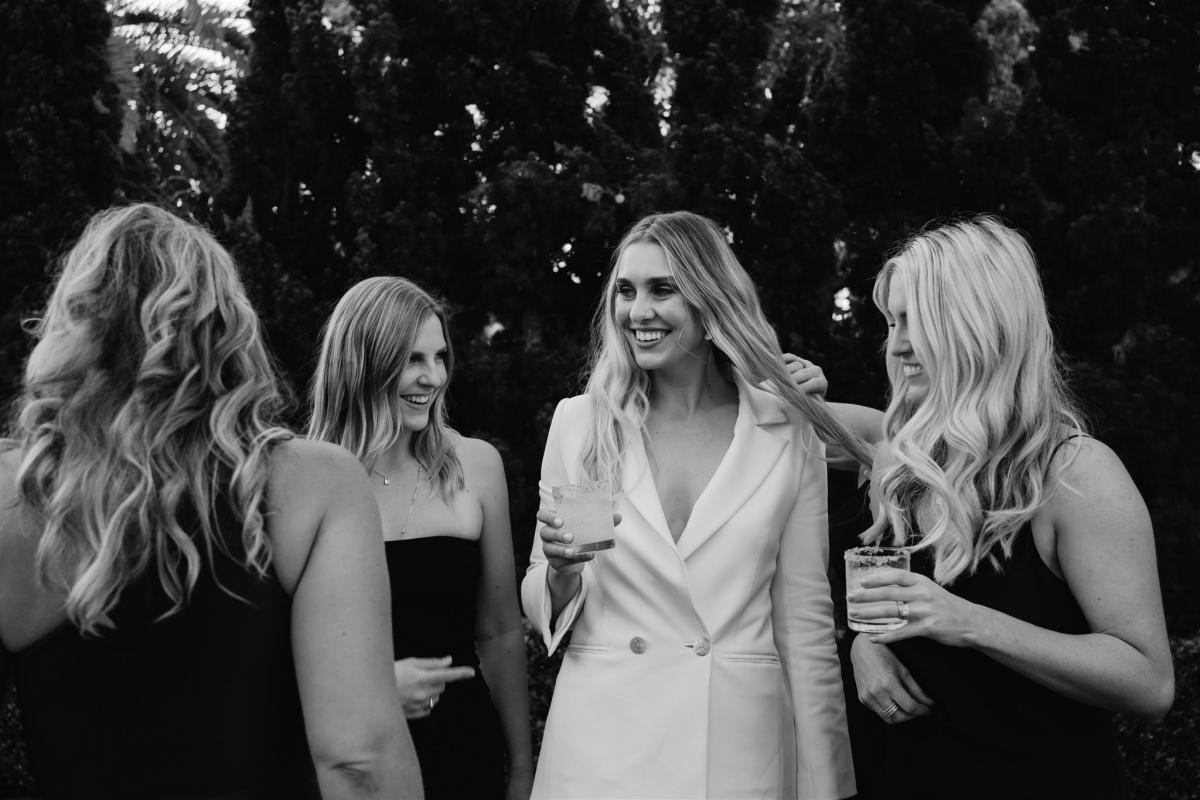 On the venue
Although we all know too well by now that COVID has a way of upending carefully made plans, we also know the blessing that can come from new plans. Demi and James had dreamed of a wedding celebration down by the Sydney harbour below the bridge, with views of the Sydney Opera House. It felt only natural since the two had shared that view for every momentous occasion. However, this time, it was not meant to be. As Covid entered our daily lives, Demi and James decided to marry in a micro ceremony and then throw a larger celebration in 2021.
The two tied the knot at St. Francis Xavier Catholic Church in Lavender Bay, an old stone building located just down the street from where the couple lives. There her dad was able to walk her down the aisle and give her away to the man who holds her heart.
Out of kindness, James's sister, Elizabeth, offered her home for the intimate reception in the nearby neighbourhood of Vaucluse. It was charming, sweet, and exactly what they never knew they wanted.
"It was very special to have it at their house as every time we visit now we'll be reminded of how many incredible memories we created there."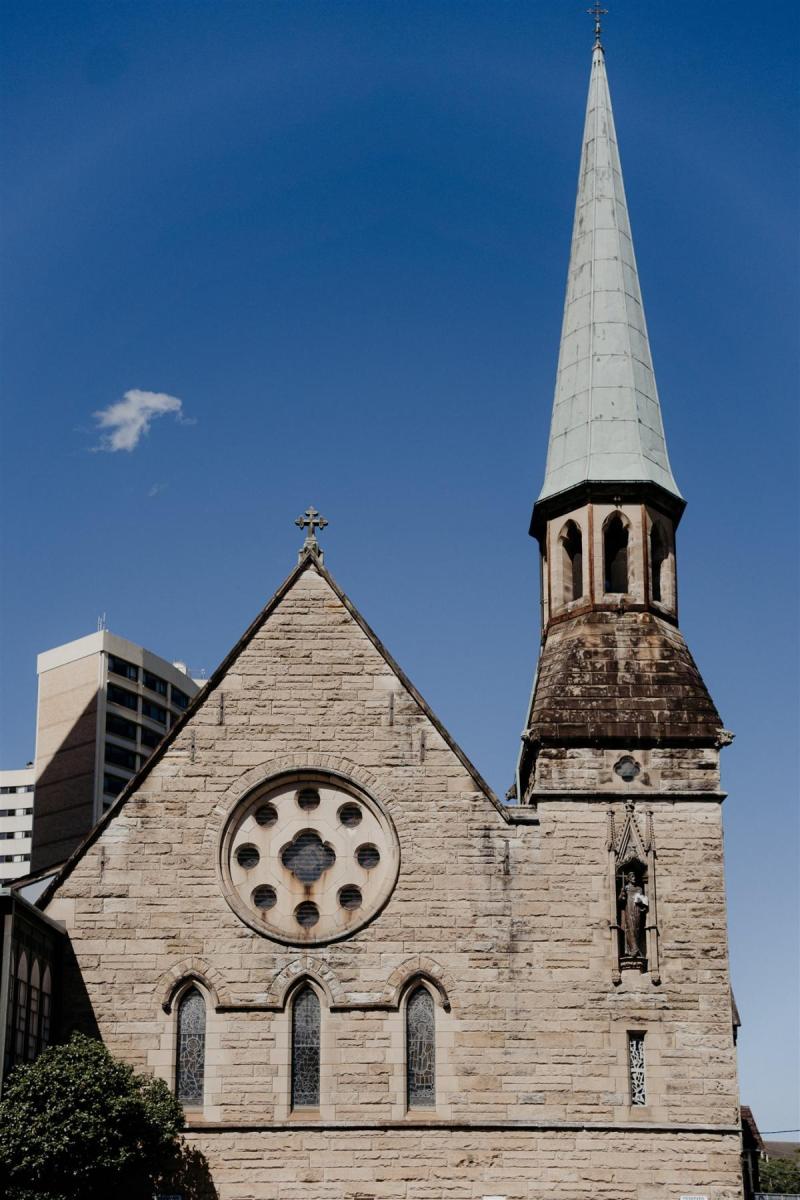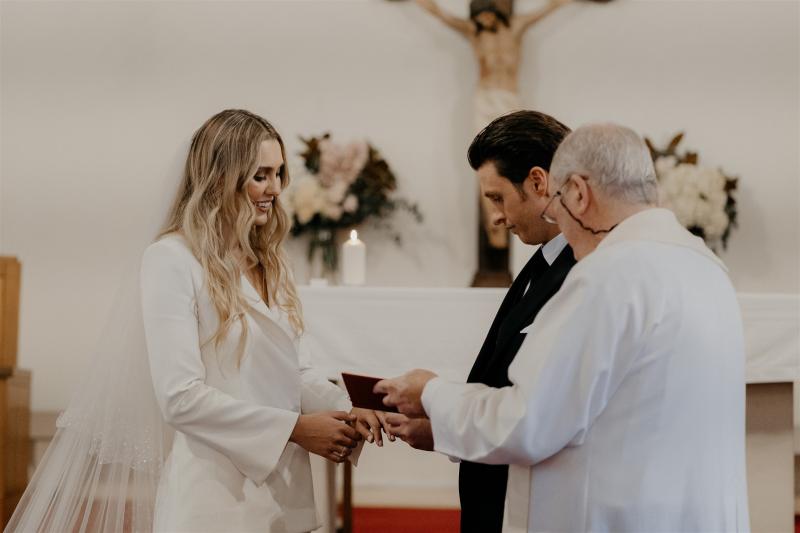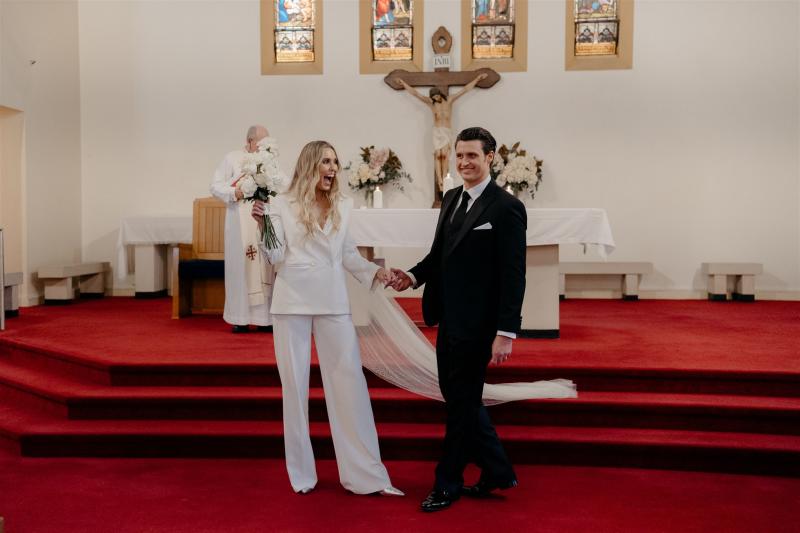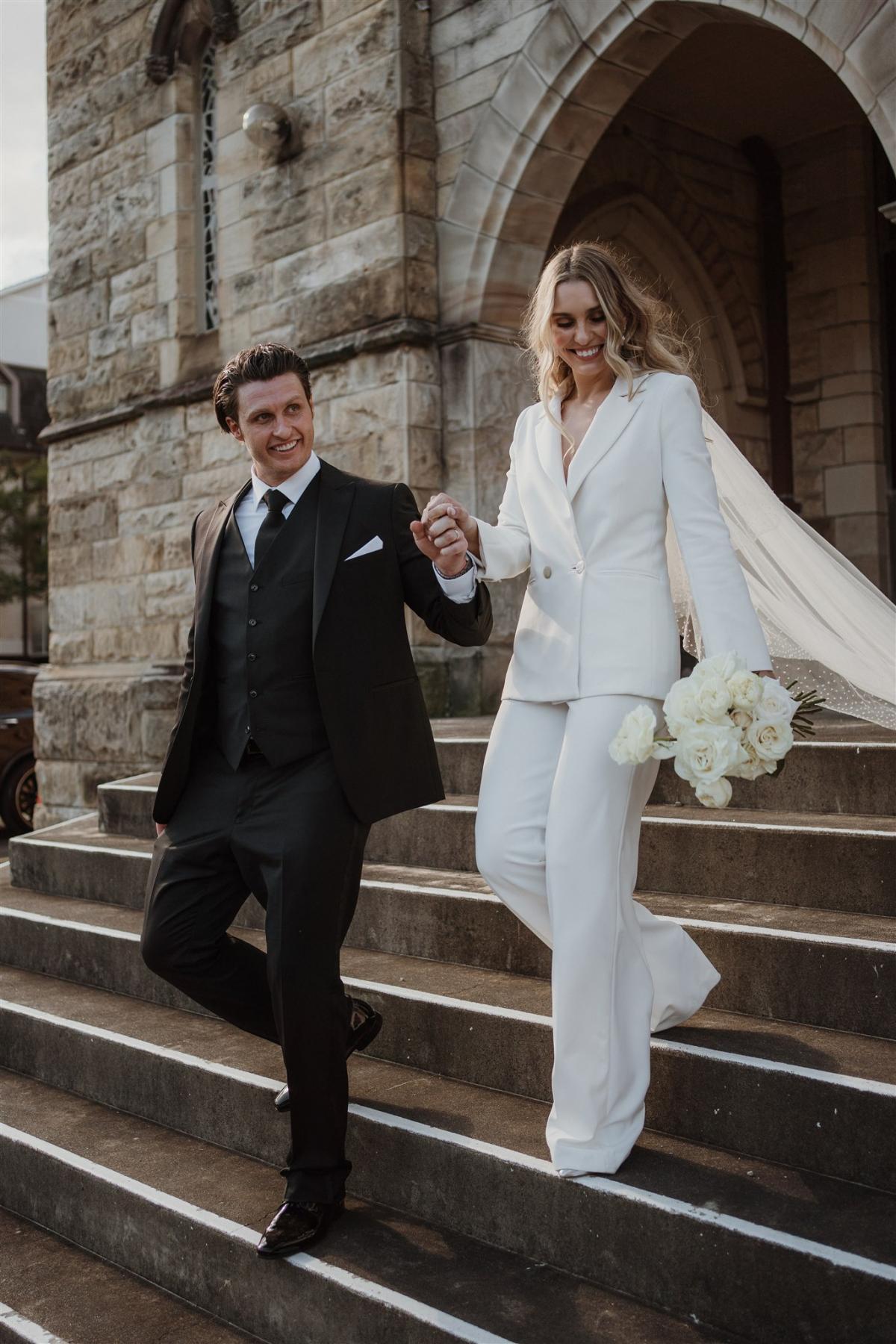 All the styling details
"For our day we really wanted a timeless, classic look. We had a black-tie dress code for our guests, as we wanted to look back on the photos and think they could be from any period in time."
However, sentimental symbolism was key to their classic, small reception. When Demi had moved into the old house with James, he had tied one key to a bunch of long-stemmed white roses, so to bring everything full circle, she made sure to incorporate those same flowers into all decor.
The Curated Life used a mixture of subtle pink hues and white orchids to complement the roses to finish off her centrepiece arrangments. Together, the florals exuded sweet romance for a once in a lifetime dinner.
The long guest table was strewn with fairy lights above, while below, the light sparkled through the crystal stemware, casting subtle dancing reflections on the nearby surfaces. Soft, pink linens dressed the table, bringing the whole look together. Their single-tiered small wedding cake from Savvy Fare was the perfect size for their intimate wedding and was quite literally, the icing on the cake for their dreamy evening.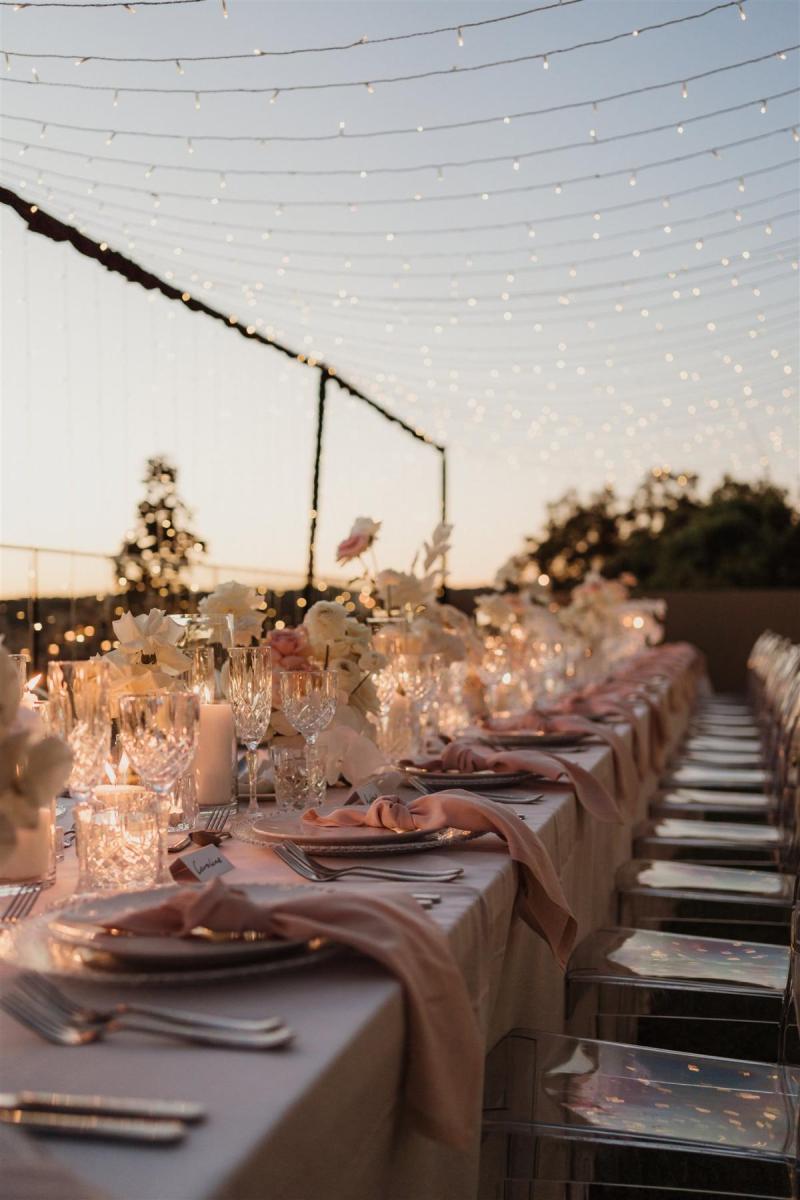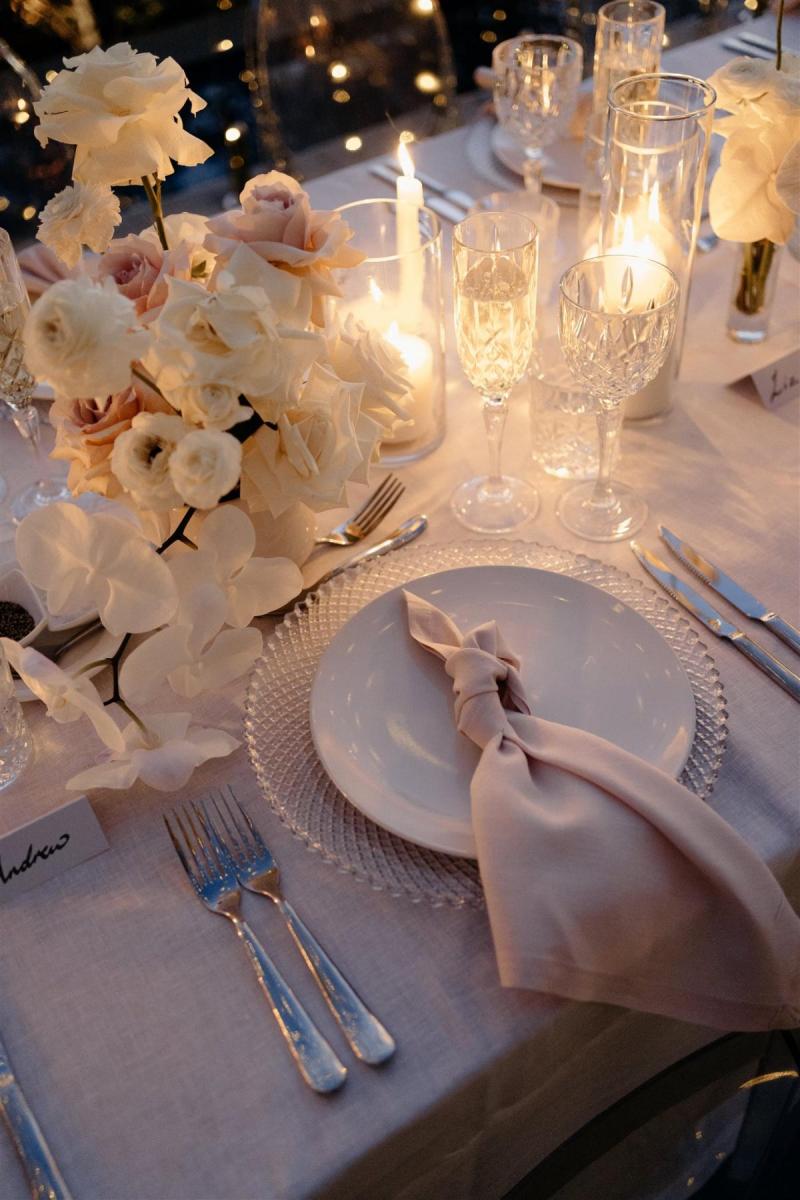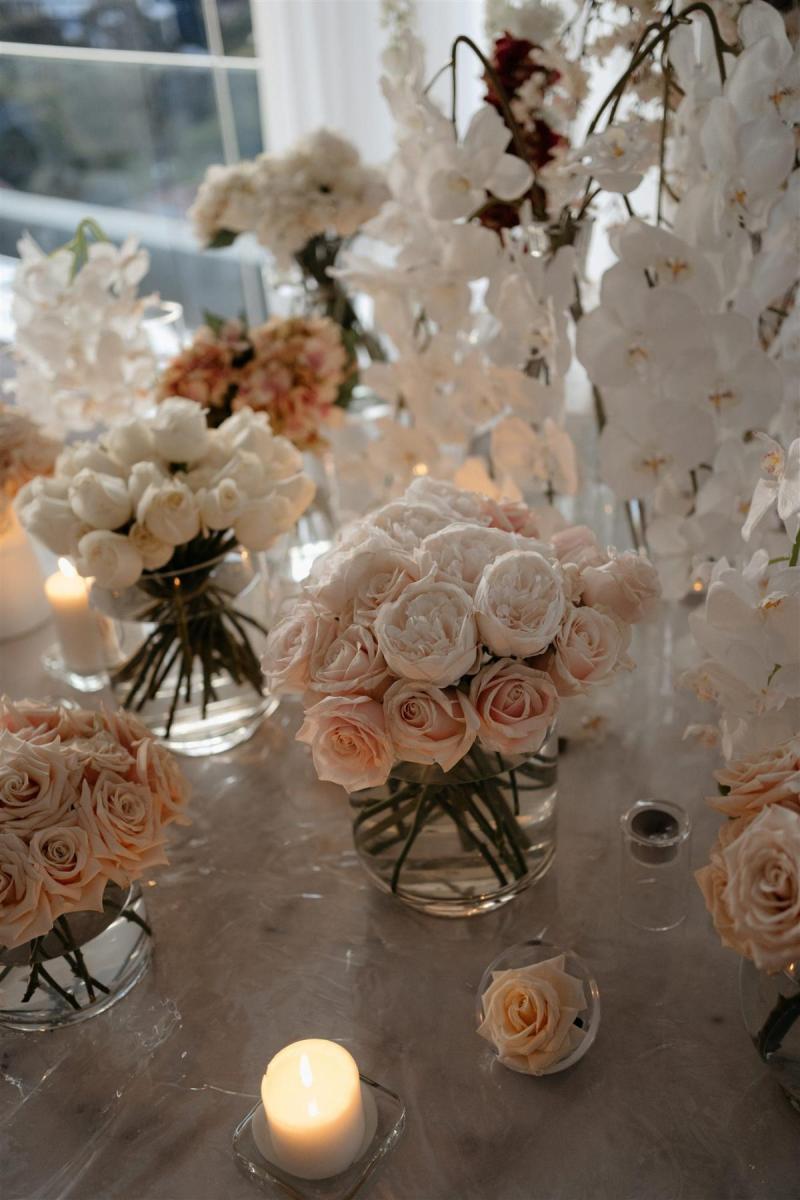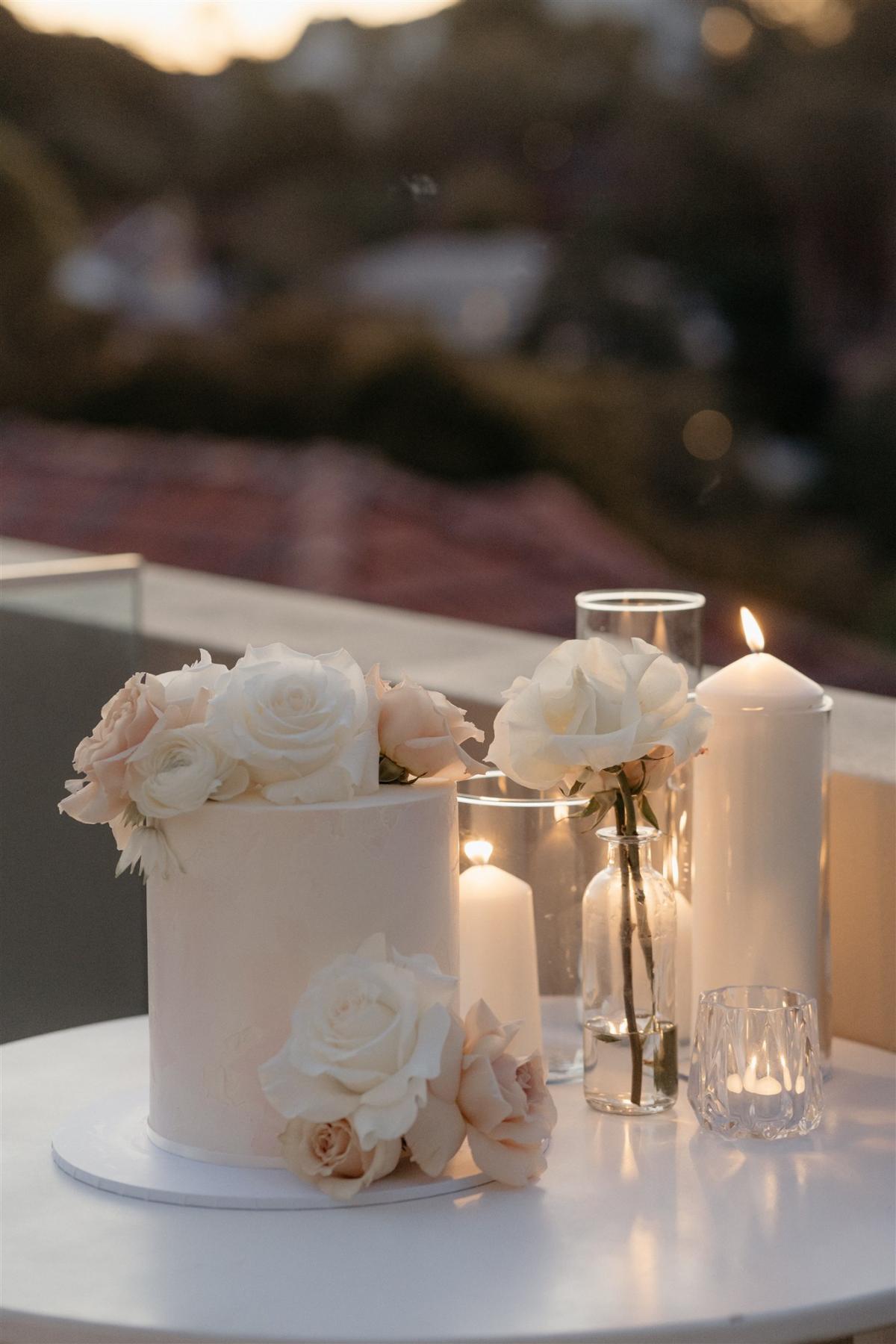 Highlight of the day
"One of my favourite moments from the day was walking down the aisle with my Dad and having James turn around as we got closer. Watching his face and then locking eyes was a moment I'll never forget. His reaction when he saw me in my KWH bridal suit was priceless, he loved it. Another highlight would be seeing all of our thirty guests in the one place together, enjoying a beautiful meal, sharing stories, listening to speeches and celebrating. I also loved my father/daughter dance as well as my first dance with my now husband – James. I could go on and on really, the whole day was an incredible highlight."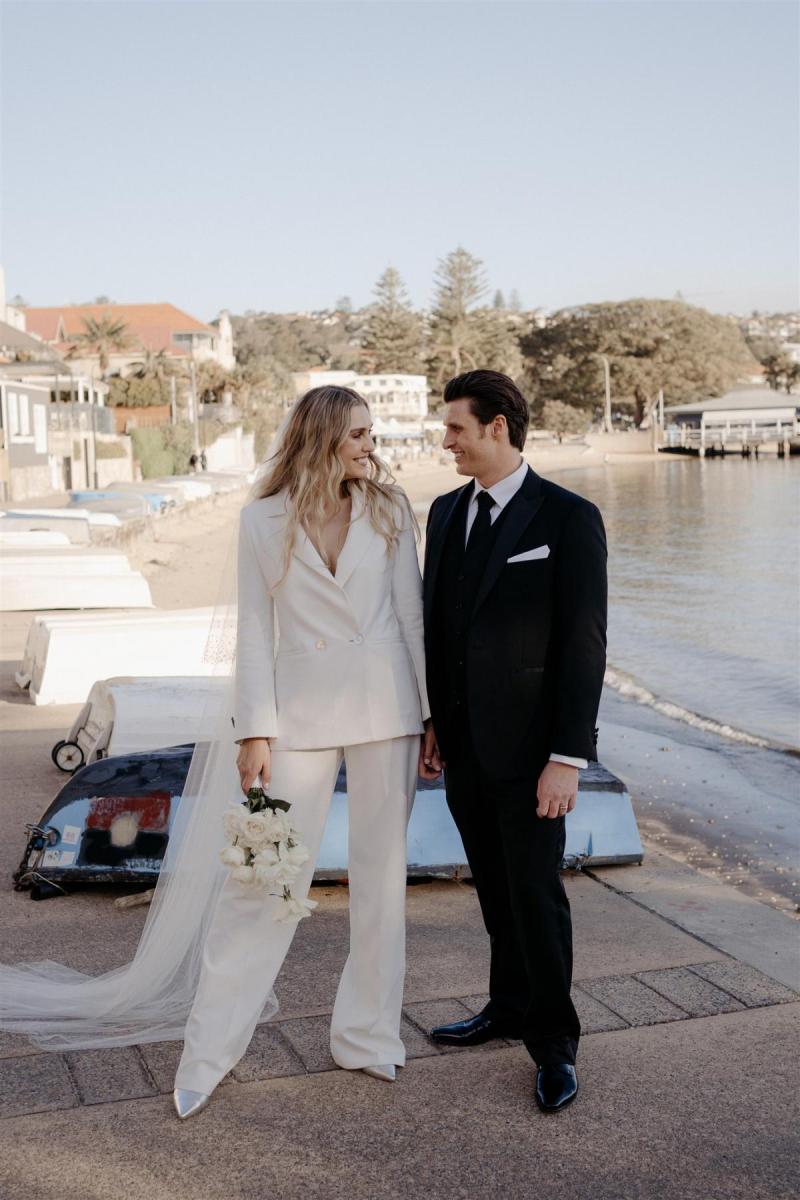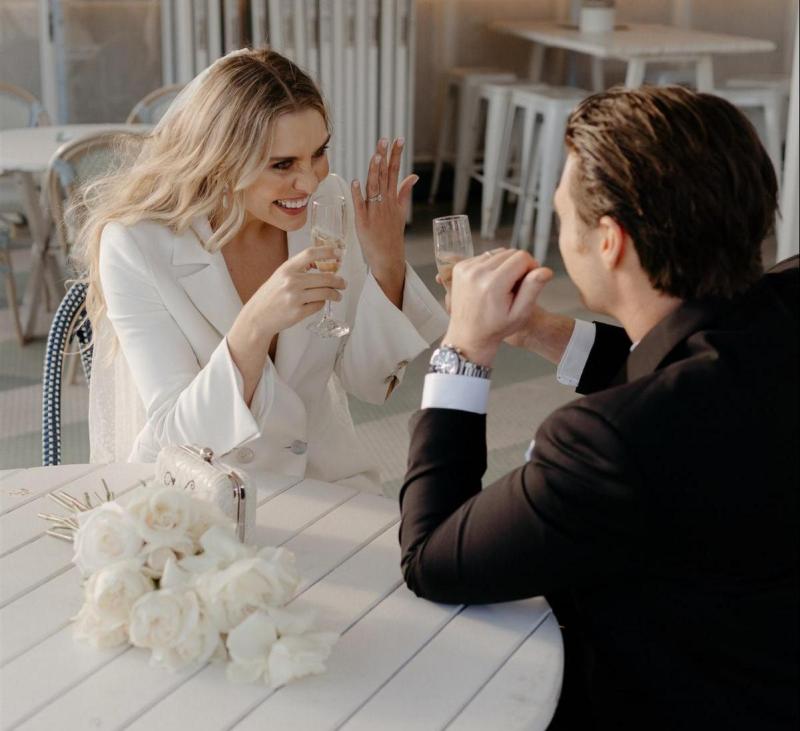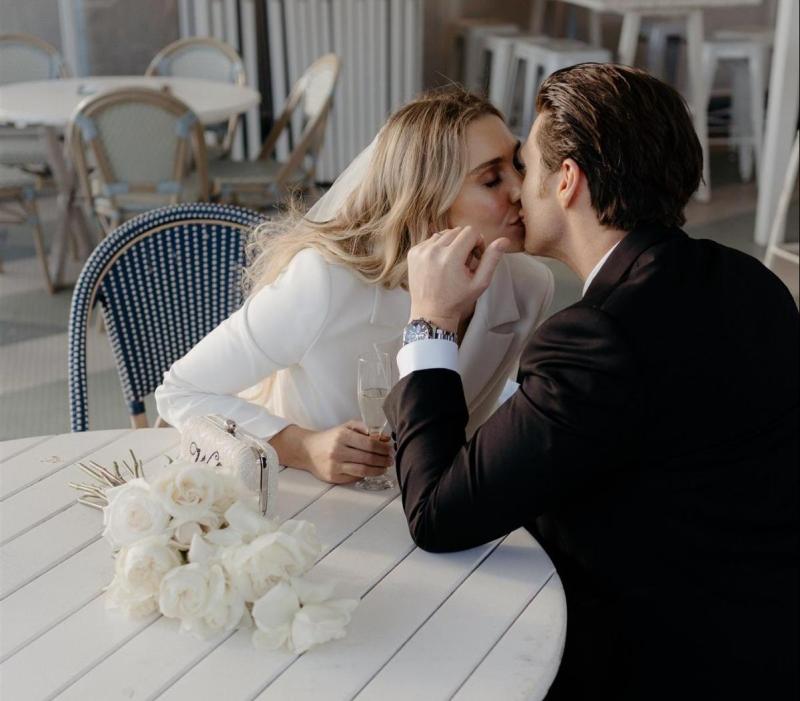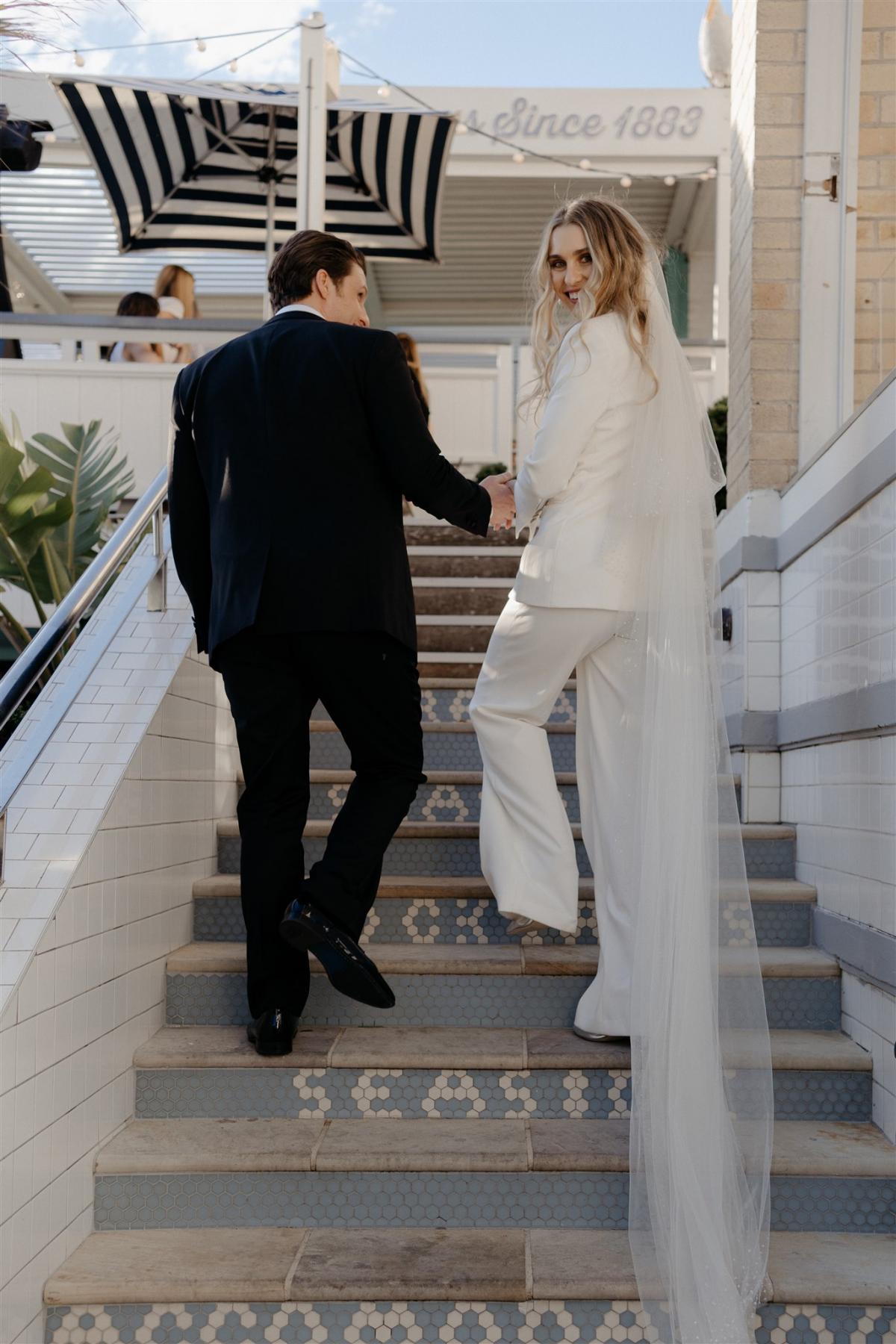 The Bridal Suit
After months of giddy anticipation and getting the wedding dress just right, Demi had to put it all on hold after deciding to go another direction. Although she loved her dress, she knew for her elopement she wanted something…well…different!
"I was on a photo shoot when I found my perfect outfit. The suit! As soon as I put it on I felt so incredible, I didn't want to take it off. I knew it was what I wanted to wear on my special day. I emailed the team and booked straight away to go into their Sydney showroom. The girls were amazing. Going in and trying on the Charlie Jacket, Danielle Pant (from our ELOPE collection) and then the Astra Veil, my heart skipped a beat. We had such a fun time together and they made my experience a dream come true."
The Charlie Danielle bridal suit combo is made for the lioness at heart. In this sexy, ivory pantsuit, one will demand attention from the whole city. Demi did just that as she strolled hand-in-hand with her new husband around the Sydney harbour showing off her new man.
"I felt so beautiful and powerful in my suit. I thought to myself, I have to wear this on my wedding day. The way it fit my body made me feel so good and confident. And the incredible long Astra Veil with the sparkles was the perfect touch to the suit. I love love loved it!"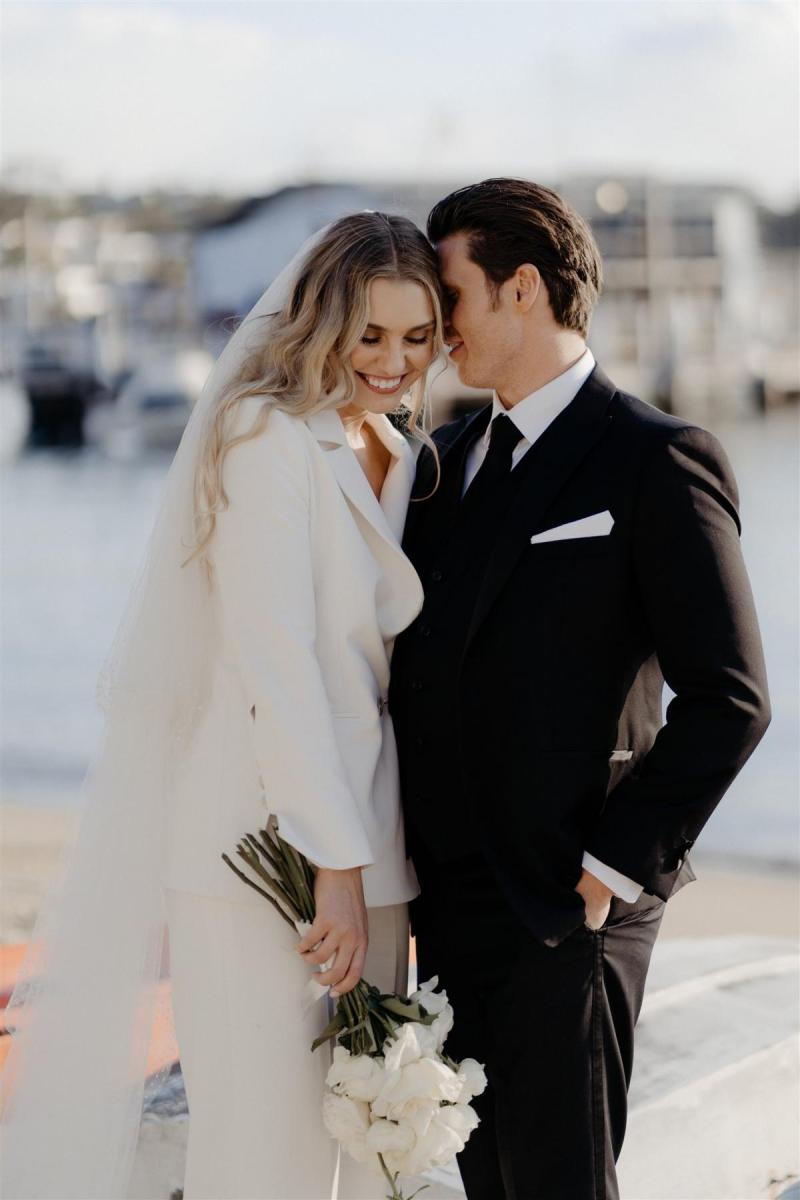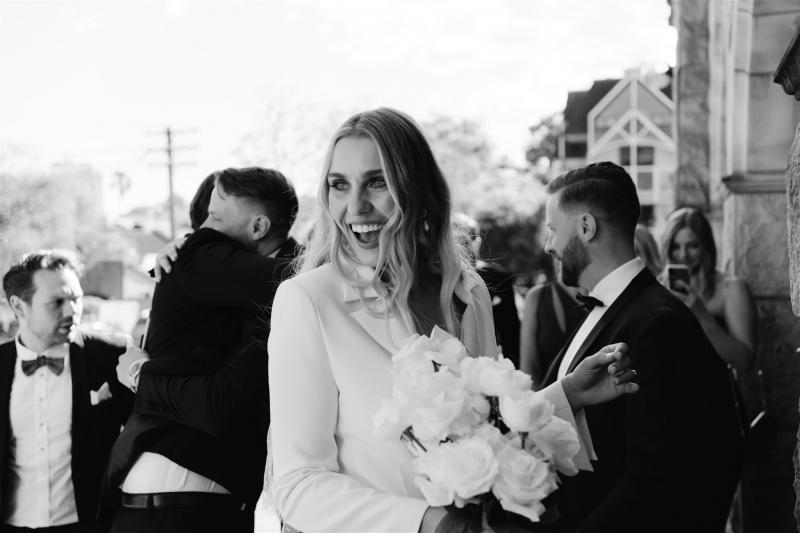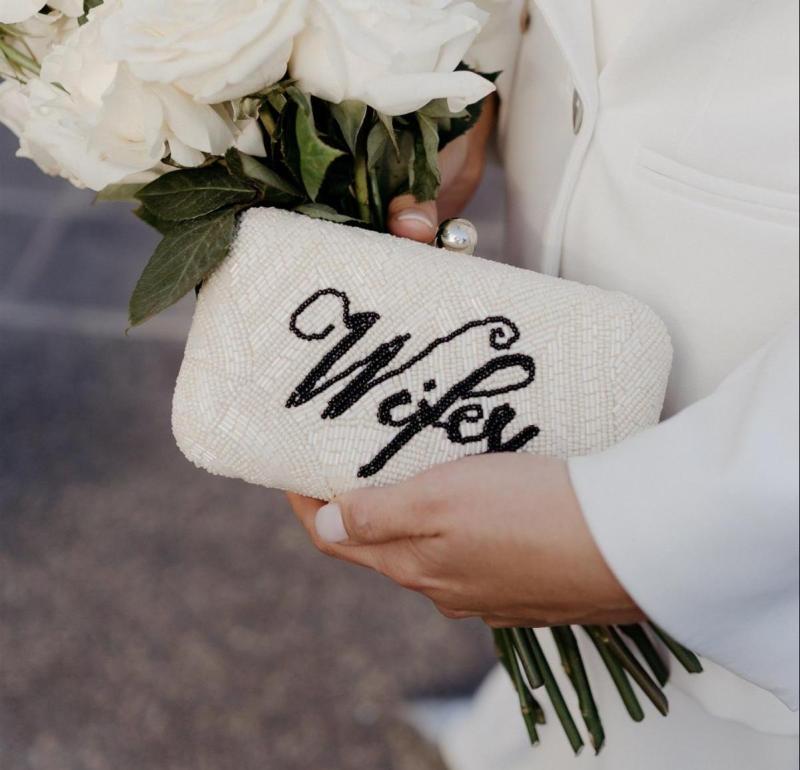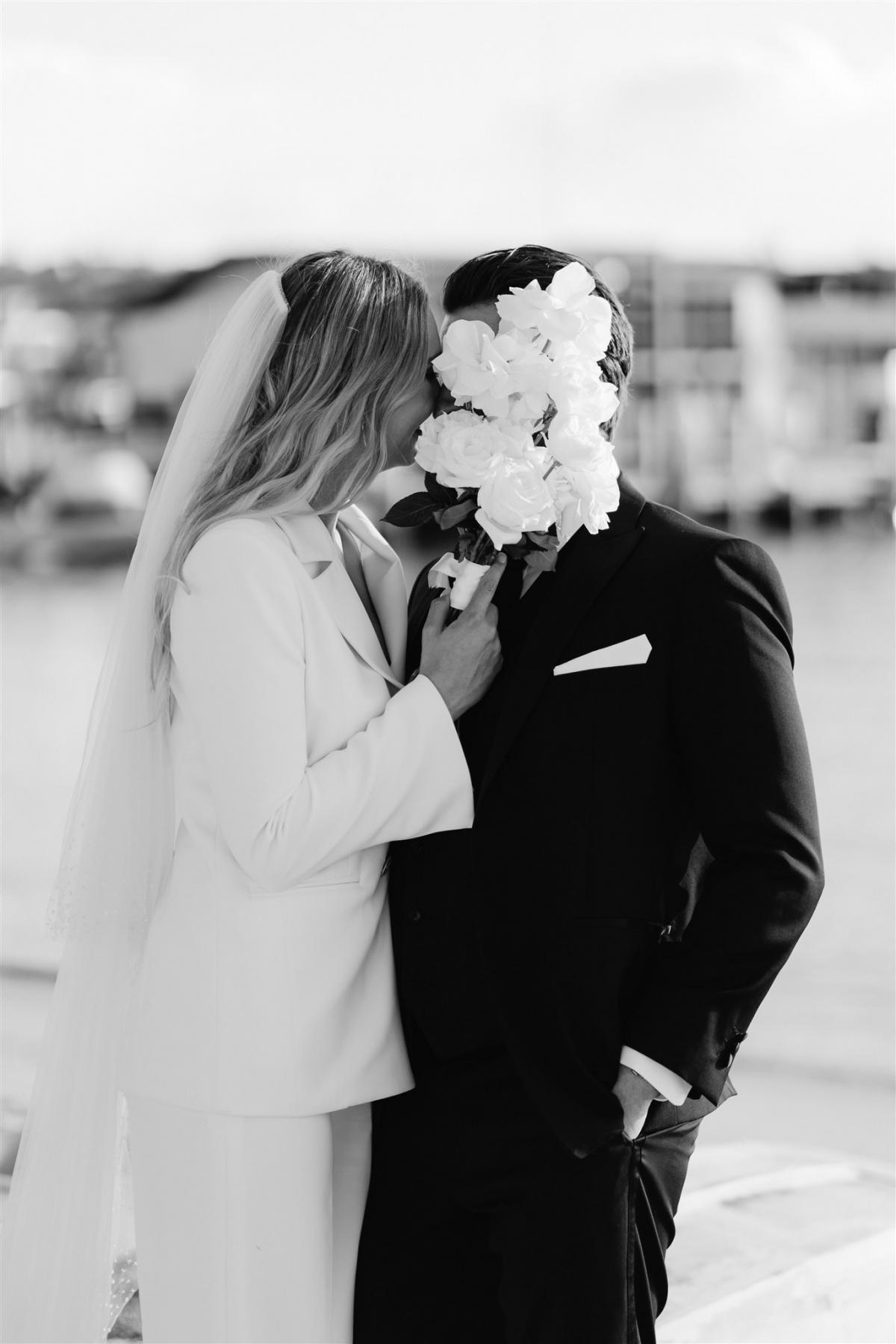 Accessorising
To add some pizzazz to her minimalist bridal style, she donned the sequin lined Astra veil along with a jewelled clutch by From St Xavier with the word "Wifey" clearly on the front. Her aesthetic was bold, modern, sleek, yet also simply elegant. She was the picture of perfection for her city elopement.
Peep the iconic silver stilettos from Morimoto; they're to die for!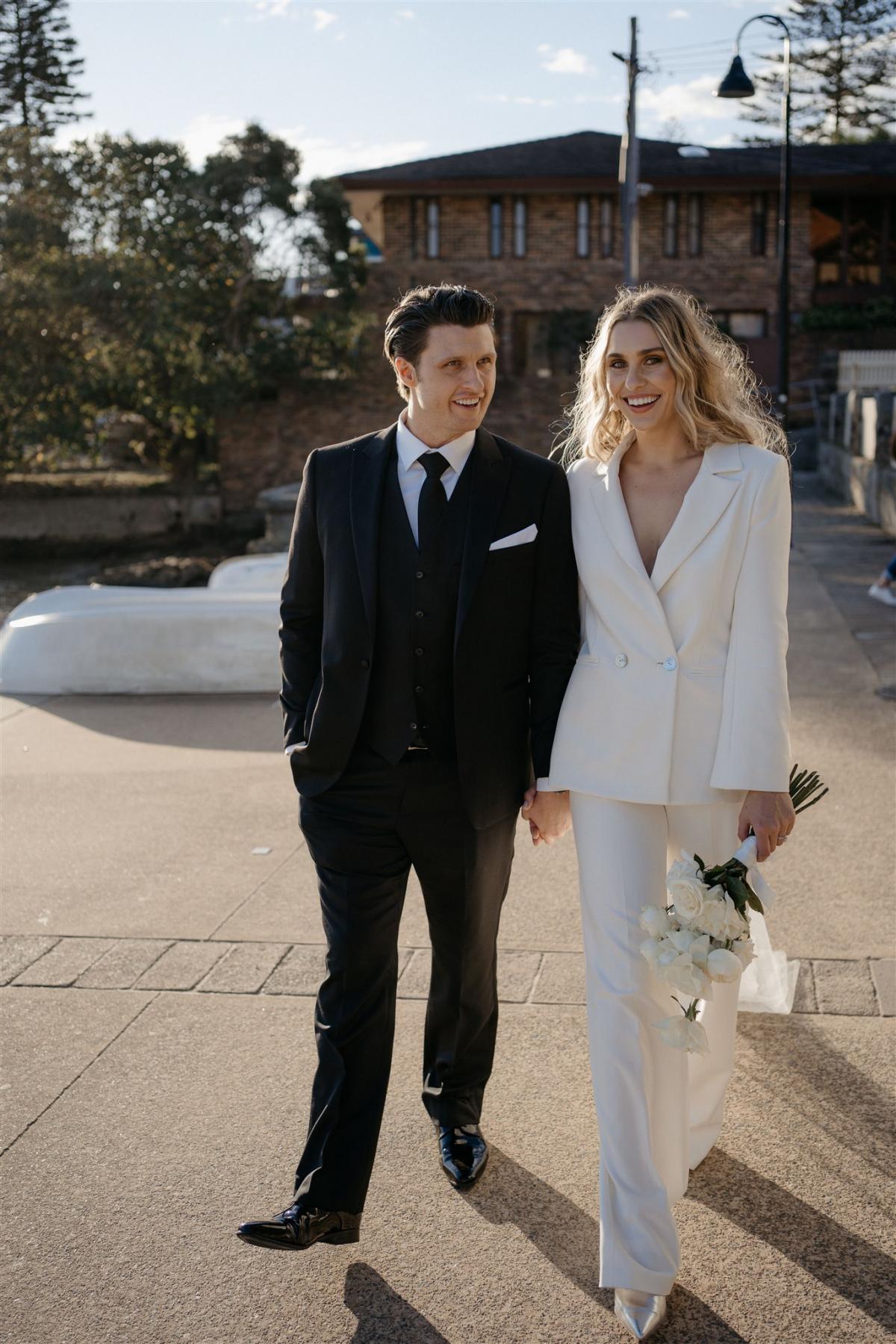 Advice
"My advice to brides would be to try lots of different styles on. You might not have thought about a particular style that works for you, or it may have never crossed your mind, but I think all brides should try to step out of their comfort zone and have fun playing dress-ups in the showroom. Who knows, maybe you might even wear a bridal suit on your wedding day!"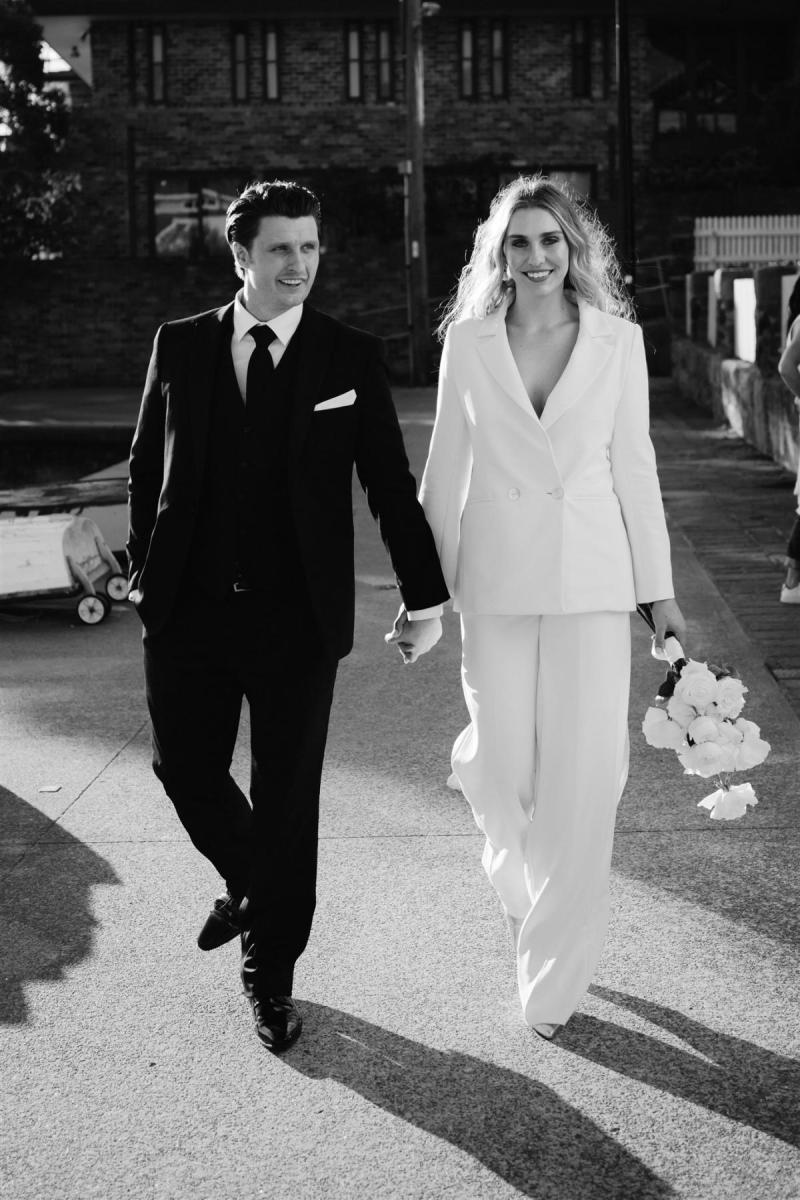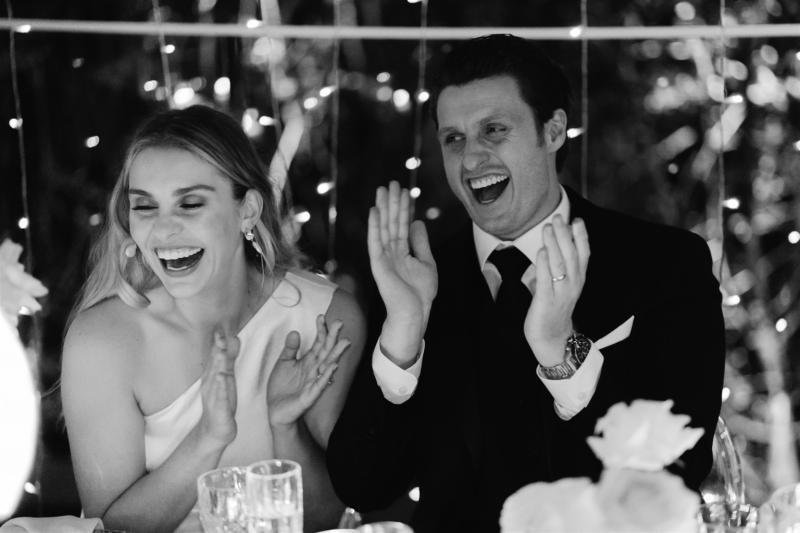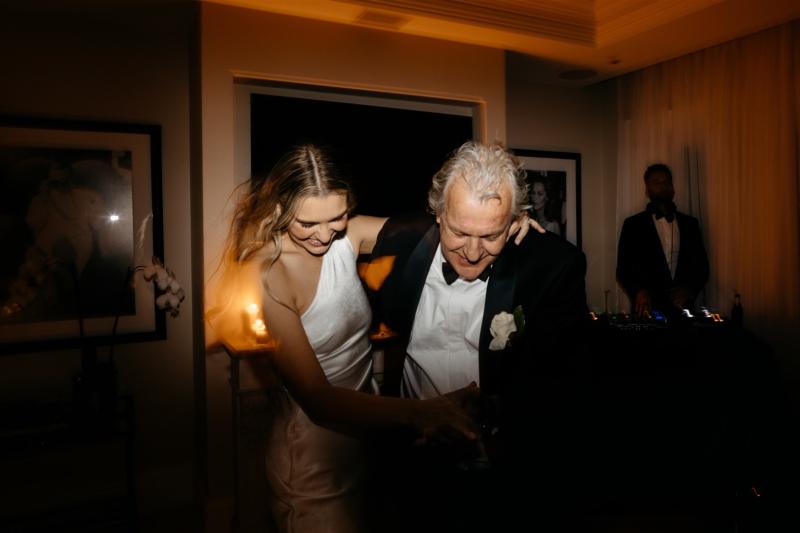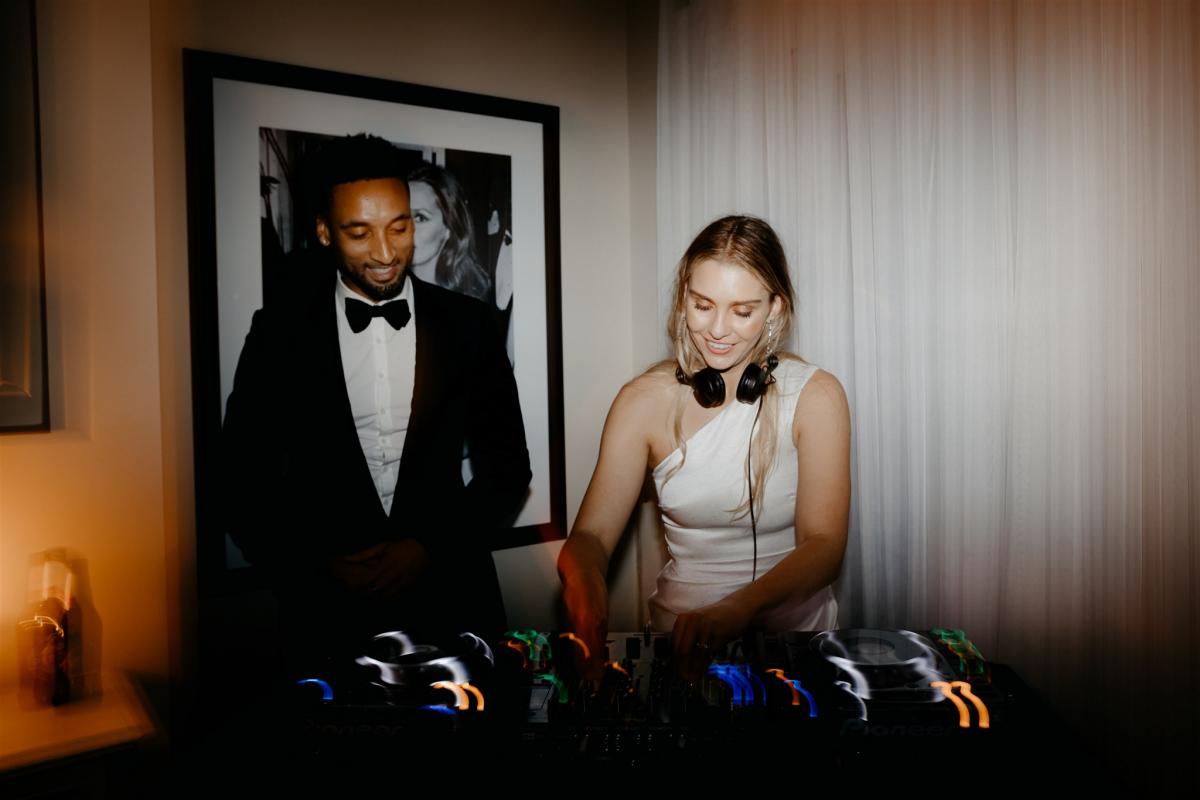 What does love mean to you?
"Love to me is going through life together with your other half. Your equal, your partner in crime and the person who will always be there by your side. Through all the challenges you may face, you conquer them together."