Genevieve & Kyle's Miraculous Outdoor Wedding

What started as apprehension on Genevieve's side, many cancelled first dates, and Kyle's never-ending quest to get to know her led to one last attempt. He texted one more time with his mind made up. If she didn't show up, he was done. He was going to send her contact to the dreaded delete folder. With nerves running high, she finally gave him a chance…and thank goodness she did. Within minutes of talking on the beach, they knew something special was shared between them, a deep connection that would turn into a forever bond. His charisma and charm captured her soul. Coffee dates and weekend trips turned into nights spent together laughing and planning for the future. What was his was now her's, and what was her's… was still her's. After a short eight months of dating, Genevieve slowly moved in with Kyle little by little. "Kyle's apartment became my apartment, his drawers became mine, his food became mine," she says.
Long story short, six years later, with many twists and turns, ups and downs, the two were finally wed at the Mounts Bay Sailing Club in the most glorious, modern, yet effortlessly timeless wedding. She wore the enchanting Blake & Camille gown from our BESPOKE collection paired with the lustrous Pearl veil. This unique combination features a voluminous aline skirt and a flattering, bustier bodice.
On the proposal
Some people would rather jump out of an airplane than deal with the incredible anxiety of getting down on one knee and proposing to the one they love. Instead, Kyle did both on the same day. He truly would go to any height to show his devotion to Genevieve.
On a gorgeous December day in 2018 over the pristine blue coastline of Byron Bay, Genevieve and Kyle glided down towards the earth below after she had surprised him with a skydiving trip to start the day. With their blood pumping, hearts racing, and hands sweating, the two made their way to a southeast waterfall where Kyle made a life-altering promise to Genevive under the rushing water. Although the day took the pair on a thrilling adventure, nothing would compare to the journey to come.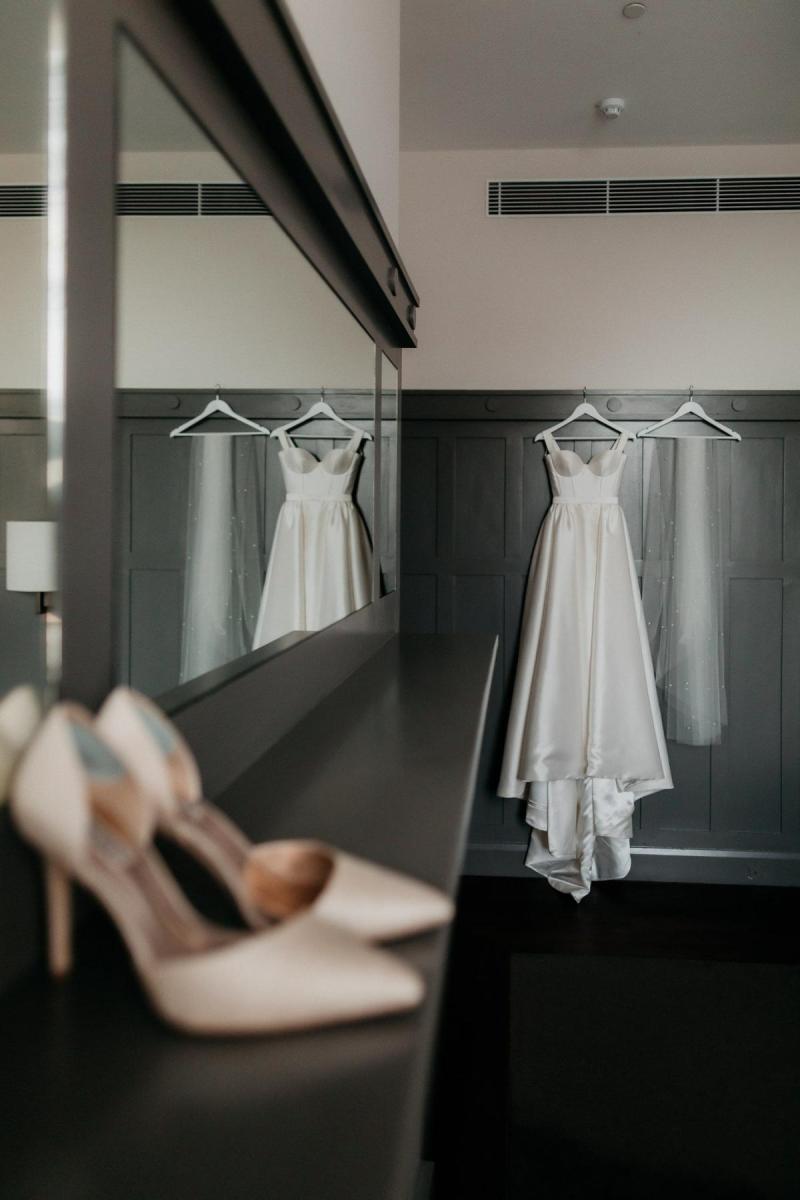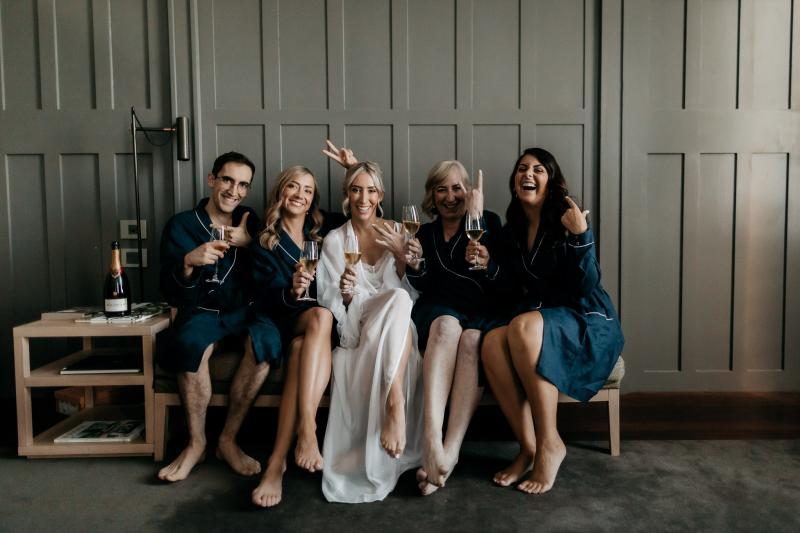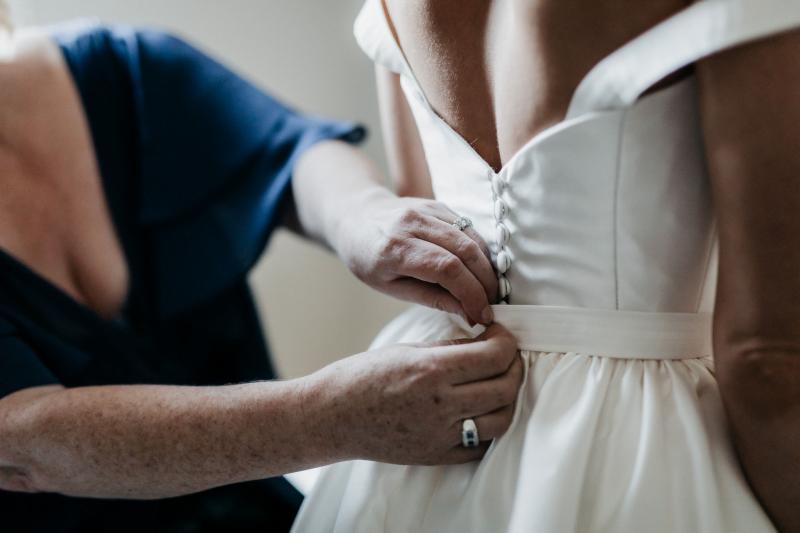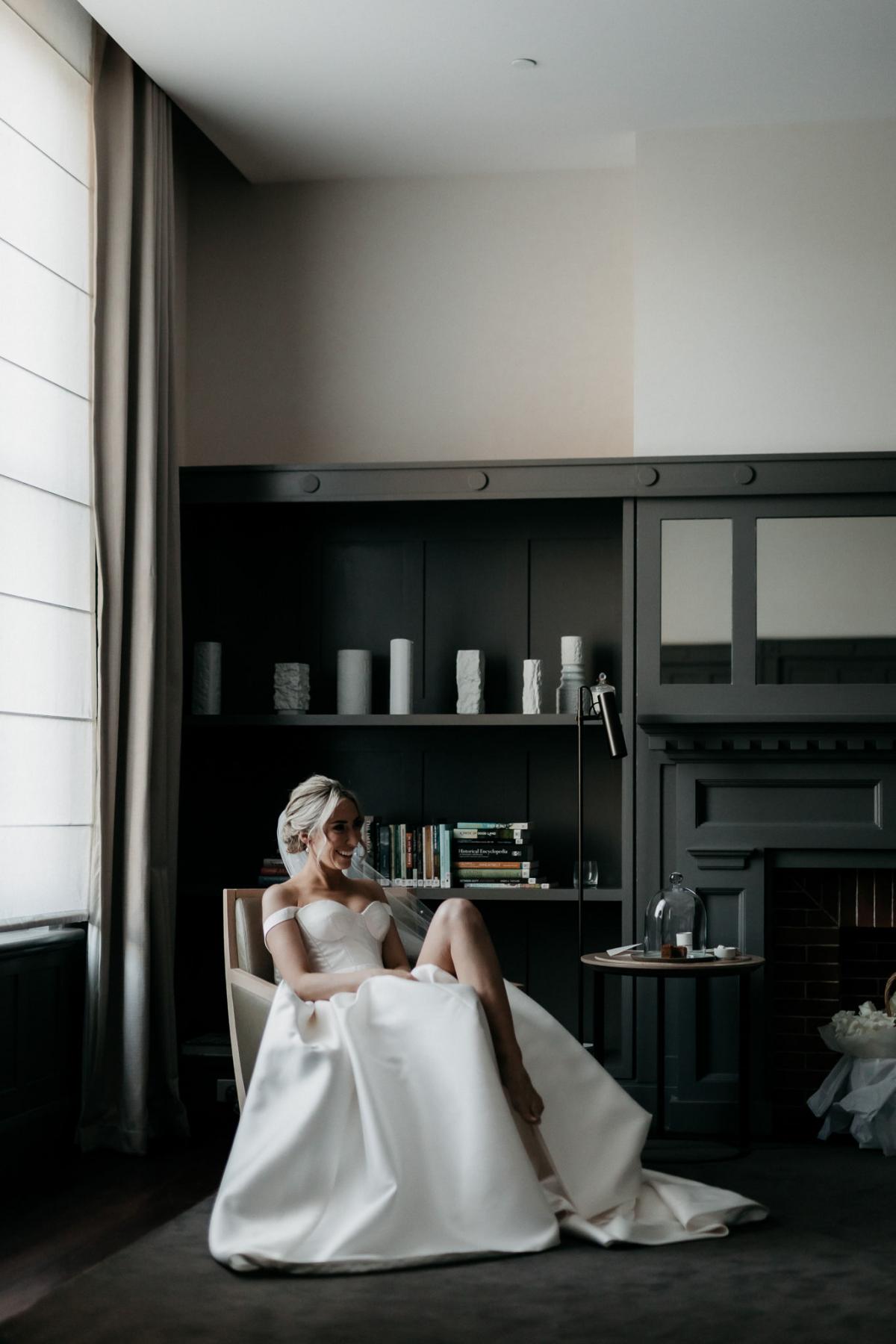 On the venue
Imagine being told 24 hours before your wedding, your venue could no longer host your guests. All your planning, months of preparation, instantly dashed with no time for plan B. Weddings are traditionally full of stress in normal times, but through COVID and lockdowns, pressure has been amplified exponentially. Unbelievably, Genevieve had her family and crew pull off a miracle, a true wedding feat no one could have foreseen.
After postponing in April 2020, the love birds were getting ready for their big day in April 2021 as the world opened back up, but fate wasn't on their side. With 24 hours remaining, Perth was suddenly plunged back into lockdown. Everything stopped. At this point, most normal brides would have had a full-on panic attack, but Genevieve was determined to make their dream wedding a reality.
"A lot of stressful tears later, our bridal party helped to hunt down a new venue, Mounts Bay Sailing Club, which was being set up for a three-day festival that ended up being cancelled last minute as well. The boys worked tirelessly throughout the night to pack down the cancelled festival, and some of my friends the next day cleaning bathrooms and packing away supplies before Ultimo Catering came in to create the magical space where we could finally say 'I do'. "
The Swan River reflected the pink sunset hues off its still, glossy surface, as no boats were to be found. Nearby dolphins rejoiced in the calm waters by playing in the background as Genevieve and Kyle tied the knot on the riverfront. Although it wasn't what they had originally intended, their wedding was everything they wanted and more. As the night came to an end, their guests danced under the stars to live music and sounds of joy. The day was an outstanding success!
We are sure the pictures don't do the day justice.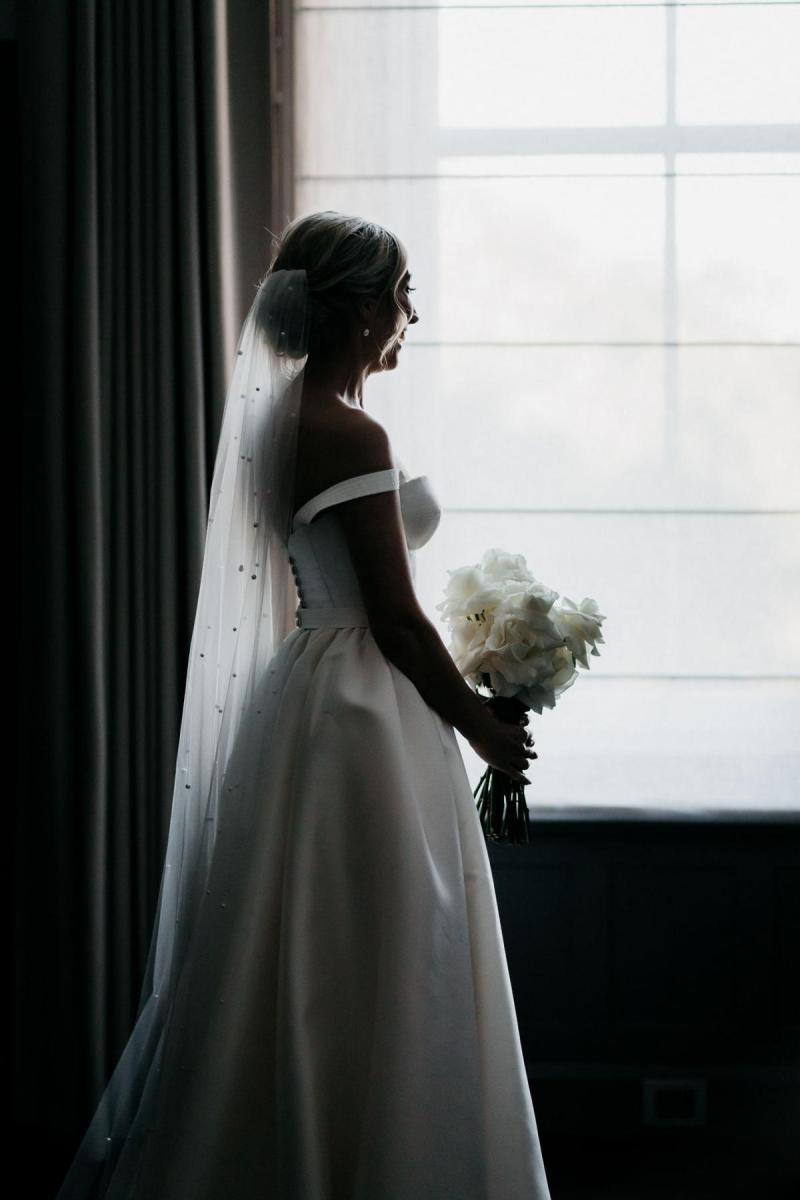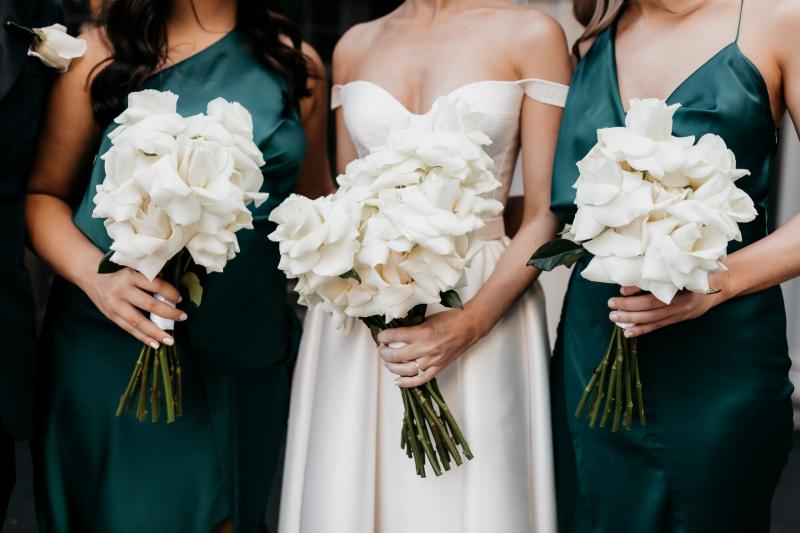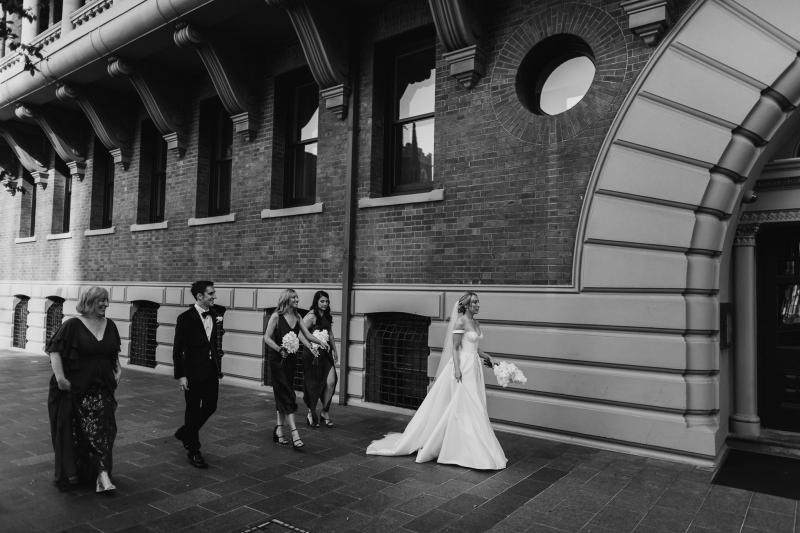 All the styling details
Crisp linens, minimalist bud vases with white roses from Sir Botanical, and translucent glasses lined the long banquet tables on the open-air lawns. The arches of the bentwood chairs and Palace stage mirrored one another to create the most magical outdoor reception. 
"I had planned to have a garden wedding on the university grounds but with the last-minute venue change, there was no time to change the colour scheme, table designs, and lighting to be suited for an outdoor waterfront wedding. Luckily the timeless styling meant that everything would still work, with Ultimo Catering and Sir Botanical coming to our rescue to pull off the most whimsical yet still classic wedding."
Genevieve knew everything had to be classic. If it was trendy, it had to go. By being so devoted to this clean, elegant aesthetic, she was able to create a wedding reception that was truly unique and inspiring.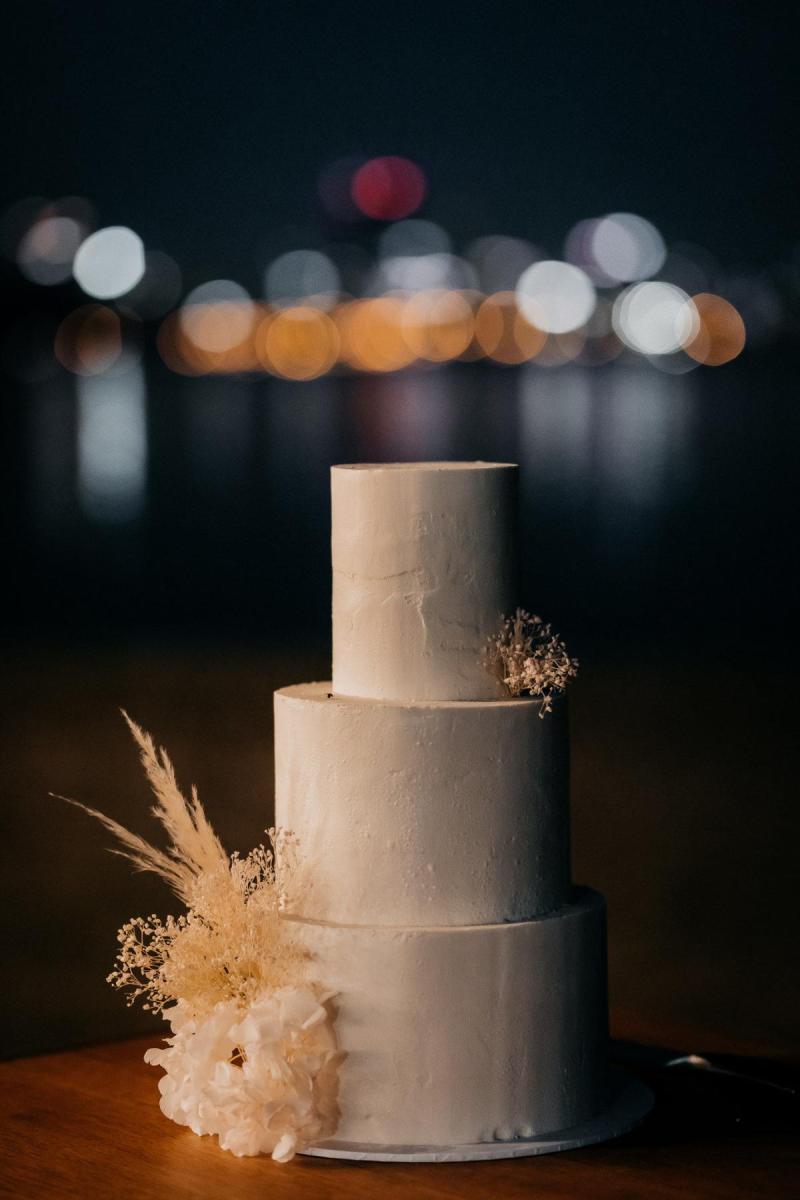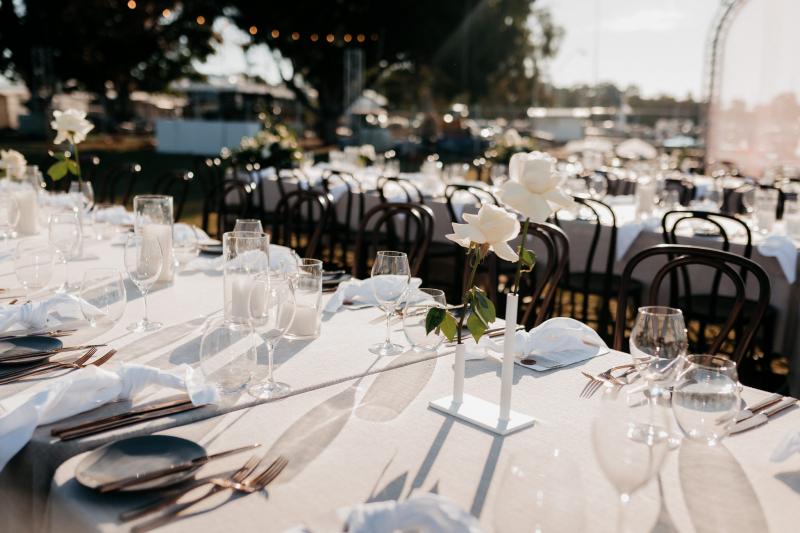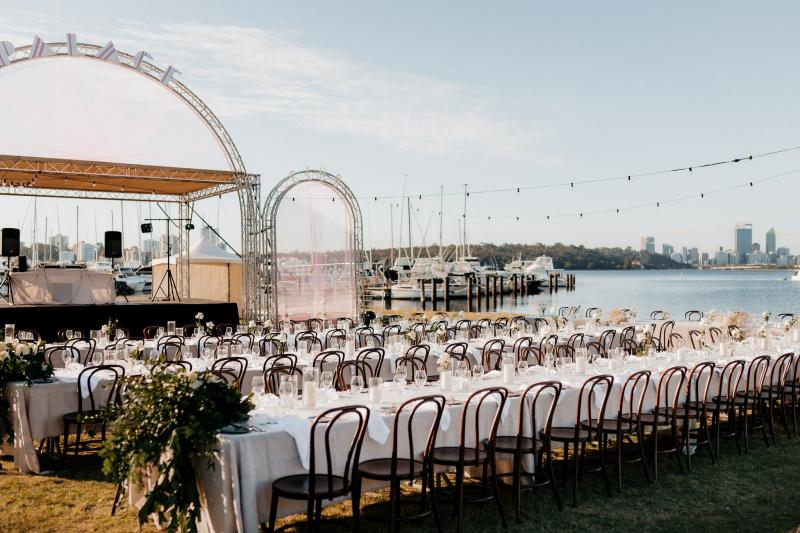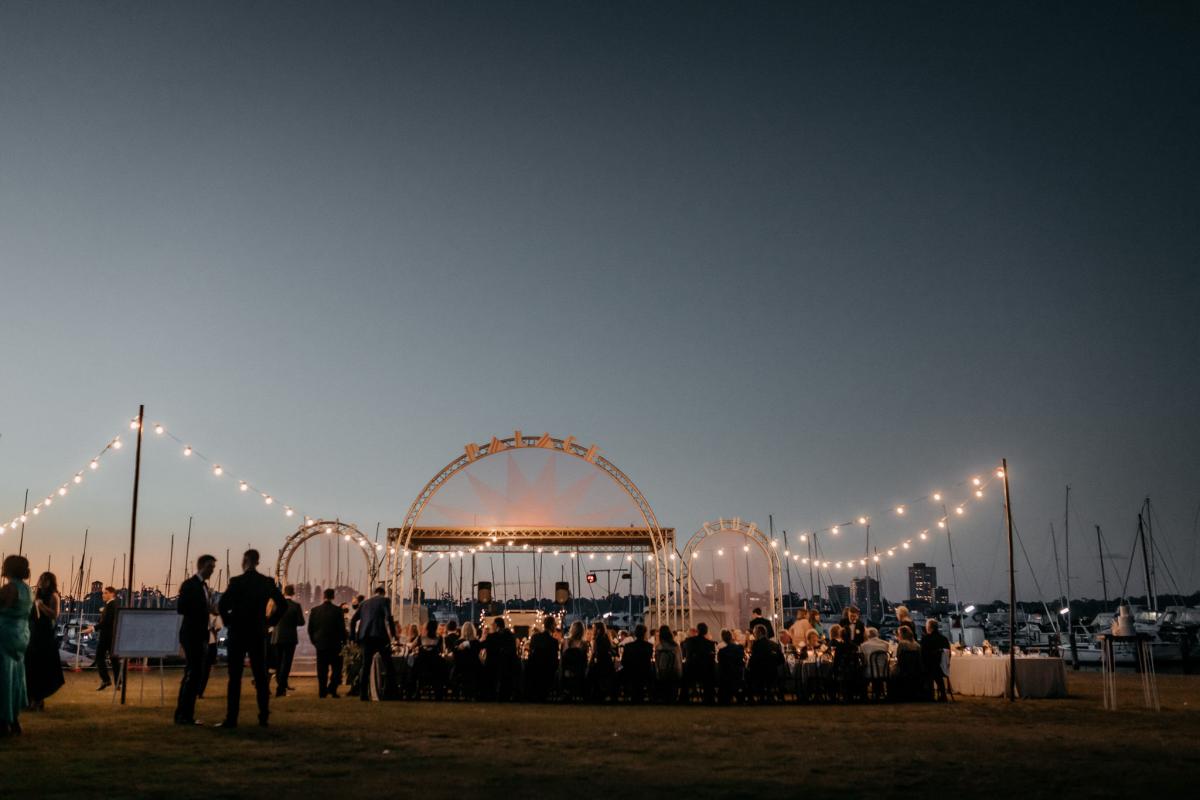 Highlight of the day
"I would have to say that the absolute highlight of my day was finally getting to say "I do" after the hurdles we had  faced. Walking down the aisle and seeing my fiancé standing there waiting for me after everything we had just endured felt so surreal and I couldn't believe it was finally happening. No matter how well we had held it together in the lead up, we both immediately burst into tears as soon as we made eye contact, and the emotions were so contagious we had most of our guests in tears too! It truly felt like time stood still and everyone was there in the moment with us."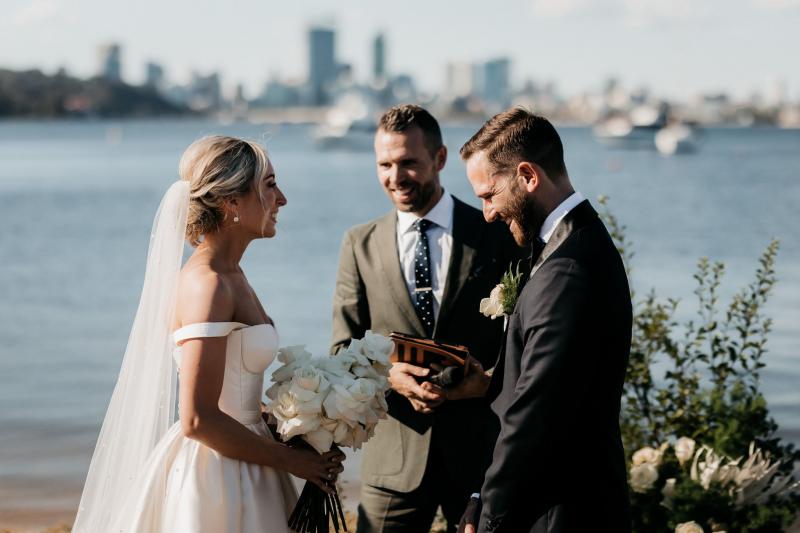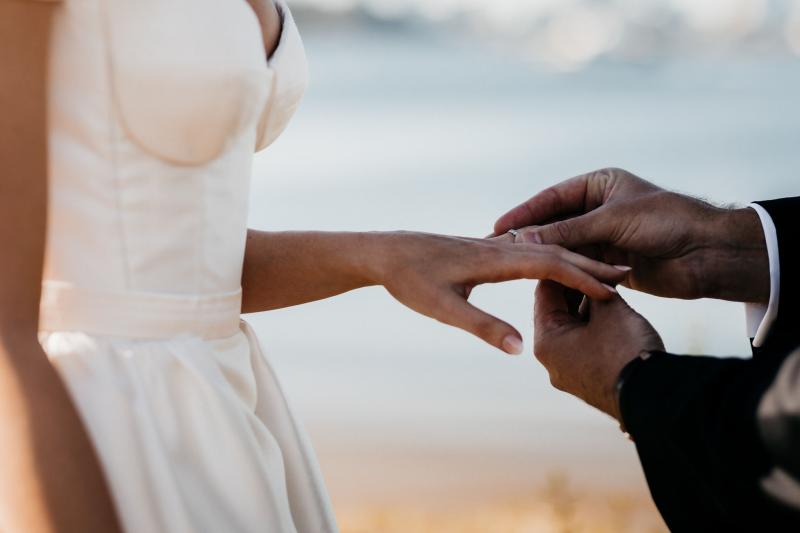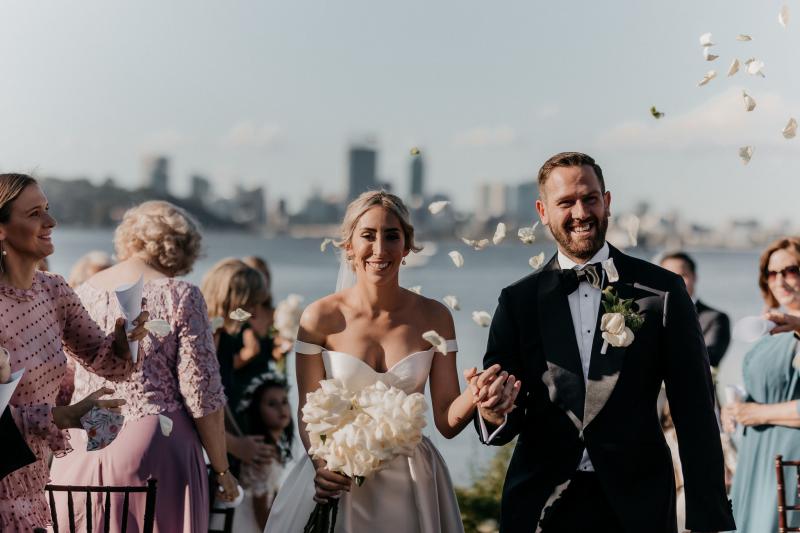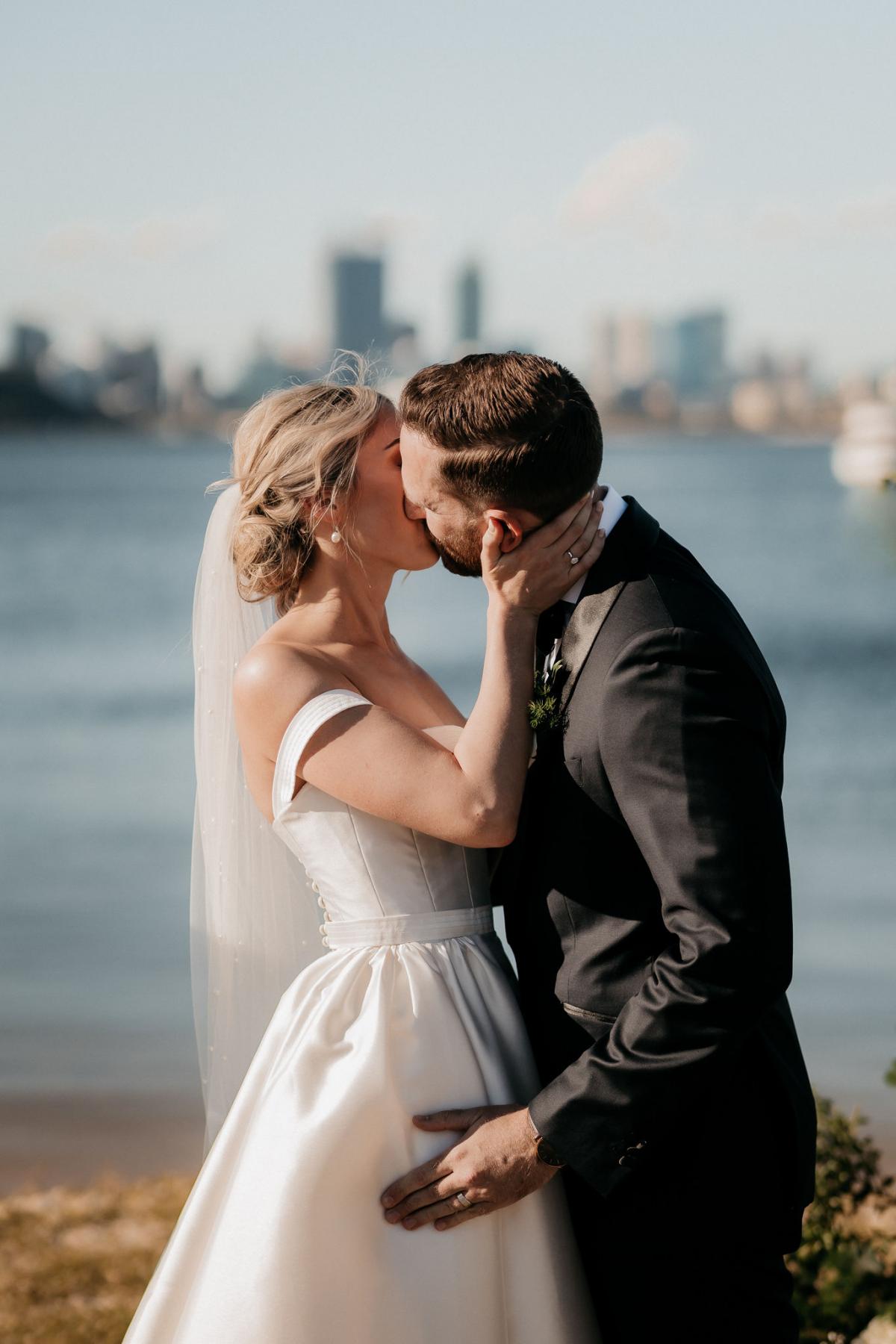 The Dress
When Genevieve started the wedding design process, she knew she wanted something captivating that embodied her style.
"I was really drawn in by the bespoke design process where I was able to create my dream dress. During the whole process, I felt so cared for, like I was unique and that they really wanted to help create the perfect dress for me."
Through her bridal journey, she found the Blake & Camille was the perfect dress for her. The simple yet stunning Blake & Camille wedding dress is a custom combination gown with a bustier sweetheart bodice, aline skirt, and off-the-shoulder straps.
"I was really in love with the classic and elegant silhouette of the dress as a whole, but what I really loved were the playful elements like the hidden leg slit and the pockets! I also loved that we were able to create two slightly different looks with the detachable arm bands which gave me a lot more freedom for late-night dancing!"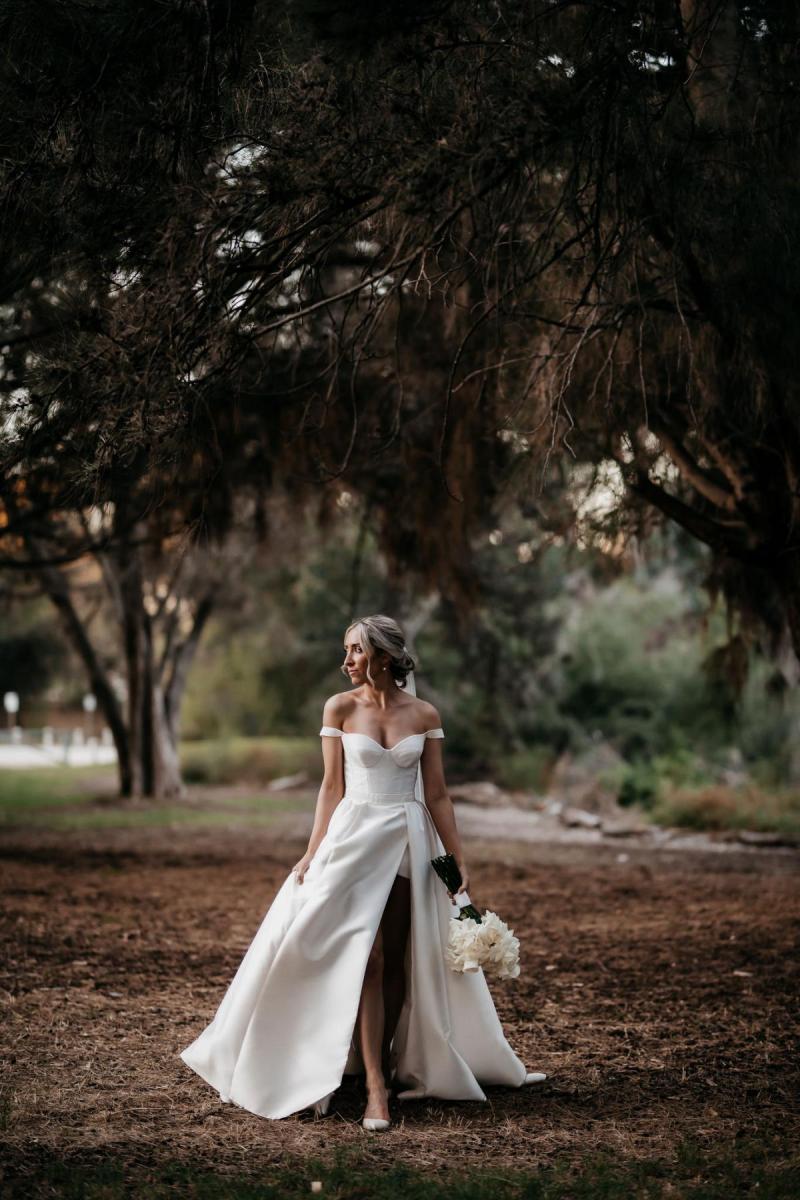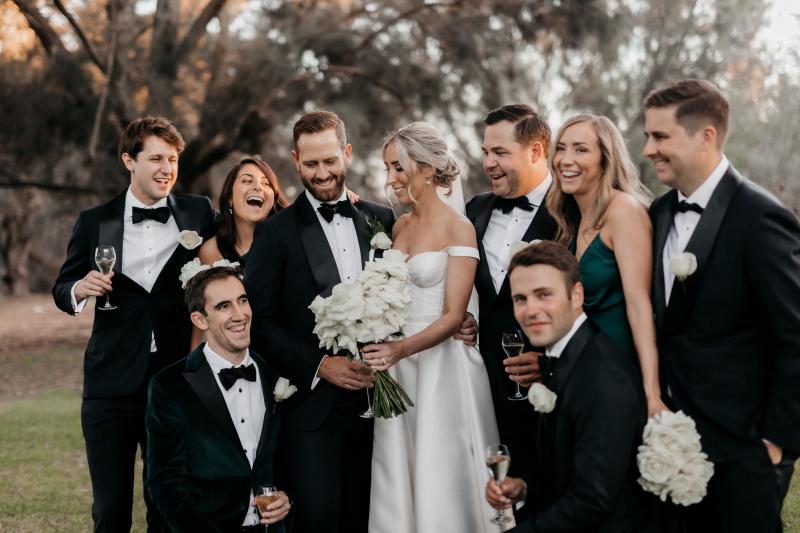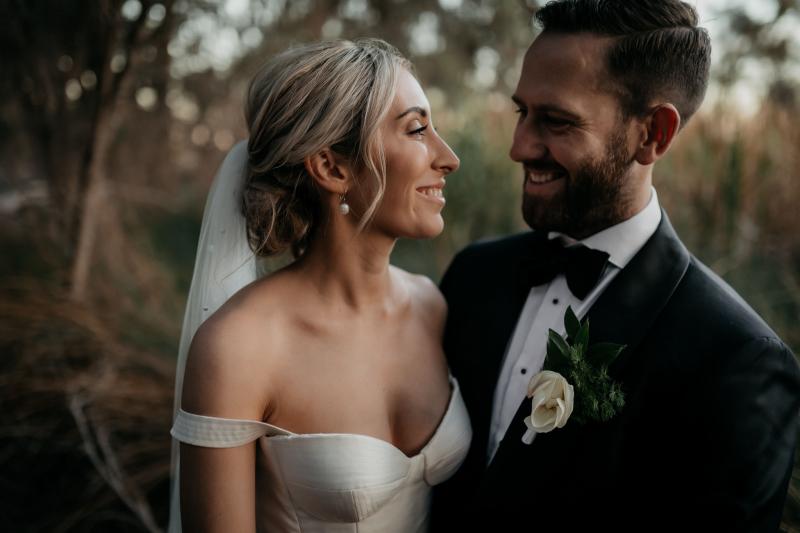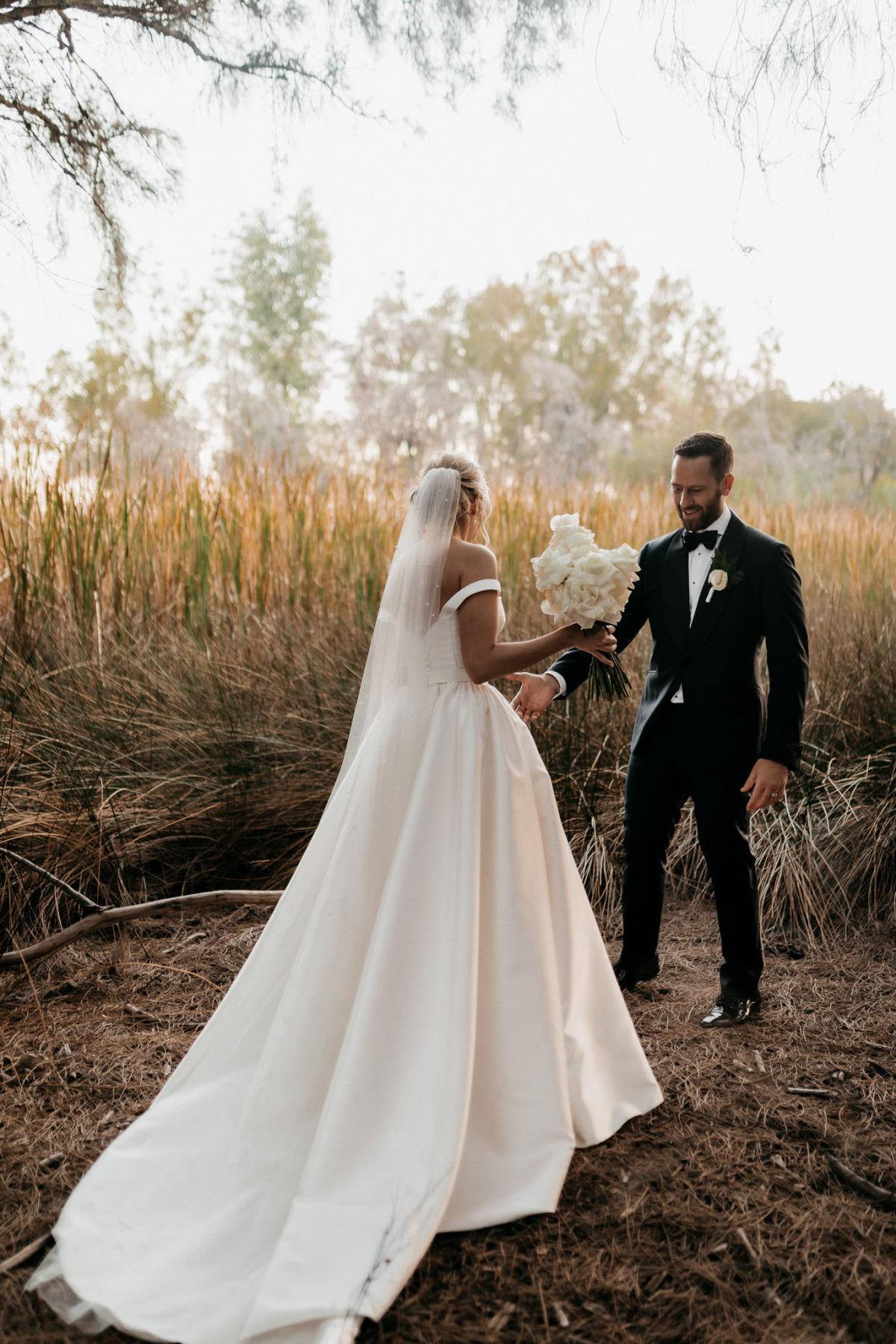 Accessorising
With the wedding dresses simple flair, Genevieve donned the Pearl veil to elevate her look. As her something borrowed item, she borrowed her mum's Paspaley pearl earrings. 
Being a super-smart woman, whom we should all take lessons from, she wore Badgley Mischka high heels for her ceremony and ASOS shoes to dance the night away.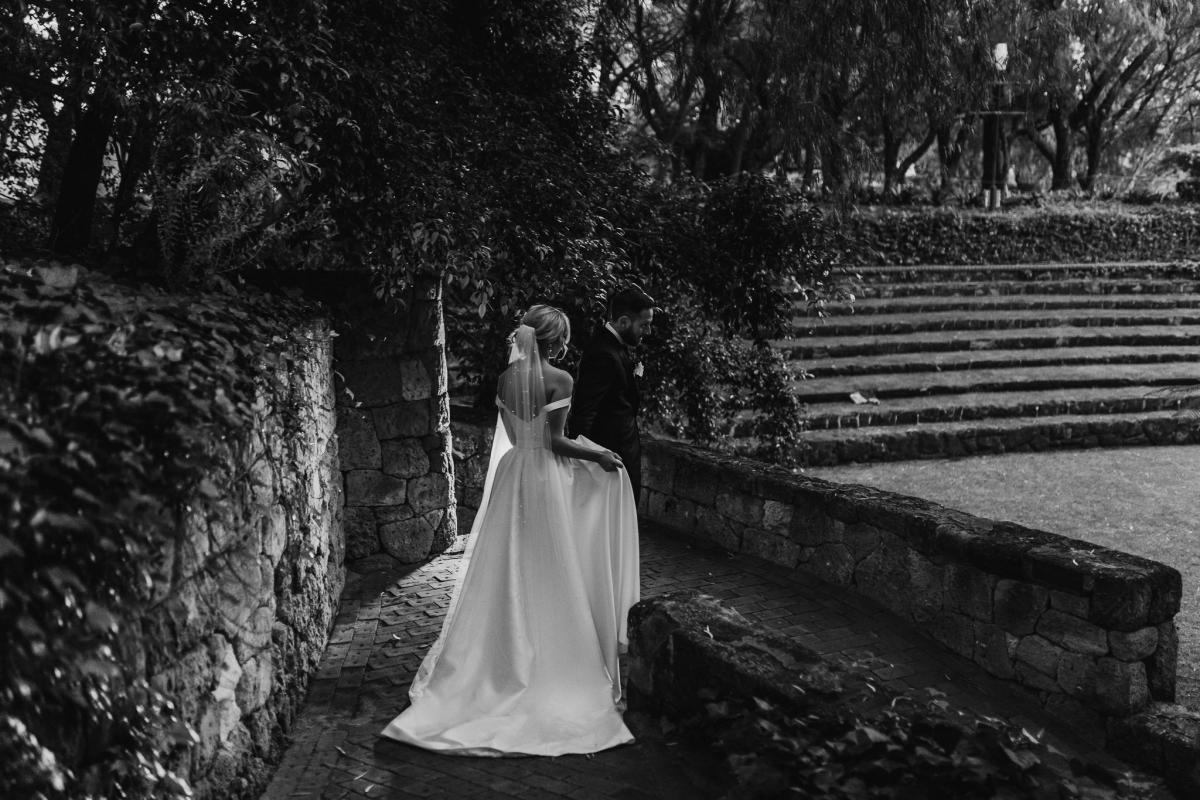 Advice
At KAREN WILLIS HOLMES, we pride ourselves on giving brides the best experience possible while guiding them through their thoughts and concerns.
"Definitely keep an open mind! When I pictured my wedding dress, I envisioned a really minimal gown with long sleeves and a low back. Alanna at the Perth KWH store was so helpful and suggested I try on some other styles that she thought would suit me, and as soon as I put my gown on, I instantly fell in love with it. I would never have pictured myself wearing such a dress, but it was so magical when I first tried it on. I definitely had that "dress moment" – my mum and sister had tears in their eyes too! I was so grateful to Alanna for her help and encouraging me to play around with different styles."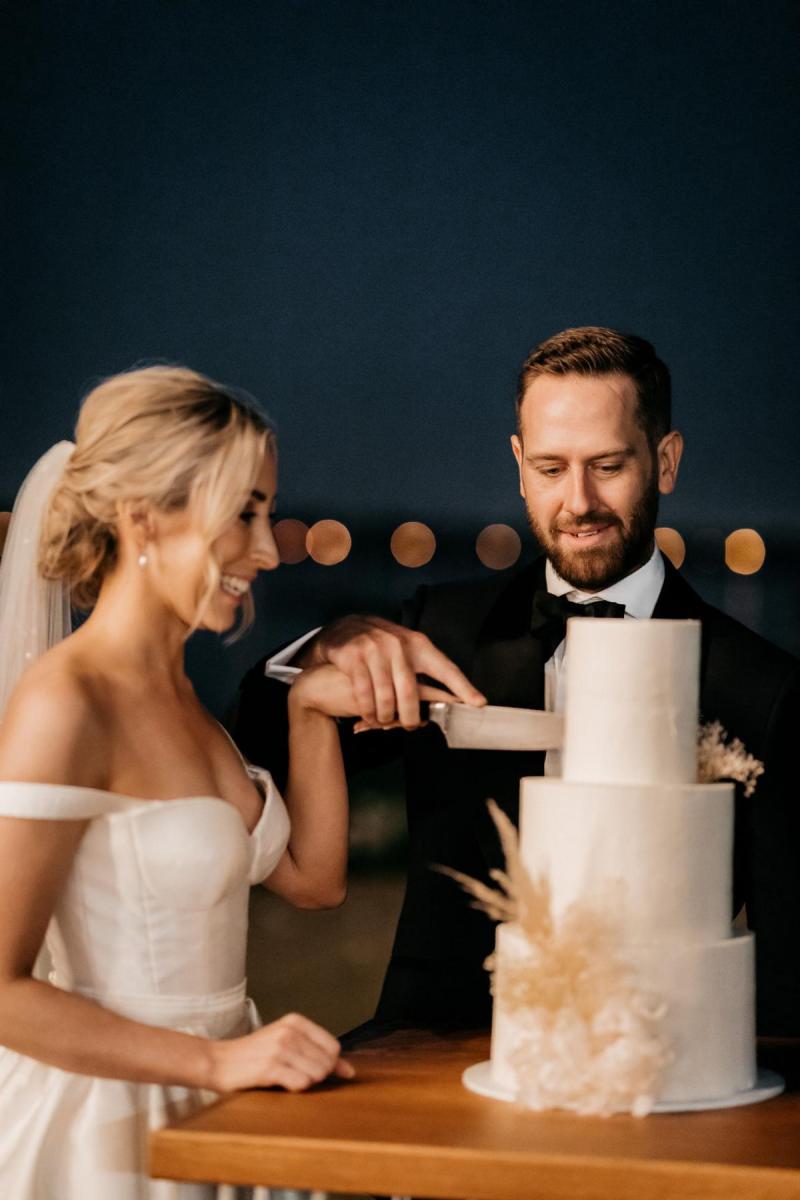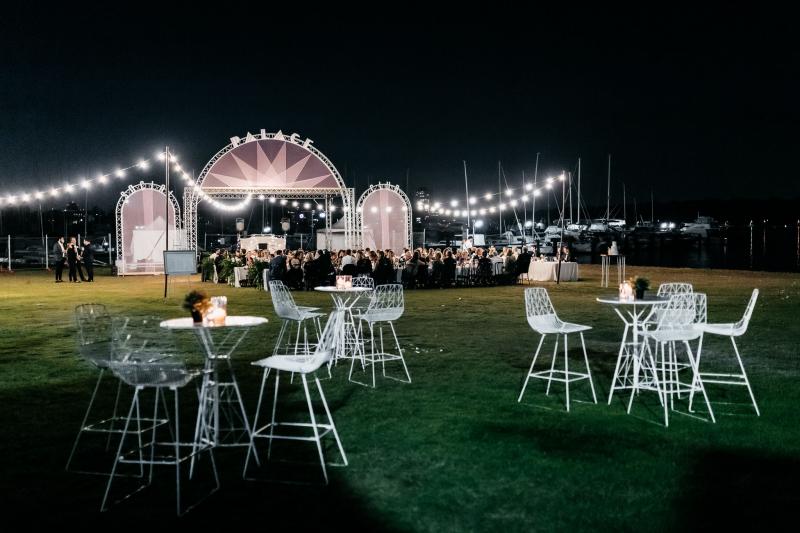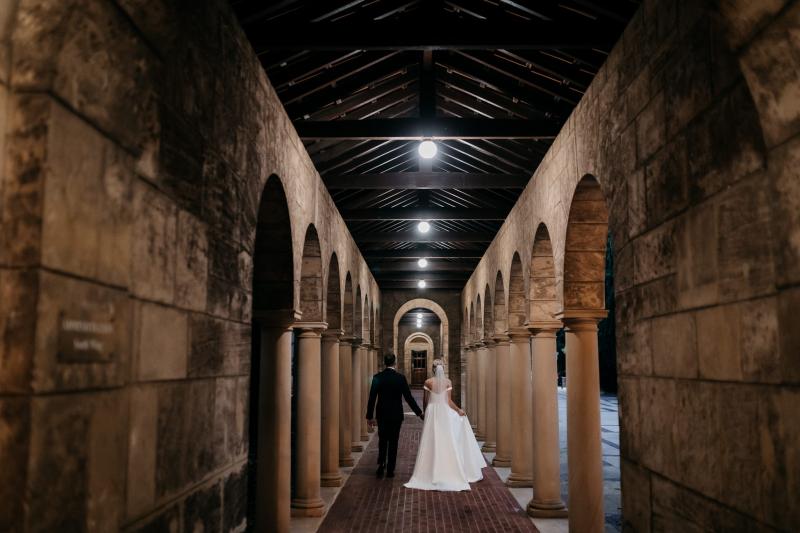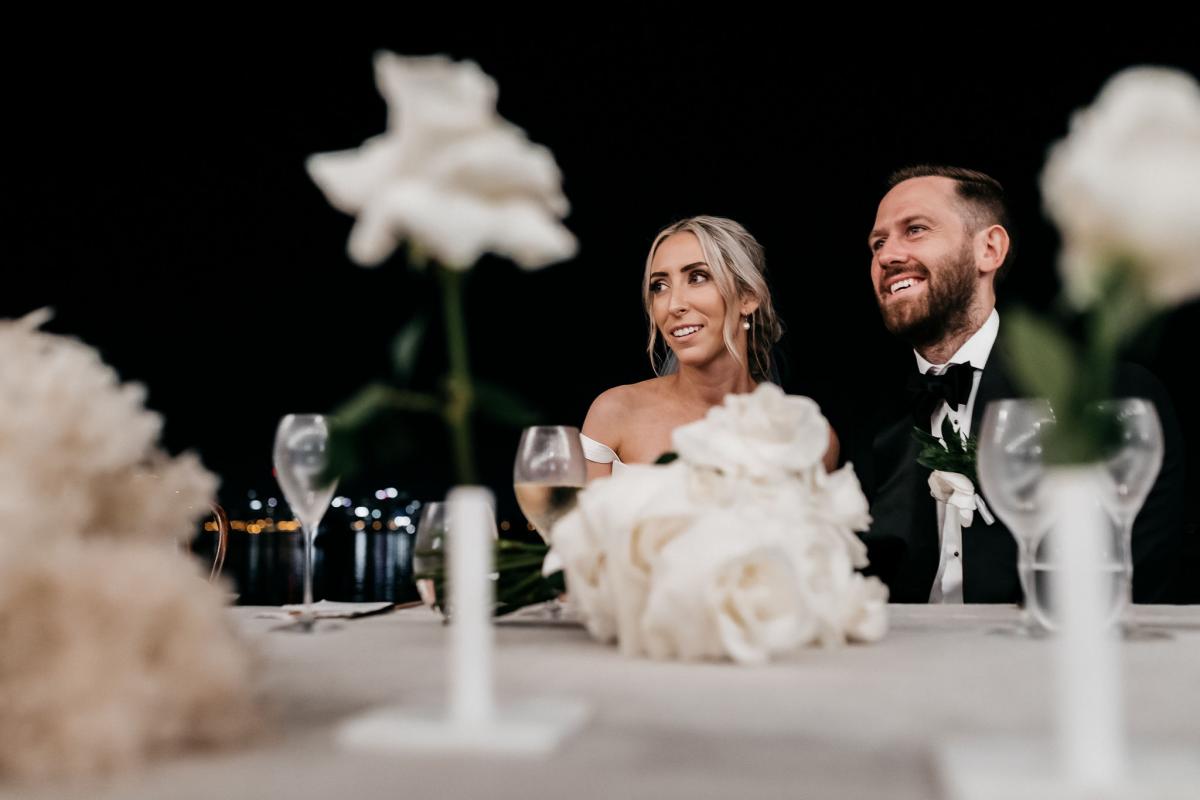 What does love mean to you?
"Love is the best thing that can ever happen to someone. It's meeting that one person who is unlike any other and never wanting to let go of them. You want to spend every second of every day together, and never for a moment hesitate to put their needs above your own. "