Best Wedding Dresses with Pockets for 2022
Imagine the best day of your life, where the person of your dreams is standing at the end of the aisle and you're wearing the most breathtaking 
A-line wedding dress
 you could possibly imagine while all eyes are currently on you as you gracefully walk towards your fiancé with each passing step. The audience is captivated by your beauty as you face your partner and prepare to exchange the vows that will influence the rest of your life. You stare into their eyes and your hand reaches down towards the side of your body where…all of the sudden…you whip out a piece of paper hidden in the pocket of your dream wedding dress! The audience does a collective gasp; it's a 
wedding dress with pockets
! 
As women, we have evolved the unique ability to hold almost any object in our hands at a single time: phone, keys, wallet, tissue, baby. You name it, we will hold it with our superhuman grip strength. Although we can't deny our talents, what if we could let our hands relax on our big day and rest assured that our wedding dress with pockets has us covered? When choosing a modern wedding dress, we often think of common functions like; What silhouette suits me? Can I dance it in? Will I be able to comfortably sit down? We can help answer those questions in our one-on-one bridal appointments, but maybe we should ask our wedding dresses to do more. Simply, be better. After hundreds of years of bridal style, we have finally reached the pinnacle of fashion when we added a precious slit into the voluminous skirts of ball gown wedding dresses to conceal all those important items we might need for our wedding day (but please, do not stuff Oreos or red lipstick into the pockets). It will not end well, we promise. Some things are better left for your bridesmaids to have and to hold.  
Although we would like wedding dresses with pockets in every shape and style, they have been strategically designed by KWH and placed into A-line and ball gown wedding dresses to ensure they are properly hidden by the luxurious folds of the fabric while not adding any unnecessary bulk to the gown itself. A-line wedding dresses with pockets are flattering AND incredibly functional! Not only will your modern wedding dress with pockets give you extra storage space, it will also give you an endless possibility of bridal poses. Ever fall victim to the awkward hand in photos? Don't worry, those are the days of the past.
To help you out further, we have compiled a list of our stunning, modern wedding dresses with pockets. Trust us, you won't regret choosing one of these gorgeous gals for your big day.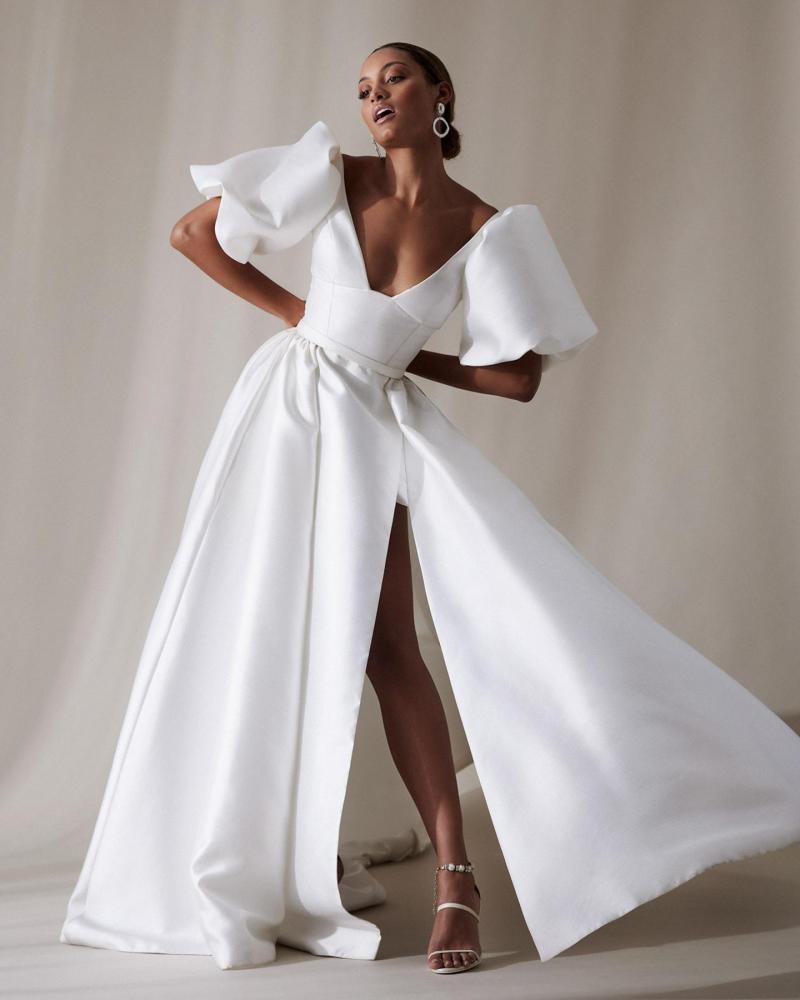 Taryn Camille
Our go-to, it girl, Taryn Camille is a BESPOKE masterpiece that is sure to make any modern bride look like a queen on her wedding day with her unique U-shaped bodice and alluring A-line skirt. She is created using the most exquisite twill fabric that gives structure and lustre to the A-line wedding dress with pockets! Although Taryn Camille is glamorous in all ways, she is also so practical with her high leg-split and boned bodice that will give you the freedom to move throughout the day. 
Want something a bit more alternative for your wedding day? Maybe you're eloping? Taryn Camille can be shortened to become a tea length wedding dress with pockets! Our BESPOKE range has the ability to customize to accommodate your wants and desires. You can even add oversized Bubble sleeves to the dress to make her a bit more daring. Our Real Brides Izzy, Shenea, and Alexandra strut their stuff in Taryn Camille.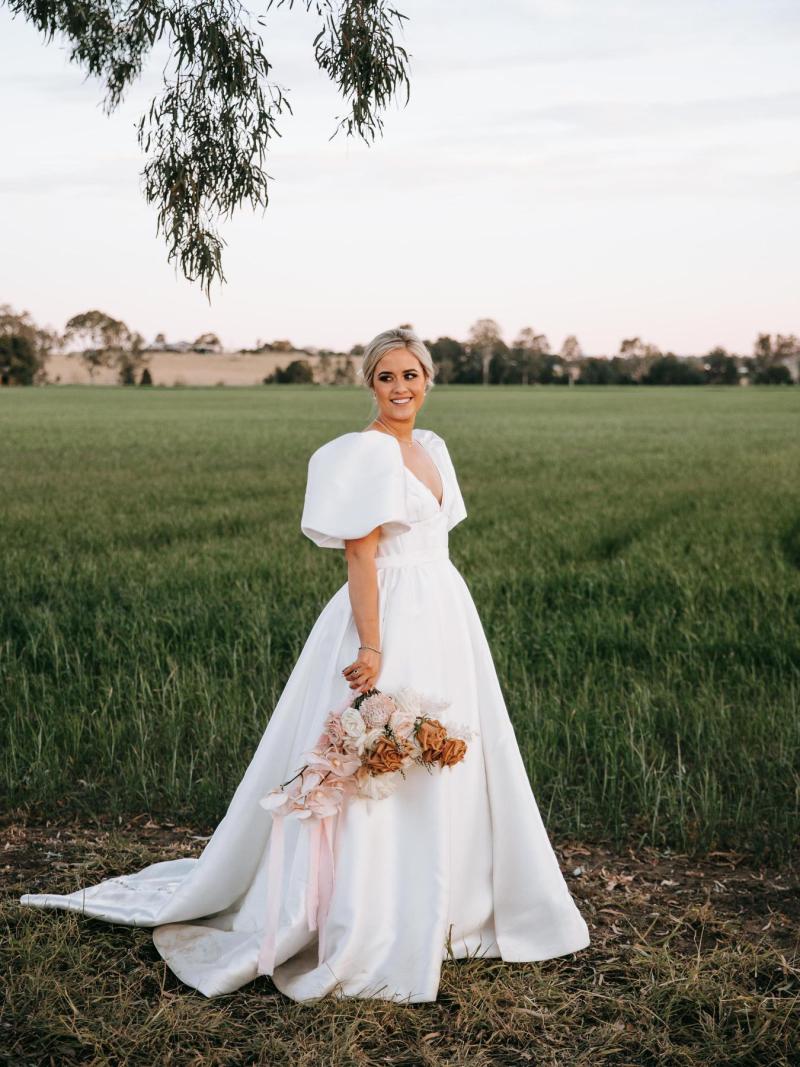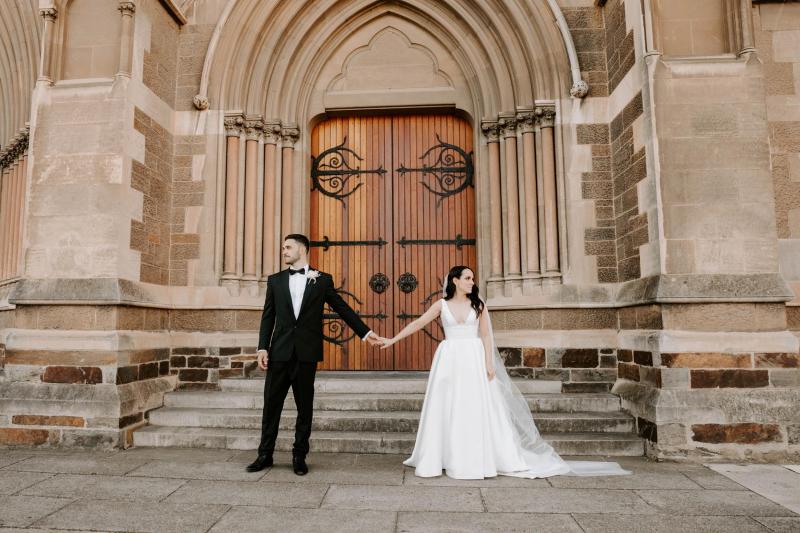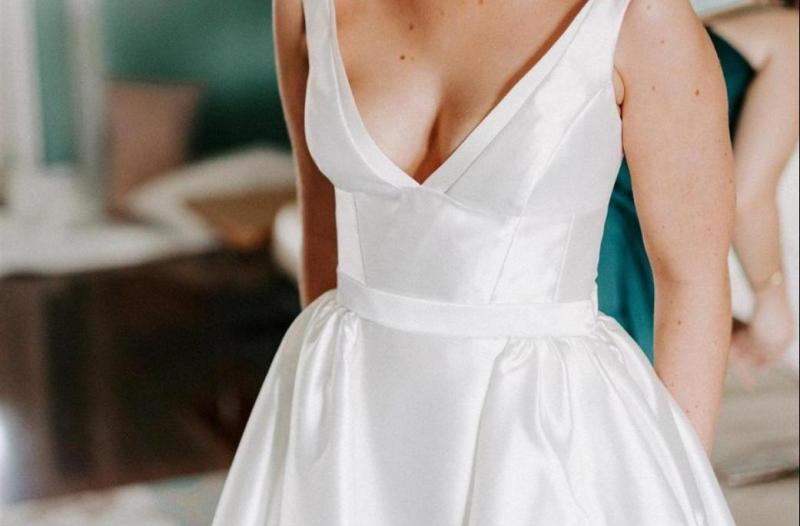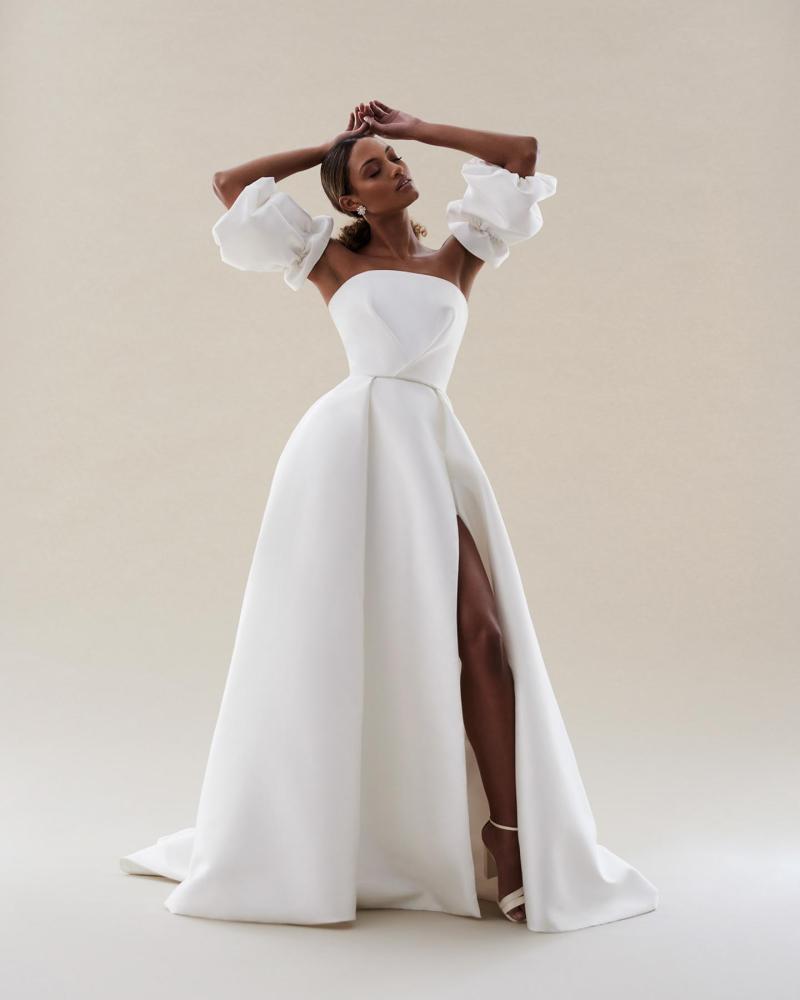 Jacqueline Elizabeth
The sister to Taryn Camille, Jacqueline Elizabeth, is the new classic wedding dress with pockets. What do we mean by that? Well, take a look at her, and you will see that she is a modern but timeless wedding dress with her straight-cut neckline, bold box bleat, and elegant ball gown skirt with pockets! She is a strapless wedding dress with pockets that is truly a sight to behold. The Elizabeth skirt is similar to Camille but smooths out the ruching by using large box pleats that make the A-line skirt look a bit simpler using the same twill fabric we love.   
If you're looking for more drama to add to your ball gown wedding dress with pockets, try the Puff sleeve. These beauties will add that extra flair you are dreaming of for that 'wow' moment. Plus, if you want to get down on the dance floor, you can remove the sleeves and throw those hands in the air. Want a little bit of inspiration? Check out Taryn Carson on the red carpet at the Dally M.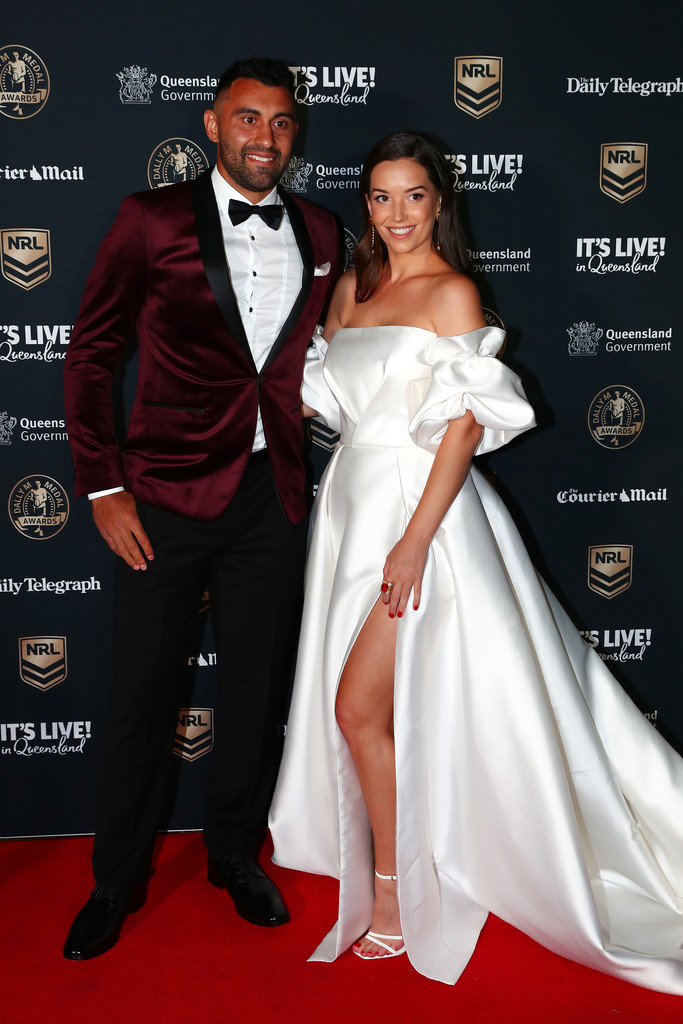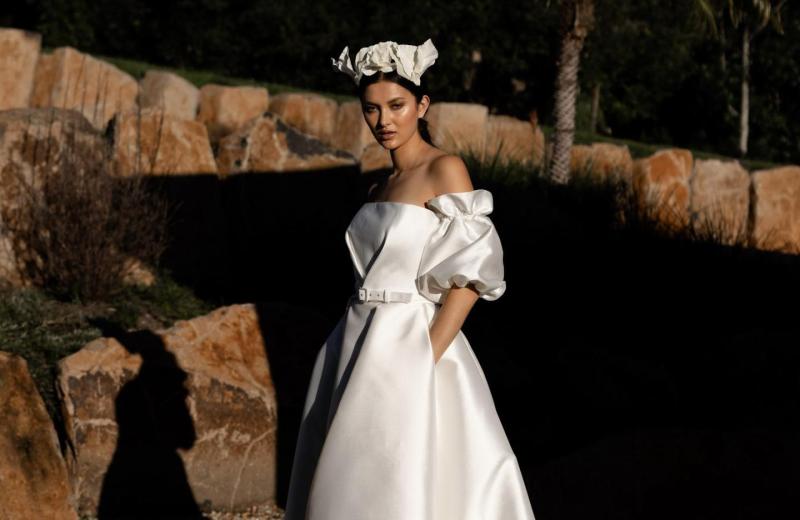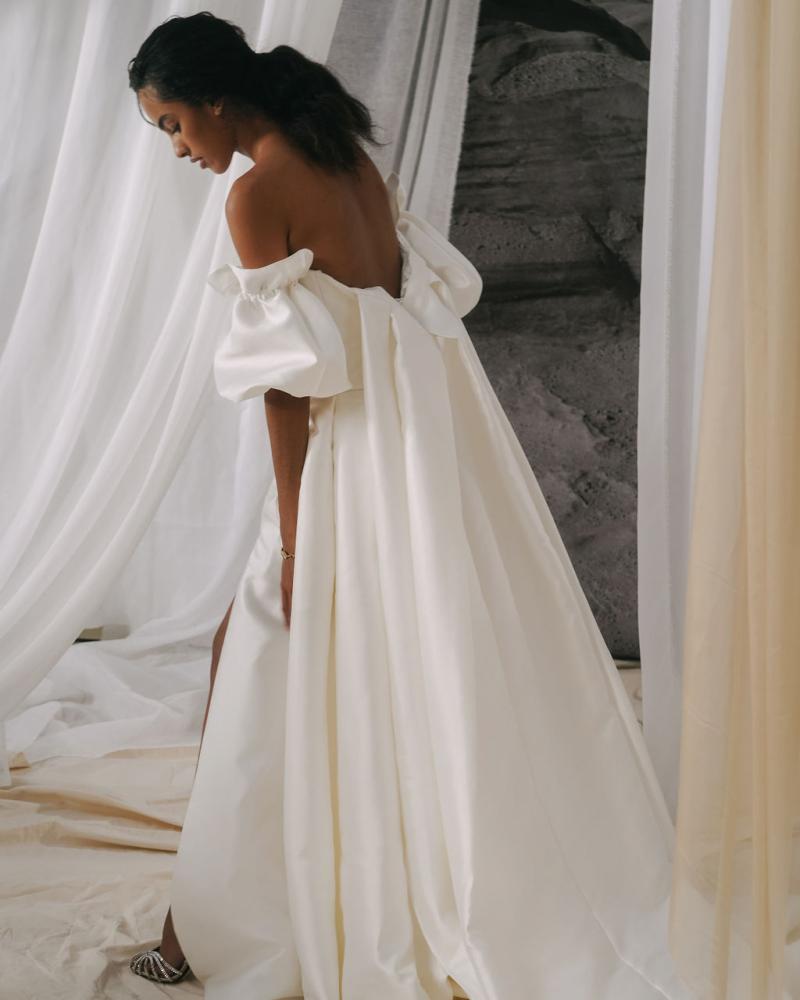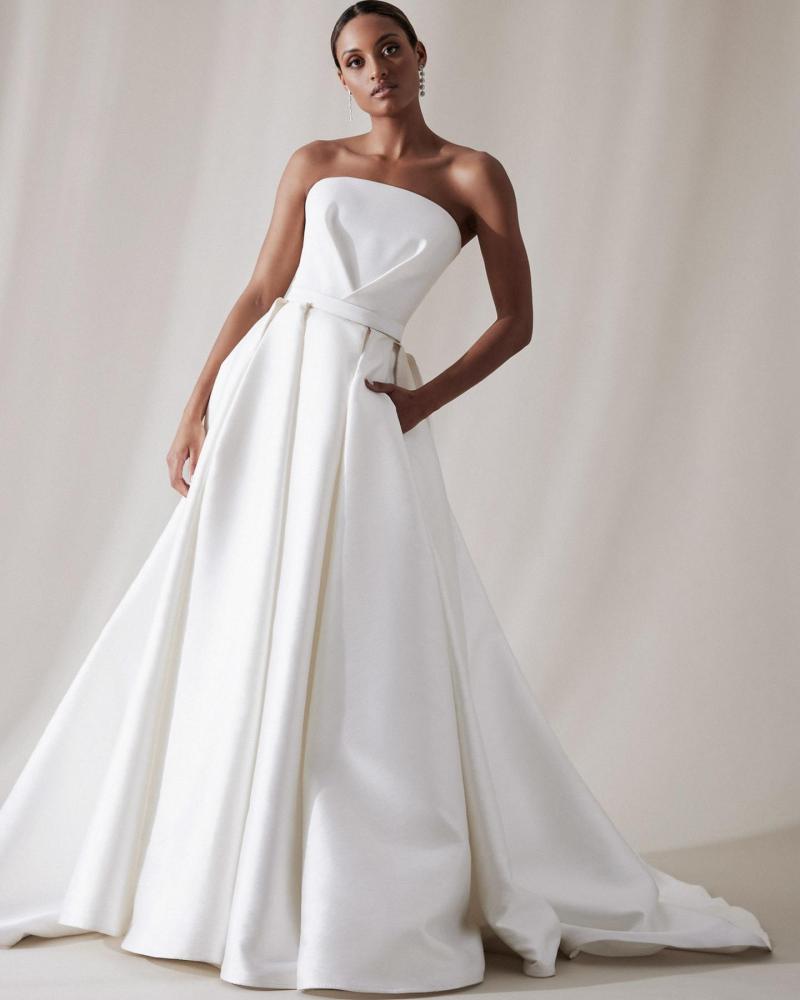 Melanie Skirt
Please welcome the Melanie skirt; a regal, voluminous skirt fit from any princess bride. This skirt is seriously stunning with its 360 wide box pleats that perfectly disguise two cheeky pockets at each side. Pair the twill A-line skirt with a range of our BESPOKE bodices, like Kitty or Blake, to create a grand wedding dress with pockets that is sure to mesmerize all guests in attendance. Are you keen to make a statement entrance?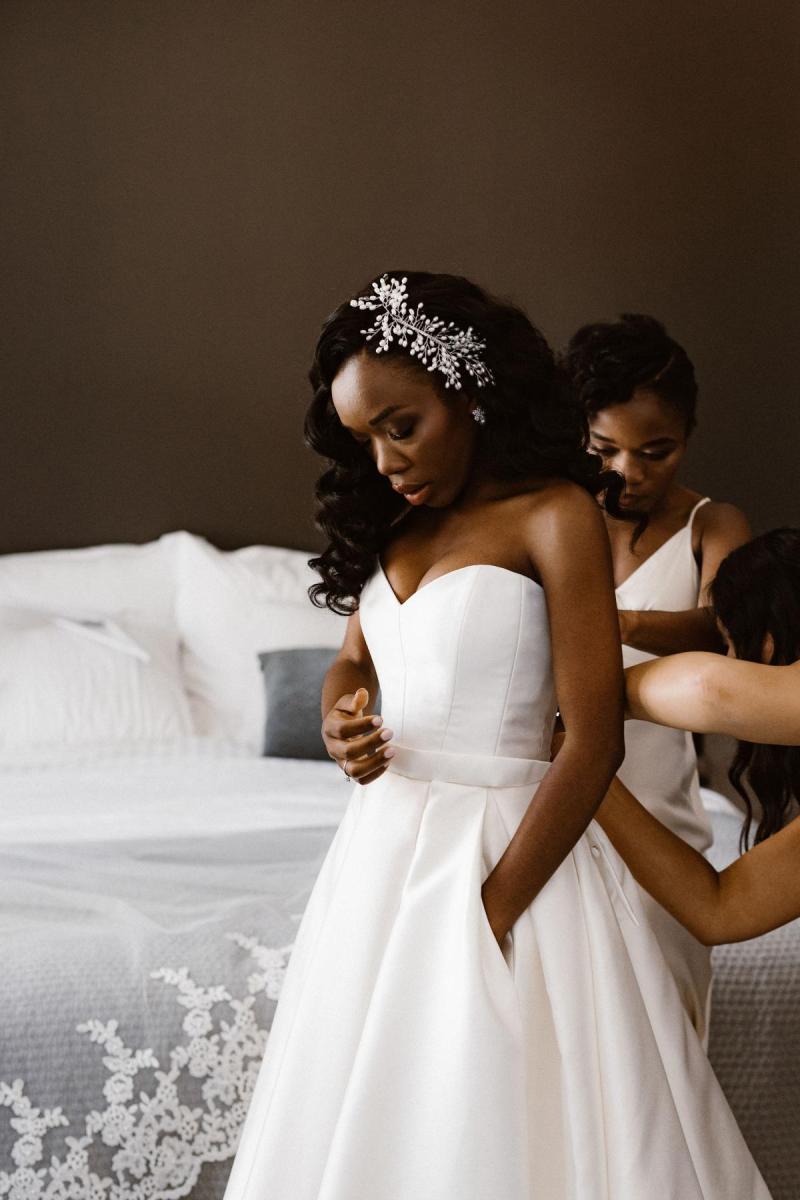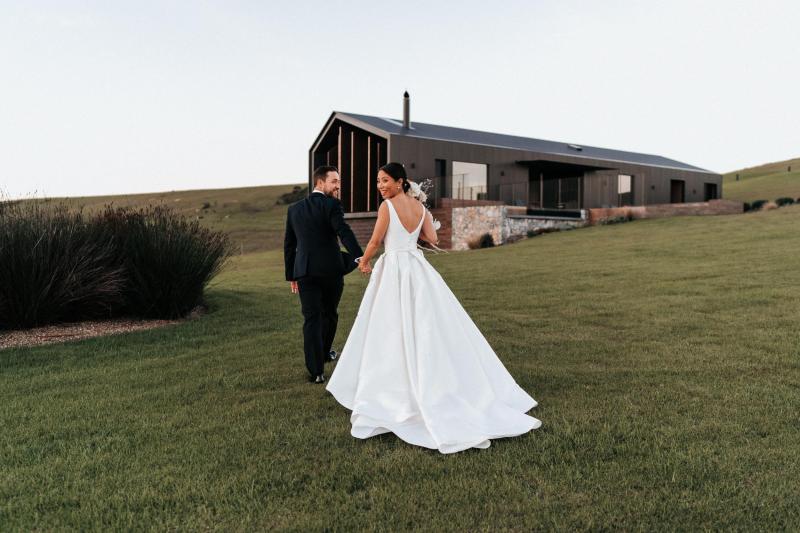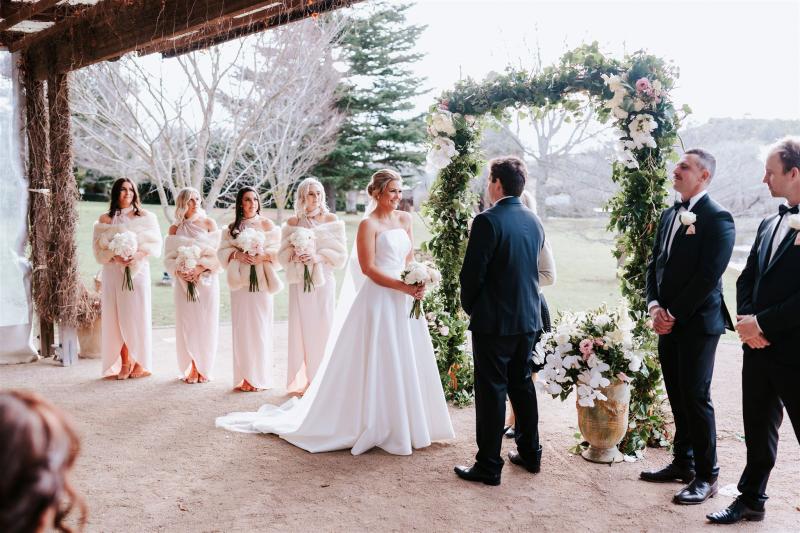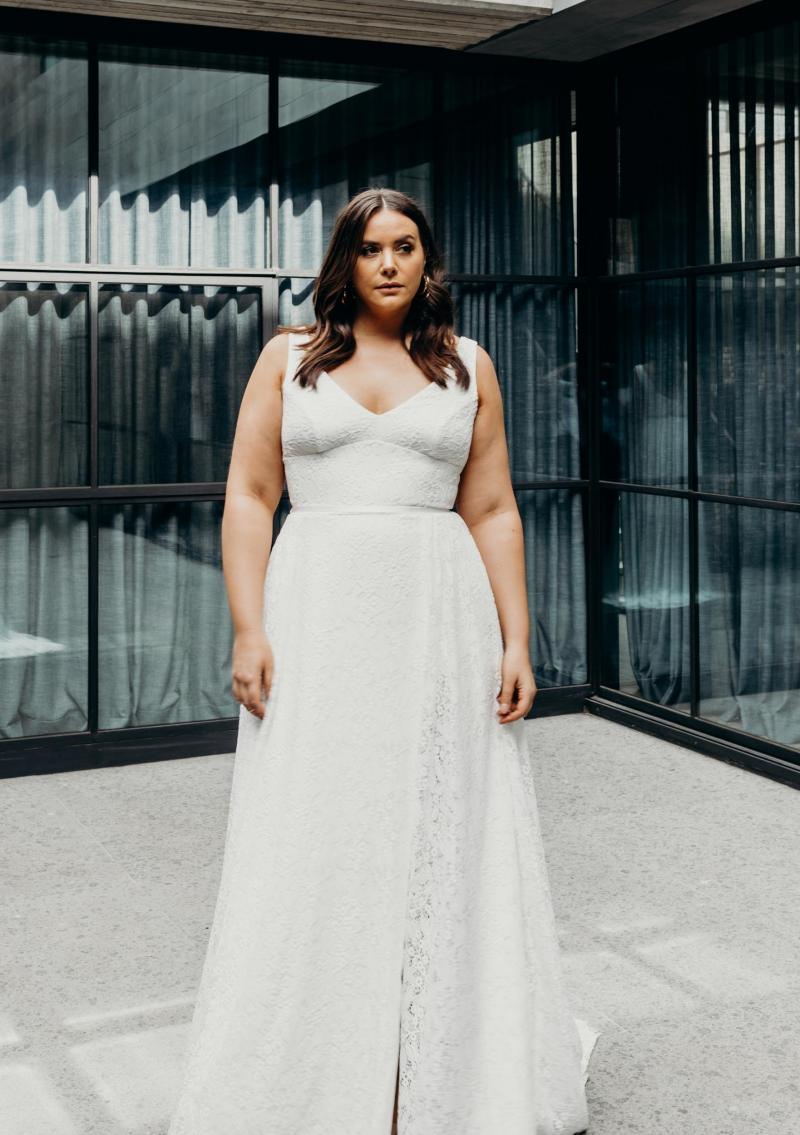 Nadia Curve
Lace is the traditional definition of femininity for brides, so we had to include Nadia from our CURVE collection in our wedding dress with pockets round-up. Nadia is an effortless lace wedding dress with pockets whose skirt flows away from the body with her soft A-line shape. The subtle, draped fabric, gives the skirt the right amount of space for pockets, but they are slightly more translucent. She is quite the contrast to Taryn Camille and Jacqueline Elizabeth as her style is fit for the boho bride. Her empire waistline draws the eye upwards and creates length for the body.