Rebecca & Matthew Stunning Hillside Elopement

Let's all frolic through the fields along with Rebecca and Matthew for their intimate, perfect, awe-inspiring elopement. It doesn't get much more idyllic than this. After ten long years of patiently waiting, Rebecca finally could have her fantasy fulfilled by marrying her best friend, lover, and soul mate sounded by nothing other than the sweet sounds and sights of nature. Together, the two were joined as one on a day that will live on in their lives forever.
Wrapped in radiant ivory fabric, Rebecca had Matthew falling in love all over again in her Leonie Melanie gown from our BESPOKE collection. The bodice hugs the body for a firm fit featuring a sophisticated V-neck. At the same time, the Melanie skirt juts away from the waist, falling to the ground in a glorious, voluminous fashion. Combined, this gown is the modern princess wedding dress of our dreams.
On the proposal
Allowing our partners to plan events, be there on time, and orchestrate all the finer details takes patience and a lot of trust, especially for those of us who are perfectionists. We'd like to think, "They've got this!", but we know that isn't always the case.
On Christmas day in 2018, Rebecca had received the cutest gift voucher for an intimate picnic with her love, Matthew. Her hopes were high as her mind wondered what this day would turn out to be. Was it going to end in a proposal? Was this going to be the most romantic day of her life? After hours of failing to find the ideal picnic spot, with no prepared food in their basket, Rebecca's hope was dwindling with each passing minute. Although she had dreamt of a magical day, she found herself feeling disappointed in Matthew's poor planning.
As the sun beamed down on a dreadful 45-degree day, they rushed to find a shady spot somewhere along Manly beach. Fate was on their side. Miraculously, they discovered a small area where the trees cast long shadows and the views held all the splendour of the great, blue ocean. Finally, she found some peace from the hectic day, so as any woman would do, she popped the bottle of champagne. Just as the bubbles began to go down and she could see through the glass, she found Matthew kneeling on one knee. After seven long years, this was the moment she had been waiting for! In an instant, she exclaimed, "Yes!" with happy tears streaming down her face.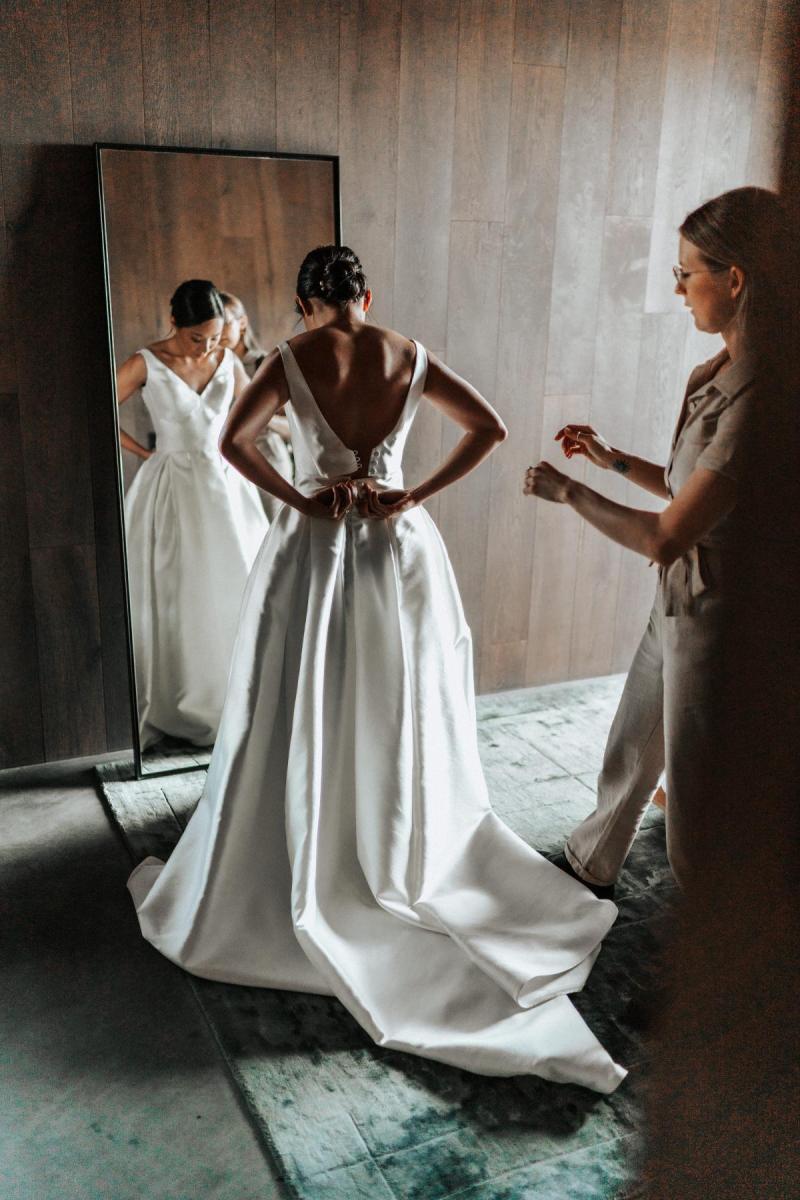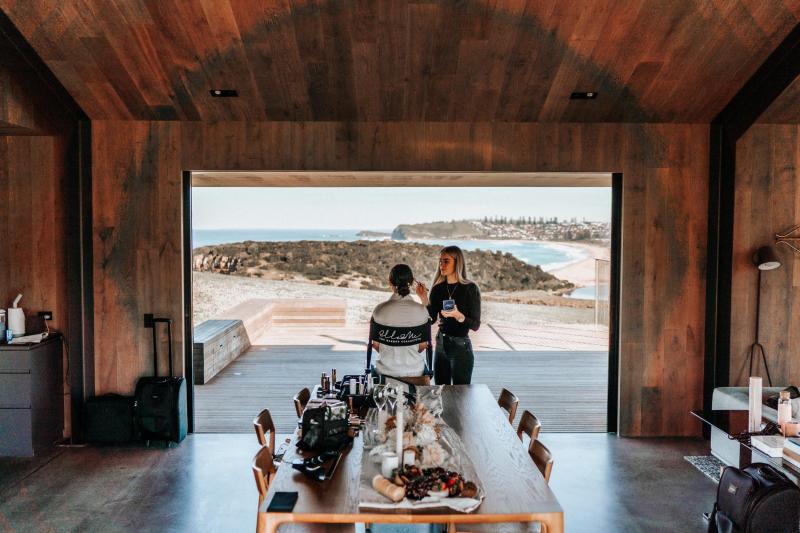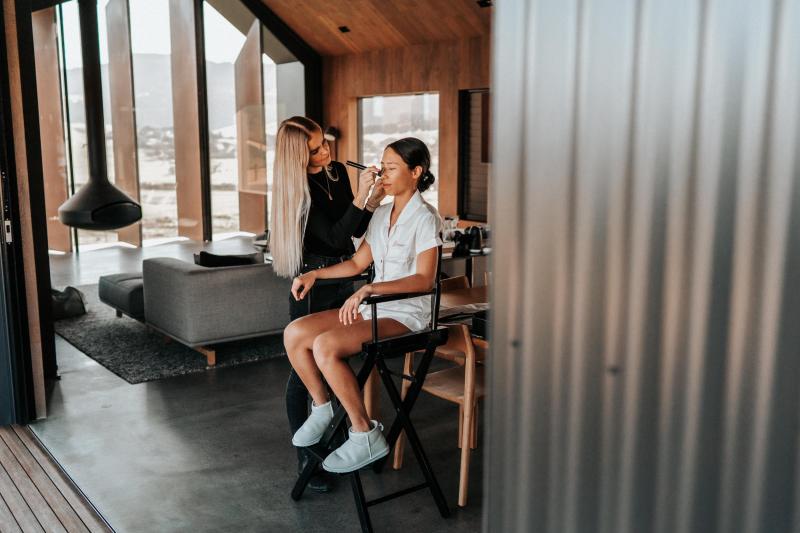 On the venue
Perched on the hillside of Gerringong sits the breathtaking architecture of The Range at Dovecote with its modern nordic styling and large glass panels that invite you to be one with the surrounding land. It is a place like no other—a space to relax, refresh and most importantly, rekindle the flame with your loved one.
Rebecca and Matthew knew they had wanted to elope since the beginning of their wedding planning journey, but their hearts were set on a helicopter ride through the snowy peaks of New Zealand's mountains. With each passing month of COVID continuing to be an issue, they knew their dreams needed to shift to find an ideal location where they could escape the world but still be in NSW. They couldn't wait any longer.
"We live by the beach but did not want to elope on the beach (does not really go with the tux and dress!), yet we still want to incorporate the ocean. The view of the ocean and rolling hills at Dovecote are just incredible and perfectly embodied our love for the ocean and outdoors."
It was the most perfect minimalist wedding elopement in a venue that couldn't be more astonishing.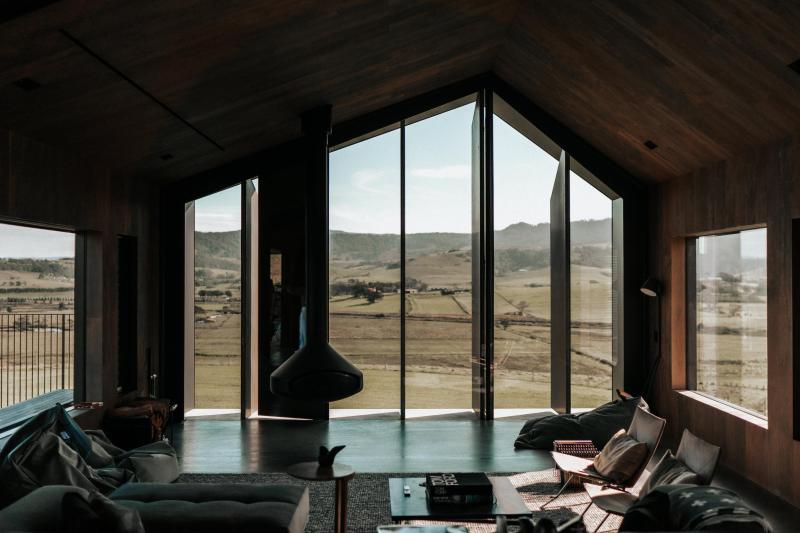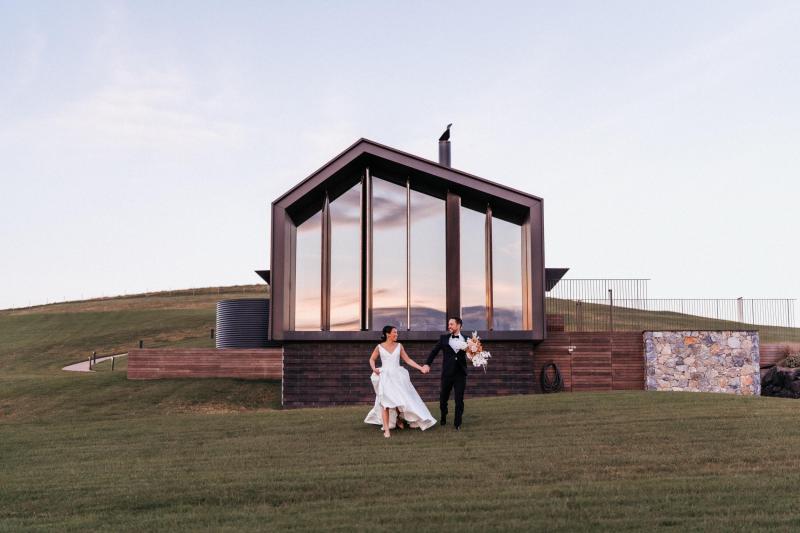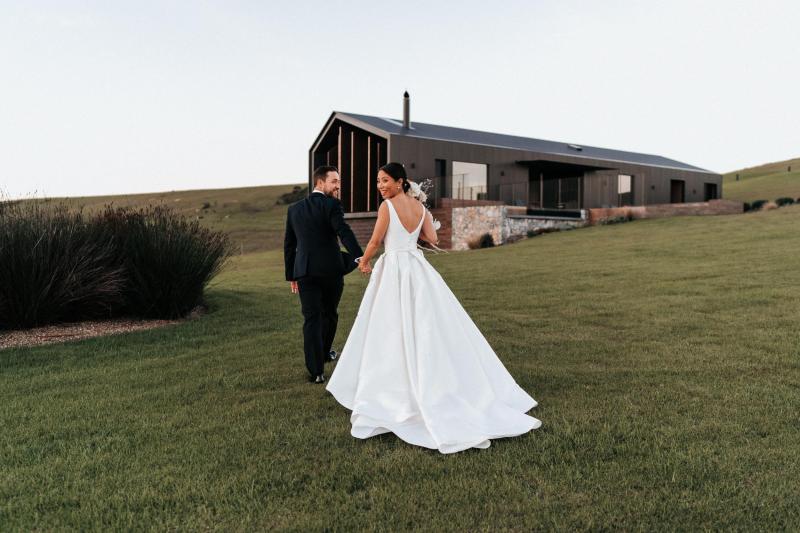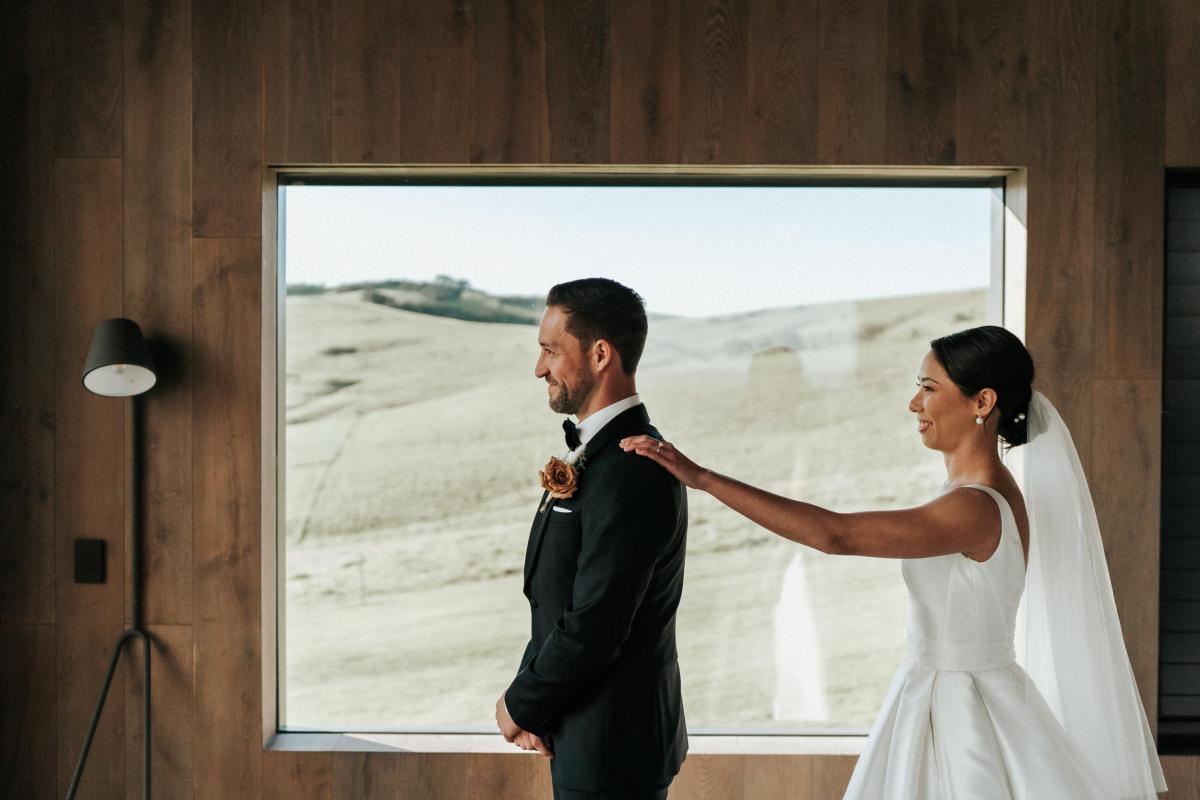 All the styling details
She didn't let the typical drama of planning a wedding get in the way of her big day. Instead, Rebecca kept it effortless by only placing burnt orange floral arrangements by Ivy Lane Collective in select locations to bring life into the sparse space while not overdoing their nuptials. Their modern elopement was simply idyllic.
"I have always wanted a timeless, but modern look that will still look contemporary in photos when we look at them in 20, 30 years' time. I also wanted to keep everything minimalistic and simple and let the view speak for itself."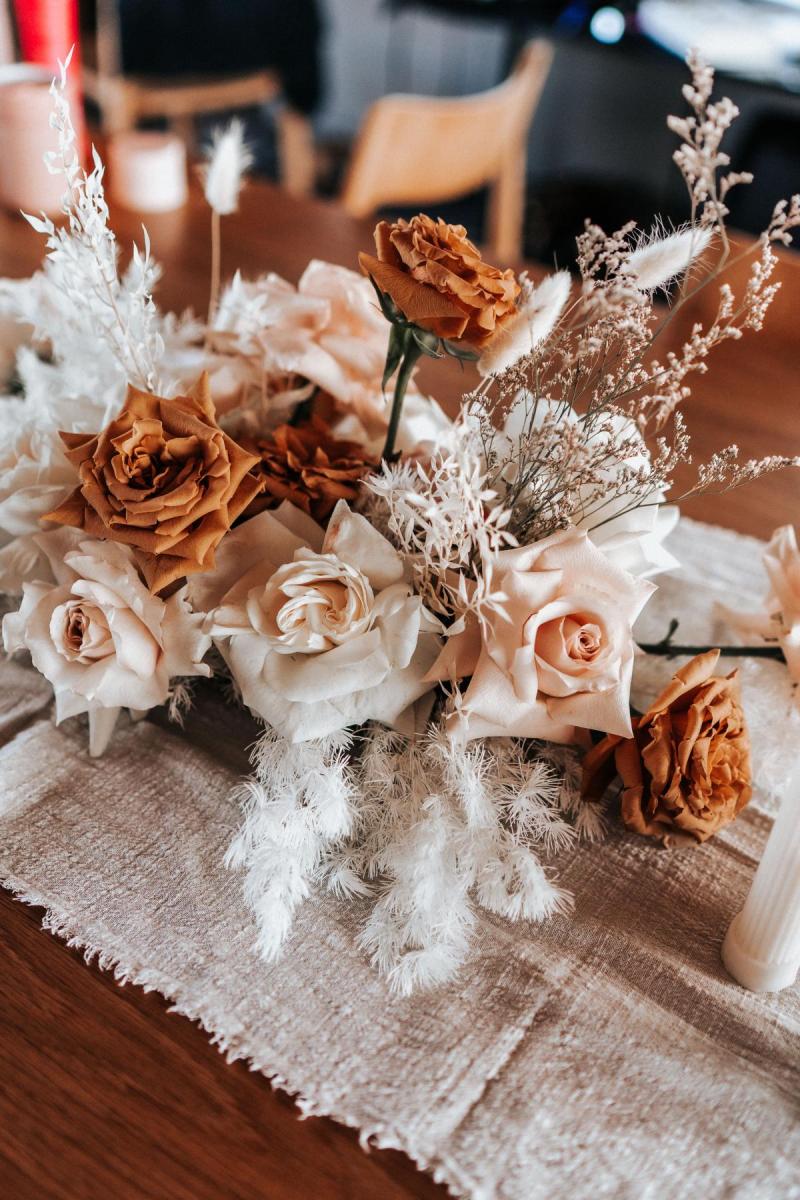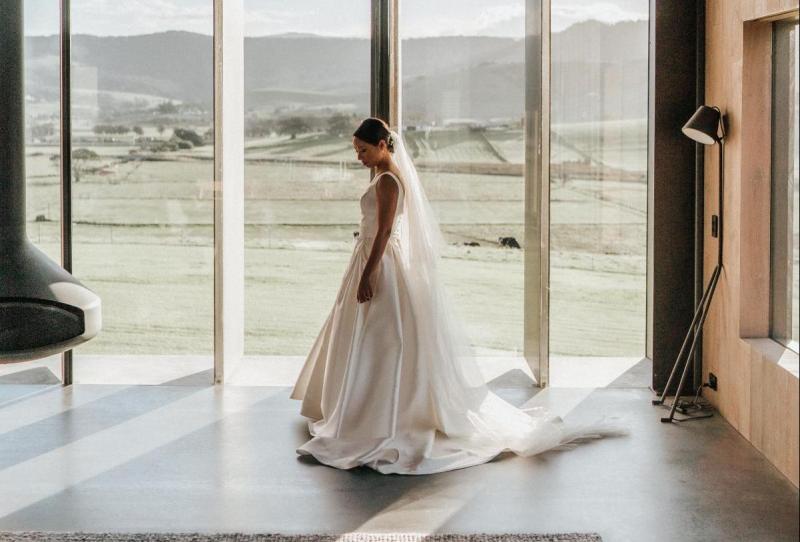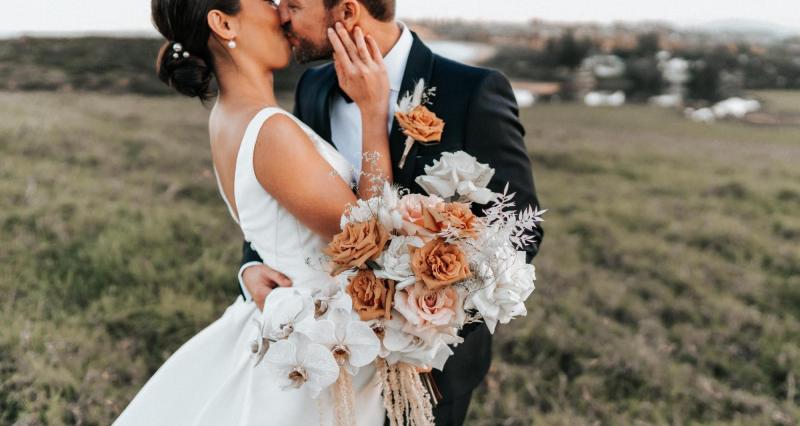 The Dress
Rebecca's loyalty had always been with KWH. For years, she had followed our Instagram account, ogling the various photos of modern brides in their stunning wedding dresses, so trying on gowns at our Sydney boutique was the next logical decision. She tried on many and went to other bridal boutiques, but her mind continuously returned to the Leonie Melanie gown from our BESPOKE Design Your Gown collection, a graceful a-line wedding dress with pockets! Its subtle V-neckline and open back transform the bride into a modern-day princess.
"It looks extravagant, with the large skirt and train (perfect for an outdoor ceremony) yet classic and simple – the satin fabric looked amazing and spoke for itself. Pockets just rounded it out."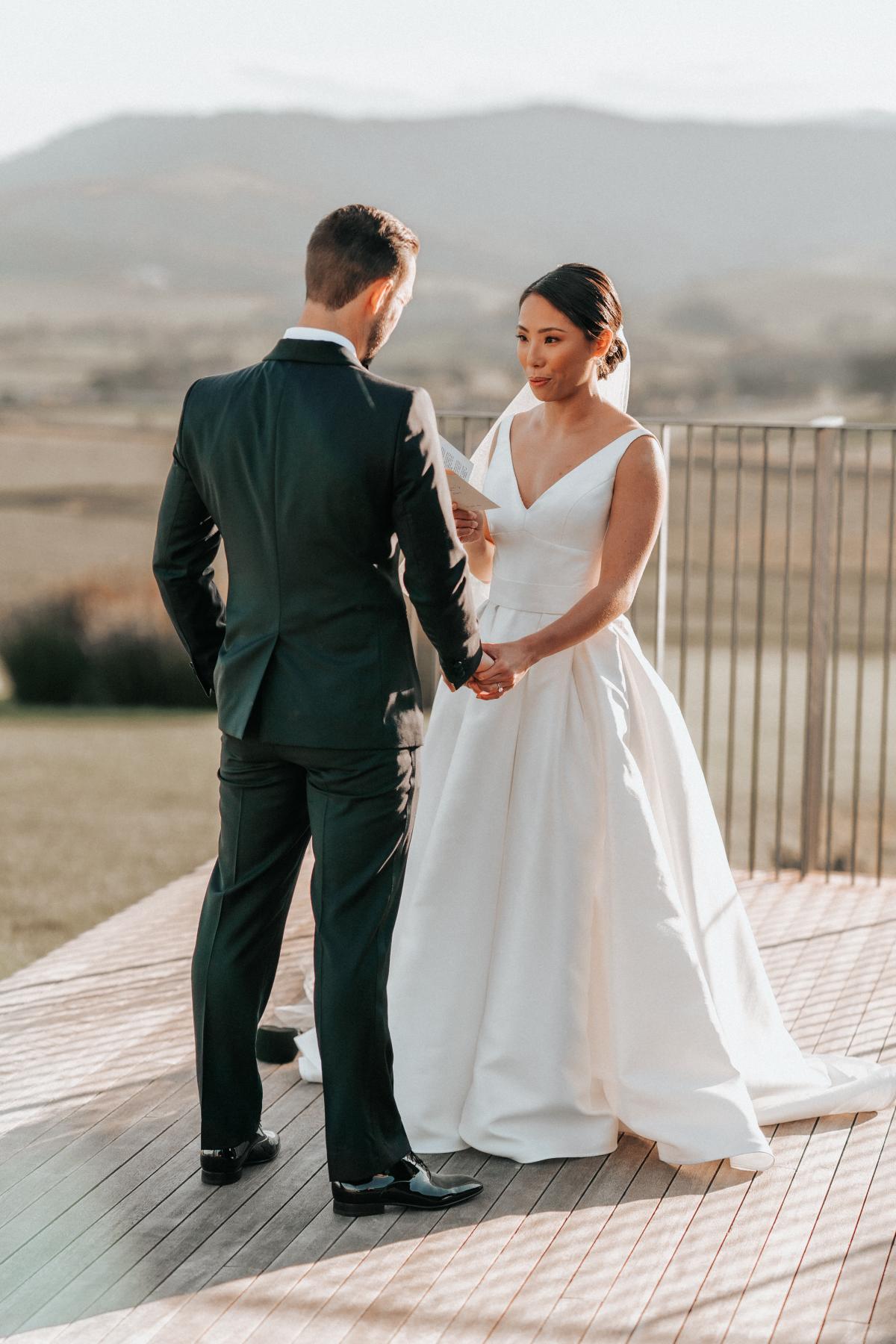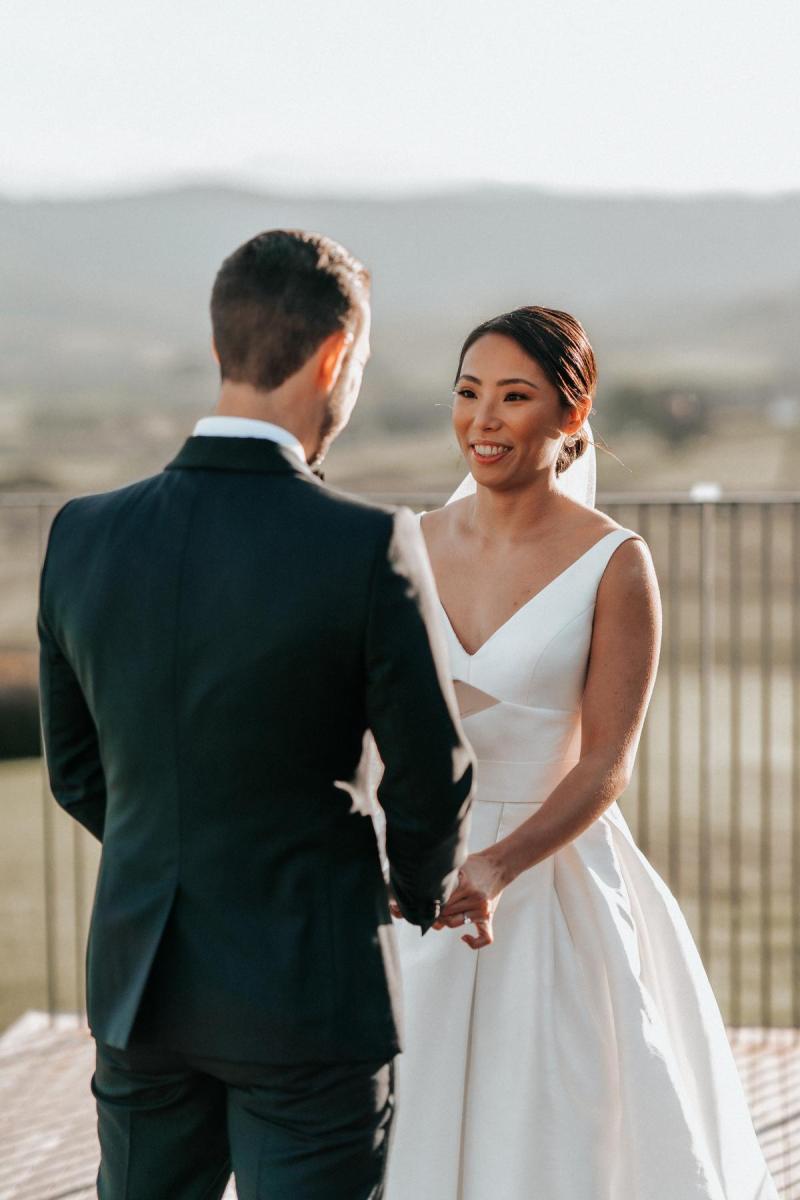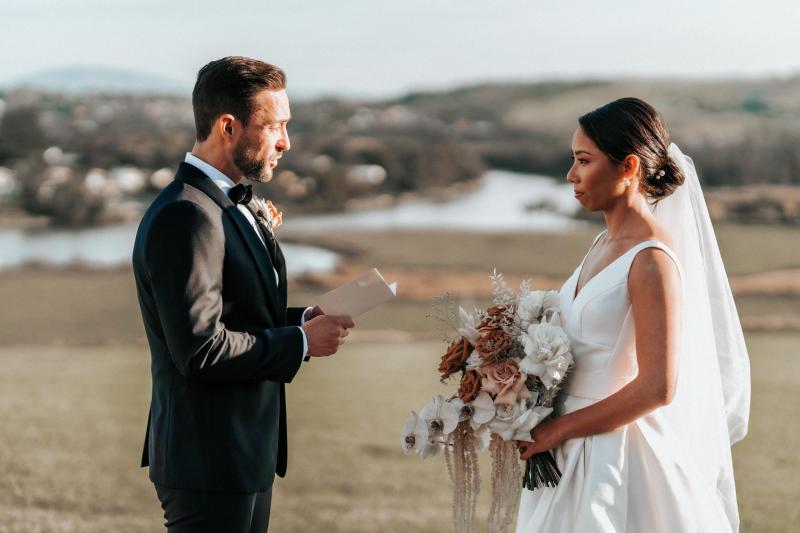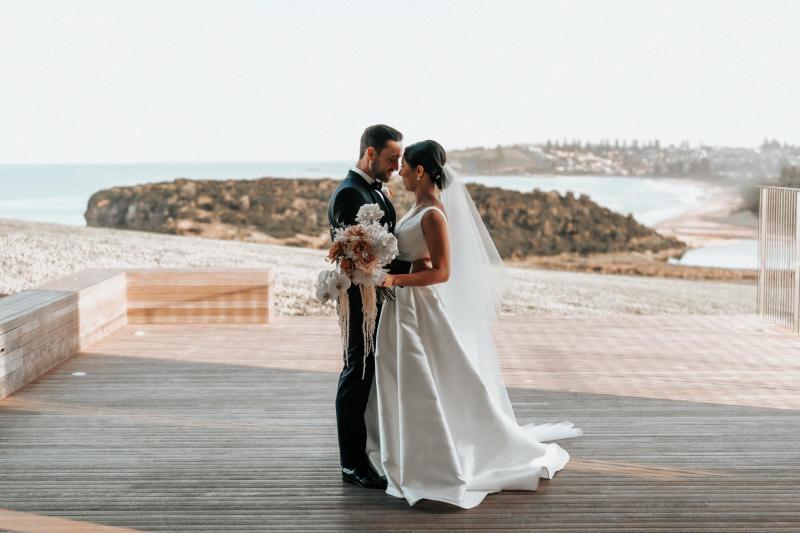 Gown hunting tips
Although each bride goes on their own journey to find their wedding dress, Rebecca gives this sage advice.
"Try as much on as you can, and don't be afraid to go with something that is not what you would ordinarily go for. Enjoy the experience."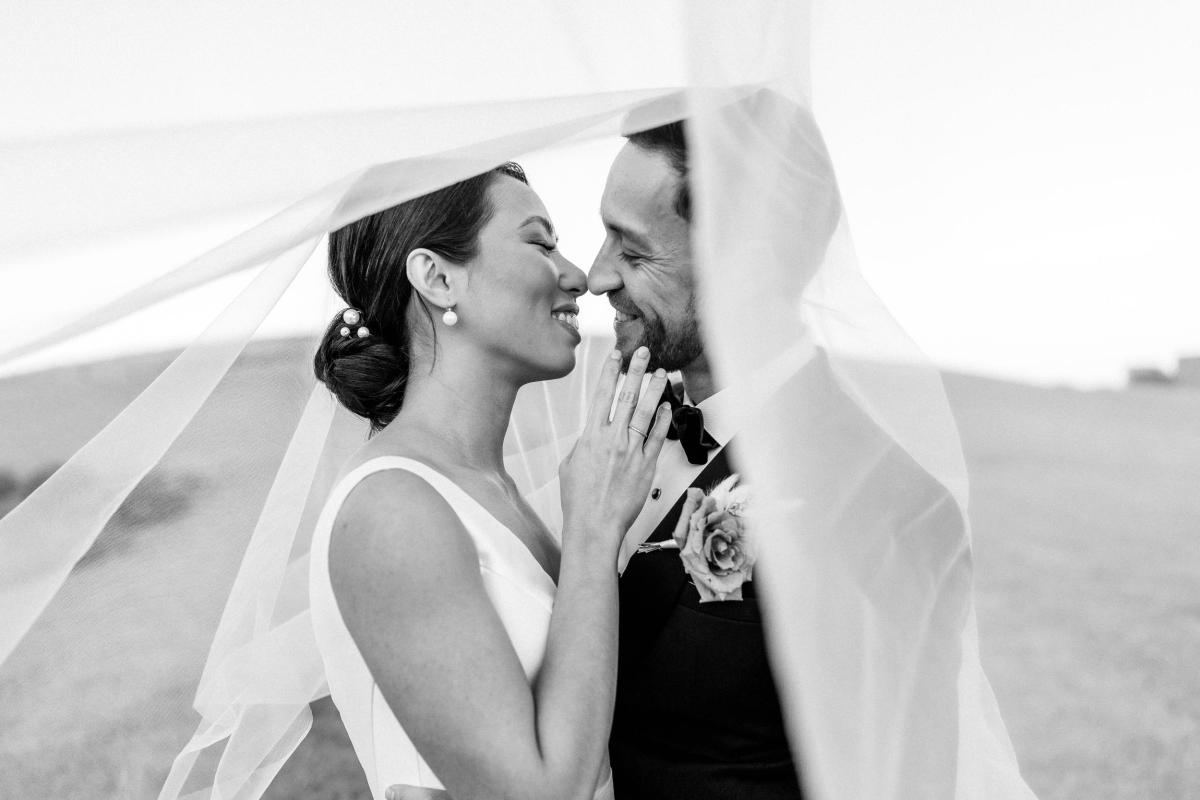 What the future holds
Each day is new, with new challenges and new joy. After their honeymoon, the newlyweds found themselves headed for a new adventure in Germany. There, they will spend the next few years living in a world full of possibilities. However, they are hopeful of their return to Australia shortly to celebrate their love with those they love the most.
"The wedding is about the two of you and no one else. Go with what your heart desires. Whether it means eloping now and celebrating later, or to wait to have a larger ceremony after the pandemic is over, as long as you have each other nothing else matters."