Ashleigh and Adrian – A Country Mansion Wedding
Ashleigh and Adrian met through mutual friends at a Pub on Anzac Day in 2015. "Adrian is the most grounded, kind-hearted person I know." Four years after meeting, in November of 2019 – the couple said I do in Bowral, New South Wales.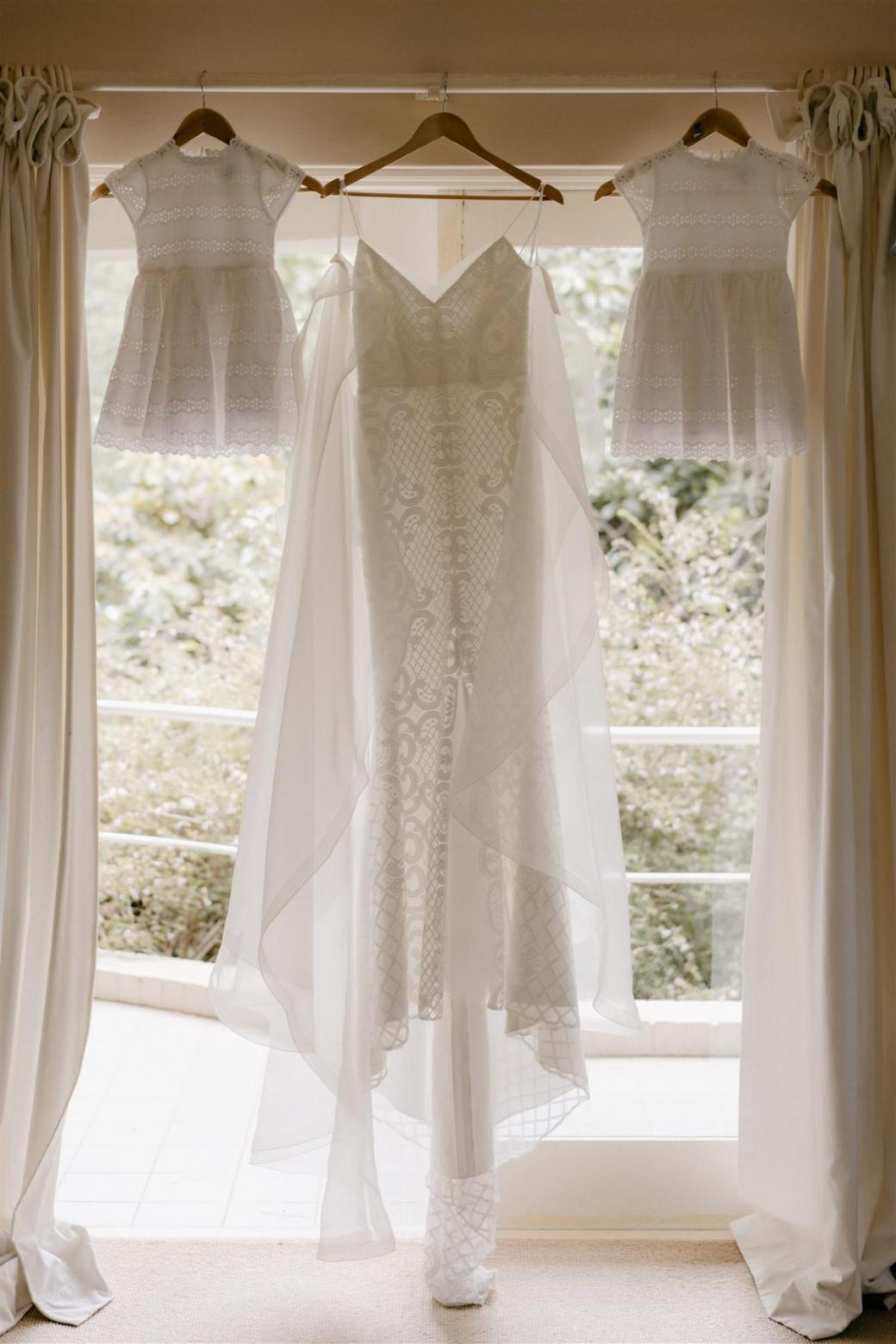 On the proposal
Adrian proposed to Ashleigh in October 2018 during a hike in the Royal National Park. Ashleigh was sitting by the water and ready to go home, and Adrian took a photo of his partner from behind. When he asked Ashleigh to then turn around, Adrian was down on one knee with the most beautiful ring.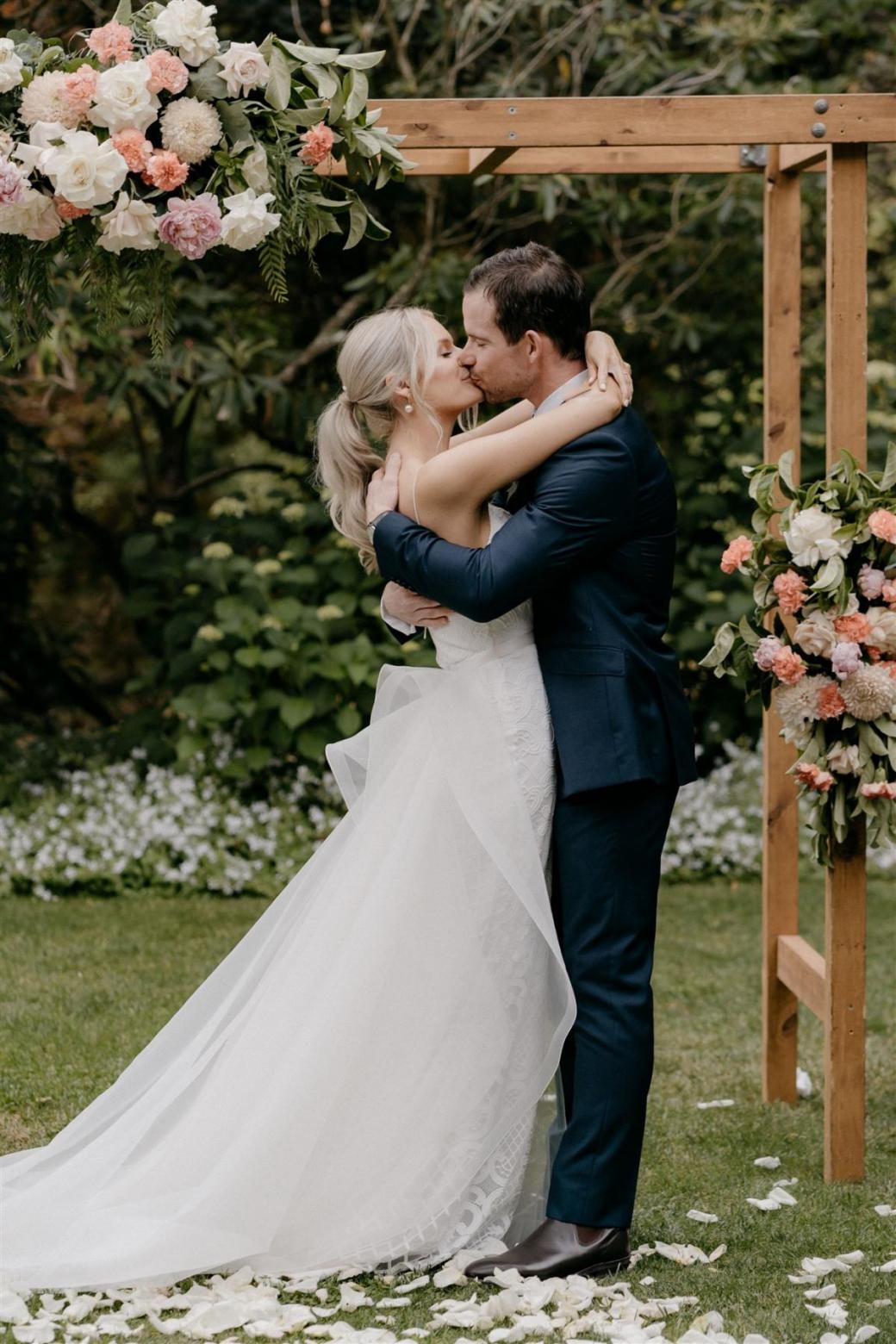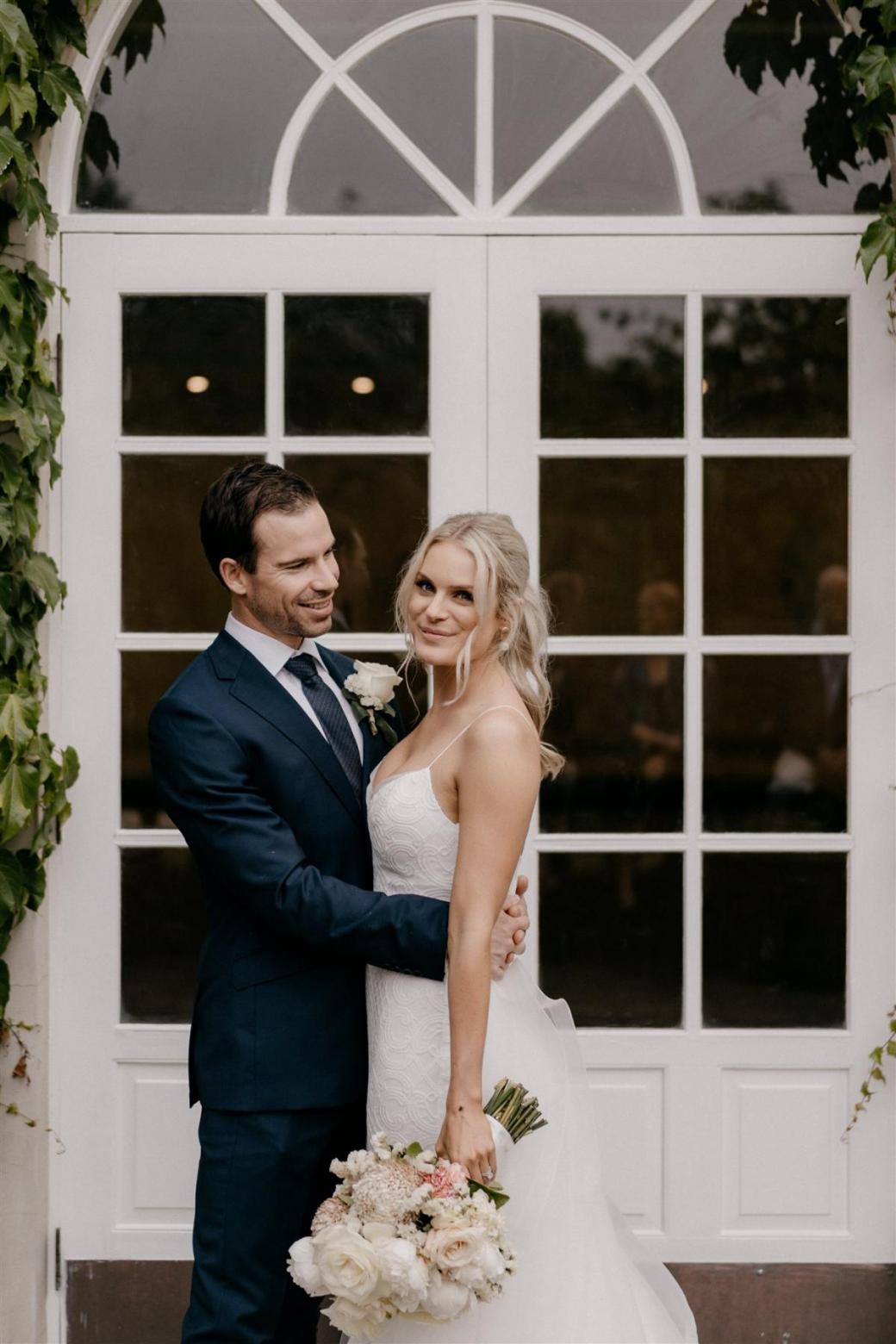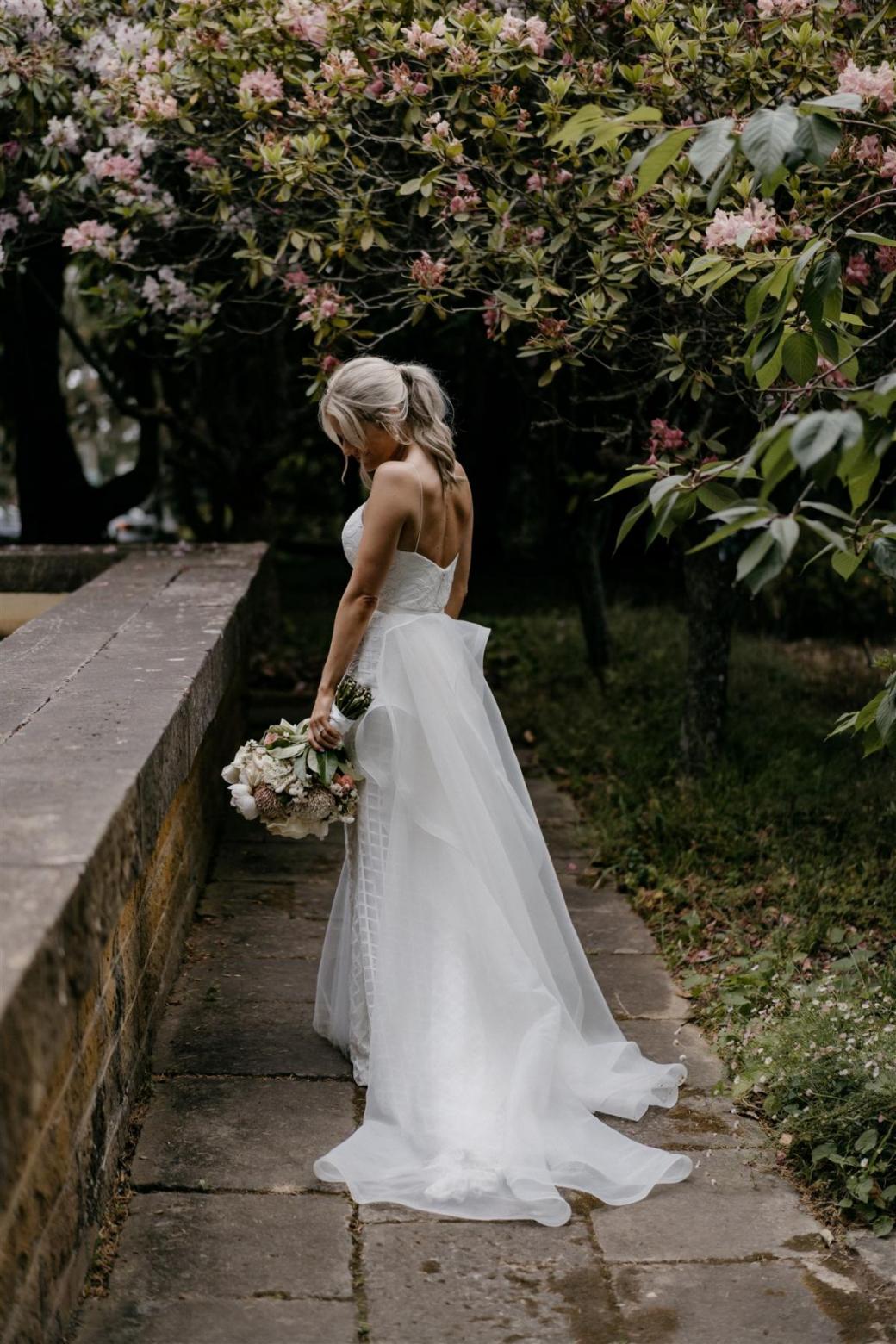 On the venue
Ashleigh and Adrian got married at Milton Park Country House and Spa in Bowral, NSW.
"It's a stunning country retreat with an old mansion on site amongst the most amazing gardens. We stayed there for a weekend quite early on in our relationship as one of our first getaways, so we always knew it was a contender. We viewed two other venues first, but the moment we drove down the tree-lined driveway towards Milton Park, we knew that was the place for us."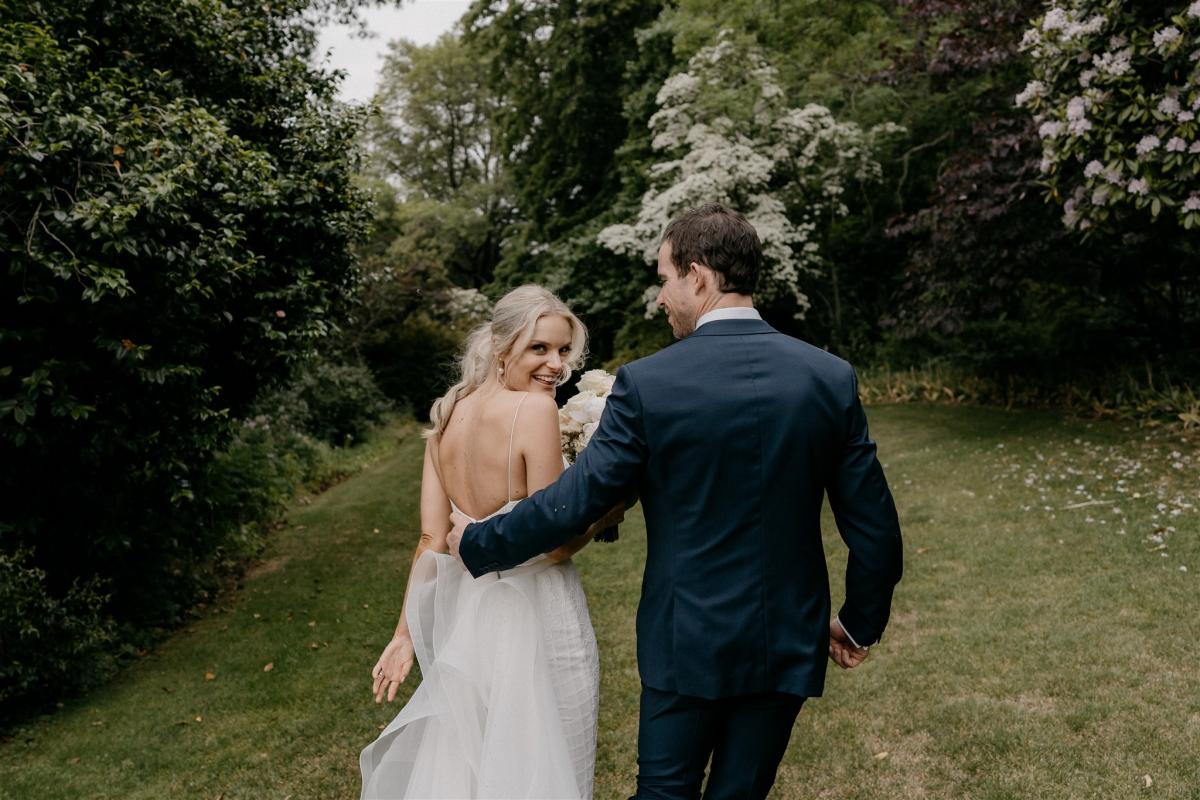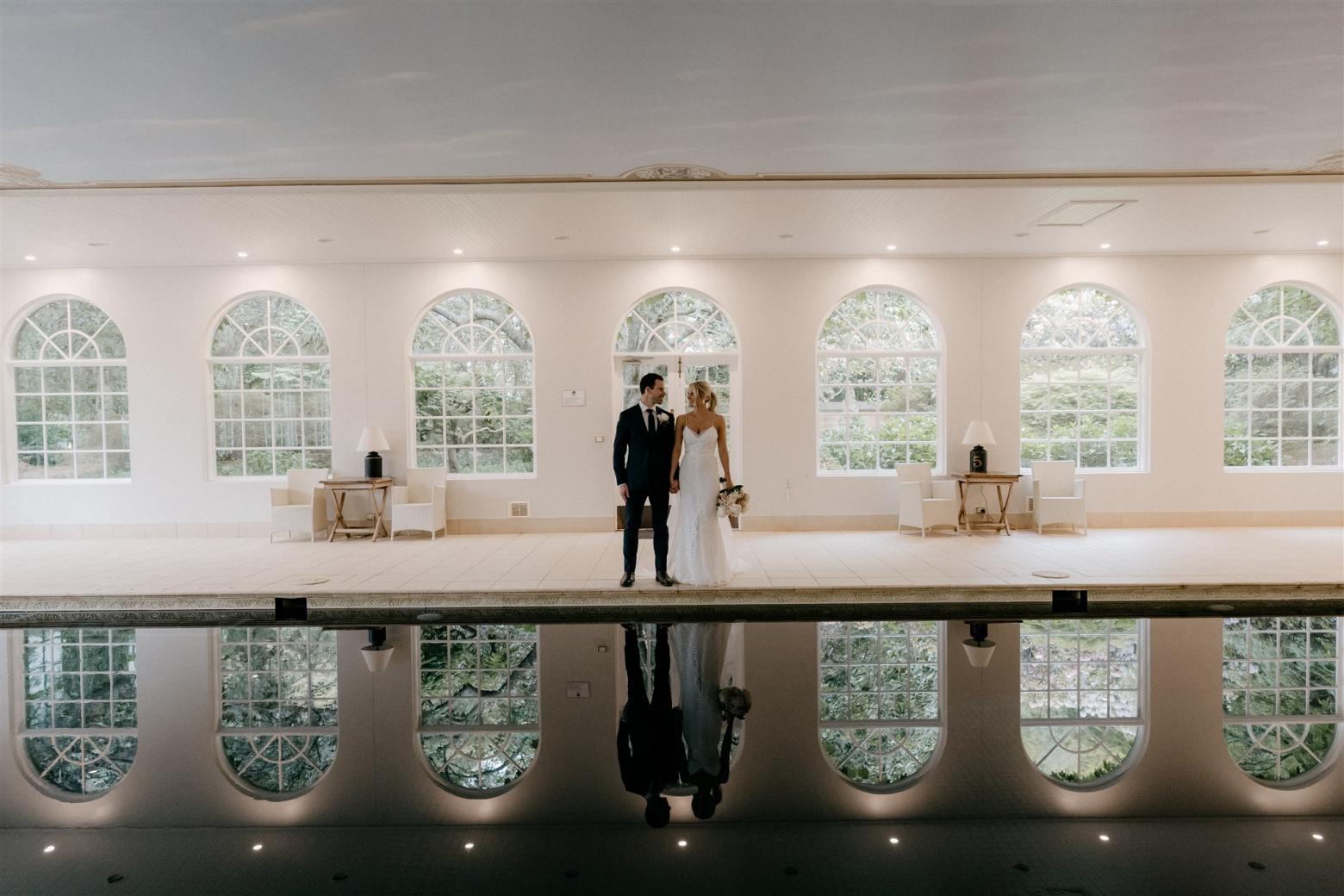 All the styling details
The couple had a cocktail reception wedding as most of Adrian's family is from South Australia. Adrian and Ashleigh wanted to give everyone the opportunity to mingle and catch up, in a relaxed setting.
"We didn't have a stylist. We felt that the venue offered enough natural beauty in the stunning gardens and historic mansion, we didn't want to detract from that, so we kept it simple with a neutral palette of flowers and foliage throughout our ceremony and reception. We hired some customised signs from Ashdown and Bee, and also a photo booth (which was a huge hit for everyone)."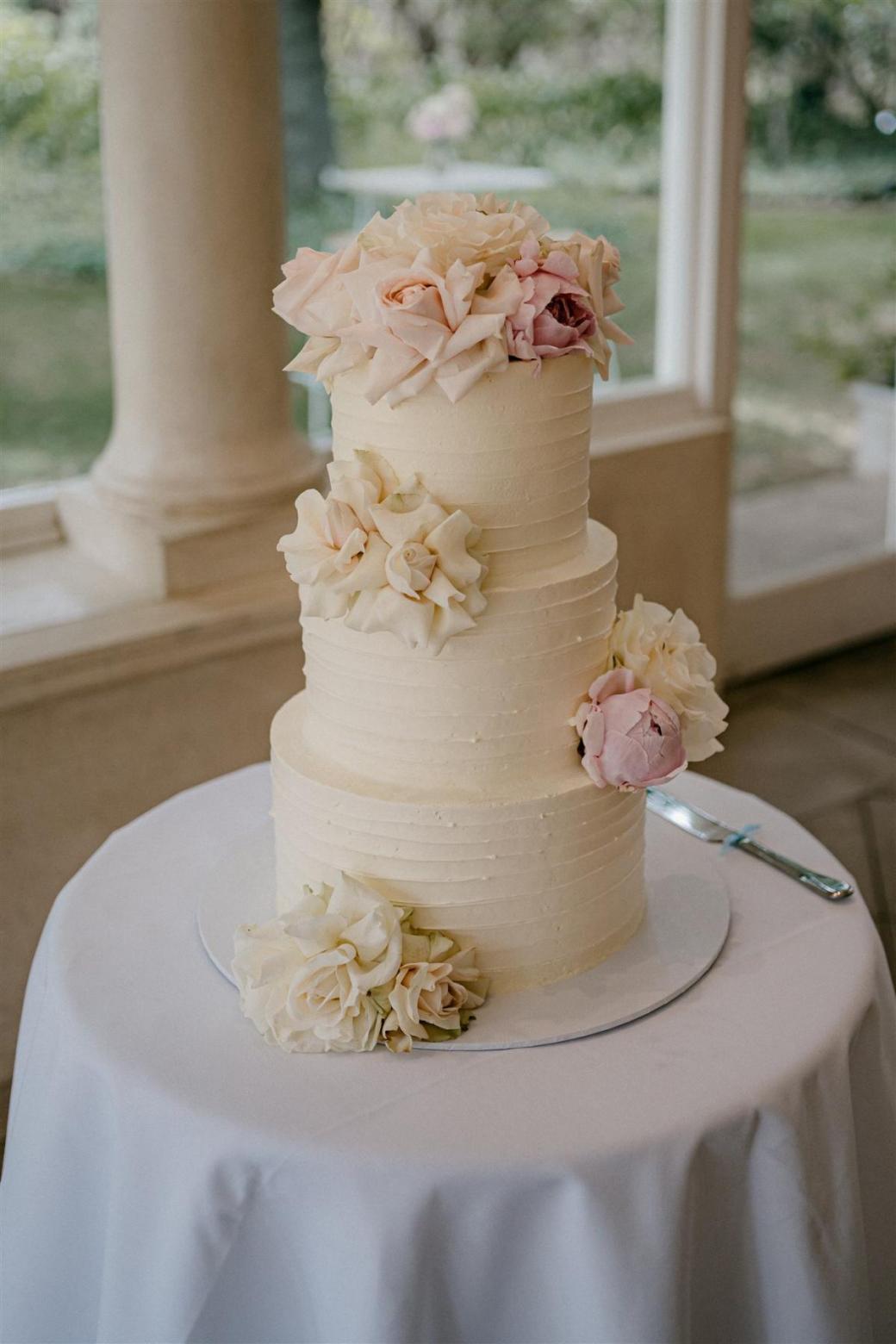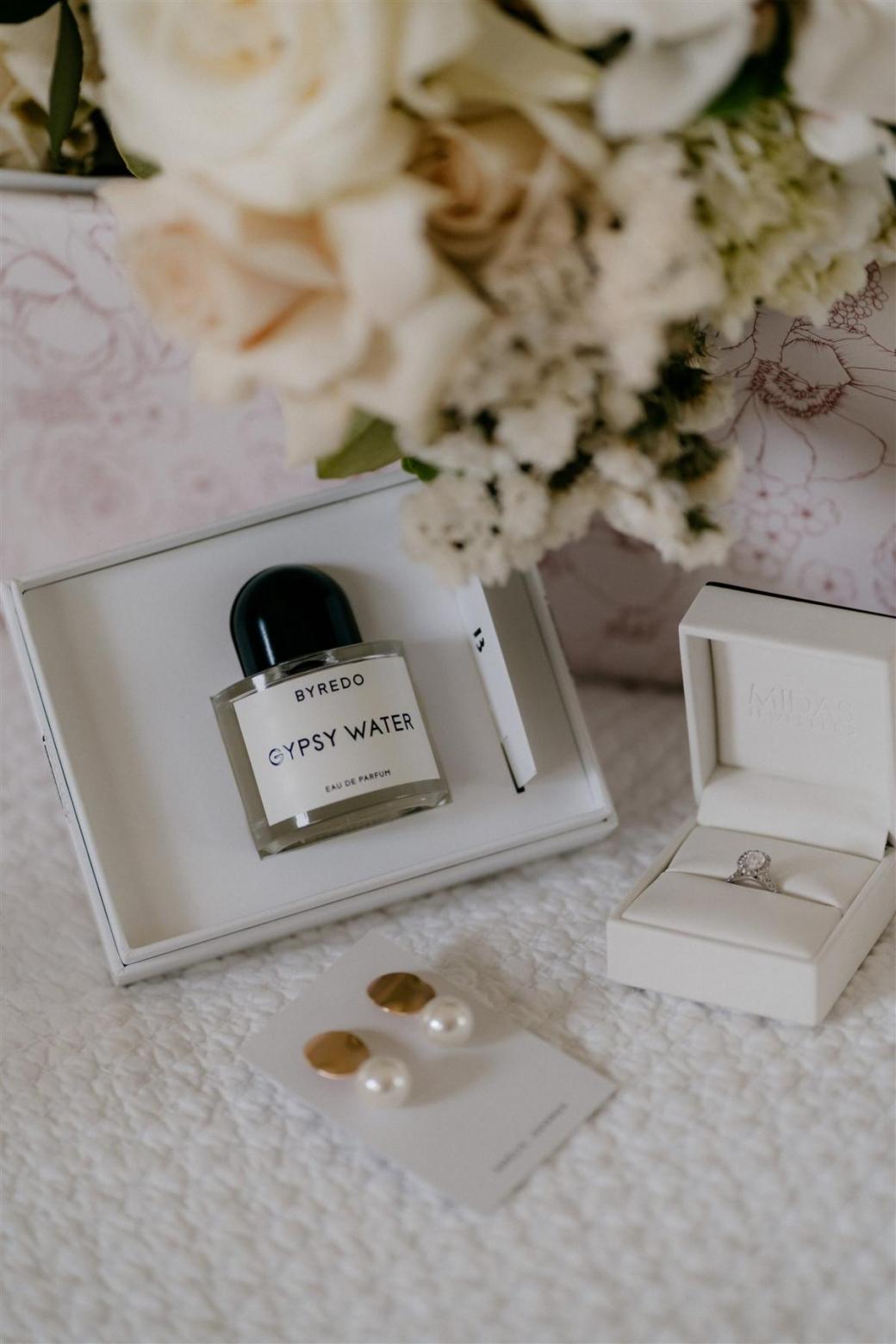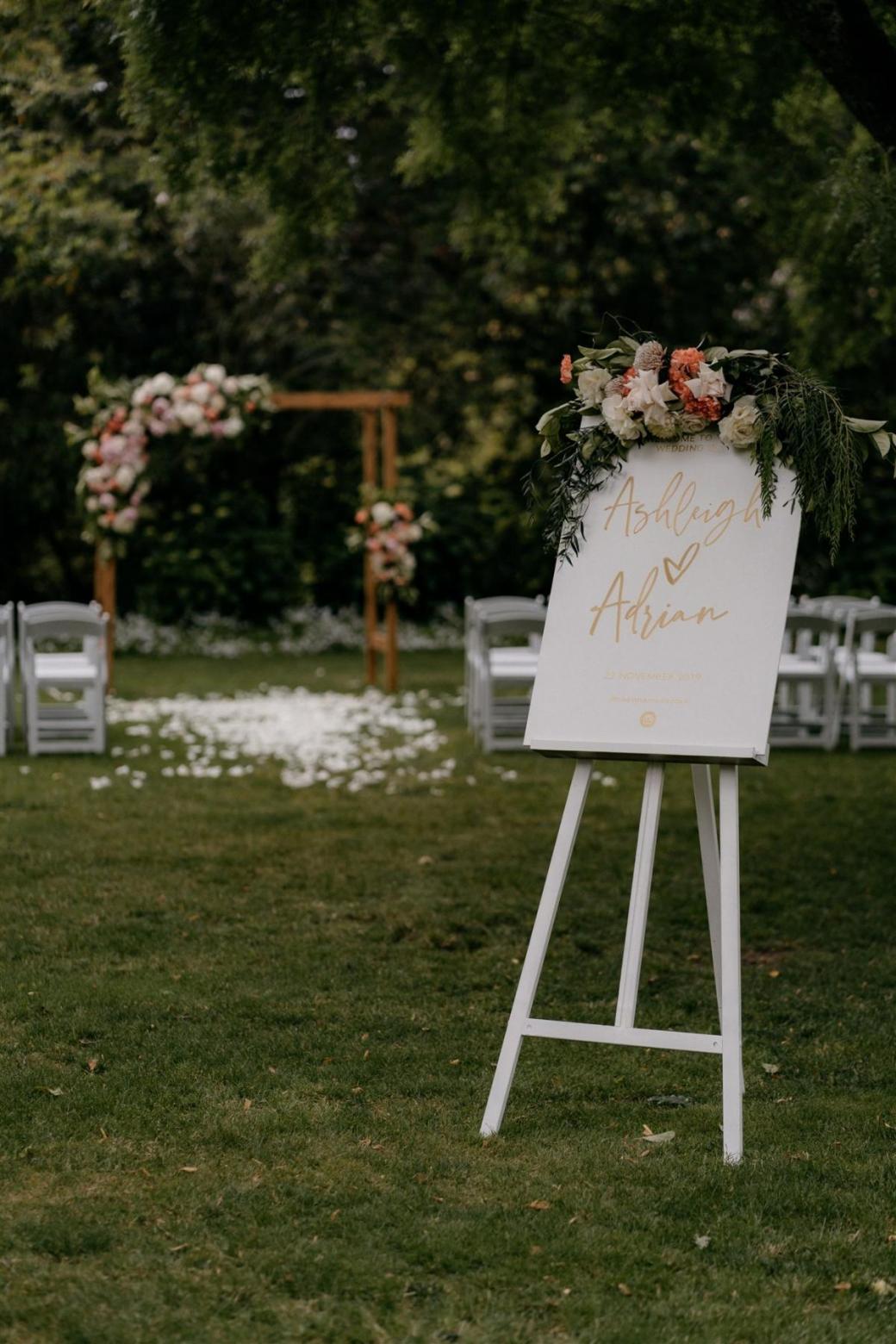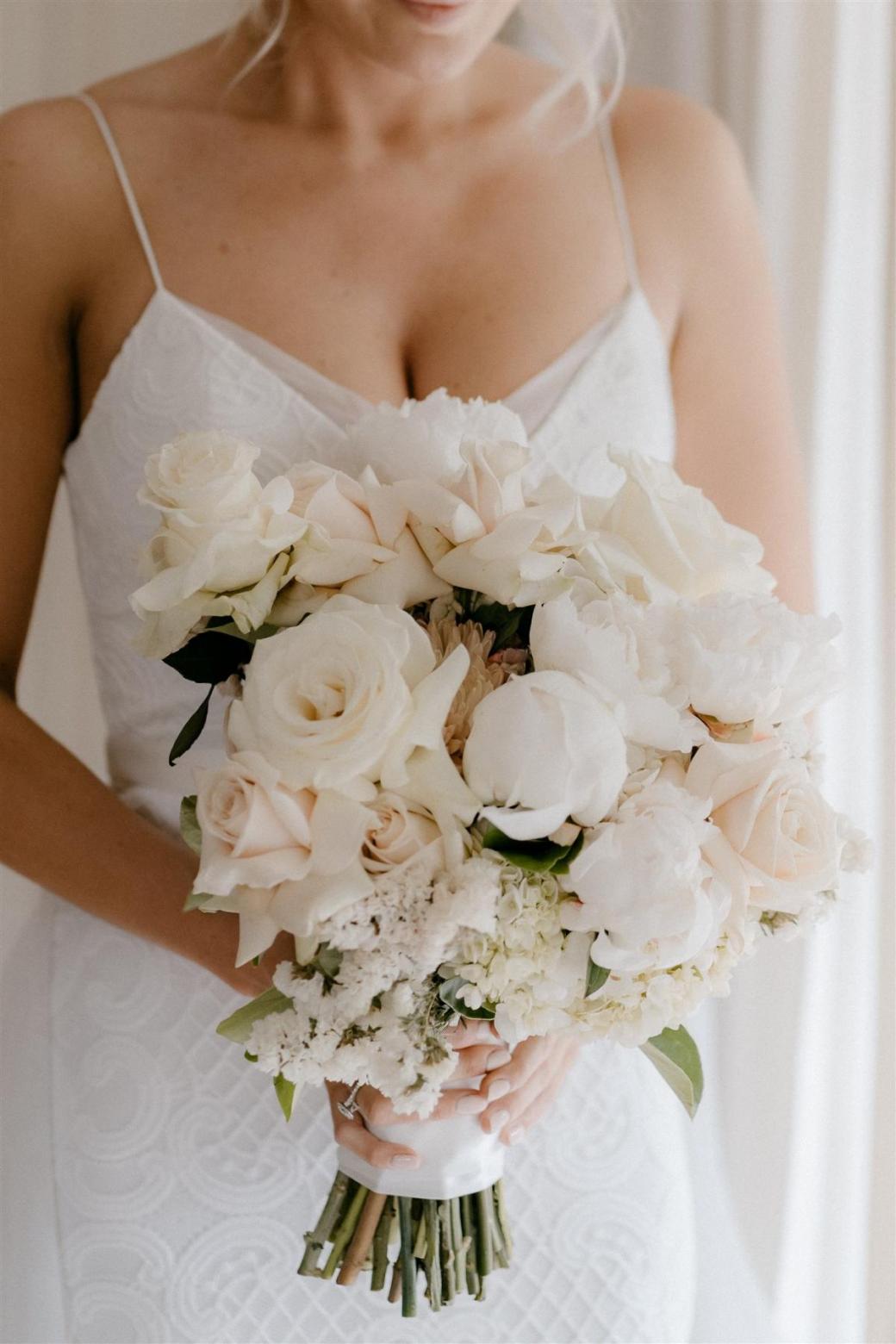 The Dress
Ashleigh wore our Elodie gown from our Wild Hearts collection and paired it with the Oval trains. Ashleigh found her gown in our Alexandria, Sydney Boutique.
"I had followed KAREN WILLIS HOLME S on Instagram for quite a while before I even got engaged. I had no idea what I wanted for a future wedding gown and KAREN WILLIS HOLMES seemed to have the variety so I was confident I would find something there (I also loved literally ALL of the gowns).
I love the detail in the lace, and the tulle at the bottom coming through the split. I especially loved wearing the Oval train, I was initially undecided as to whether I wanted to wear a slim fitting gown or a fuller skirt, I felt like adding the Oval train gave me the best of both worlds. I also added an organza modesty panel to the bust for additional coverage. I removed the train after our photos after the ceremony. The dress overall was extremely comfortable, easy to move in (and breathe) and it wasn't heavy to wear. The train made it feel extra feminine and romantic."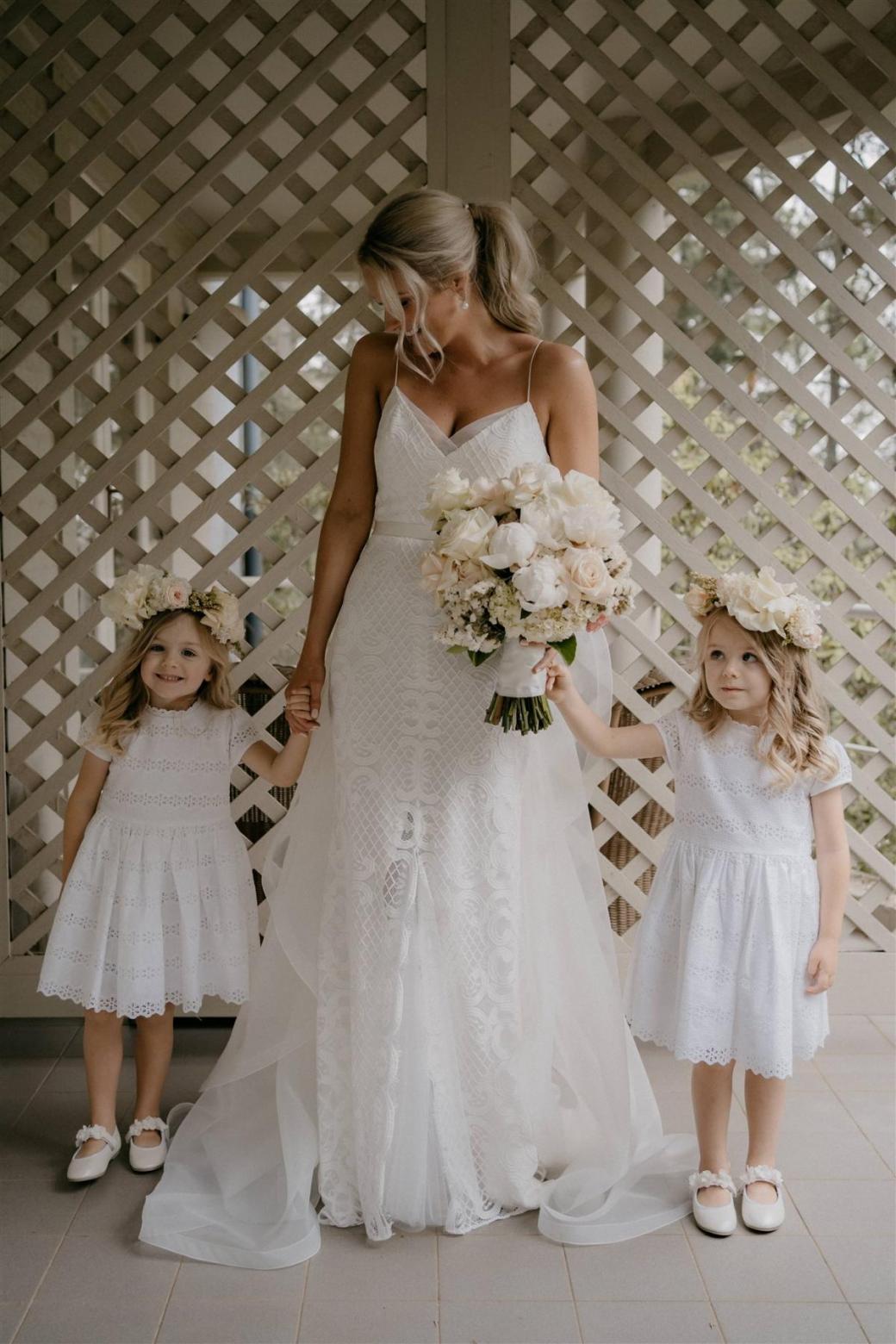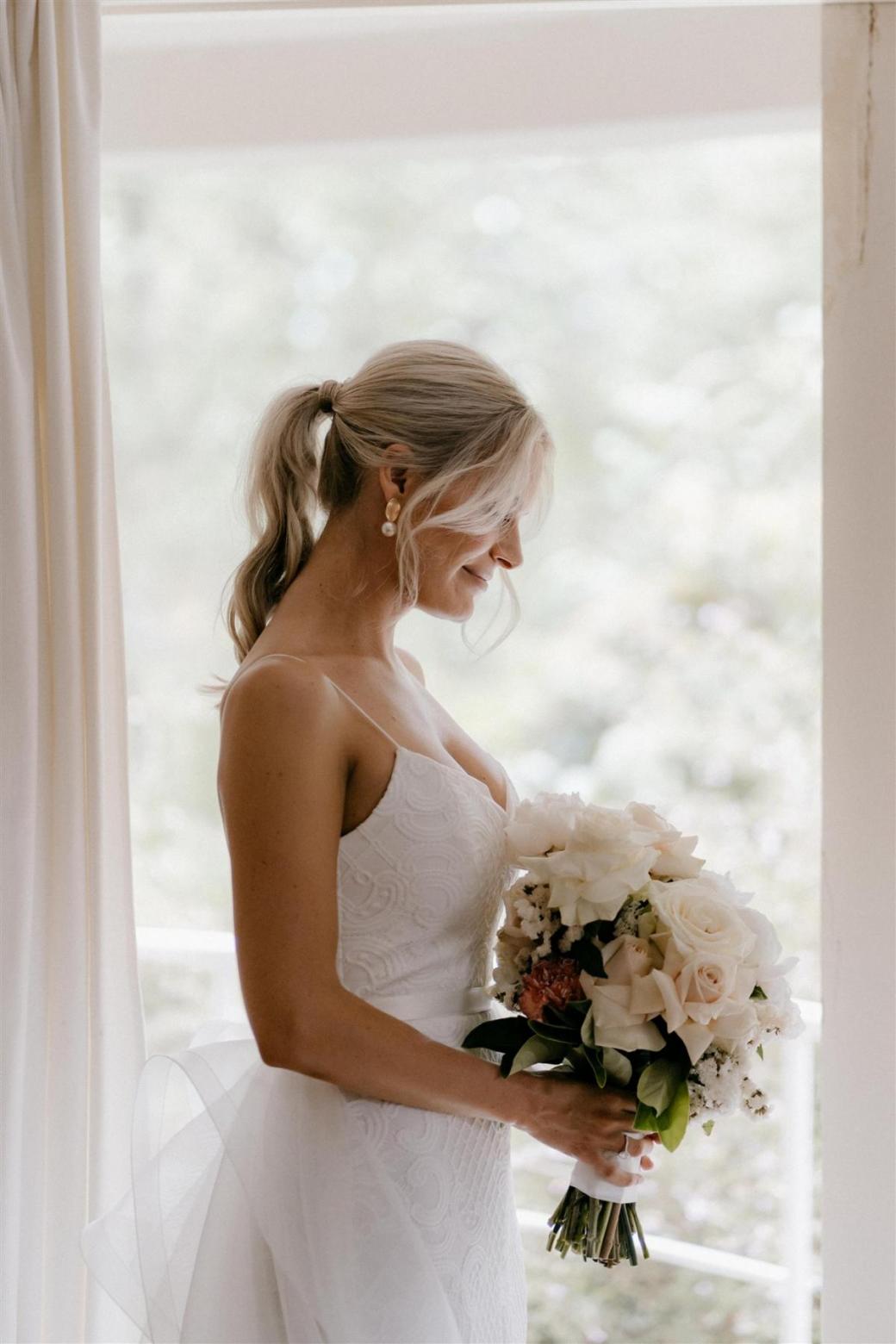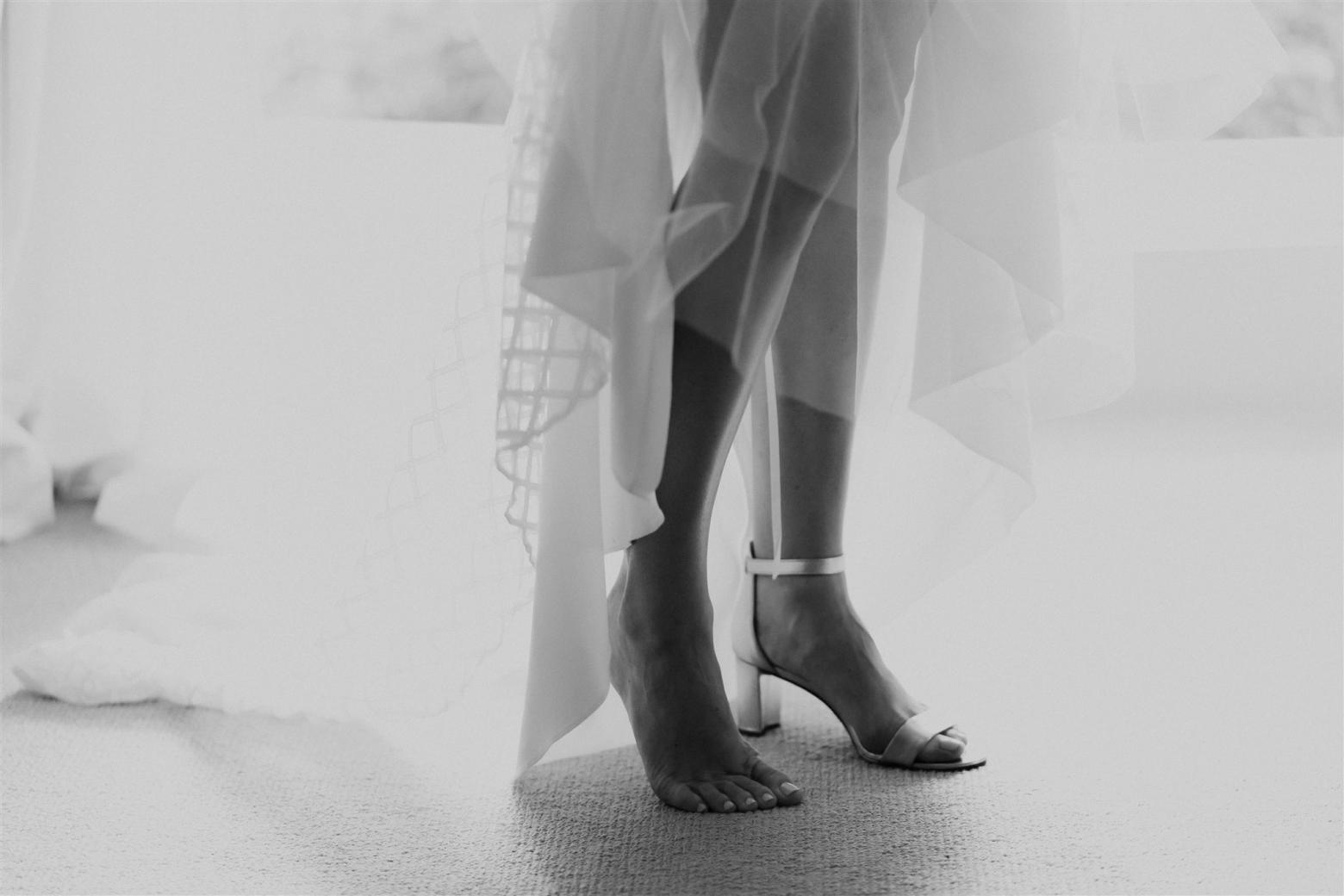 Highlight of the Day
"Some of my most favourite moments were standing with my dad right before walking down the aisle, I was so incredibly nervous but the moment he linked my arm to walk I instantly felt calm and ready. Also seeing Adrian at the end of the aisle watching me walk towards him in my dress for the first time.
These are the moments will stay with me for life."
Gown hunting tips
"Go in with an open mind, I had no idea what I wanted so it was a process of elimination with what suited my body and what didn't. In saying that, don't overwhelm yourself and try on too many either.
The Elodie was the 5th and final gown I tried in my very first fitting, I went to one more store after that but nothing else compared, I had my heart set on it. Three weeks later I was back at KWH and purchased the Elodie. Also, go with what makes you feel good, the Elodie not only suited my style but I have never felt so good in a dress as I did this one."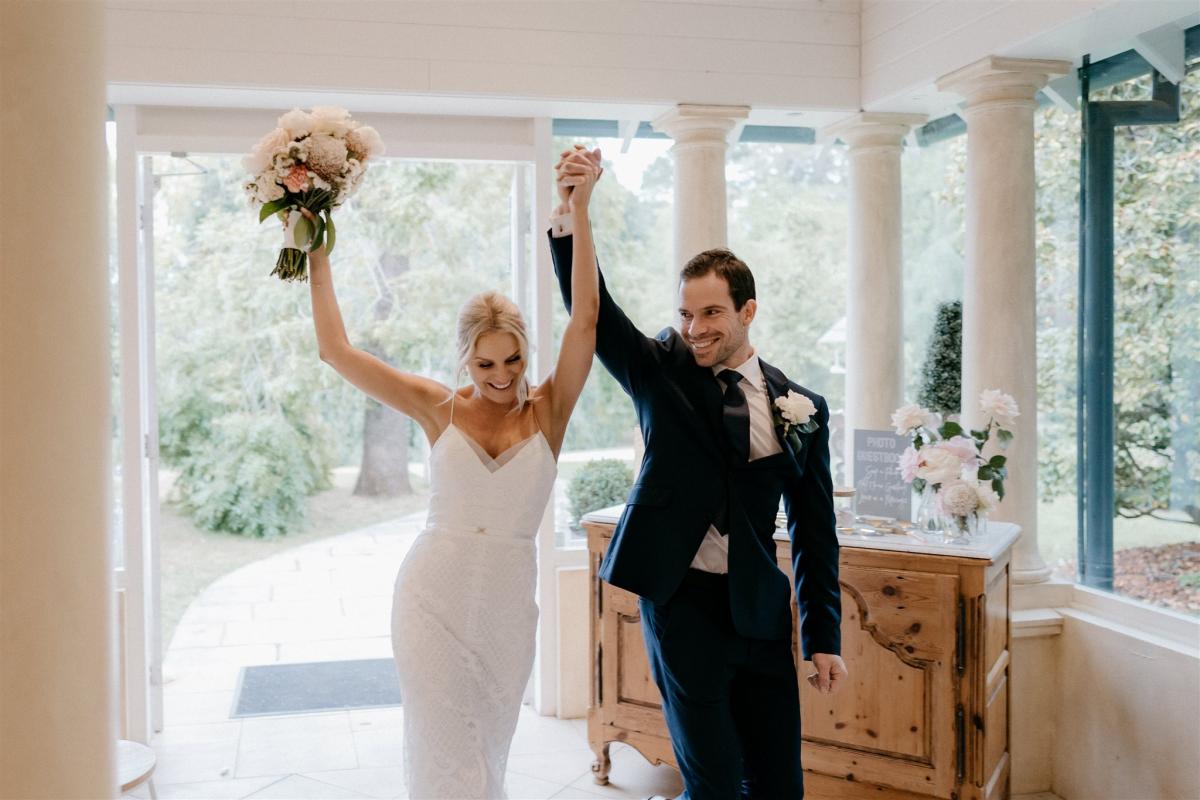 What does love mean to you?
"Everything! To be able to share life's most precious moments with my best friend, there really is no better feeling."