Ancille & Dar's Beautiful Traditional Style Wedding

Two cultures came together, creating the most enchanting high sea wedding experience where no detail was spared, no matter how small. From a humble coffee date to a dinner that ended with a ring, Ancille and Dar's dream wedding struck a stunning chord. Their masterpiece was produced using minimalist tablescapes paired with harmonious overtones from her family's traditional tribal songs and her BESPOKE Kitty Melanie wedding dress that dazzled.  A melodic, soothing tone on tone colour palette with baby's breath florals formed a visual symphony that whispered with sweet romance as guests danced under the stars, joining in a celebration that will live on in their memories forever.
On the proposal
As days passed by in June 2018, Ancille started to gather that her boyfriend, Dar, was hiding something. Her once calm, cool, and collected man had become increasingly anxious. With a special dinner date for her birthday quickly approaching, Ancille went to work trying to figure out her man's intentions. The highly anticipated night came. As Dar arrived to pick up Ancille for their date, he was greeted with an overly invasive, intimate, airport security style hug. To her disappointment, no ring box.
Just as soon as the evening had begun, it too came to an end. Had her women's intuition failed her? Did she really get it wrong?  With her stomach full and her heart heavy, they returned home. Her dissatisfaction could not be masked; it was written all over her face, causing Dar to make his move.
"He got up and walked to the closet and pulled out a black book (Insurance book for my engagement ring), handed it to me and asked, "Is this what you are looking for?" I opened it, recognised the branding on the first page and started crying. I turned around, and there he was in his perfect suit with his big blue eyes staring at me and pulled out the ring and asked me to marry him. It was the most perfect moment. I was really happy because I would have hated a public proposal. He had actually had the ring in the closet for months, and I didn't notice because I'm short and can't see the top shelf of the closet."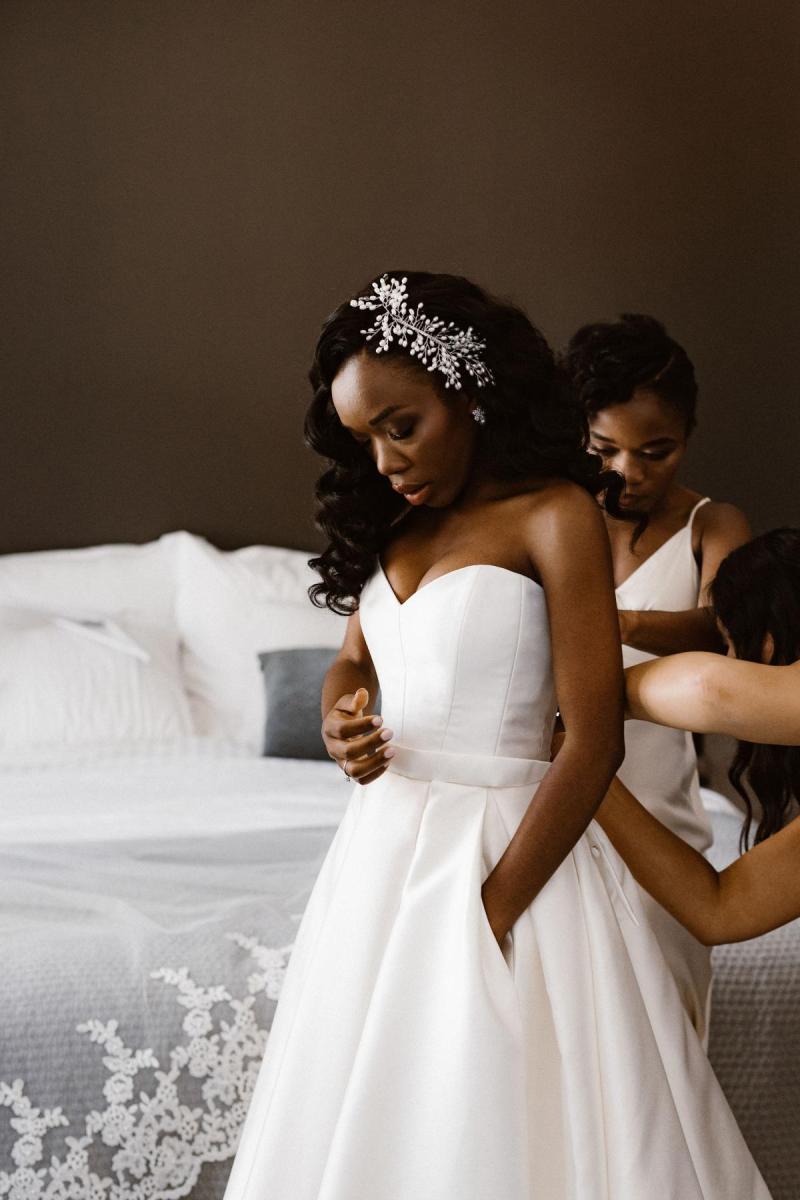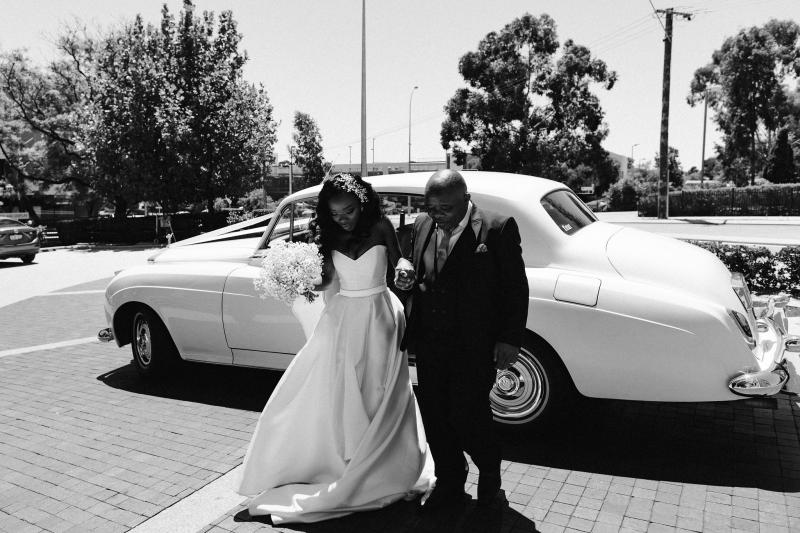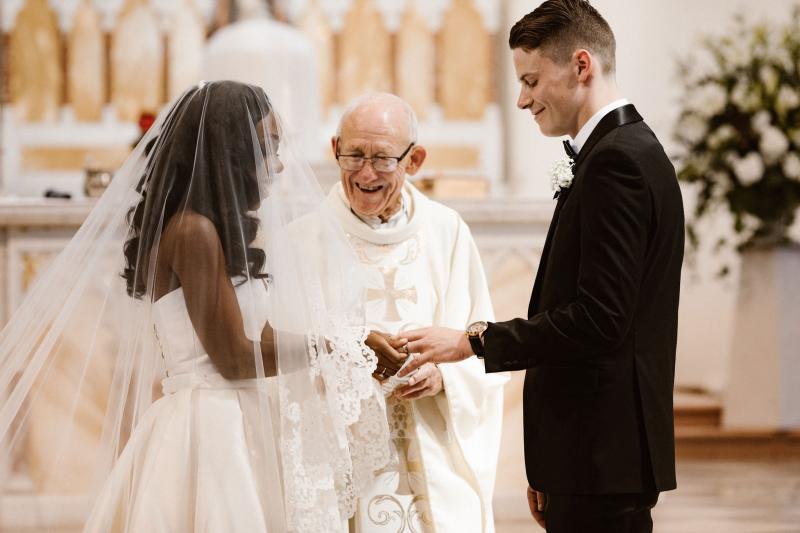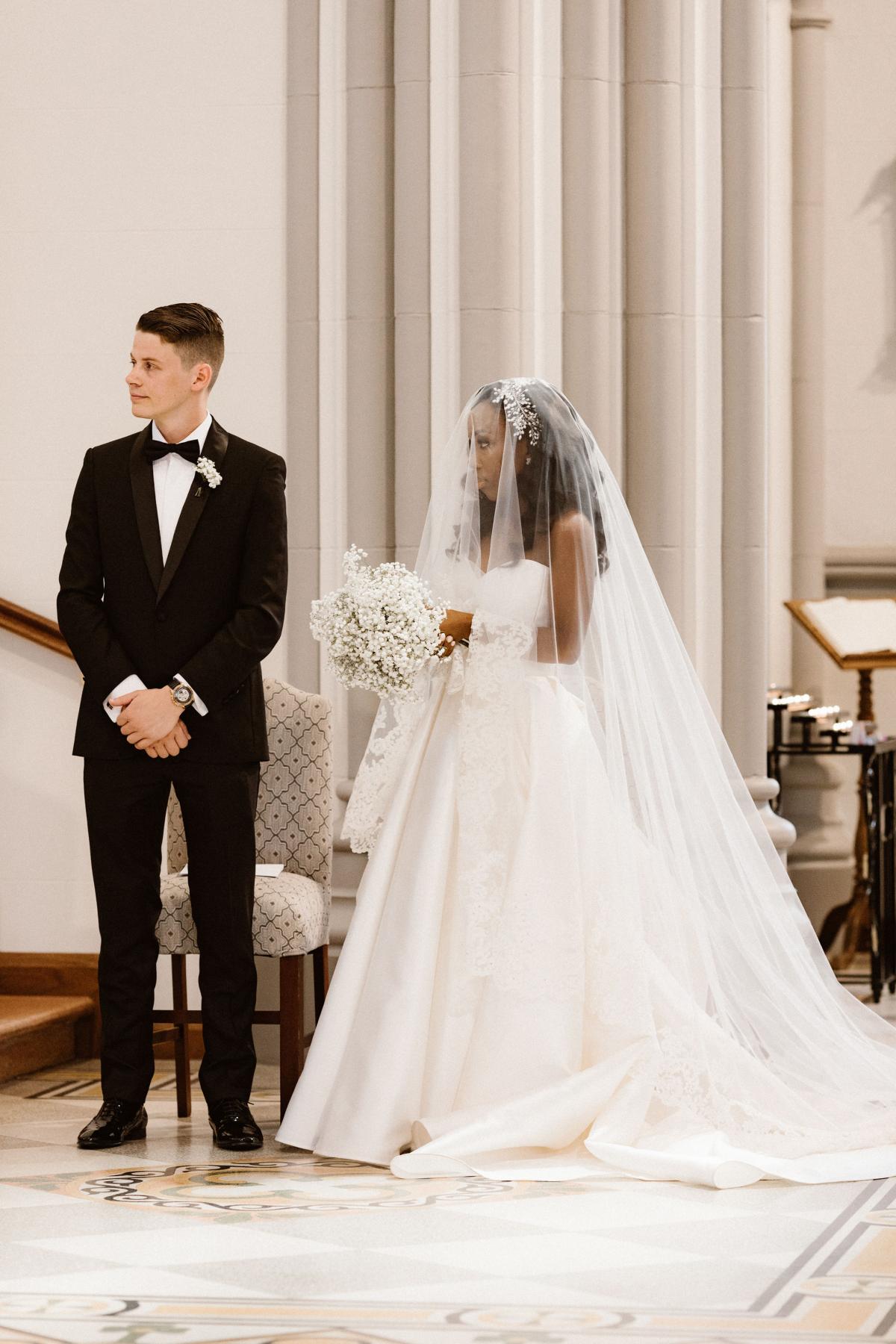 On the venue
Under the awe-inspiring, elegant pure white arches of St. Joseph Catholic Church, Ancille and Dar tied the knot. Faith was of utmost importance to Ancille, so she knew she wanted to recite her vows and commit herself to Dar in a special, holy place.
To make the evening even more magical, they spent the night celebrating in style on the glistening waters of the Swan River at the South Perth Yacht Club to emulate childhood memories spent with her grandmother.
"One of my earliest memories as a child is being on a boat with my grandma going to her house. I really wanted to recreate that memory on my big day. Unfortunately getting a visa for someone from Africa to come visit in Australia is incredibly difficult and, in the end, her visa wasn't processed in time. It was still really lovely to be out on the water with the rest of my family."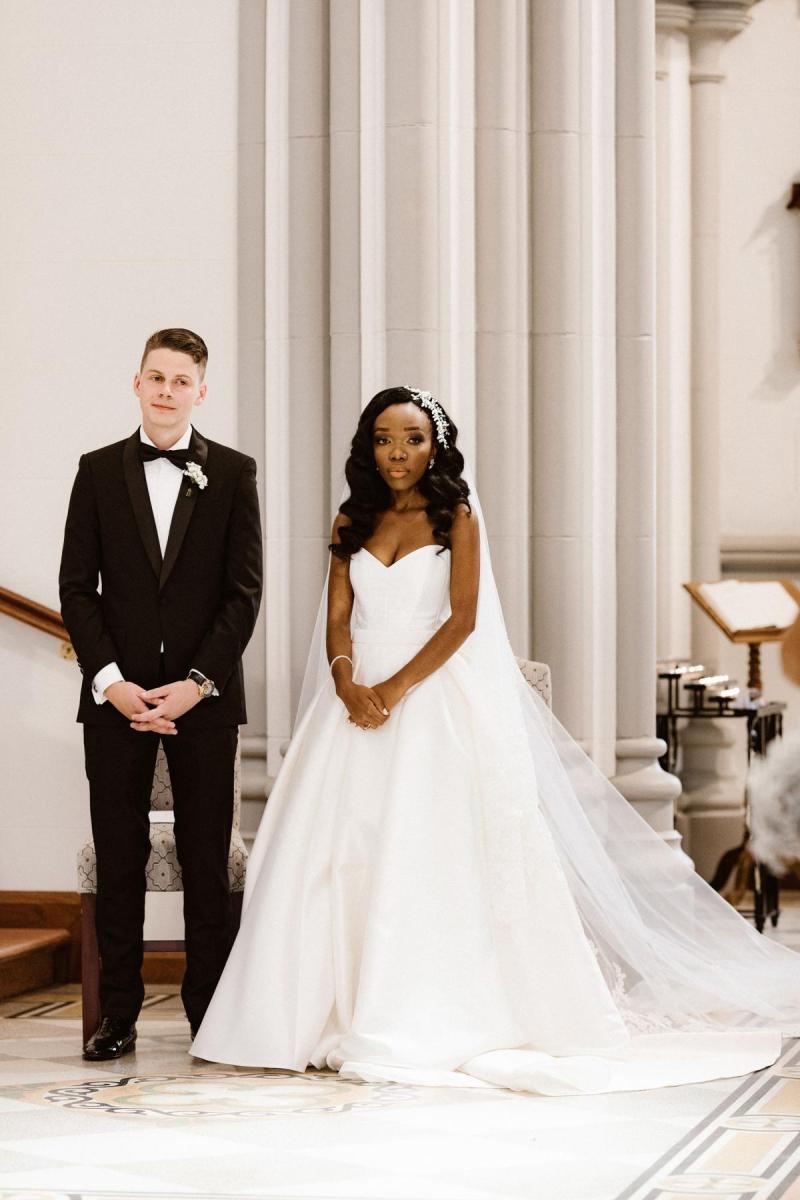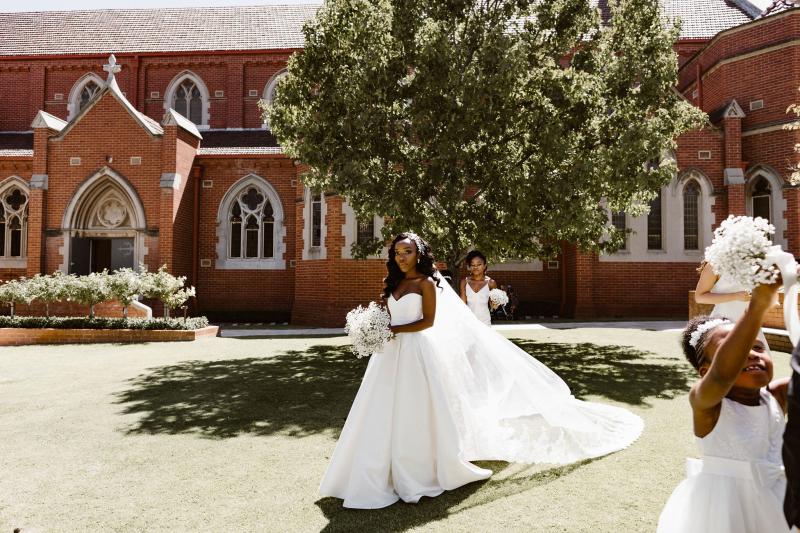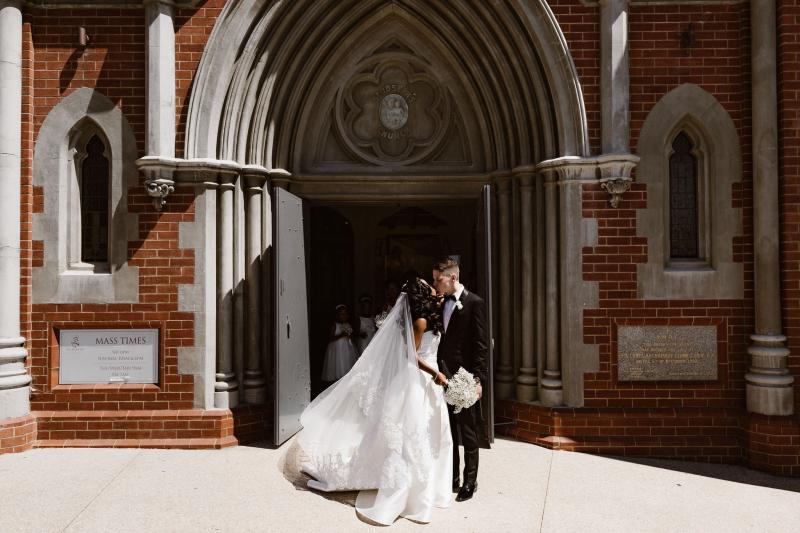 All the styling details
Being a blended, multicultural couple, Ancille and Dar knew they did not want the reception's style to compete with their cultural flare. To achieve this, they kept the decor simple, refined, and romantic. Together, each element – minimalist table settings, shades of white, and whimsical florals created by Bits and Blooms – combined harmoniously to create a timeless, chic wedding.
"Baby's breath are my favourite flowers. We incorporated them with some ferns to Represent New Zealand on our bridal table and had clouds of baby's breath on all the other tables. I really didn't want to do anything over the top as I felt it might take away from other aspects of our culture."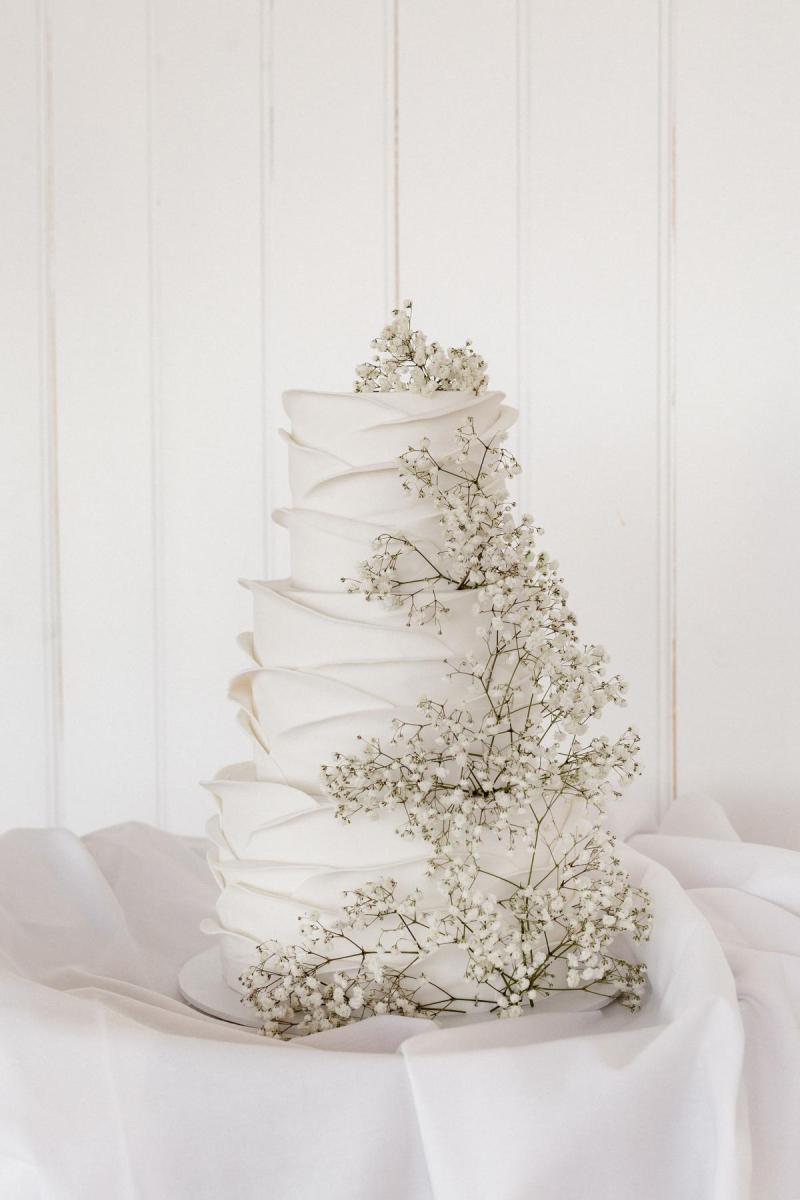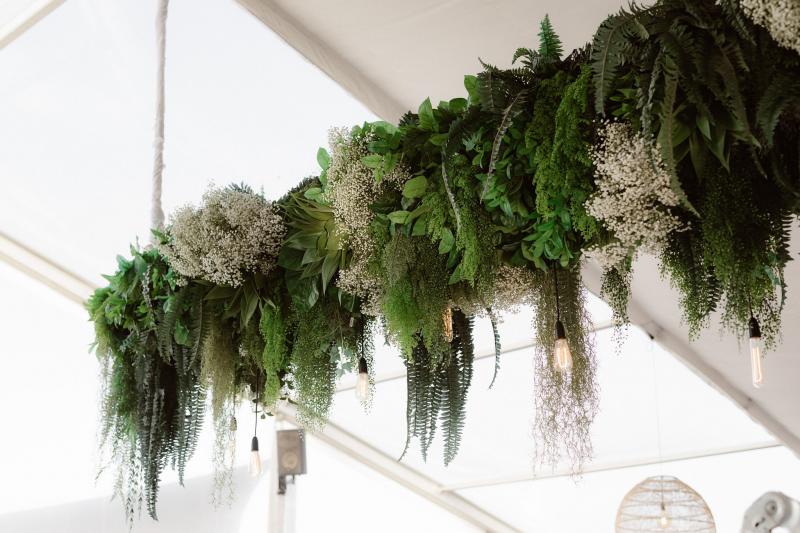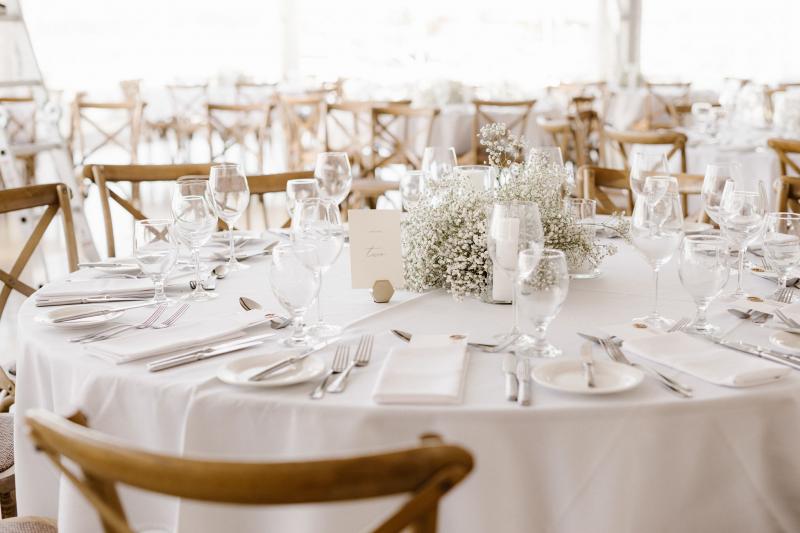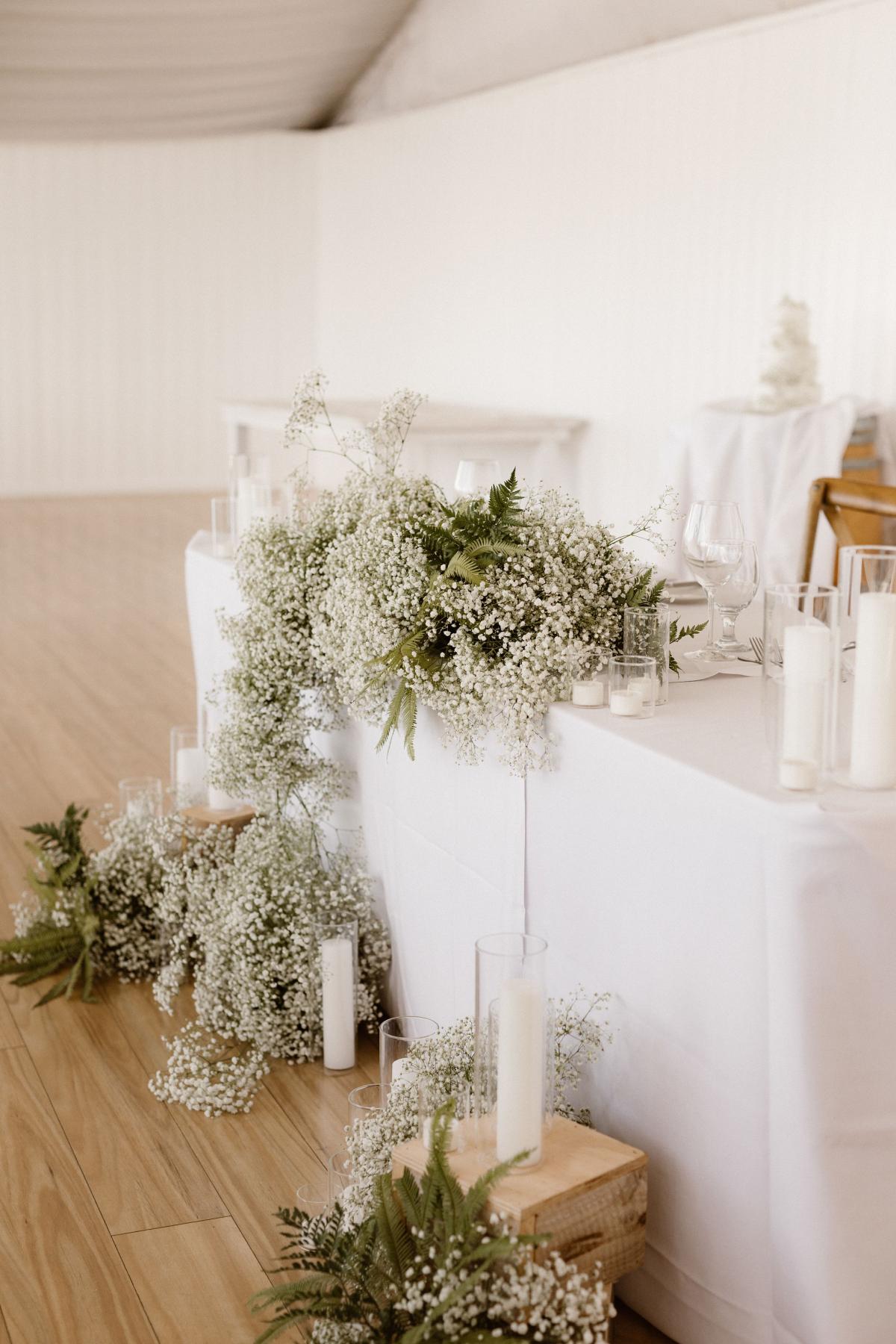 Highlight of the day
To celebrate their backgrounds, "[her] family sang a traditional Mushi (my tribe) song during the ceremony and [she] received a Maori blessing from [her] husband's family".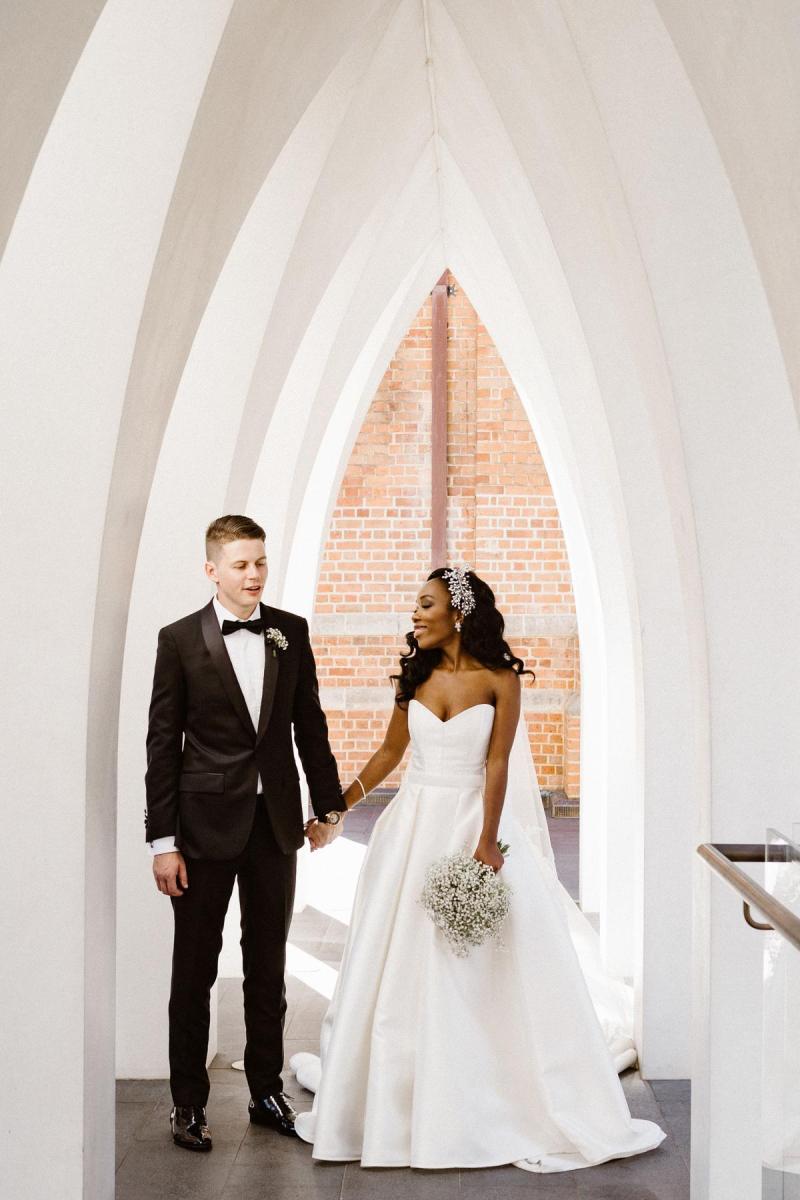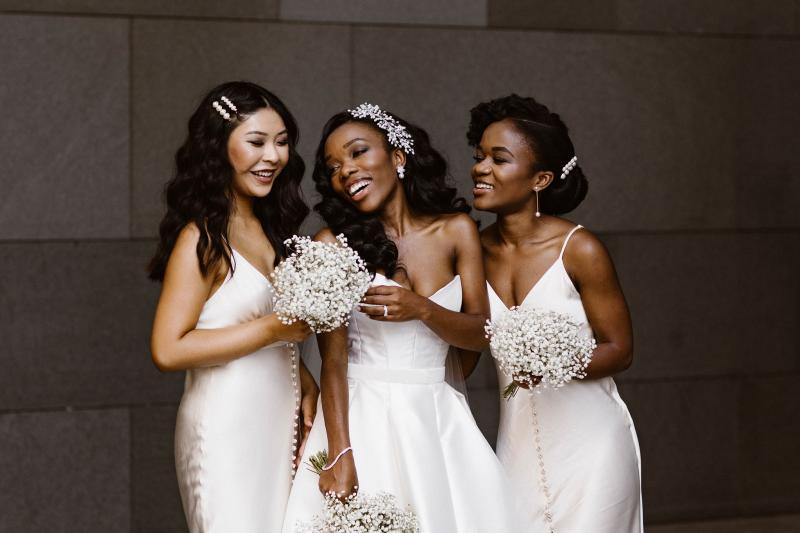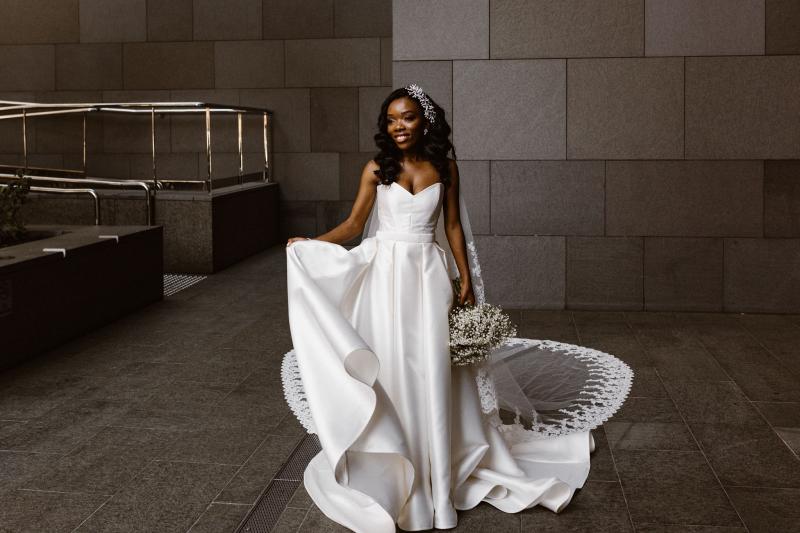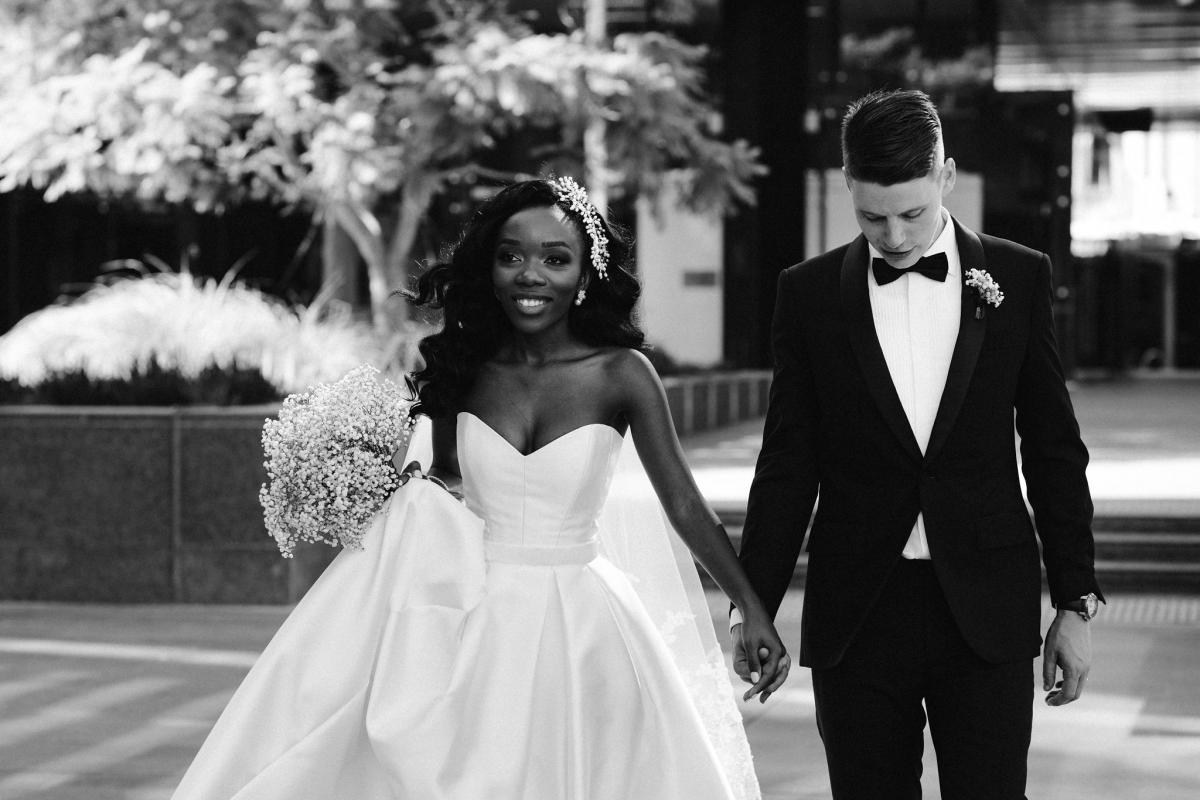 The Dress
Ancille's stunning Kitty/Melanie gown from the BESPOKE collection exuded sophistication and grace. Not only did Ancille love the dress, but she also adored her sweet stylist at our Perth boutique.
"I chose to buy my dress from KAREN WILLIS HOLMES in Perth strongly because of the customer service that I received from the team. Every other boutique that I had been to I got dismissed. I actually stopped looking for a dress for 6 months because of how badly I was treated. I finally went to your boutique 6 months later and it was so lovely."
"Not only was it the most beautiful dress I've ever worn, but it also had pockets and I loved that."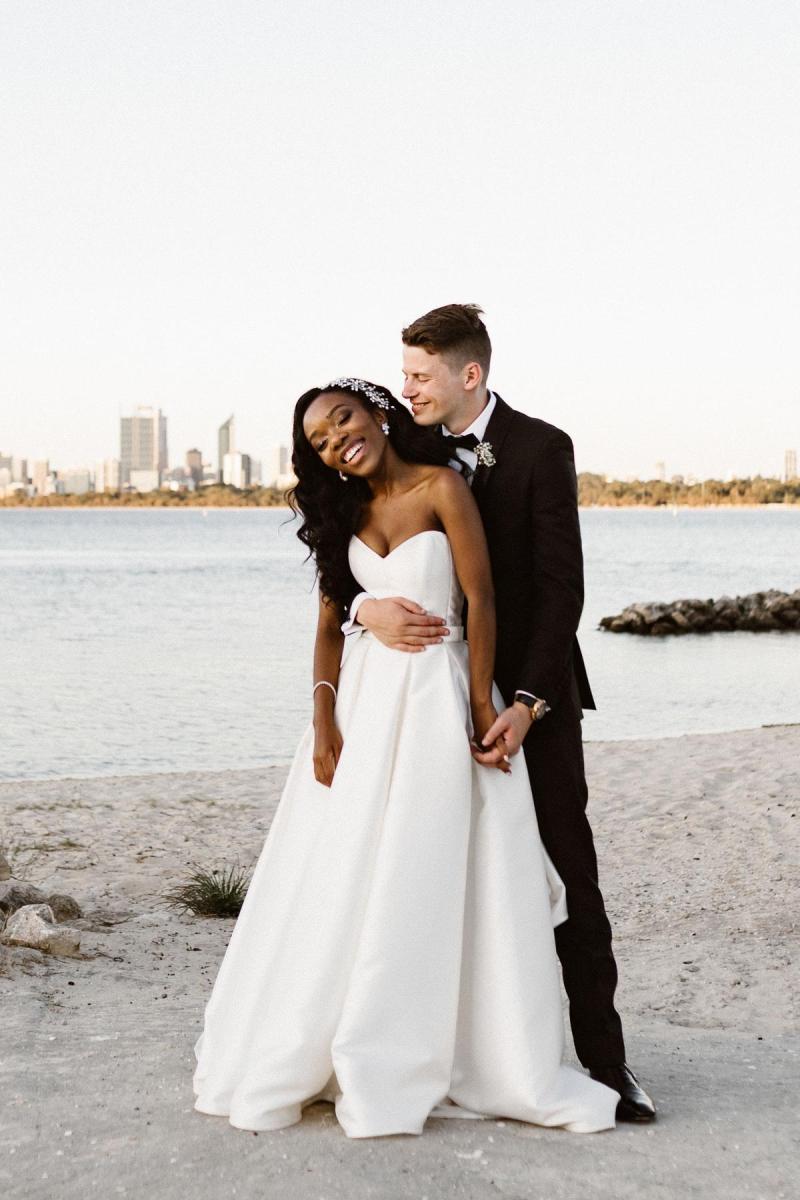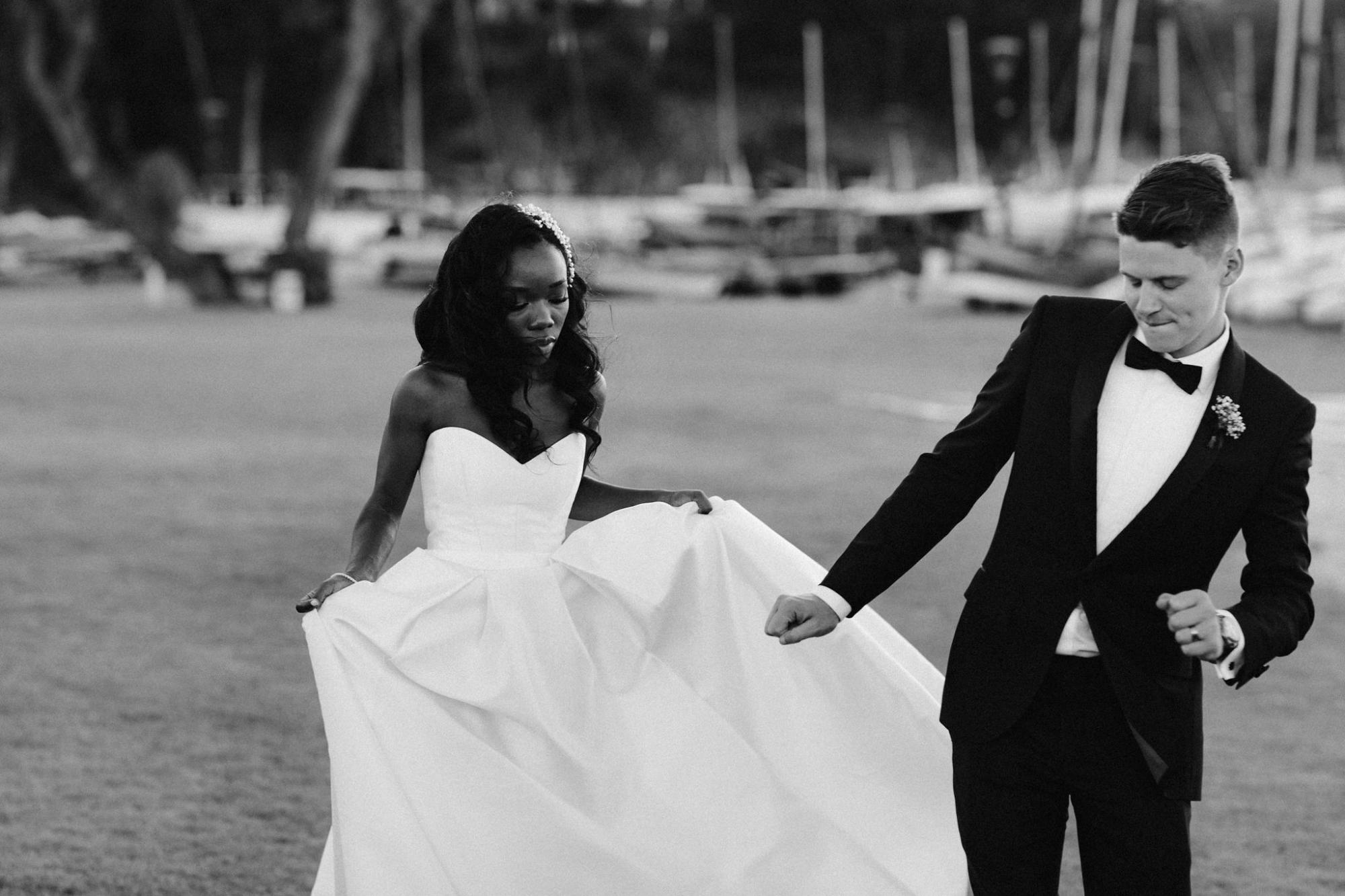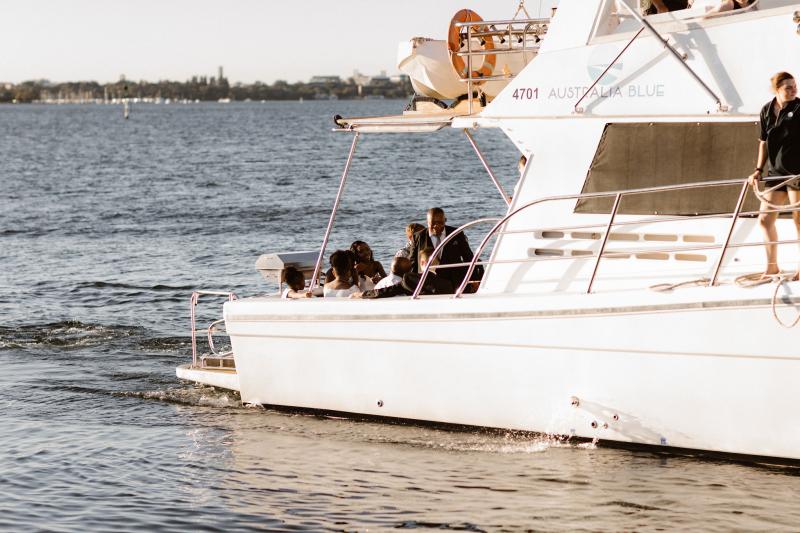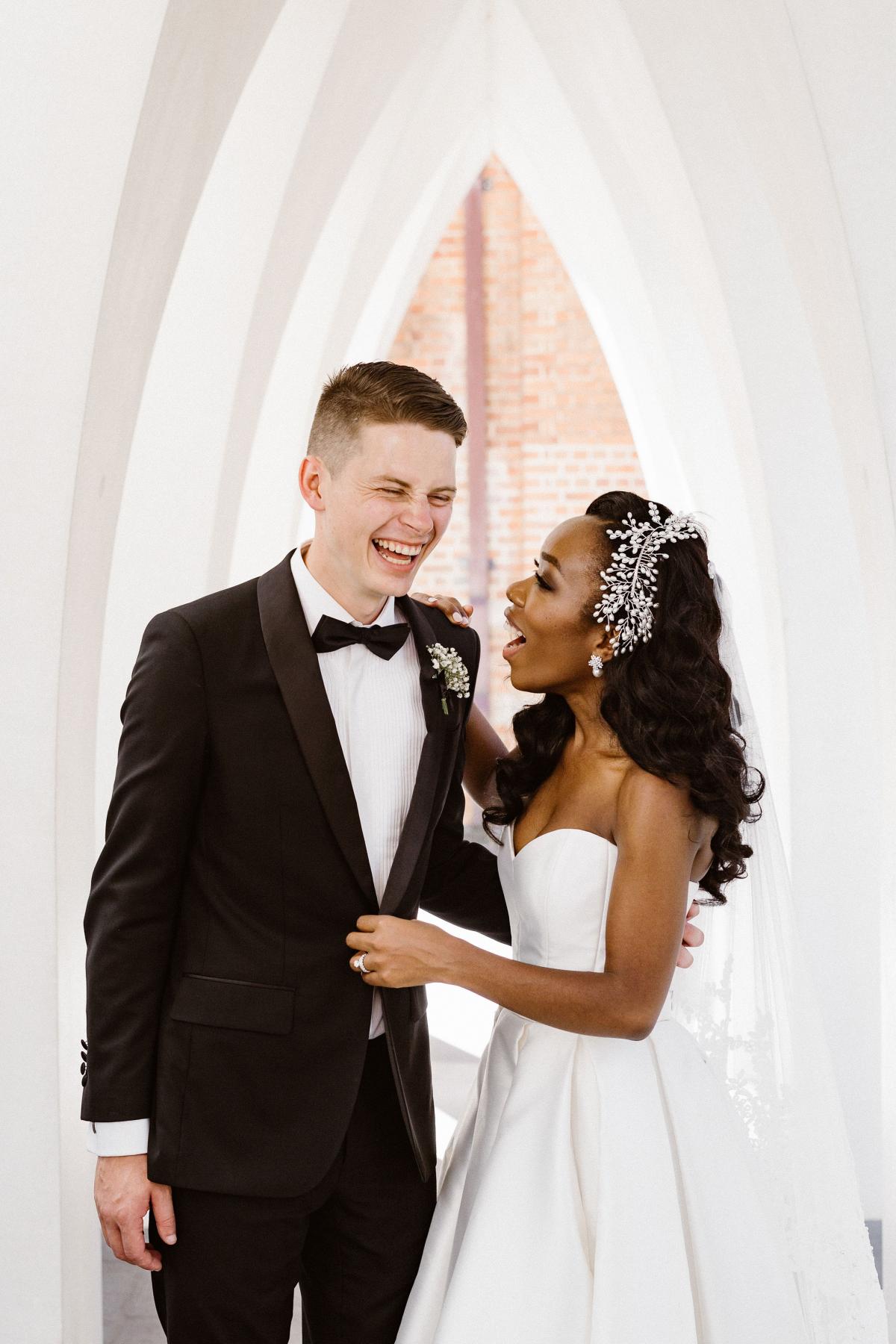 Accessorising
Ancille paired her classic, twill, align gown with sparkly accessories from Steven Khalil and glamourous shoes from Aquazzura to finish off her look.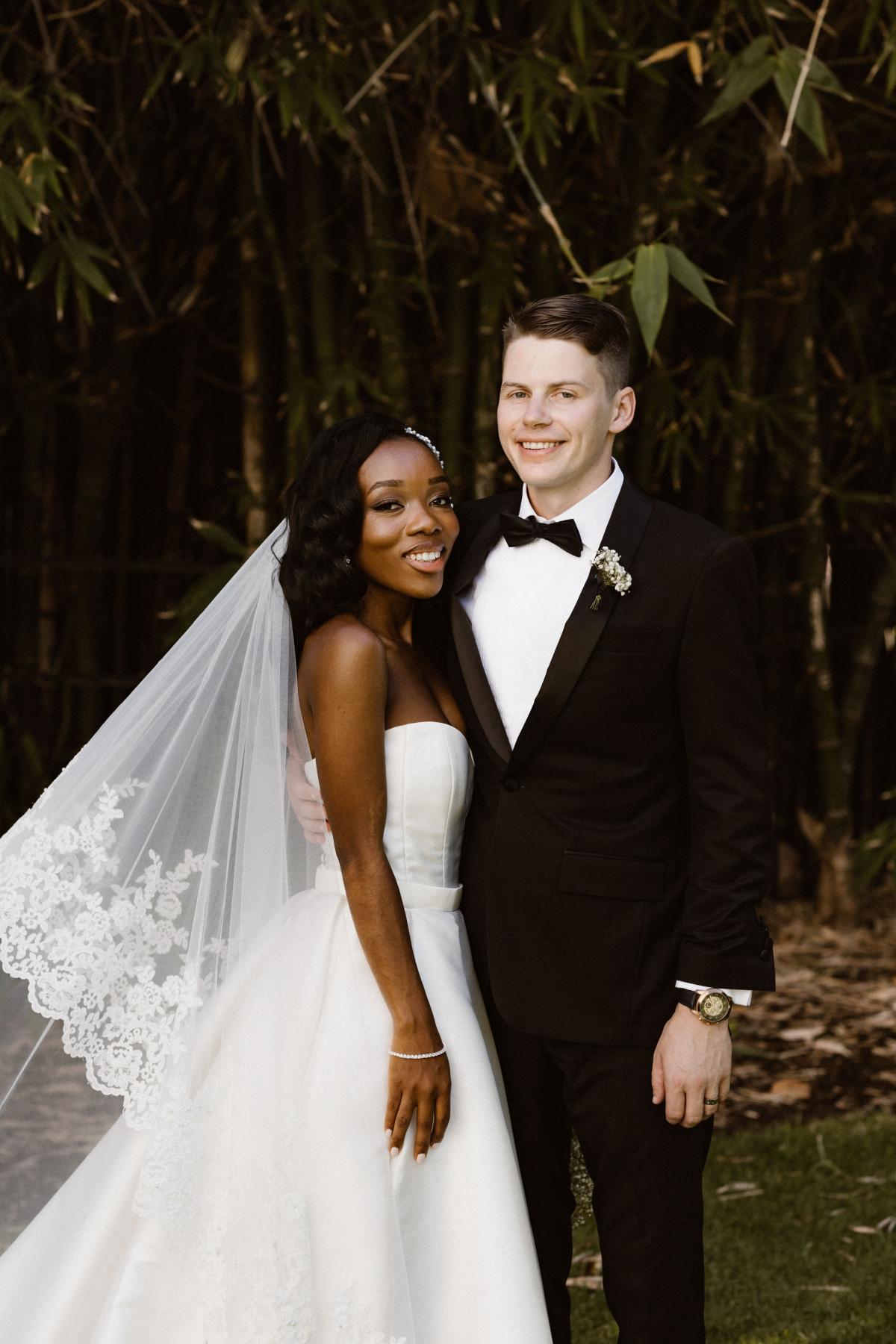 Advice
"Start searching early, and really take your time to find the perfect dress. Also, pick a budget and stick to it (calculate the alteration cost in your budget as well). Personally, I didn't get a second gown because once I thought about the cost per wear, I couldn't financially justify it to myself."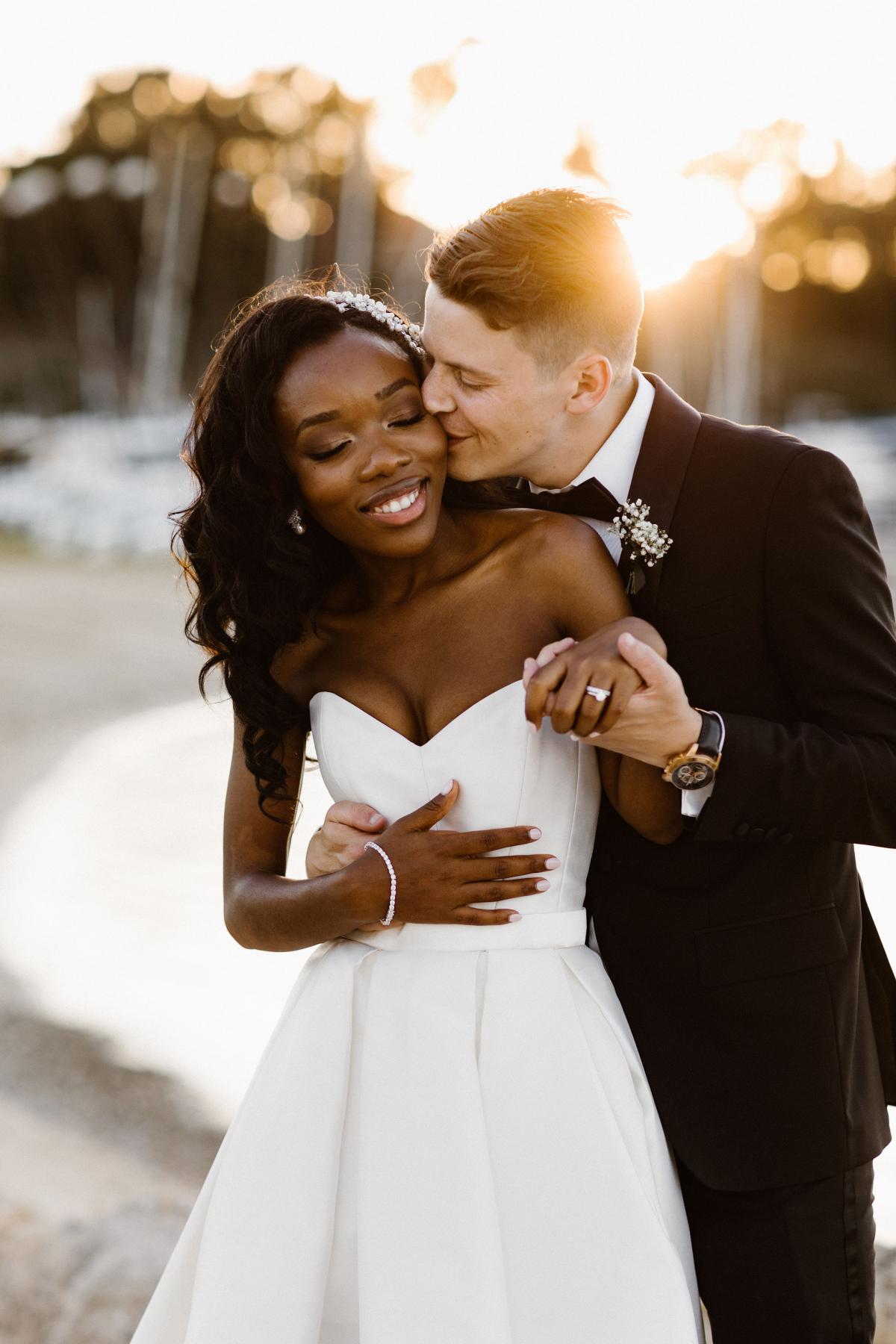 What does love mean to you?
"An unconditional covenant to love and support one another till death. "