Steph & Tom's Elegant Sydney Wedding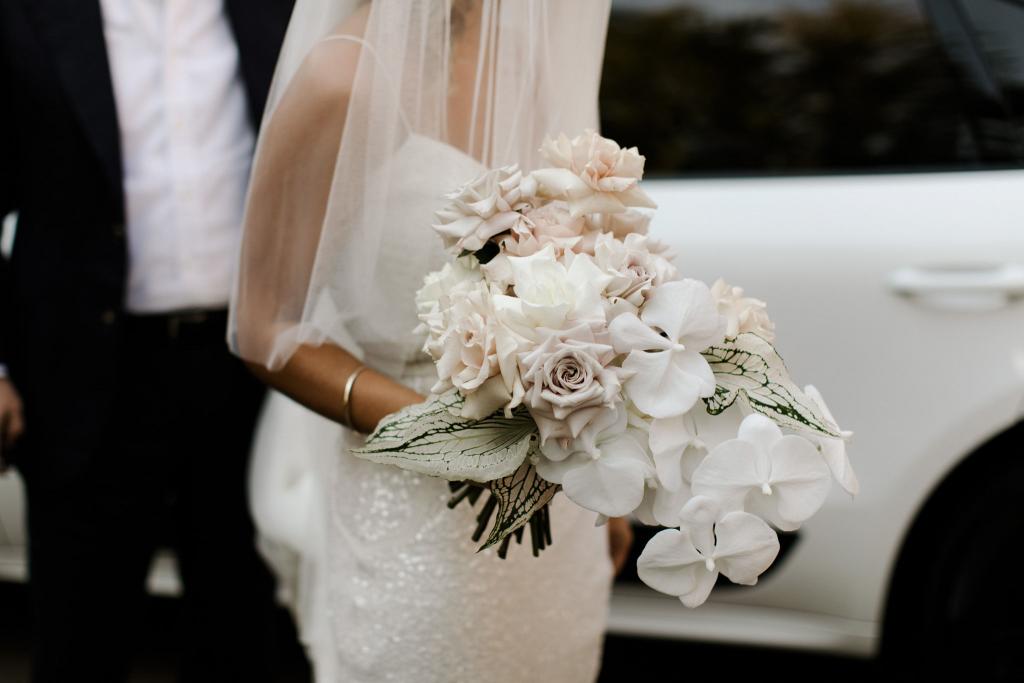 For those who have fallen in love whilst traveling, this Journal is for you. For those who think holiday romances can't work - this one is also for you. Steph and Tom met backpacking in Mexico 5 years ago and followed each other as they weaved their way through Central America. They knew there was chemistry but they also knew there was a time limit to this blissful state they were in. After parting ways and moving back to their respective cities in Australia, all was not forgotten. Sydney based Steph planned a Melbourne trip with her girlfriends and a very brave Tom whom she had kept in touch with invited them all down to his beachside holiday house in Portsea - read on to see how they sealed their fate.
On the proposal
5 years after 'that weekend' in Portsea, Tom popped the question in the exact same holiday house that had brought them so many lasting memories over the years.
"Tom took me down to Portsea for the weekend where I requested we spend our Saturday on our favourite beach with a picnic lunch. Luckily for him, this was exactly how he wanted it to play out but got away with me thinking the day's plans were my idea. After a lazy nap in the sun and a stroll down the secluded beach, I turned around to see Tom on one knee with a ring in his hand."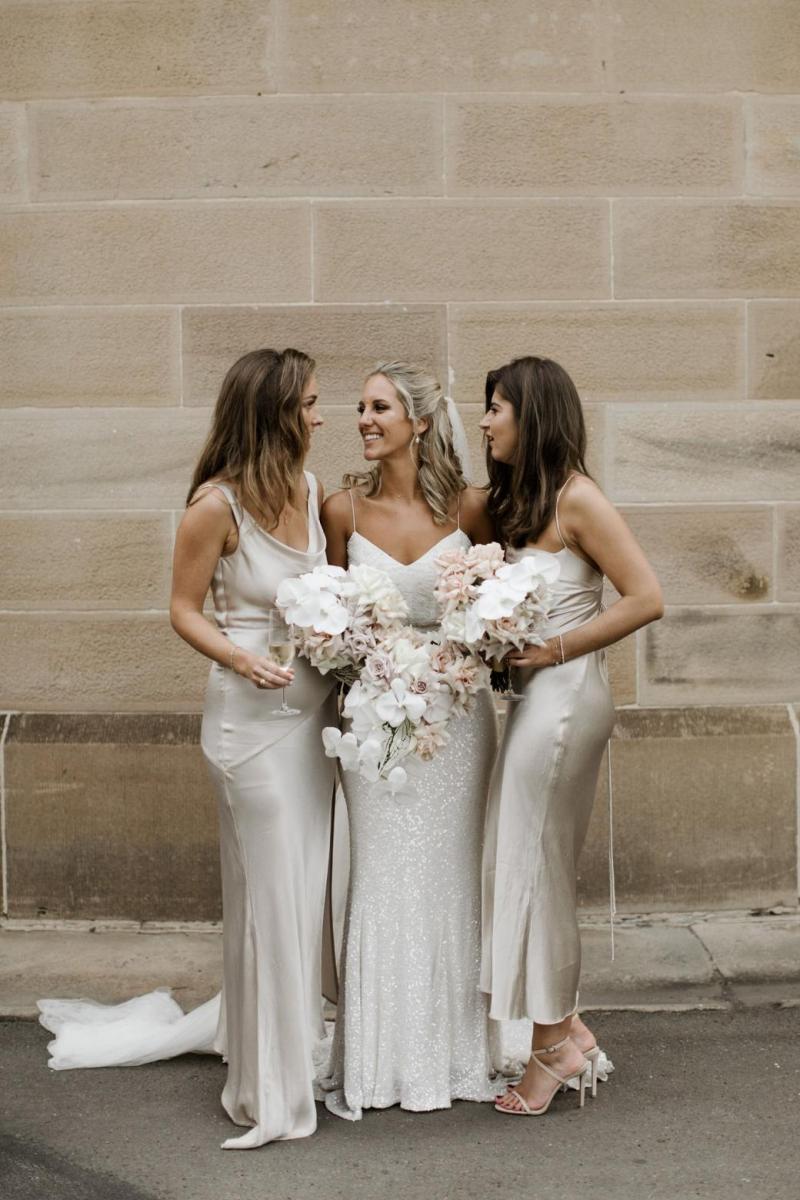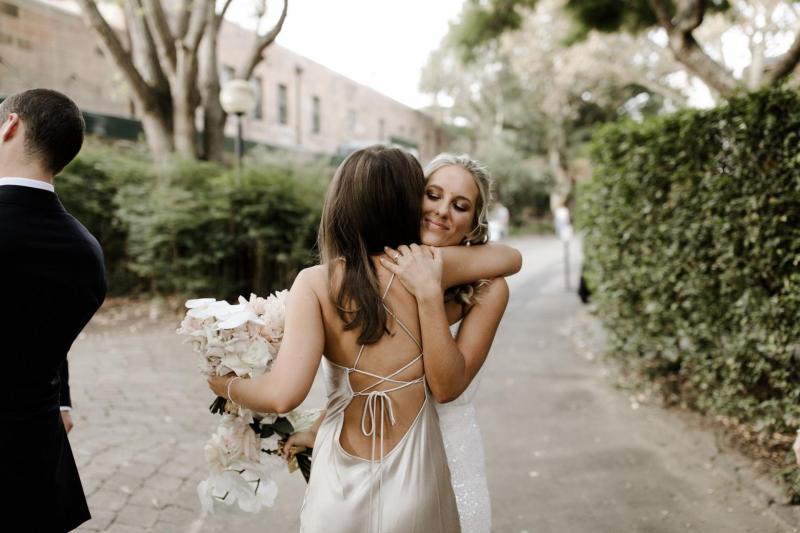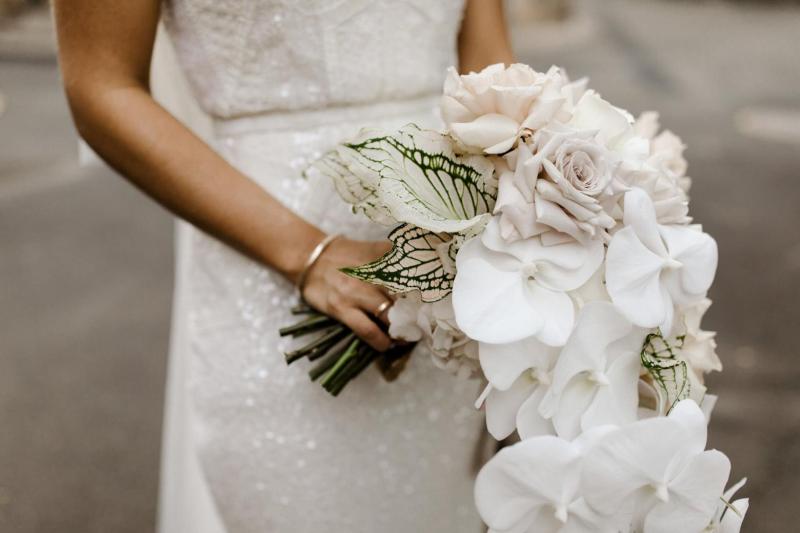 On the venue
Steph and Tom chose the Cell Block Theatre in Sydney's National Art School. They fell in love with the venue after attending a friends wedding there.  It was a bonus being so central as Tom's guests were traveling from his hometown in Melbourne.
"Not only is the space aesthetically awe-inspiring, it carries with it a rich and colourful history, transforming from a prison into a place that celebrates and supports arts and culture has been connected with many of our favourite Australian creatives throughout history."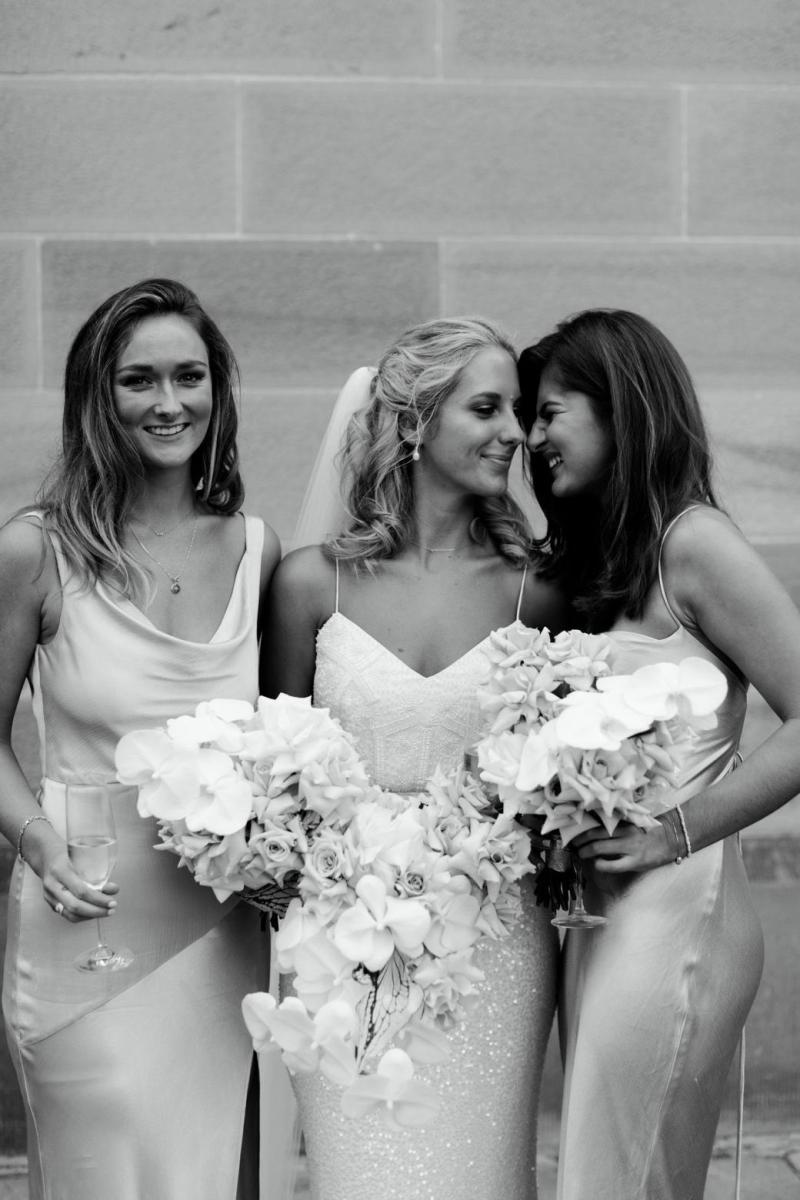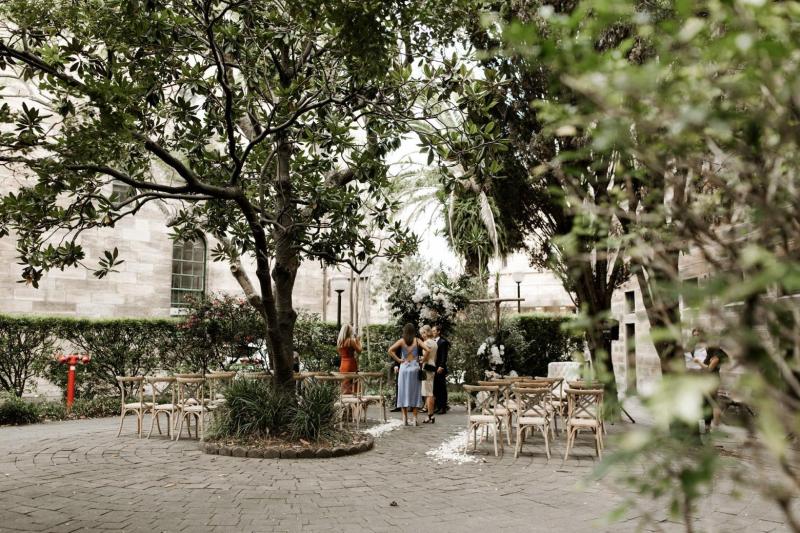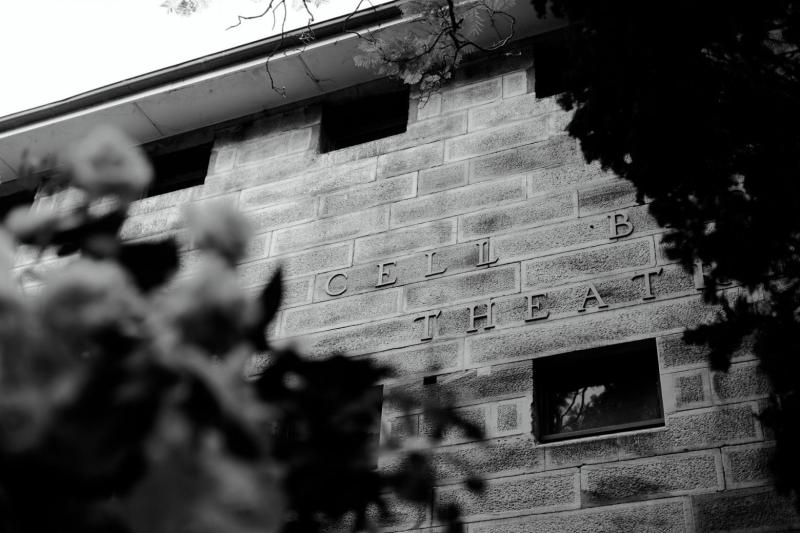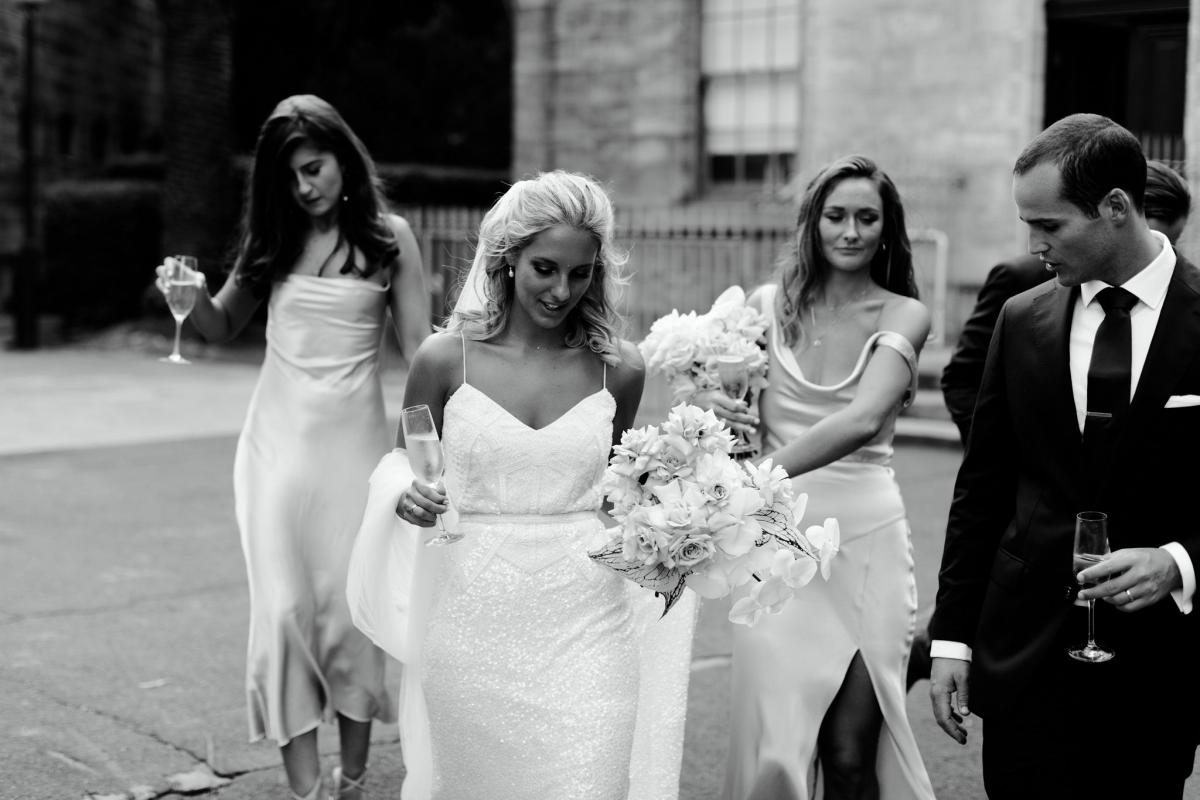 All the styling details
Steph was inspired by wedding blogs. She had a distinct colour palette and style in mind so she spent a long time finding the right reference images to help realise the dream she had planned out in her head. She Designs helped Steph and Tom seamlessly incorperate their ideas into the already beautiful space at The Cell Block Theatre.
"At one of our site visits, She Designs were there setting up for a wedding and what they created was perfectly aligned with what we had envisaged. We locked them in immediately and then worked with the team, sharing inspiration and mood boards to create the perfectly lush, rustic vibe we were after.
They were incredible in translating our vision into a reality and offering expert advice on how to create the best possible ambiance and atmosphere on the day."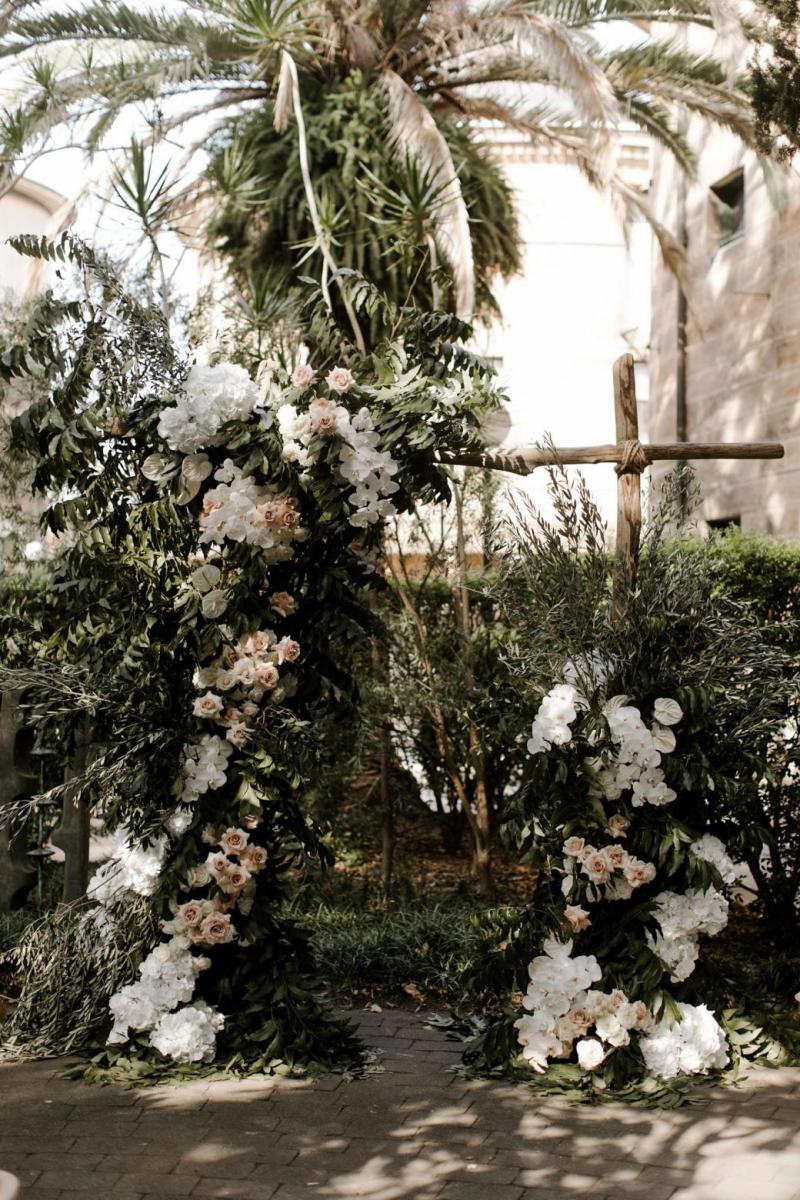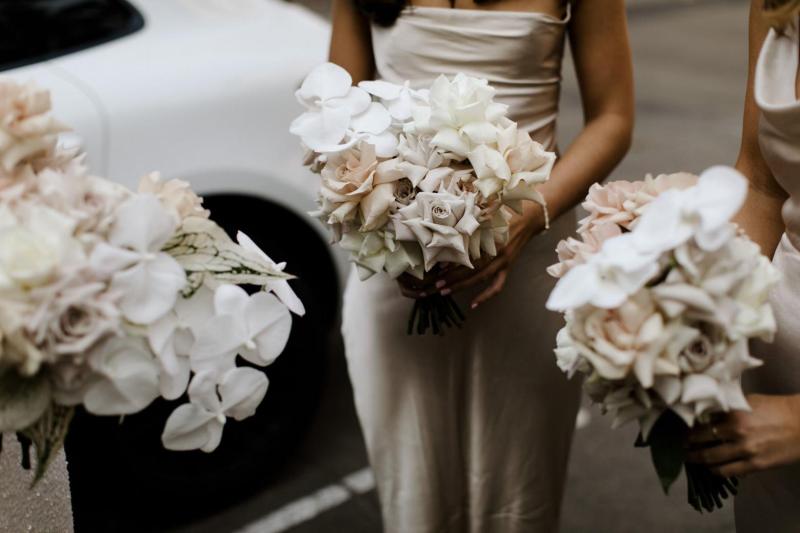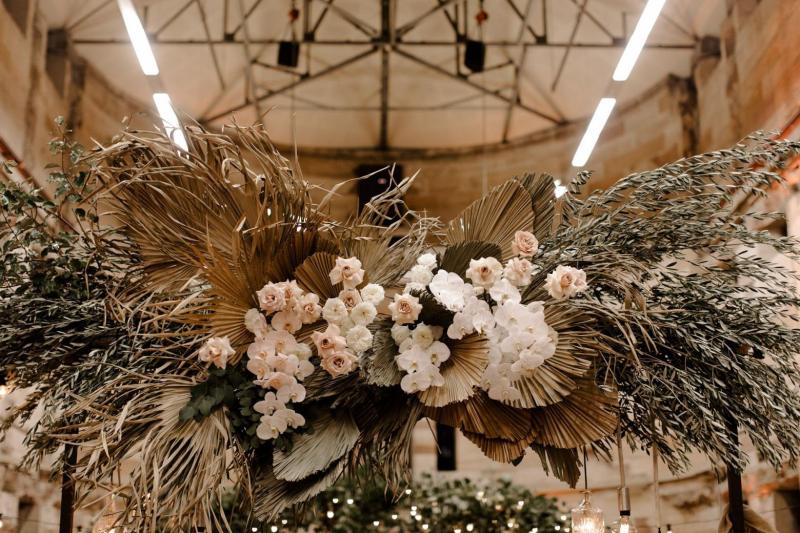 The Dress
Steph wore the Addison gown from the LUXE collection. She had her eye on numerous KWH pieces from our Sydney boutique, especially the sequinned LUXE gowns.
"I didn't know what I wanted and loved how broad the KWH range was so I thought it would be a great opportunity to find what worked for me.
Addison made me feel special and elegant whilst also being SO comfortable! Also, my mum was running late to the appointment and when she walked in and saw me in the Addison gown she burst into tears – at this moment I knew it was the one!"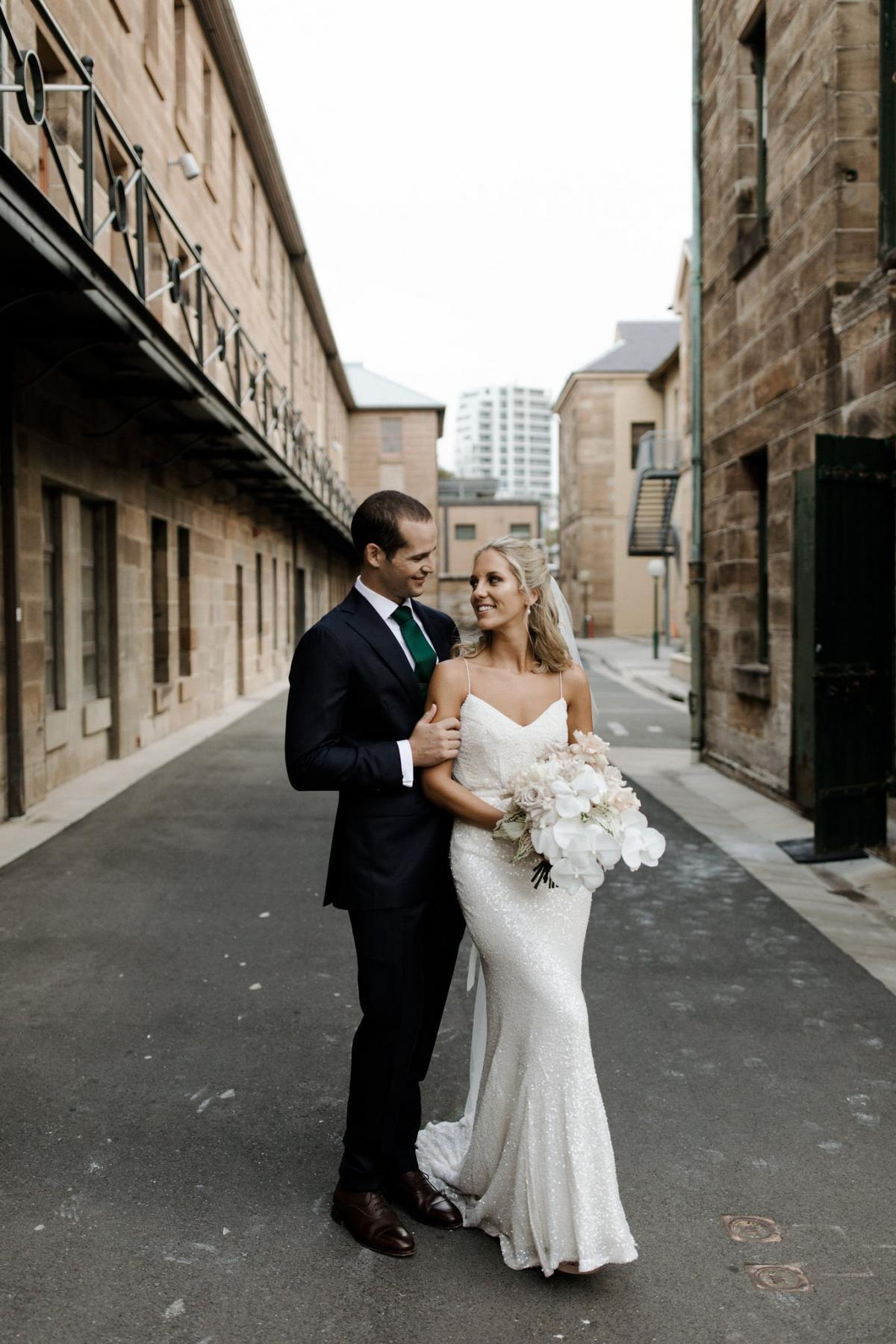 Accessorising
Steph chose a necklace by Sarah & Sebastian and custom made pearl drop earrings. She wore her hair lightly curled and swept off her face into a half do with a 2 tier cathedral veil similar to our Claude veil.
Her bridesmaids wore golden Bec and Bridge dresses which beautifully tied in with all the subtle metallic tones of the day.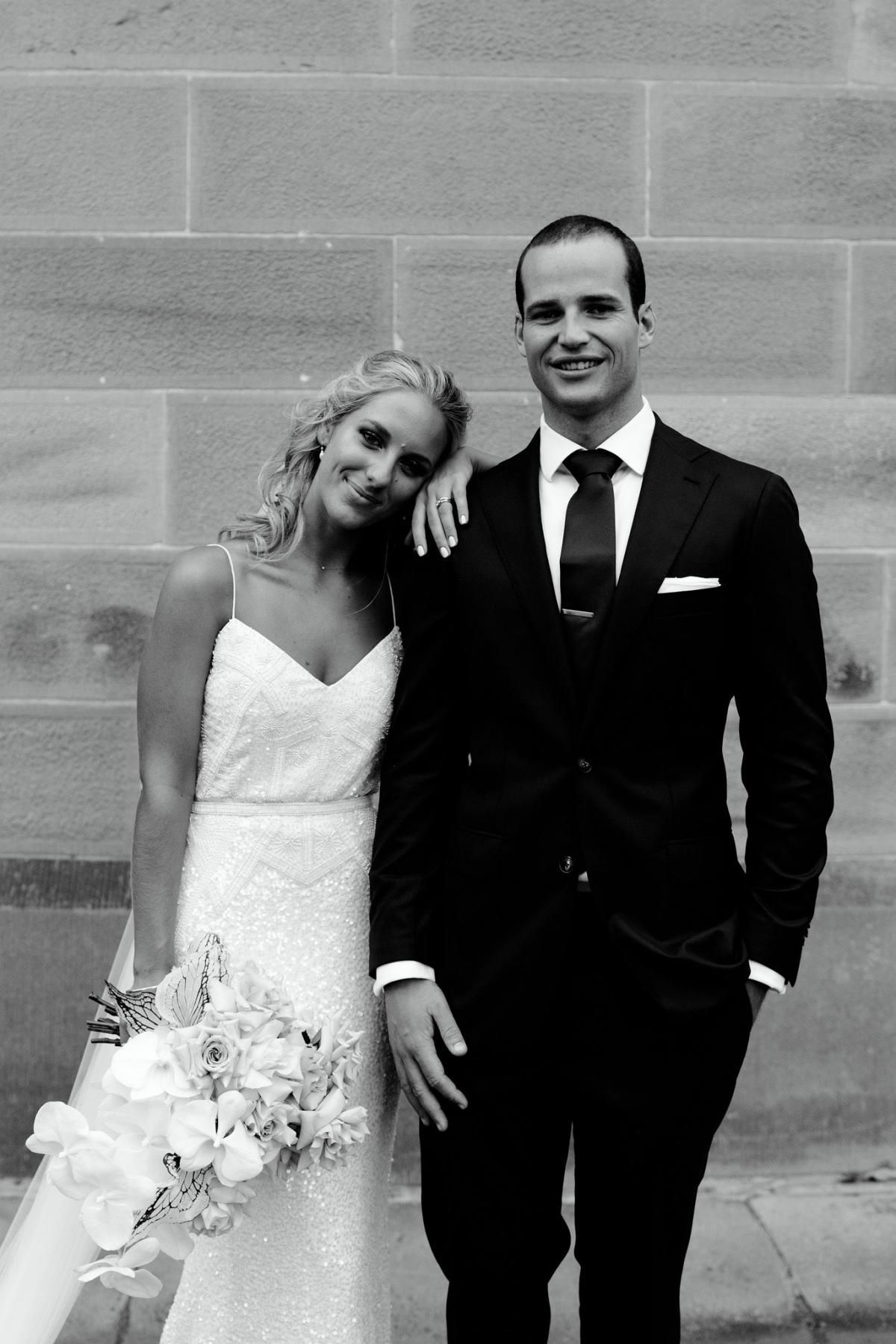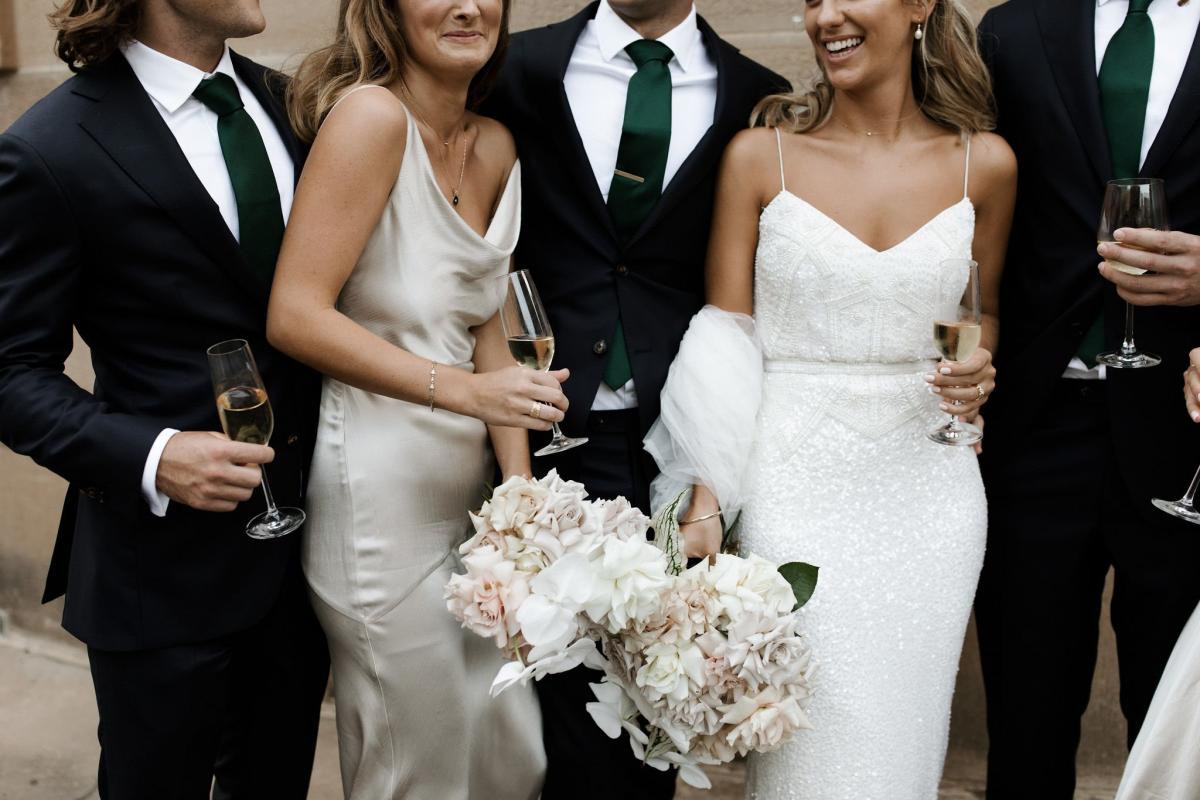 Gown hunting tips
"Choose whatever makes you feel fantastic. I never had a vision of what I wanted to wear so I wasn't guided by a particular style but I knew what I felt great in and what I didn't. You want to be yourself, you want to be comfortable and you want to feel beautiful, so choose something that allows for all those things!"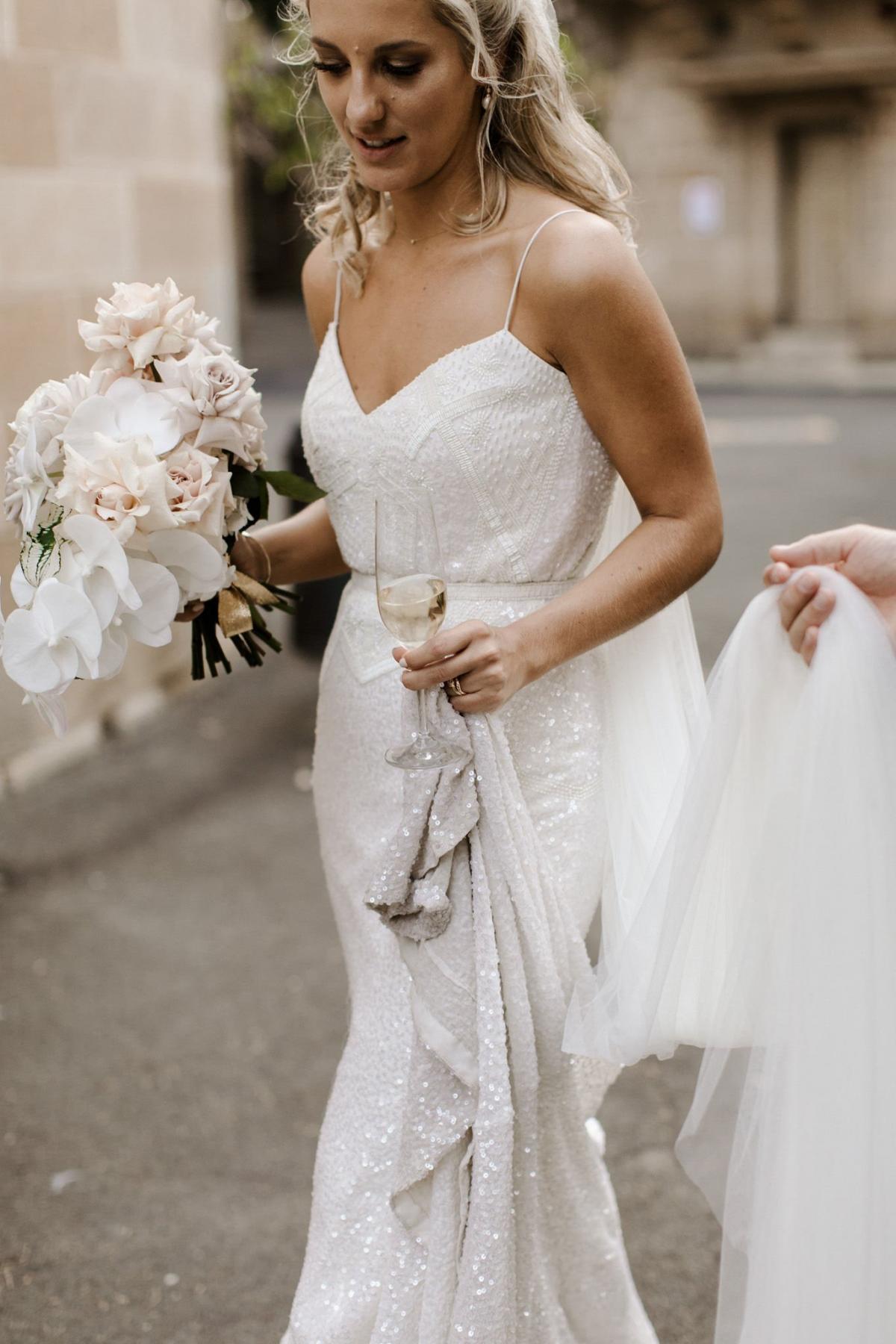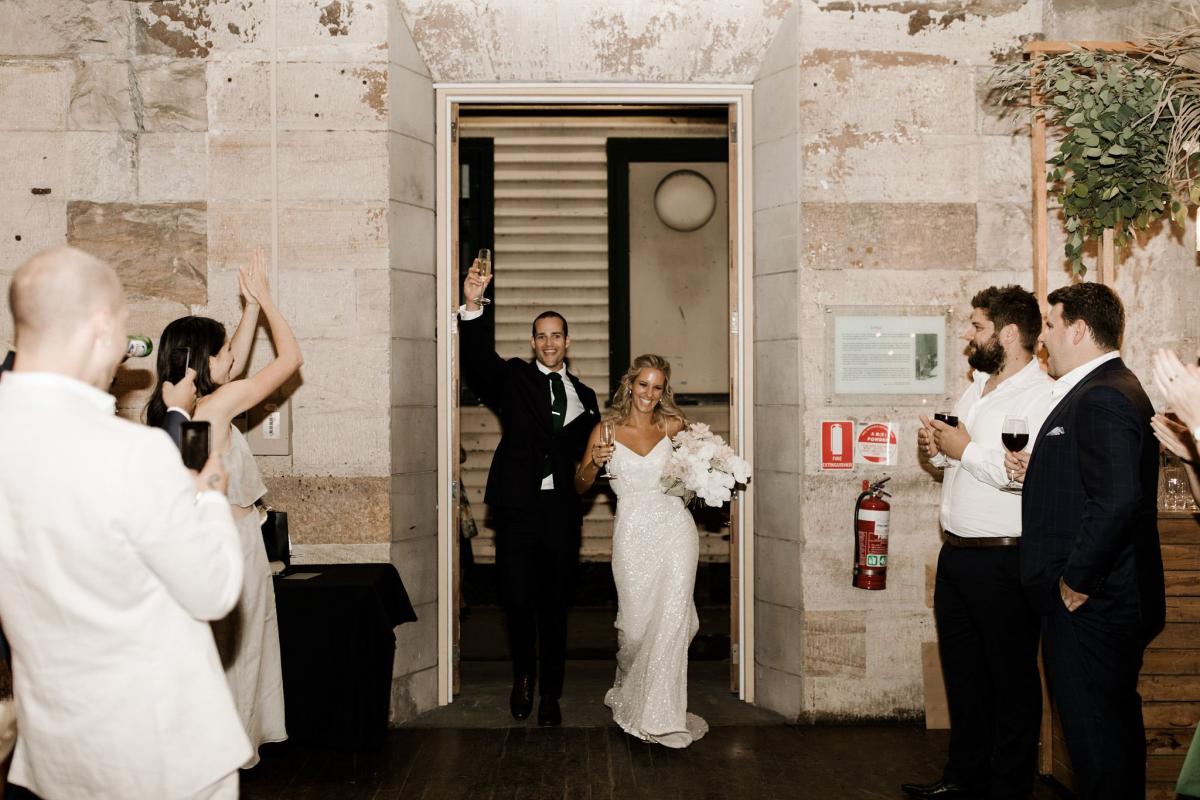 What does love mean to you?
"A full heart that lasts a lifetime."