Sarah & James' Cool Melbourne Wedding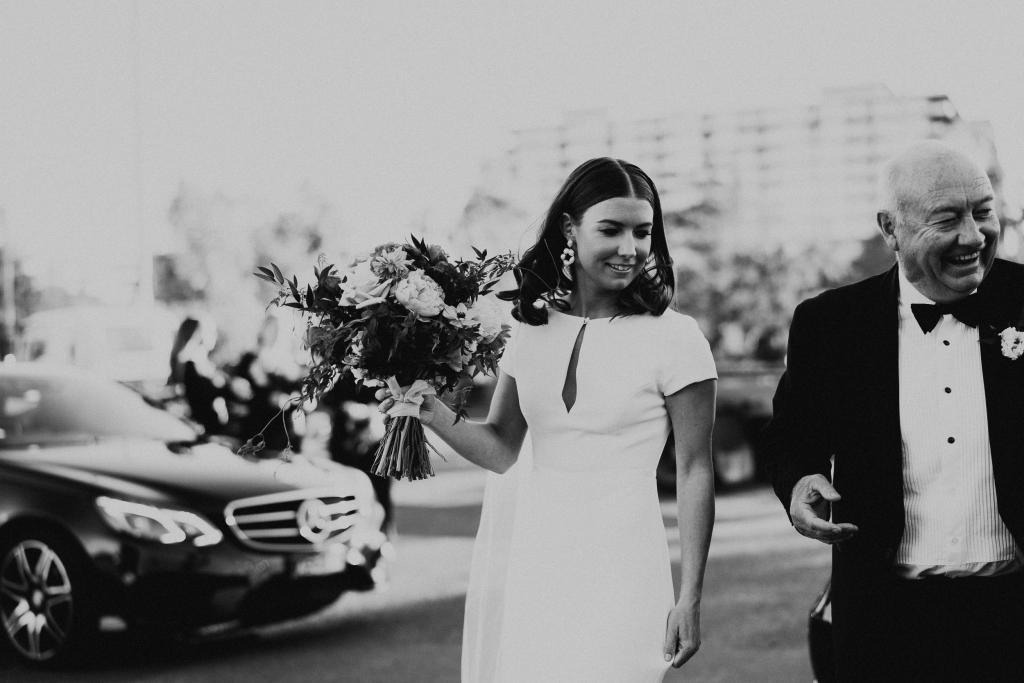 Fate or not…Sarah and James starting turning up at the same social events and parties in Melbourne and got to know the adult versions of each other after attending school together in Geelong some years earlier. A strong and beautiful connection was formed and 6 years later. Country girl Sarah wed James at Gather and Tailor in West Melbourne, which was the perfect blend of rustic and country touches in a stunning city setting. Their day was captured by Melbourne photographer Georgia Verrells (who might we add, knows how to capture a KWH gown and has shot many of our brides weddings this year!)
"The highlight of the day would have been the reception. Espresso martinis, great food and drinks, The DJ and Percussionist. Everything went to plan on the night! We could not have been any happier."
On the proposal
On the 3rd of January 2019, James invited Sarah on a walk in the You Yangs which is situated between Geelong and Melbourne. Its granite peaks offer panoramic views across country Victoria and Sarah was none the wiser when James dropped down on one knee. It was a BIG YES!
On the venue
Sarah and James got married at Gather and Tailor in West Melbourne.
"This venue is a huge warehouse that allows you to tailor it to whatever your heart wishes. We brought in all our chosen suppliers including Pot & Pan Culinary Tailoring and Pepper Sprout Hire who owns the space. Fabulous venue with a downstairs and upstairs. We held our ceremony downstairs and then moved upstairs for the reception. It is quite an industrial area, you wouldn't realise how close you are to the inner city of Melbourne! We chose this venue due to the fact that we could seat over 200 guests and it was a blank canvas with rustic wooden floors and barn doors. I grew up in rural NSW so this was the closest thing to rustic rural in the city."
All the styling details
Elegance and simplicity with touches of rural to connect the wedding to Sarah's life growing up in country Victoria. This wedding totally feels like a NYC wedding in Melbourne!
"Our style was quite simple with a hint of rural in the menus and cutlery but mostly industrial inner-city chic. Beautiful bright flowers, with a warm and inviting wintery feel, using candles and a modern neon light. We were extremely lucky with the weather. Although we weren't relying on it, I think it puts people in a good mood. People were milling around outside after the ceremony due to the clear skies and warmish 18 degree June weather."
The Dress
Sarah chose our Clarissa gown from the WILD HEARTS collection. She found her gown at our Melbourne boutique.
"I knew I really wanted a simple dress with capped sleeves. The Clarissa had all the details and fit just perfectly. KWH was the only shop I went into. Once I found the one, that was it, I did not need to look any further!
I loved how minimal it was yet with the openings on the chest and up the front of the legs, it gave it such elegance. I was very pleased! The capped sleeves and high neck probably made the dress for me."
Gown hunting tips
"Know what you want in a wedding dress and make sure you love it before you make a final decision."