Samantha & Adam's Romantic Hinterland Wedding

Samantha and Adam met at just 15 years old when they were swimming together. The couple dated on and off for a period of two years and went their separate ways when their lives were going in different directions.
Ten years later, with little to no contact, Adam tracked Samantha down through social media, and shortly thereafter their paths would cross again at the alter (intentionally, of course). She turned heads in her modern mesh Esther gown from KWH's BESPOKE collection at the beautiful Summergrove Estate in NSW.
On the proposal
Adam, being spontaneous, had suggested to Samantha that they should go away for the weekend to have some time for themselves.
"He booked a last minute weekend away at our favourite place – Elements of Byron. It was just before dinner, we were having cocktails on the beach and Adam asked me to go for a walk along the beach, where he popped the question and I of course said YES!"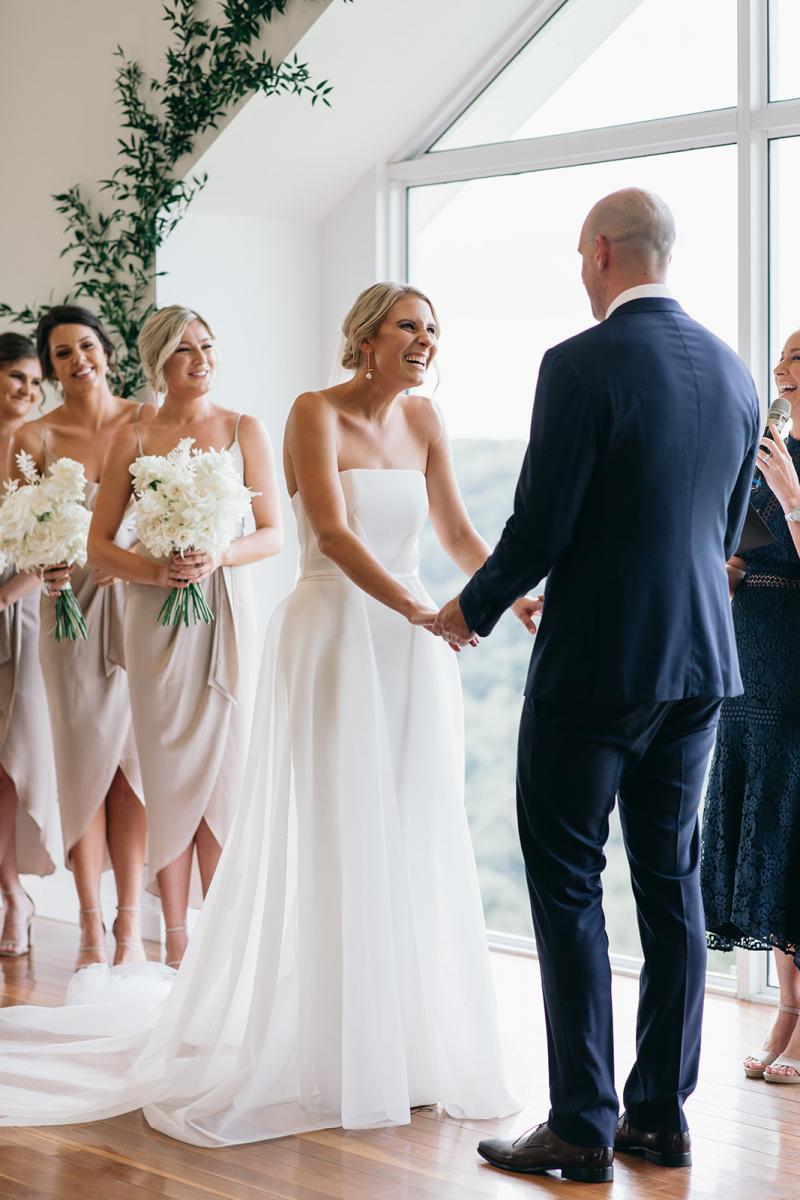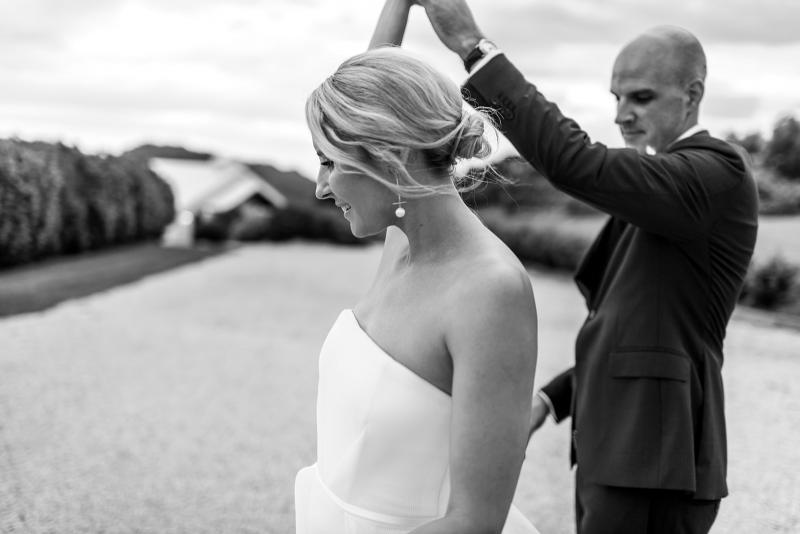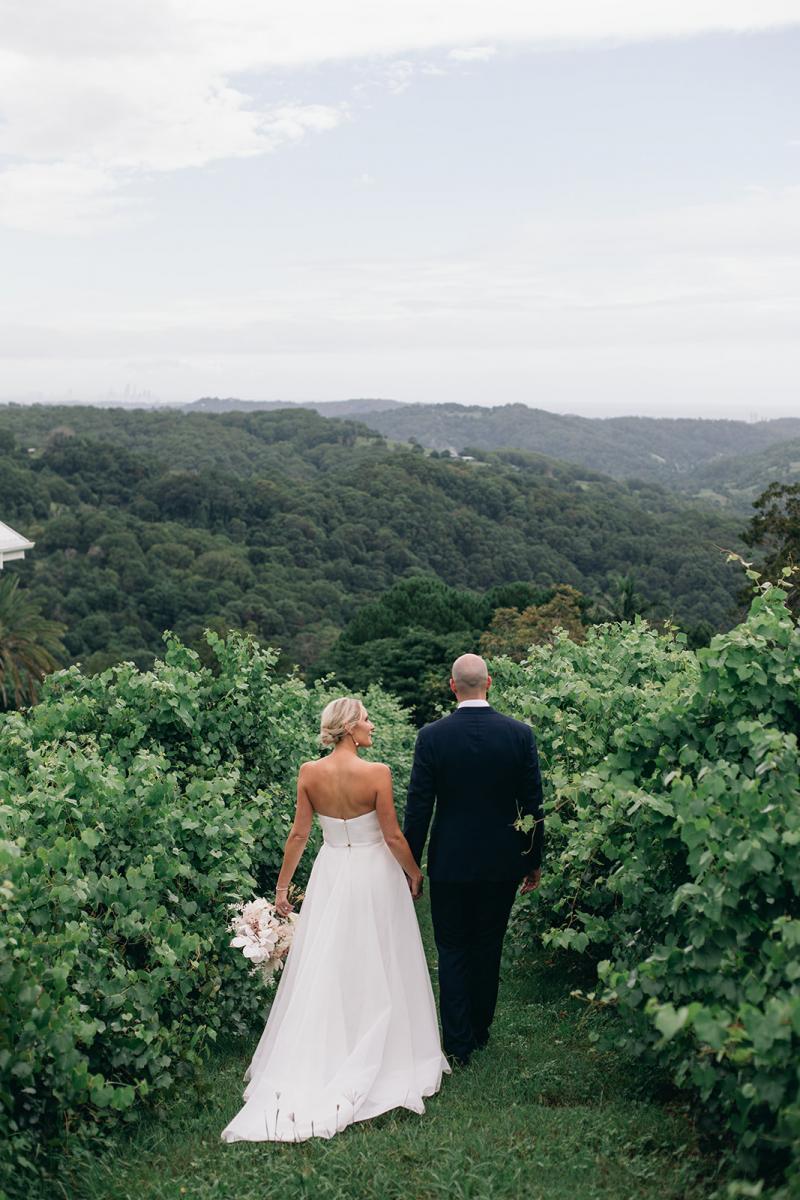 On the venue
Samantha and Adam only needed to look at the one venue, and they instantly knew that they had found the one.
"We got married at Summergrove Estate in Carool, New South Wales. It was recommended to us by a friend, and after looking at photos we went to see it the next week. We loved the intimate atmosphere, the picturesque outlook and the romantic feel of the unique hinterland charm. It was our dream venue and we booked in right there on the spot."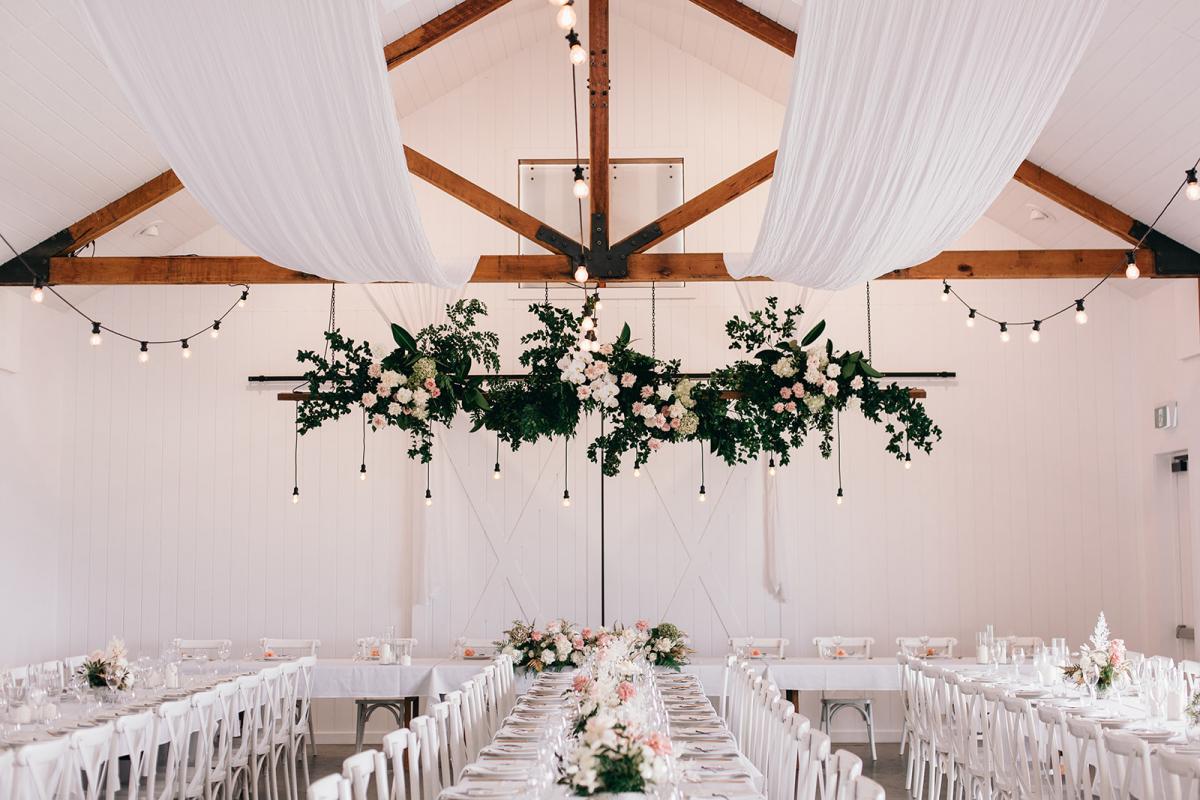 All the styling details
Summergrove Estate is a sight in itself; therefore, Samantha and Adam chose to keep any additional styling on their wedding day simple and elegant. With touches of blush, white and green foliage  – inspiration for the day actually came after Samantha chose her gown.
"The Esther wedding gown was so simple and elegant, and I knew I wanted that to follow through with the rest of the wedding. I was very organised and booked all of my wedding vendors a year out from our big day. At the time, I had a completely different vision for the wedding. About 6 months before the wedding, I knew the styling and colours weren't a reflection of "us" and more those that were following the current trends, so I completely changed everything."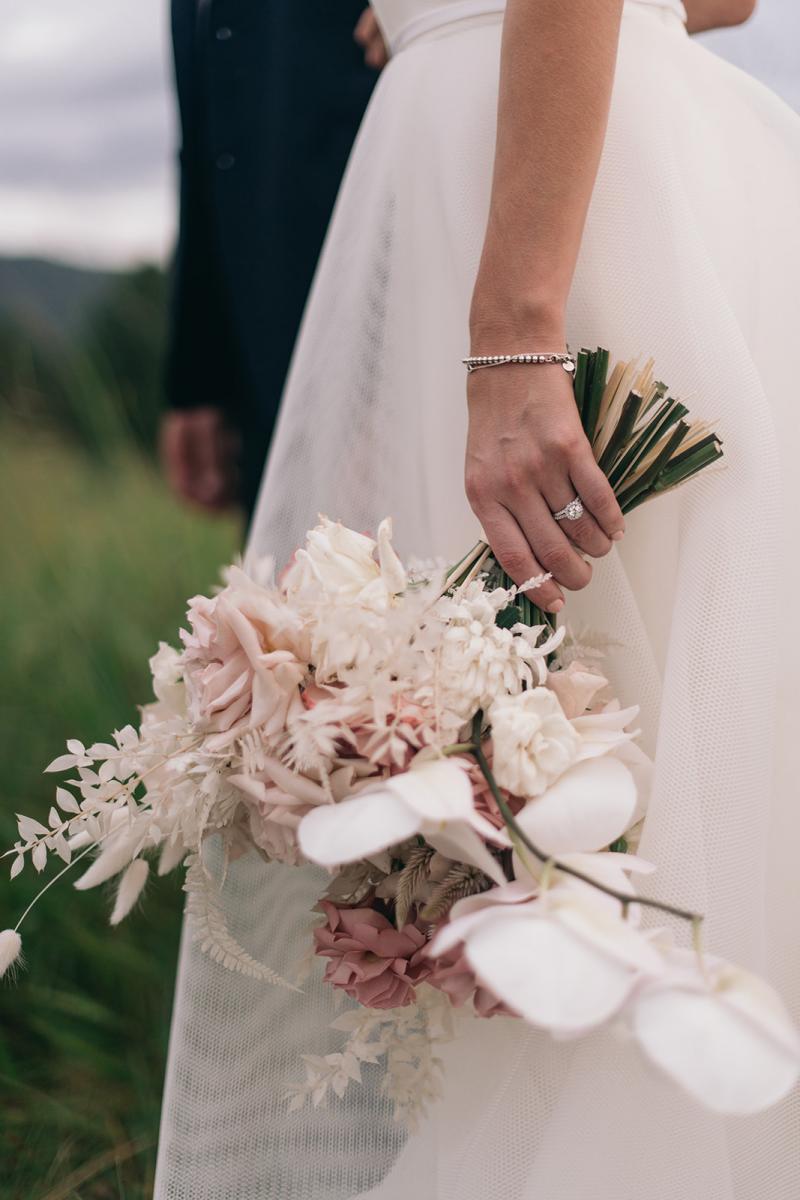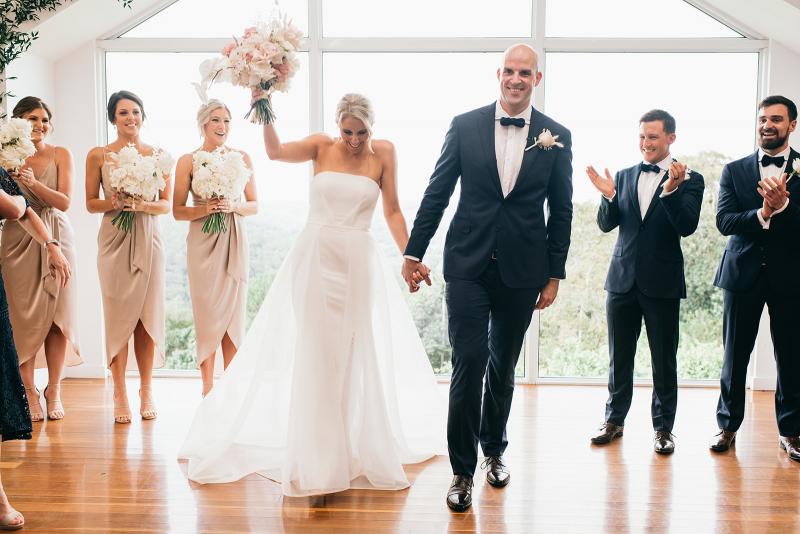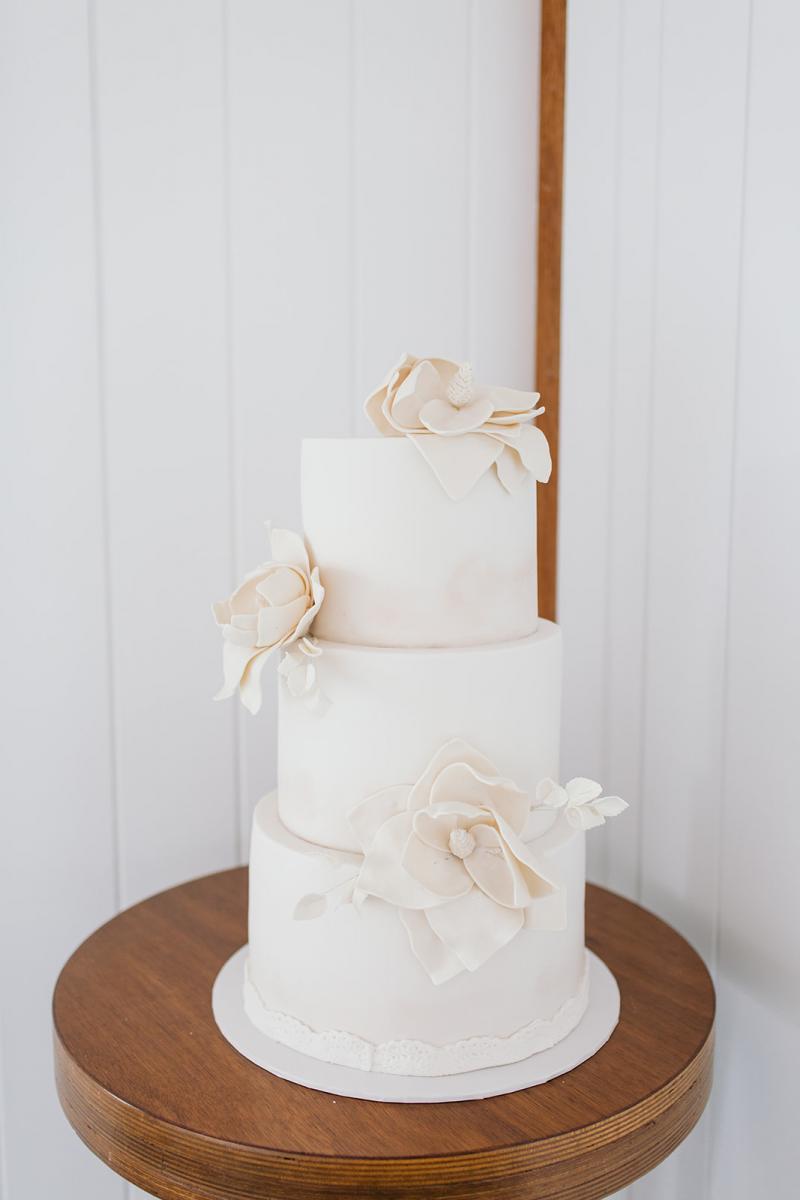 The Dress
Samantha wore our effortless Esther gown from our BESPOKE collection on her wedding day.
"I had only been to one wedding dress boutique prior to visiting Karen Willis Holmes. The first boutique was such a bad experience and I was quite worried about ever finding a dress that I would wear on my wedding day. A friend had recently purchased her dress from KWH so recommended I go there for a better experience.
It was the best decision I made because the beautiful girls at the Paddington boutique in Brisbane looked after me so well, they gave me such a personal experience and really made me feel like a princess. I was so excited to go in-store and try the new Bespoke gowns and really fell in love with the Esther gown.

I love the way I felt when I first put the gown on – It was elegant and modern with a beautiful contemporary take on the classic ball-gown. The structured strapless bodice flattered my broad shoulders while the full overskirt featuring the fitted pencil skirt underneath showed my silhouette all while incorporating a wow factor. It was like nothing I had ever seen before, and the first time I really felt like a bride. It was the perfect gown that I would get married in."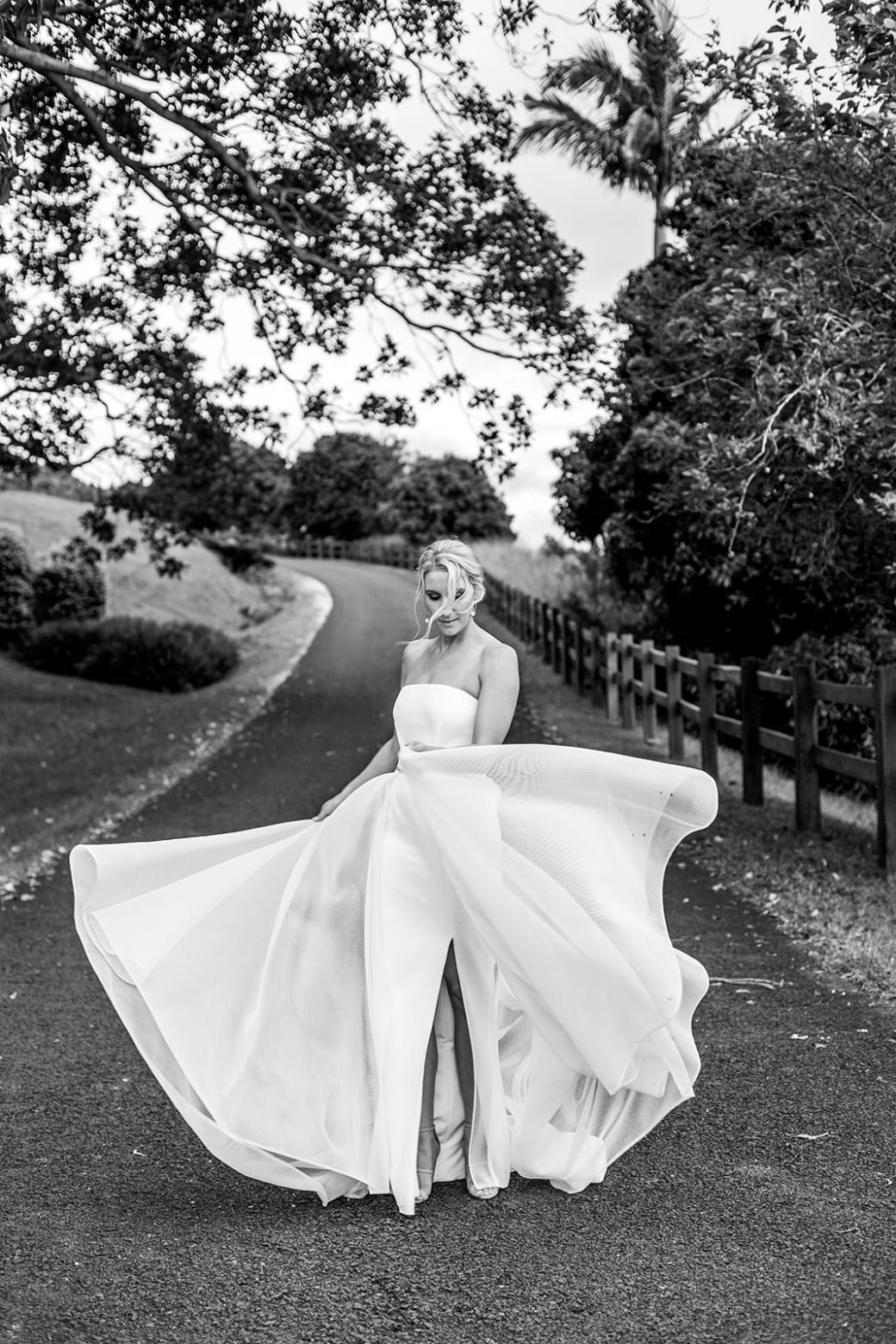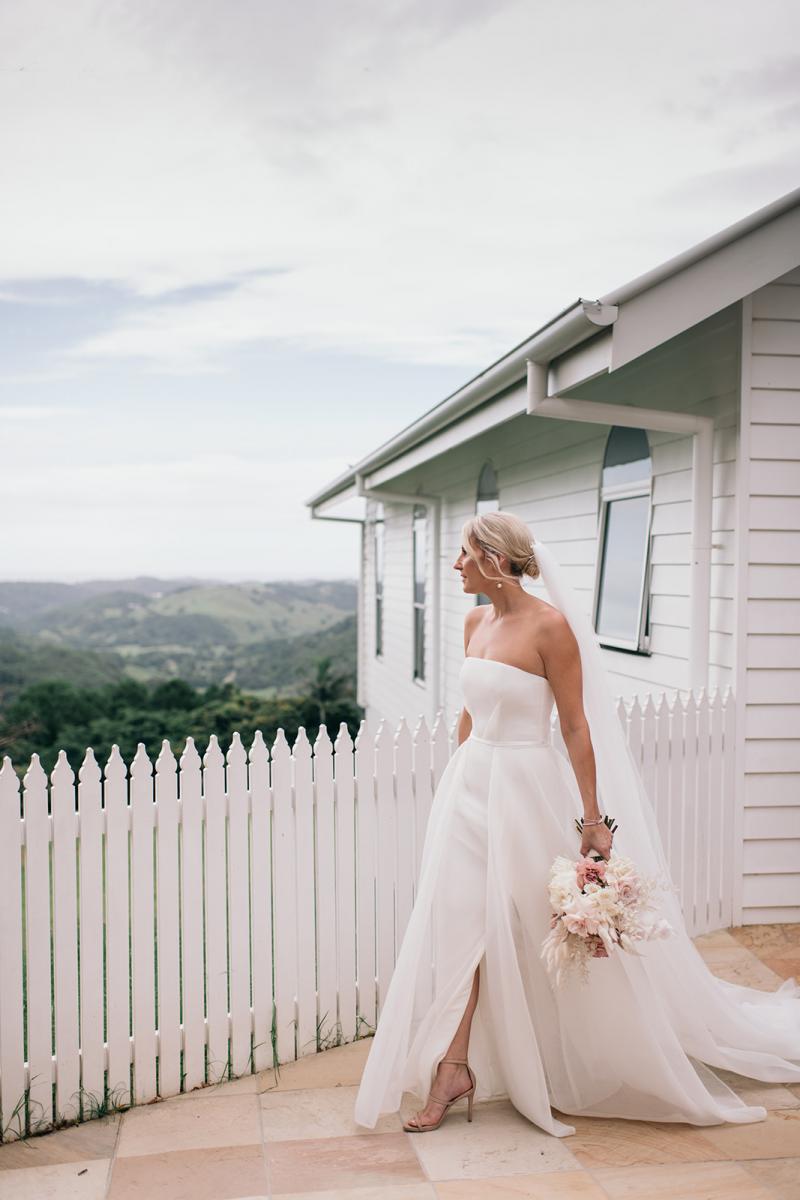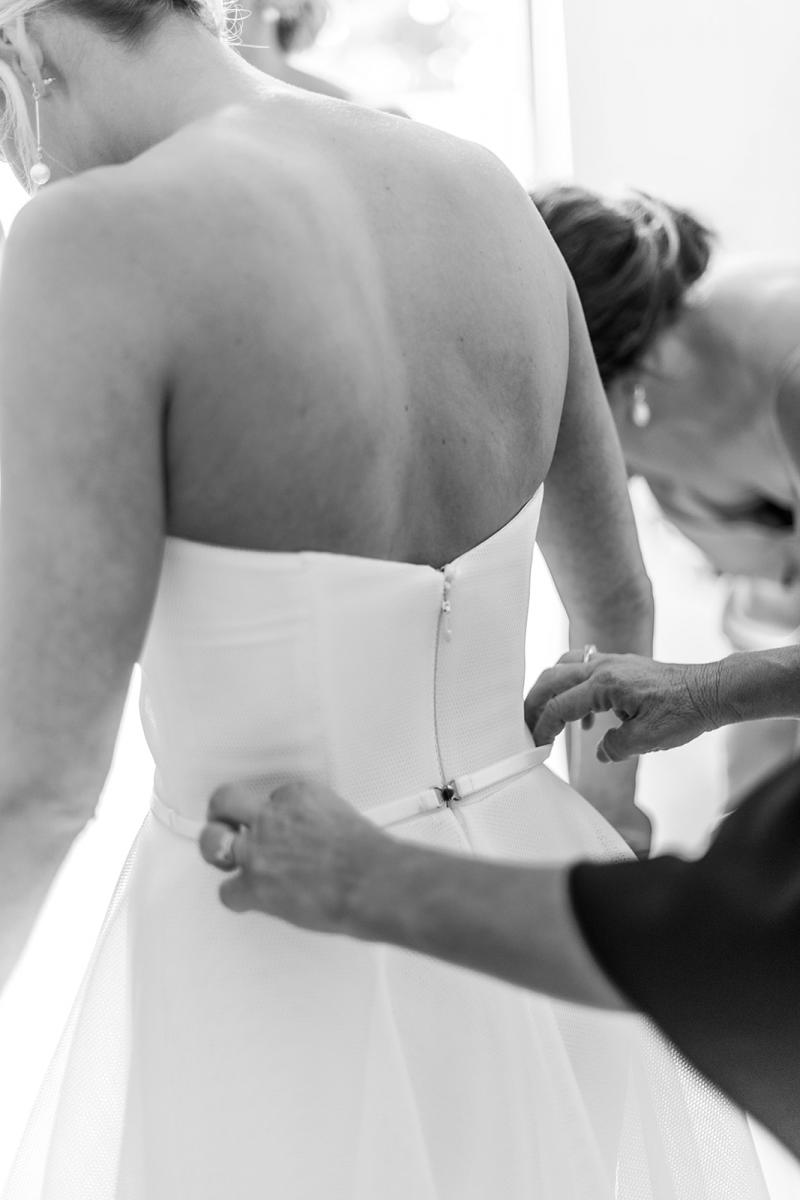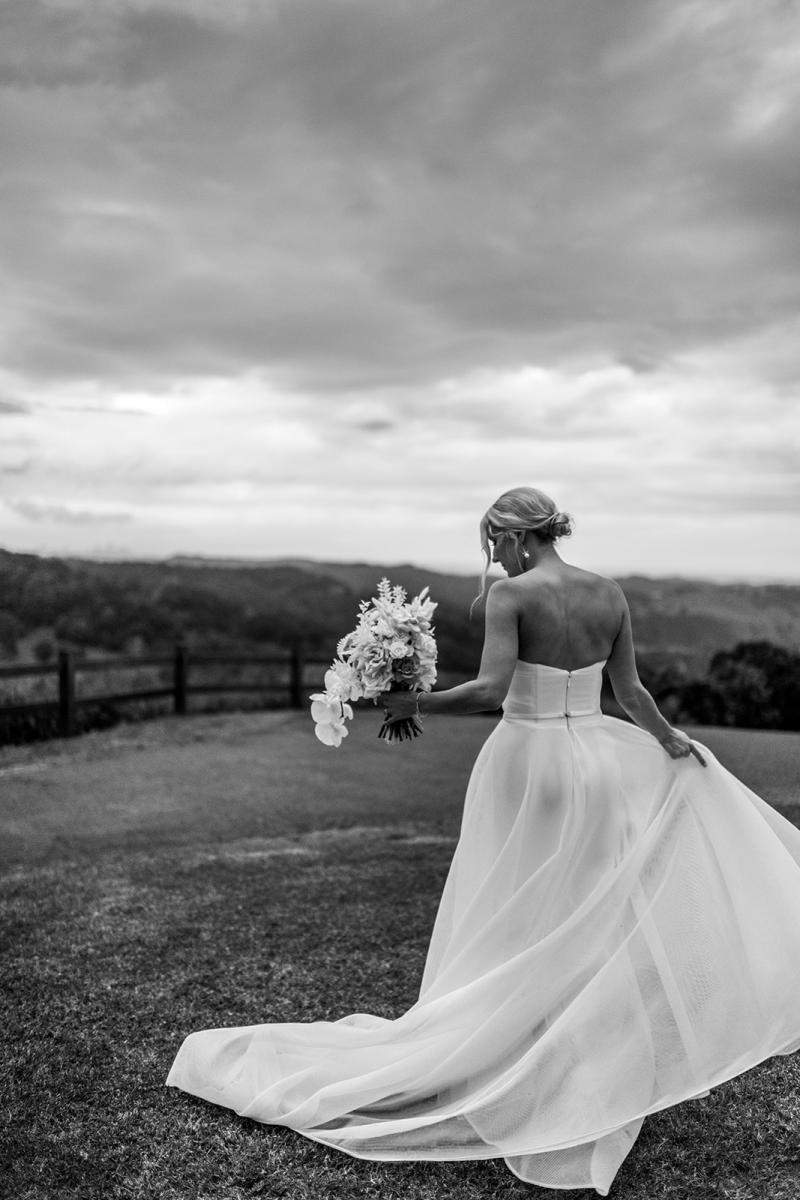 Accessorising
Samantha kept her accessories the same as her overall styling for the big day, minimal and classic.
Samantha wore open-toed nude Tony Bianco heels and drop earrings from Amelie George.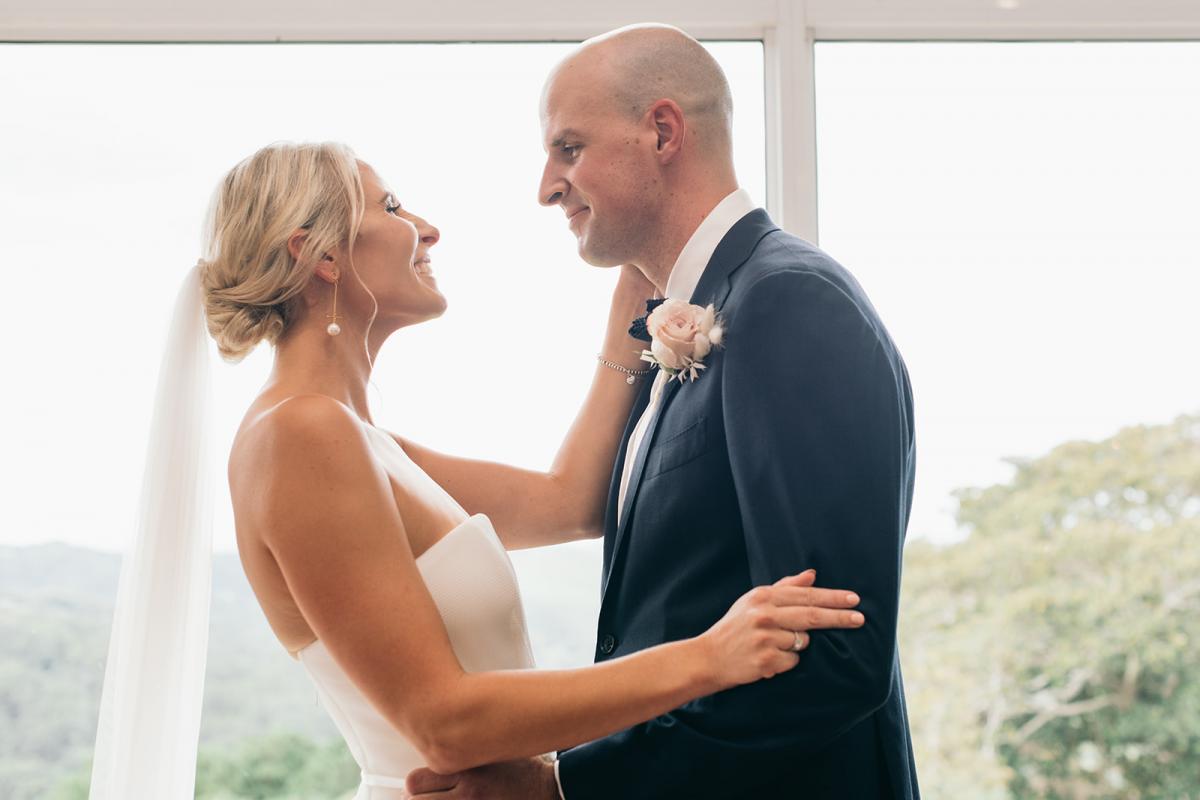 Highlight of the day
"There are too many, but here are a few – my favourite moment was the first look of my husband when they opened the doors to the chapel for me to walk down the aisle. I have never been so nervous in my life, but to see the big nervous smile of my husband instantly made me smile and relax.

One of the highlights of any wedding is the speeches – and ours did not disappoint. I couldn't go without mentioning my amazing Maid of Honour who produced the most incredible personalised version of American Pie by Don McLean which she sang in-front of all our guests. She had all of our guests standing and cheering while we sat there not knowing whether to laugh or cry."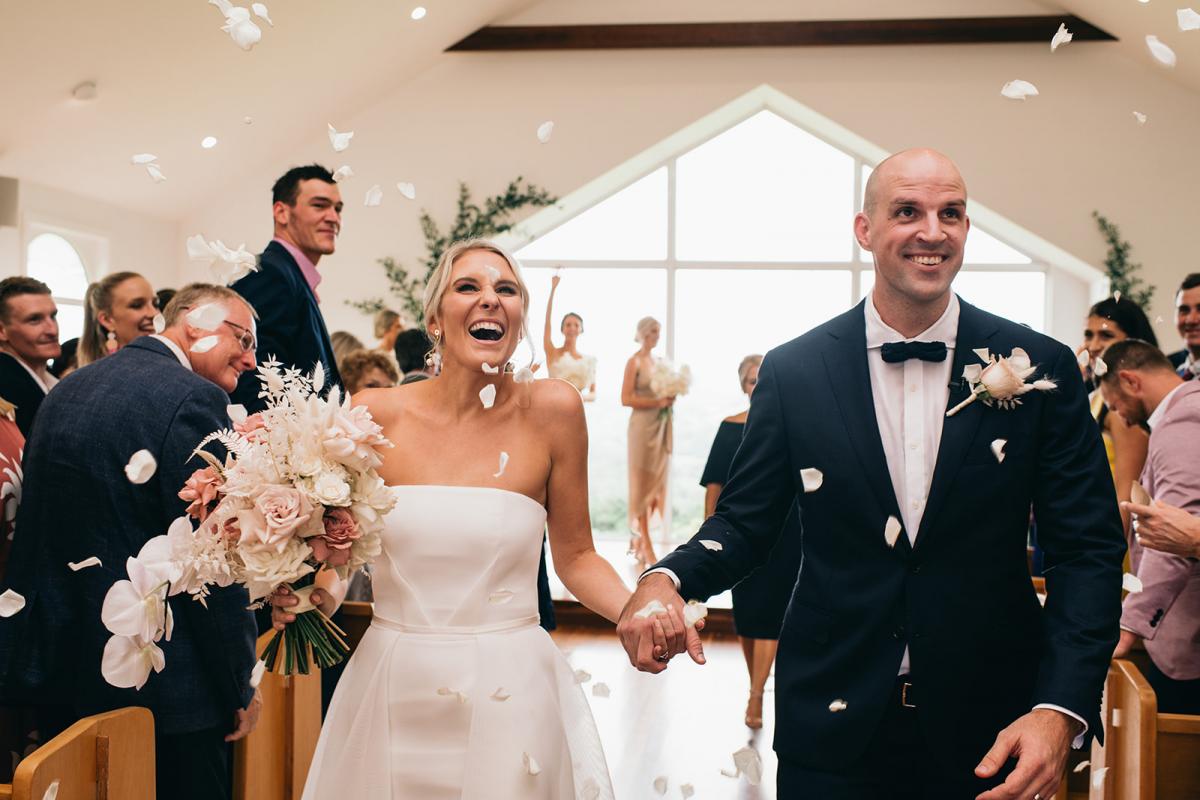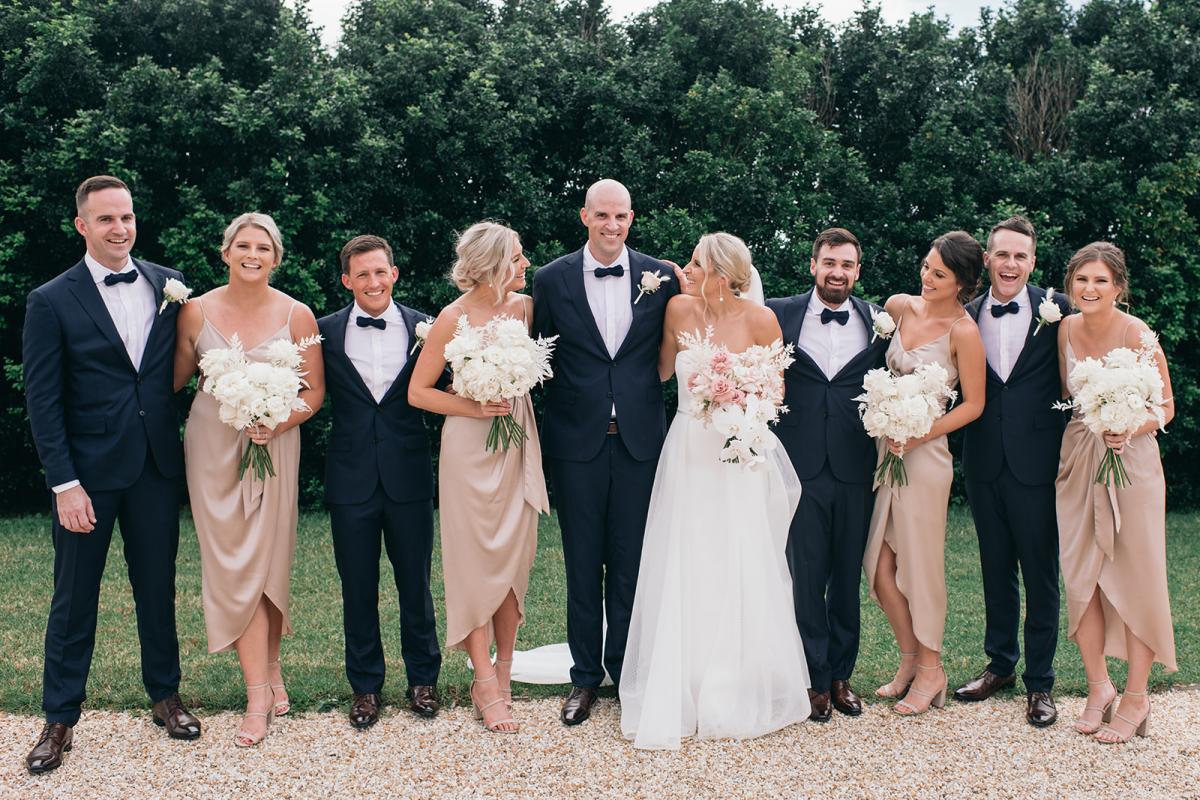 Gown hunting tips
"When I first went looking for a dress, I thought I knew exactly what style I wanted and what would look good on me. I couldn't have been more wrong. When looking for your dream dress, keep an open mind, try on every different style – Even try on the one your mum, sister or friend likes. I never thought I would wear a strapless dress with a ball-gown style but it really was my dream dress."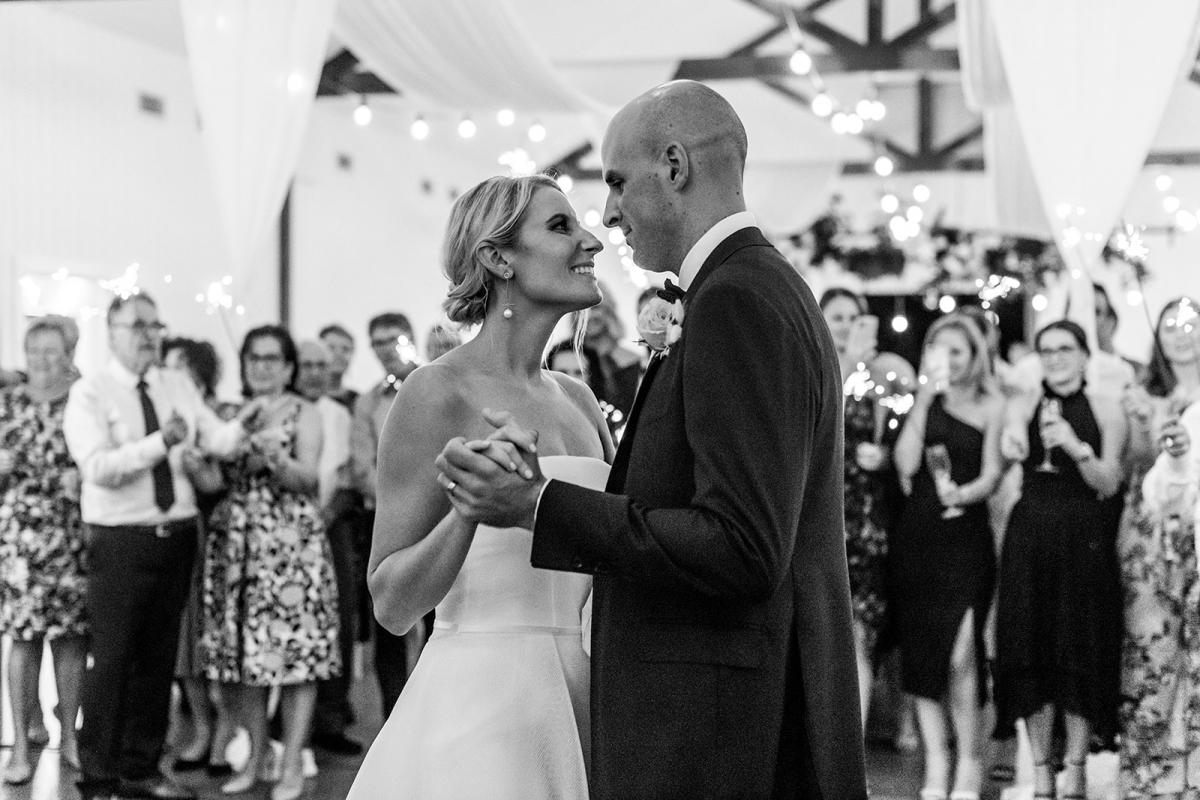 What does love mean to you?
"Love is commitment. It's getting to experience happiness and spending the rest of your life with your best friend. It's facing new challenges, being patient and compassionate and always having a person you can turn to when times are tough."