Jacqui & Chris' Minimalist Black and White Wedding

Imagine a day filled with love, laughter, and familiar hugs after months of unrelenting lockdowns, where families come together once again to witness the moment when two people devote themselves to a life 0f love and commitment. For Jacqui and Chris, that day was May 7th, 2021.; a day that will forever capture their hearts, live on in their memories and symbolize a time when the two became one. A time when nothing else mattered but their love for one another.
Jacqui chose to wear the elegant Clarissa gown from our WILD HEARTS collection, a truly minimalist fit and flare wedding dress with cap sleeves and front leg split for that special moment. Paired with long stem white roses and a sleek up-do, Jacqui looked like an absolute vision in ivory for her nuptials.
On the proposal
As the classic stereotype goes, we tend to fall for the tall, dark and handsome man, and Jacqui was no different when she fell for Chris at work. Who could blame her? He was a physio, and she was an occupational therapist. The two go together like two peas in a pod.
From their first shared kiss at the infamous Lucky Coq, the two were completely inseparable. A few short years later, the couple found themselves about to enter a stage 4 lockdown in Melbourne, which could test any strong relationship, but Chris had a plan to make their partnership even stronger. On a chilly Melbourne night, the pair snuck away for some outdoor exercise in the brisk, cool air with Chris' cousin and their partner.
"Little to my knowledge I got there to find the boys had planned a little scavenger hunt, couple vs couple and each clue us girls got correct the boys would provide us with a letter.  The letters would then supposedly reveal what we were having for dinner that night.  By the end I had 9 letters… it's now pitch black, I'm getting hungry and just wanting dinner and getting frustrated unable to solve this word! Whilst distracted and trying to unjumble the letters and desperately asking for clues, Chris gets down on one knee and proposes… the unsolved word was "Matrimony!" "
An incredibly memorable night indeed.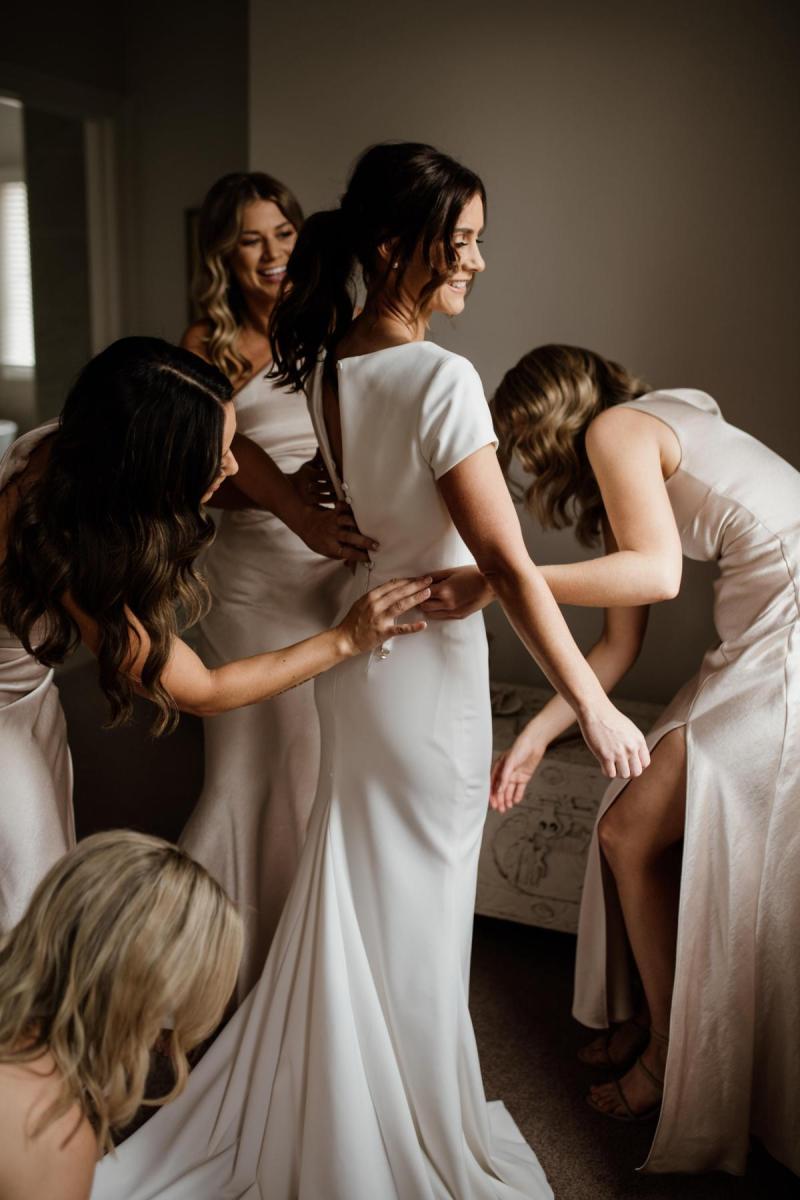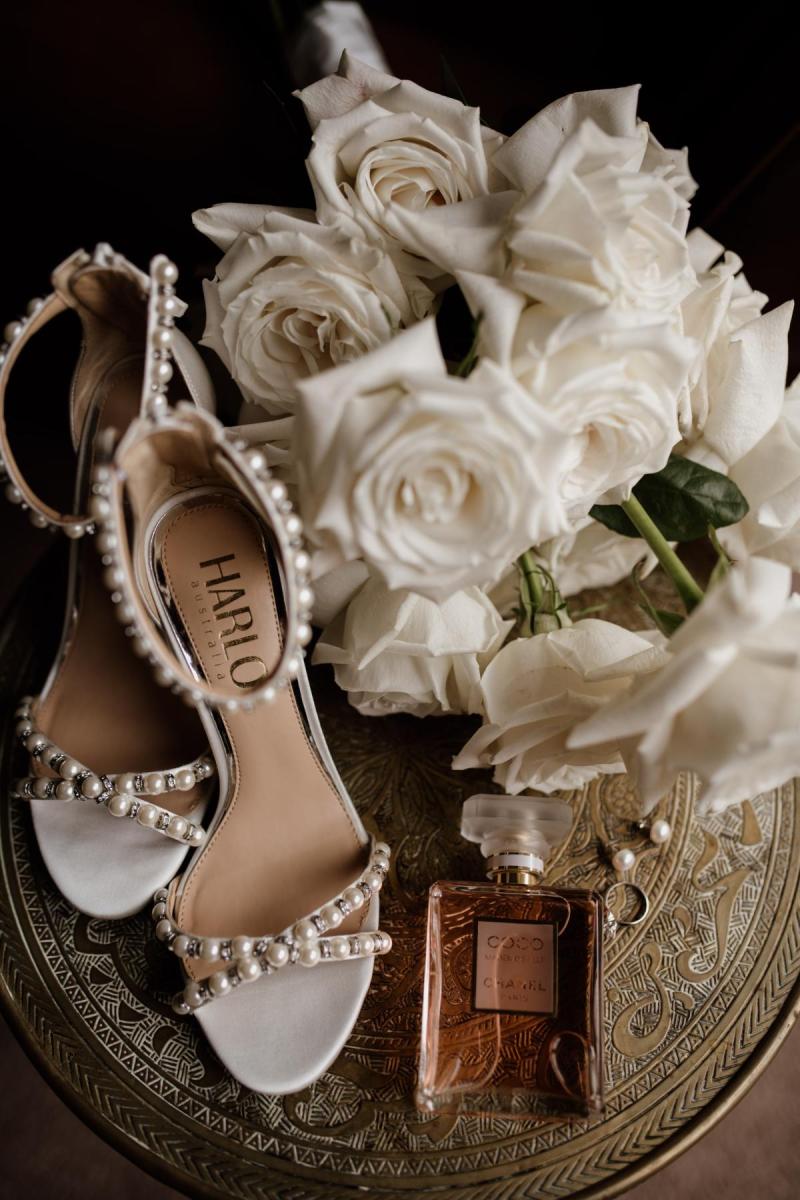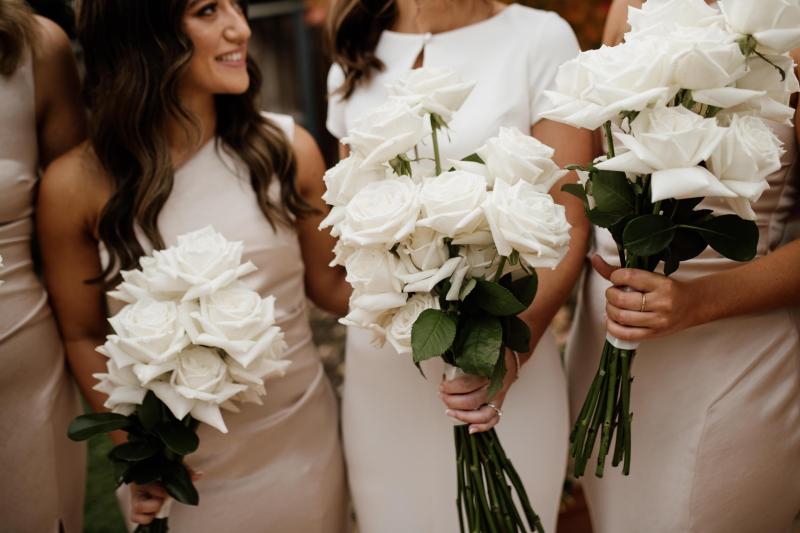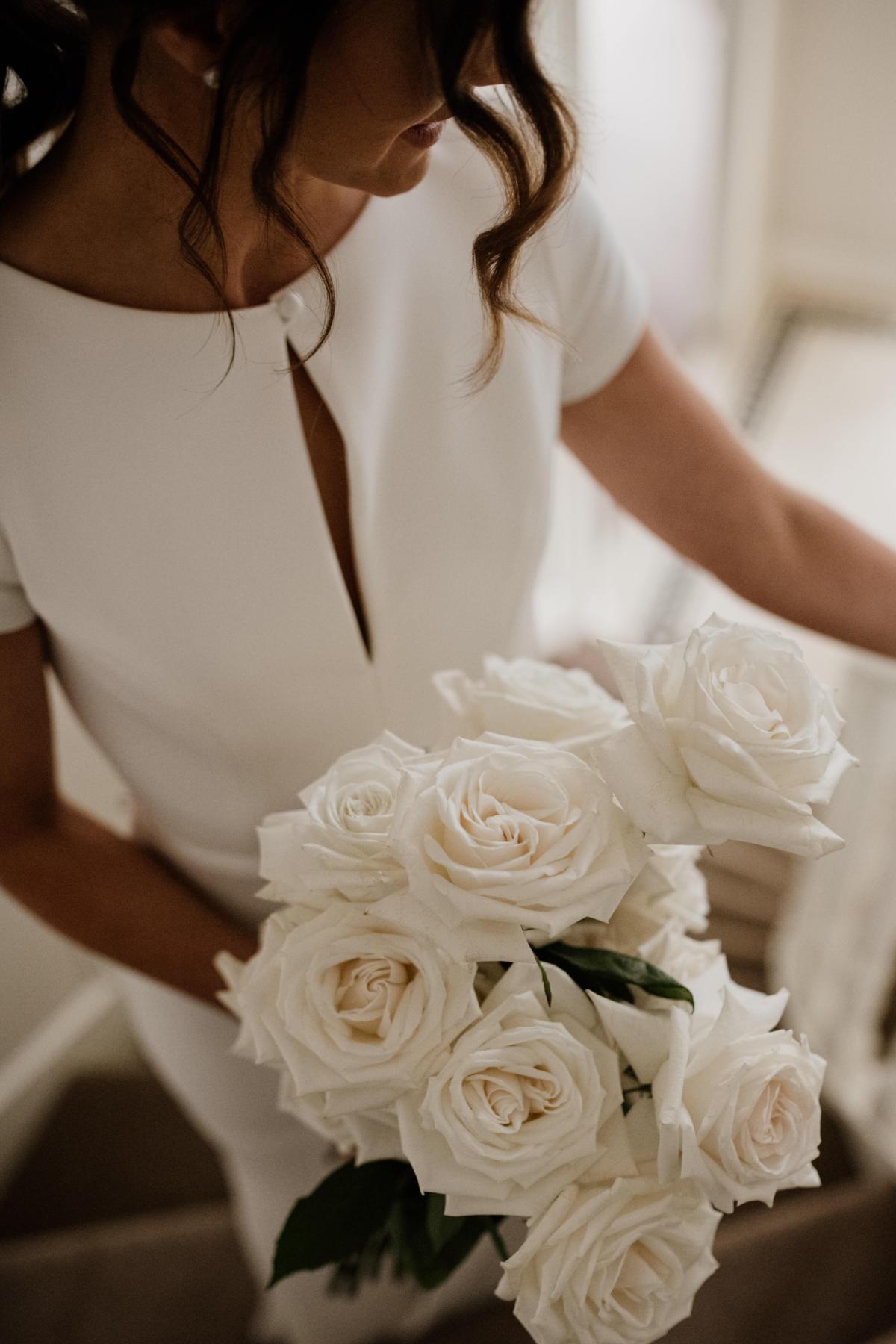 On the venue
In a brief reprieve from lockdowns, Jacqui and Chris wed surrounded by 200 of their loved ones at St Peter & Paul's Church in South Melbourne. During times like these, a wedding of that magnitude is considered massive, which meant the engaged couple had to spend many long days searching for a venue that would accommodate such a large crowd, which proved to be no simple task.
However, as they walked out onto the deck of the Crown Aviary, surrounded by panoramic views of Melbourne's skyline, they knew they had found their dream reception venue. As the tall pillars of South Bank burst into flame on the night of May 7th, the dance floor, too, erupted with life in pure jubilation and celebration of the newlyweds. The glow of the evening would live on in their hearts forever as they recounted a time when families were together once again for the most joyous occasion.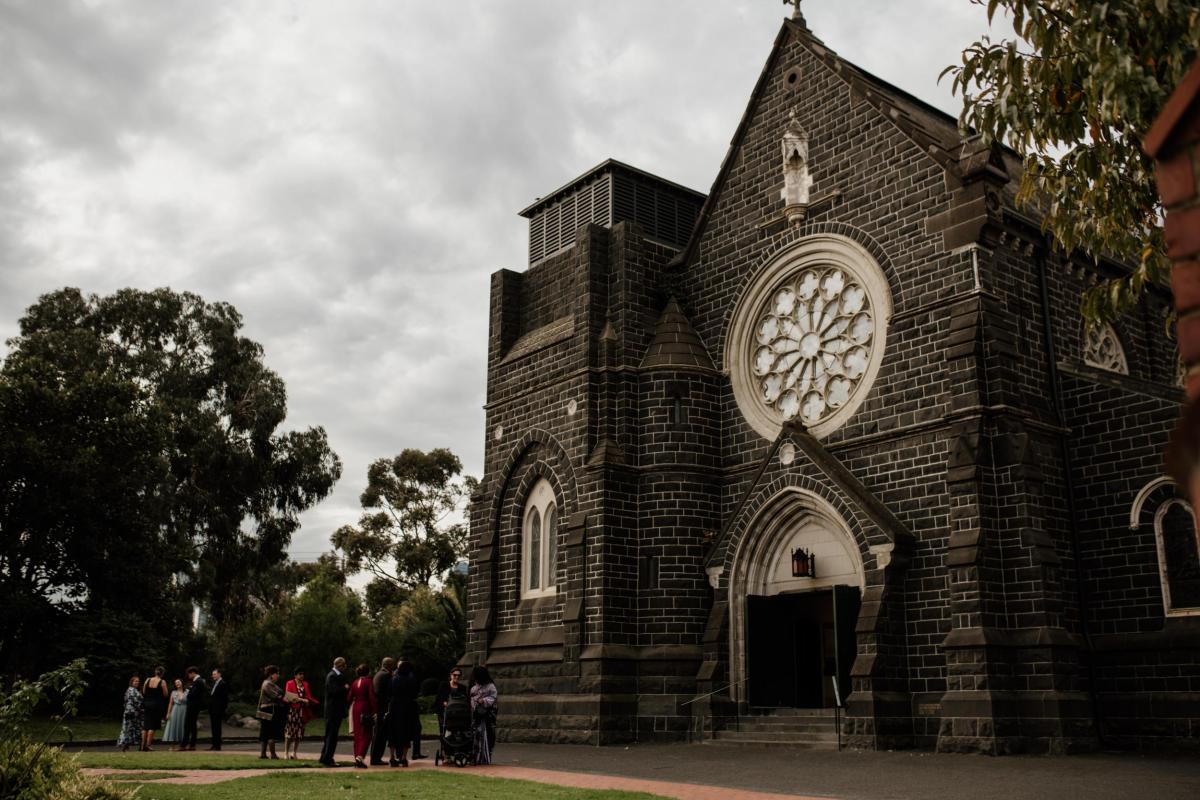 All the styling details
Most of us are not wedding planners extraordinaire the moment we get engaged, so Jacqui knew she wanted to keep things simple. Twenty-one tables embellished with minimalist bud vases, crisp white linens, and black bentwood chairs made the Crown Aviary into an ideal place for a timeless reception where guests were encouraged to mingle under the twinkle of fairy lights.
Alex, from Wild Wood and Co Flowers, became Jacqui's right hand when styling the blank wedding venue. She trusted Alex by giving her complete creative control by doing what she does best: flowers. Each tablescape was adorned with white roses, orchids, and daisies, making the black and white decor feel elevated yet classic.
For the rest of the atmosphere, the couple hired Hey Jack to bring heart and soul to the night. "Entertainment was a really important part of making our day special, and a lot of discussions were had with the amazing company "Hey Jack".  They created the perfect package for us which included Harry on Saxophone and his energy on the dancefloor was unmatched!"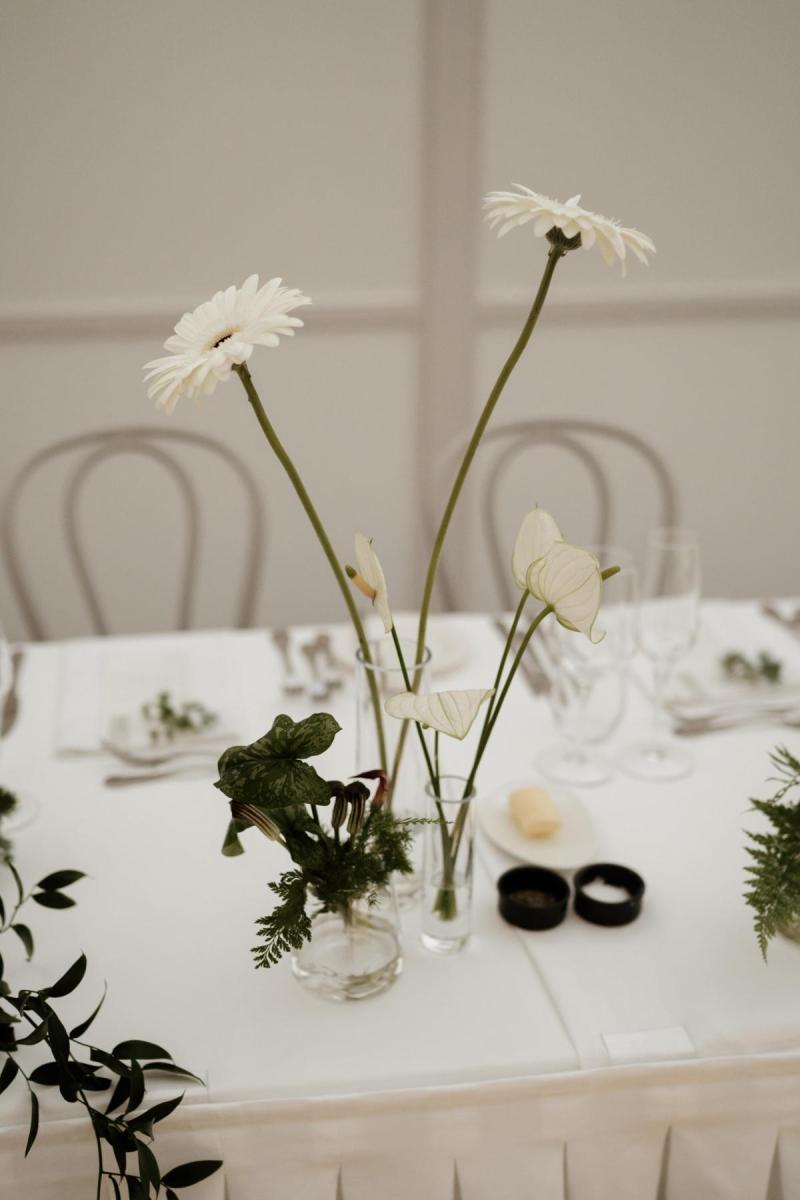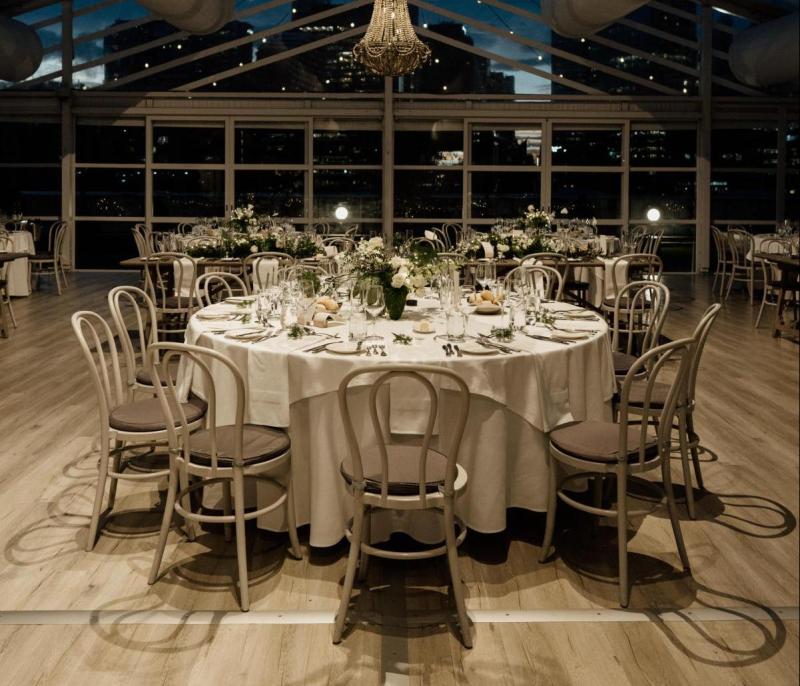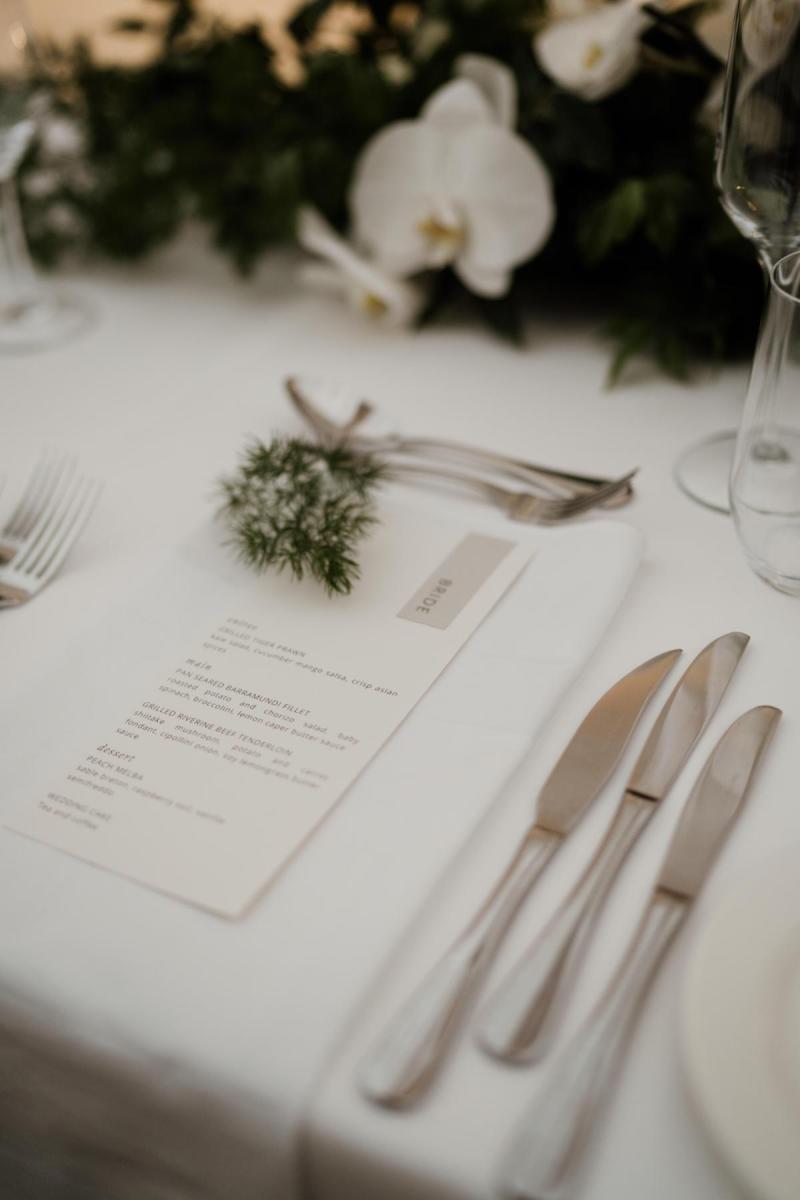 The Dress
For the perfect complement to her incredibly elegant and refined wedding style, Jacqui chose the Clarissa gown from our WILD HEARTS collection, a cap sleeve, fit and flare, crepe wedding dress at our Melbourne boutique. The sleek silhouette and clean lines of her wedding dress mirrored the look and feel of her day splendidly. She finished off her bridal style with the long Pearl veil. Together, the day's aesthetic was simply stunning.
"Lace and beads weren't for me so it made the process very easy.  The minute I tried the Clarissa gown I felt so comfortable, it was easy to walk in and had the simple but classic look I was after.  It was a very easy decision.  The KWH team were so helpful, and I instantly felt comfortable in your store.  Special mention to Katelin, so kind and I had full trust in her throughout."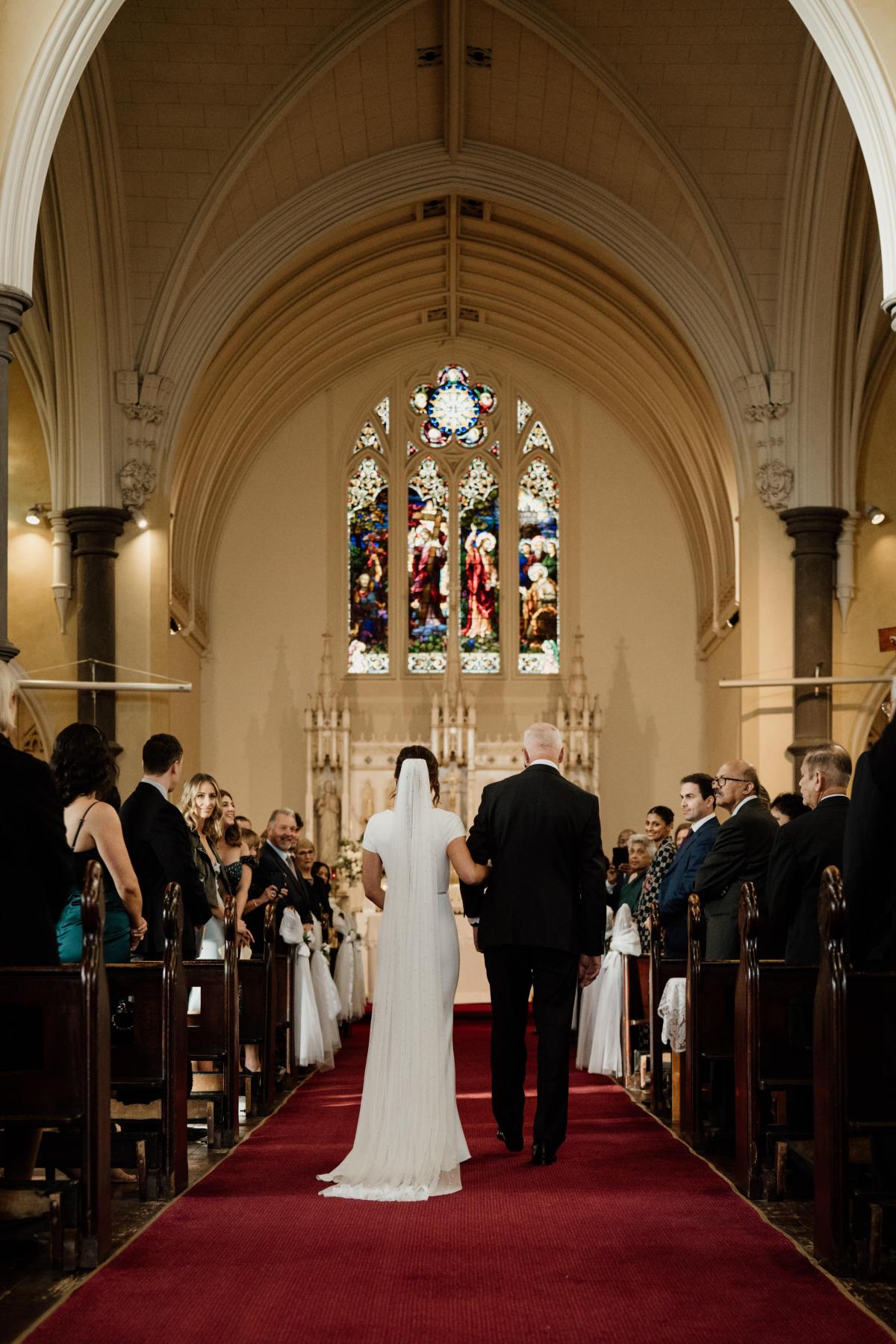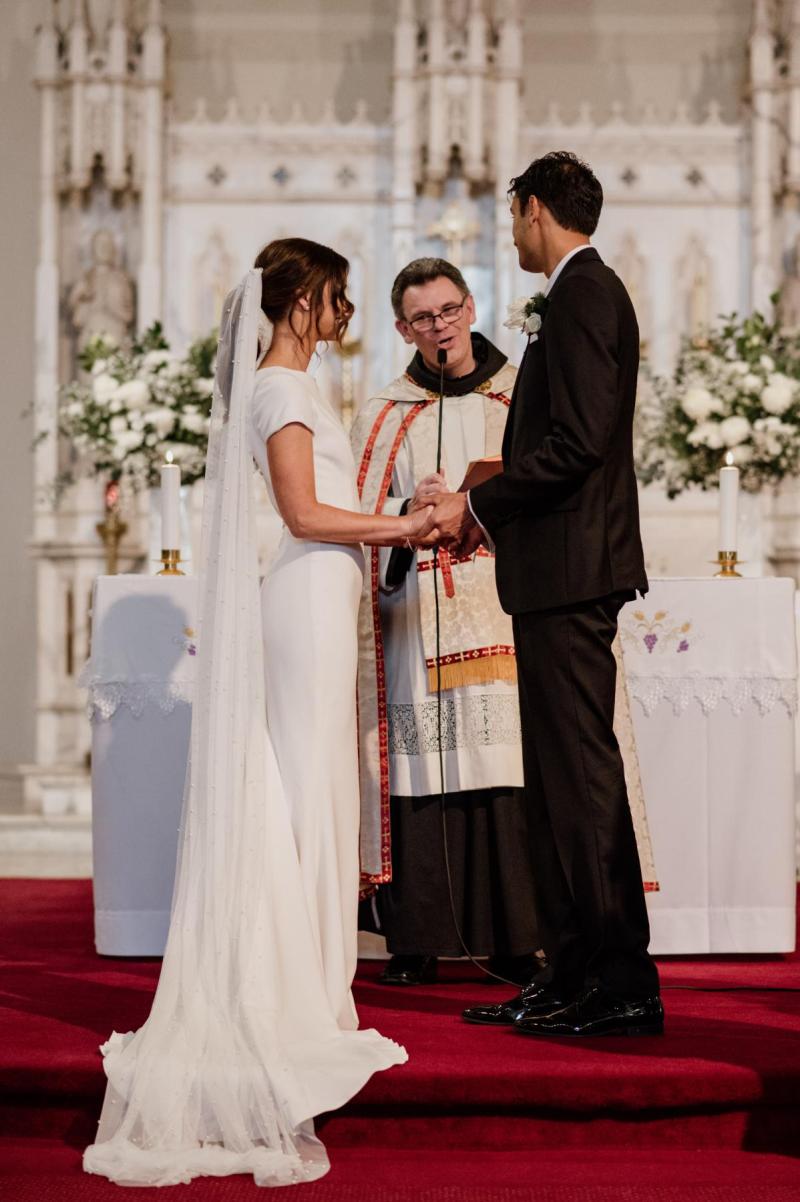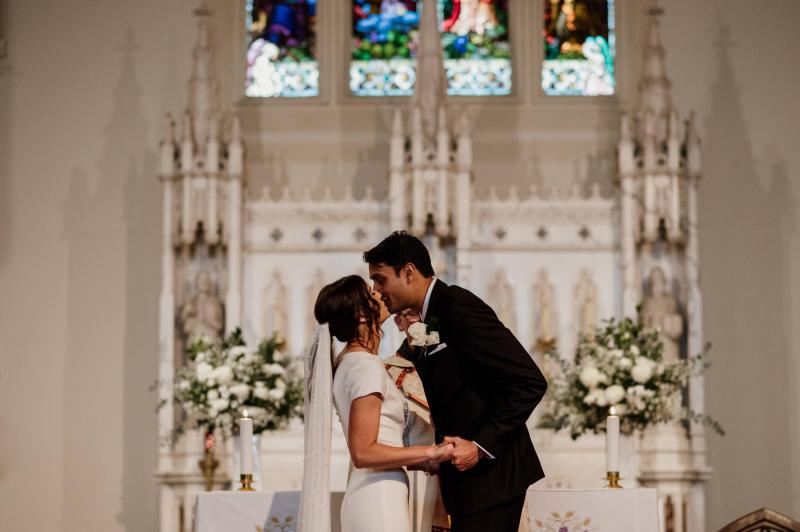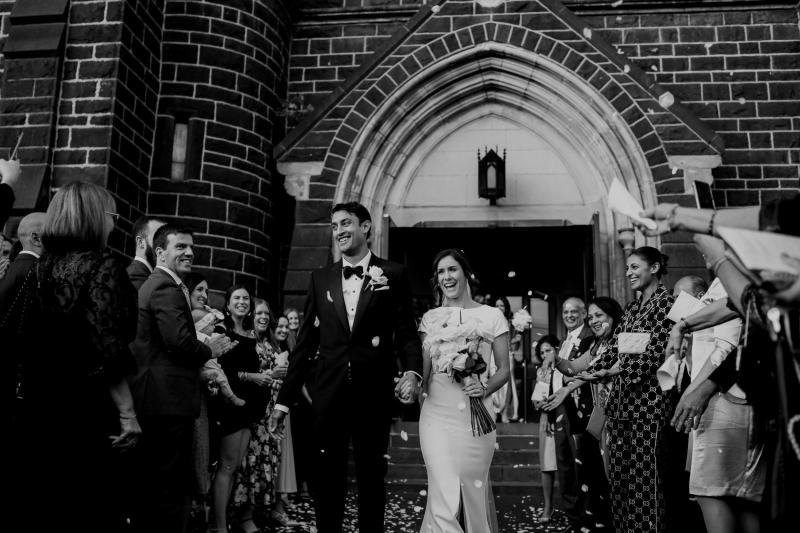 Gown hunting tips
Stay focused on what truly matters.
"Find something you're comfortable in and enjoy the process!  Make a day out of it, and don't put pressure on yourself. It's the only time you'll get to do it (well, hopefully!). Remember everything comes together on the day, and people are just genuinely happy to share in your love story no matter the dress!"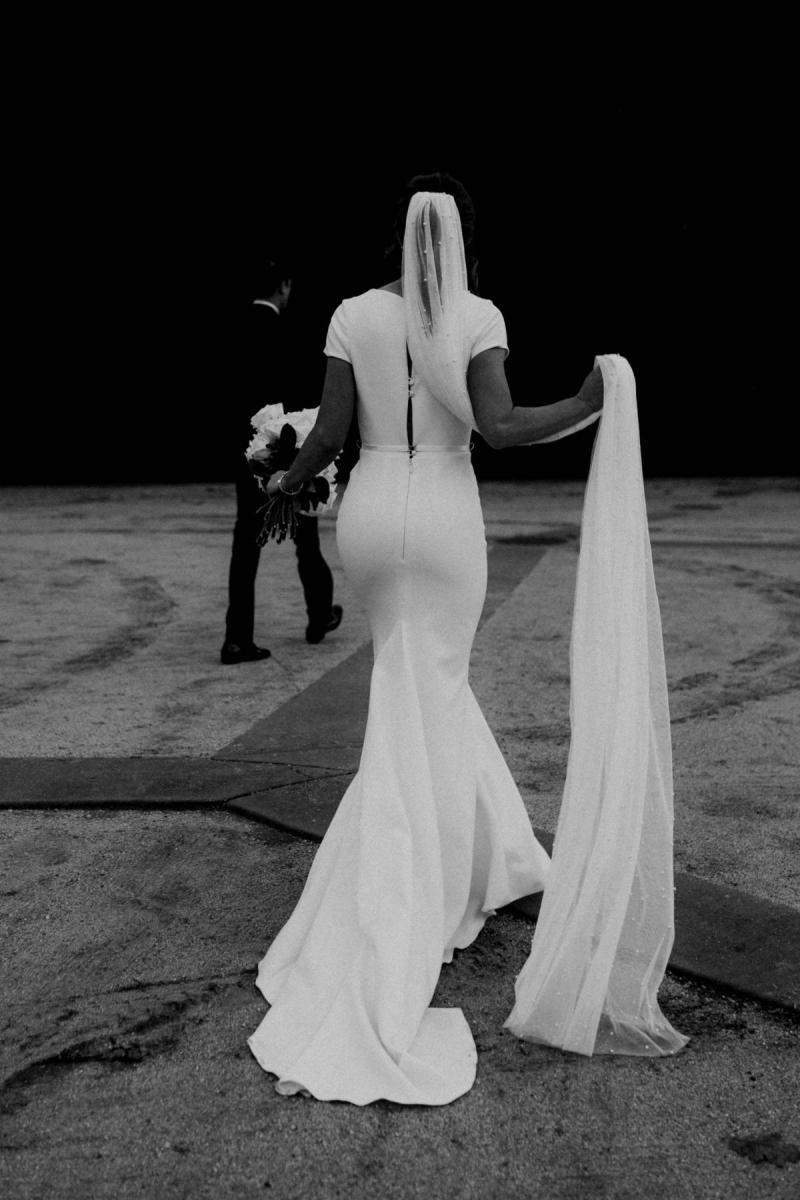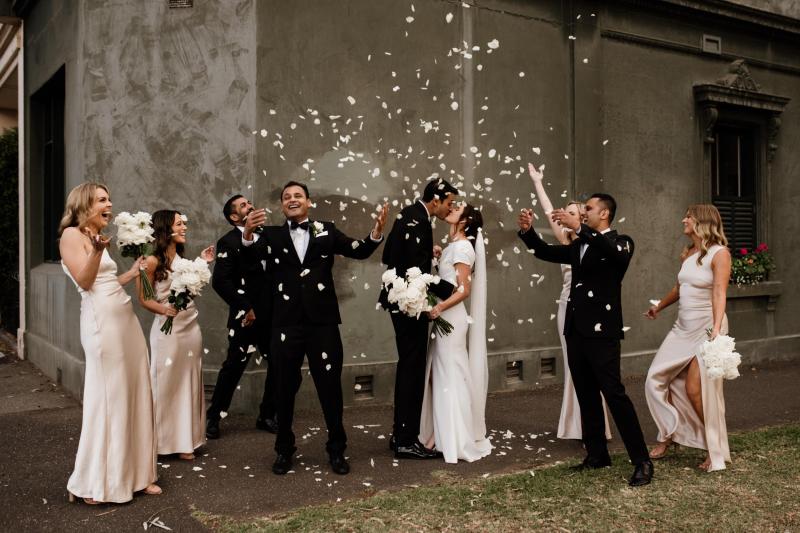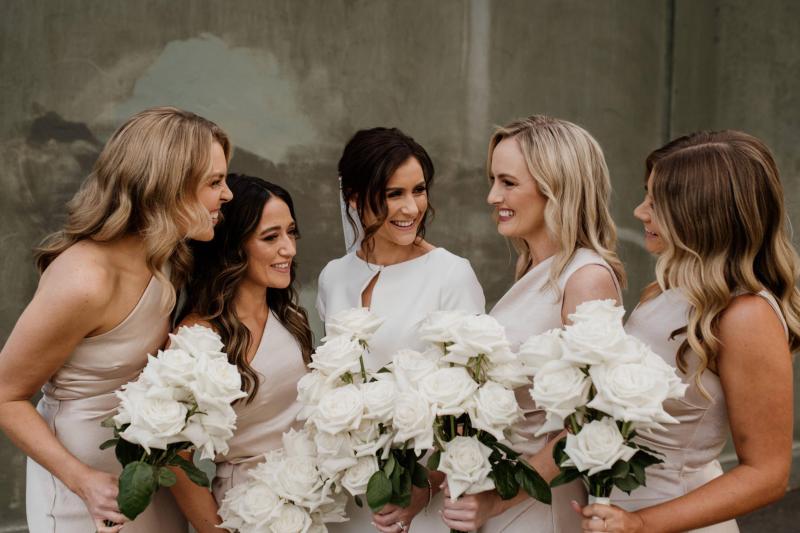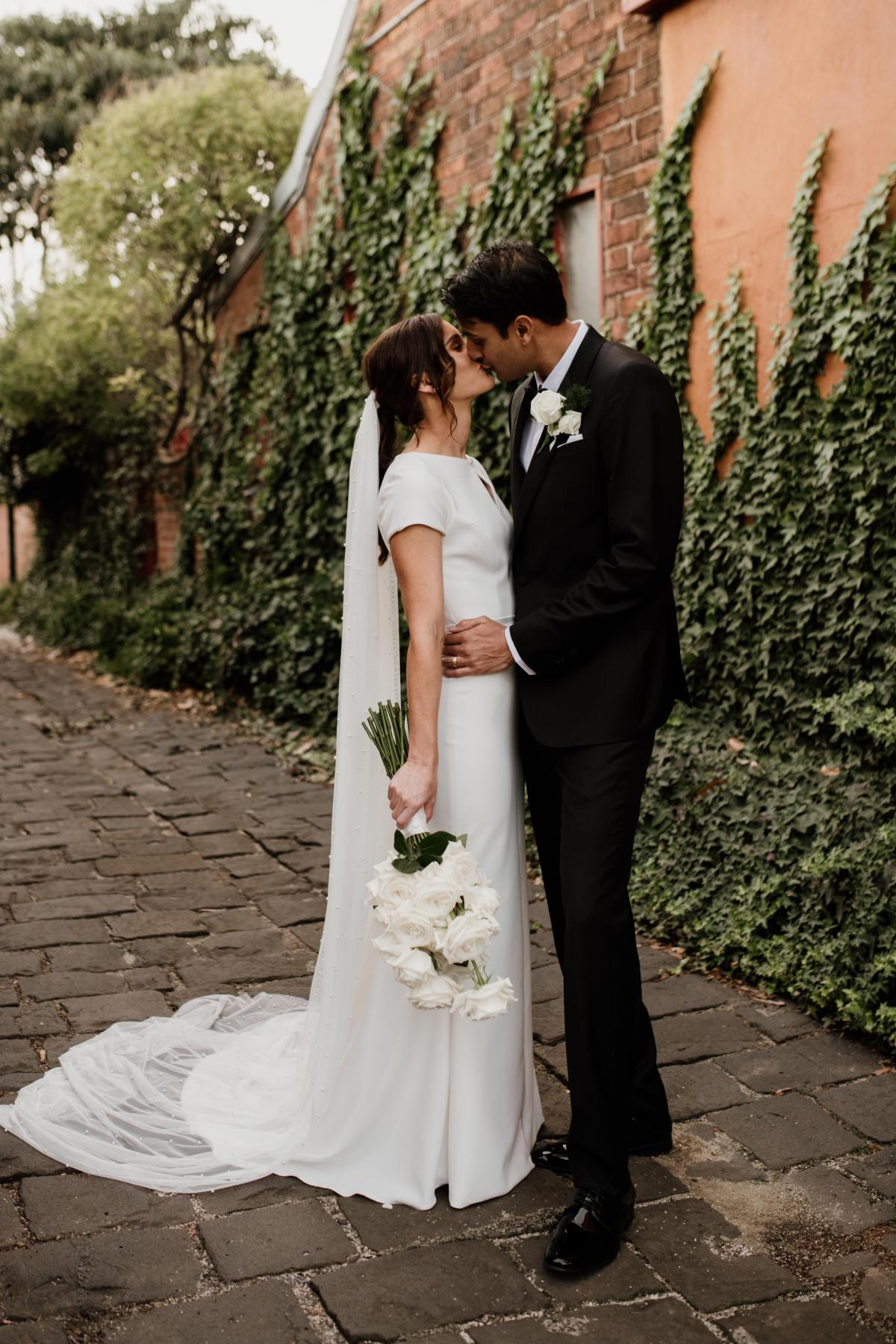 What does love mean to you?
"Love to me is wanting to share every moment with that special person. It's the small things that count, being excited to wake up, coming home and sharing stories from your day and, of course ending every night with a snuggle on the couch. It's about growing with that person and pushing each other to always try new things. It's a partnership that requires mutual respect and appreciation for one another."