Elle & Carina's Intimate Tasmanian Wedding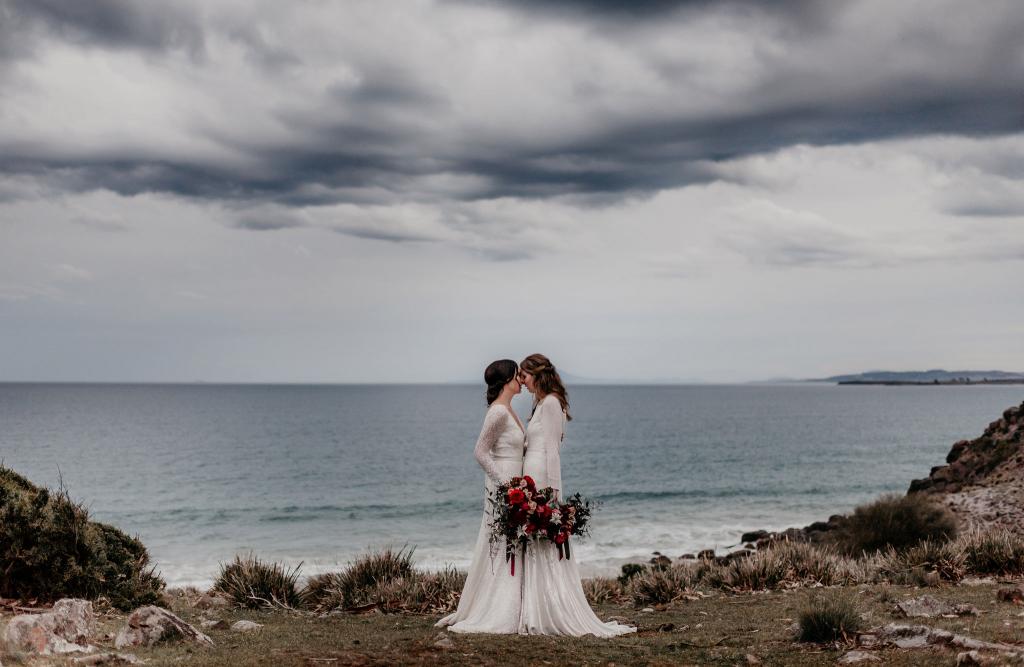 Elle and Carina's Tasmanian wedding was intimate, elegant and absolutely breathtaking. Both brides shone in their long-sleeved beaded gowns which they picked without knowing what the other had chosen. If you're after coastal styling with a sophisticated intricacy, this is a wedding you don't want to miss!
On the proposal
For over 8 months, Elle had been planning how she was going to ask Carina to spend the rest of their lives together, she wanted to make it special as Carina has always made her feel so loved and surprised. Elle organize a surprise holiday to Tasmania for the two of them and Carina had no idea where they were going until they reached the airport. With their wedding stylist and photographer already in on the plan, they were ready to set the scene, all Elle had to do was distract Carina long enough for them to set up and hide to secretly capture the moment. Elle pretended the hot water system at the retreat they were staying at broke and said they had to go out for a few hours while it was being fixed. As it turns out this was the worst lie as their retreat was run on solar power. After stalling Carina for what felt like a lifetime, Elle got the go to head back to the retreat. With Carina blindfolded, Elle led her to the open deck where a beautiful winter rose installation hung above a huon pine bath tub which was slowly being filled. There was champagne chilling and a wood fire burning, and Elle got down on one knee and asked her best friend Carina to marry her.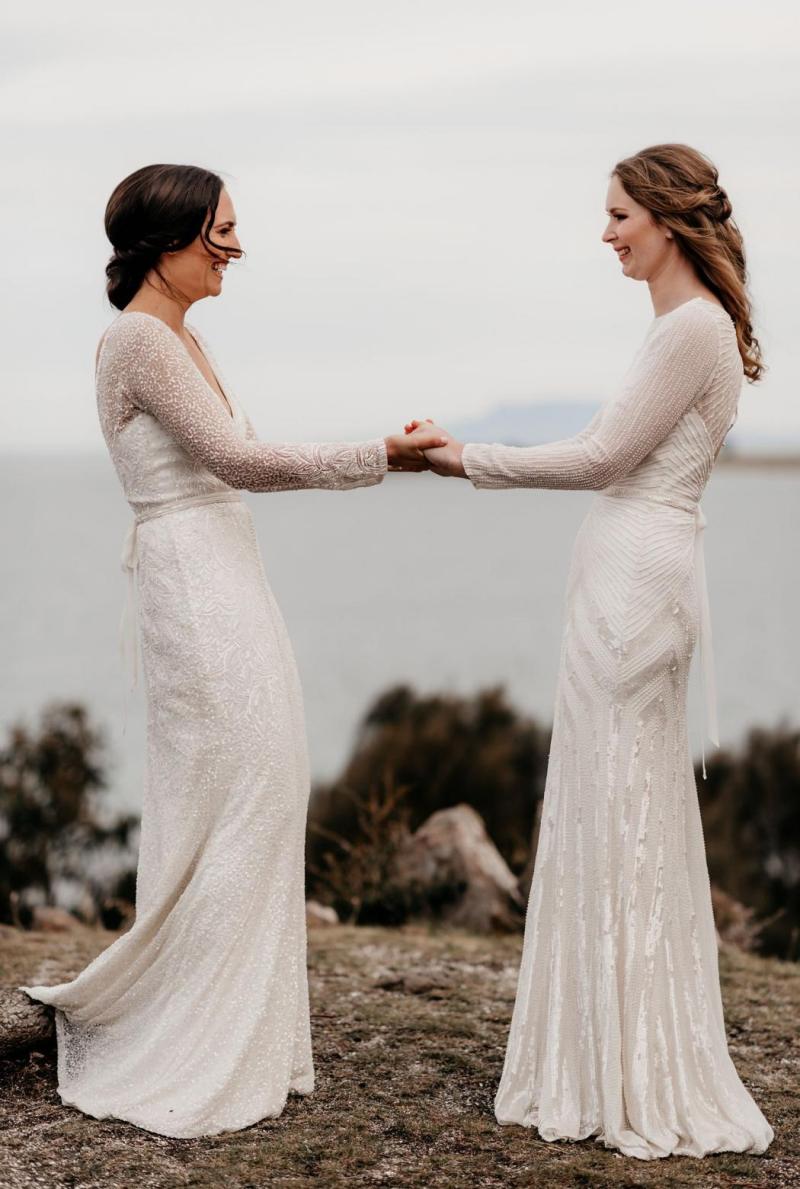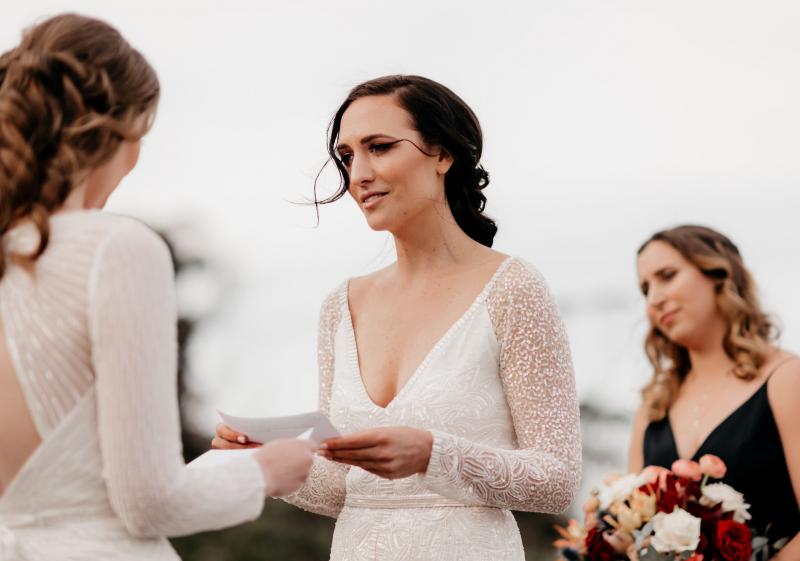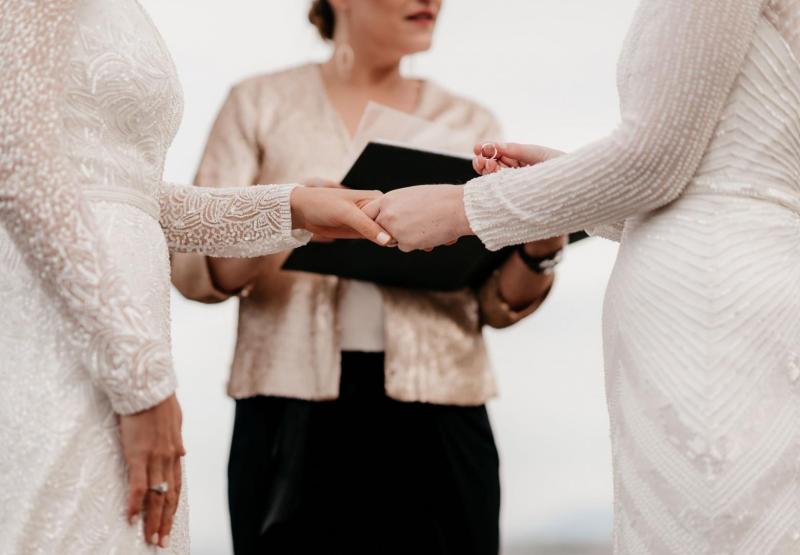 On the venue
Elle and Carina were married at the Avalon Coastal Retreat on the East coast of Tasmania. The couple chose this spot as they made a personal connection with one of the representatives that worked there that also worked at the Rocky Hills Retreat where they got engaged. "When we found out she represented another property just down the road that had the breathtaking views of Maria Island and Freycinct, that came with its own private beach and huon pine bath tub, we were instantly sold."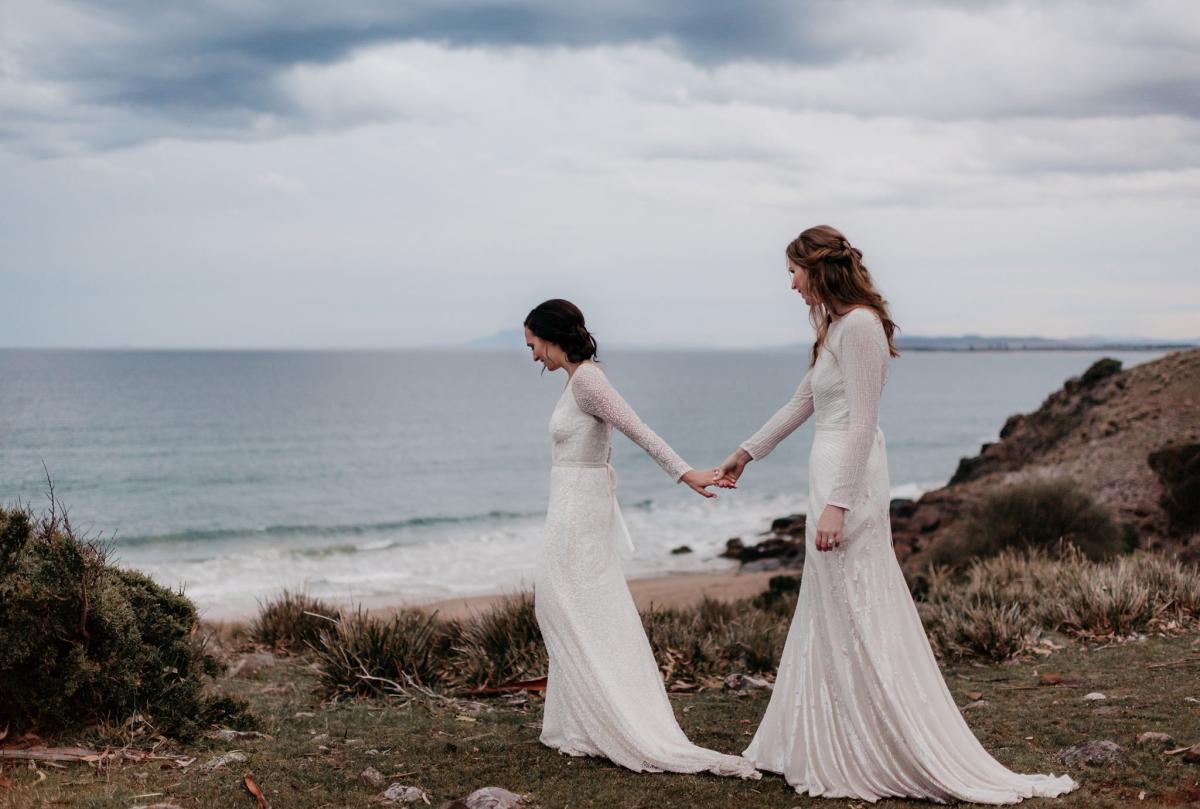 All the styling details
Elle and Carina had always wanted a relaxed, casual coastal vibe for their wedding and with the venue being the perfect setting, all that was left was to have stylist Bek Burrows, who worked with Elle on the engagement, design and style the space. "Everything, from the stunning hand written calligraphy in the menus to the incredible intricacy of the floral installation that all our guests were in awe of was done to perfection by Bek. She used her personal shell, sea glass and driftwood collection for our tables. Every personal detail only added to the intimacy and magic of the day."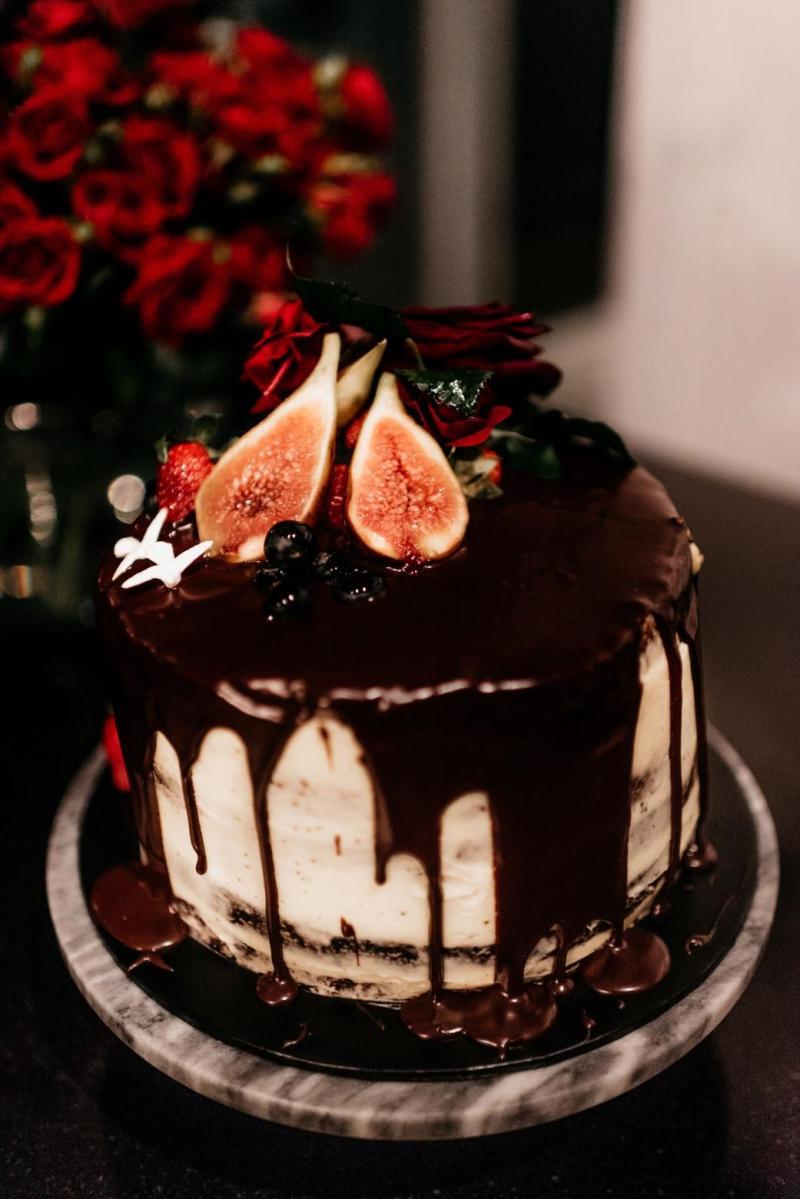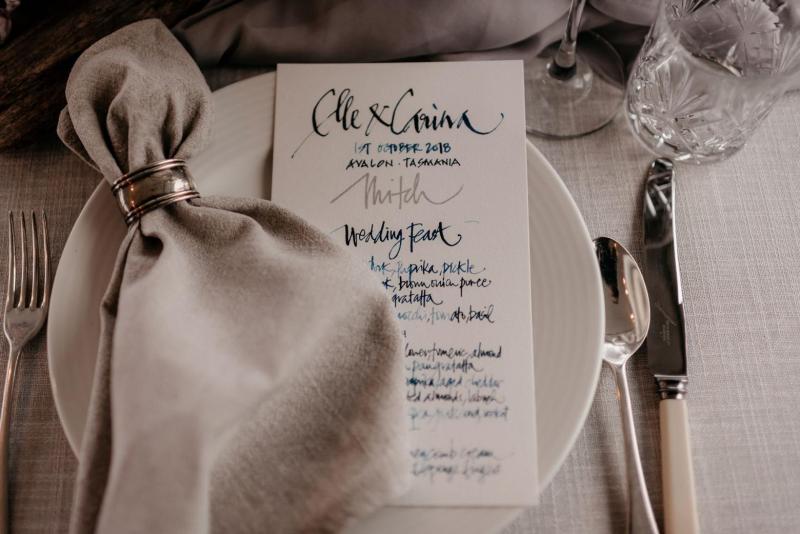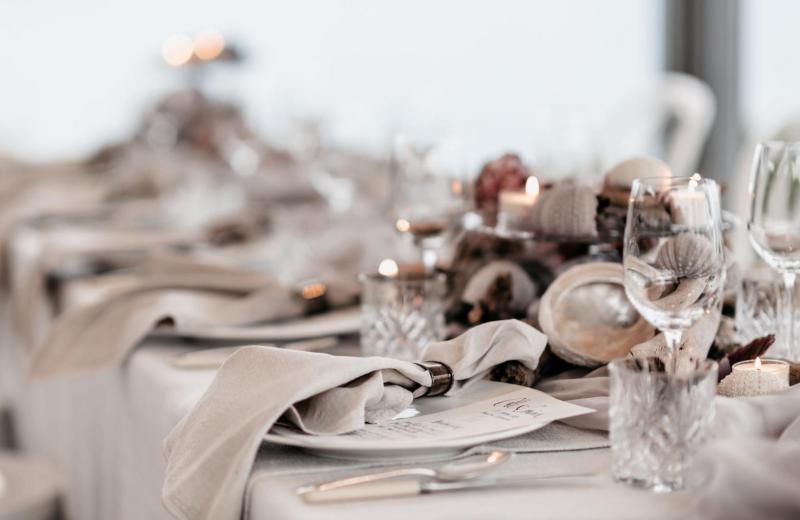 The Dresses
After months of stalking KAREN WILLIS HOLMES online, both Elle and Carina fell in love with the Celine and Cassie gowns from our LUXE collection, purchased from our Sydney boutique. They knew that the other had also chosen a KWH gown but had no idea what each other had picked, let alone that they were both from the same collection.
Elle wore the Celine gown, "The first thing that drew me into the Celine gown was the intricate beading. I always wanted a sleeved gown and instantly fell in love with the beaded sleeves on this dress."
Carina wore the Cassie gown, "I loved that it felt modest with the high neckline but extremely feminine in the way it hugged my curves. I felt comfortable as soon as I tired the Cassie gown on which was something I struggled to feel with other dresses."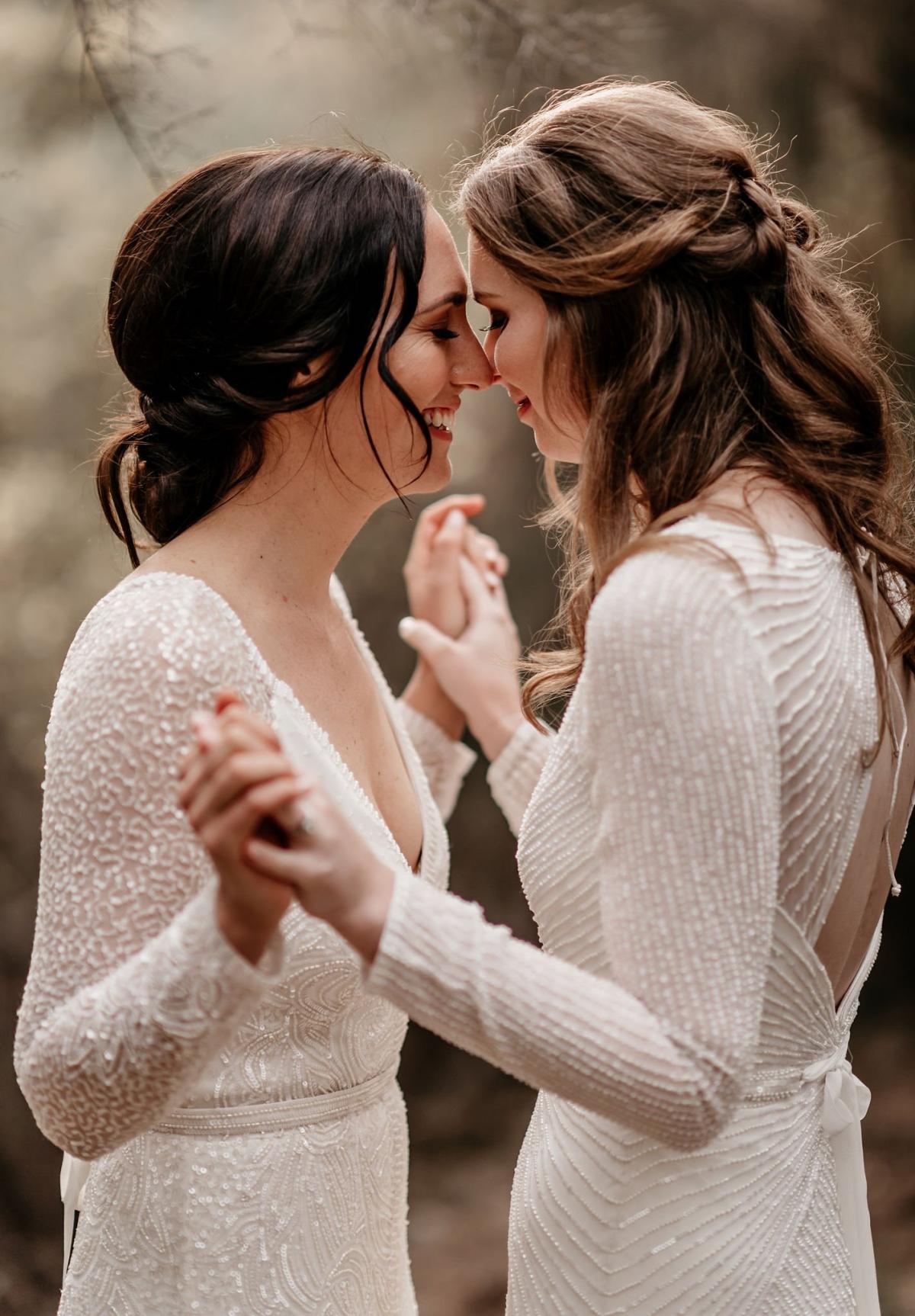 Gown hunting tips
"Don't settle for a gown you aren't 100% happy with or sure of. The perfect gown is out there! Also, Spanx are your best friend!"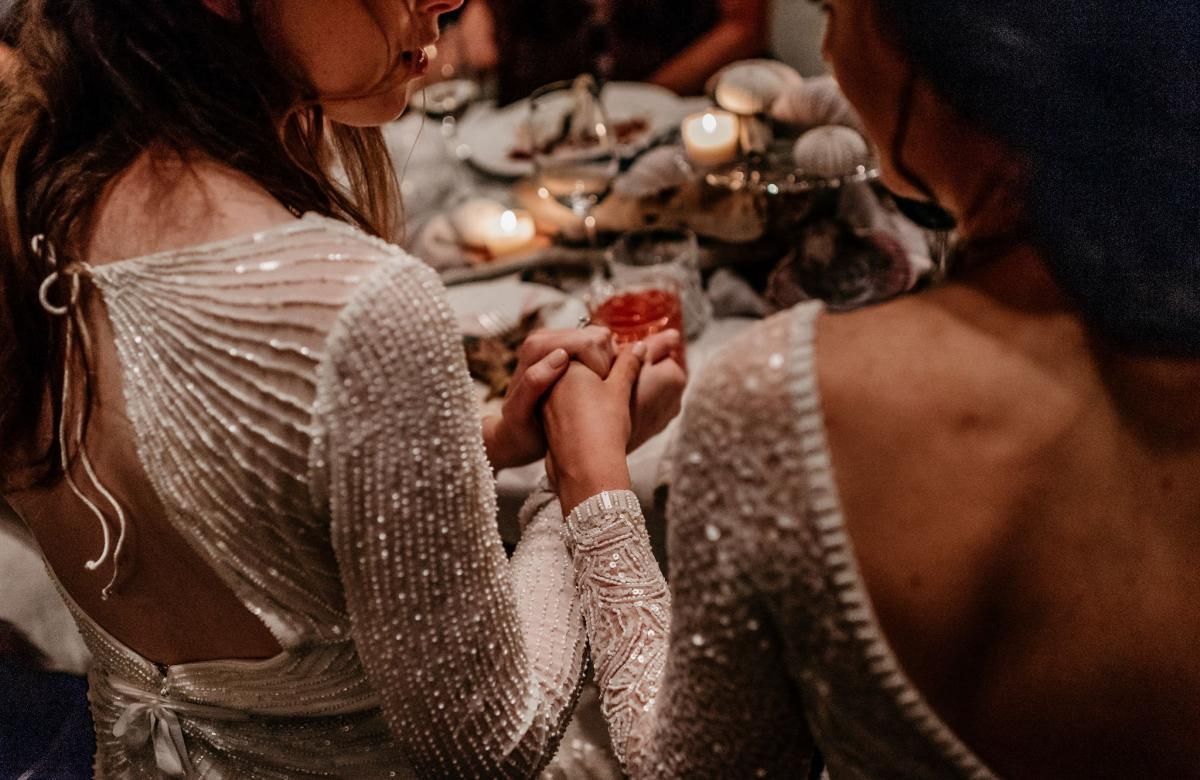 What does love mean to you?
"Love does not look a certain way. Love is our actions. Love is giving all we can, even if it's the bigger slice of the cake. Love is understanding we have the power to hurt one another but doing everything in our power to make sure we don't. Love is when you find someone you want to spend the rest of your life with and wanting the rest of your life to start as soon as possible." (paraphrased from Rupi Kaur)