Rachael and Andrew – A Picturesque Winery Wedding

Rachael and Andrew admired each other from afar at work. Rachael was an engineer and Andrew was in finance working in the same department. In 2016, Andrew had been transferred to Adelaide for work and both he and Rachael were single. On a trip up to Brisbane one week, Andrew invited Rachael to dinner and the pair just clicked. Three years later the couple were married at the Mitolo Winery in the McLaren Vale, South Australia.
This wedding has just been featured on Ivory Tribe.
Photographed by Janneke Storm.
On the proposal
Andrew's proposal took Rachael by complete surprise. The couple had just finished work for 2018 and were flying to Adelaide the very next day for Christmas with Andrew's family, followed by a holiday in Tasmania.
"A stormy evening led to a big power outage in South Brisbane. We went out for a beautiful dinner at our favourite restaurant. When we got home, Andrew mentioned he needed something from the car. He was gone a while and I had gotten into my pajamas and was about to put on a movie when he came back in some time later. As it turns out, he had been on our apartment rooftop trying to light an enormous number of candles, including floating candles to go in the infinity pool. The storm meant that the floating candles would just float right to the edge and fall into the catchment, and it was too windy to keep anything lit anyway. He eventually came back downstairs. As he came towards me, music started playing and he got down on one knee. I can barely remember what he said, it felt very surreal. I'm really glad it happened the way it did – we absolutely love being at home together and it just felt right that it was such a relaxed setting."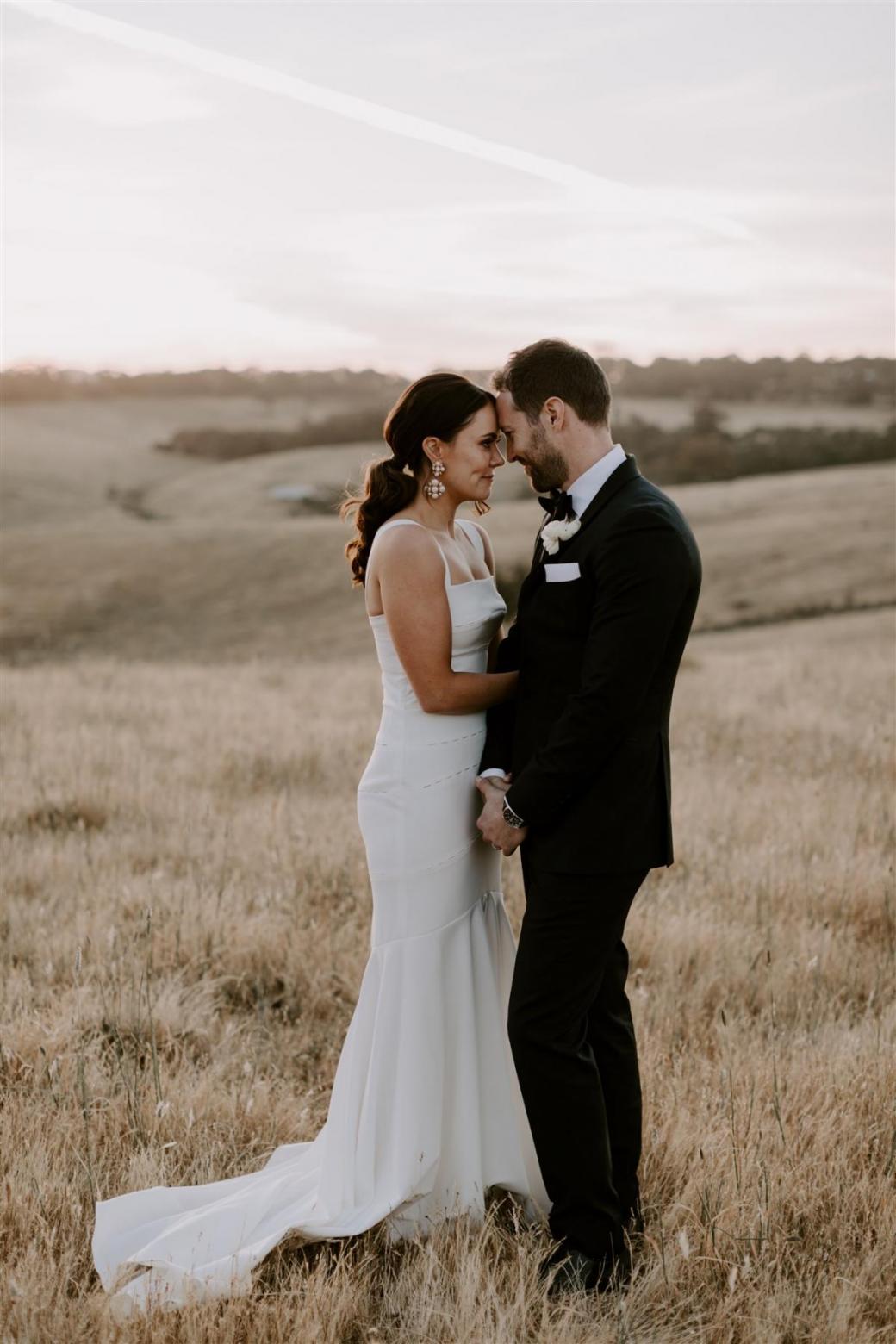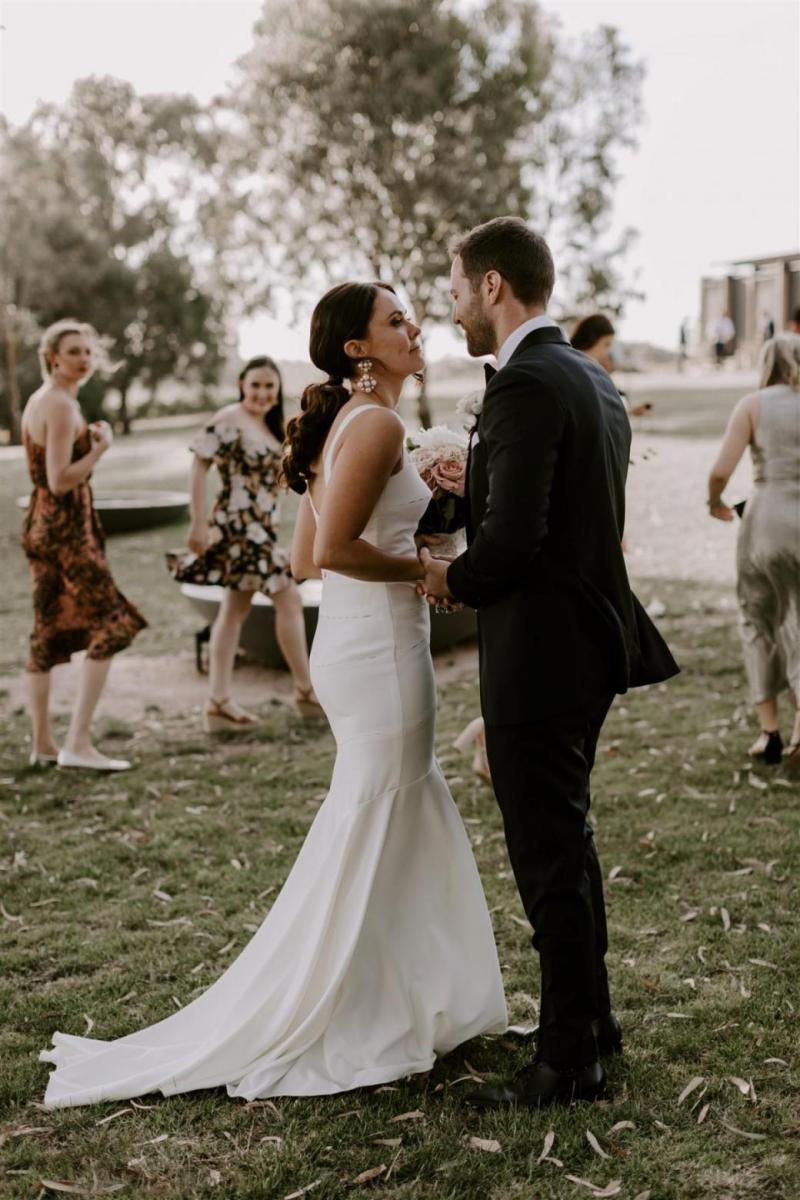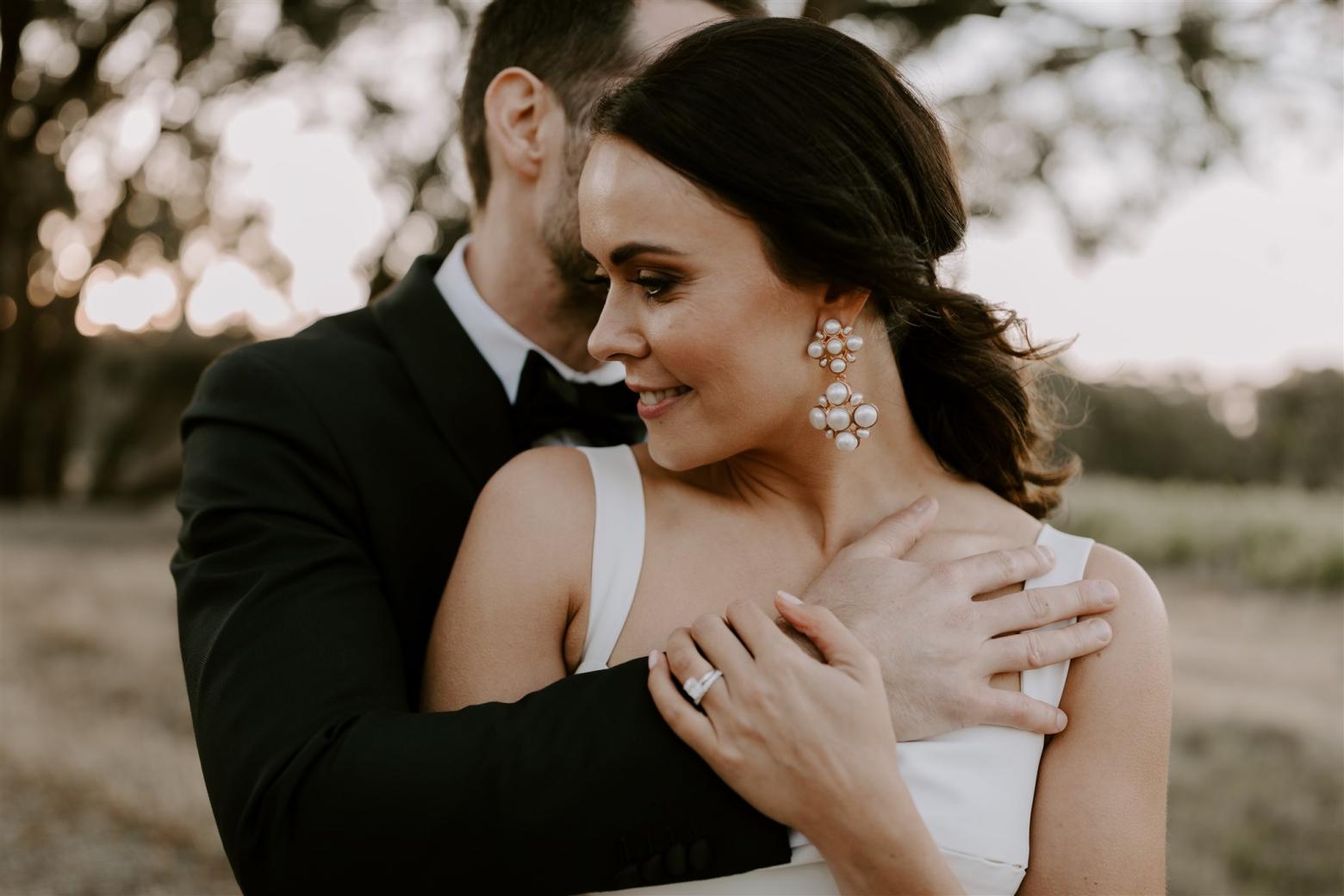 On the venue
Rachael and Andrew married at Mitolo Wines in McLaren Vale.
"We visited the first time for a wine tasting earlier in 2018 and absolutely fell in love with the modern, minimalist and elegant design of the cellar door and restaurant, nestled in amongst the vineyards of McLaren Vale. We were married next to the creek that runs through the property, with the reception in the covered arbour next to the cellar door. We absolutely love Italian food, and that is just what we wanted for a big meal and celebration with the ones we love."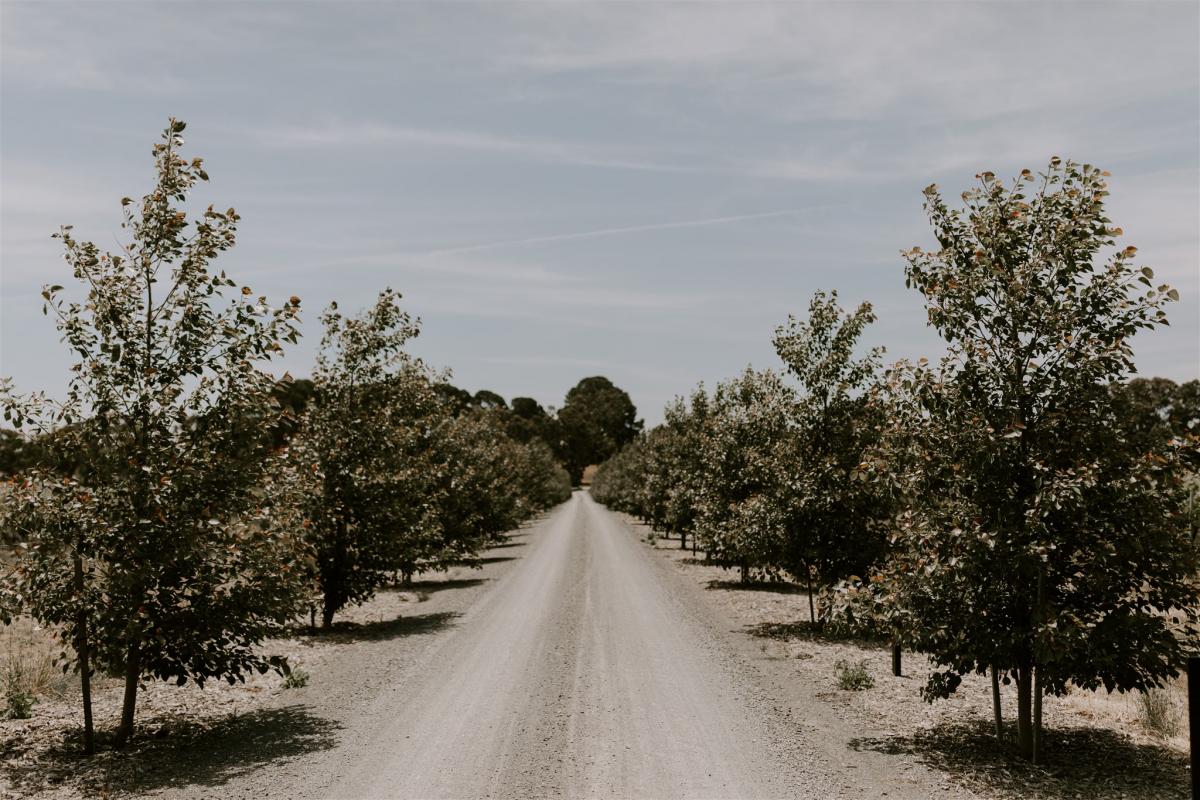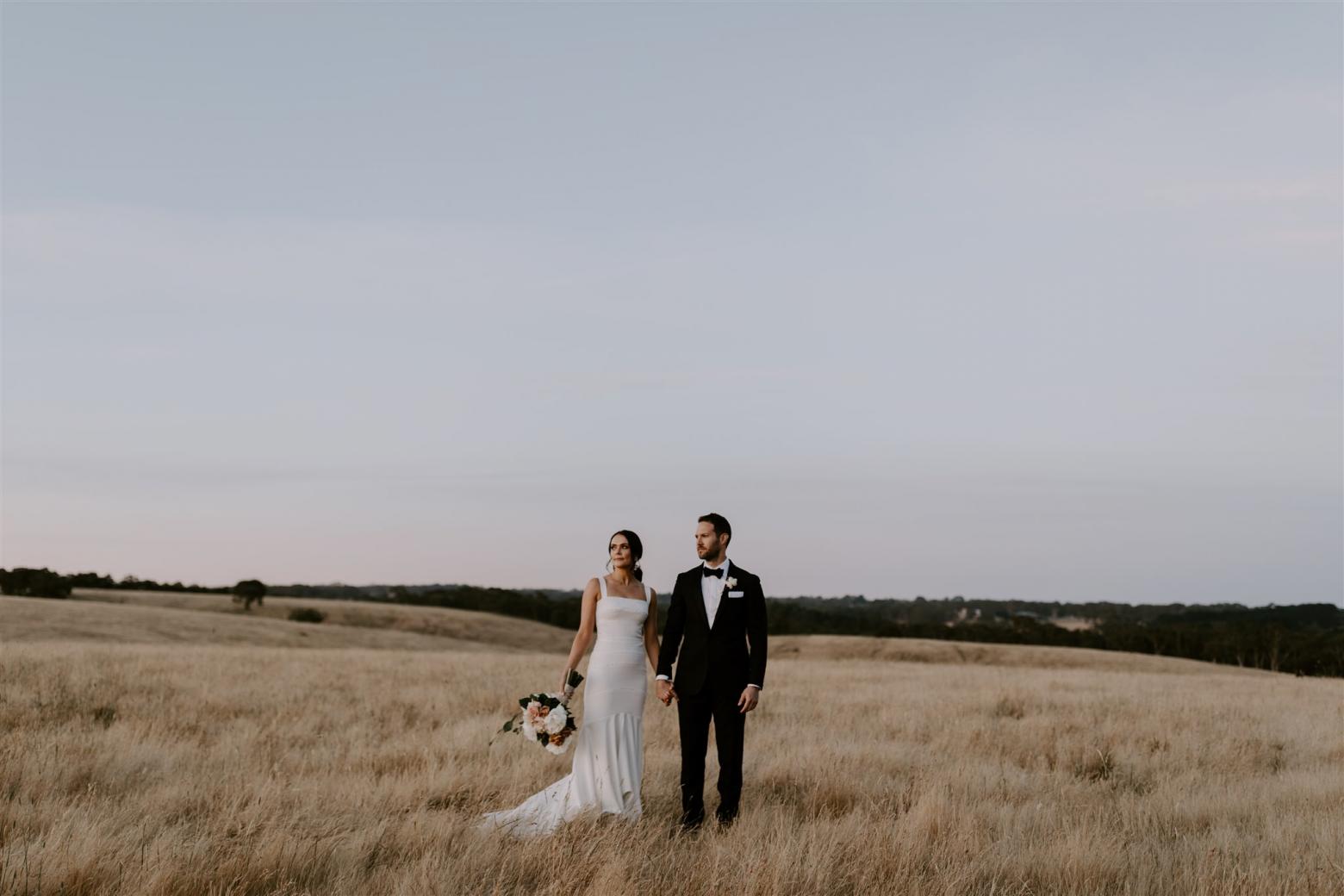 All the styling details
Rachael and Andrew decided on the venue first and that set the tone for the styling for the whole wedding. Simple elegance runs through everything from the flowers, table settings and style of photography by Janneke Storm.
The couple took inspiration from Instagram to perfect their wedding style.
"I didn't use an events planner or stylist. The theme was 'black and white' to match the venue, but then layered in beautiful dusty pinks and buff colours as well as gold details to soften the look."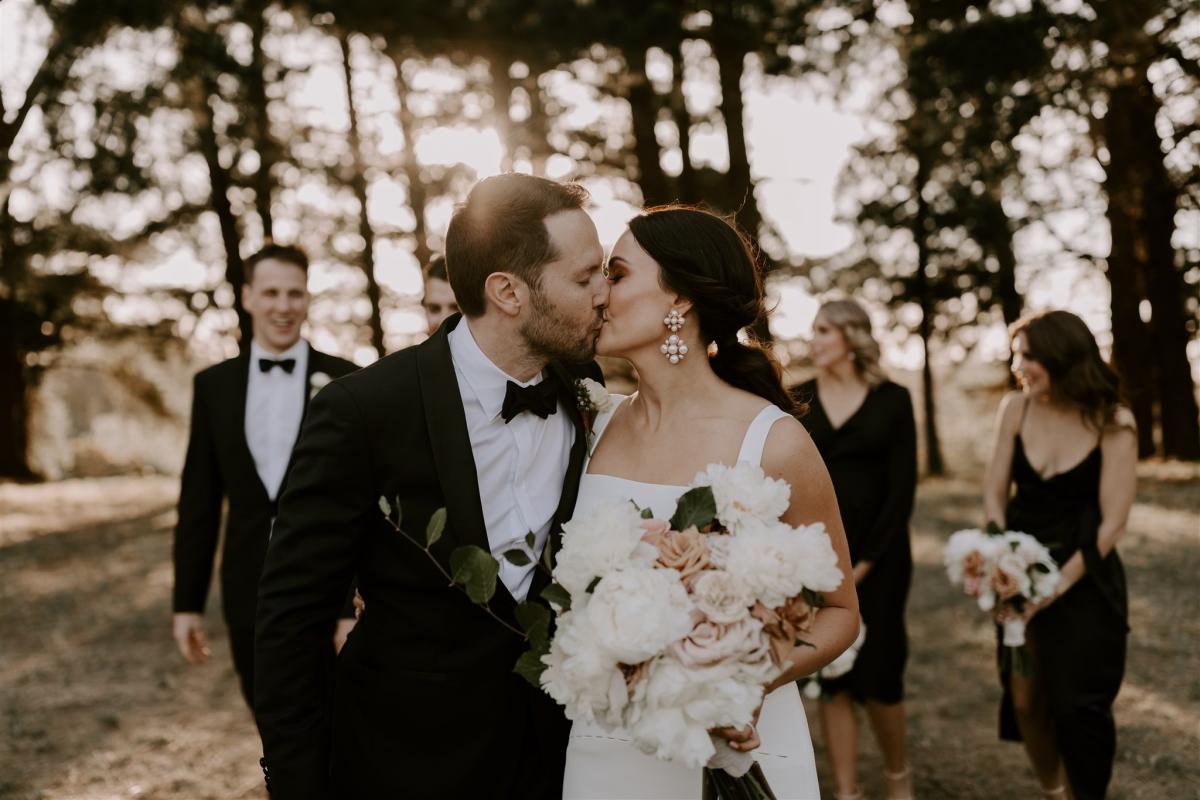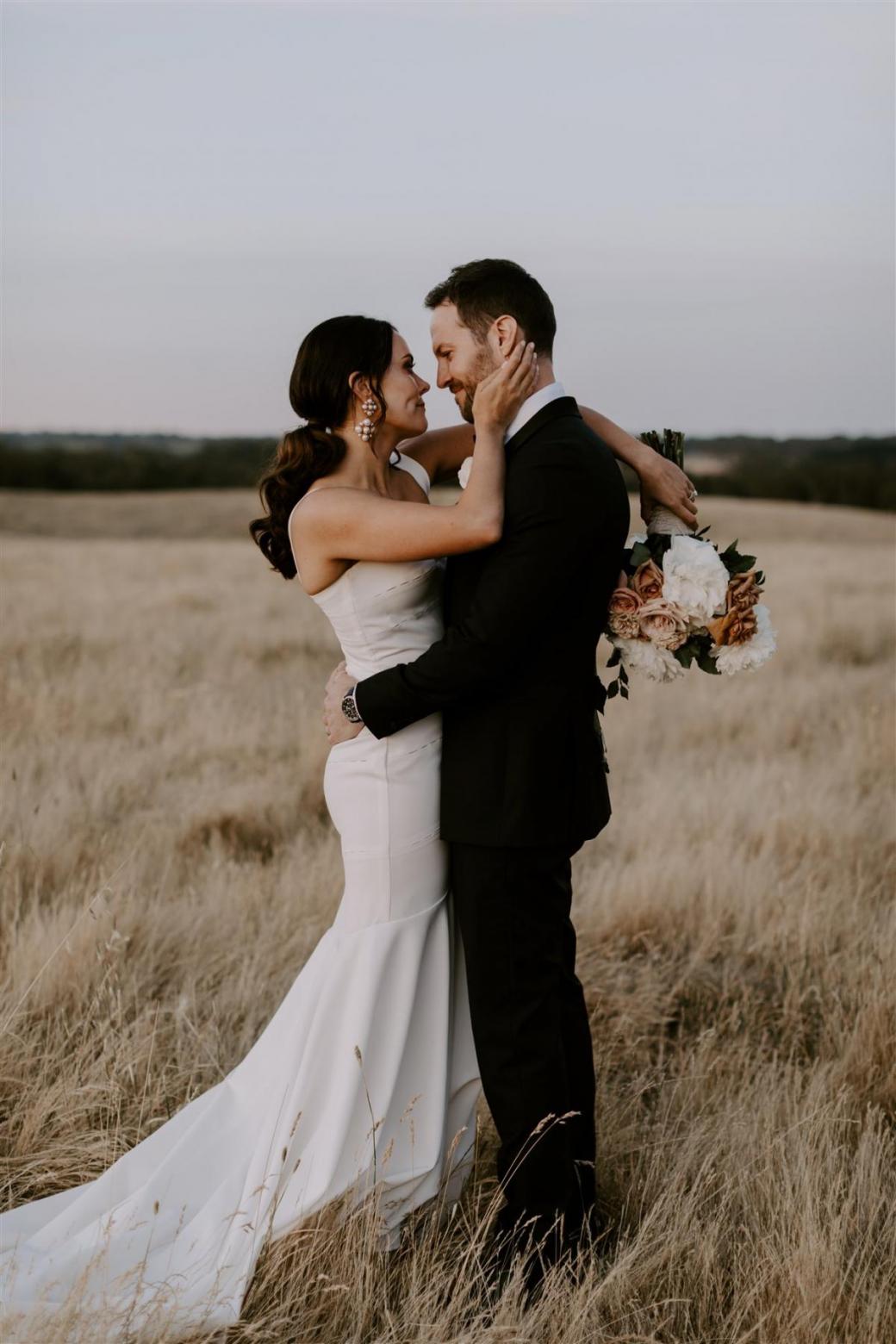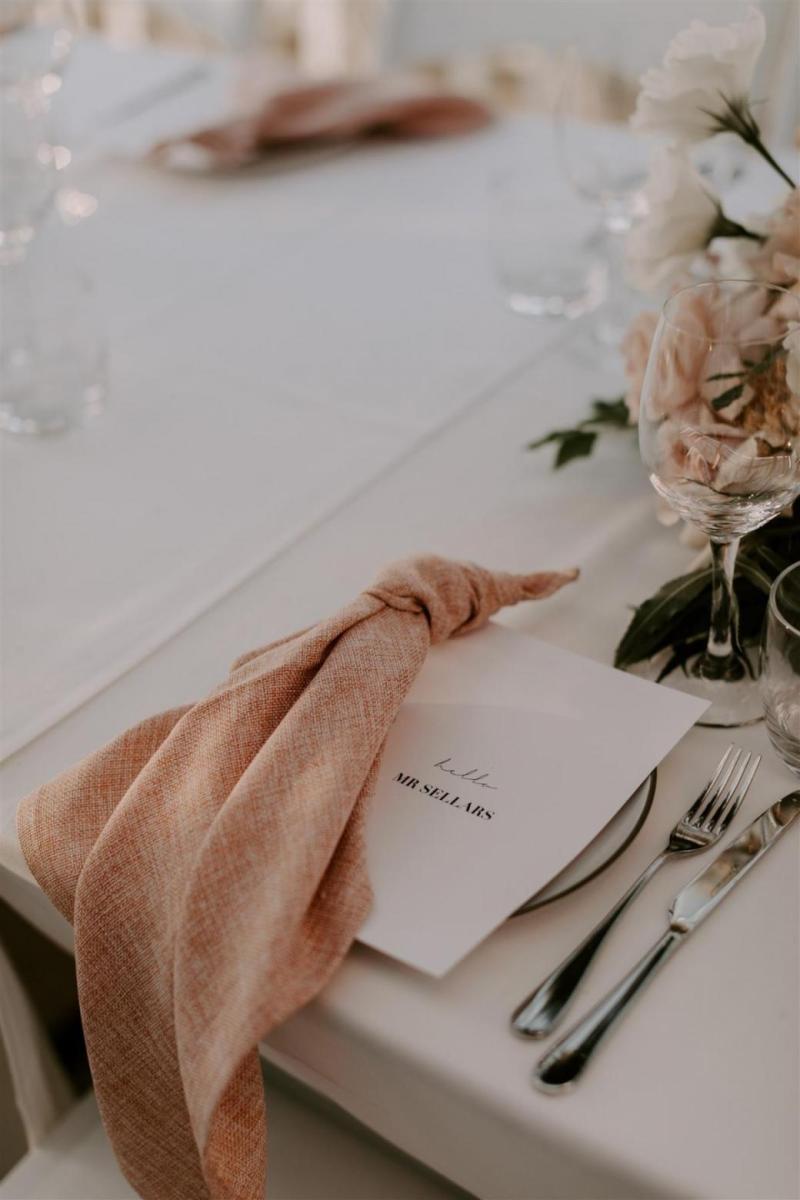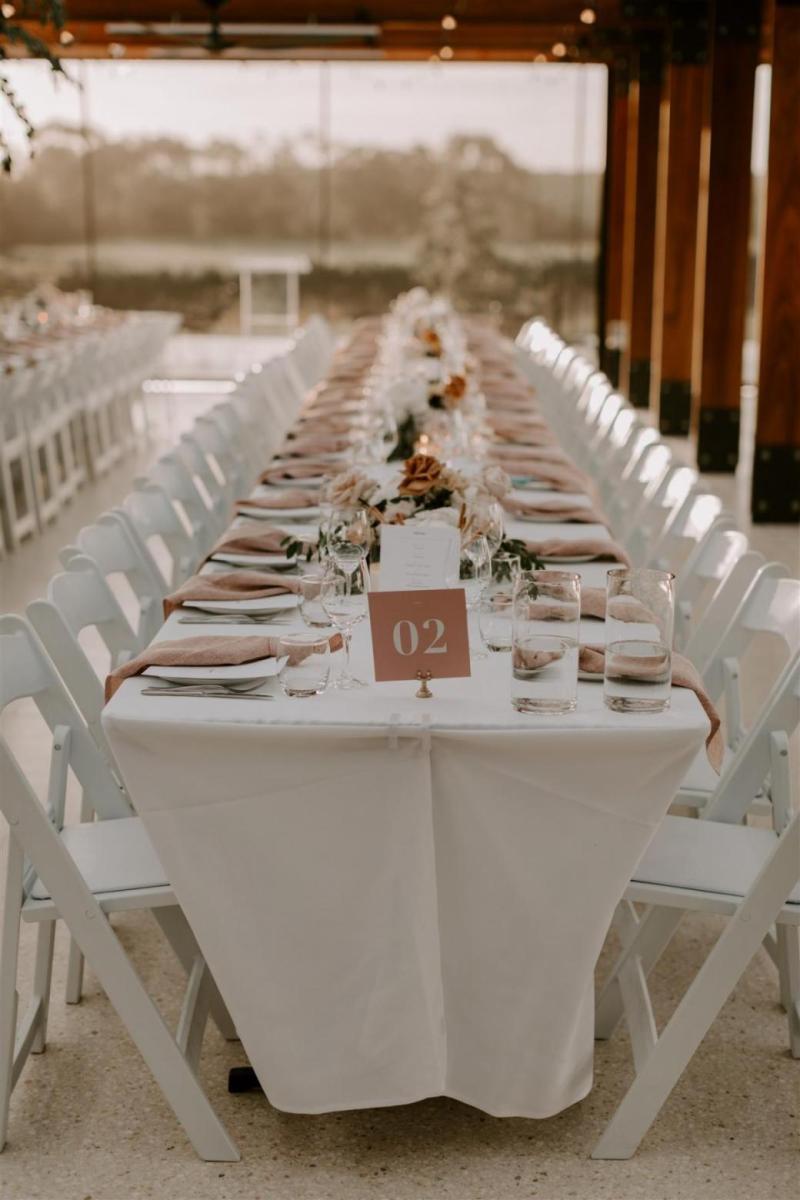 The Dress
Rachael married Andrew in our gorgeous Violet wedding dress from the WILD HEARTS Collection which she found at our Brisbane boutique in Paddington.
"I had seen the Violet gown online and it was definitely my style. It was so different to most of the gowns I'd seen. Once I tried it on it was hard to imagine wearing anything else.
I loved the clean lines and simple design, combined with the beautiful stitching detail. It was very flattering on my figure and I just felt like 'me' wearing it. It wasn't a high priority, but it was also by far the most comfortable dress I tried on."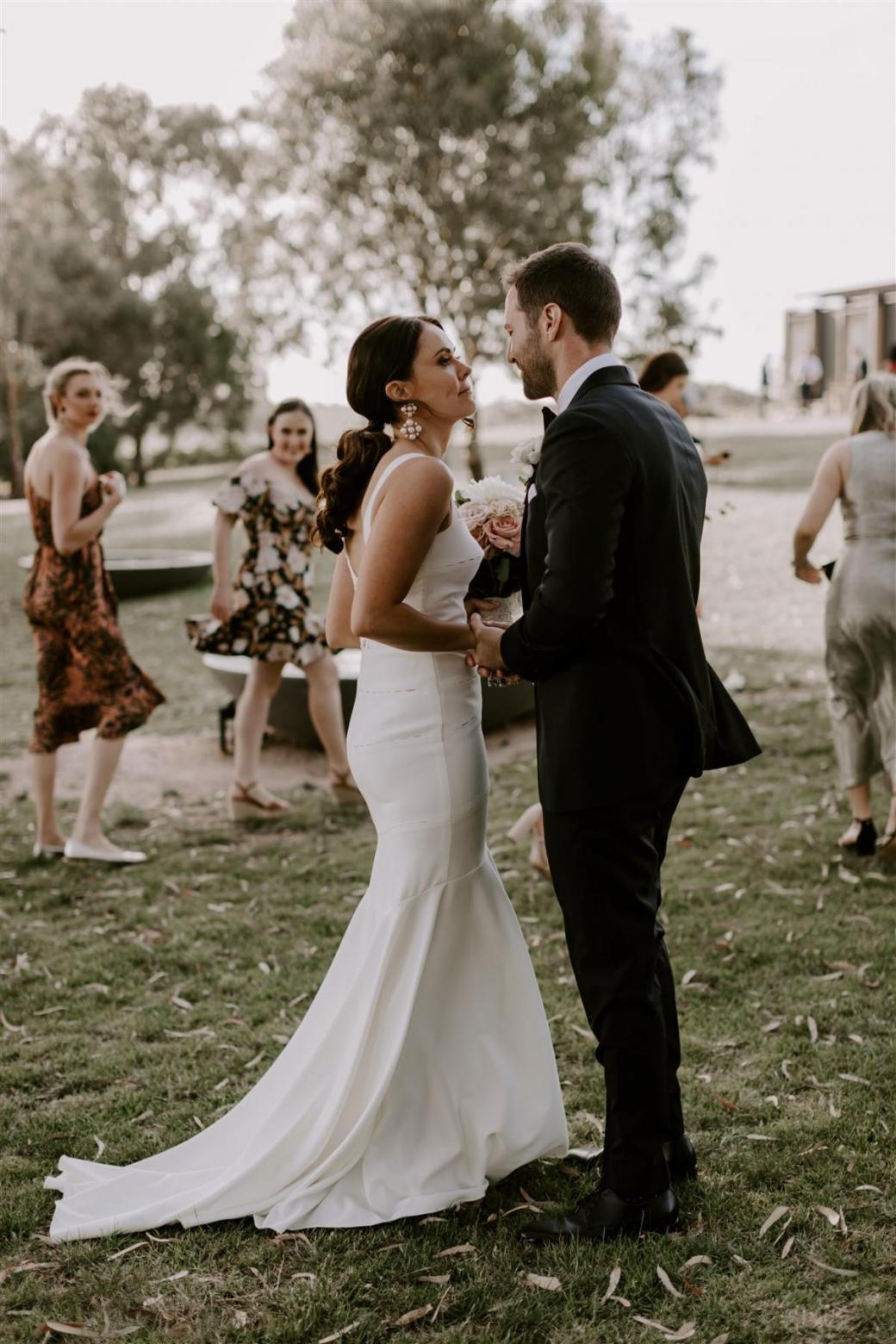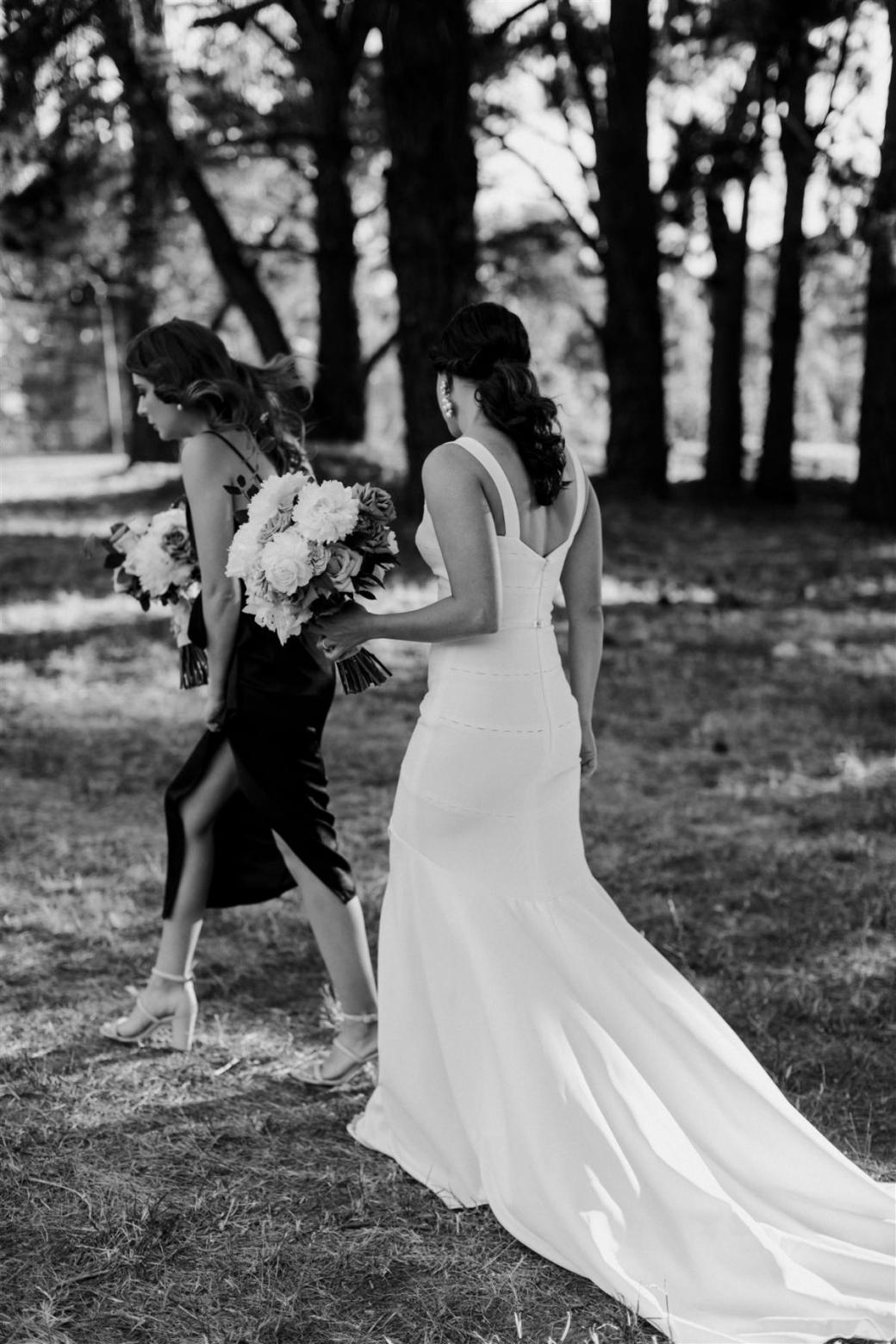 Gown hunting tips
"Trust your intuition and style – you will know when you have found the gown for you. The lovely KAREN WILLIS HOLMES girls also gave me the details for a great dressmaker – so important to get that perfect fit."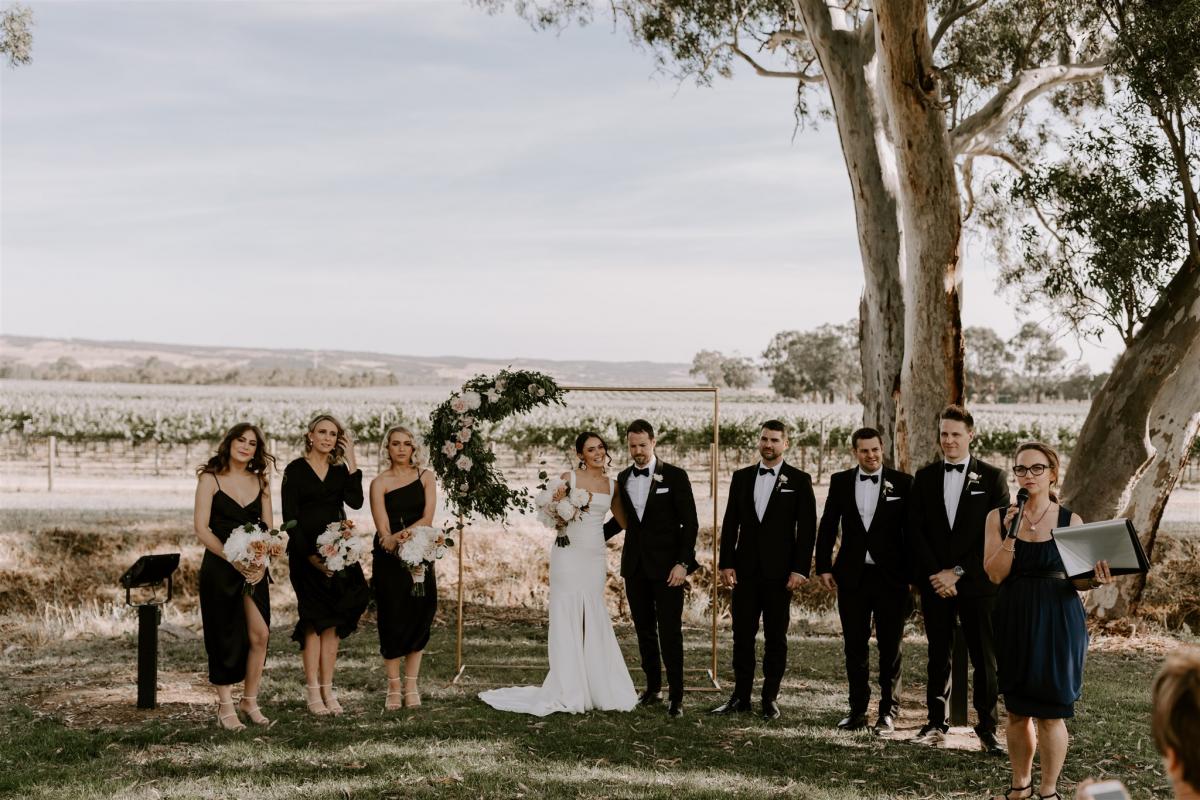 What does love mean to you?
"Love is having someone to enjoy the mundane parts of life, not just the exciting ones. Some of my favourite times are just being silly in the aisles of the supermarket, sharing a cheeky grin and knowing that we get to do this forever."