Katherine & Conor's Glamorous Orthodox Wedding

Katherine and Conor tied the knot on a brisk winter day in the most beautiful church ceremony, followed by a glamorous reception at a historical cottage surrounded by NSW countryside. This incredible wedding is sure to capture your heart and eyes, with their unique floral arrangements and magical moments captured by The Evoke Company.
Come along with us as we re-tell the love story of these two love birds. We were honoured as she walked down the aisle in our elegant hand-beaded Margareta wedding dress from our LUXE collection. On a chilly day like theirs, her long-sleeves were perfect!
On the proposal
As the sun climbed higher in the sky, warming the earth below, the sweet smell of newly uncorked wine wafted in the air, enticing both Katherine and Conor to take a sip of the purple juice at the Silos Estate Vinyard, but she didn't want to start the day of drinking just yet. After some time, her friends still weren't there. She was quickly losing patience, realizing maybe they weren't coming at all for their mid-week catchup.  It was a workday after all, so perhaps everyone had more important things to do.
With Katherine's frustration growing, Conor led her to a single white gazebo that sat overlooking the hundreds of rows of perfectly maintained grapevines for a private moment alone. As the couple stood looking out at the property, Conor dipped his knee lower towards the ground, getting into position for one of the most significant moments of their lives. With everything just right, he asked her, "Will you marry me?"
You probably know her answer. Of course, it was a yes!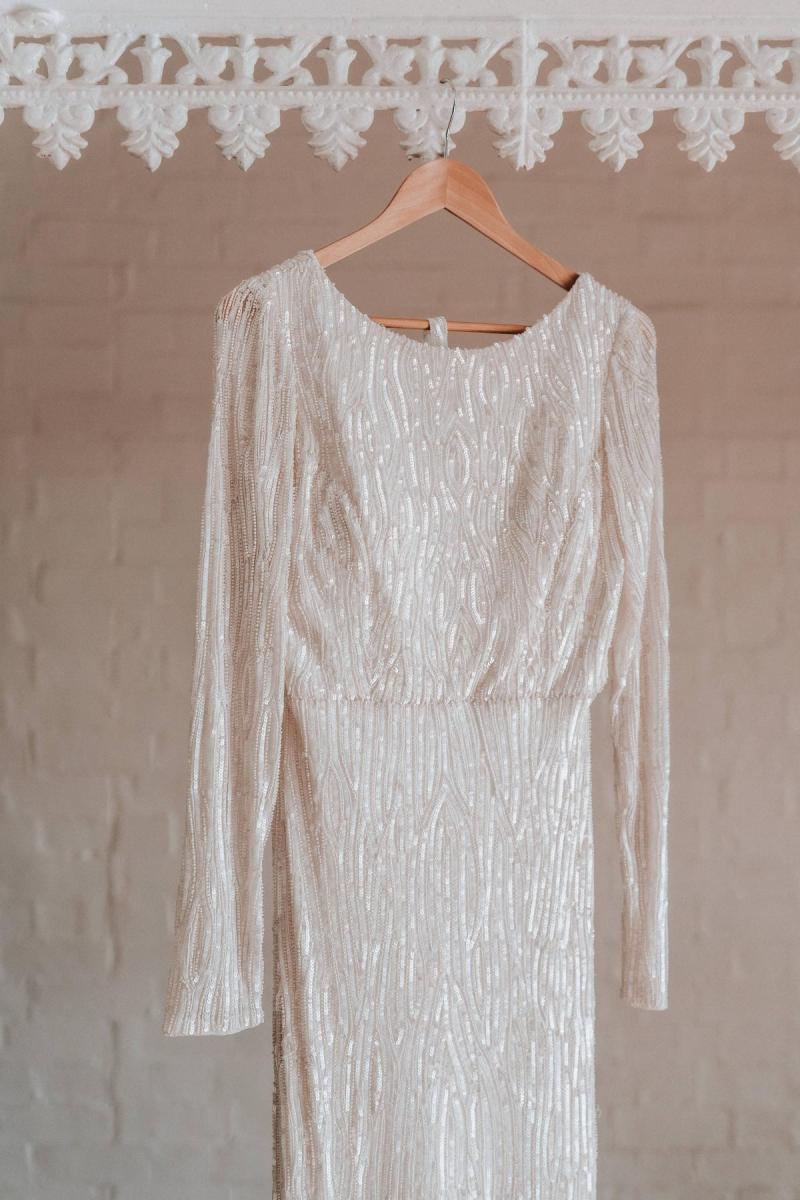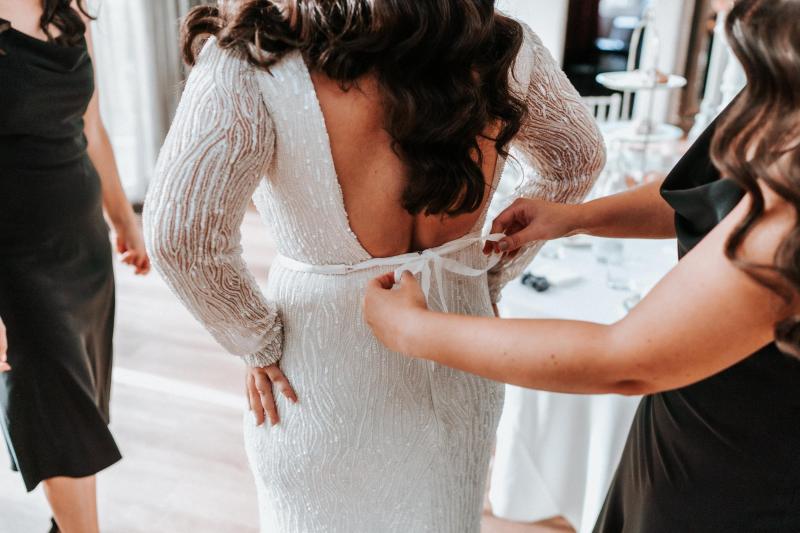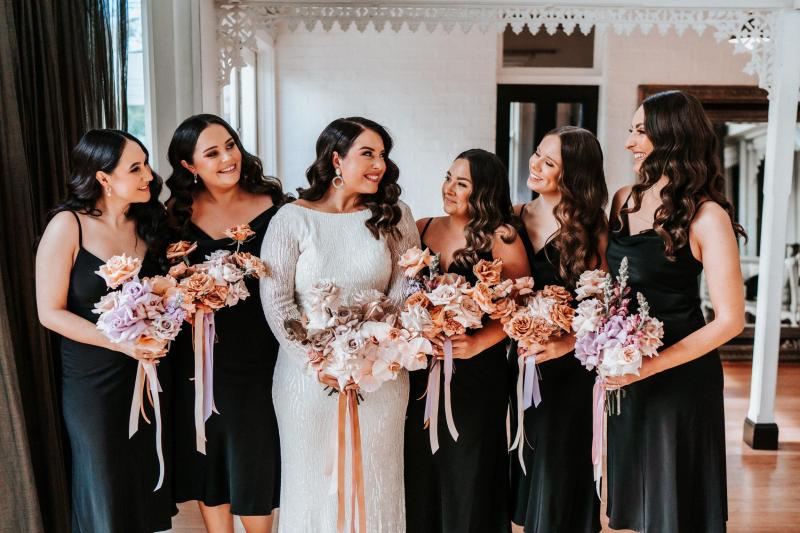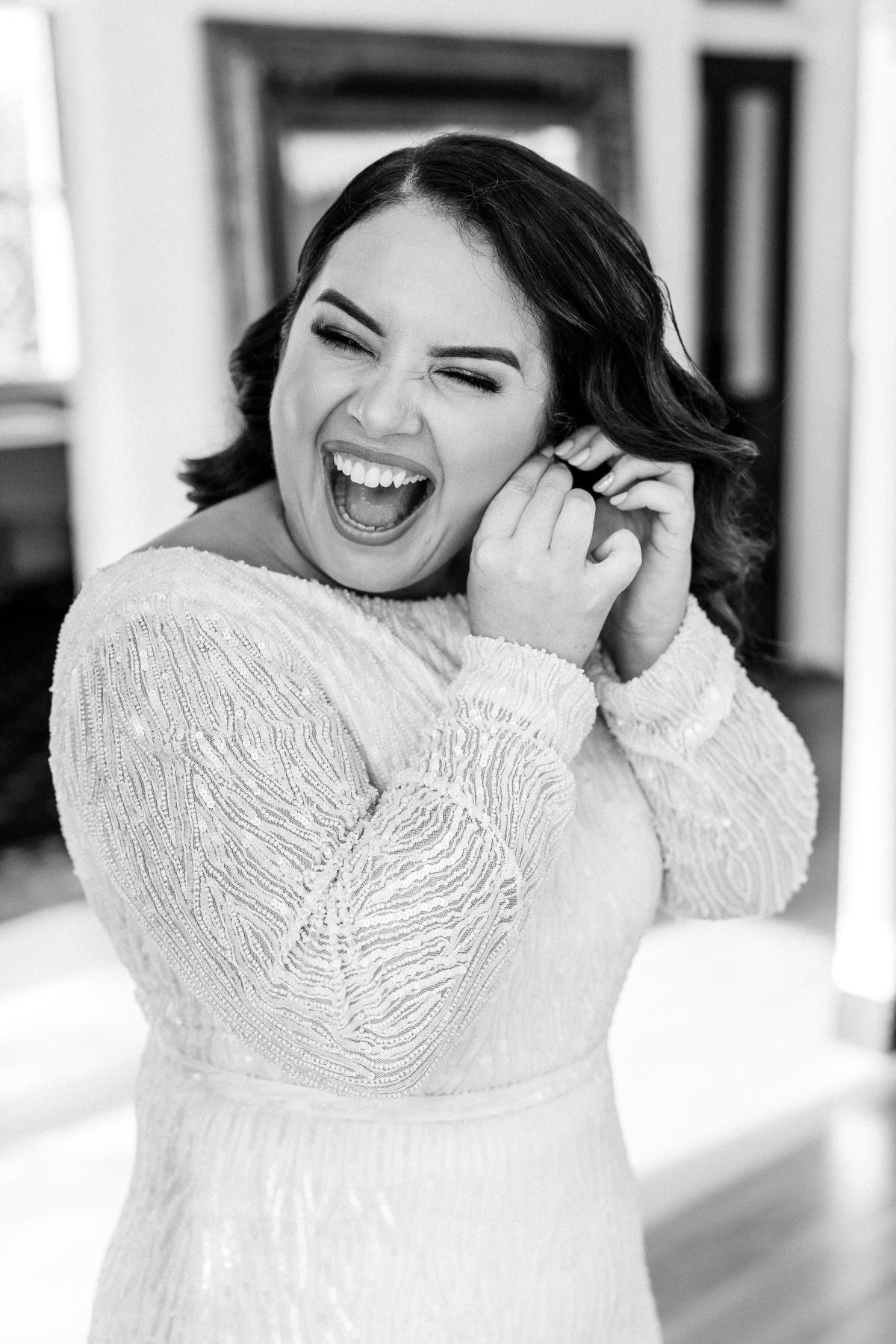 On the venue
To honour her fiance's traditional roots, the two decided to wed at the Holy Cross Greek Orthodox Perish surrounded by their loved ones and many beautiful icons that adorned the church walls. Many family memories were created within the confines of those same walls.  Not only did Katherine and Conor devote themselves to one another, so did his parents decades before. For them, it was a sacred place where life's most grand moments were shared.
For the reception, the couple chose the Ravensthorpe, a 19th-century old family home that was thoughtfully restored to cater to many events while still maintaining its historical roots. Its antique architectural charm, sweet history, and gorgeous three-acre grounds are everything newlyweds could want in a reception venue.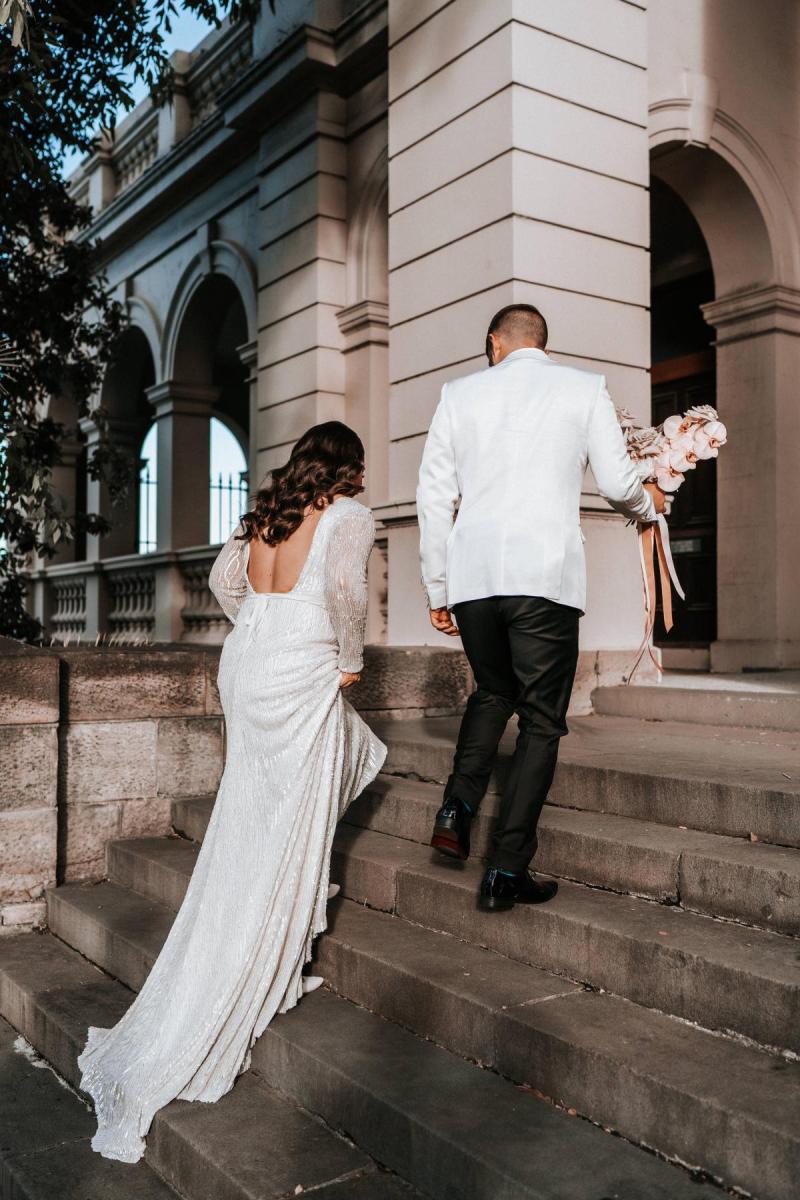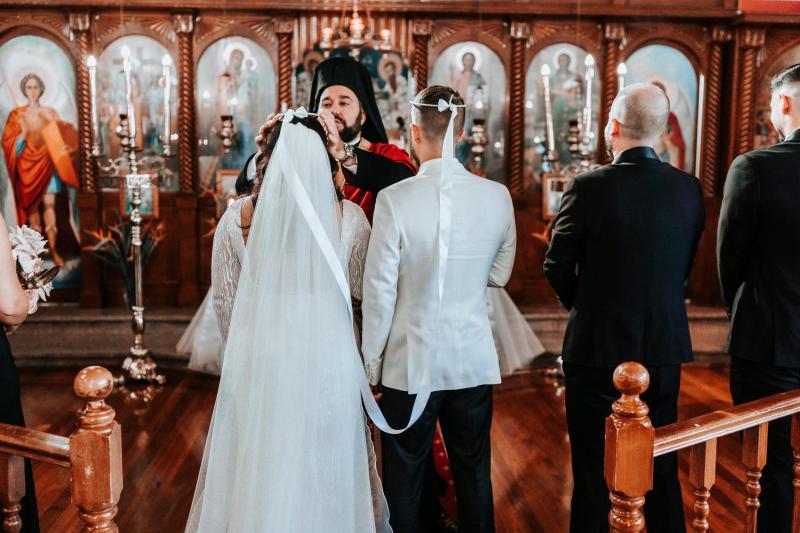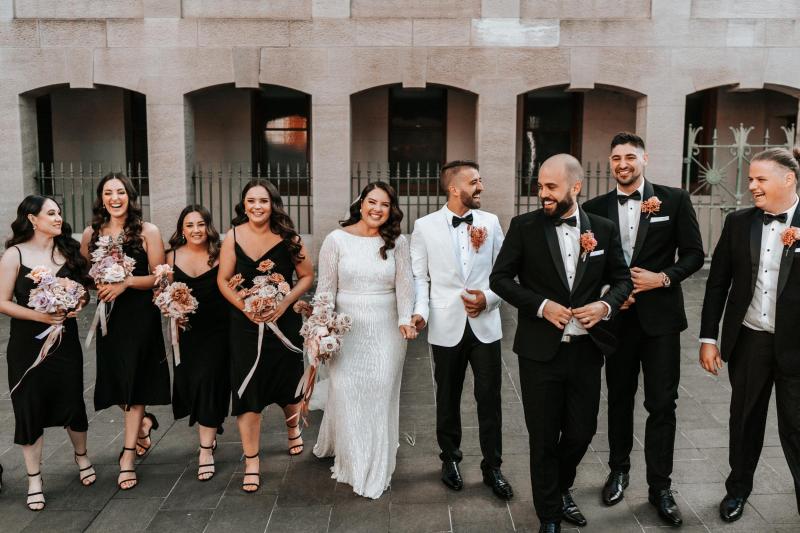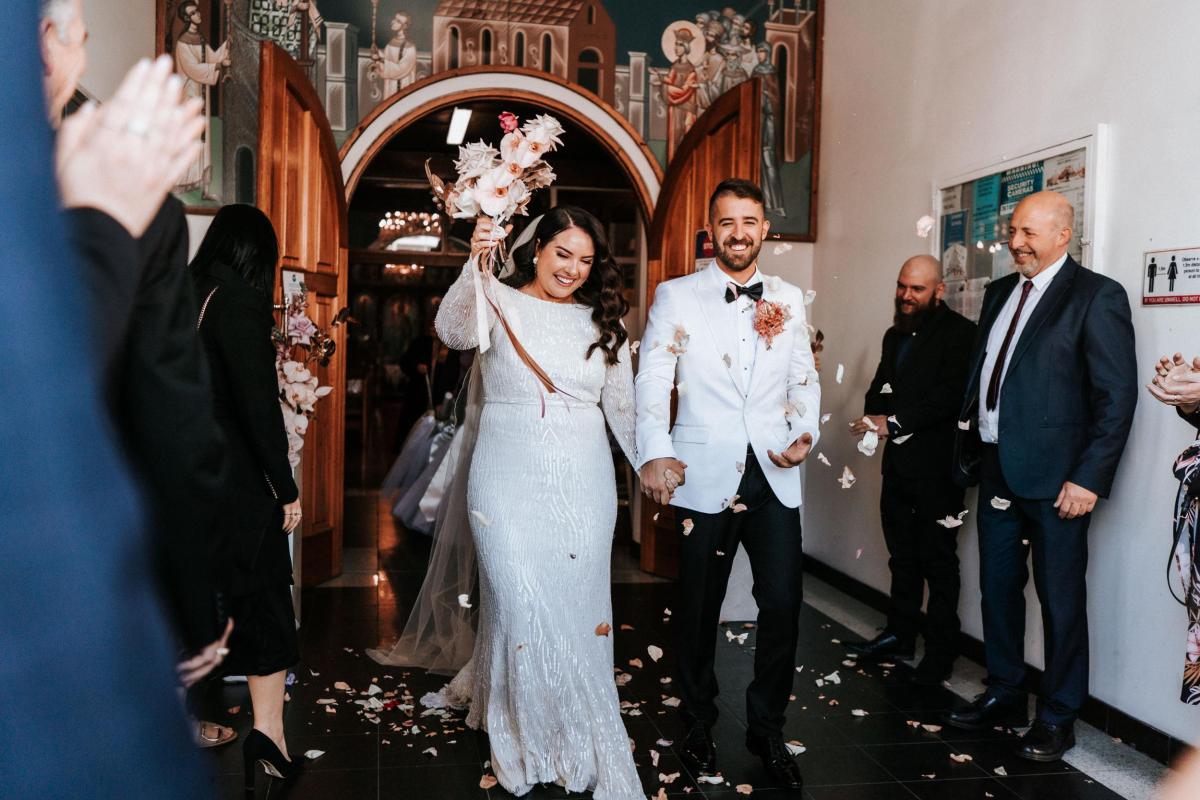 All the styling details
After securing the reception venue, Katherine knew she wanted to decorate the room in a way that hadn't been done before while still using classic elements to ensure it would be timeless. Thankfully, they found the incredible Pia + Jade, a dynamic duo of innovative wedding designers who bring fantastic ideas to life through the use of textural florals, modern displays, and imaginative tablescapes.
"They honestly created our dream wedding. The florals were a mix of roses, orchids and seasonal florals in pink, lilac and terracotta. They even managed to entwine notes of gold! It was spectacular—a wedding colour pallet I had never seen before. Pia + Jade, being styling fairies, also incorporated gorgeous candles and other styling items. Our guests could not stop singing praise for the styling. It was better than we could have ever imagined."
Indeed, their wedding style is a modern masterpiece, combining apricot orange and pale purples to create a feast for the eyes. The use of classic florals, like roses and orchids, elevated the space while leaning into a bespoke aesthetic that the venue already possessed. White metal structures behind the wedding table acted as the canvas for sculptural floral designs and a place to hang their modern "Better Together" neon sign. It all came together like a dream.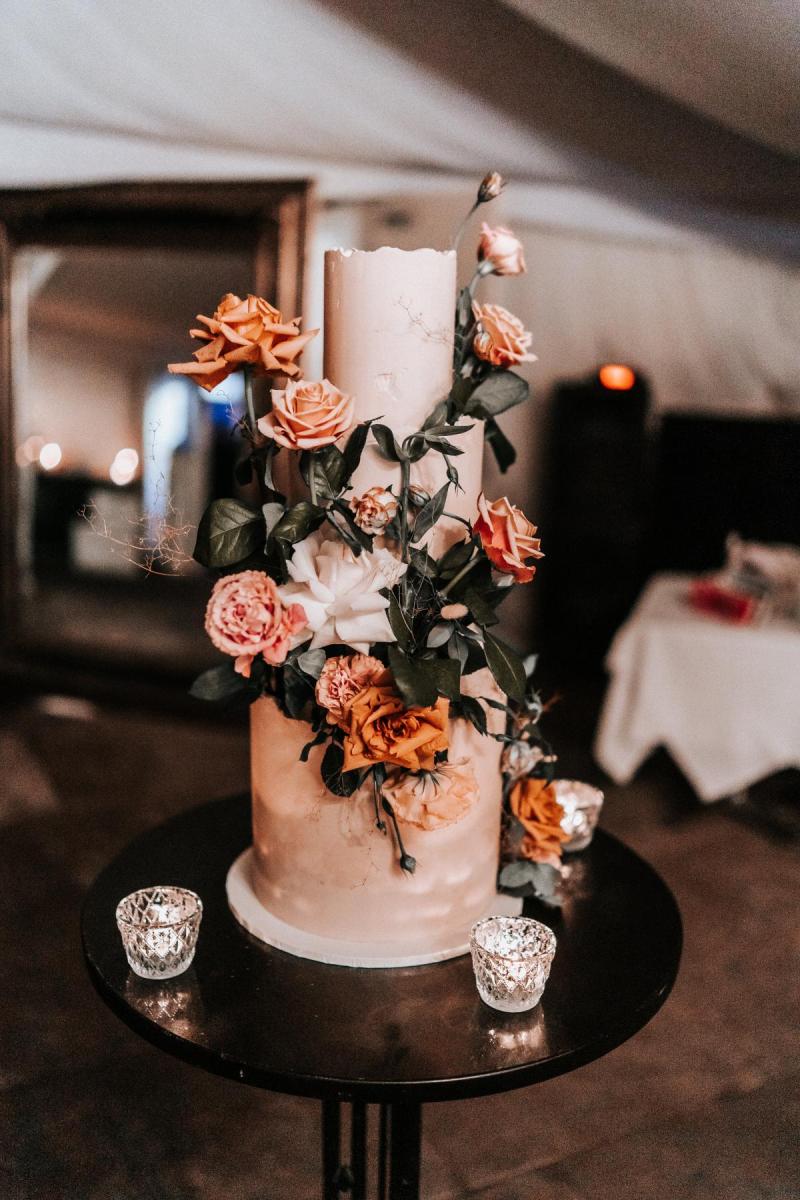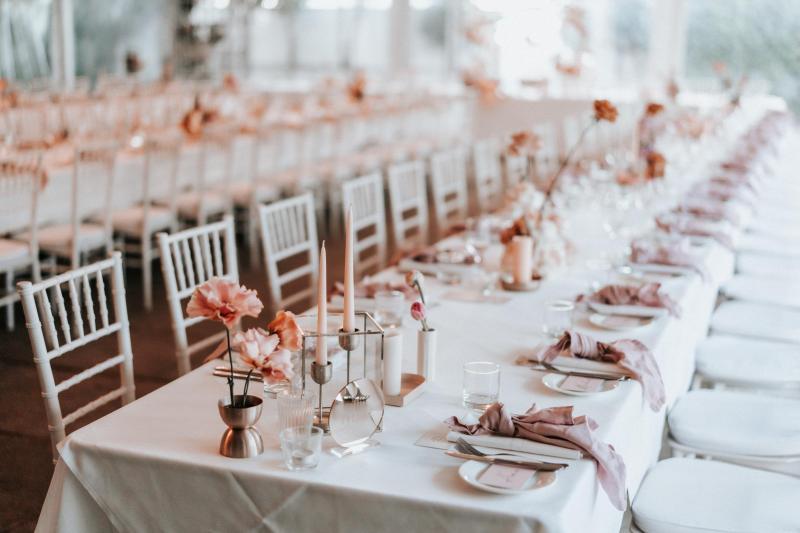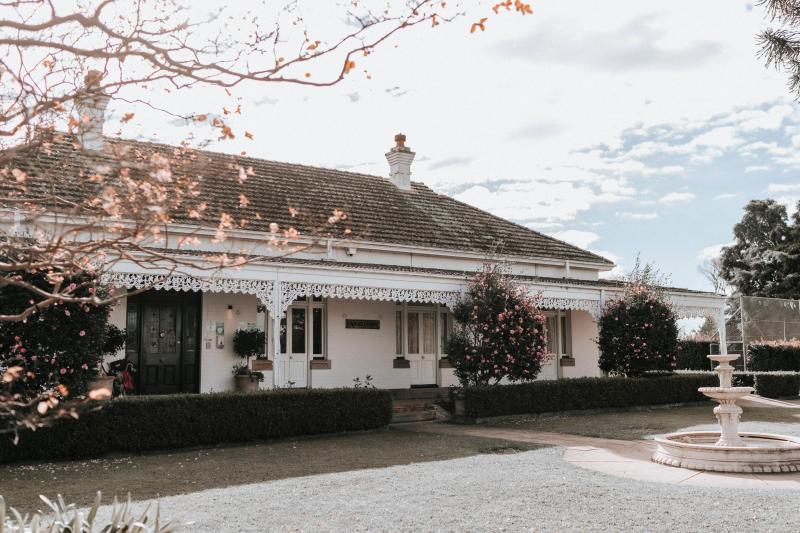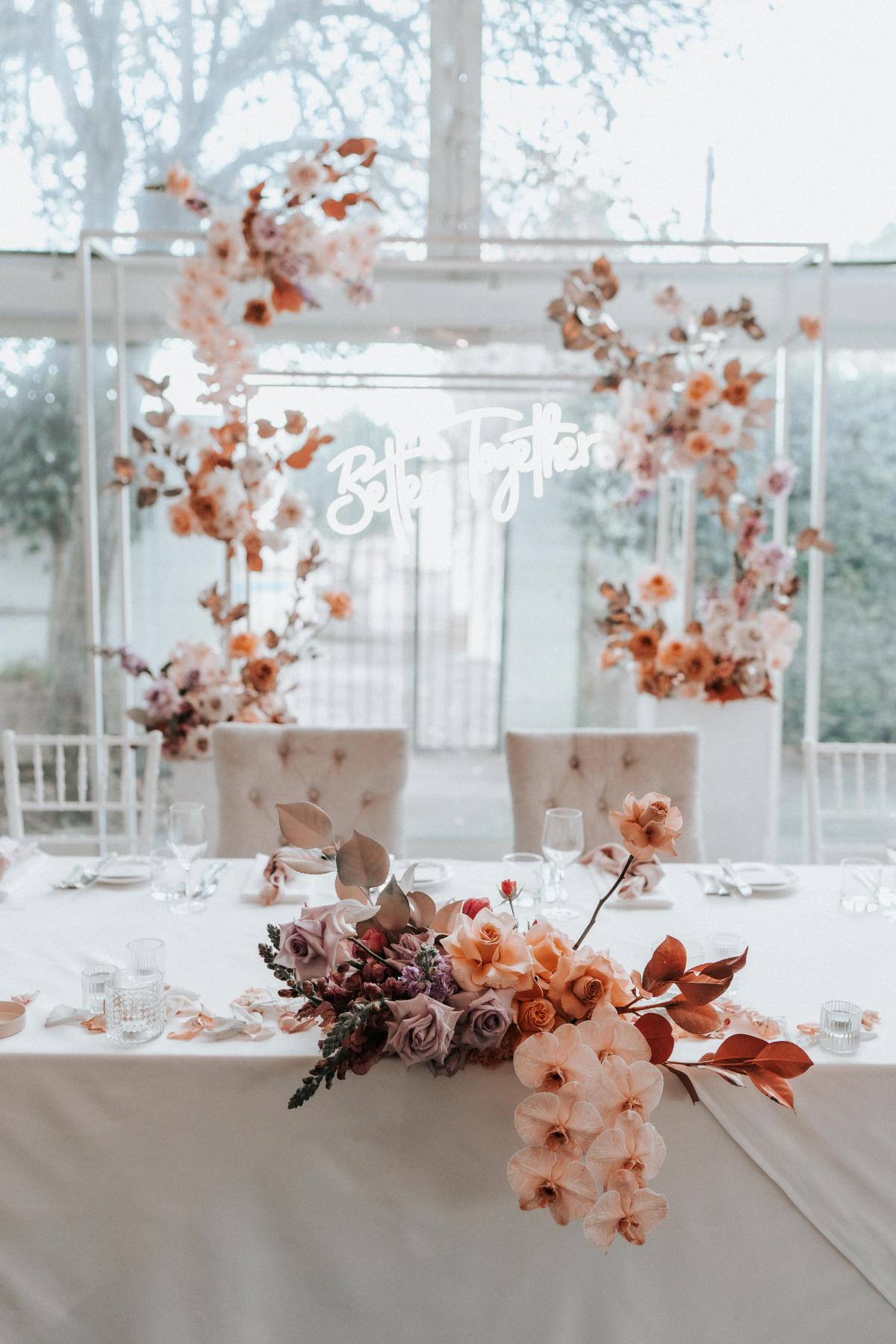 Highlight of the day
"Firstly, having our fur baby, Teddy (our toy Cavoodle) as part of the day! Pets of Honour (a local business in Wollongong) assisted us in chaperoning Teddy to the reception venue, where he featured in our wedding photos and greeted guests as they arrived. The first tears of the day were not at the altar but rather seeing Teddy!!
Secondly, the fact that less than two weeks after our wedding, Sydney went into lockdown. We were thankfully able to have THE BEST DAY EVER and our Byron Bay honeymoon, as planned and without a hitch. We couldn't be more grateful!"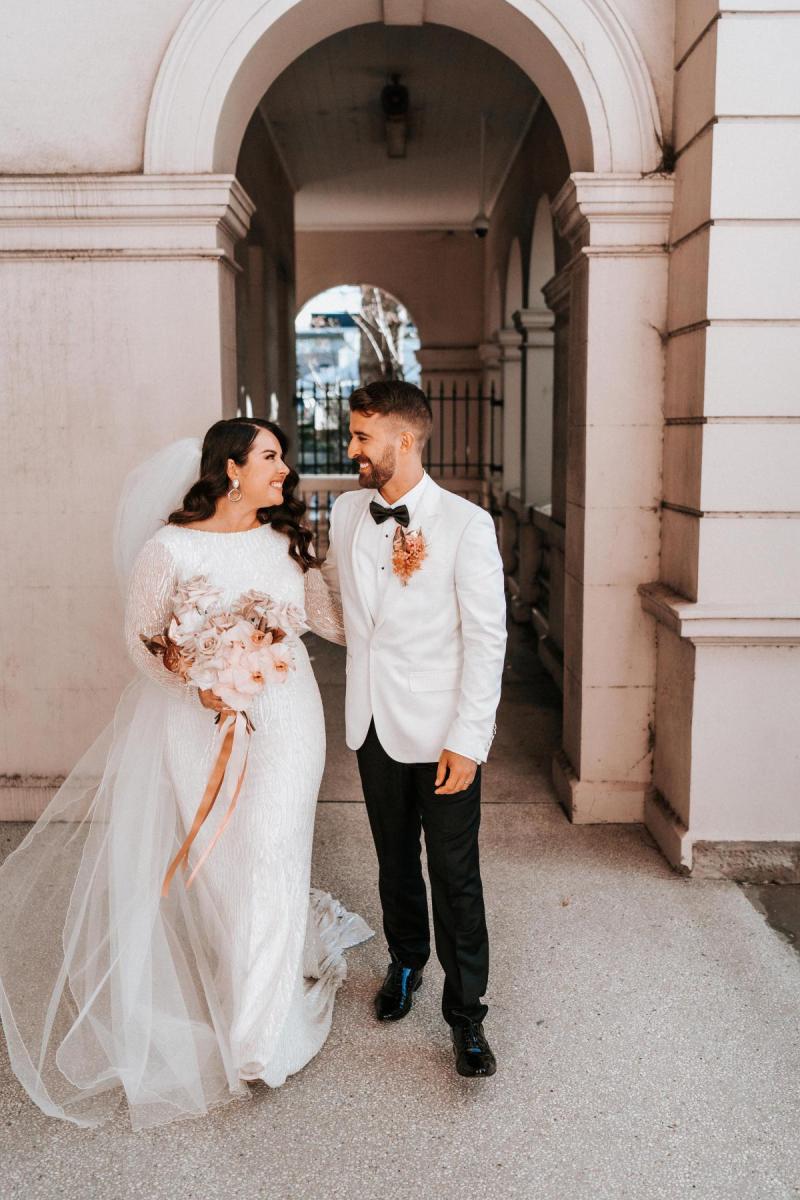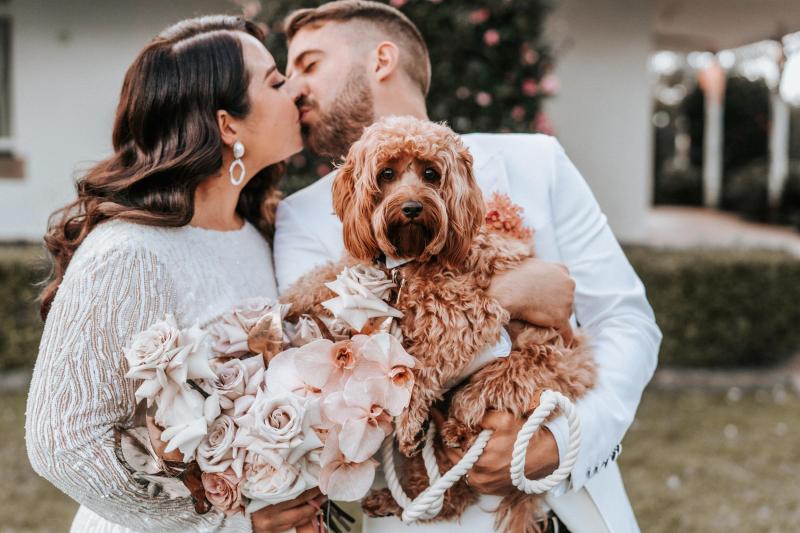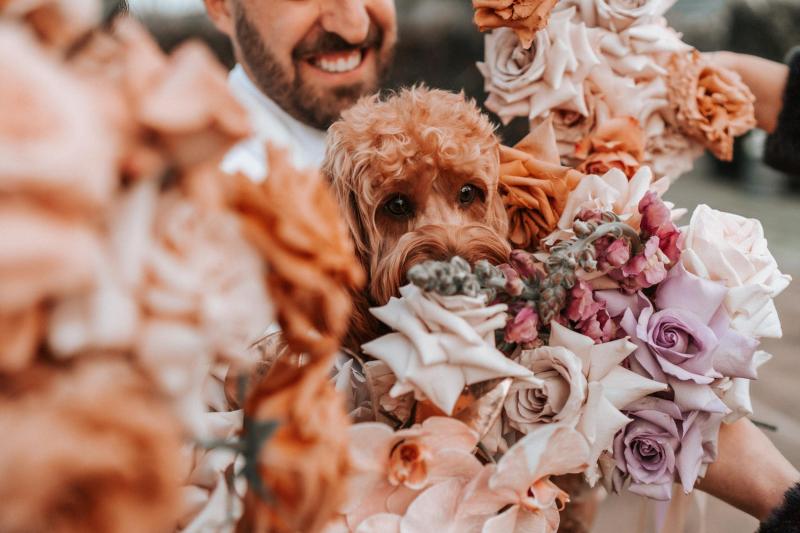 The Dress
To match her wedding's modern yet classic aesthetic, Katherine knew she wanted a dress that would be timeless while still feeling like "her". Shortly after getting engaged in 2019, she had stumbled upon KWH's curated Instagram feed that spoke to her non-traditional bridal vibes. She booked an appointment at our Sydney boutique right away where she found the gorgeous Margareta gown, a beaded long-sleeve high-cut boat neckline wedding dress from our LUXE collection. Margareta also adds the drama by being backless! Oh, the glamour!
"After my second or third dress, I tried on the Margareta gown. I had that I SAID YES to the dress moment, with tears and everything, which I never thought I would! I loved how modern and timeless the dress was, with the long sleeves, boat neck and open back. It was so elegant and so me."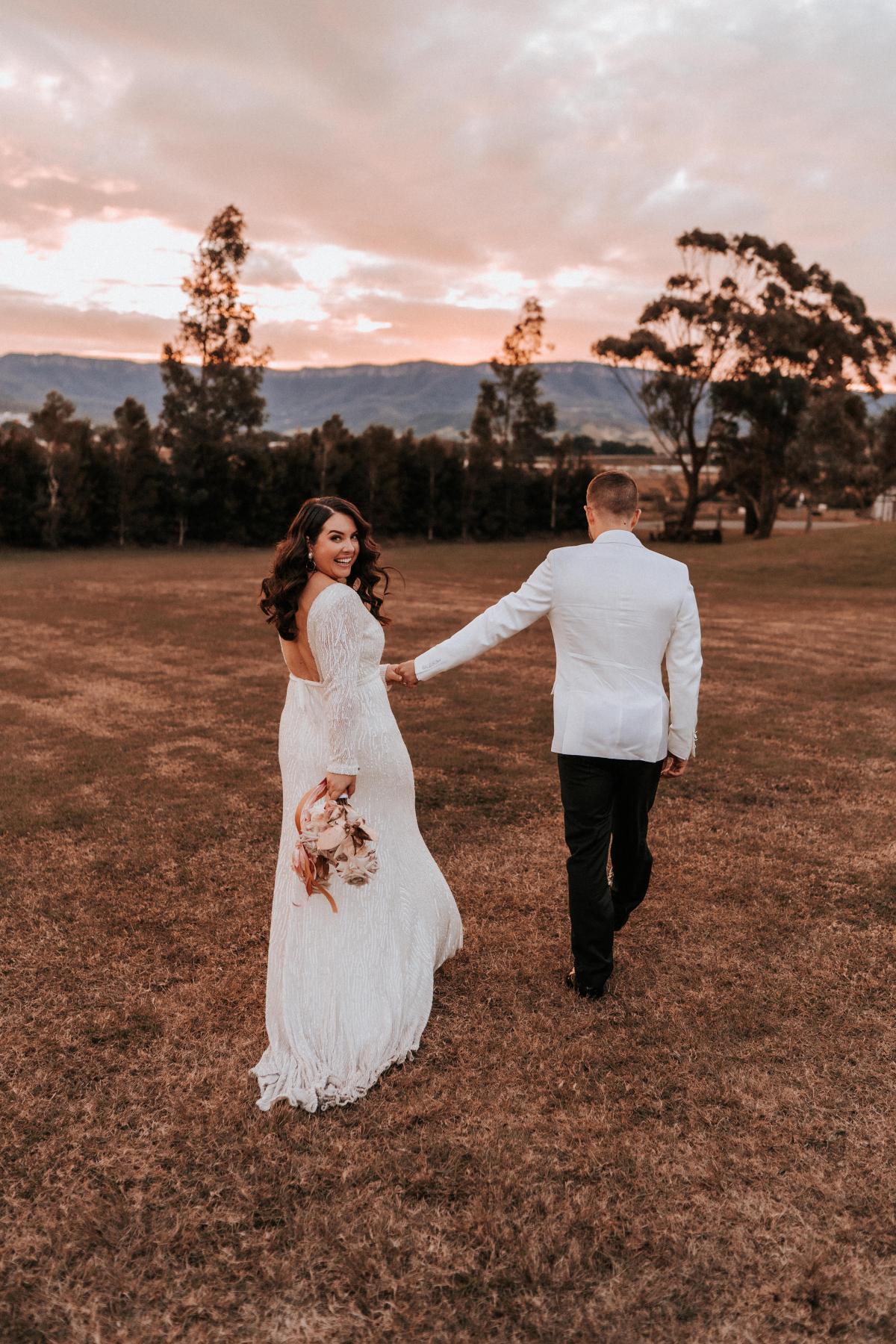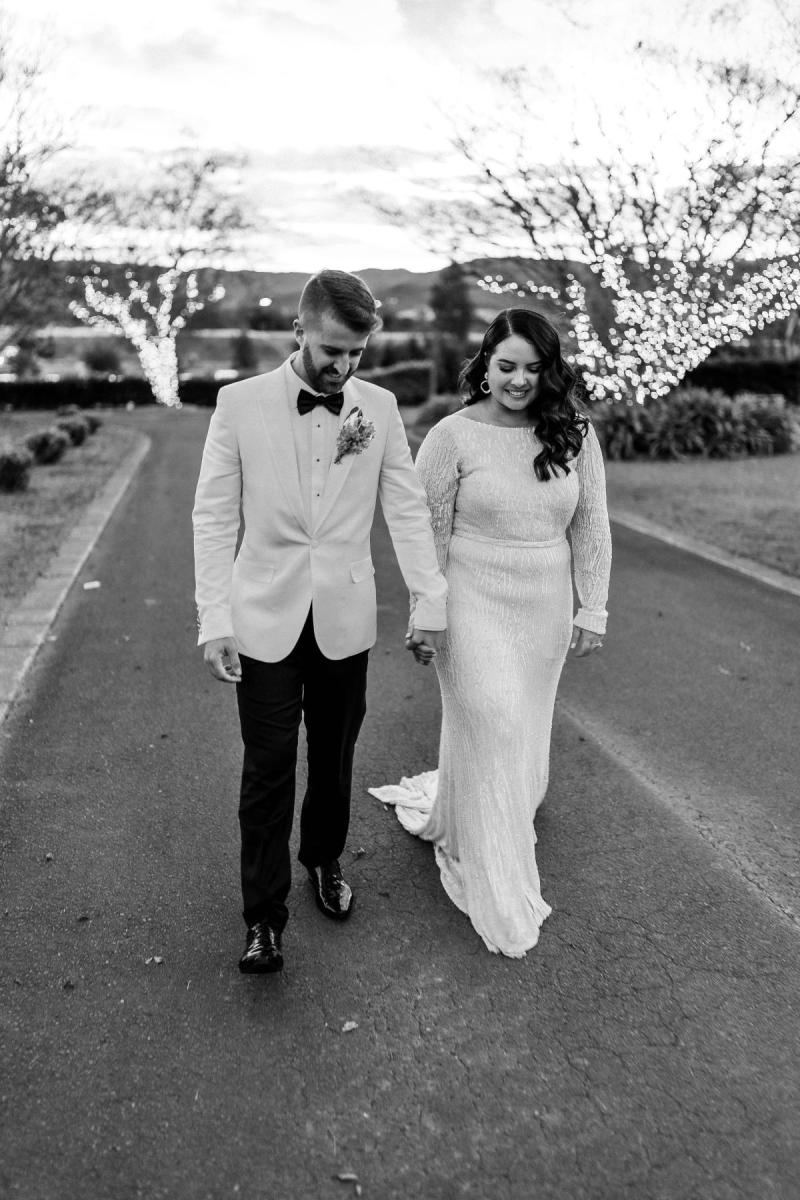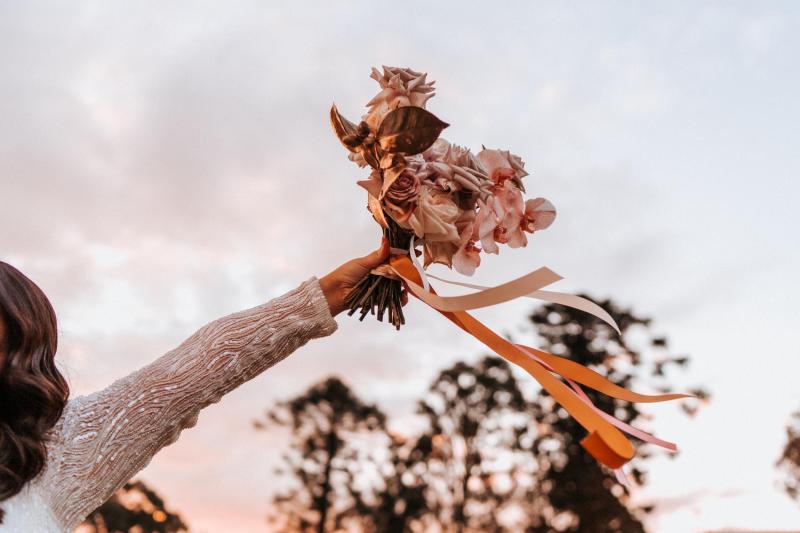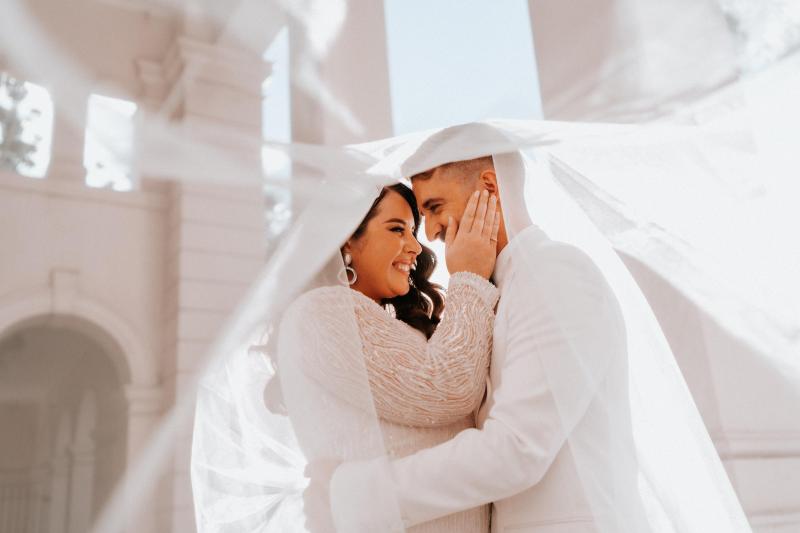 Accessorising
Katherine paired her stunningly glamorous wedding dress with her custom made cathedral length veil and high heels by Charlotte Mills. Embossed on the bottom of her shoes was the classic wedding quote, "Something old, something new, something borrowed, something blue and a silver sixpence in her shoe."
To finish her bridal look, she added pearl hoop Amelie George earrings in a similar gold as her other wedding pieces.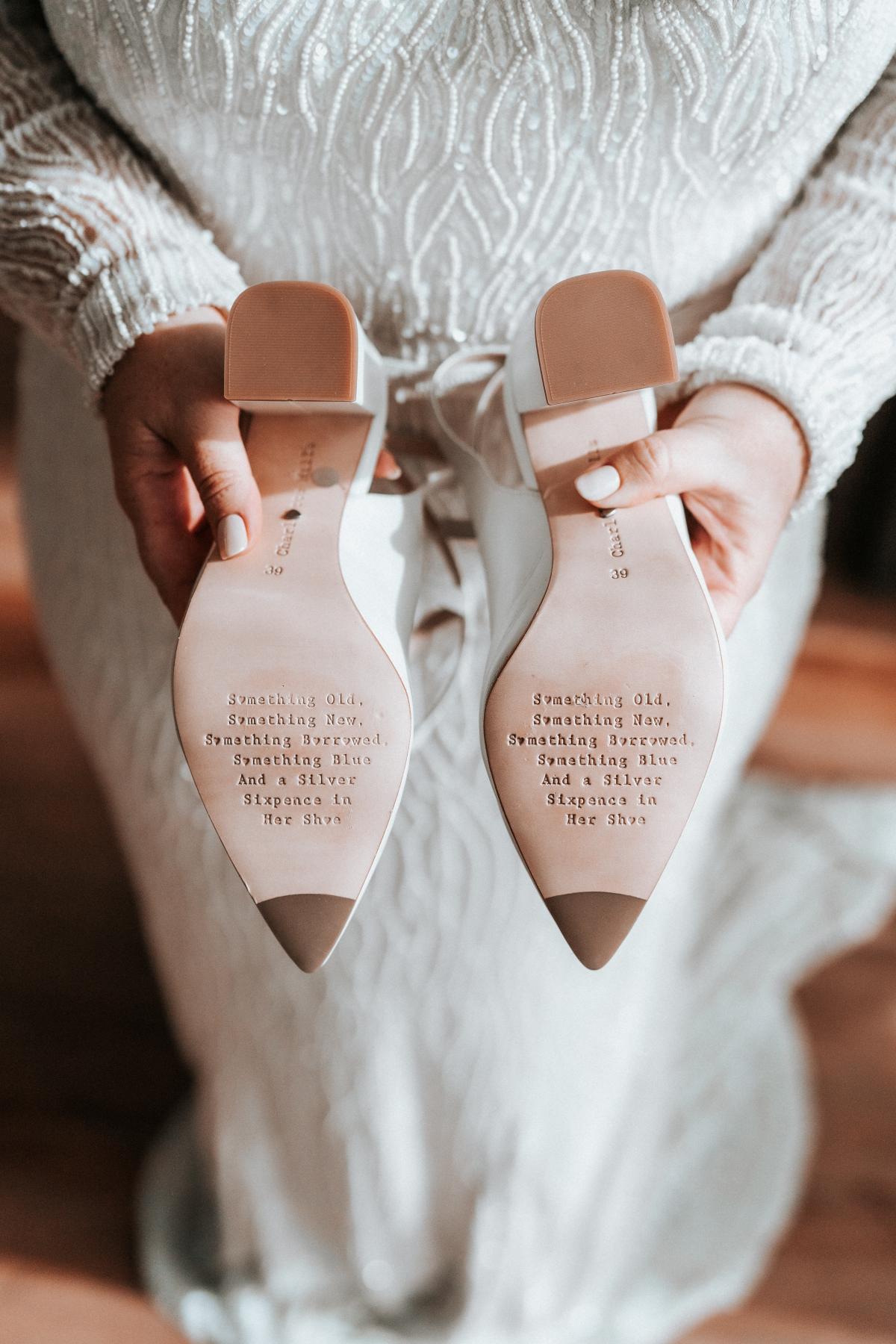 Gown hunting tips
"Be true to yourself, be open to trying on different styles and trust your instincts because maybe, just maybe, the dress you end up with will be the first wedding dress you saved on Instagram post engagement!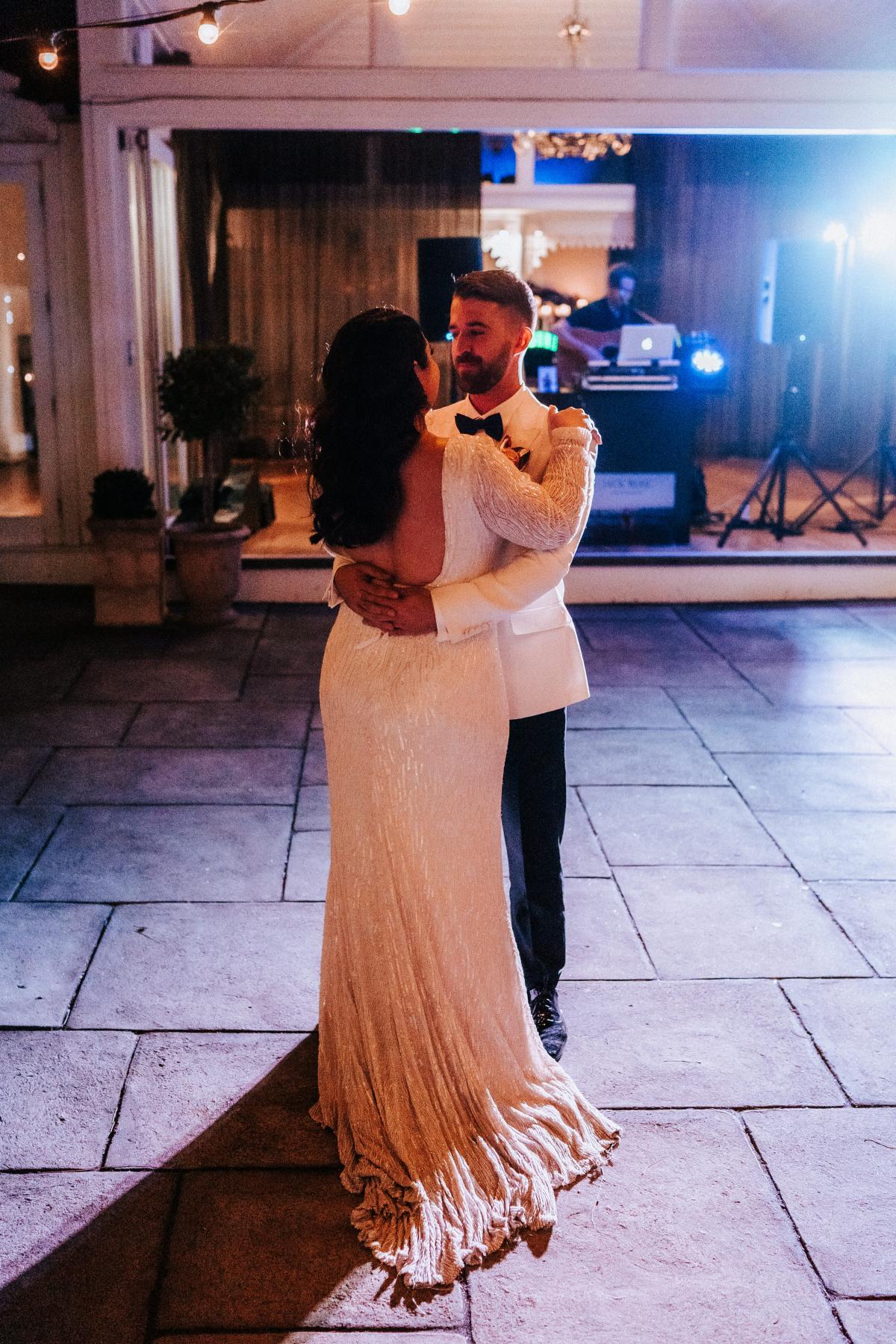 What does love mean to you?
"Love is being with the person you can not live without. Our favourite quote:
'You are my sun, my moon and all of my stars.' "