Claire & Andrew's Intimate Balmoral Beach Wedding

At the orientation of Claire's first day at her new job, Claire and Andrew locked eyes, which Andrew just happened to be running! Both being in relationships at the time, they stayed friends. However, after four years, they finally made it official!
Claire wore the playful yet elegant Cindy gown from the LUXE collection. She paired this beauty with the dramatic Diamond Train for the ceremony.
On the proposal
Andrew proposed to Claire mid-way through their ritual Sydney Harbour walk after a long day's work. Although Claire was confused about where all of his energy came from, she soon to find out!
"The video is funny as Andrew had organized my friend to film the proposal in the bushes. Our dog saw her from a distance so during the whole proposal and me crying – the dog is staring directly at the camera!!"
Andrew then surprised Claire with a dinner at Otto, Woolloomoolloo with all of their family.
"Another funny part of the day was that one of his auctions that day was being filmed for Sky News. I was watching, but so were my sisters, overseas (who knew about the proposal in the afternoon). They had bet him to add "buzzwords" to his auction, ie: "I propose we start the bidding" so they were all watching and laughing, unbeknownst to me!"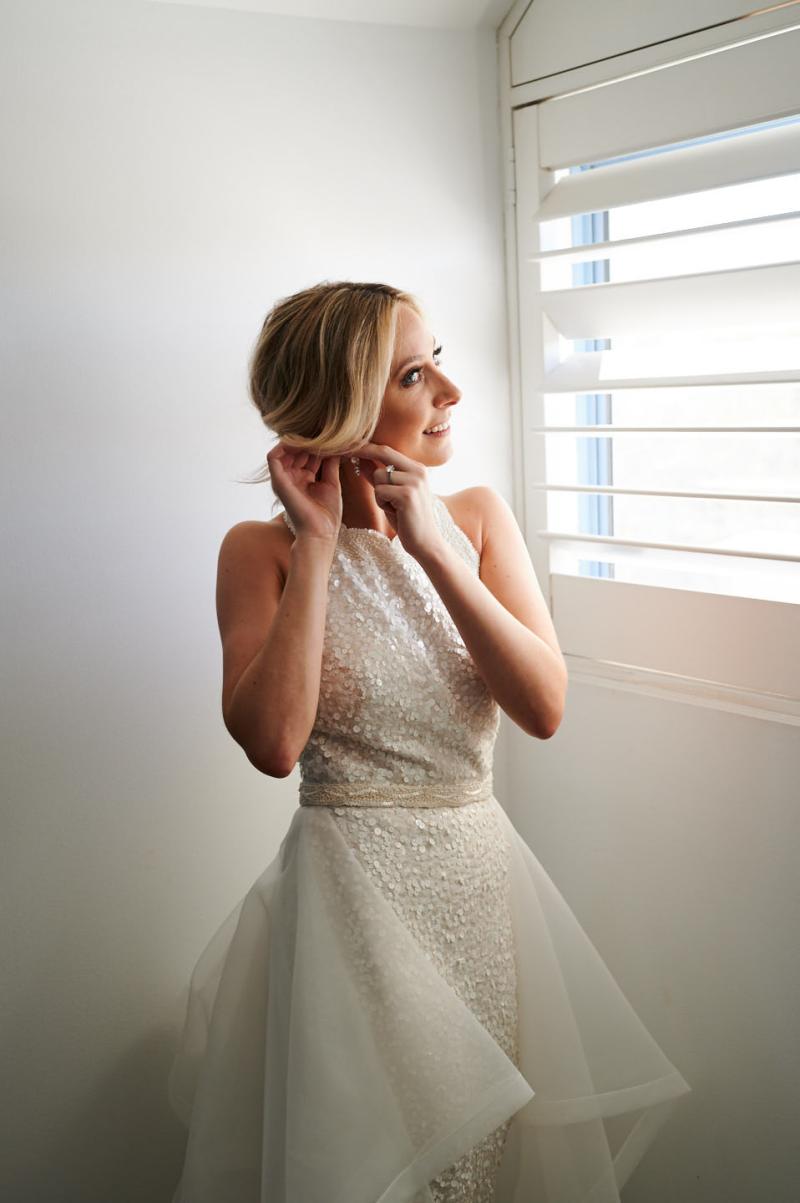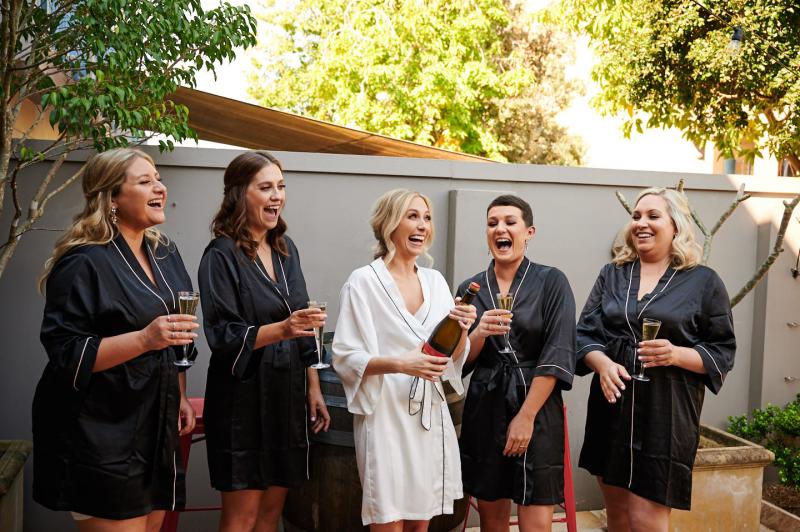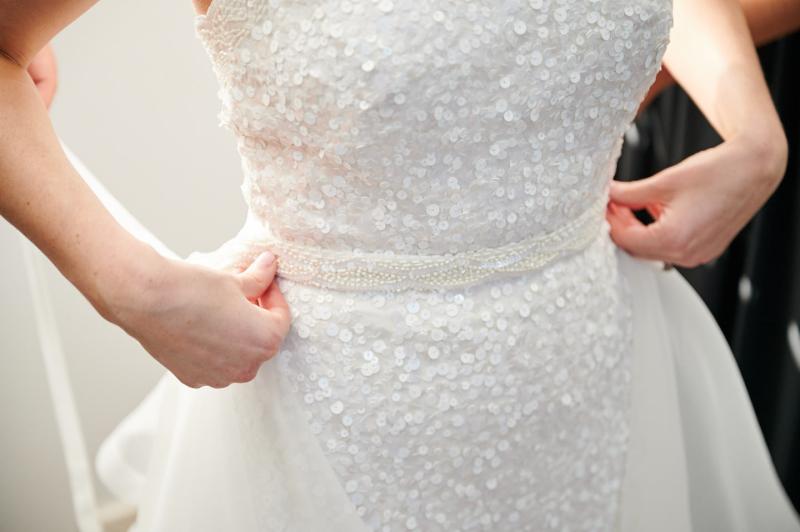 On the venue
The couple had originally planned a big long weekend affair in the Hunter Valley for June 2020; however, they had to postpone their day like many other couples this year.
"After a few months, once we realized that COVID may be around for a lot longer than we originally thought, we decided to reimagine our dream wedding, and what it meant to us."
Claire and Andrew wed at the fabulous Bathers' Pavillion, Balmoral Beach, NSW, a place the couple frequently visit and love. The venue sports 5-star food and wine, and has phenomenal views. Their ceremony and reception was filled with their 35 nearest and dearest, and a whole lot of love!
"We wanted the wedding to be relaxed and more of a "formal dinner" than a wedding and I think we achieved that. Our guests had to stay seated during the ceremony and when I walked in, but that meant they could have a glass of bubbly during the ceremony and really relax and take it in!"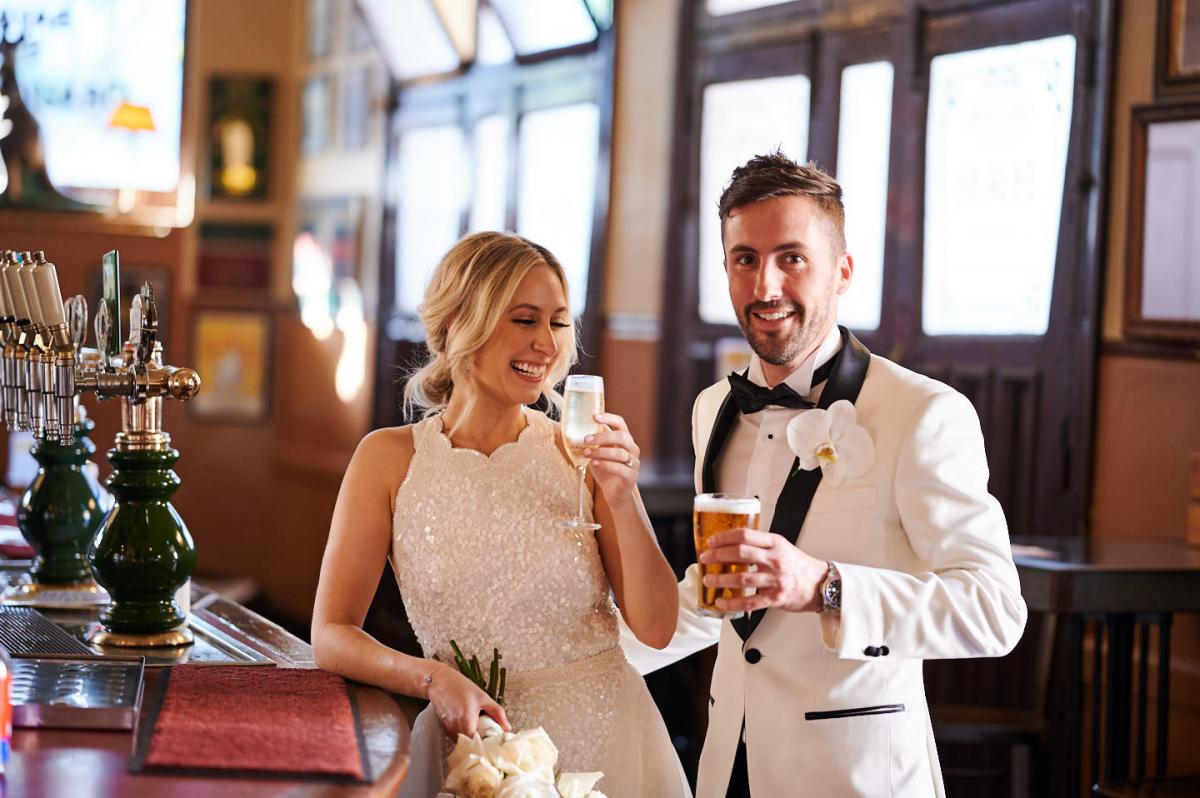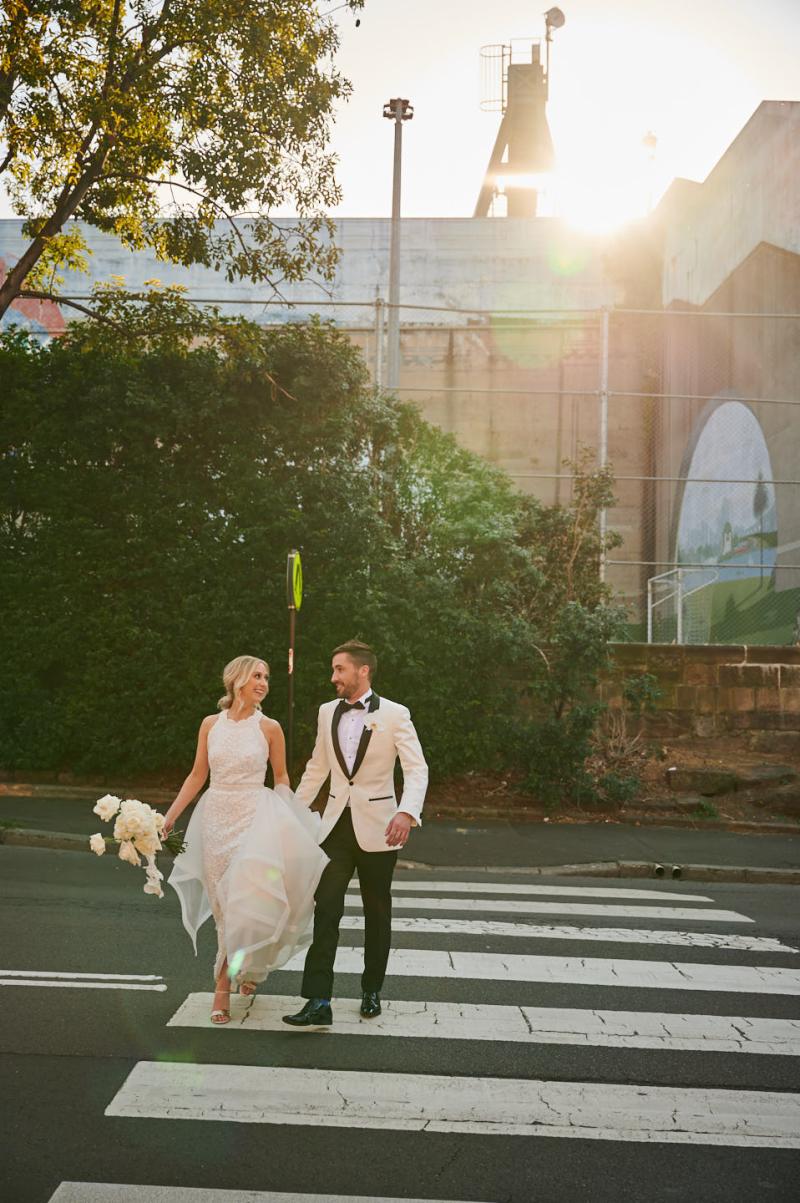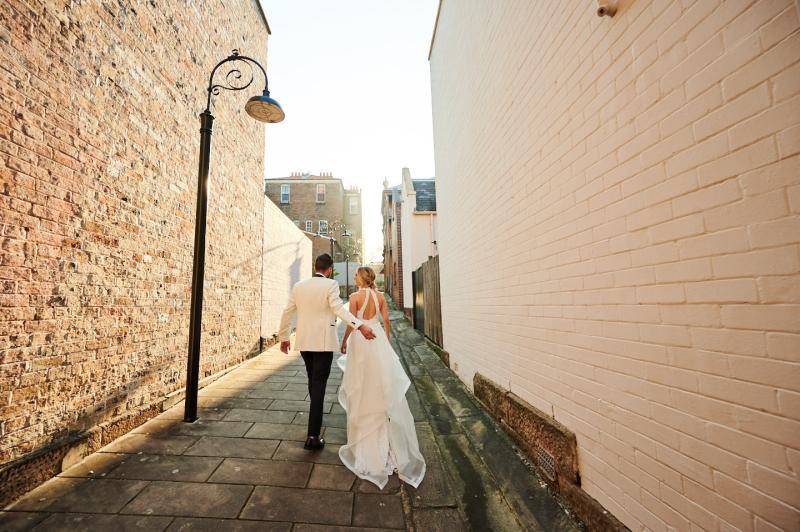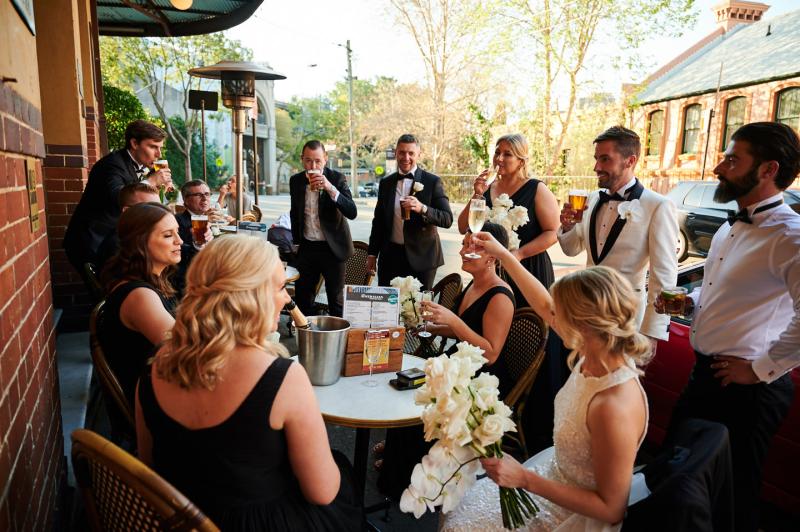 All the styling details
Not wanting to overshadow the breathtaking views of Balmoral Beach, the couple styled their day with neutral florals and Grecian-style pillars that complimented the venue.
"To top it off, we were married at sunset, so we had that beautiful pinky/orange dusk horizon with fairy lights above."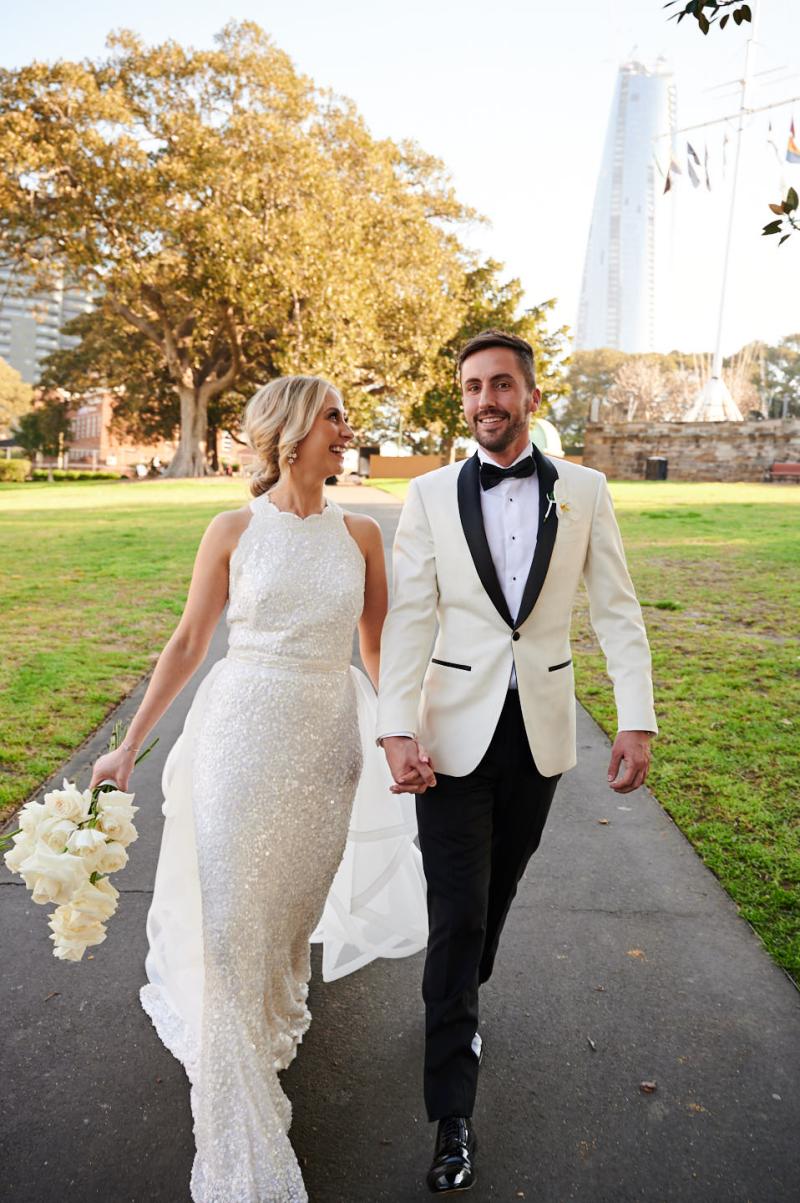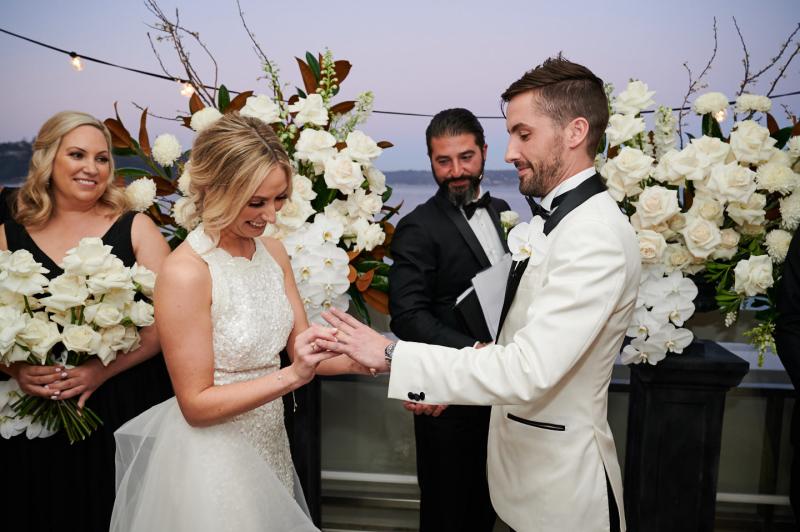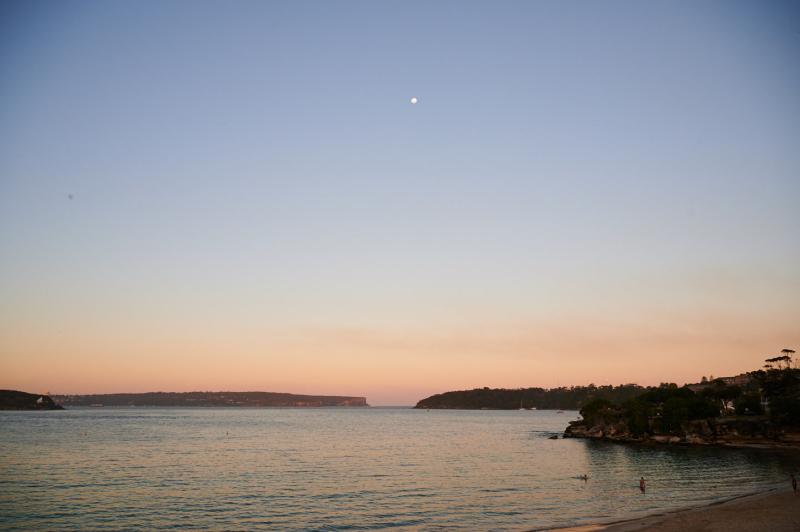 Highlight of the day?
The highlight of Claire and Andrew's day was their first look at Observatory Hill, which was only planned after learning they would marry at dusk.
"Seeing Andrew before the aisle really made me relax and made me able to take the ceremony in, to its fullest."
The pair were lucky to have such a fun bridal party, who took photos for them and walked until Claire and Andrew's hearts were content (they even squeezed in some bubbly at The Australian).
"Though I hadn't originally wanted a first look, it really set the vibe for the whole day. "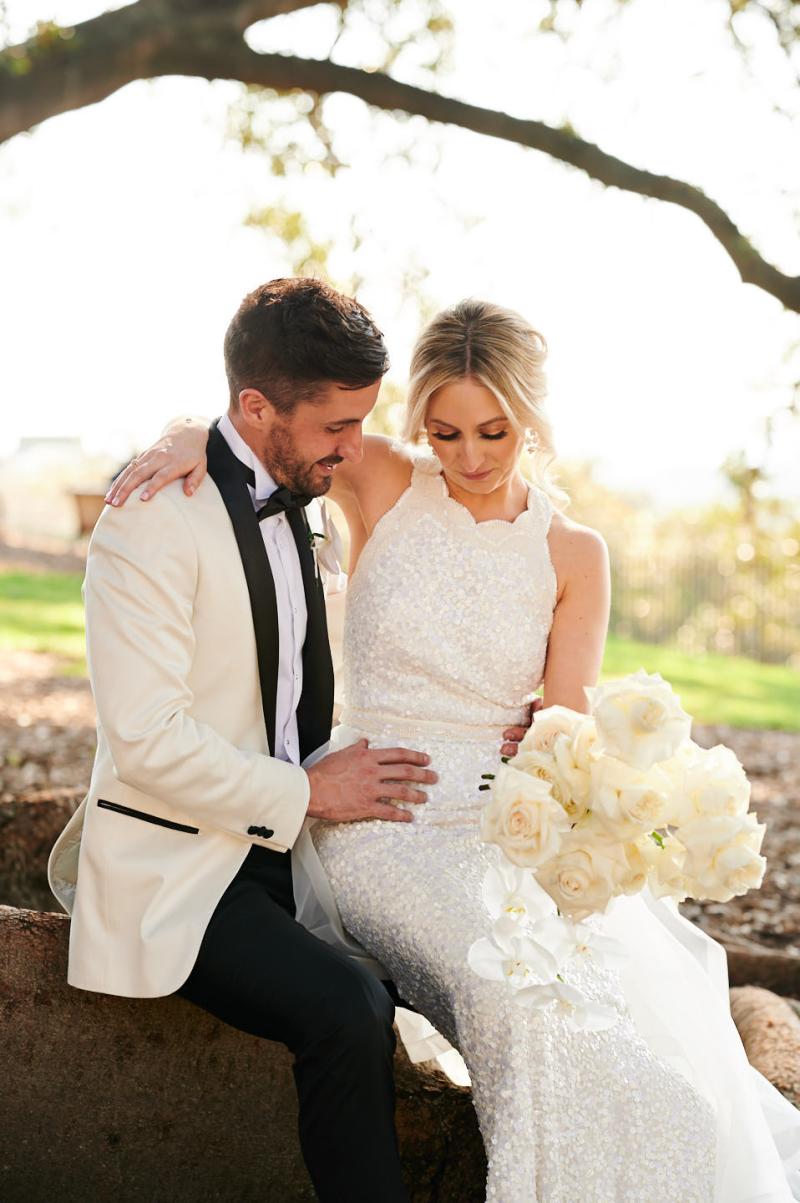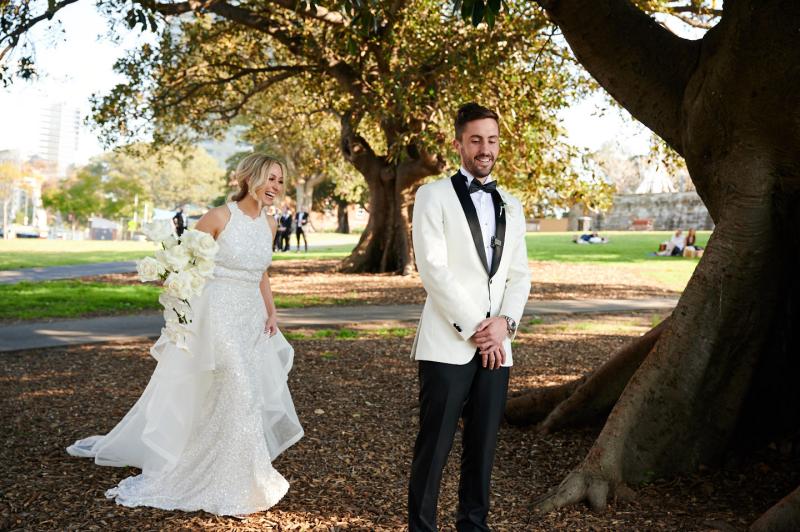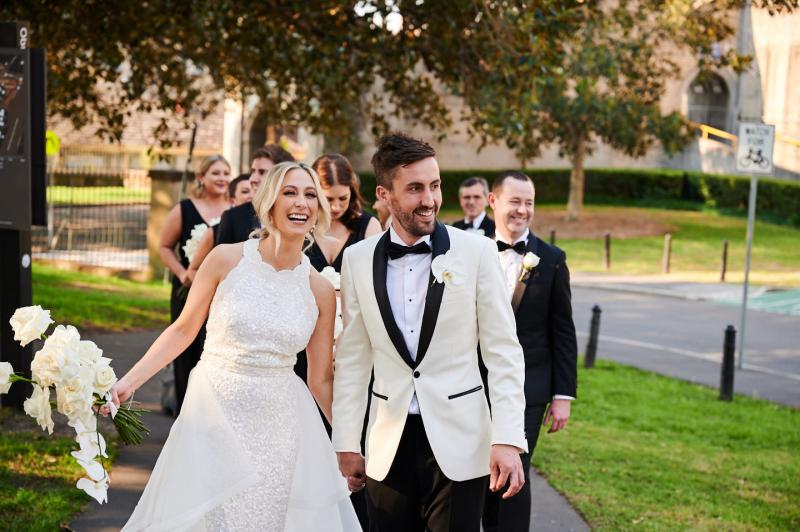 The Dress
Claire wore the show-stopping combination of the Cindy gown from our LUXE collection and our whimsical Diamond Train.
She found her dream gown in our Sydney boutique.
"KWH is a company that I have watched for years. Not only does one of my best friends work there, but I love that it's an authentic Australian Brand. As soon as I tried the Cindy gown on, I knew this was the one. It had a simple elegance about it, but was also that little bit extra, with the sequins!"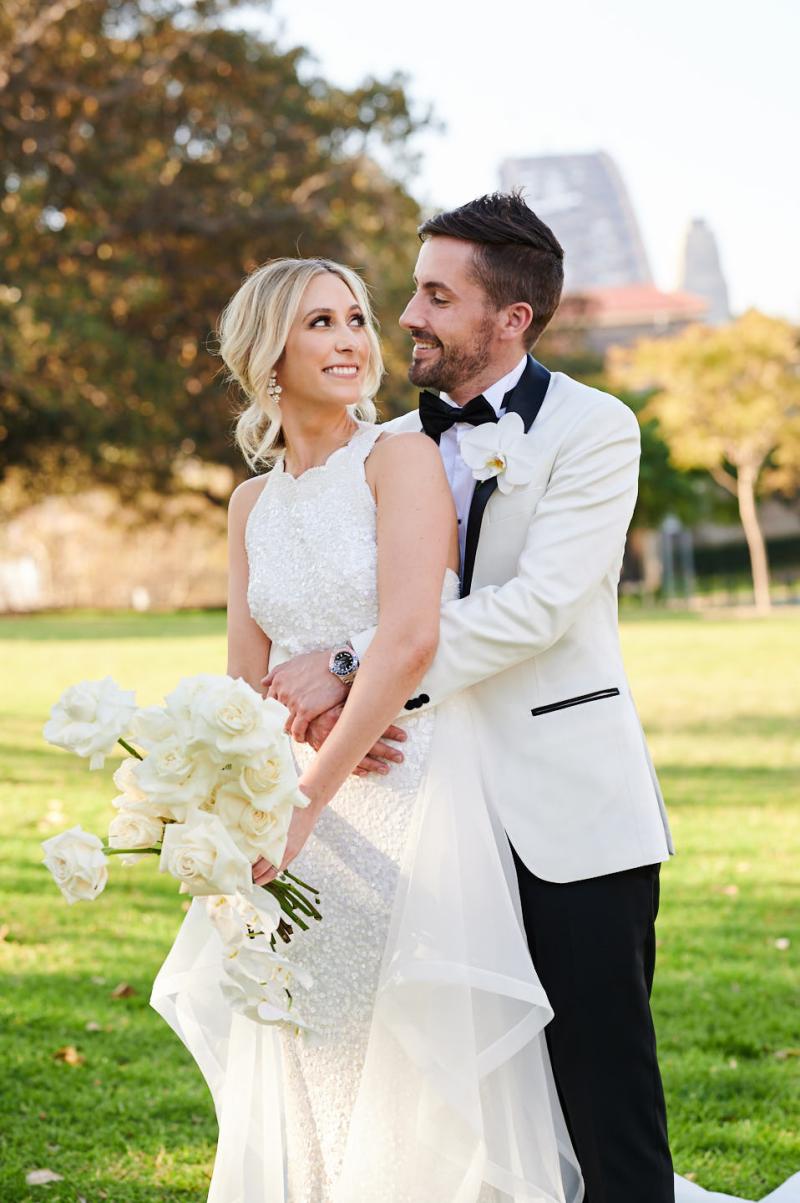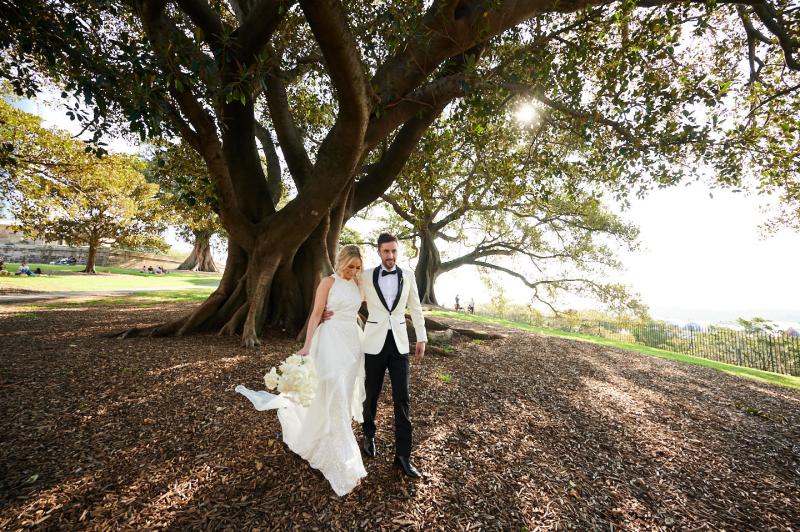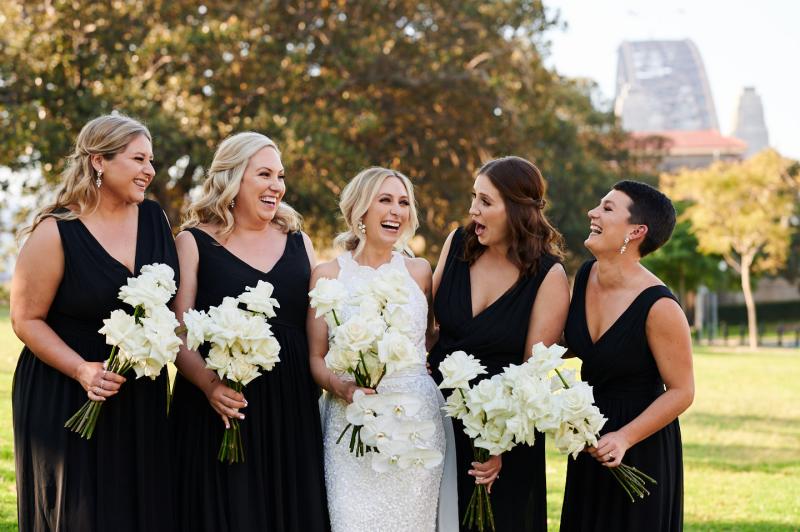 Accessorising
Claire wore open-toed nude heels from Gucci. The perfect balance against the glam of her Cindy gown.
She accessorised with some incredible earrings by Jennifer Behr.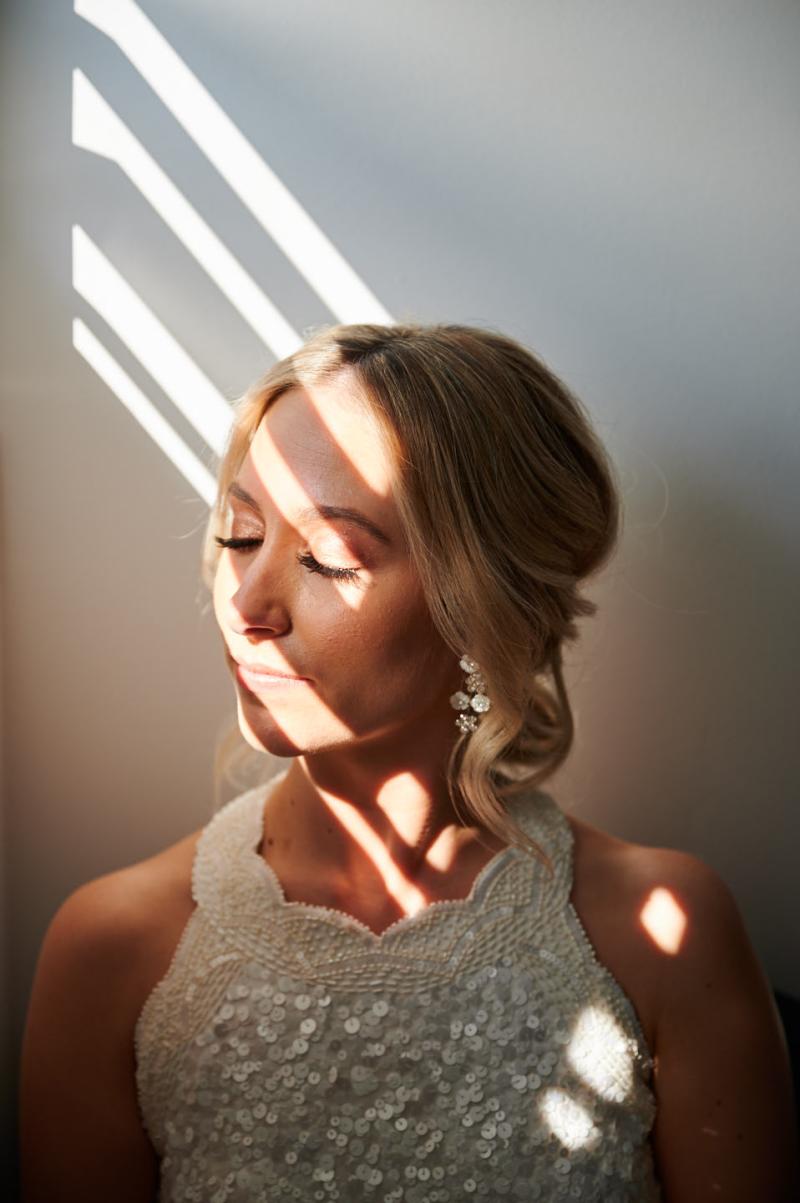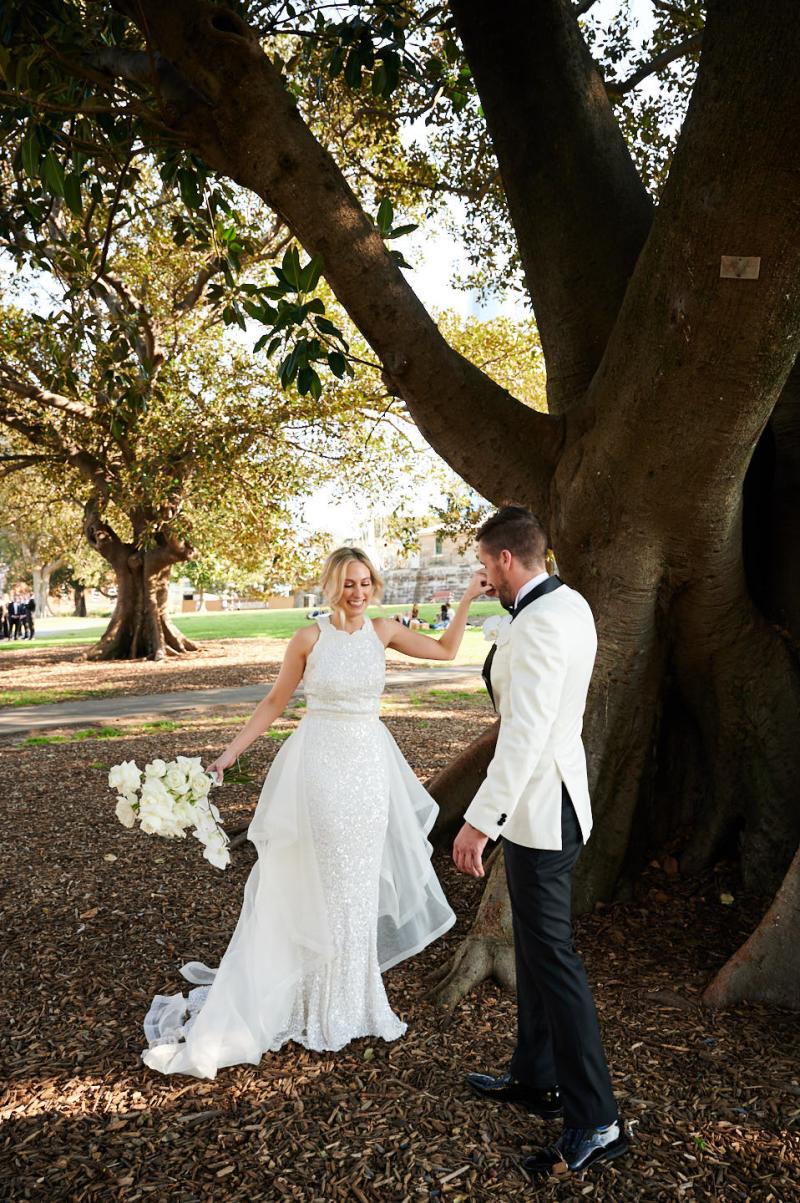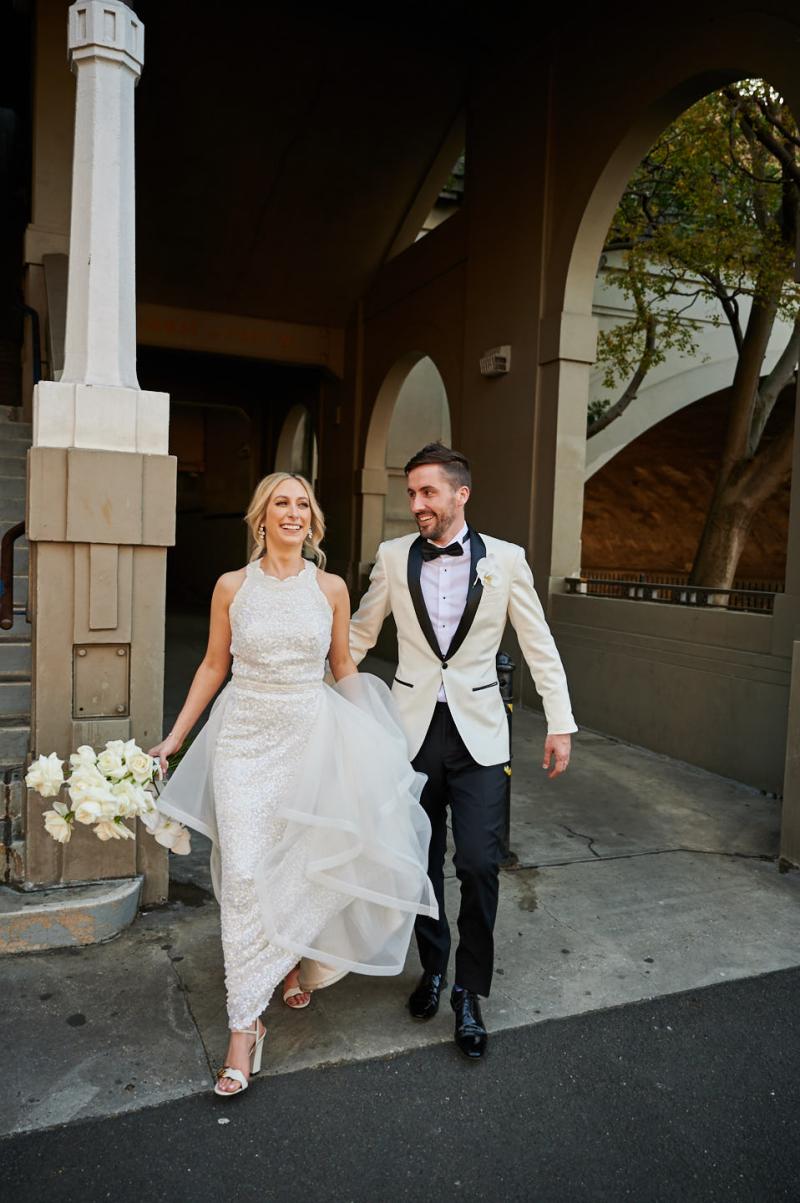 Gown hunting tips
Claire's number one tip when gown hunting is not limiting what you look at and taking different friends/family to different dress appointments.
"Even if you think a style doesn't suit you, try everything on!  You might surprise yourself – and hey, it's a lot of fun trying on beautiful dresses!

I had four bridesmaids, so couldn't always take them all to every dress fitting, so I mixed it up and got to take different people to different bookings. My Mother in law is also a Mum to two boys, so I thought it would be really nice to invite her to a fitting with my mum, so she could enjoy this experience as well! I didn't pick a dress that day, but it was special being able to have both Mums there together!"