Jarna & Aden's Simply Stunning Wellington Wedding

On a gorgeous spring day, nestled in the Wellington hillside, Jarna and Aden said, "I do." Their marriage journey began beneath the rolling hills of New Zealand, creating the most romantic and whimsical backdrop for timeless photos. Rewind ten years to where it all began. Back at Jarna's high school friend's house, seated around the dinner table, her friend's younger brother sat across the way. Neither took notice, but that's where fate would have it that the two would meet, although rather informally and platonically at first. Only years later, their eyes would lock again at Aden's cousin's wedding, causing an intense spark that would eventually spring into a marriage of two souls. 
Jarna said yes to the Karina gown from the WILD HEARTS collection after unintentionally falling in love with the modern lace and long sleeves. She knew she wanted something bold yet timeless to show off her assets on her special day.
On the proposal
Being a listening man, Aden knew precisely what Jarna wanted for her birthday; a new watch. Her birthday festivities started with relaxing at a fancy hotel in Hawkes Bay, where all Jarna wanted was to order room service and spend time with her man. However, Aden had other plans for the evening. After much resisting on her part, he swept Jarna away for some fine dining.
When Jarna entered the room, she saw a special box deliberately positioned on the table in front of her. Immediately she thought, "This is it!" But excitement quickly dissipated into disappointment as she unravelled the box, revealing the watch she also wanted. As she opened the case, a second box appeared with the stunning Meadowlark ring! As she turned around, he got down on one knee and asked, "Will you marry me?"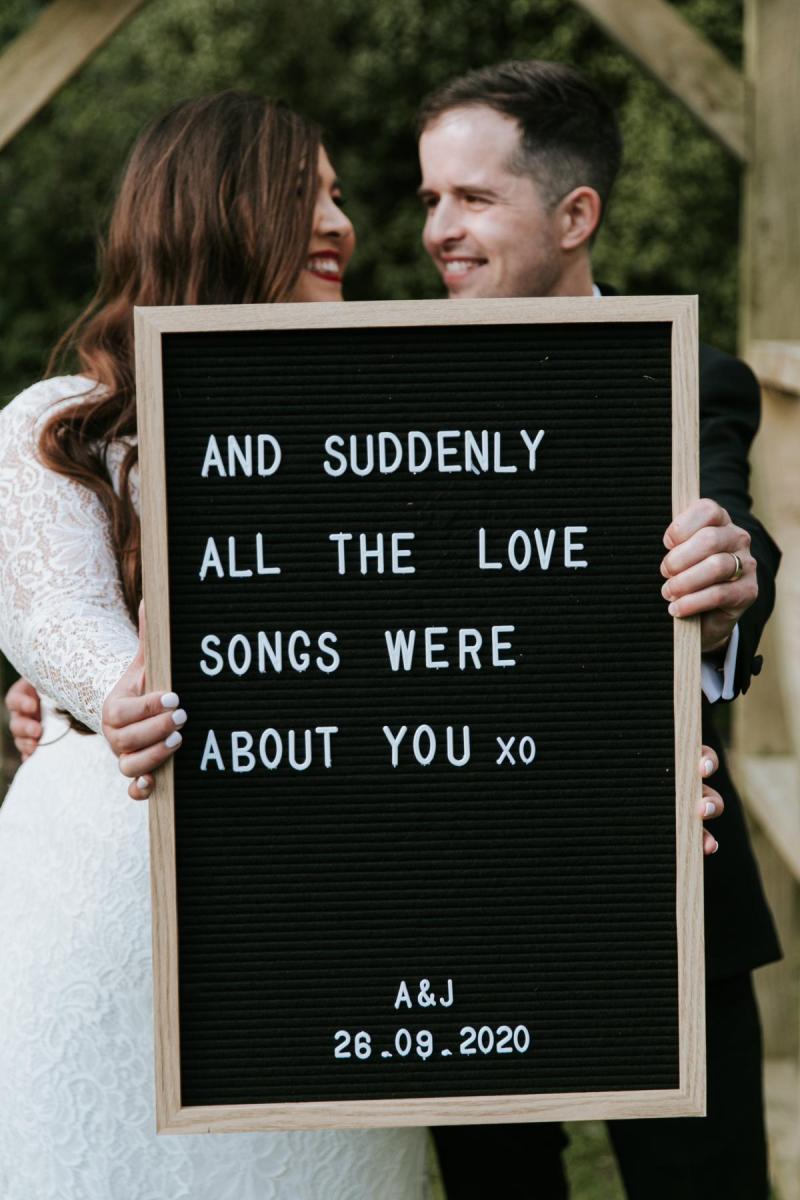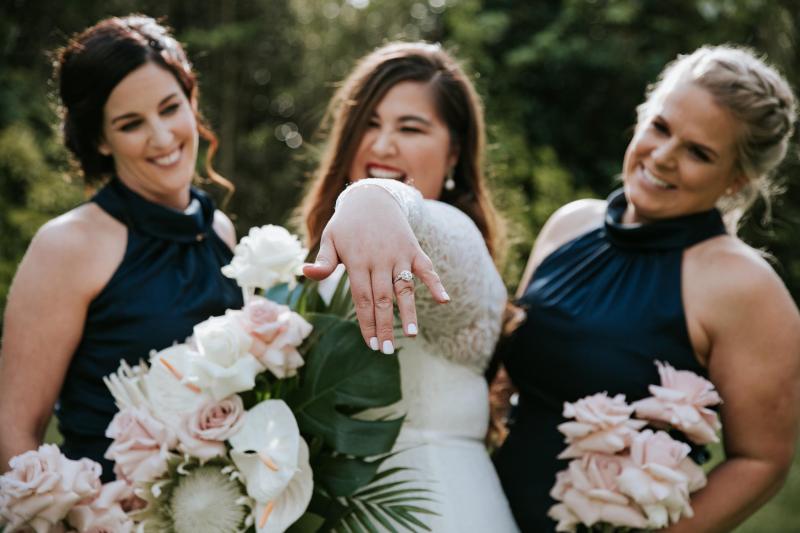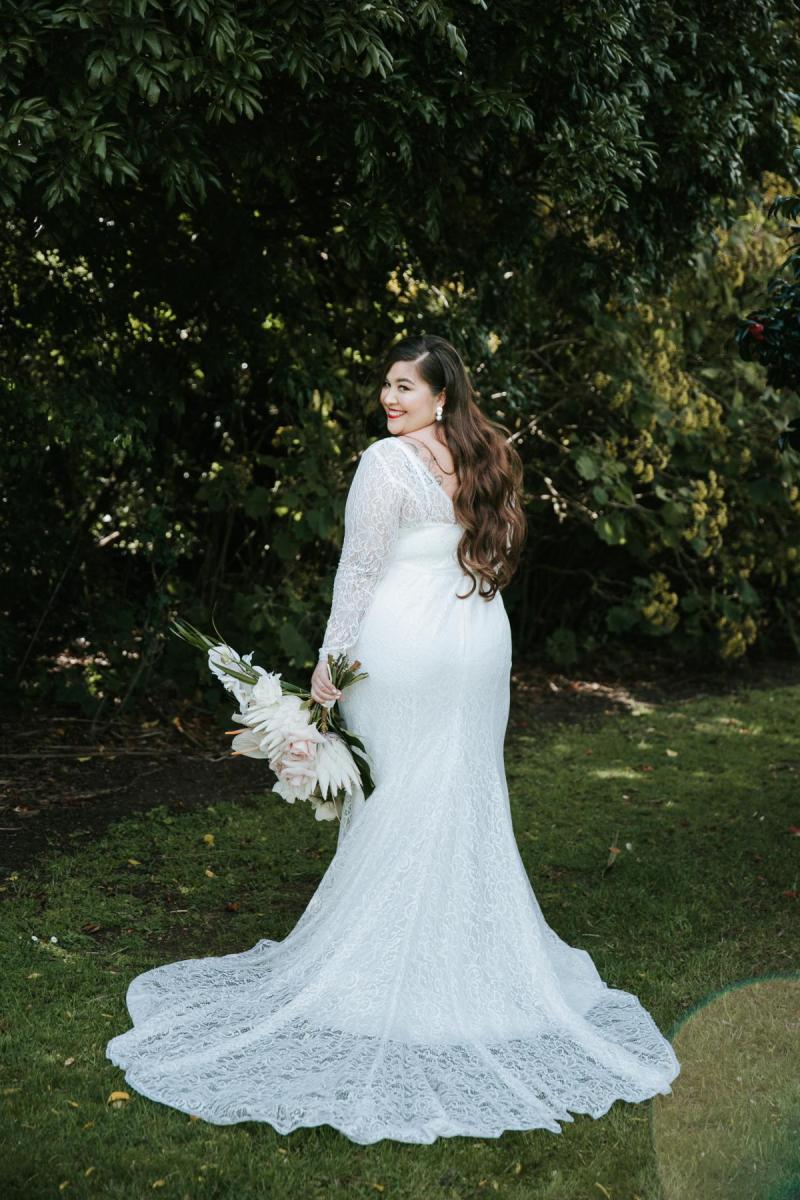 On the venue
Twenty-four hours had not passed before Jarna had already secured a venue. She knew exactly where she wanted to exchange vows. Their venue featured all they could have imagined with accommodation, ceremony, and reception on the same property, making their guests' journey and day a breeze.
"The reception was in a beautiful barn upstairs and downstairs was the bar area, it was very rustic which is what we loved."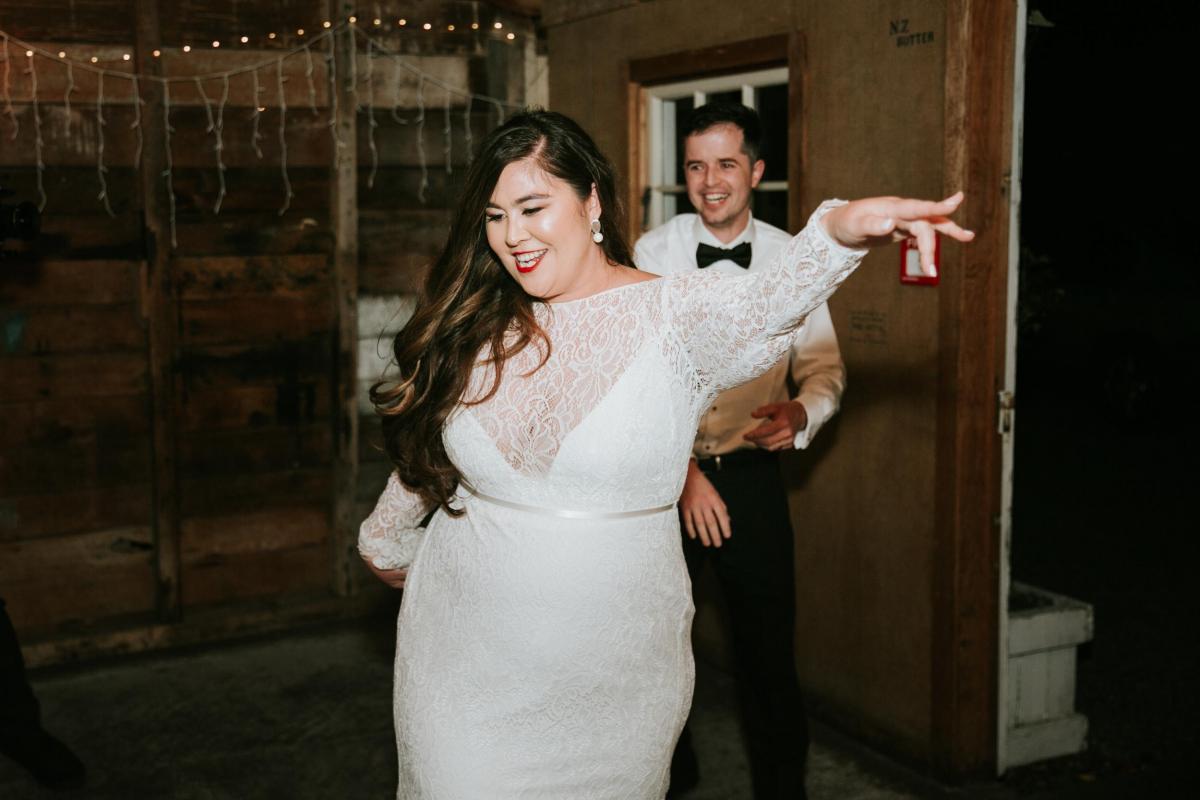 All the styling details
The couple truly allowed the venue to speak for itself. Instead of adding layers on top of the existing features, they carefully selected details to complement that scenery by choosing modern florals by Melissa Jane and simple linens.
"I wanted an elegant/fun vibe to our wedding. We didn't need many decorations because the venue was beautiful just as it was. I didn't want to overcomplicate it, and I wanted it to be timeless, so we went for black and white with hues of blush and luscious greenery."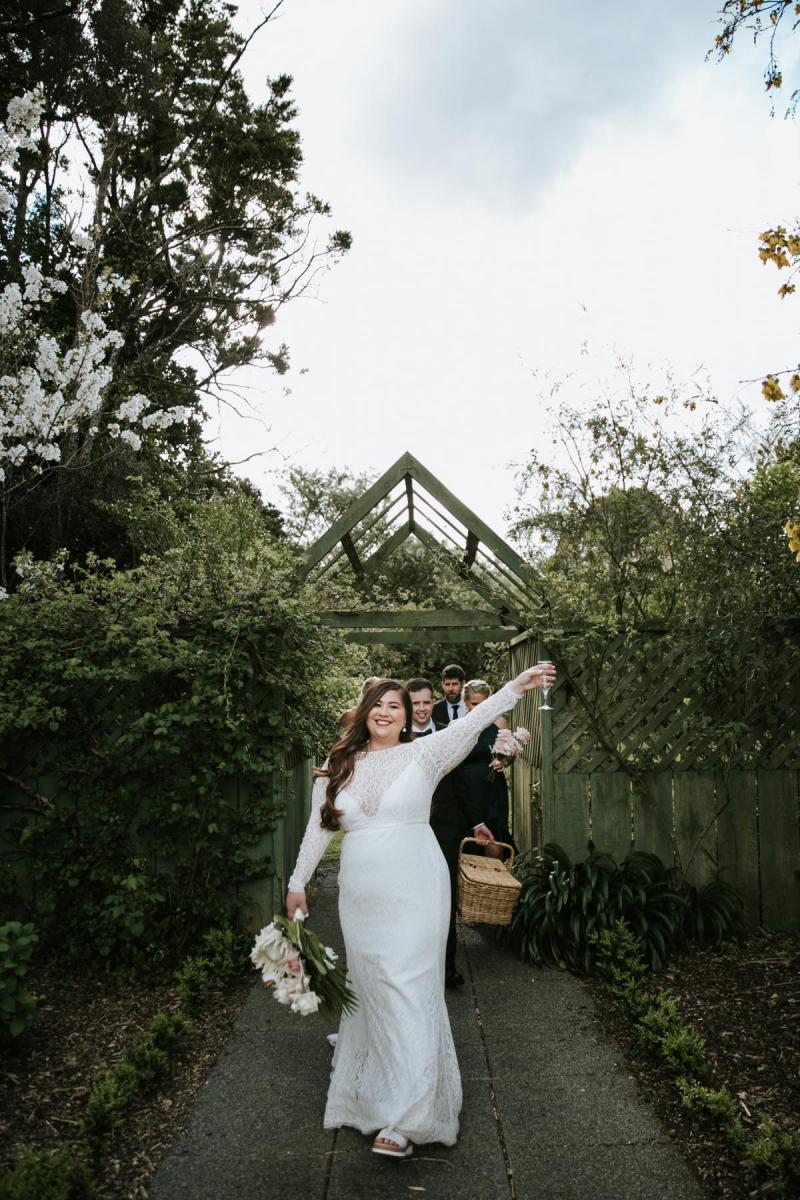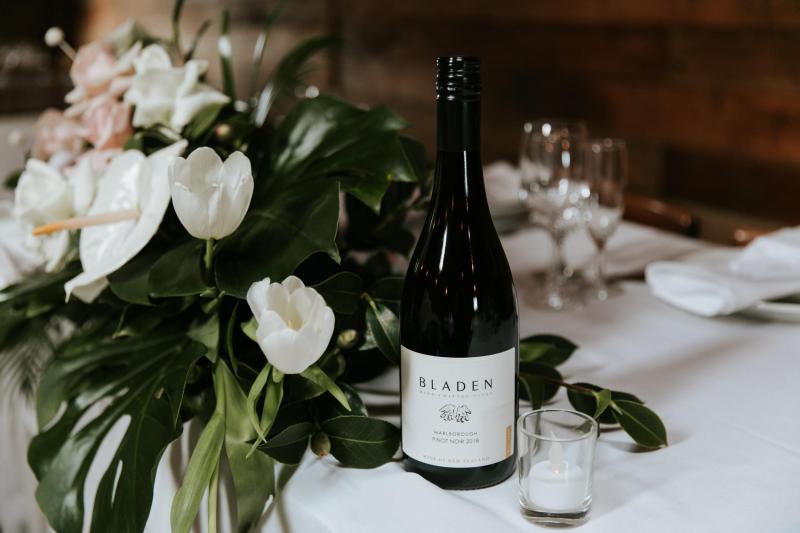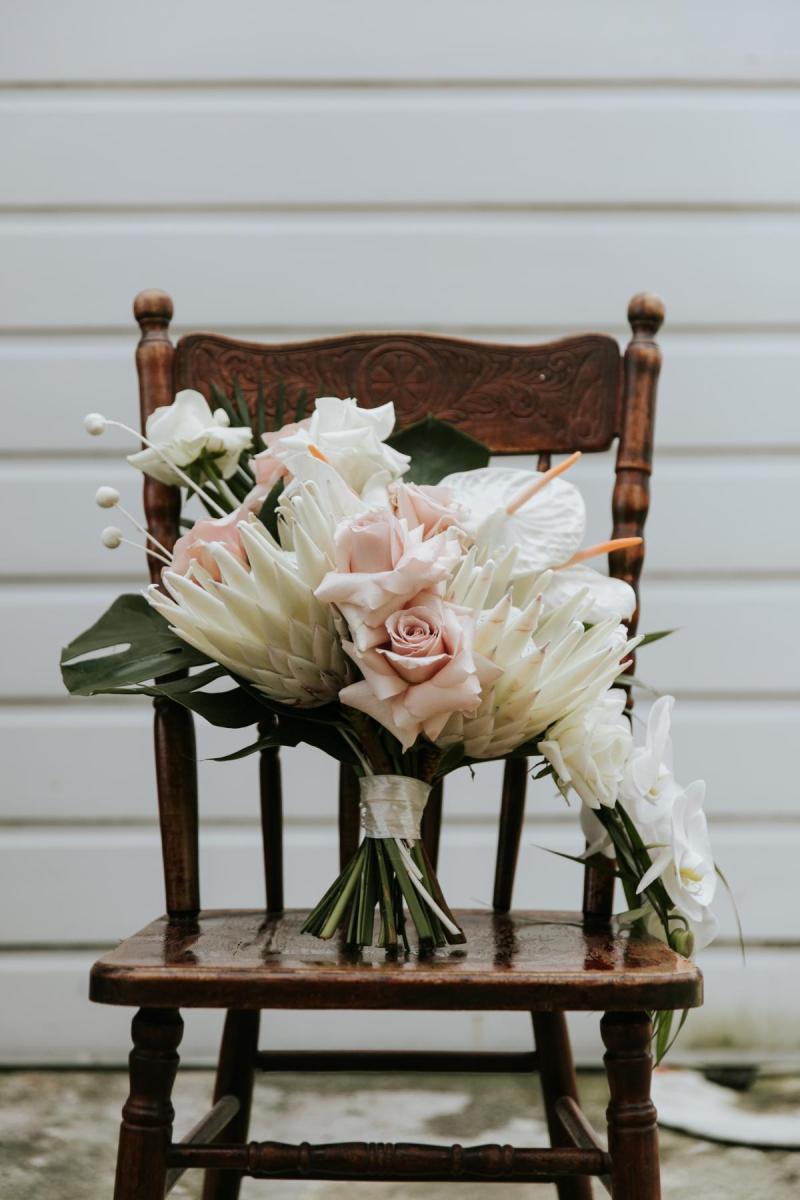 The Dress
Jarna walked into Paperswan Bride wanting an a-line dress to flatter her legs and her bum, but after trying on a dress that "wasn't her style," she walked out with Karina from the Wild Hearts collection. 
"As soon as I put it on, I knew! I was blown away. I was like, "This is the dress!" I walked out, and everyone else agreed…this was the dress! I paid for it that day and never looked back. I loved the long sleeves. That was something I wanted from the beginning as it was different from your normal sleeveless type dress. My favourite part was probably the front; it was revealing yet conservative and sexy. It hugged all of my best assets, my waist, my bum, and my boobs. It made me feel sexy, which is what I wanted to feel on my wedding day."
Jarna wore Intimo brand underwear that came all the way up to her girls. "It was perfect. It didn't roll down and didn't show any lines through my dress."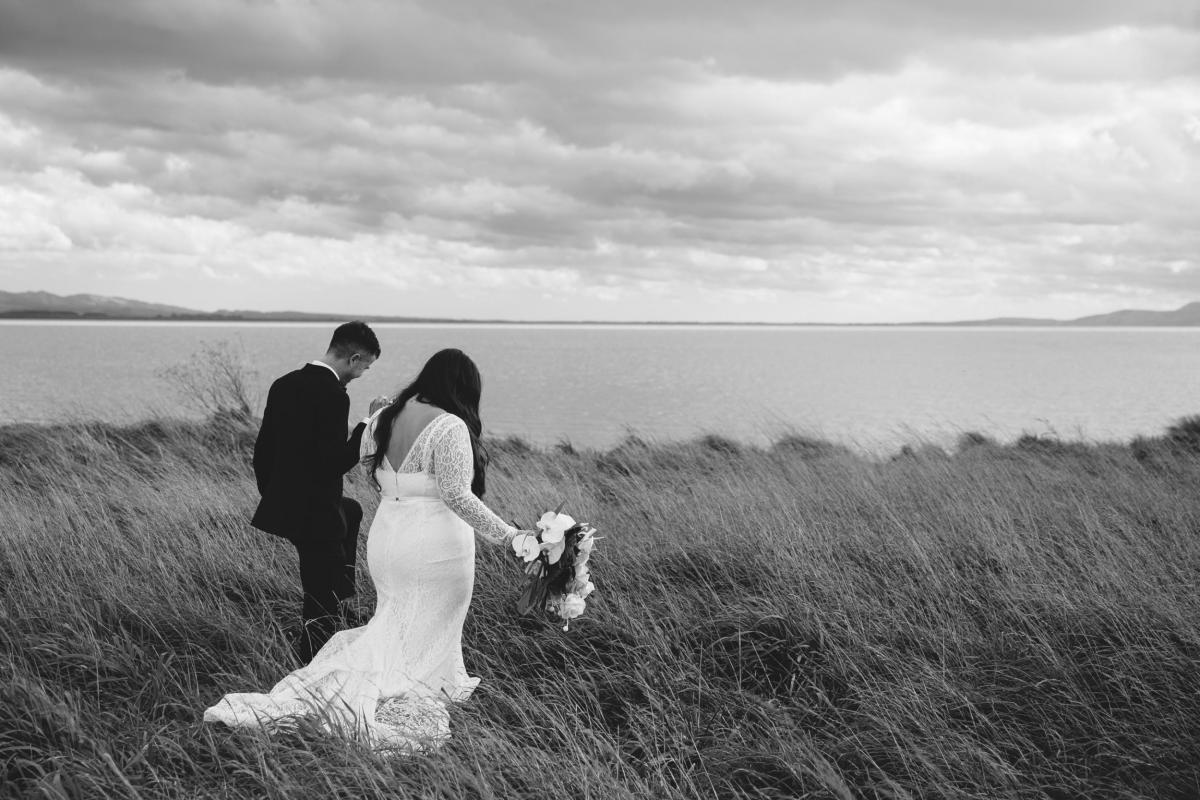 Accessorising
To not detract from her Karina gown's beautiful details, Jarna chose to adorn herself in minimalist jewels from Amelie George bridal. She wore elegant golden pearl drop earrings for a timeless look.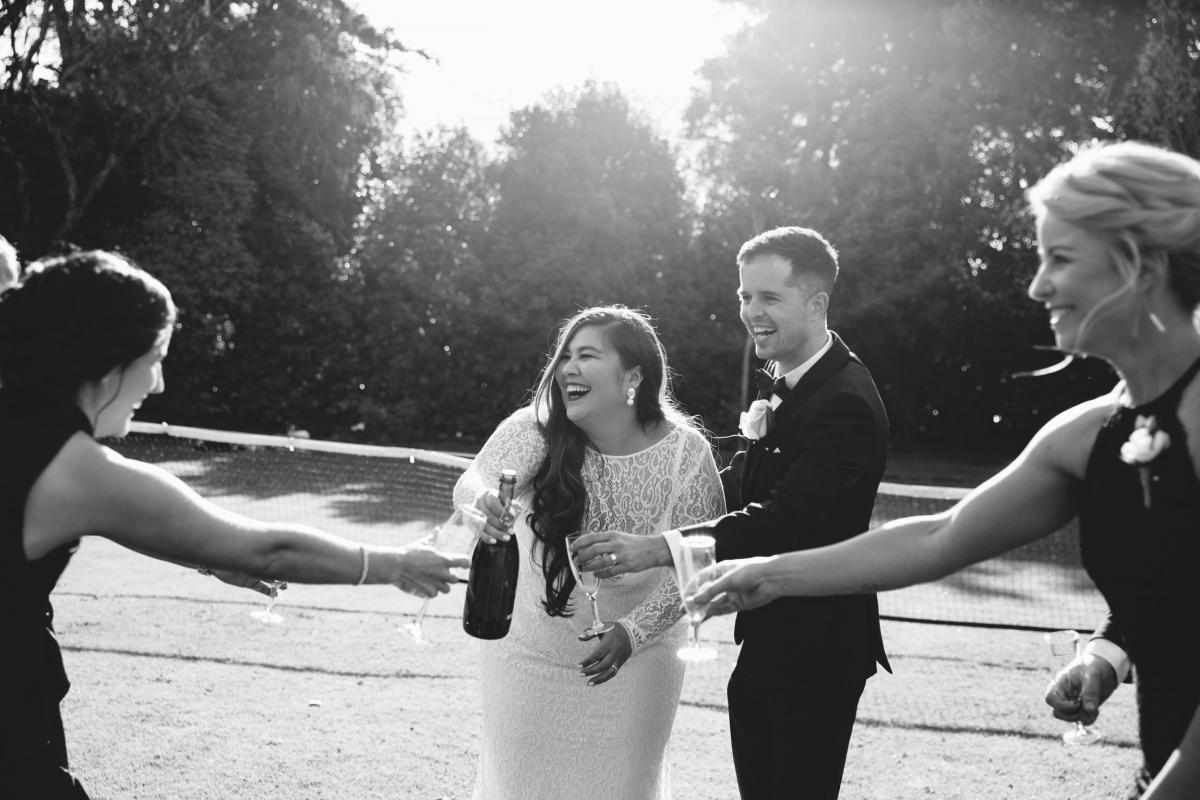 Gown hunting tips
Jarna says it best.
"ALWAYS try different dresses on. They look very different than they do hanging up! Go for something that makes you feel beautiful and sexy! Don't try and hide your curves; flaunt them! That's why they're there. Sometimes I find the bigger and baggier the dresses are on me, the bigger I feel and look. The tighter, the better.

Stand proud in your dress and your body. What you think people are thinking or seeing is all in your head. If you're confident within yourself that is only going to shine through and that is what people will see. Don't hide your body or try to cover up; learn what body shape you are and work with that. Don't be afraid to try on different styles of dresses even if they don't have your size. The ladies in the store can work their magic when fitting the dress onto you."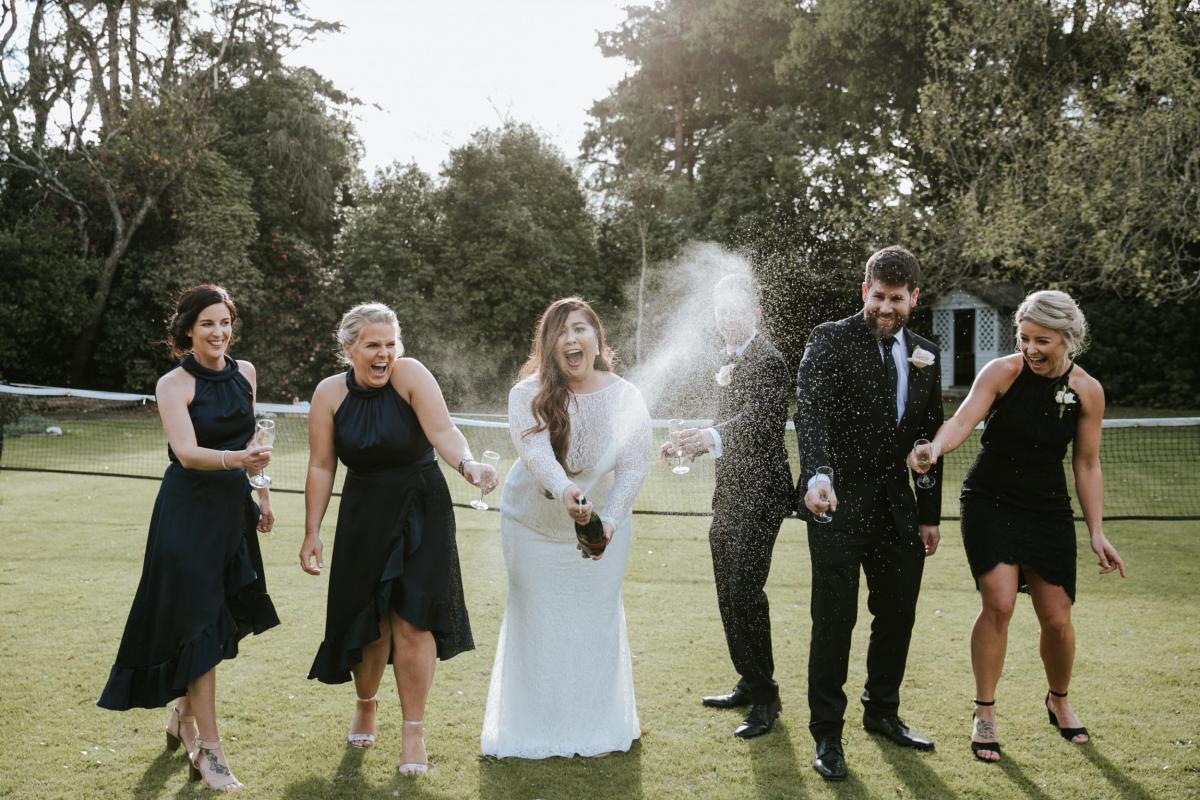 What does love mean to you?
"It's about the feelings. How you make each other feel. Does that person make you feel like you're the only one in the room? It's about compromise and teamwork."