The Best Bridesmaid Boxes for Your Bridesmaid Proposal

Our Fave Bridesmaid Boxes for Bridesmaid Proposals.
Congratulations! You're engaged!  While the bliss of your new soon-to-be marital status settles, it's time to start piecing together your ideal wedding day. Who will stand with you in your Bridal Party? And just how do you ask them to be your bridesmaid? The answer, of course, is with their own unique bridesmaid proposal gift box!
Your Bridal Party is a special element to almost any wedding. It's a selection of your nearest and dearest who you hand chose to be with you on your big day! While not every Bride chooses to have bridesmaids or a wedding party, the work they do behind the scenes for you (whether they are involved in the wedding planning, or just there for emotional support) should not go unnoticed. What better way to show your love for them, than with a beautiful bridesmaid proposal?
Many brides choose to do a bridesmaid proposal to show those you are closest to just how much you love and admire them, and just how much you want them to stand with you on your wedding day. Plus, it means you get to experience the fun of planning a proposal yourself (if you didn't do so already with your partner!)
So, if you like the idea of asking your bridesmaids "will you be my Bridesmaid?", but are unsure where to start, we are sharing our top 12 Bridesmaid Proposal Boxes and gifts (in Australia) that will make your wedding planning a lot easier!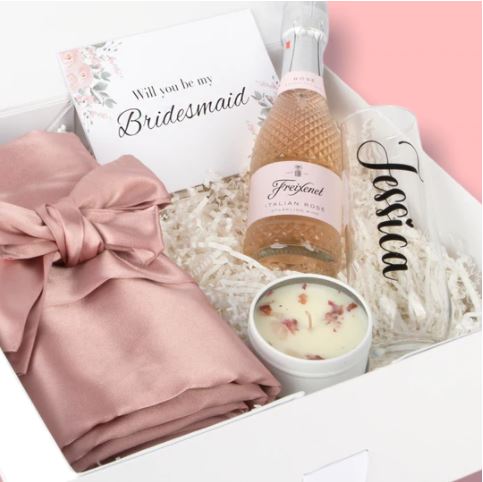 For the bridesmaids who deserve it all.
If you want to truly shower your bridesmaids with gifts, you cannot go past a Bridesmaid Proposal Box from Bride Tribes. Full of goodies like a classic robe, personalised glass, a rose quartz infused rose scented candle and some Italian Sparking Rose, all with a custom bridesmaid proposal card, this is such a beautiful way to ask "will you be my bridesmaid?"
With so many options to choose from, you are bound to find the ultimate hamper for your bridal gang, each personalised to truly make them feel special!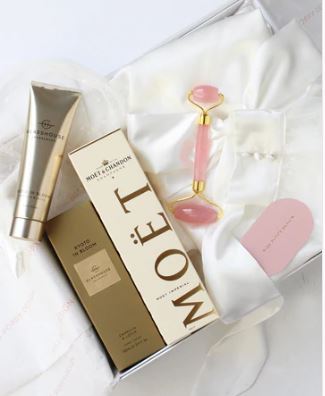 A bridesmaid box with a touch of luxury.
Your bridesmaids are so absolutely special, and what better way to show your affection than this luxurious bridesmaid box from Miss Poppy Design?
With a delicate bridal robe, 200ml bottle of Moët and Chandon, exquisite Glasshouse Fragrances Hand Cream, and a Rose Quartz Face Roller all packed in a beautiful personalised bridesmaid gift box, you absolutely cannot go wrong!
Miss Poppy Design also offers a wide range of boxes perfect for all of your bridal party! You can even create your own custom box too!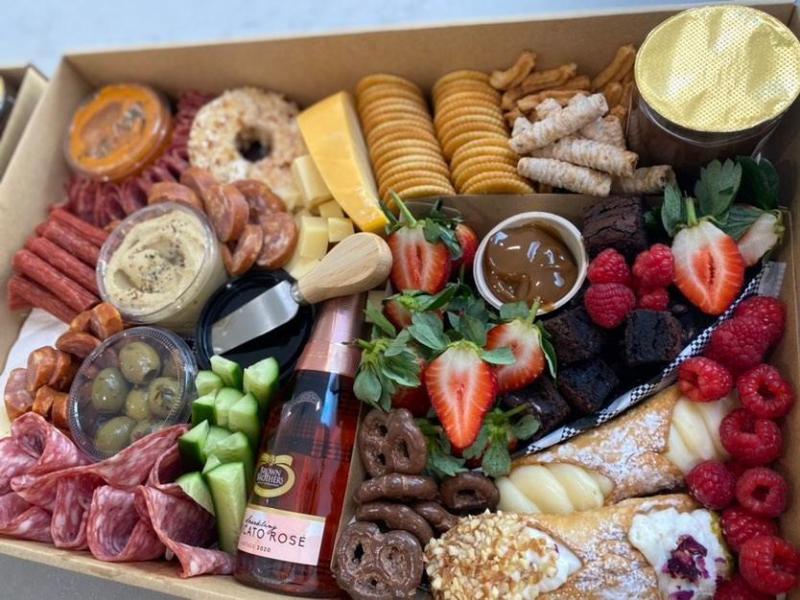 The perfect bridesmaid gift box for the foodies in your life.
One of our very own KWH brides, Frances has some of the BEST grazing boxes in the business. If your bridal party loves a bit of a charcuterie board, this is hands down the best way to ask, "will you be my bridesmaid?"!
We can personally attest to her catering skills, so even if you are simply looking for a hens night spread or engagement party explosion of food in Sydney, Frances will have options for you! Check out her instagram if you want to drool over her wonderful set ups!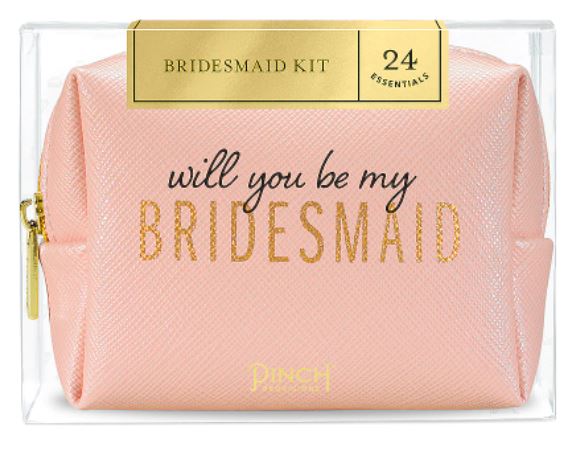 For budget friendly essentials.
Spoiling your bridesmaids with expensive proposal boxes, while fun, is not always on the cards for everyone. If you're looking for a fun and practical way to ask, "will you be my bridesmaid?", this Bridesmaid Kit is the perfect gift. With all the essentials needed to ensure your bridesmaids are well stocked on your wedding day, all packed in a gorgeous gold foil pouch, you know this will be a bridesmaid gift that will go to good use!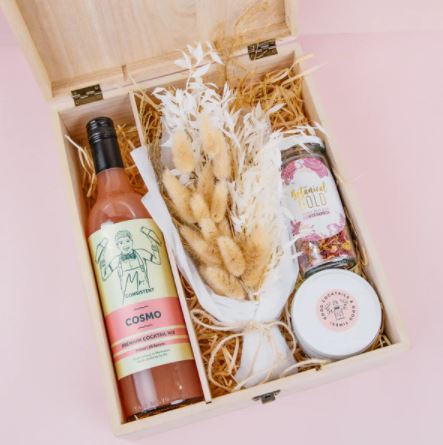 A bridesmaid box that can be shaken or stirred!
If your bridal party loves a cheeky beverage, then this Florals Gift Pack from Mr. Consistent is absolute goals! Choose from a Cosmo mixer, Margarita Mixer, or Whiskey Sours Mixer and just add the appropriate booze! Even if your bridesmaids don't partake in drinking, they can add a splash of water instead and still be able to join in on the cocktail fun! Add a beautiful hand-written bridesmaid proposal card, and you have a gift and celebration all in one!
Mr. Consistent have a huge variety of gift packs, so you are bound to find the perfect option for your bridal party!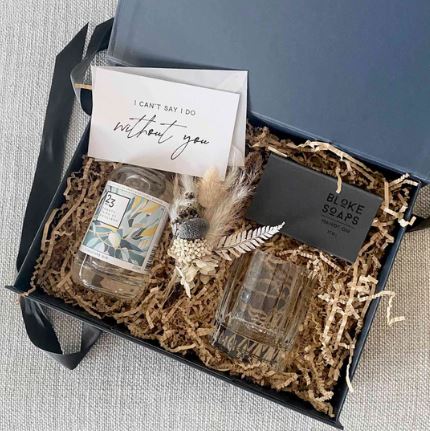 For your mixed gender bridal party
More and more wedding parties are ditching the traditions. We want our closest friends and family standing with us on our day, and this does not always mean just the one gender!
If you are looking to spoil the men who are in your bridal party, then this Guys Essentials Hamper by Bridesmaid Boxes Australia is an amazing option! With a vintage whiskey glass, a choice of 23rd Street spirit, some fancy 'Bloke Soap', as well as a note card and posy arrangement, your bridesmen will feel just as special as the rest of your wedding party!
Bridesmaid Boxes also have a wonderful range of gifts for your gals as well as options to curate your own custom box!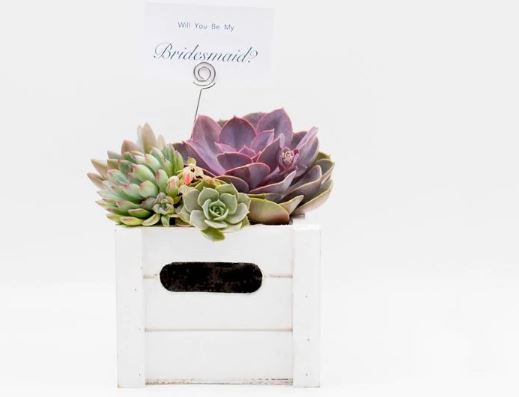 For your plant loving bridesmaids.
Sometimes, the best gift is one that will keep on giving! Especially if your bridesmaids appreciate a little bit of extra home décor! We love this out of the box idea to use as a bridesmaid proposal! It truly becomes a memory that will last forever – or at least until they forget to water it!
For the true green thumbs in your bridal party, check out the full range of amazing gift packages. They even have a whole Wedding Section for favours or decorations!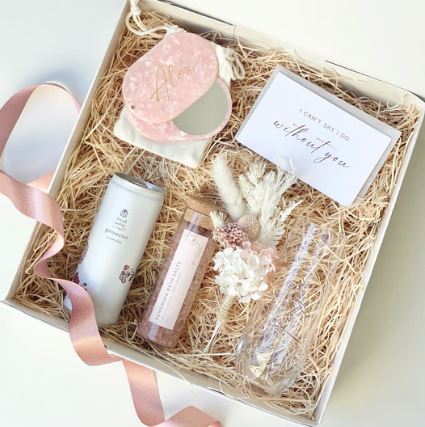 For the self-care lovers
Another amazing bridesmaid proposal box from Bridesmaid Boxes! This box is perfect for your bridesmaids who love a long soak in the bath. With a personalised stemless flute glass, 200ml can of prosecco, a custom Pink Acetate Compact Mirror, renewing bath salts, as well as a note card and posy arrangement, your bridesmaid will be glowing from this gift.
Bridesmaid Boxes also have a wonderful range of gifts for your all genders as well as options to curate your own custom box!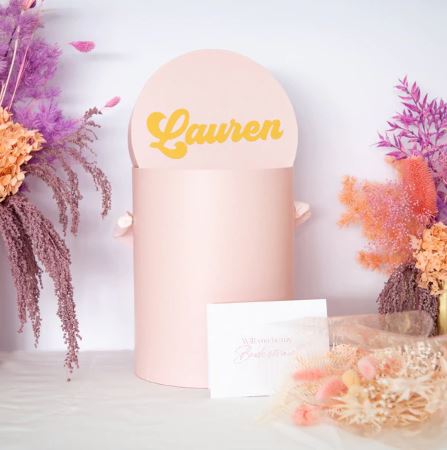 Something you can add to.
If you want a stunning bridesmaid proposal box, but like the idea of adding something a little bit more personal, then look no further than this STUNNING box from Oh It's Perfect.
The set comes with a pink personalised box, a petite posy of everlasting flowers and a 'Will you be my Bridesmaid?' Card (which can be swapped for a 'Will you be my Maid of Honour' version!).
Then fill the box with small goodies that are special to your and each of your bridesmaids. Think photos of you together, a hand written letter detailing your favourite memories, their favourite chocolate or candy, or even something absolutely hilarious!
This is truly such an easy way to make your own box for your bridesmaids, without all the hassle of finding too many individual elements. You can also fill the box with gifts directly from their Bridesmaids gifts section!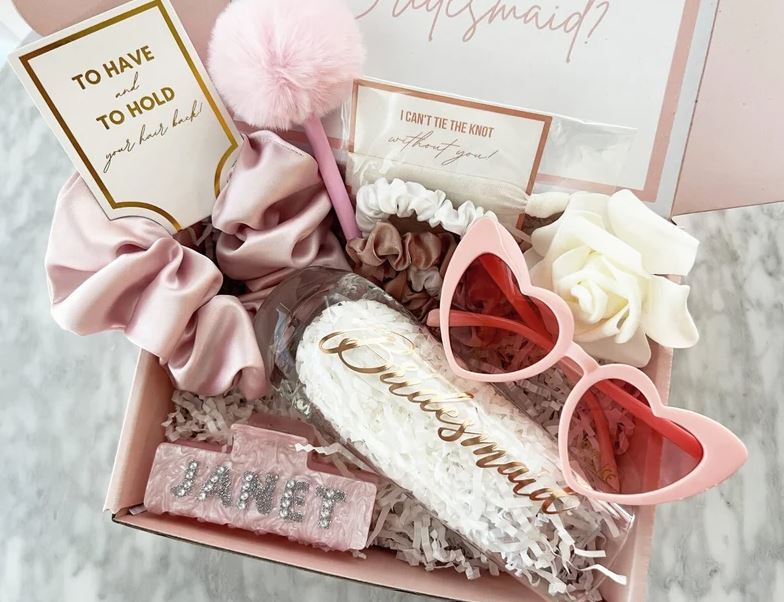 For a little bit of everything
This cute bridesmaid proposal box is absolutely divine! If you are looking for a box that has a wide variety of small gifts for your bridesmaids and maid of honour, then look no further! It is also very reasonably priced to keep everything within your budget!
This personalised box comes with a custom card, "I can't tie the know without you" hair ties, a bridesmaids champagne flute, personalised hair clip, a sweet pom pom pen, 2 scrunchies and a jumbo scrunchie, a foam rose, and the most adorable heart shaped sunglasses! There is truly nothing else you will need!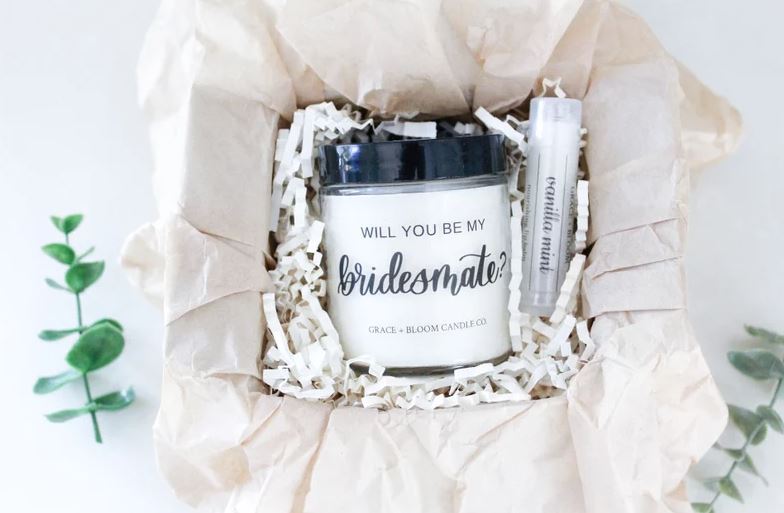 For your Gender Neutral or Non-Binary Wedding party
For the LGBT team, if you don't want gifts that featured gendered language, then this is such an amazing option! This mini bridesmaid proposal gift set is a fun way to propose to your non-binary or gender neutral friends with candles that pop the question, "Will you be my bridesmate?"
Bridesmate candles are also great for asking a male friend or family member to stand with you as a member of your bridal party
This perfect mini gift set features a 'Will you be my Bridesmate' Candle and a lip balm all packaged in a cute box. You can also check out the shop's full range of mini boxes, one for each of your bridal party!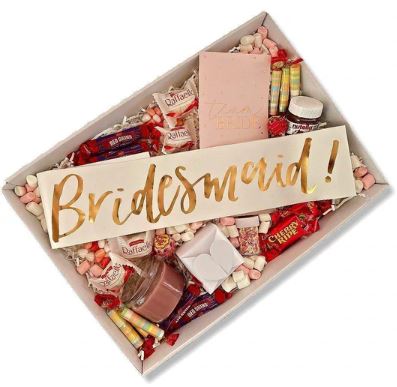 For your sweet tooth team!
This custom gift box is perfect for gifting your bridesmaids to ask them to be a part of your big day, specially created for your amazing bridal squad. This amazing hamper is presented in a beautiful clear white box and delivered straight to your door (or the recipients door) hassle free with a personalised gift message.
This delicious Bridesmaids gift Box includes a Bridesmaid Sash, Tea Set, Scented Candle, Special Bridal advice card, Sprinkles Jar, Fizzy Candy, Lollipops, Raffaello, Nutella Jar, Marshmallows, Cherry Ripes, Heart Candy, Musk Sticks and much more! Plus you can customise by adding additional treats (or even some alcohol to help the sugar rush go down smoother.)
Your bridal party will truly be bouncing off the walls with this one!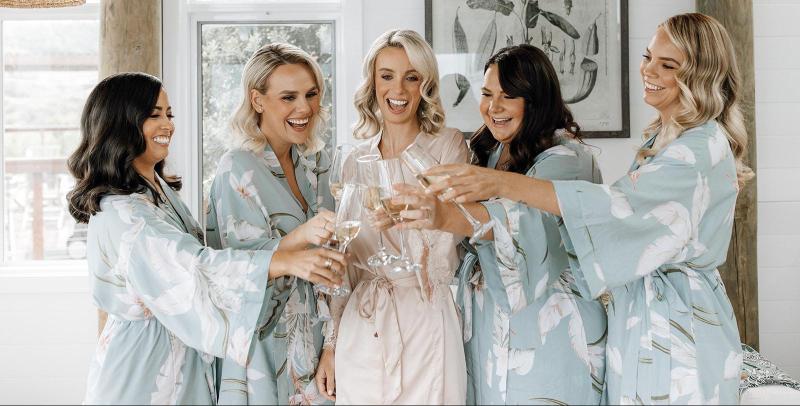 Now that you have your bridesmaids proposal all sorted, check out our Top 30 picks for bridesmaids gifts to continue spoiling your wedding party!
If you're looking for more inspiration on wedding planning, have a read through our Ultimate List of Wedding Planning Checklists.
We also have a list of the Best Wedding Planning Tools and Apps, or if you prefer something physical that you can keep forever, then you can peruse or list of Best Wedding Planner Books.
Now that you have your mind teaming with all the amazing possibilities for what to gift your bridal party, and tips for planning your wedding, the fun can really start!
With your incredible bridesmaids in tow, it's time to begin the journey to find you perfect wedding dress! Click here to book your appointment with a dedicated KWH Stylist!
We can't wait to meet you, and hear about the wonderful gifts you have chosen for your bridesmaids!
Let us know what you love in the comments!