No Coronavirus Delays to KWH's Australian-Made Wedding Dresses
Ladies, we hear you. Your dream wedding was just around the corner and now it potentially isn't. What should have been a joyous time planning this event has just turned into an amount of stress no one could have imagined. If your wedding day was planned for the first half of the year, you most likely have been affected by COVID-19. Postponing your wedding seems inevitable for most until you can be certain you can move forward with the wedding you have always dreamt of.
We all know now how serious Coronavirus is in Australia and that we all have to do our part to keep the vulnerable safe.
This blog post will help give you some guidance around COVID-19, your wedding dress and the processes put in place at KAREN WILLIS HOLMES in order to help deal with this pandemic the best we can. We are not experiencing any overseas delays as our wedding dresses are made in Australia and we have an ample supply of fabric stored at our office so sourcing of materials has no implications for our business.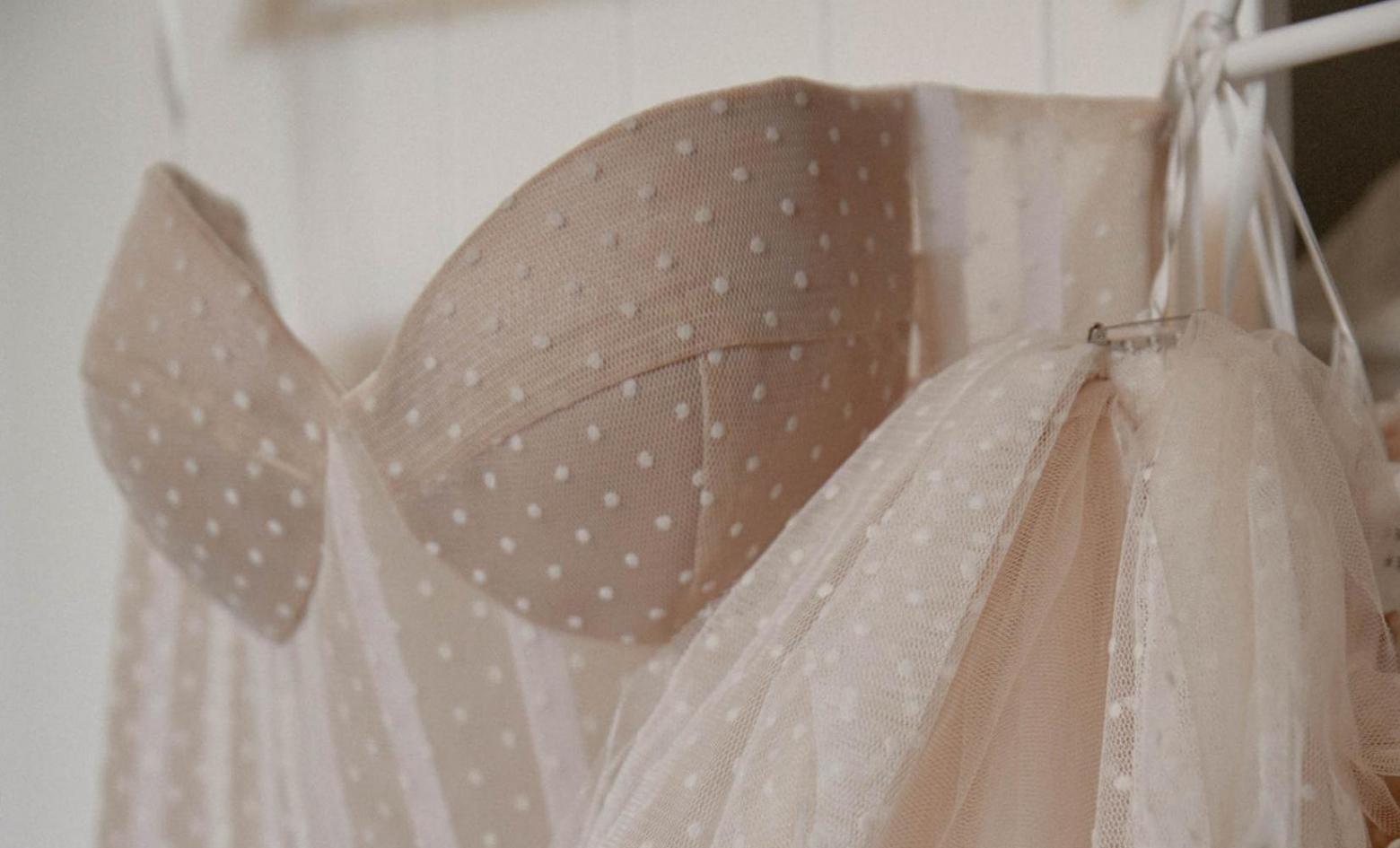 With the recent news that we are temporarily closing our Sydney, Brisbane, Melbourne and Perth boutiques from Tuesday, March 24th (NYC is already closed) due to Coronavirus, we understand that this only adds stress to your plate. It is our responsibility to look after and protect our brides and staff from the virus while the community picks itself back up again It is also our number one priority to look after you and your gown.
If you are looking for up to date information about planning your postponed wedding,
read this article
currently on Hello May.
Where is a KWH gown made? Has production been affected?
The majority of our wedding dresses are made in Australia, which is really important right now as you are choosing to buy a gown that doesn't have to leave the country to be made which means it hasn't been affected by international delays due to Coronavirus related shut-downs.
Gowns from our BESPOKE, WILD HEARTS and CURVE collections are all made in Sydney Australia. As of 23 March 2020, our workroom remains open and we are still making your dream dress!
Our LUXE collection is hand beaded and made in India. Because these special pieces are part of our ready-to-wear collection, we carry stock of these in our head office so lead-times of these gowns are not being affected.
Supporting our proudly Australian designed and made brand during this difficult time will help the future of the business so whilst our physical locations may not be open…we are still here!
We have an online store that you can shop any time of the day or night and a customer service team ready to help you with any questions you have. We have informative instructions on our website teaching you how to take your measurements to help your online purchase. You can also purchase our veils and detachable trains through our website so if it is just the final touches you are trying to organise, we have got you covered!
There may be some slight delays in postage times, however, we will be in contact with you should this be the case, any concerns just give us a call or chat to us via our Live Chat.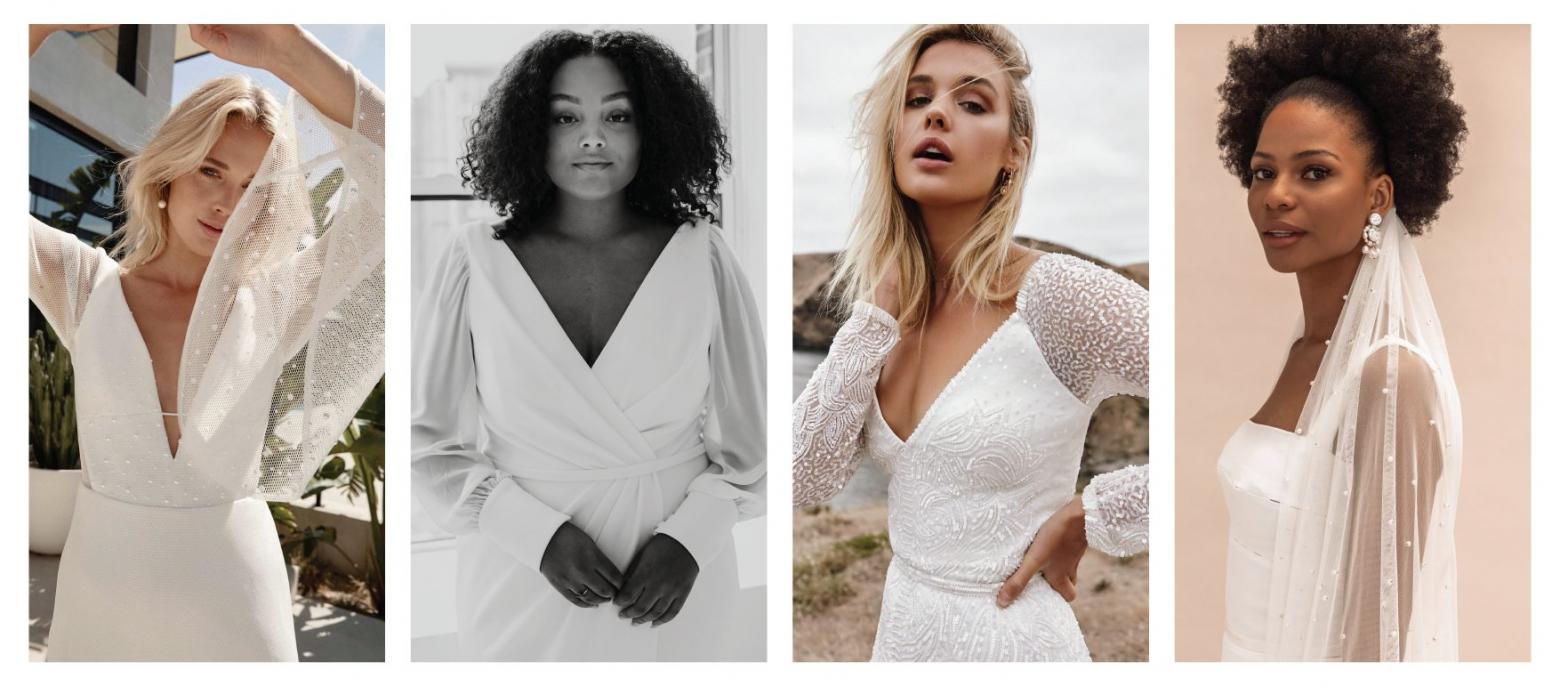 Past brides
You are waiting to pick up your gown or have picked up your gown and now have your wedding postponed.
We will call you to arrange the pickup of your gown. It is safest stored in our boutique so if your wedding isn't for a while, rest assured that we are looking after it.
If you already have your wedding dress at home with you, we recommend visiting your local dry cleaner to give you some long term storing solutions to make sure your dress is preserved.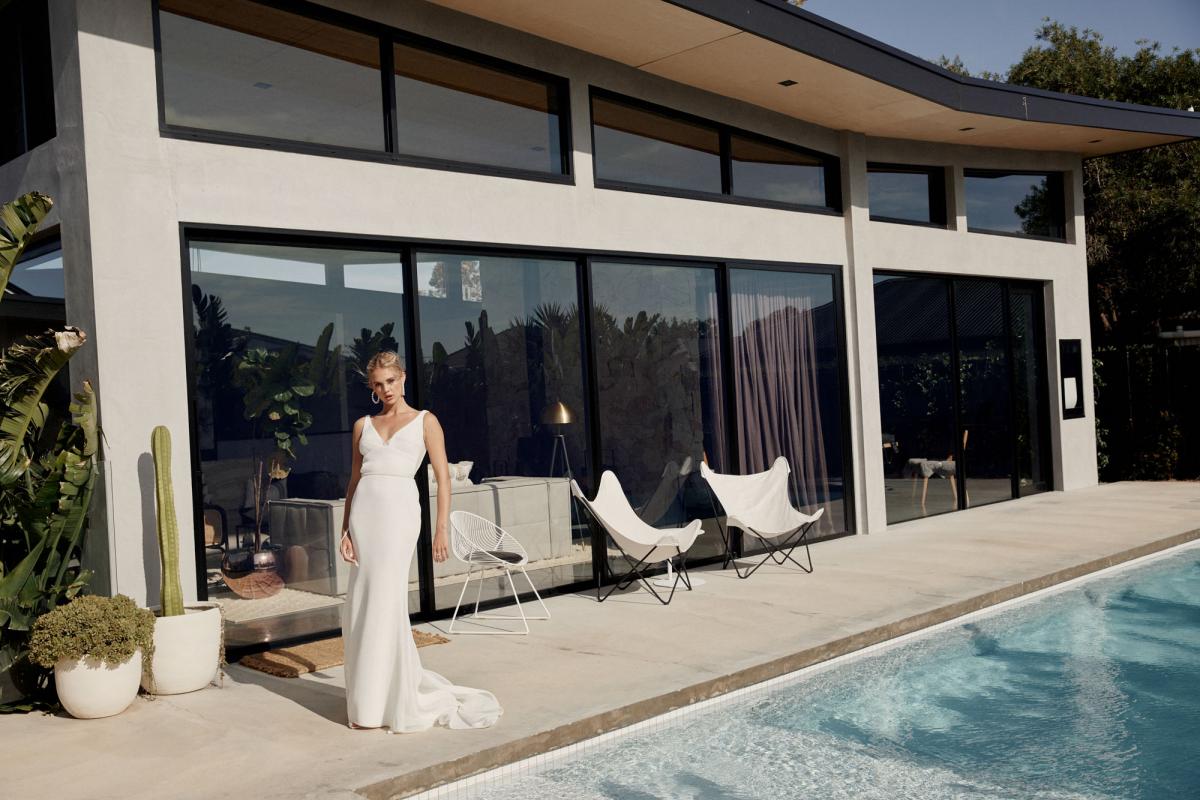 Caring for your gown
We do sometimes store gowns for long periods of time in our workroom and stores and we have not had any issues in doing so.
We recommend storing your gown in the following conditions as this is how we store our gowns:

1. Cool (between 15-25 Degrees Celsius),
2. Dry (not humid),
3. Dark, out of sunlight/daylight (AND your future wife or husband's curious eye!!)
4. The gown can be hung from the ribbon hanging loops (found at the armpit).
5. It also needs to be stored in a fabric bag that can breathe (the KWH bags are Plastic bags, which are brilliant for short term and travel but are not suitable for long term storage).
6. If you do not have hanging space, your gown can be lied flat in a fabric bag and hung back up closer to your wedding. It may need a steam afterward. Running a hot steamy shower and hanging your dress on the back door of the bathroom works wonders on light creases.
We do suggest a trusted dry-cleaner for further recommendations.
We recommend the following in the locations we have boutiques:
Sydney – Silver Service Bridal Drycleaner
Melbourne – Syndals Drycleaner
Brisbane – Kathron Drycleaner
Perth – Stannards Drycleaning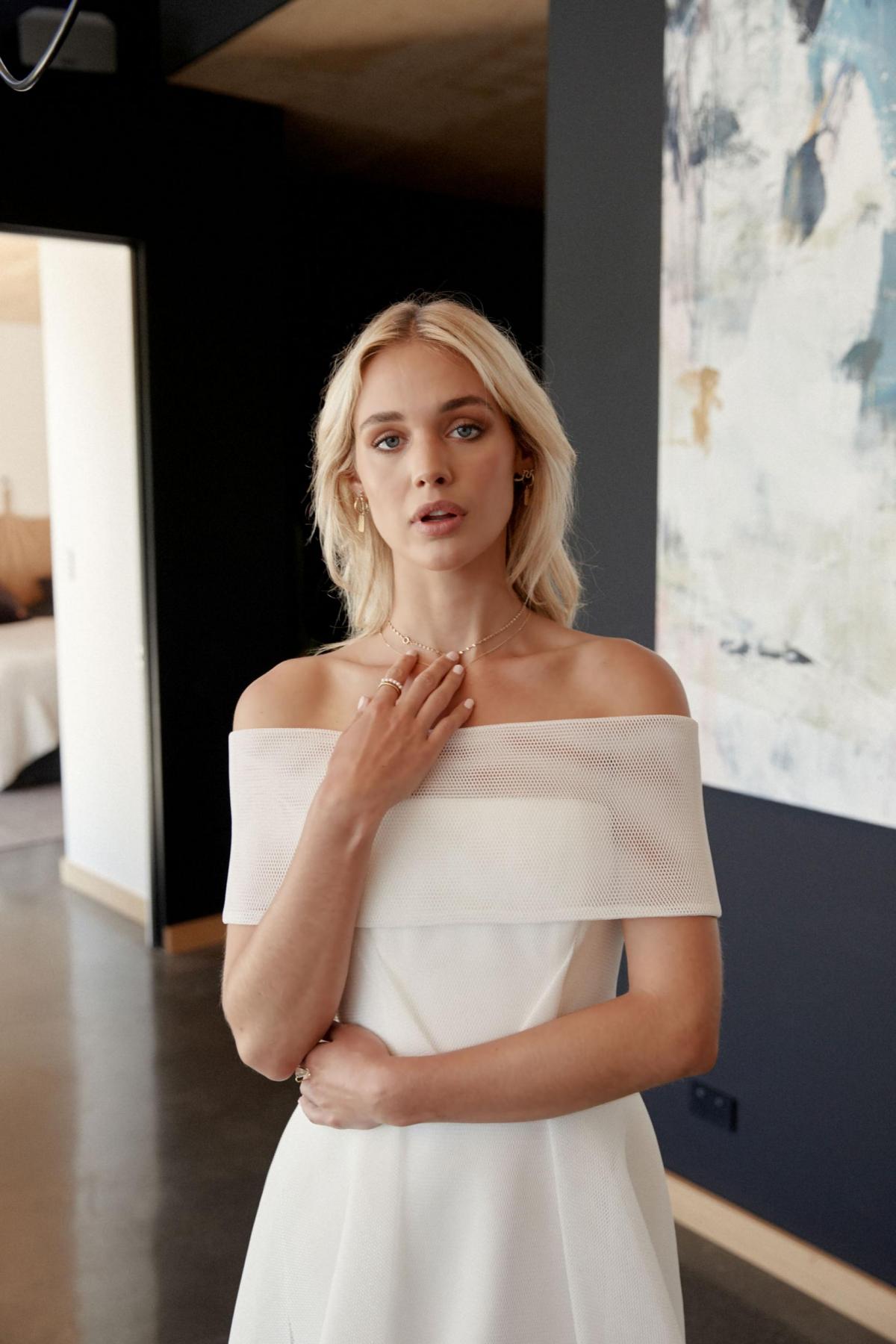 Present brides
You have placed your order or are in the middle of fittings with us.
Please be patient – we are getting around to calling all of our brides in order of urgency, wedding dates and individual requests. Your dress is likely already made as we have always worked ahead of time with production.
All fitting appointments will be re-scheduled whilst our stores are temporarily closed from COVID-19 related government advice and we are in the process of contacting everyone to make arrangements. If there are any further developments, you will be notified ASAP.
If you have ordered a dress through a stockist, rest assured it will still be on its way. Please contact the boutique you purchased your dress through for individualised updates on the delivery of your gown. From our end, we are prepared with your gown but there may be some delays depending on international shipping regulations in your country depending on Coronavirus government advice.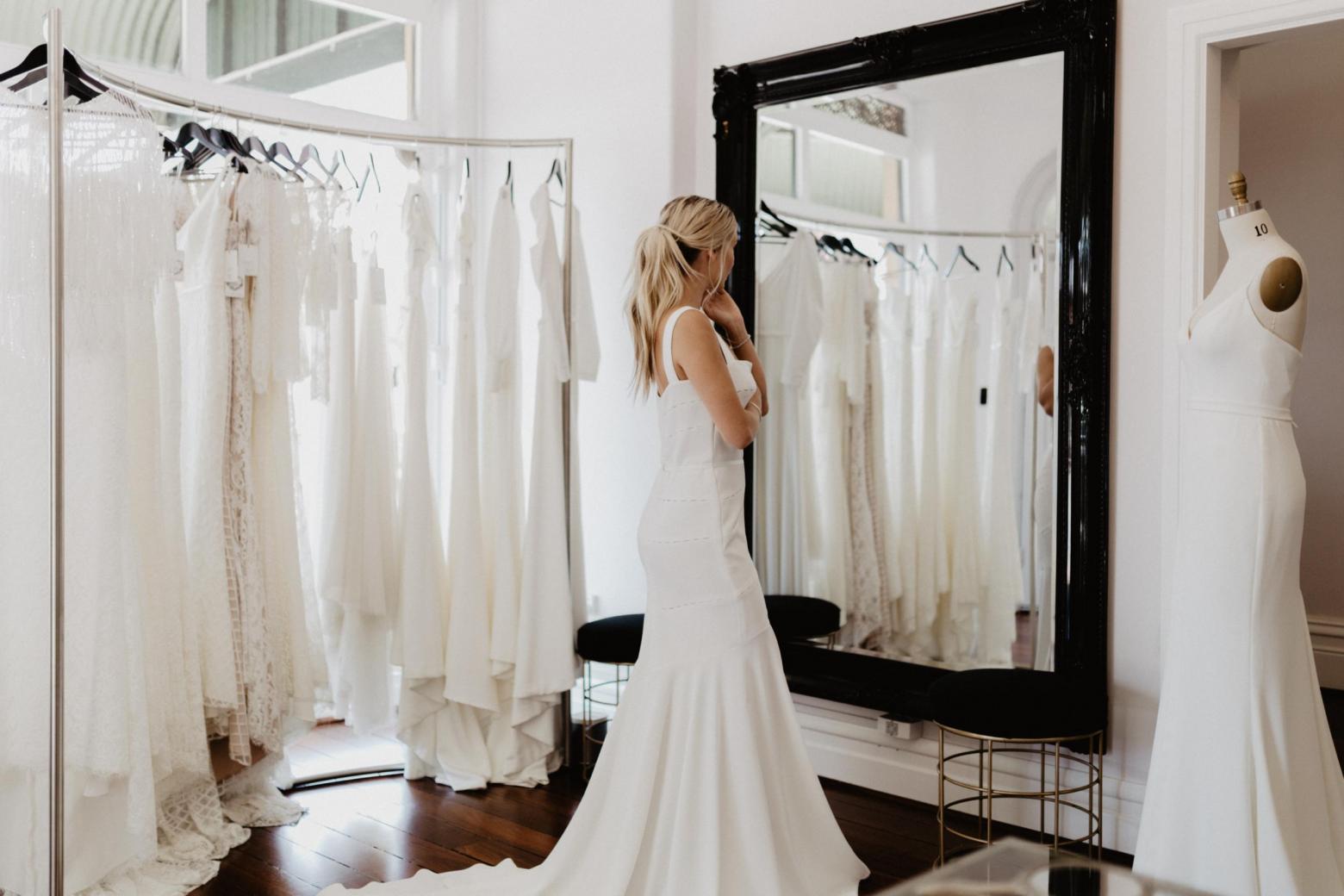 Future brides
You have tried on dresses but not ordered yet or you are planning for a future wedding and are yet to start dress shopping.
Brides who were ready to book their gown but didn't, we are still offering purchases to be made if you have a tentative booking on file as our store managers have Eftpos machines and tentative folders at home with them. Please call your store manager to organise.
We also welcome you to book your dress through our ONLINE store – this is especially great if you have already visited our boutiques and know what dress you want!
Simply measure yourself with our guide and add your dress to the checkout. After we have received your order, we will call you to discuss the details of your gown.
We can also re-size you 4-6 months before your wedding so choose your closest size now and make a note in comments that you want a re-size at a later date.
You were planning to visit a KWH boutique to find your dream wedding dress but now can't?
This is a PERFECT time for research! Head to our Pinterest page to get inspired, 'love heart' any gowns that catch your eye on our website and really work out what you are loving! Our Journal Brides and Real Brides are a great source of inspiration too – see how different brides wore gowns that you are interested in offers valuable insight you wouldn't usually get until you actually try on dresses.
Have you considered a dress from our new BESPOKE collection? – Enjoy the experience of creating your own custom gown and supporting our workroom during this time. This is a wonderful opportunity for you to spend quality time with your KWH stylist to create a gown made for you once we re-open. Our must try's at the moment are Audrey, Penelope and Scarlett.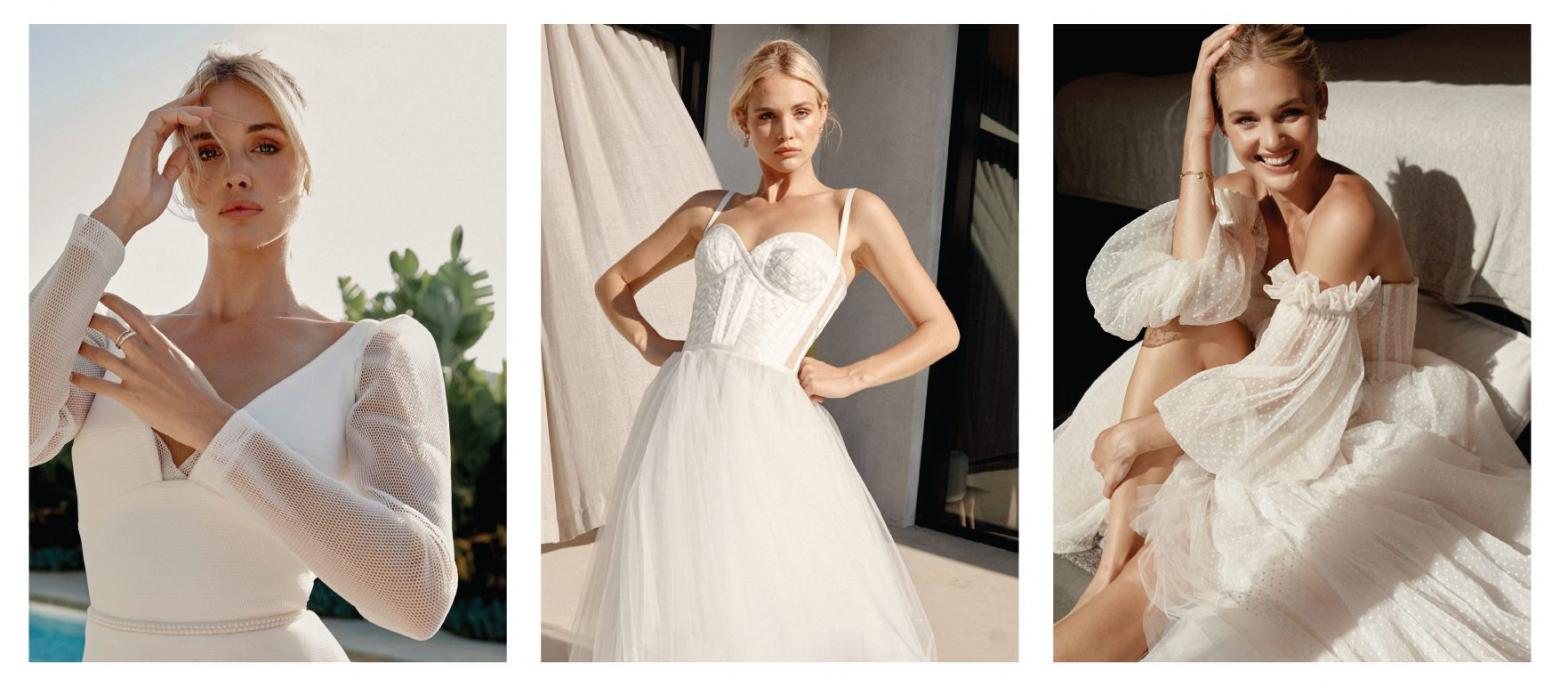 Need help now?
We want to make this difficult time as stress-free as possible for you and that is why our customer service assistants and store managers are working from home and are still available to answer all your enquiries.
Our stylists are available on our Online Chat feature and also through Instagram DM's so please reach out if you would like any advice on what will suit you and your wedding.
When we re-open, we understand we will be working with a lot of brides with shorter lead-times. Our workroom will be ready to work with these time frames and will be very compassionate around this.
If you are really concerned about not getting a dress made in time, consider a dress from our LUXE collection which is ready-to-wear – meaning they are already made and we have your size sitting in our workroom waiting to be sent to you!

Some of our favourites are Cassie, Margareta, Anya and Georgina.
Still have questions? Feel free to call us on + 61 2 9519 3901 or email us at info@karenwillisholmes.com