Kylie & James' Relaxed Autumn Wedding

A blossoming love story… Kylie and James met through mutual friends but when and where depends on who you ask – a romantic mystery indeed. After months of built up interest, fate brought them together at a venue that James was DJ'ing at and that was the night that sparked their love story.
On the proposal
From months of lingering interests to five or so years of being together, the couple then got engaged on a beautiful private beach at the Bay of Fires in Tasmania, where jellyfishes swarmed the beach. Kylie claims that in that moment, they were both ecstatic and in a joyous state of shock at the same time.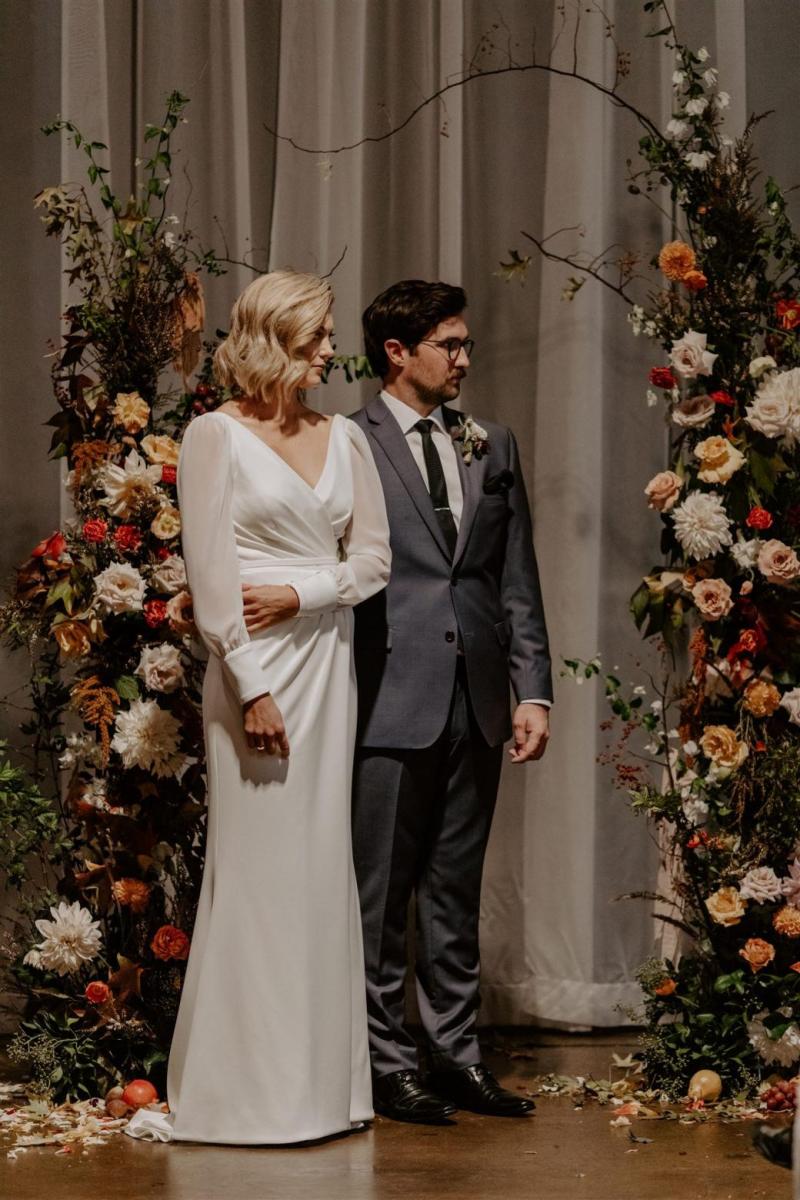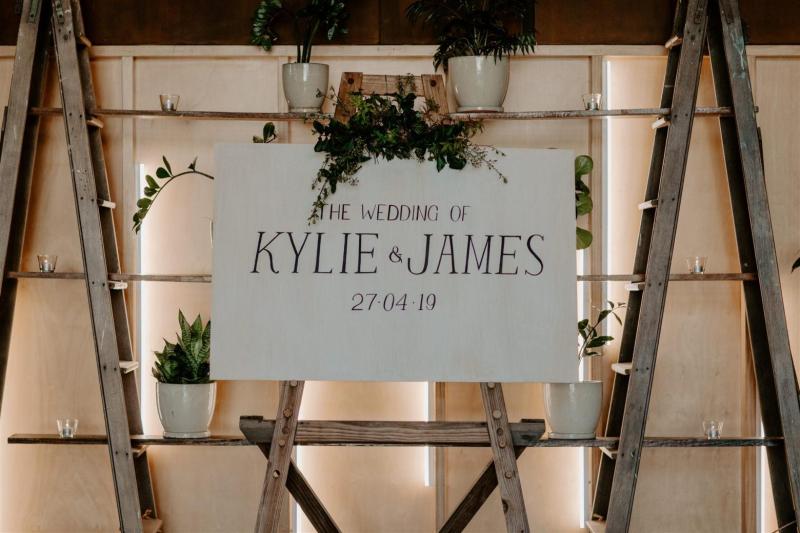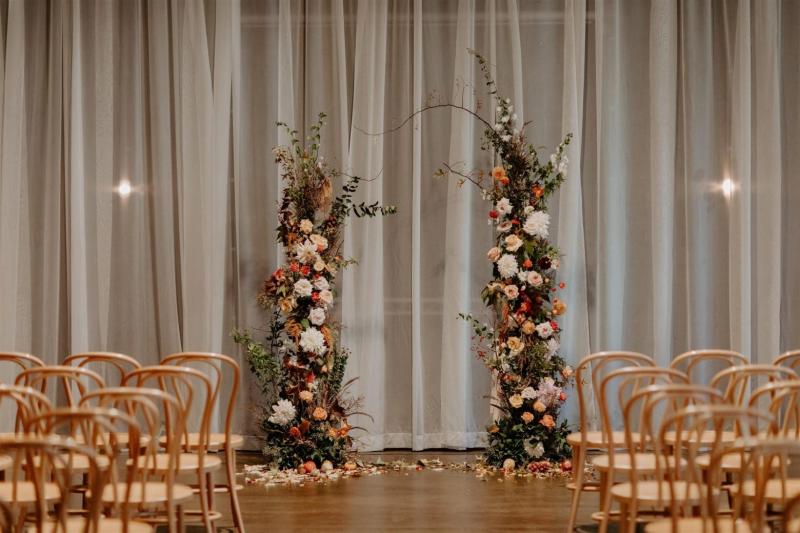 On the venue
Kylie and James held their ceremony and reception at Lightspace, Brisbane. Kylie had previously visited Lightspace in her early 20s and it has since had a special place in her heart. She loved the mood and feel of the venue and after comparing other options with James, they agreed that Lightspace was where they wanted to gather their family and friends to say their "I do's".
The venue is positioned in a central location for their family and friends. It is a fun, relaxed and special venue with an industrial, yet blank canvas appeal, making it a unique space.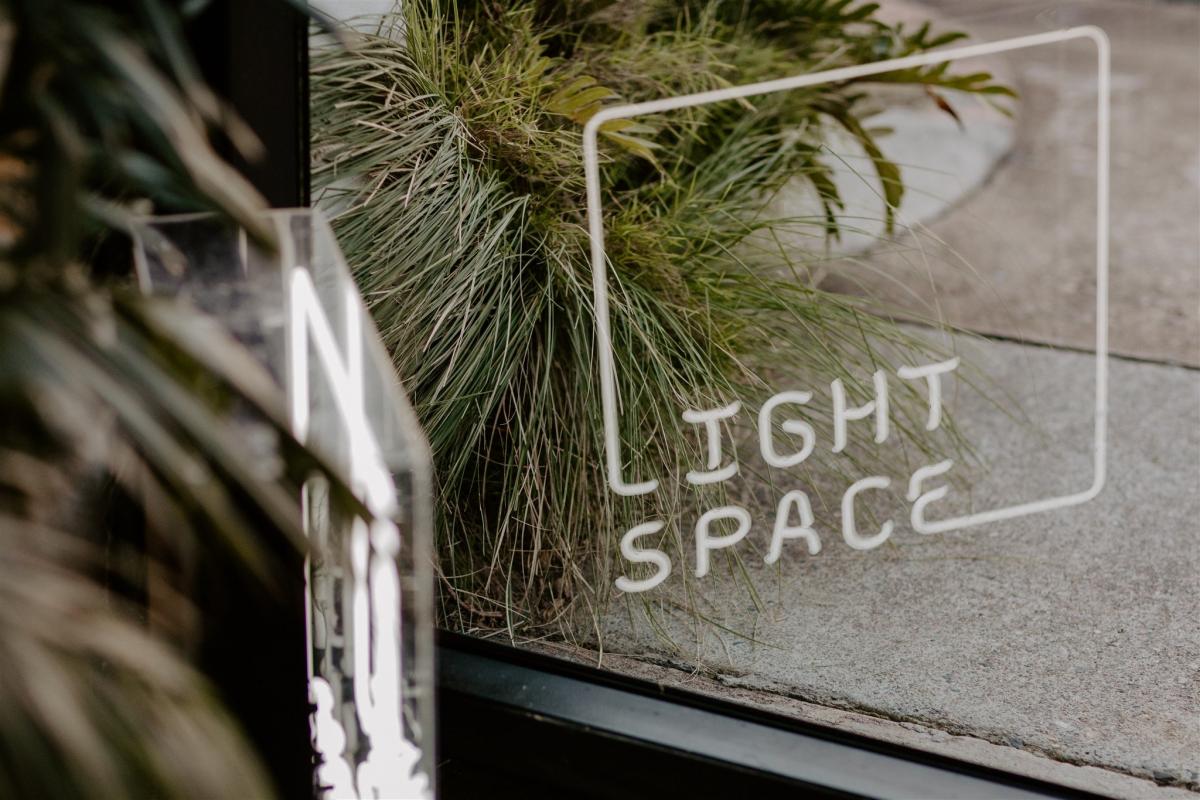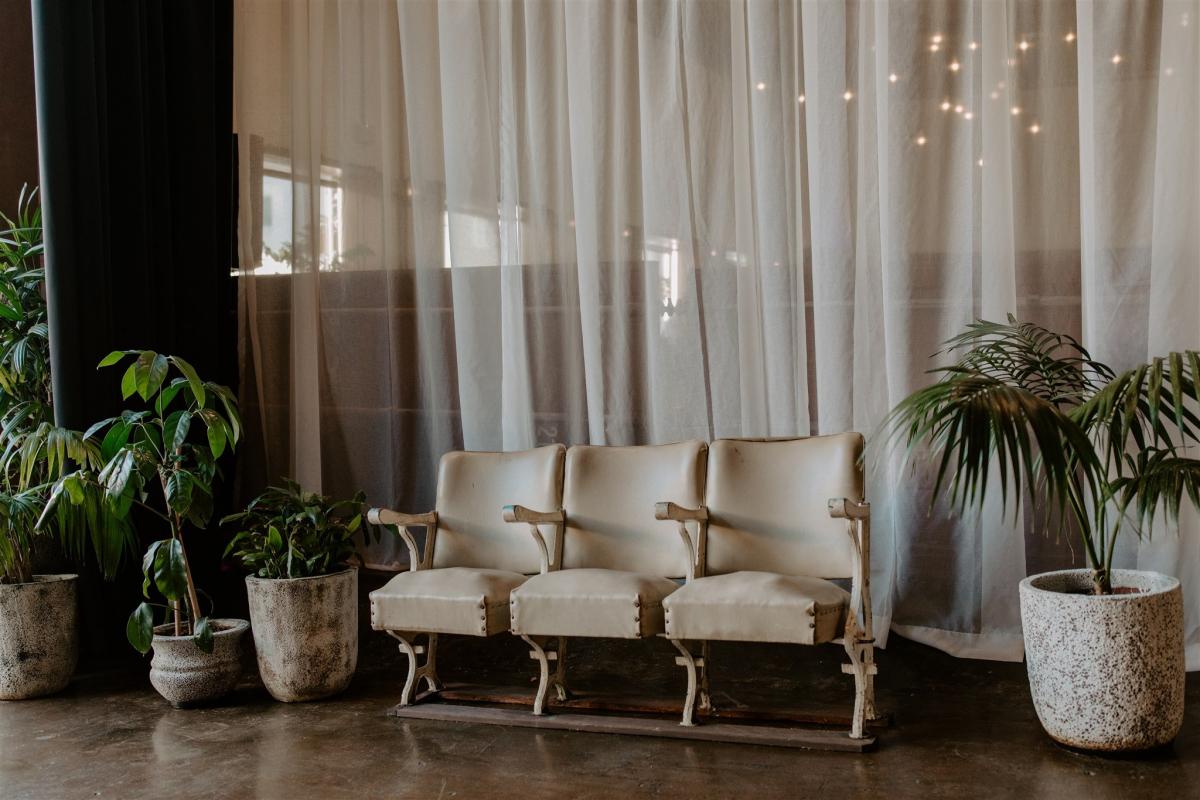 All the styling details
A friend of Kylie's suggested that she makes a list of wedding words, to which Kylie and James noted down they wanted their wedding to be relaxed, fun, special and 'us'. Kylie found that she used this as loose criteria for all their decision making. "We opted for a cocktail style event".
Kylie and James were lucky enough to source their trusted friends to cater the event, to design a neon welcome sign and to bake the wedding cake. Autumn inspired flowers and warm colours beautifully complemented their wedding venue. The couple tried not to overthink style and wanted to let the space speak for itself.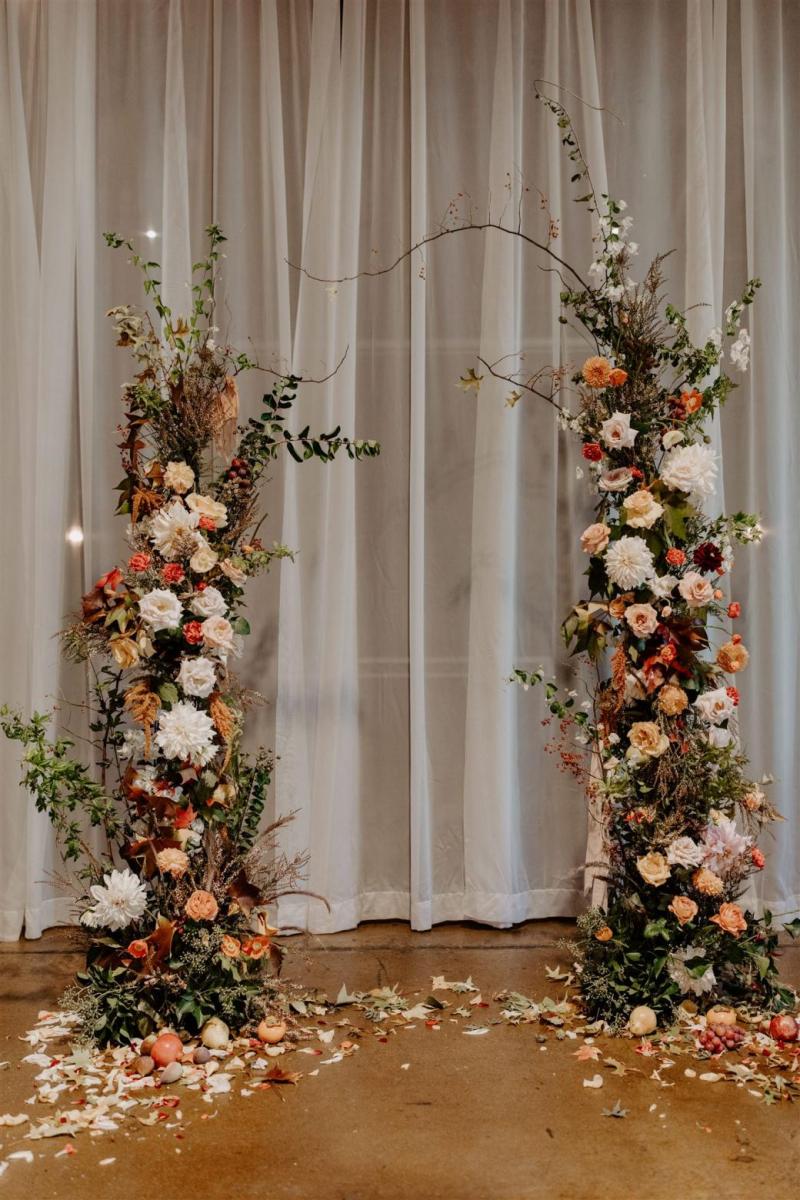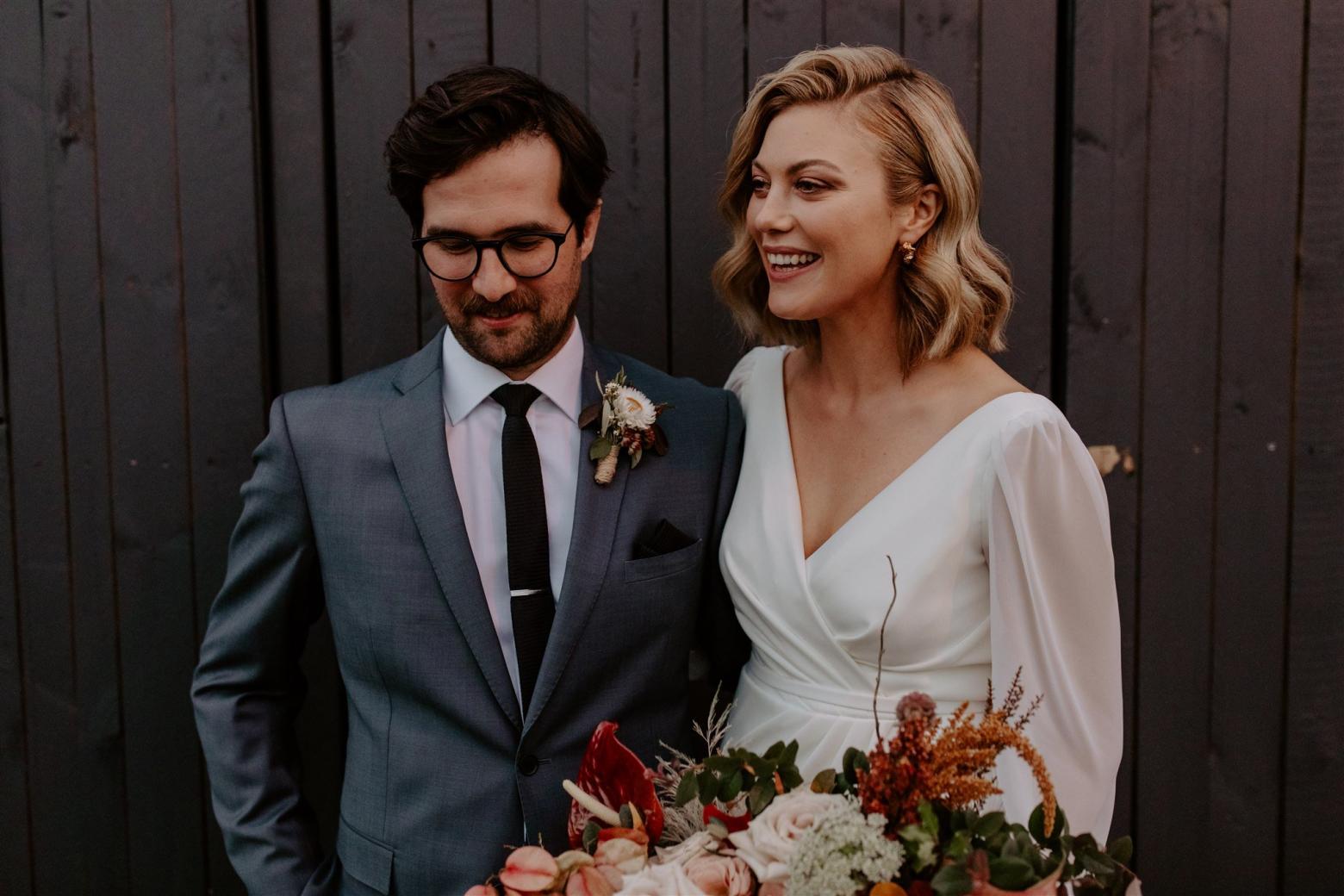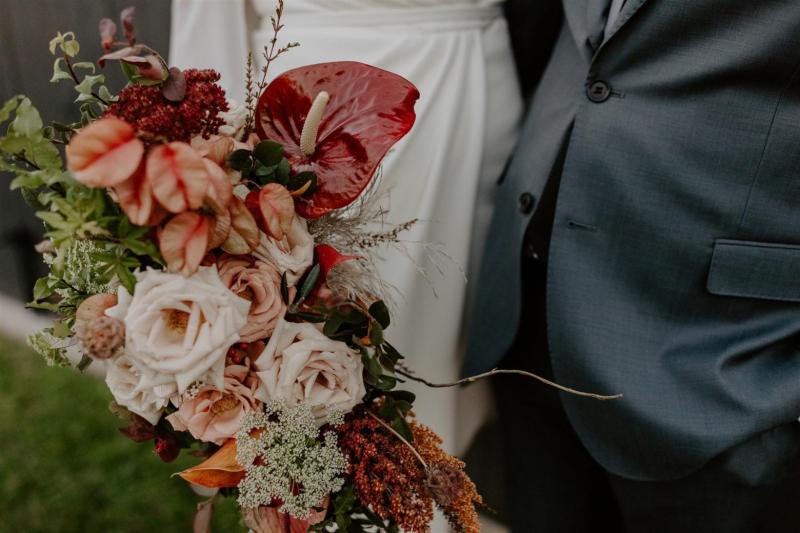 The Dress
Kylie wore the 'Nikki' gown from our WILD HEARTS collection. She had been looking at wedding dresses for a while but could not imagine herself wearing any of them… that is until the Nikki came along. "It was one of the first and only dresses I liked – it felt modern and classic at the same time. I remember calling KWH to make sure it was still in season and then hoping it would look how I envisioned it".
The Nikki did, in fact, turn out just the way Kylie dreamed it would and that's when Kylie said 'yes' to her dress in our Brisbane boutique.
"I wanted something sleek, sophisticated, flattering and modern and I think it had all those elements. A lot of people thought it looked quite traditional too with the sleeves. I think the sleeves balanced perfectly with the low back and split".
You can make an appointment to find your dream wedding gown here.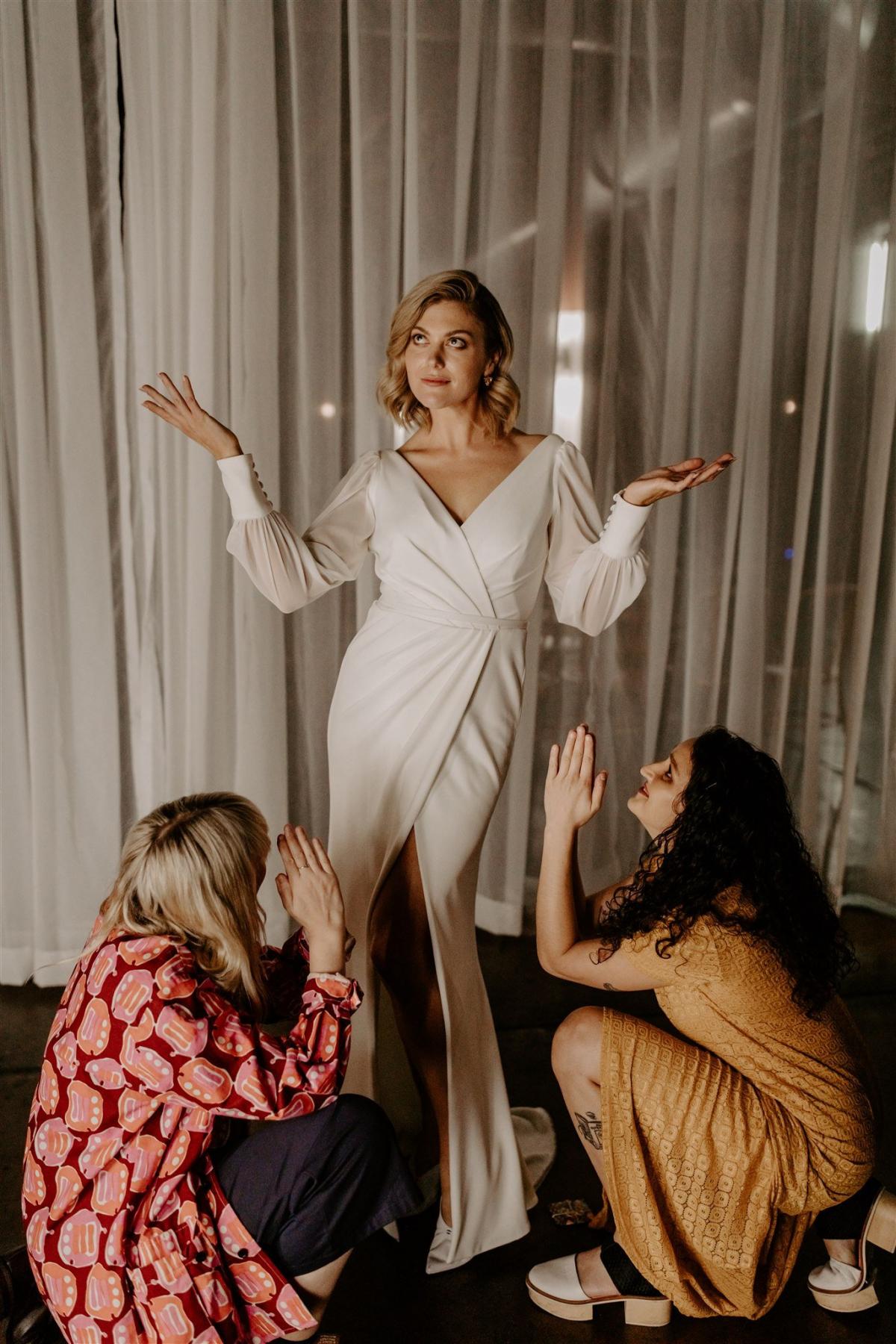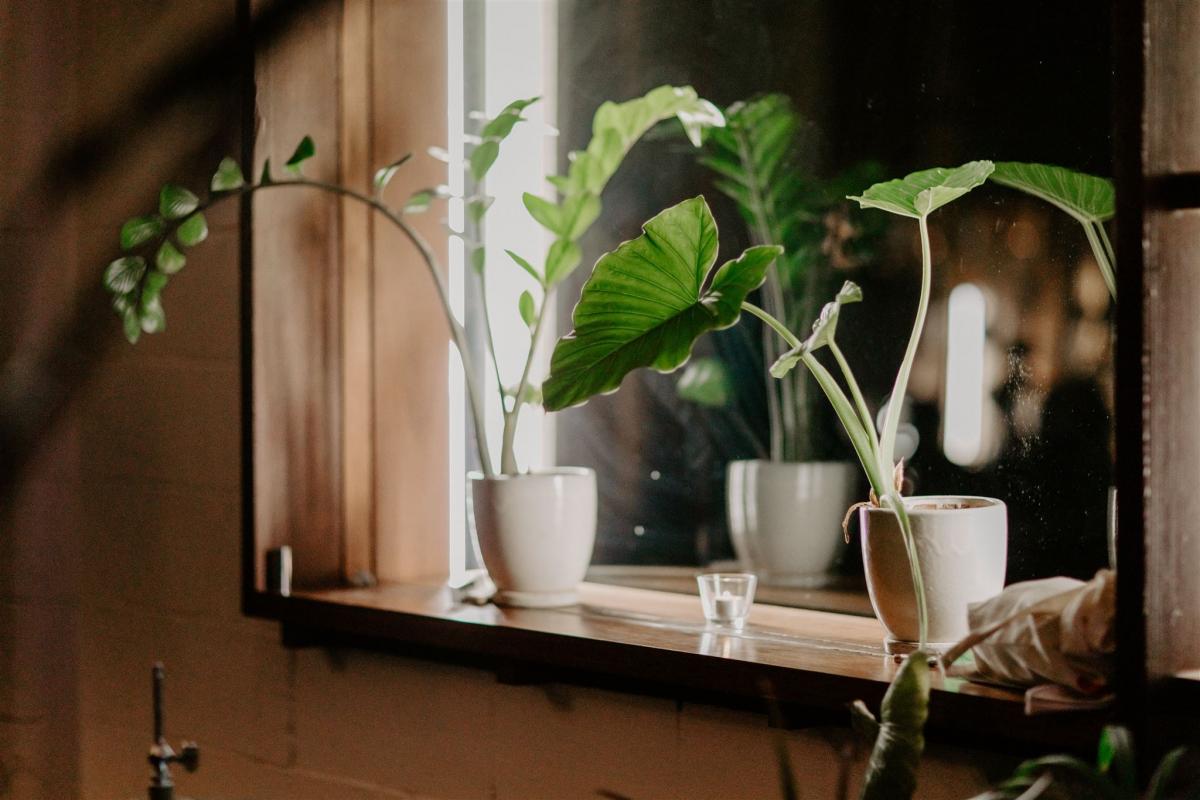 Accessorising
Kylie let her dress and florals shine with minimal jewellery and a beautiful wave to complement her gorgeous short hair.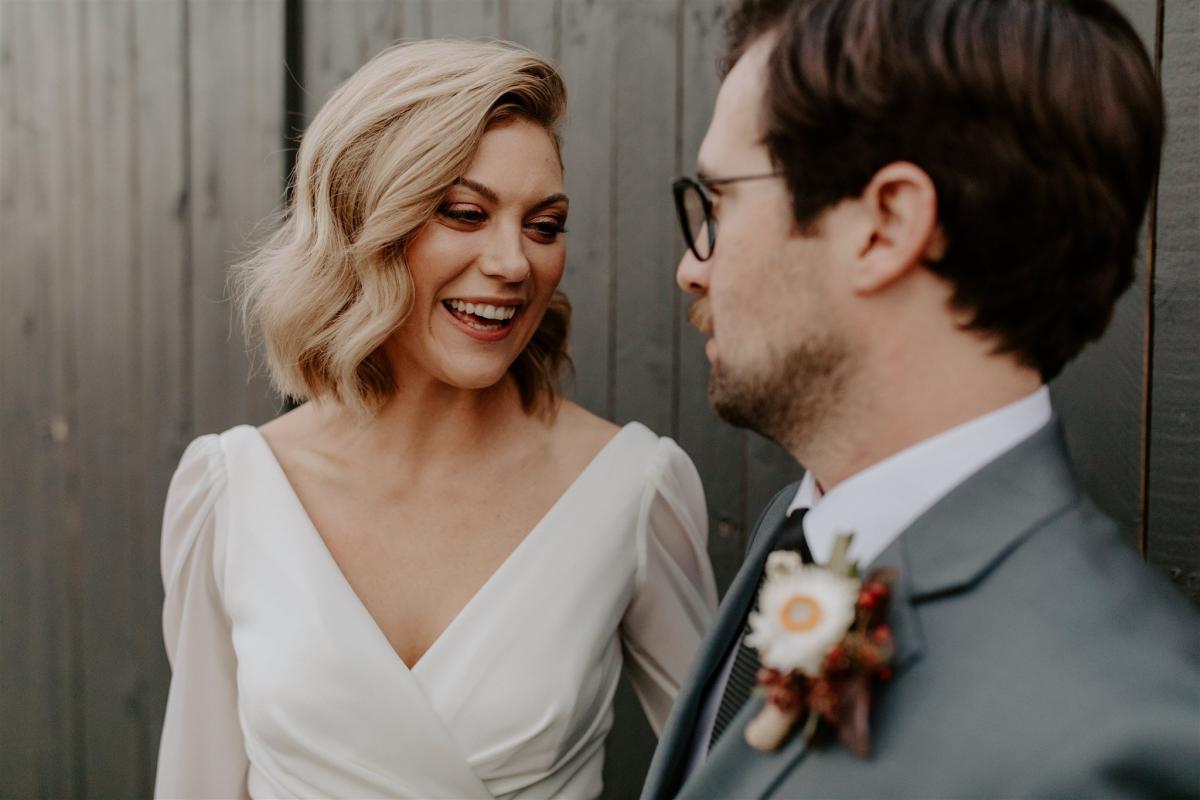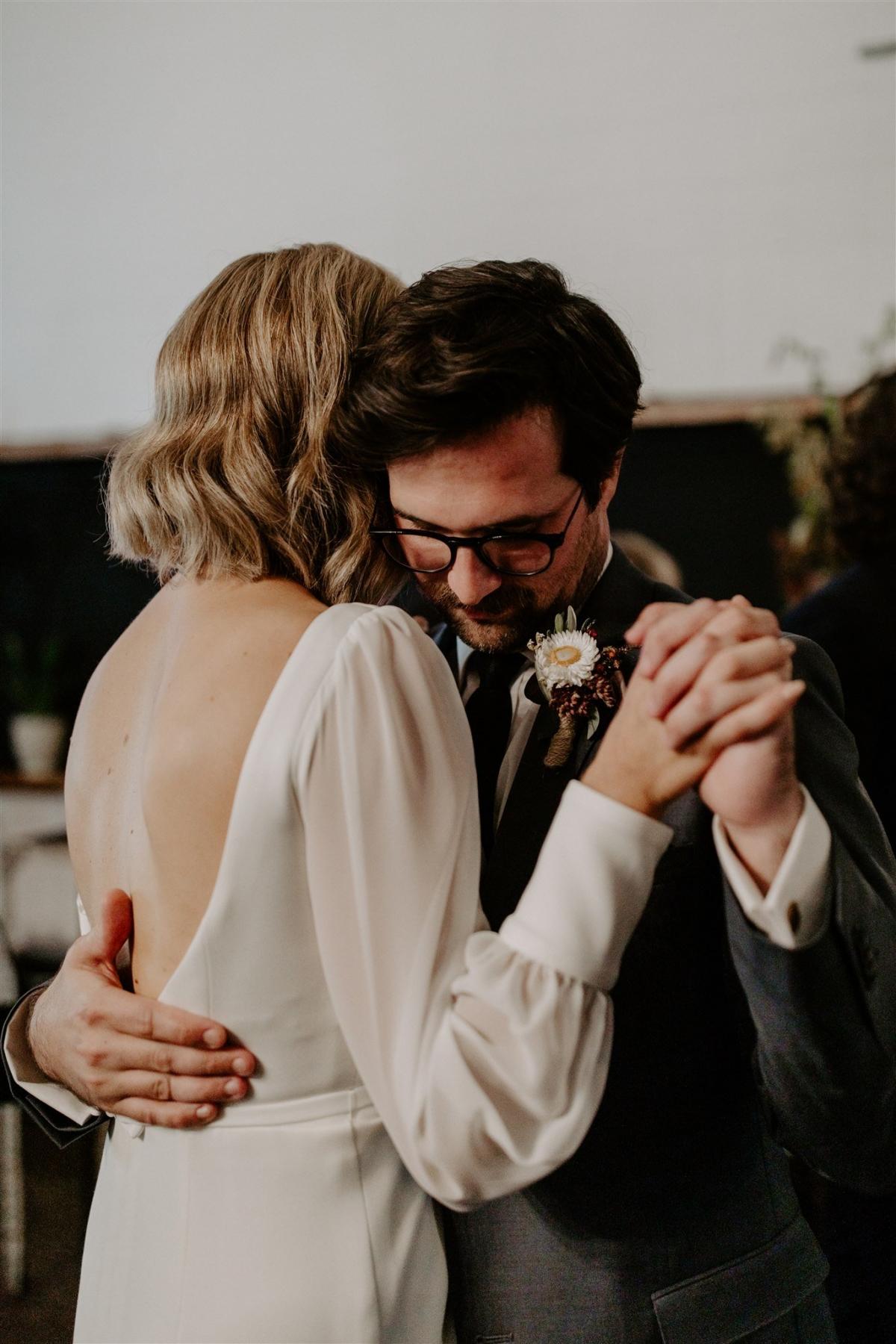 Gown hunting tips
"Once you've made the choice, don't question yourself. You chose it for a reason and on the day, it undoubtedly looks beautiful (the KWH staff are incredibly helpful, and your friends will be too) and all the details fade away because you are marrying your life partner.
I'm so glad I enjoyed the day as much as I did, I just wish I stressed a little less in the lead up".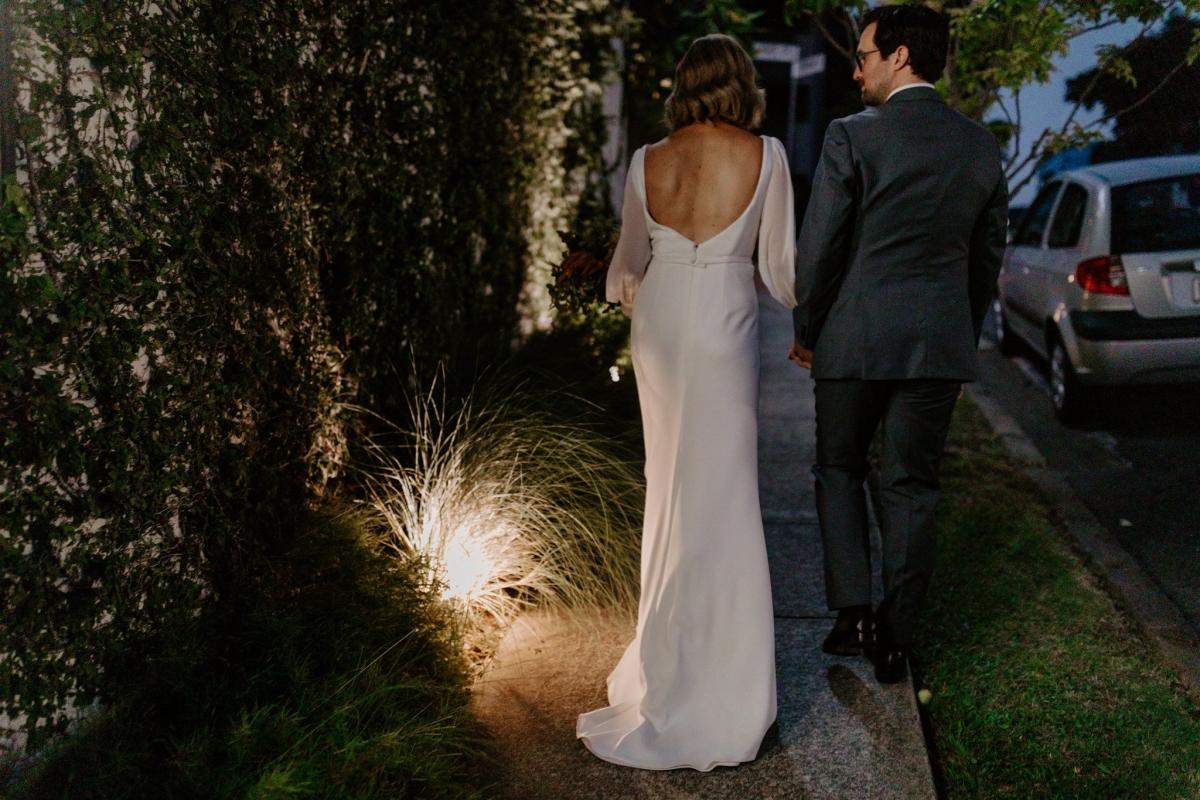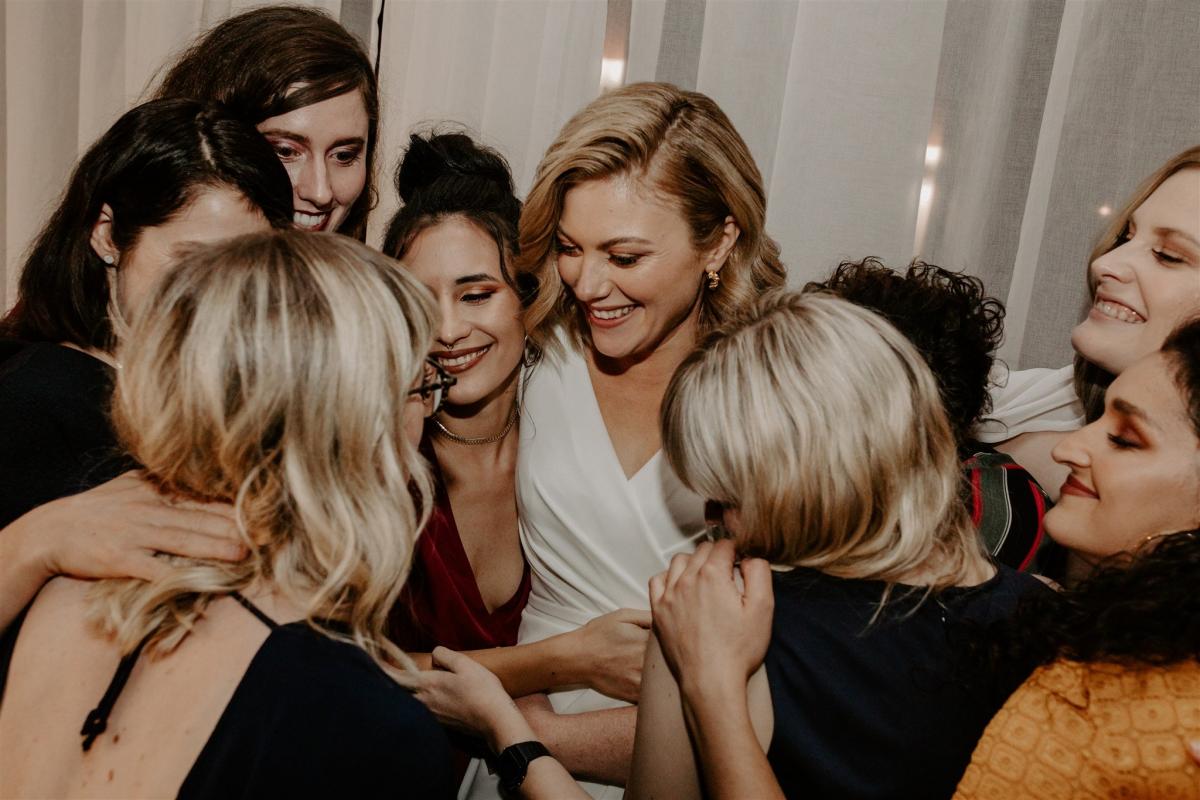 What does love mean to you?
"Open communication, joy, sharing, understanding, listening, growing together…it means a lot of things".