Kelsi & Carmelo – A Whimsical Island Wedding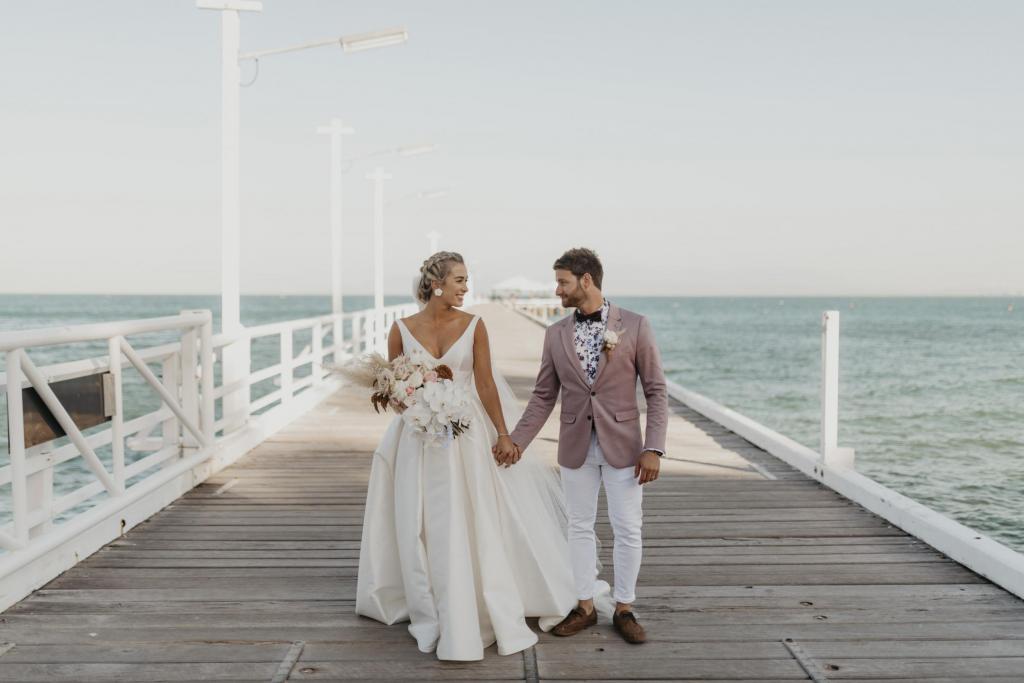 Carmelo and Kelsi met through mutual friends in 2013 and were both finishing their electrical apprenticeships at the time - some may say there was a big spark! They found that they both loved being outdoors, playing sports and, most of all, a good adventure. Kelsi and Carmelo married in a beautiful beachside wedding, August 2019.
On the proposal
Keli and Carmelo's proposal is one they will never forget.
The couple had planned a holiday to Melbourne to visit some friends in July 2017. Both Kelsi and Carmelo love skydiving, so Kelsi booked a jump for one of the days. Unfortunately, on the day it was raining and very windy so the jump was cancelled. They got a call for the go-ahead to jump the next day and Carmelo was quiet the entire drive there. Carmelo went first, then two others, then Kelsi. Once Kelsi landed her instructor told her to turn around to where Carmelo was – down on one knee in front of a very large sign that said: "Will You Marry Me".
"I couldn't stop crying. It was so unexpected and it made the moment so much more special. Carmelo was more worried I was going to say no because he thought I would have seen the sign before landing. As I said before, never a dull moment in our lives!"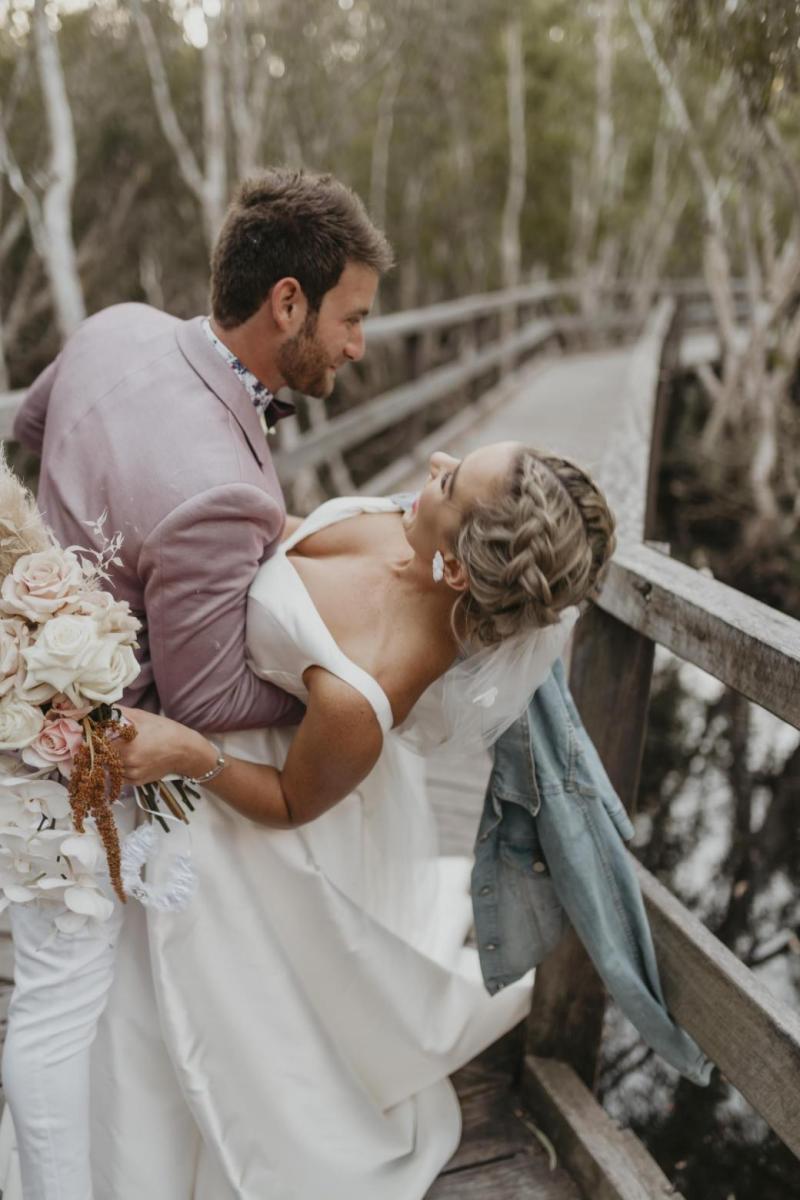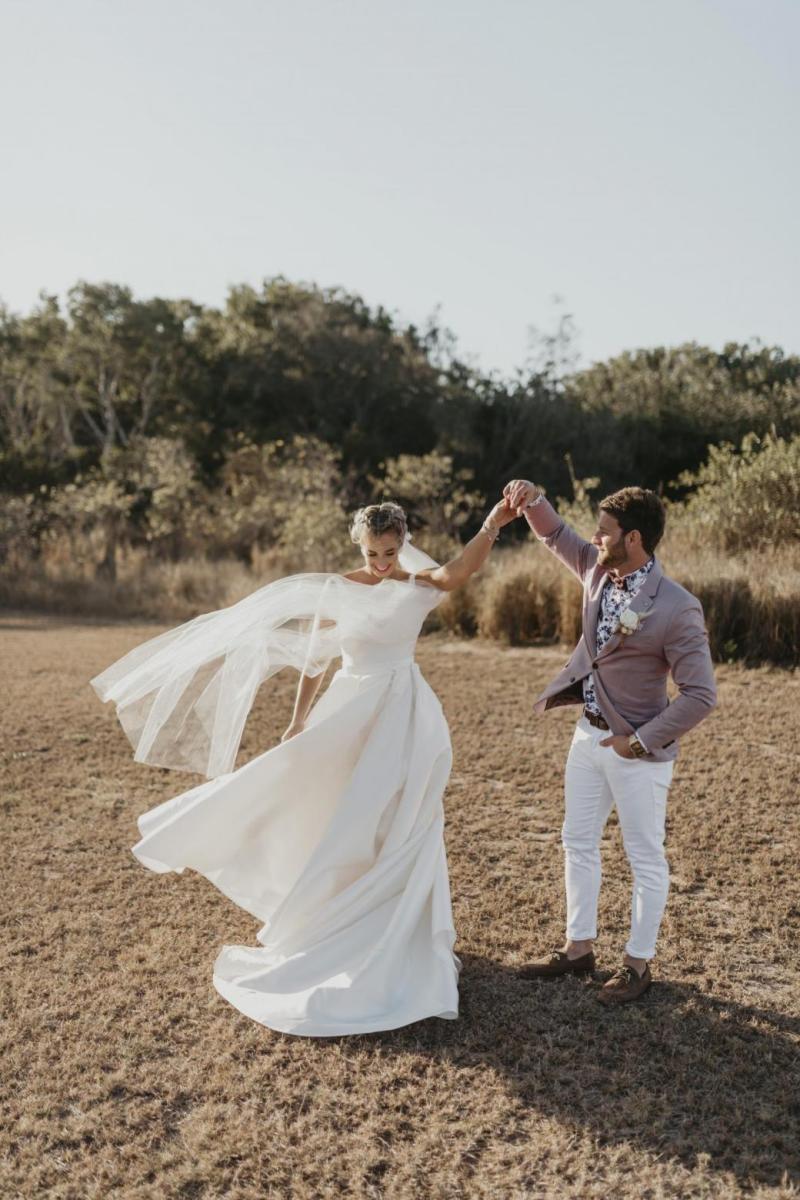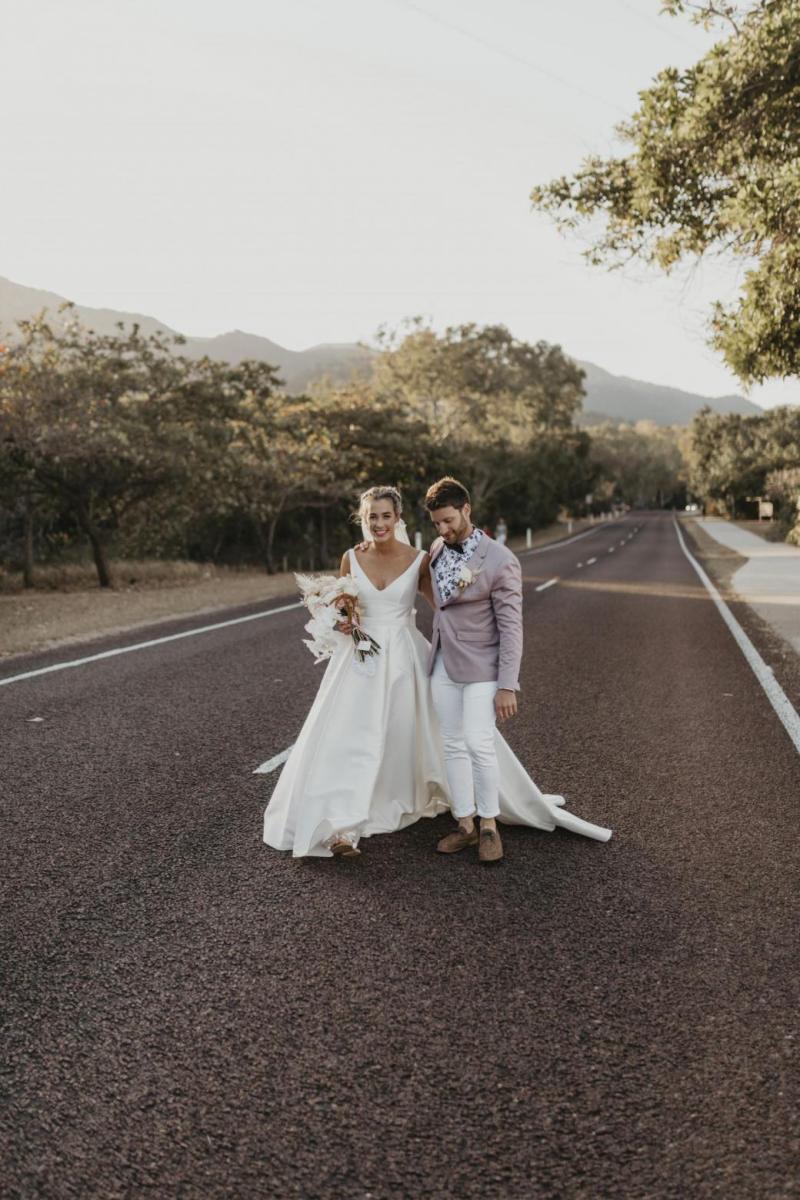 On the venue
Kelsi and Carmelo got married on Magnetic Island, a short ferry ride from Townsville.
"We both wanted an outdoor style wedding and Carmelo's one request was to be near a beach. Our wedding ceremony was in Picnic Bay, on a grassy area right by the ocean. It overlooked the beach and had big palm trees all around." The couple's wedding reception was at Peppers Blue on Blue overlooking the marina.
"We fell in love with this venue as it offered both water views as well as being undercover and air-conditioned (very important in North QLD). The staff made the day so easy and I didn't have to lift a finger as well!"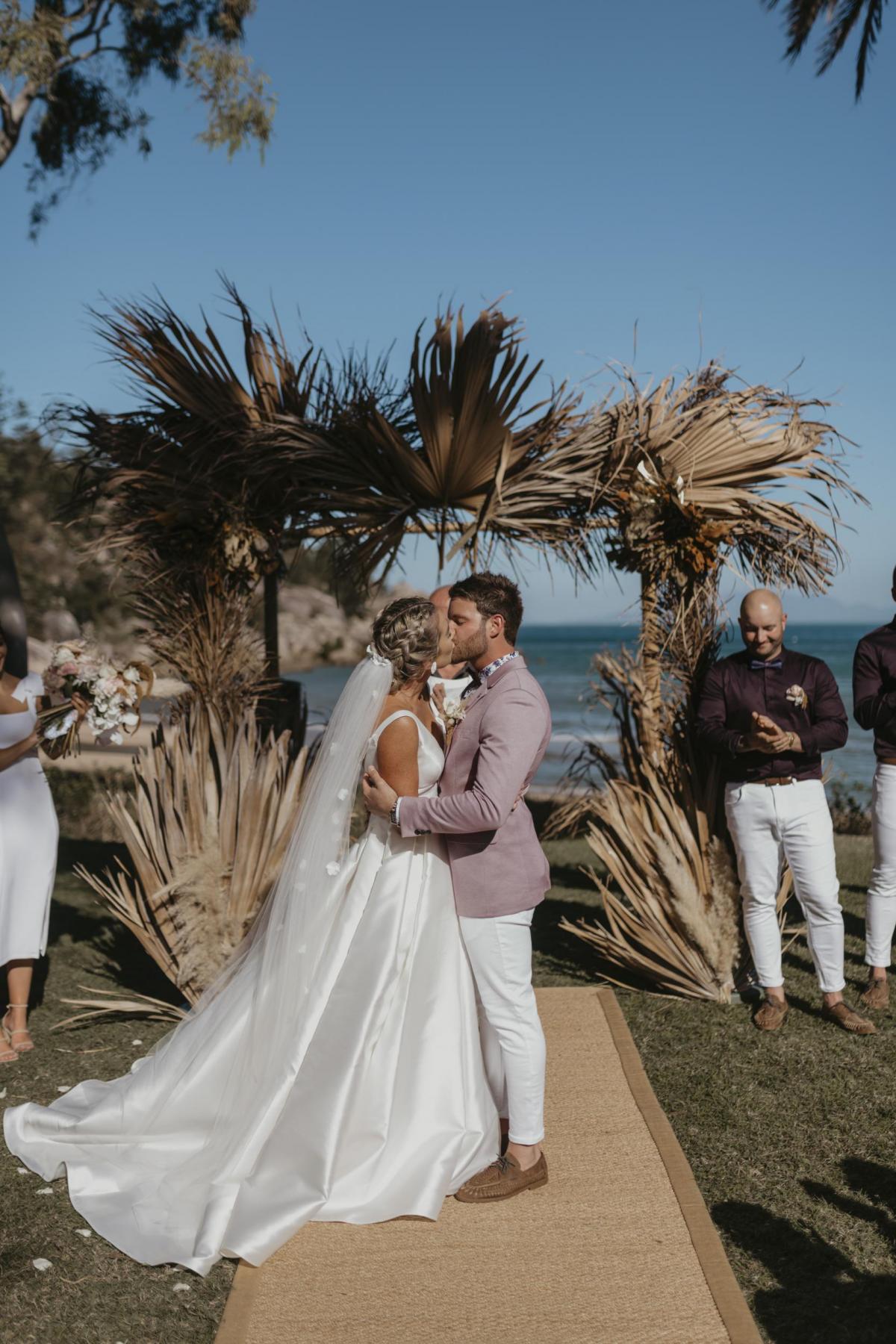 All the styling details
Kelsi and Carmelo wanted something simple and easy.
"My wedding book was full of neutral colours, mainly light browns and whites. I pretty much just googled 'rustic theme wedding' and then went from there. Once all of the decorations arrived, I decided it was very bland so we added a pop of colour with blush pink napkins. No crazy imaginations here!"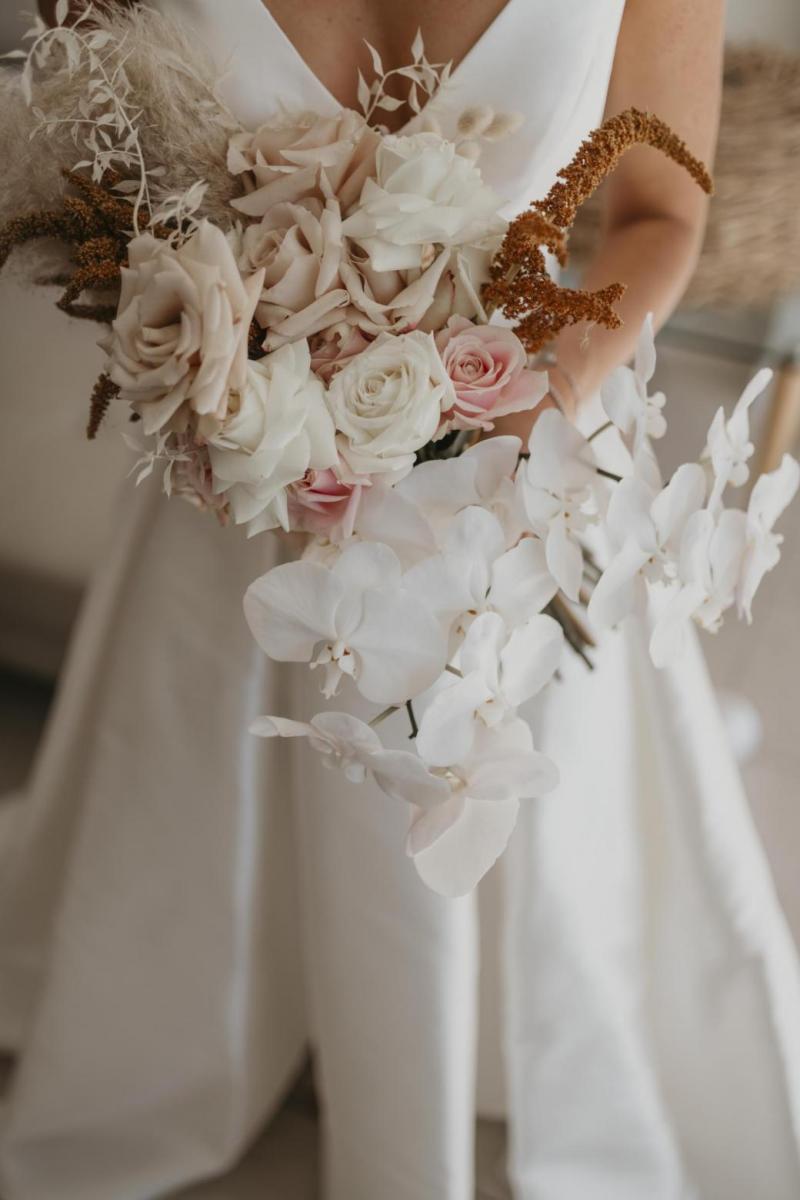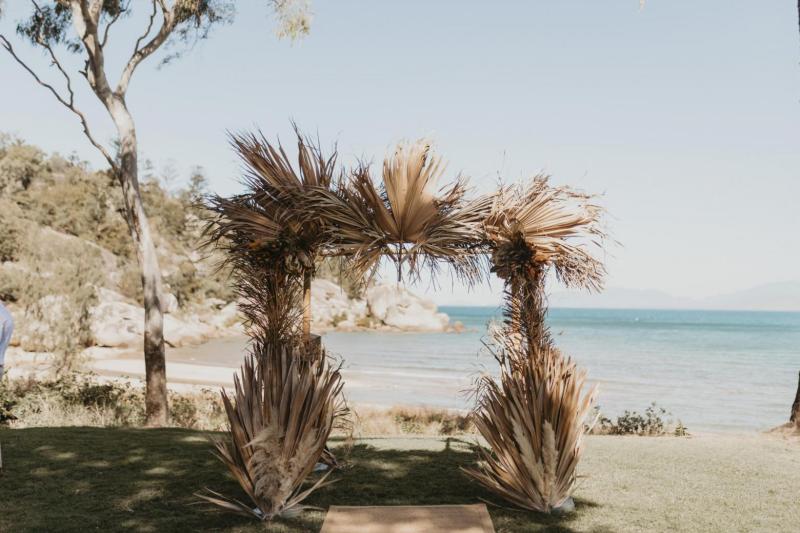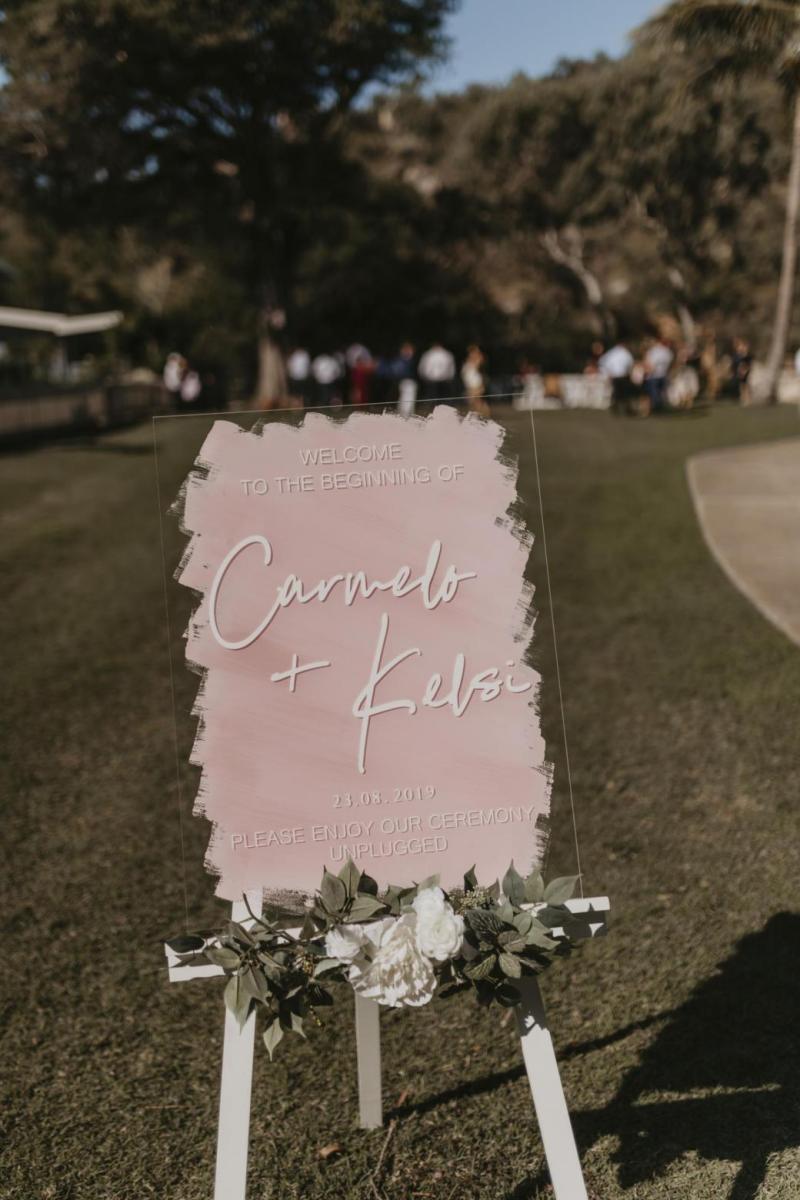 The Dress
Kelsi said I do in the timeless Leonie/Melanie combination from our BESPOKE collection.
Before Carmelo even proposed, Kelsi saw our BESPOKE Taryn/Camille gown on Instagram and she saved it immediately. After the proposal, Kelsi called her mum and told her to book flights to Brisbane because she already knew the dress she wanted.
"KWH was the last boutique to go to on our trip and all I could think about was trying on this dress. The lady who helped us made my experience a total breeze. She was very honest with all of the dresses I tried on and offered great advice on different ways to style. I was a little skeptical about the cut of the Taryn/Camille and that was when she suggested the Leonie/Melanie combination. I immediately fell in love! My mum being old fashion, told me to think about it a little more before buying. A few months later, I was in Melbourne with 2 of my bridesmaids and they suggested having a look at a few dresses. I took them straight to KWH and tried on the Leonie/Melanie gown and a minute later, I was at the cash register paying! I felt like a real-life princess."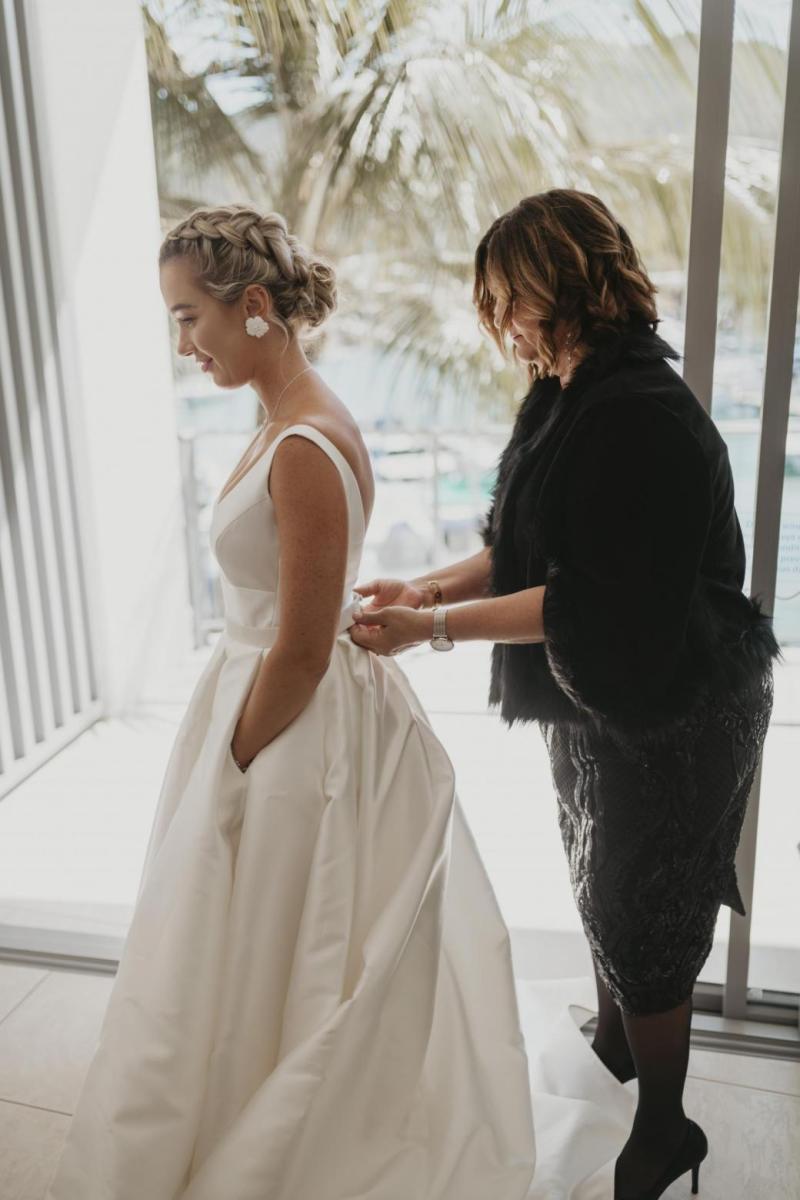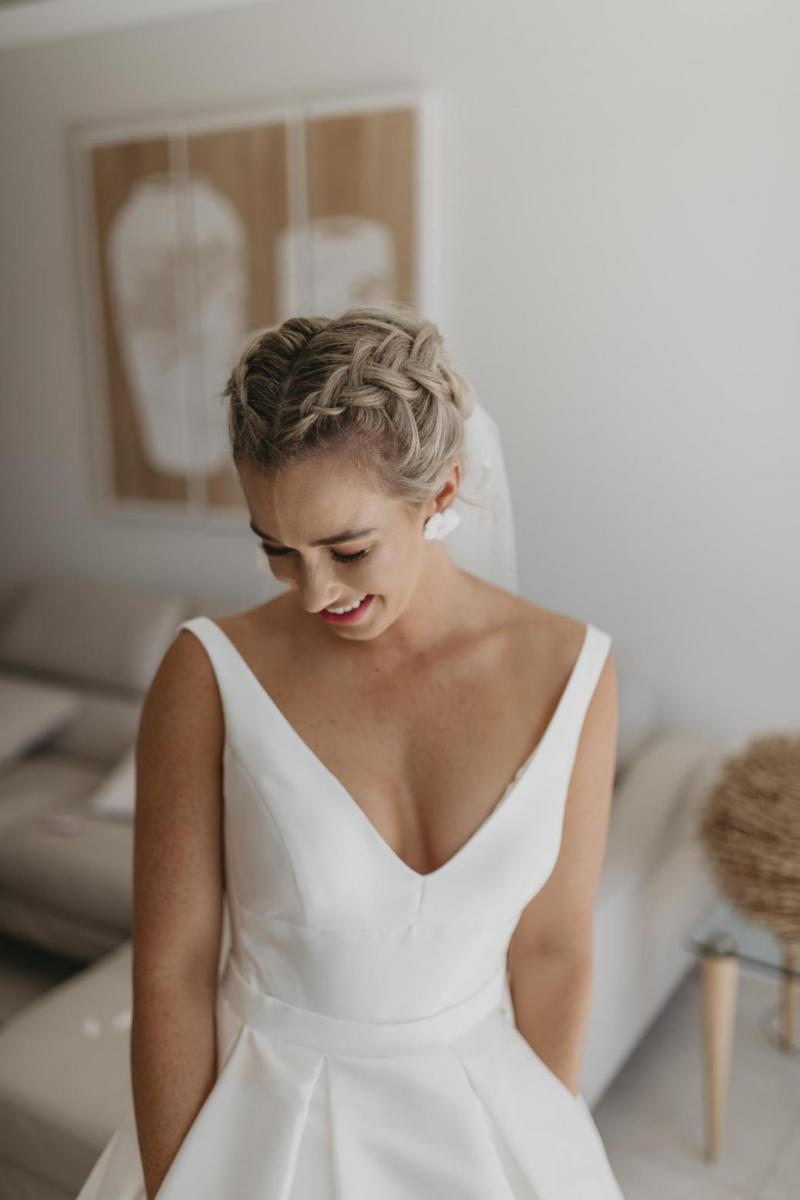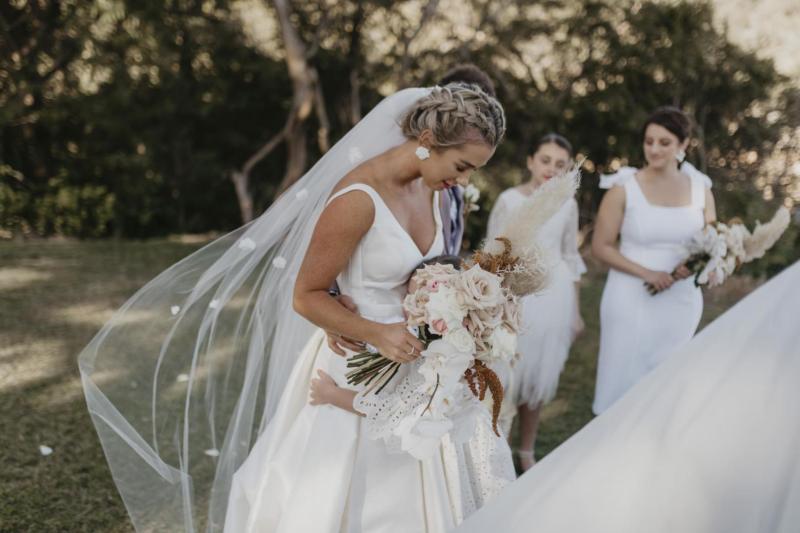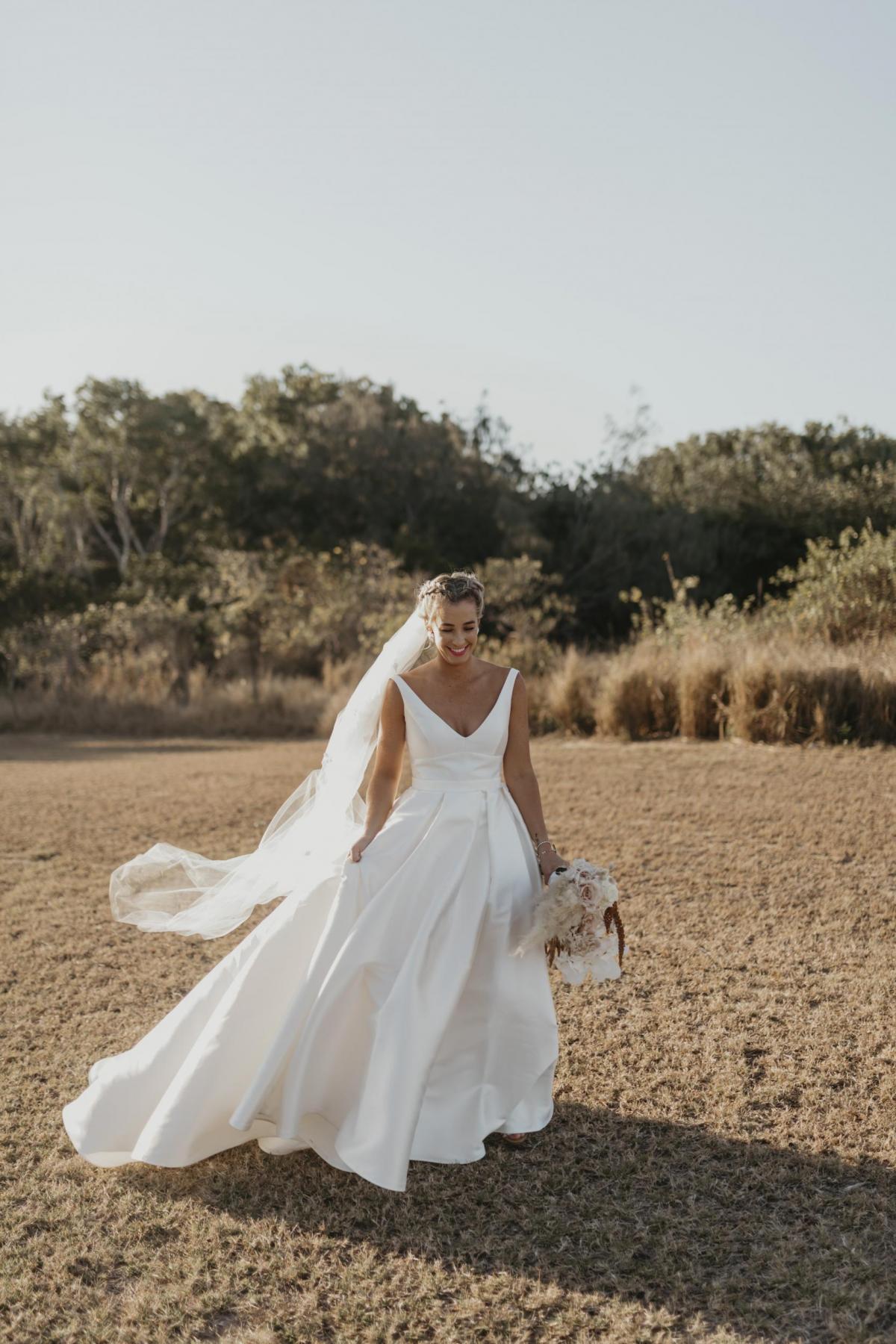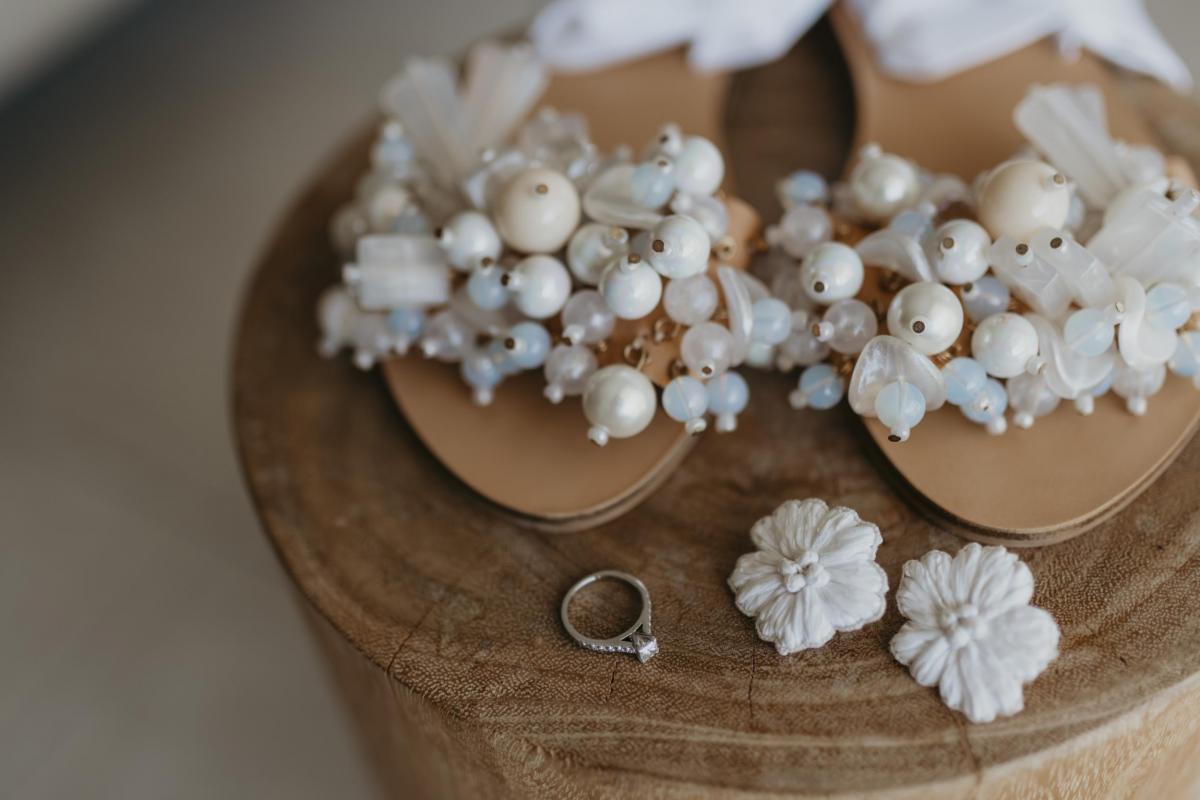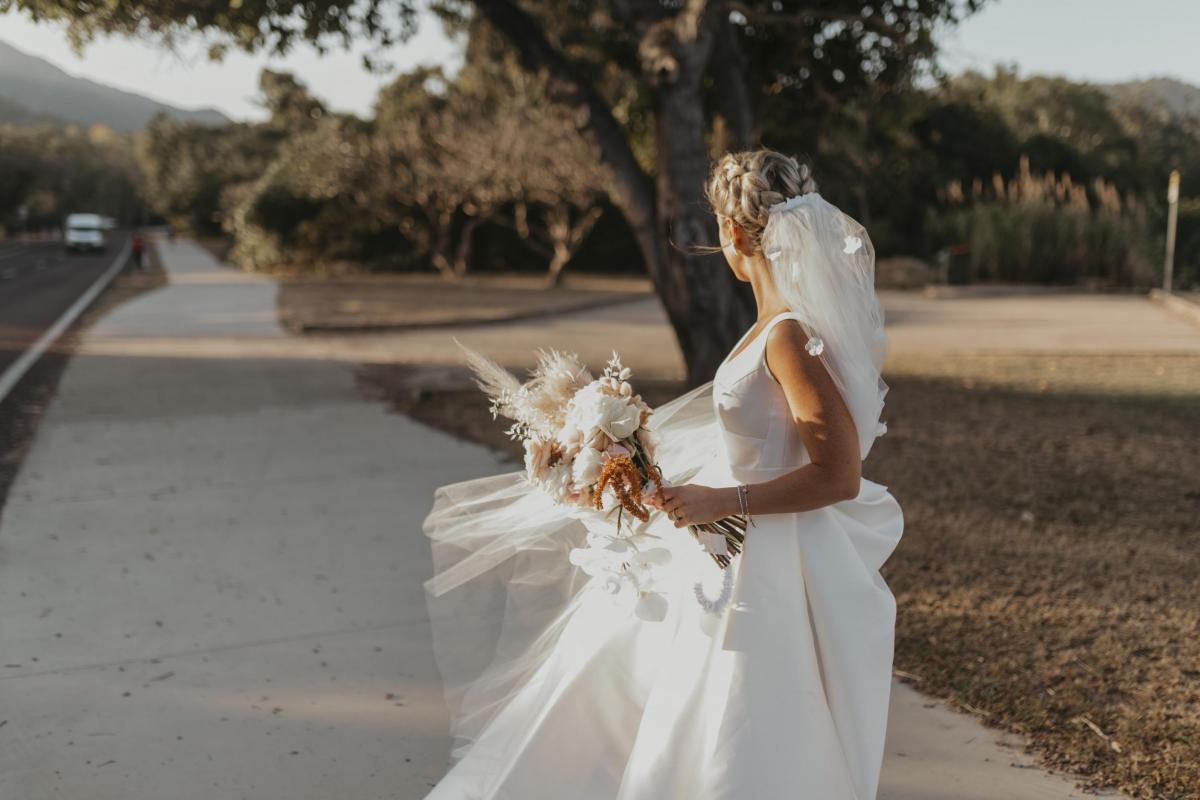 Gown hunting tips
"Try on many different styles. You may think you know what you want, but sometimes it's the very opposite that you fall in love with!"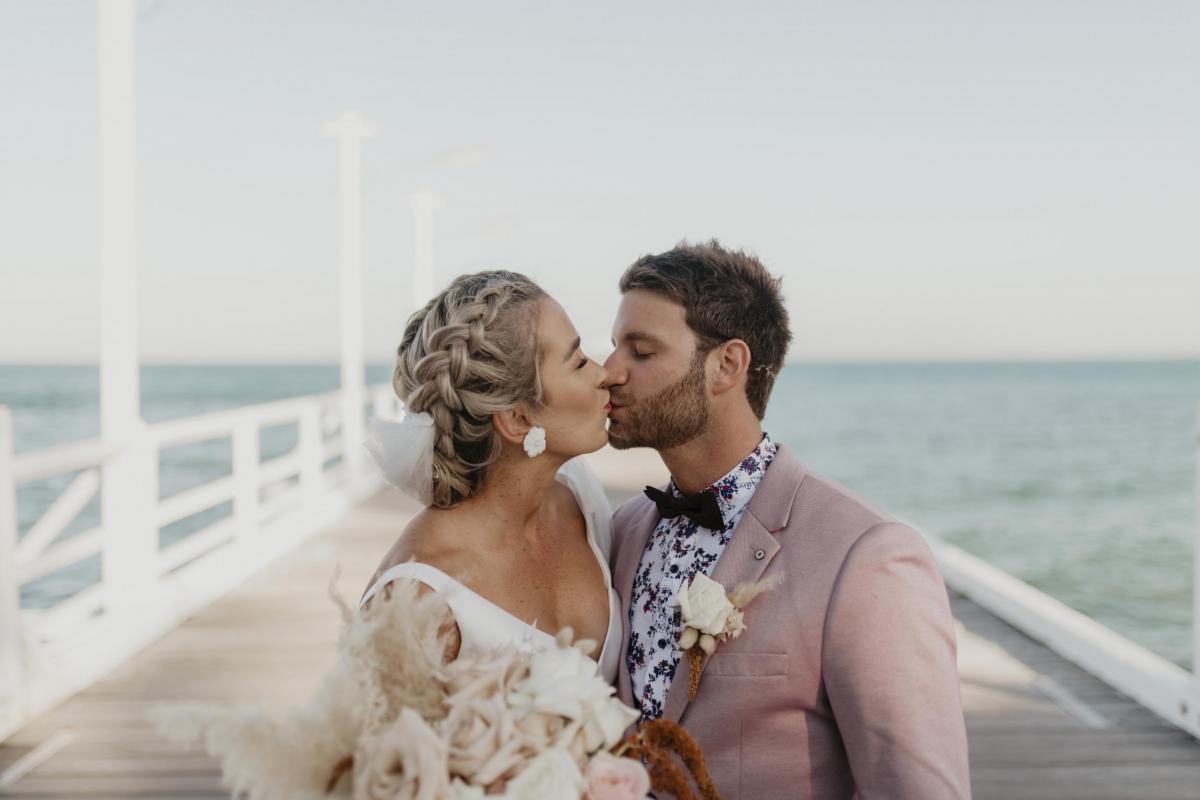 What does love mean to you?
"Love to me is looking at your partner and smiling without even realising."
Kelsi's highlight of her wedding day is a perfect reflection of this –  "Walking down the aisle and seeing Carmelo's face. Every time I think about it, I get teary!"