Bridal Store - New York
The magic of a KAREN WILLIS HOLMES wedding gown is synonymous with the style of New York City – Fashionable, vibrant, elegant with that something that always brings you back for more.
Amongst the fast-paced streets of Lower Manhattan, you will find the home of our New York flagship bridal boutique in trendy Soho. Experience our latest bridal collections in person and select that special designer wedding dress for our NYC brides-to-be.
USA brides now have the unique opportunity to be part of the KAREN WILLIS HOLMES signature experience, from the day they walk in the shop to the day they walk down the aisle. Brides to be will no longer have to travel across the globe to find their gown; we're simply a cab ride away.
While you're here, take some time to explore the neighborhood, where you'll find upscale boutiques and international flagship stores, and don't forget to pick up a coffee at Karen's favorite coffee spot, La Colombe on Lafayette Street. It is easy to turn your New York City wedding dress shopping into a truly memorable experience and fun day out!
We can't wait to meet all of our NYC brides-to-be.
Please note: walk-in appointments are always welcome! However, there is no guarantee that a stylist will be available to see you right away. If this is the case, we will take your details and contact you as soon as we are available
Book an Appointment
Where to find us
7 Centre Market Place, New York, NY 10013
VIEW IN MAPS
Opening hours
Tues – Friday: 11am – 7pm
Sat: 10am – 6pm
Sun & Mon: Closed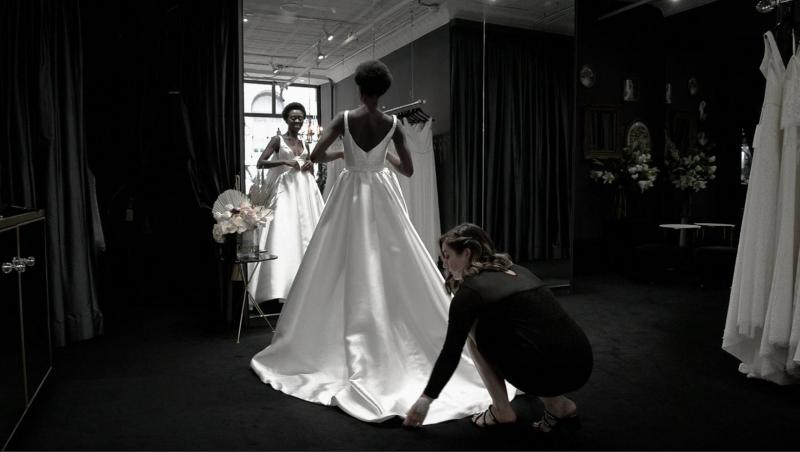 Book an appointment
An appointment is recommended at the KAREN WILLIS HOLMES New York boutique; however if we do have a change room free we will take walk ins. If we are busy at the time you come in, we will ask you to leave your name and phone number so that we can call you back as soon as possible. Our busiest times for appointments are evenings and on Saturdays.
If you are coming back to retry your favorite gown, please contact the boutique directly to make this appointment so that we can make sure these favorites are in the boutique for your appointment.
Book an Appointment